Everton vs Newcastle United
Match Preview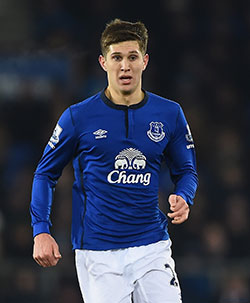 John Stones should return after recovering from a stomach virus.

(Laurence Griffiths/Getty Images)

On a high following their latest Thursday night triumph, Everton have another chance to translate their impressive form in Europe to the Premier League with the visit of Newcastle United this weekend.

For the third straight game in the Europa League, Roberto Martinez's men came back from a goal down to win but such resolve and potency has proved well beyond them on the domestic front this season.

There is a feeling that the visit of the Magpies, a team the Blues usually like playing at Goodison and Romelu Lukaku in particular enjoys scoring against — he has four in all against Newcastle over the past three seasons, three scored for Everton — could finally see the corner turned with respect to a dreadful run of League form that stretches back almost four months.

Since beating West Ham on the 22nd of November — 16 games ago, for those keeping count — the Blues have won just twice, all the while putting themselves in with a great shout of progressing to the last eight of a European competition for the first time in 30 years.

The disparity between the team's form in the two arenas remains a mystery but the gritty first-leg victory over Dynamo Kyiv, one that in itself felt different from the more convincing wins over Wolfsburg, Lille and Young Boys, could just be the one that bridges the gap.

Importantly, particularly after the Paraguayan's rocky first-half display against Dynamo, Everton expect John Stones to be fit enough to come back into the side in place of Antolin Alcaraz. The defender missed last Thursday's game with a stomach virus but should be fit after training on Friday.

Martinez confirmed to the media at his pre-match press conference today that the England international will be in the squad on Sunday despite losing a bit of weight during his bout of illness.

Aaron Lennon is also available again after being cup-tied for the match against Dynamo Kyiv and both players could be joined by another returnee in the form of Leighton Baines if he can overcome a groin strain.

The left back has been sidelined recently with a thigh injury but Martinez told a reporter at the end of his presser that Baines would undergo a late fitness test after straining his groin in training.

Aiden McGeady and Steven Pienaar have been stepping up their gym work and are close to resuming full training but neither will be ready for this weekend. Martinez also explained that Bryan Oviedo is about three weeks away as he recovers from the hamstring strain he picked up in the first leg against Young Boys last month.

The manager will be forced into at least one change in midfield to accommodate Gareth Barry's suspension. The 33 year-old begins a two-match ban for amassing 10 yellow cards for the season and, depending on how offensive Martinez wants to be from the outset, it could be a toss-up between Darron Gibson and Muhamed Besic for who comes in to deputise.

Newcastle manager John Carver, meanwhile, welcomes back Remy Cabella from injury and Jack Colback, the scorer of the decisive goal in the return fixture at St James' Park at the end of December, from suspension. Mehdi Abeid, Massadio Haidara, Steven Taylor, Cheick Tiote, Siem de Jong and Paul Dummett are all ruled out through injury, however, and top scorer Papiss Cisse starts a seven-match suspension of his own for his role in the spitting incident with Manchester United's Jonny Evans.

Carver has struggled for consistency since being handed the responsibility of taking up the reins from Alan Pardew and has managed just two wins in six games. Everton would ordinarily be too much for his depleted side but the fact that the Blues will begin the day eight points worse off than Newcastle — and a mere three points off the bottom three — paints its own picture. The Blues have plenty to prove and it's the perfect time to start doing so.



Reader Comments (155)
Note: the following content is not moderated or vetted by the site owners at the time of submission. Comments are the responsibility of the poster. Disclaimer
Colin Glassar
1
Posted 13/03/2015 at 18:39:54
Thank God for that. Every time Alcaraz had the ball, I had kittens.
Chris Gould
4
Posted 13/03/2015 at 19:13:38
God's too busy laughing at Roberto to help. He created him to be a really enthusiastic plum picker. How he became a football manager is a constant source of amusement to God.
Paul Smith
6
Posted 13/03/2015 at 21:04:05
My team for Sunday is
Howard (because he won't pick Robles)
Coleman
Stones
Jagielka
Garbutt
Lennon
McCarthy
Gibson
Baines
Mirallas (if fit.. otherwise Barkley)
Lukaku

Phil Walling
7
Posted 13/03/2015 at 21:37:13
For all the debate, ALL that matters now is that we bloody well WIN. Any way it happens will do !
Harvey Miller
8
Posted 13/03/2015 at 21:37:15
I would like:
Coleman, Stones, Jagielka, Garbutt
McCarthy
Mirallas, Osman, Baines
Lukaku, Kone
Helen Mallon
9
Posted 13/03/2015 at 21:51:56
Coleman Stones Jagielka Garbutt
Atsu McCarthy Gibson Mirallas
Kone Lukaku.
Just go for it.
Andy Crooks
10
Posted 13/03/2015 at 22:27:48
Colin, do you not think that Alcaraz played as you would expect given his lack of game time? I thought he got better as the game went on and I thought his performance was admirable under the circumstances. The first half hour was the worst I've seen in years. The lack of movement up front, particularly from Mirallas, put pressure on two centre backs shot of confidence.
Trevor Lynes
11
Posted 13/03/2015 at 22:37:08
It would be nice to see both Garbutt and Baines play but I don't expect it to be this week.
Osman should be on the bench and brought on after half time as he is great for about 40 minutes in place of either Barkley or Naismith depending upon how they are playing.
I hope that we have a strong bench as that is what is needed.
Jamie Barlow
12
Posted 13/03/2015 at 22:54:13
I agree with Andy. I thought Alcaraz had a dodgy 25 minutes (as did most of the others) but grew as the game went on. I thought he done well for the last hour. He's a decent ball playing centre half.
Glad to see Stones back though.
Eric Holland
13
Posted 13/03/2015 at 23:00:07
Joel (unlikley)
Coleman Stones Jagielka Baines
Atsu McCarthy Gibson Osman
Lukaku Naismith
James Stewart
14
Posted 14/03/2015 at 01:02:30
Good news. Alcaraz is a disaster waiting to happen.
Tim Greeley
15
Posted 14/03/2015 at 02:01:58
It's just a bit early for total complacency on their part, but really Newcastle have little to play for. While a win tomorrow could very honestly mean the world to Everton. Release some Premier League pressure so the trip to Ukraine can be embraced as an opportunity not a distraction. Start the match playing the way they did the second half Thursday and we'll bury them. Do I expect that to happen !?!?
Haaaahahaha. Sure.
Douglas McClenaghan
16
Posted 14/03/2015 at 06:11:30
Hopefully it's tika taka RIP and we rip them a new one. 3-0!
Darryl Ritchie
17
Posted 14/03/2015 at 06:42:22
I think Harvey @ #8 has the squad that will start.
They won't have Cisse due to the little spit fest he had with Evans, and I don't think they have any quality to replace him. Good news for us.
2-0 Toffees
Sam Hoare
18
Posted 14/03/2015 at 07:12:33
A depleted Newcastle on the slide and with very little to play for. On paper it couldn't be a much kinder game.
However we all suspect it will not turn out that way due to our very fragile confidence in the PL.
Hope we play two wingers and Gibson.
John Keating
19
Posted 14/03/2015 at 07:22:24
Agree with Helen, 4-4-2.
We need the points!
Alan Freese
20
Posted 14/03/2015 at 09:22:14
Never want to sound negative but it's going to be the same story we've had most of this season! I can't see 3 points on Sunday.
Newcastle will be rubbing their hands at the the thought of playing us, they would've worked us out and Newcastle are certainly not a bad side.
I believe Martinez will continue his poor selection of tactics and we will be thinking "What happened?" again on Sunday night!
Brian Porter
21
Posted 14/03/2015 at 09:25:41
Alcaraz did okay in the end and is far from the joke some people make him out to be. Basically, he can never truly do well unless he gets the time to get used to playing alongside the other regular defenders, something I doubt he'll get with Martinez, so why did he sign him?
Atsu and Lennon deserve a start and Mirallas who was anonymous on Thursday should start on the bench. This game is made for Besic to shine, maybe bring Gibbo on second half. Naismith must start, though I'd like to see Kone take some part in the game. Ross Barkley was like Mirallas, pretty anonymous on Thursday, but I can see Martinez starting him again.
If we fail to win today it really should be the end for Martinez but, as long as we remain in with a chance in the Europa, I can't see Kenwright having the guts to ditch him, though I believe a new manager would have an equal chance of taking us further in Europe, as long as he can put the necessary fire in the bellies of the players. Fingers crossed more in hope than expectation for Sunday!
David Harrison
22
Posted 14/03/2015 at 09:58:15
James, I agree but – although I really rate Stones – he's been responsible for a few howlers too. It's been a problem for all our central defenders.
Steve Alderson
23
Posted 14/03/2015 at 10:00:16
I agree that Alcaraz improved as the game went on and like Robles can only be judged after a run in the side. Both of them have shown signs of ability and in the case of Joel, doesn't have a lot to beat.
Phil Walling
24
Posted 14/03/2015 at 10:05:09
Neither of these clowns are of a standard Everton requires to improve on this season. It's strange to see how easily Evertonians' perceptions of what's acceptable have fallen under this manager!
Mark Andersson
25
Posted 14/03/2015 at 10:23:23
I'm not one for picking teams as it's pointless exercise. The win is a must, we all know that.
Looking forward to reading the match review and the hundreds of posts after the game.
The only thing I can predict is we will not keep a clean sheet.
Good luck, home crowd do your part.
Eivind Nyhus
26
Posted 14/03/2015 at 10:23:23
Alcaraz was a danger to us the first 30 minutes, but he started playing a lot better after that.
Steven Telford
27
Posted 14/03/2015 at 10:55:19
Whatever team is up out, what we need to avoid is Lukaku entirely alone upfront with any service coming to him when he has his back to the ball. give him something to run onto.
Lukaku and Kone need a chance to play together. Rest who needs a rest, maybe Naismith. If he throws out 4 defensive holding midfielders it will be a pathetic. I will be happy to see no Barry and no Alcaraz.
Garbutt should take all corners, and any free kick which is cross-able.
Eugene Ruane
28
Posted 14/03/2015 at 11:26:41
Phil Walling (24) – "It's strange to see how easily Evertonians' perceptions of what's acceptable have fallen under this manager!"
Do you mean some Evertonians? A few Evertonians? 4.6 % of Evertonians?
Evertonians find how far we've fallen 'acceptable'? Why, because Evertonians aren't rioting, because we're not holding 'burn the monster' torchlight parades?
I'll tell you what is strange – to confidently state that Evertonians think things are 'acceptable' right now. And the reason it's strange is because it's simply based on others not being Phil Walling – not following the Phil Walling method of registering dissatisfaction – ie: posting every 10 mins to scream "This is unacceptable!!"
On the basis of others' refusal to be shouty and boringly repetitive, you appear to have decided that they're somehow accepting of our position. Stupid and insulting.
But I'll tell you what, if I'm wrong (and I'm sure I am) why don't you tell us (without the usual semantics antics) why you feel 'Evertonians' find things under our current manager 'acceptable'?
Phil Walling
29
Posted 14/03/2015 at 11:45:15
Just another chance to score points over me rather than anything that adds to the discussion, Eugene. Do you spent your whole life falling out with people or is it only me that you so dislike?
Perhaps we should all stop posting for fear of attracting your ire.
Eugene Ruane
30
Posted 14/03/2015 at 11:53:33
Bollocks Phil, either be prepared to back up what you say or don't say it.
My question re your post is entirely valid and to respond with... that, smacks of desperation.
You're posts are full of confidence and stridency and you happily dismiss anything that isn't part of your agenda, but you show an incredible sensitivity when challenged.
Mike Childs
31
Posted 14/03/2015 at 12:07:20
Love it Helen.
Kevin Tully
32
Posted 14/03/2015 at 12:15:29
Really looking forward to this game. I am wondering how much effort we will see from the players? You know when you used to watch a cup-tie and think "Why can't we play like this every week?"
Each League game seems to be more important than the last, until we can get a couple of wins under our belt. Get safe, then go balls out for European final. The fuckers owe us.
Dave Abrahams
33
Posted 14/03/2015 at 12:18:54
Mike. (31) yes, Helen is dead confident, "just go < for it" and she' also playing without a goalie.
Mind you, we are!!!!
Richard Lyons
34
Posted 14/03/2015 at 12:24:46
I'm just pleased that Barry is having an enforced rest. Would really like to see Gibson building the kind of relationship McCarthy that Barry had last season. His touch of class in midfield should be the difference between the two teams, I think. 2-0... COYB
Eugene Ruane
35
Posted 14/03/2015 at 12:24:53
Kevin (32) - I'm one of those who doesn't worry and come across fairly calm, jaunty and confident about games......right until kick off that is. Then I immediately turn into a Charles Hawtrey and practically soil myself each time the opposition moves forward.
Jon Cox
37
Posted 14/03/2015 at 12:39:22
Well thats a fine "Carry on" I must say, ooo,er mrs
Tony McNulty
38
Posted 14/03/2015 at 12:34:51
Like many others on here, I maintain my calm, rational, measured, laid-back persona at all times. I can never understand why during a game, those in the immediate vicinity consider me as having the interpersonal skills of the Incredible Hulk.
Phil Walling
39
Posted 14/03/2015 at 12:40:16
And bollocks to you, Eugene. Is that insensitive enough for YOU?
Dave Abrahams
40
Posted 14/03/2015 at 12:43:49
Eugene and Tony, I think a lot of us are nice and calm until the game starts and then nerves take over, especially this season, or until the same player makes the same mistake six times on the run.
Hopefully we can score two quick goals on Sunday to calm all our nerves and go and win.
Kevin Tully
41
Posted 14/03/2015 at 12:43:49
There's more column inches devoted to the RS charity game than our European jaunts at the moment, so maybe the poor players won't be feeling any pressure in the return leg next Thursday.
Eugene, as soon as Frankie flaps at the first cross, GP will go ballistic tomorrow. Never known a goalie to put so much fear into a defence. Can't wait for the day he announces he is off back to the States. He's gone from average to awful after believing in his own publicity during the World Cup (I blame Obama myself, who rings a goalie after making a few training ground saves?) you would think he won them the fecking thing!
Colin Glassar
42
Posted 14/03/2015 at 12:54:09
KT, are you REALLY looking forward to this game? I dread every game these days. I don't get my hopes up anymore even though I think we should win this one.
Let's see who turns up tomorrow, Mr Jekyll or Mr Hyde...
Kevin Tully
44
Posted 14/03/2015 at 12:58:38
Just got a feeling the penny's finally dropped, Col. Hope to see a frenetic 3-1 victory. GP finally bounces!
Eugene Ruane
45
Posted 14/03/2015 at 12:52:40
Dave (40) - if ever there was a game where we could
really
do with an early(ish) goal, it's Sunday.
We all know (or can imagine) what the place will be like if it's 0-0 at 75 mins.
I imagine eyeballs and forehead veins poppin' akimbo, waves of frustration and anger pouring down from the stands and the panic-like-fuck button being pressed on the park (shudders!).
Calm heads might be hard to find but... that's exactly what will be needed.
John Keating
46
Posted 14/03/2015 at 12:46:09
A few have been asking for 4-4-2 for a while – even just to try it! Could it be any worse than what we've seen? Helen is spot-on in that we need points rather than an unlucky 1-0 defeat and the usual after-match bullshit about "We didn't deserve it" etc!
If fit, Baines should play in front of Garbutt. Pity Hibbert's not fit as Coleman could play in front of him rather than Mirallas – who appears not to give a shit this season – but then who does? With McCarthy as the holding mid the back 4 can quickly become a back7! Gibson plays forward midfield I think we have to play 2 up top to help Lukaku out.
Kone appears better at the hold up back to goal guy giving Lukaku the chance to run the channels. It would be good to play Naismith up with Lukaku but he is better in the hole behind the striker. Young Barkley just needs benched for a while to settle down. A good bench would give us flexibility if any single one doesn't give 100 percent!
We just can't keep saying we have to win this one. We've been saying that since Christmas! Only thing that scares me is our inability to compete for 90 plus minutes. We must be the unfitest team in the league!
Colin Glassar
47
Posted 14/03/2015 at 13:12:30
Hope so Kev. I think the team tomorrow will be;
Howard
Coleman
Stones
Jagielka
Garbutt
Mirallas
McCarthy
Gibson
Barkley
Nasmith
Lukaku
My team would be;
Robles
Coleman
Stones
Jagielka
Garbutt
Lennon
McCarthy
Gibson
Atsu
Nasmith
Lukaku
Subs: Howard, Alcaraz, Baines (if fit), Mirallas, Besic, Ledson, Kone.
Won't happen, I know.
John Keating
48
Posted 14/03/2015 at 13:21:56
Bit off track so apologies! I know I shouldn't but just got the Echo. Don't know if you've seen his latest utterances? Seems we hit rock bottom at Stoke!!?? Only a couple of months out, Roberto!
Also, though he could criticise players, he has to take blame! etc, etc. Not that he picks the team, sets the tactics, makes the subs... What a fucking halfwit!!
Barry Horne was spot-on – we are becoming like Wigan and, like their demise, it's got nothing to do with Martinez!!!
David Nicholls
49
Posted 14/03/2015 at 13:21:36
I cannot get my head around suggestions to play our fullbacks as wingers. Top class attacking fullbacks make average wingers at best. You could argue that Gareth Bale is a notable exception but I would say that he was never a top class fullback. Massive game! I would go:-
Howard
Coleman
Stones
Jagielka
Garbutt
McCarthy
Gibson
Mirallas RM
Naismith AM
Osman LM Floating inside
Lukaku
Lennon and Atsu to replace the widemen on 70 mins.
Gavin Johnson
50
Posted 14/03/2015 at 13:08:10
We're in a real dilemma with Baines returning from injury. How can Garbutt be dropped when most of our attacking play seems to be coming from him recently. Garbutt hasn't matched the levels of performance that Baines did last season, but he has been game, and ran past the half way line in the style we've been accustomed to from an Everton full-back. In fact he's been playing more like a wing-back so the logical thing for me, would be to play him in front of Baines at the expense of Mirallas who's been pretty bad for me since he was my man of the match against West Ham in the Cup.
That said, unfortunately I expect Garbutt to be on the bench with Robles, another who should be in the team ahead of Howard, who is giving me panic attacks every time a cross or a corner comes in.
My team for Sunday would be
Robles
Coleman Stones Jagielka Baines
McCarthy Gibson Barry
Kone Lukaku Garbutt

John Keating
51
Posted 14/03/2015 at 13:33:01
David, you're right – top-class full-backs make average wingers. Can you name ONE Everton winger who has been average this season? If you truly believe you can then good on you and play him.
A winger not only has to go forward but he has to track back and cover the full back. But eh, I stand corrected; tell me our top-class wingers?
Dave Abrahams
52
Posted 14/03/2015 at 13:33:47
Tony. (43) wish I had his money, wouldn't like to have the same personality though.
Gavin Johnson
53
Posted 14/03/2015 at 13:39:35
Revised team, as Barry is out.
Robles
Coleman Stones Jagielka Baines
McCarthy Gibson
Lennon Naismith Garbutt
Lukaku

Eugene Ruane
54
Posted 14/03/2015 at 14:19:12
Maybe the 'luck of the Irish' will come into play if we all wear these hats?
By the way, re the night of 'light entertainment' advertised, 㿄 might seem pricey for burger and chips, but if you look close you'll see it is a GOURMET burger.
My guess is there will definitely be a top chef making them by hand, using only the very best Kobe beef in the burgers (and probably using Heston Blumenthal's triple-cooked method for the chips).
Victor Jones
55
Posted 14/03/2015 at 14:23:06
John Keating. 46. My views to a tee. Well said. COYBs.
Victor Jones
56
Posted 14/03/2015 at 14:42:06
Our "wingers" are not doing anything this season. In fact who actually are our wingers, Mirallas? He wanders all over the place. Lukaku? FFS. McGeady? FFS. Naismith has been stuck on the wing, utter pointless. Pienaar.? I think even Eto'o was stuck on the wing. And I'm not sure what Lennon brings to Everton just yet. And Atsu hardly inspires confidence. Coleman and Baines moving into wide midfield roles might work. Why not? At least they should be more equipped to track back. Include Oviedo doing this role (when fit) also. Garbutt and Browning or even a fit Hibbert playing the fullback role. More balance with that set up. With a defensive midfielder and a more attack minded midfielder taking up the other positions. And two strikers. Kukaku with Kone or Naismith. Just an opinion. It won't happen anyway. To simple for Martinez. A 4-4-2 set up. Not complicated enough. He will play Barry again when available. And wingers who haven't got a bloody clue what they are supposed to be doing.
James Marshall
57
Posted 14/03/2015 at 14:59:11
Type or paste your comment here. PLEASE capitalise initial letters of proper names and use proper grammar. No txt-speak; all-lowercase posts are likely to be deleted
John Keating
58
Posted 14/03/2015 at 15:04:10
Victor
right !
It gives us so much defensive cover, if needed, it's not true.
Plus our full backs have been our best wingers !
Maybe I'm just so ignorant but we can be so flexible with a team set up like that it could well work !
Let's be honest - could it be any worse than the shite we've had to put up so far ??
Karl Graham
59
Posted 14/03/2015 at 14:59:04
I expect this
Howard
Coleman Stones Jagielka Baines
McCarthy Gibson Besic
Lennon Lukaku Naismith
Robles Alcaraz Garbutt Barkley Osman Mirallas Kone
I would play
Robles
Coleman Stones Jagielka Garbutt
McCarthy Gibson
Lennon Osman Mirallas
Lukaku
Howard Alcaraz Baines Besic Barkley Naismith Kone
I'd give Osman an hour before bringing on either Naismith or Barkley and if game is safe bring Kone on for Lukaku if chasing game bring him on for Gibson. Garbutt has done enough to keep his place in my opinion and Robles over Howard appears to be a no brainer for everyone apart from Martinez. I'd go for 2 in midfield however I expect him to set up not to lose again.
Colin Glassar
60
Posted 14/03/2015 at 15:41:12
Well that's my super 6 down the drain so come on Leicester and Citteh. Tomorrow is a must win for us.
John Keating
61
Posted 14/03/2015 at 15:41:17
So let's just look at the latest......
Obviously it call change. Martinez is the man and we obviously should persevere with the tactics, formations etc he is resolved not to deviate from regardless !
Some have called for his head. UnEvertonian is the cry we must stick with him.
Latest scores Palace won, changed their manager when below us now above us.
West Brom winning, changed their manager when below us now above us.
Villa winning were below us, still below us butlooks like 3 games on the run SINCE changing their manager!
The afternoon has a long long way to go and it may all change
Lets stick with Roberto and the promised land !
Victor Jones
62
Posted 14/03/2015 at 15:52:37
I agree again With you John. Martinez should have gone after that debacle at Christmas.IMO. But some supporters are worried about his payoff. Who cares. And some are waiting to see how the Europa league pans out. It could be all far to late by then. And should we survive, and still be in the PL next season. Will Martinez's admirers hail that as some sort of success? I won't. I'll be bloody relieved, but changes still need to be made. Cause I don't want to be watching the same old rubbish next season.
Teams at the bottom half of the table are now starting to play their way to safety. The bottom three are scrapping. Time Everton realised the situation, and started playing. Cause for some strange reason, I just don't sense any urgency. We pass the ball aimlessly, while other teams actually know the score, and score bloody goals. You couldn't script this season. Its a tragedy and a farce rolled into one. And as usual, heres hoping that we win tomorrow.
John Keating
63
Posted 14/03/2015 at 16:37:11
IF we can show a hundredth of the passion in the Wales v Ireland match, we can stay up! It's the want to win that counts.
We know we are better than Newcastle; we know we have better players man for man than Newcastle... The thing is, can the manager convince the guys and put the tactics in place to prove that?
Paul Tran
64
Posted 14/03/2015 at 16:37:27
John, Victor, I've got no problem with Martinez being sacked and I would never regard anyone wishing this as an 'UnEvertonian'.
I have got an issue with replacing him mid-season with an ex-manager. Royle and Reid are big blue heroes of mine, but it's a long time since either of them have managed a club and remember that they have both relegated bigger clubs than Wigan. Pulis' methods are tailor made for clubs in trouble, but could you see him taking Everton into the top four? Sherwood floundered under pressure at Spurs and while he will undoubtedly keep Villa up, I wouldn't put money on him doing anything special there next season.
The summer will be the time to make a considered decision and replace Martinez with a manager who will take the club forward rather than keep it mid-table.
If we really are a big club, we need to be thinking beyond ex-managers who used to play for Everton and managers whose stock in trade is keeping struggling sides safe from relegation. It's one thing not liking Martinez and wanting him out, it's another thing getting the manager who will get us success rather than keep us 'safe'.
John Daley
65
Posted 14/03/2015 at 17:00:12
"Neither of these clowns are of a standard Everton requires to improve on this season. It's strange to see how easily Evertonians' perceptions of what's acceptable have fallen under this manager!"
So, exactly which Evertonians think this slap to the scrotum sack of a season is acceptable?
Maybe the players/coaching staff/manager are all piss poor Phil, but you can only point it out so many times before it becomes redundant. It's nothing new at this point. No one in a blue shirt has really found a run of form all season but they're all we've got for now. What do you suggest as an alternative? Don't bother sending a side out and ask the Barcodes if they'd be willing to settle it over a backroom bout of paper, scissors and stone instead?
Ross Edwards
66
Posted 14/03/2015 at 17:01:10
Confident. Going for 2-1.
Mike Price
67
Posted 14/03/2015 at 16:53:02
If we can't get a win against a team with nothing much to play for, hampered by injuries and suspension, and at home with an urgent need for a win then we never will!
Even if we were 3-0 up wth 20 minutes left I wouldn't be enjoying it though, not with that clown in goal.
Tony Twist
68
Posted 14/03/2015 at 17:05:38
My team would be 4-4-2 believe it or not:
Robles, Coleman, Stones, Jagielka, Baines, Lennon, McCarthy, Besic, Garbutt, Kone, Lukaku.
Let's come out fighting and pressurise them then the goals will come. This team ain't going to happen with Martinez in charge though. 3 points tomorrow is a must.
John Keating
69
Posted 14/03/2015 at 17:03:54
Paul, I am not advocating the return of the two guys you mentioned long term. However, would either of them – until the end of the season be any worse?? Short-term, we need to ensure survival. Long-term, we need a proven manager with a plan.
Martinez is fixed and structured. Football is a game of change and movement. We have to have someone who can react and adapt. Martinez in his career has proven to be neither.
Today's results have shown that those teams that were below us a few weeks ago are pulling away or closing. Yes, we have the bottom 3 but our current form gives us no confidence. The fans influenced the game on Thursday and their change of tactics changed the result. That is a terrible indictment on the management; however, if that's what needs to be done, roll on Sunday!
I have no doubt he will change nothing against Newcastle – please prove me wrong! I can see a repetition of Thursday. We will start moaning and groaning, the players will alter the tactics and hopefully we get a similar result.
Martinez will get the credit after the game. I don't give a shit as long as we win.

John Daley
70
Posted 14/03/2015 at 17:05:49
"[Tim Howard] gone from average to awful after believing in his own publicity during the World Cup".
Oh c'mon Kev. That's not fair. I did hear Howard was fully behind the suggestion that the American's name an airport after him, but that was only so he could get his beard through customs without the boys from the counter-terrorism agency tackling him to the deck, dragging him into a back room and demanding to know where he'd 'stashed the device'.
Patrick Murphy
71
Posted 14/03/2015 at 17:17:15
We have to realise as supporters that we are in a poor run of form and it will be no easier tomorrow than it was against Leicester or indeed any other PL teams we have faced at Goodison this season. The rest of the campaign has to be about the supporters getting behind the team and encouraging them to get the necessary points on the board as soon as possible, because the longer it takes for the team to do that the more pressure will be on them and they don't seem to respond to pressure very well.
A draw tomorrow won't be the end of the world provided it is followed up with a win at QPR, preferably back to back PL wins in the next week would almost have us safe. I'm debating whether to tune into Burnley v Man City or await the result on Ceefax. I hate it when we are at the wrong end of the table.

Andrew Ellams
72
Posted 14/03/2015 at 17:24:20
If we don't win tomorrow then it is likely that we will go into April as relegation candidates. This squad should be light years ahead of that and no other club at this level would have allowed the manager to keep his job in such an unacceptable situation.
Gavin Ramejkis
73
Posted 14/03/2015 at 17:22:59
How about something amazing? How about playing two wingers one in front of our two wing backs? I know, I know rocket science stuff of pure fantasy. And in the middle of the park let's play Gibson as he actually passes the ball forwards instead of sideways?
Sorry for the irony but if we play far more direct and stick the fuck-farting about, slowing our own game down, we can get back to winning ways. We are the most frustrating side in the league to watch. Get the ball forward fast and attack, attack, attack.
Darren Hind
74
Posted 14/03/2015 at 17:14:20
"So, exactly which Evertonians think this slap to the scrotum sack of a season a season is acceptable?"
Vintage Daley.
I defy anyone to answer that...
Chris James
75
Posted 14/03/2015 at 17:26:30
Regardless of who plays, we desperately need the points tomorrow. With Villa showing signs of life and West Brom and Palace easing away we're going to be left relying on Hull, Sunderland and Burnley not managing to get a run together for the rest of the season (I've pretty much written off Leicester and QPR).
Two quick Sunday wins and I think we can generally start to relax and hopefully enjoy whatever remains of our Europa adventure.

Tony Hill
76
Posted 14/03/2015 at 17:20:14
Paul Tran (64), I agree entirely.
Today's results make me feel a lot more relaxed about our position because I had worried that QPR would have a bounce after Redknapp left and that Poyet's savvy would see Sunderland safe. Not so, it is now clear. Add them to one of Leicester and Burnley and even a pessimist like me starts to think that we'll be all right.
What we do in the summer, as Paul says, is another matter and while I still think RM should go, who knows where we will stand in May? This has been a mess of a season and there may yet be some twists and turns. I am unembarrassed to say that my comments on here will respond to those twists and turns. The alleged fickleness referred to above is due to no more than this: last season, by and large, we were very good; this season, by and large, we have been shite. Ditto the manager.

Trevor Peers
77
Posted 14/03/2015 at 17:31:28
Gavin: "Get the ball forward fast and attack, attack, attack."
Goes against all Roberto's principles, that's the problem.
John Keating
78
Posted 14/03/2015 at 17:48:07
Paul, I am not advocating for Reid or Royle to replace Martinez long term. What I am saying is if Martinez will not alter his philosophy - and let's be honest the crowd changed it on Thursday - then someone, anyone has to come in short term and ensure our PL survival.
Reid and Royle are available, they both know what needs to be done and let's be honest can they be any worse than Martinez?
Jim Bennings
79
Posted 14/03/2015 at 17:55:42
Team for tomorrow
Howard
Coleman
Jagielka
Stones
Garbutt
Lennon
McCarthy
Gibson
Naismith
Mirallas
Lukaku
That's what I'd go with. Don't pair Besic with McCarthy, please Roberto. I do like Besic but seriously, in a home league match we need to win, Besic is just the man you need to open up defences.
Whatever happens, for Christ's sake, Everton – start the game like you played the second half of the Kiev match.

John Keating
80
Posted 14/03/2015 at 18:04:18
Hi Paul (#64),
I'm not advocating Royle or Reid long term, just to the end of the season to get us out the shit Martinez has put us in. If not them, then Hibbert's dog would do! They at least know where we are and what is needed to get out of it.
Martinez is in a world of his own! They should dope-test him!
Bill Gall
81
Posted 14/03/2015 at 18:01:30
Just finished watching the West Brom v Stoke game and it drives home how poor Everton have been this season as, even with a win tomorrow, we would not be level on points with either of them.
The thing that amazes me is it has taken all this time for the manager to finally admit that it his fault we our in this position. I am not a betting man but I bet I would only get even money that he will stick to the same team selection and possession tactics that have got us in this trouble.
Eugene Ruane
82
Posted 14/03/2015 at 17:57:17
Gavin (74) - "Get the ball forward and fast and attack, attack, attack"
It could work, but it could just as easily not and when it doesn't, they've got possession.
I can just as easily see..
Punt - centre-half meets it.
Crowd "Tut! Fuck off jags."
Punt - centre-half meets it again.
"Fucking hell Jags!"
Punt - same result.
"FUCK OFF JAGIELKA, YER JUSS GIVIN' THE FUCKING THING TO THEM!"
Punt - same again.
Crowd "FFFFF....." (heads begin to explode)
Etc.
As frustrating as it is watching The Chuckle Brothers routine performed by our keeper and back four/five, I was taught it was a crime to give away possession, so have always found anything preferable to a hopeful welly up the park (admittedly, that's being tested right now)
David Hallwood
83
Posted 14/03/2015 at 17:58:35
Sorry Tony Hill(#77) I couldn't give a flying one about other team's results; the only result that matters is ours, but I must admit I'm beginning to dread the weekend(s).
My advice to our Bob would be: Go back to school dressed like Angus Young, and seek out 'sir'; the one that takes the football team, and say "Sir! Sir!, how do you defend corners?" To which the reply would be, you put a player on each post, because this makes the goal smaller and the GK can concentrate on catching the cross knowing his goal isn't being left unprotected in the unlikely event the GK misses or flaps at the cross.
Secondly, in the absence of Barry, put Barkley there, because: a) do we need two holders at home against a faltering Barcodes, b) It hasn't really worked has it?.
I only saw the 1st half on Thursday (i was on holiday and lost the signal) but by all accounts we played well in the second half; so Bob it must have sunk in by now, aimless passing along the back four does nothing; the opposition can just sit back knowing that there's no threat, also knowing that our defence is porous-two shots for one goal all season.
So Bob go for it, you have nothing to lose' 'cept our top division status, that we've enjoyed since before you were born.
Mike Keating
85
Posted 14/03/2015 at 18:22:58
We need the points and have to get behind the team despite our misgivings about RMs 'philosophy' and below-par performances by some players. To quote
The Secret Player
which I am reading at the moment:
"What the media says doesn't bother you as much as stick off your own fans – one of the worst experiences for a footballer. If fans really want to know what they can do to help their team, not booing and abusing their players is my top recommendation. You'd think they might have been able to work that one out for themselves."
I hope the knobhead behind me in the Park End takes note.
Trevor Peers
86
Posted 14/03/2015 at 18:29:00
If the players have rejected Roberto s tactics and are indeed just doing their own thing this leaves us in a very weak position almost rudderless. We will see tomorrow if that's enough to overcome Newcastle. We need a win and fast!
Michael Kenrick
87
Posted 14/03/2015 at 18:31:55
Funny, Mike... I would draw the exact opposite conclusion from that quote: if the fans booing and abusing them is actually what bothers the players, then that's exactly what the fans need to do when they are playing shite.
Proof? Thursday evening... around 8:37 pm.
Gavin Ramejkis
88
Posted 14/03/2015 at 18:32:23
Trevor #77 I know it does mate but I'm hoping after Thursday night and the players reaction to well deserved bell end from the fans that they stick the tippy tappy stuff up Roberto's hoop and play as they are more than capable
Gavin Ramejkis
89
Posted 14/03/2015 at 18:37:04
Eugene hopefully with the crab banned we will see Gibson who passes forward from midfield rather than the punt, but I'd still be happier to see it mixed up and some punts in there to keep the skunks on their toes, we are too bleeding predictable. Thursday night even Jags had enough and started charging down the pitch himself, the players are as fed up of the dirge as we are.
Gavin Ramejkis
90
Posted 14/03/2015 at 18:39:38
Have to go against that too Mike, Oxford Cup game saved Kendall's arse and got the players pulling their tripes out after they heard the fans calling for Kendall and the players at half time; had a little off spin called the best fucking run of success in our history, likewise Barry the Crab has admitted the fans reaction got them playing on Thursday, all this cotton wool bollocks doesnt work - http://www.clickliverpool.com/sport/Everton-fc-news/1221939-Everton-fc-players-responded-to-goodison-park-backlash,-says-barry.html

Eugene Ruane
91
Posted 14/03/2015 at 18:42:26
Whatever it takes Gavin I suppose.
Currently getting ready to go to town to see a band and shitting myself each time I hear..
"COME ON BURRNLEH, COME ON BURRNLEH!!" etc
Eugene Ruane
92
Posted 14/03/2015 at 18:46:25
And sure enough!!
Burnley 1 up.
NAP!!!
Mike Keating
93
Posted 14/03/2015 at 18:37:27
Michael
I understand what you say and a couple of times this season the fans have turned the game by having a go at the tactics but I think what the guy is talking about is how our abuse affects the confidence of the players and this is a worry - on Thursday the groans every time Alcaraz touched the ball did not help and I don't think had anything to do with his improvement in the second half (he couldn't have performed any worse).
I am particularly concerned about the impact on Barkley.
The guy actually goes on to say;
"I know of one top flight to player who could only play away from home, such was the stick he got off his own fans. It wasn't obvious abuse more that hollow groaning sound when he made a mistake which reverberate so loudly around the pitch - it destroyed him"
That player is Barkley at the moment.
Tony Hill
94
Posted 14/03/2015 at 18:45:53
David (83), other teams' results matter to us because if 17 of them have more points than us at the end of the season we will be relegated.
Eugene Ruane
96
Posted 14/03/2015 at 18:59:39
The 'cash out' thing on bet365 is such a tease.
Got 𧴺 coming back (off 㿀) if Burnley win and am currently being offered 㿼 cash out.
Do I bottle it and take it, wait til it hits a hundred or wait til the end?
As I say, it's a tease.
Ian Bennett
97
Posted 14/03/2015 at 19:12:48
Robles
Coleman
Stones
Jagielka
Garbutt
McCarthy
Gibson
Osman
Mirallas
Kone
Lukaku
Phil Walling
99
Posted 14/03/2015 at 19:06:38
Nothing personal, Eugene, it's only business as they say. But I want Burnley to lose that game in the cause of Everton. We'll have a TW whip round to cover your losses!
Mike, if Ross is that sensitive (like me, apparently) then he shouldn't be a bloody footballer!
Callum McNab
100
Posted 14/03/2015 at 19:19:15
Well, Villa have caught us, Burnley look like they are going to win, nothing but 3 points will do tomorrow. We need that spirit they showed in the second half the other night. If not, things will certainly get interesting.
Eugene Ruane
101
Posted 14/03/2015 at 19:25:38
Phil Walling, I was praying for the City win. But if they're going to lose and the odds are 6/1...
Brian Murray
103
Posted 14/03/2015 at 19:23:27
After today's results, a win is a must tomorrow.
No excuses, Everton – just do the business so I can at least enjoy Paddy's Weekend.
Phil Walling
104
Posted 14/03/2015 at 19:33:12
Hey Eugene, lets stop fucking about take the bloody money !
John Keating
105
Posted 14/03/2015 at 19:35:36
Mike
Bollocks to their feelings!
If it needs another crowd bollocking I'm there same as Thursday!
Phil Walling
106
Posted 14/03/2015 at 19:36:59
PS Just hope you took the bookies for the lot!
Denis Richardson
107
Posted 14/03/2015 at 19:27:13
Well it's now or never almost for tomorrow's game. Burnley beating City has really put the cat amongst the pilgrims...
Even IF we win tomorrow, we'll still be 6 points above the from zone!!
Squeaky bum time?
Kevin Tully
108
Posted 14/03/2015 at 19:39:52
Will Bill pull the trigger if we lose tomorrow? I think he'd have to.
Denis Richardson
110
Posted 14/03/2015 at 19:40:43
Should read 'pigeons'! Stupid iPhone.
If RM doesn't get 3 points tomorrow, will BK crap himself?
Patrick Murphy
112
Posted 14/03/2015 at 19:44:36
Kevin – I don't think he'd do it tomorrow but, if we got knocked out in Kiev and didn't get a result at QPR, I think he would have to give it a great deal of consideration.

Kevin Tully
113
Posted 14/03/2015 at 19:47:24
I think an extremely hostile GP would force his hand, Patrick. We only have 9 League games left after tomorrow, I really wouldn't see any point in prolonging the inevitable.
Three points above the relegation places, then lose what should be one of the easiest games on our run in. I certainly wouldn't be waiting until we had only 6 or 7 games to guarantee survival.
Without wanting to be sensationalist, I think Martinez would walk if the crowd turn on him after a loss. Can you imagine the reaction if we don't win tomorrow?
Michael Kenrick
114
Posted 14/03/2015 at 19:50:21
The concern with Barkley has some merit, Mike.
Personally, I entirely blame Martinez for what has happened to the lad, who was brilliant at times last season. Something has changed, and that is what causes the moans and groans as he now plays presumably to different orders after being talked up to a ridiculous level by his well-meaning but ridiculously over-positive manager.
What we saw on Thursday was similar, but directed I believe at the entire team, to get their collective finger out. The beauty of it was that it worked a treat. Sometimes, a good kick up the backside is what's needed – not this touchy-feelly bullshit.
Mike Hughes
115
Posted 14/03/2015 at 19:57:52
Martinez won't walk regardless of the results. He'll only do that if we drop. Then it'll be rats and sinking ships. And off to somewhere else to peddle his bullshit. (Probably Tranmere).
Just keeping everything crossed we can survive and then point him in the direction of Prenton Park at the end of May. (No offence to Tranmere Rovers, by the way).

Gavin Ramejkis
116
Posted 14/03/2015 at 20:06:26
Barkley has been dicked about big time this season as has the whole formation, seen hilarious arguments about how a pro should be able to play anywhere on the pitch, maybe Tim Howard's near post would be safer if he was up front?
Barkley hasn't been played as he was last season to some good effect just off the shoulder of Lukaku and able to run at players from a number 10 type role. He's been thrown out on the wings, sat too deep and even fighting for the same ball with Naismith and Eto'o. His confidence will be shot to shit as he's been asked to play an unnatural role for his strengths. Still, 㿲k a week must be some comfort, I know he certainly still parties like there's no tomorrow.
John Keating
117
Posted 14/03/2015 at 20:05:18
MK, you are spot on. On Thursday, the night started a bit surreal, and I can't really explain it. Everyone wanted a win but... . don't know the words?
After the shite of the first 25 minutes, they seemed to reach a crescendo in the atmosphere. It was definitely NOT against Barkley or any individual, it just seemed to be against everything?? Difficult to explain but you could not only sense and hear it you could actually feel it.
It just transmitted itself to the players and you could actually see the indecision in their intentions. Players could actually hear individual comments about how shite it was. They thought about changing passes. The rest is history.
It was quite surreal to see it but it worked. I just hope these arseholes are ready for similar on Sunday!!!
David Hallwood
118
Posted 14/03/2015 at 19:46:58
For me, the frustration about this car crash of a season is that if we had played to our potential, we could and should have been up there.
The billionaires are stuttering, Man Utd are getting results-fuck knows how, and Arsenal and the RS are good teams, but certainly not the side they were (especially the Arse).
I cannot recall a single game where we have been comprehensively outplayed (the exception being weirdly enough Wolfsburg at home), but IMO today's Guardian had it spot on that the season has been a combination of individual errors, injuries and poor refereeing decisions. To that I would add abysmal tactics and team selections.
With this squad we shouldn't be worrying about Burnley beating Citteh – it should be the other way round. This isn't the team of Farrelly, Tiler, Spencer et al, but a side packed with internationals; players that are 'on the radar' of 'bigger clubs'. The fact is that it should be US on everybody's radar and being spoken about as dark horses for EPL winners is one of the most frustrating and baffling things I've experienced in all the time I've been watching football.
Look over my shoulder and pray Burnley, Place, QPR do us a favour? FFS do ME a favour.
Ross Edwards
119
Posted 14/03/2015 at 20:12:17
I think Kenwright will be getting nervous. He'll also be monitoring the crowd reaction as well tomorrow, especially if we lose. The performance, the result and the crowd could make the decision for BK.
John Malone
120
Posted 14/03/2015 at 19:56:45
I just hope Garbutt doesn't lose his place to Baines, against Leicester Baines came back in and played negative sideways safe football all game which is what he's done all season. Garbutt has been a breath of fresh air he's like Baines was a couple of years ago hungry to be involved in positive play and swinging dangerous balls in at every opportunity.
I hope he drops Barkley and gives Ossie a go behind Lukaku I honestly don't think Barkley is a natural number 10 like a Silva or a Coutinho he'd make a cracking marauding centre midfielder if he could concentrate for 90 mins and track runners, at the minute he's having very little impact on games and his inability to release the ball early is killing us when attacking.
Phil Walling
121
Posted 14/03/2015 at 20:12:06
Very few managers 'walk' these days, the conpo packages for getting sacked are the so-called 'golden handcuffs'.
I can't see Martinez telling the lads to forget Thursday and stick to his t.t.tactics whatever the crowd's mood. He can't possibly be that daft.
But who knows what goes on in the dressing room? What we all want is 3 points - howsoever they are gained - and another 3 until safety is assured. The manager's future is for another thing altogether.
Patrick Murphy
122
Posted 14/03/2015 at 20:25:48
Phil - I agree totally with your sentiment that the most important thing tomorrow is to get those 3 points. However, if we fail to get those points tomorrow or next Sunday at QPR, I don't think we can wait until the end of the season to examine what has occurred.
An interim manager would have to be appointed to try and push us over the line. If RM can't motivate them for these two upcoming PL games, he won't be able to motivate them for the remainder of the season.
John Keating
123
Posted 14/03/2015 at 20:27:08
Nothing will change tomorrow. Martinez will pick the same team and play the same tactics. The crowd will do exactly the same as Thursday and the players will respond as Thursday. Hopefully we will not be a goal down by then...
With luck, and giving Lukaku the right service, we'll get the same result. Martinez will go on the telly after telling everyone how he turned it around. Hopefully Monday Bill will bin him!

Phil Walling
124
Posted 14/03/2015 at 20:33:38
I don't disagree, Patrick, but I just can't see BK acting whilst we are doing so well in the Europa. He's not that decisive!
But who knows who might be getting twitchy in the background? He may be instructed to act by his 'advisers'!
Jay Harris
125
Posted 14/03/2015 at 20:48:51
All the teams that have changed managers at the bottom except for QPR who stayed with existing staff have significantly improved their results.
I hope that hasn't escaped BK.
I also hope the power of the crowd didn't escape him on Thursday and he recognises that enough is enough with this guy and his "Wiganisation" of Everton.
Dave Abrahams
126
Posted 14/03/2015 at 21:05:04
Let's just see if the team carries on tomorrow the way they finished on Thursday, we'll know after 10 or even 5 minutes which way the team will play, and if it's like Leicester City etc. the team will have to face the wrath of the fans or change the tactics themselves, Martinez isn't that foolish is he?
Christy Ring
127
Posted 14/03/2015 at 20:44:24
It was the fans who turned the game against Kiev by booing every time we passed the ball back, the players changed Martinez game plan and our whole tempo went from 2nd gear to 5th gear.
It has to be the same tomorrow, Burnley are only 3 pts behind which is scary. A win is a must tomorrow (we have to play 4-4-2); anything less and he has to go before it's too late.
Trevor Peers
128
Posted 14/03/2015 at 20:40:11
Are we not in danger here of NOT giving ourselves at least a fighting chance of survival if we should lose tomorrow? Assuming BK is concerned enough would a temporary manager with a complete change of tactics be are only option? Of course a win would lessen that pressure but it is getting very late in the day IF we lose.
Vinny Garstrokes
130
Posted 14/03/2015 at 21:54:40
If I am absolutely honest, I feel like I have got a bit of a split personality today, one part of me was delighted for Burnley who I thought thoroughly deserved their win over Citeh, but the other half sees a club 3 points behind us with a lot of grit and determination to potentially get them out of trouble. Three points please, Roberto, or it's adios as far as I'm concerned.
Mike Childs
131
Posted 14/03/2015 at 22:26:35
Vin, you're not alone. Every time I have seen Burnley this year they have given their all and I too was happy they won. I think the 3 to go down will be Leicester, QPR & Sunderland. Sunderland have been digging out at the last minute the last few years; time for them to go.
I still would feel a lot better about us if a certain beard rode the bench.
Andy Crooks
132
Posted 14/03/2015 at 22:53:09
This is huge seven days for Everton and a really anxious one. We have better players than Newcastle but a poor coach. The players must win it tomorrow, defeat is unthinkable.
Mike Hughes
133
Posted 14/03/2015 at 22:59:44
Obviously every game is important now.
I think Leicester and QPR are gone.
Then it's between Burnley, Sunderland and (right now) Everton.
I say that because prior to the Newcastle match, our PL form is terrible.
Villa have the 'new man' effect - though I don't like Sherwood. Something about him tells me it's all about him.
And, man for man, I'd put my money on Steve Bruce ahead of RM in a relegation fight.
Everton v Sunderland is going to be a crunch match as is the home match to Burnley.
The most positive aspect right now is that it's in our hands. Let's hope it always is.
The victim of all of this has to be RM at some point between now and the end of May. But that comes second to EFC's PL survival. Desperate times.
Brian Hennessy
134
Posted 14/03/2015 at 23:06:49
People often talk about the 12th man and I often think its an over used phrase, but Thursday night was a perfect example of how fans can change games.
To each and ever one of the Everton fans going to Goodison tomorrow I say more of the same please.
If we start off with this passing sideways across the back bullshit, let them have it with both barrels...
Mike Hughes
135
Posted 14/03/2015 at 23:18:40
Brian - given the evidence of Thursday night - right on!
Though let's be positive. Raise the rafters tomorrow.
John Malone
136
Posted 14/03/2015 at 23:33:35
I'm off to bed but before I go to sleep I'm going to ask our lord for three points tomorrow!
Peter Barry
137
Posted 15/03/2015 at 01:10:56
After yesterdays results, we are now only three points away from the 'Drop Zone' there is no room now for complacency or the 'we can't get relegated' crew. Today's game against Newcastle is now more than ever a MUST-WIN and a draw is just not good enough.
Laurie Hartley
138
Posted 15/03/2015 at 04:30:40
Peter, couldn't agree with you more.
I have just finished watching Villa rip Sunderland apart.
There was something very, very sad watching the "Stadium of Light" emptying. Their team showed no fight after they went behind.
There is no way Villa are going down based on that performance but Sunderland will be swapping places with Burnley in the very near future.
It looks to me that West Brom and Palace are home free. Villa will be very shortly so it's up to us to make sure we don't give Burnley or QPR, (Sunderland are gone) something to cling to. A win tonight should kill off any hope of any of them catching us.
I hope the team give the crowd something to cheer about from the kick off – that will make the difference.
I have got a feeling that Lukaku could just be the player to provide that something –it seems to me he has stepped up to the plate in the last few games.
Up the Toffees.

Darren Hind
139
Posted 15/03/2015 at 06:59:38
Why do people insist on seeing only one alternative to the half witted possession-in-our-own-half Garbage we've endured all season ?
Fast attacking football It does not HAVE to include "a punt". Instead of making life easy for the two banks of four we seem to face every game, why not give them something to think about?
How about we move the ball quicker, we allow one or two of our now customary back eight to venture forward offering – dare I say it? – a few alternatives?
We have the best pair of attacking full-backs in the country and if you give them freedom to link with midfield players in advanced roles the will cause the opposition all sorts of problems. Even TGT figured that out... eventually
Callum McNab
141
Posted 15/03/2015 at 08:10:13
Well just watched MotD on BBC. Pundits talking about the difference in Villa: "They don't mess about with ball side-to-side or back, they were very direct more attacking, even Cleverly was a different player." The outcome: 4 goals. Hope you were watching, Bobby & Kenwright.
Sherwood's response was "This isn't a team to try and grind out results, they needed to be more direct." Says it all.
Eddie Dunn
142
Posted 15/03/2015 at 08:14:56
John Malone, 120. You are spot-on mate, I hope Garbutt keeps his place. As much as I like Baines, he has been playing it too safe this season. Garbutt has been instrumental to many of our best moves and deserves to stay in. However, Martinez doesn't run a meritocracy as Garbutt found out last time, ditto Robles!
Also, I would play Barkley, who I thought tried hard on Thursday, and I'd bring in Gibson rather than Besic.
Paul Burns
144
Posted 15/03/2015 at 09:42:03
Someone on a different post watching a replay of Thursday's game noticed that Garbutt never made a single tackle or blocked a single cross for the whole of the game. This is an incredible spot and has to be dealt with. A full back still has to be a defender first and foremost and it's inviting disaster to play someone in this specialist position just because they can get up and down the line and throw a decent cross in.
Back in the 90s, remember Earl Barrett? He was the opposite, an ordinary player but the best cross-blocker I've ever seen.
Peter Bell
145
Posted 15/03/2015 at 10:35:45
Steve Watson on goals on Sunday, saying he is currently out of work, don't worry son there is a retirement home for ex players that will soon find a place for you.
Patrick Murphy
146
Posted 15/03/2015 at 10:50:57
Lee Carsley makes a few salient points in his column but probably the main one is this:
There's a misconception, I think, when people talk about Everton's fans getting frustrated with the way we are playing. People think that we are demanding the team just smashes the ball forward and plays percentage football. Wrong.

These fans pay to come and watch Everton play, to watch Everton impose themselves on the game. They don't pay to watch the opposition. And what they want is for Everton to get at teams, to go at them and attack them
Brian Harrison
147
Posted 15/03/2015 at 10:55:33
I hope today doesn't become yet another wasted opportunity of pulling away from the relegation zone, we have blown to many chances to do it lately. I hope he plays Gibson for Barry and Osman to replace Barkley, that will give the team a more attacking outlook.
I listened to Tim Sherwood last night being interviewed by Collymore and I found his interview very interesting.
He was asked what he had changed since joining Villa, he said he looked at the squad and said he didn't think the players he had were the type to grind out results. So he said he wanted them to play a more attacking style. Notice he didn't say this is my philosophy and that's the way we play irrespective of the players he has, no he made the style suit the players.
He then said he wanted them to play at a high tempo, so he said they train at a high tempo. To those fans who say that its not RMs fault that we pass the ball so slowly well here is the answer practice passing the ball at pace in training.
Finally he was asked about the pressure from the crowd, he said if you play for a big club you should expect pressure to perform well and win. So if you don't want that pressure then don't play for a big club. I thought how refreshing that there are managers out there who want to play the game that suits there players rather than trying to impose a doctrine that doesnt suit the players you have.
Harold Matthews
148
Posted 15/03/2015 at 11:13:42
Newcastle are pretty safe. Can't picture them busting a gut to win this one.
Nev Renshaw
149
Posted 15/03/2015 at 11:29:20
Well. Here we go again, squeaky bum time. COYB.
Brent Stephens
150
Posted 15/03/2015 at 12:13:15
Eddie #142 "Garbutt has been instrumental to many of our best moves and deserves to stay in."
I quite like Garbutt, certainly some of the crosses I've seen. But I think we saw on Thursday Garbutt suffering what Baines has been suffering - nobody wide ahead of him to pass up to and play the triangles with, as our midfield drift infield (the Nais / Barkley issue). So Garbutt, frustrated, turns back and passes into Jags or whoever.
James Flynn
151
Posted 15/03/2015 at 12:34:35
Type or paste your comment here. PLEASE capitalise initial letters of proper names and use proper grammar. No txt-speak; all-lowercase posts are likely to be deleted
Tony Hill
152
Posted 15/03/2015 at 12:33:26
Harold, I agree and expect a win. I also think yesterday was important for showing us how bad Sunderland are and how chronic their problems. Same with QPR, and if we get 3 points today and then avoid defeat next week I think we'll be safe, even with Burnley and Villa showing some form.
Phil Walling
153
Posted 15/03/2015 at 12:37:11
Everton odds on -13/15 - to win today with Barcodes at 4s and the draw 11/4.
Bookie mate of mine just forwarded a 'predictor chart' on which odds are formulated. These experts seem to rely on very simple maths and following form to date expect Everton to finish in 12th spot with 41 points !
Seems a shade optimistic to me but a win today would see us well on the way to that total. Worry ye not !
Andy Walker
154
Posted 15/03/2015 at 12:43:04
We need a Moyes style performance today, commitment, determination, closing down the opposition, playing the ball forward with pace, getting crosses in the box, urgency.
What we don't need is Martinez football but inevitably we will get it as he's in charge with the ego the size of a planet with added arrogance.
Let's hope the crowd take control of the team away from Martinez like it did last Thursday. Ludicrous situation where the crowd are actually managing the team.
Relegation Roberto must be removed in the summer.
Paul Jeronovich
155
Posted 15/03/2015 at 12:46:18
Just got to attack today. I think we all understand sometimes we as fans have to be patient in some games but not today, this is a piss poor Newcastle team. There can be no excuses!!!!
Andrew Cunningham
157
Posted 15/03/2015 at 13:00:36
Love your post Phil153, 41 points and a 12th finish. I'd take that now.

Colin Glassar
158
Posted 15/03/2015 at 13:46:31
Not wanting to tempt fate but, IF we win today and go on a bit of a run I can see us finishing in the top 10. Why? Because I think we can overtake WBA, Palace, Newcastle and WHU (who are in free fall). On paper we are better than them (and Swansea) and we should be above all of them anyway.
As for Europe, well beat Kiev on Thursday and anything can happen but I'm not making any predictions.

Steve Cotton
160
Posted 15/03/2015 at 14:11:32
Why don't we make a big fuck off banner that the cameras can pick up on saying:
"Enough of the tippy-tappy stuf "
or
"We've had enough of this non-football – attack, attack, attack! "
or something similar... The RS would do it, The Mancs would do it, So stop pussy-footing around, let the board know...
Victor Jones
161
Posted 15/03/2015 at 14:05:03
Love your optimism Colin. Thinking that we will go on a run. This Everton team under Martinez couldn't run to the bottom of my garden. And to win the odd football match , they want to start running forward into the opposition half. That would do for starters. Serious though, we have only managed to win two consecutive games only once this season. Its time they all woke up and realised the urgency of the situation. Especially Mr. Kenwright. Enough has been said about Martinez on these threads. And my opinion is clear. But he seems to be getting yet another chance to turn things around. IMO he's been trying to turn things around since August. And it isn't working. But we live in hope. We live in hope.
Once more into the breach, dear friends. Once more into the breach. Surely today we can beat an injury ravaged Newcastle.? Surely? COYBs
Jay Harris
162
Posted 15/03/2015 at 14:05:08
Colin
I wish I had your confidence.
We haven't won a league game since QPR in mid Dec and with the cardboard cutout in charge and the clown between the sticks our only hope is for the crowd to will them on again.
I also think the players will be feeling the pressure to win today and our guys are not good under pressure
The saving grace is Newcastle will have a weakened side and nothing to play for.
Phil Walling
163
Posted 15/03/2015 at 14:15:22
I don't know, Colin, I suggest 12th and you get carried away and say 10th!
Anybody think we can make 7th so I can see some money back?
Colin Glassar
164
Posted 15/03/2015 at 14:21:46
Or start the, "you don't know what you're doing" chant? Or the grim reaper? Or white hankies? The possibilities are endless.
The RS and the Mancs never stooped to this level, bar some very isolated cases, but 'fans' of shite teams like Newcastle or WHU would. I think we're better than that.
Support the team, forget the manager, and let's get a few wins under our belt. Then you can make all the banners you want.
Colin Glassar
165
Posted 15/03/2015 at 14:27:07
Phil, I said (August) top 4, you said 7tish. I hope you're right and I'm wrong but I think we are both deluded.
Jonathan Benn
166
Posted 15/03/2015 at 15:09:49
Well said Colin.
Andy Walker
167
Posted 15/03/2015 at 15:06:29
Colin you must be able to see that the crowd are taking over the management of the team and trying to stop the sideways/backwards passing as part of ponderous build up play. It's for the best.
This is a situation I have never seen at any club before, a crowd forcing the players to change the way they are playing.
Martinez will be in there now doing the damage, creating the wrong mindset in the players and telling them to play at the wrong tempo and in the wrong style. In 60 minutes time the crowd will take over and try and undo his hapless influence.
The crowd is our only hope, we must continue to free the players from Martinez's spell.
Colin Glassar
168
Posted 15/03/2015 at 15:21:54
So the crowd are picking the team and deciding on the tactics Andy? That's one for Ripley's.
Paul Tran
169
Posted 15/03/2015 at 15:18:21
Andy, what I saw and heard last Thursday (admittedly from the telly) was a pissed off crowd looking to fire one up the players arses. I've heard this under Moyes, Smith, Walker, all the way back to Catterick's days. I remember Moyes being booed for bringing on a defender for an attacker, then having a go at the crowd afterwards. No-one talked about 'the crowd managing the team', just that he was in a minority of one.
When I'm lucky enough to be in Liverpool to get to a game, I see it as my duty to let the manager and players know what I think of their good/bad performance. It's been like that for me since 1970, it's really nothing new......unless you're desperate for another reason to have a pop at Martinez?
Martinez looks and sounds washed up, knackered and clueless. He's never been in this situation and it shows. He's hanging in there looking for a miracle that isn't going to come. He clearly isn't getting through to the players, so if the crowd does it, that's fine by me! It's nothing new.
Says a lot about the players, though, doesn't it ?
Andy Walker
170
Posted 15/03/2015 at 19:16:58
No Colin and I didn't suggest anything of the sort did I. Team selection is clearly part of the problem though seen as you raise it. There's only so much fans can do but they're able to make it very clear to the players on the pitch that they do not want neagative, slow football.
This is fundamentally different to booing a substitution or getting on the back of a particular player, the latter I hate by the way. This is about the crowd making it clear they hate the style of play and demonstrably having an effect on the team. We can all see it.
Laurie Hartley
171
Posted 16/03/2015 at 09:07:23
John Malone @ 136 - Don't forget to say thank you. While you are at it could you ask for a 1-1 on Thursday and another 3 points next week end.
Up the Toffees
---
Add Your Comments
In order to post a comment, you need to be logged in as a registered user of the site.
Or Sign up as a ToffeeWeb Member — it's free, takes just a few minutes and will allow you to post your comments on articles and Talking Points submissions across the site.
© ToffeeWeb