Everton vs Southampton
Match Preview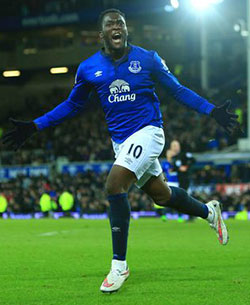 Romelu Lukaku will undergo a fitness test on Friday to assess the condition of his hamstring
Having recorded back-to-back wins in the Premier League for the first time since September and put more daylight between themselves and the bottom three, Everton return to action following the international break looking forward and upward again rather than over their shoulders.
The top half of the table may be an incredible eight points away but, with eight games left to play, that must be the immediate goal, though 8th place — the highest berth that is realistically achievable now — will hopefully be the one Roberto Martinez is spurring his charges towards.
The final straight of the 2014-15 campaign begins with the visit of Southampton, unquestionably the surprise package and success story of the season. Tipped by many for relegation when they lost Mauricio Pochettino to Spurs and sold half of their team for huge money last summer, the Saints have excelled under Ronald Koeman and sit just outside the top five heading into the weekend.
They're 19 points better off than the Blues and have already inflicted one of the worst defeats on Martinez's side this season in the reverse fixture in December. Everton lost 3-0 that day, the start of a four-match losing streak that derailed the season and had many questioning the Catalan's future at Goodison Park.
With the club now out of the Europa League and still not completely clear of relegation danger, the jury remains out on Martinez but he can use the last few matches of the season to see if he can recapture some of the form of last term and demonstrate his ability to take the team forward.
He may have to start without top scorer, Romelu Lukaku, who limped out of the last match at QPR with a hamstring injury and was forced to sit out his country's Euro 2016 qualifiers against Cyrpus and Israel. He will undergo a fitness test on Friday to assess his readiness for Saturday but Arouna Kone, who also went off injured at Loftus Road, has been passed fit.
Darron Gibson is doubtful given that he hasn't yet resumed full training after picking up a groin strain at QPR but Kevin Mirallas and Steven Pienaar could make the squad having resumed training and being declared medically — if not match — fit by Martinez. Tony Hibbert and Bryan Oviedo are the only two players definitely ruled out by the manager.
Whether or not Lukaku makes it is likely to dictate what sort of formation Martinez goes with against Southampton. He started the Belgian alongside Arouna Kone in the last two League games and picked up two wins and he could be tempted to deploy the same strikeforce again if he is able to.
Should Lukaku be ruled out, it's likely that Steven Naismith, Ross Barkley, or both will get the nod to play off the Ivorian, although Leon Osman and Pienaar would offer alternative options in attacking midfield. With the manager reluctant of late to play two wingers, Aaron Lennon as the form player is likely to keep Mirallas on the bench. Few changes are expected at the back, with Leighton Baines presumably recovered from the slight knock he picked up playing for England against Lithuania a week ago.
Kick off: 3pm
Referee: Lee Mason
Reader Comments (104)
Note: the following content is not moderated or vetted by the site owners at the time of submission. Comments are the responsibility of the poster. Disclaimer
Mark Andersson
1
Posted 03/04/2015 at 08:29:39
Hard to call this one, even though we are the saints bogey team.
A win would be good, more importantly a bad loss will have the knives out for out beleaguered manager.
Should Ross start as a striker?
Dave Abrahams
2
Posted 03/04/2015 at 08:58:57
No game is ready to be won while Howard is selected in goal. Why Martinez continues to pick this player when a big majority of fans can see he completely unnerves the whole defence is a mystery to most of us.
Maybe Martinez cannot comprehend the situation, if he doesn't I believe he is digging his own grave regarding keeping his job.
Denis Richardson
3
Posted 03/04/2015 at 08:26:17
Home game with basically nothing to lose and little to play for – season is as good as over. I would be amazed if we managed to make up 8 points in 8 games to get into the top half. Then again, there's no pressure on us anymore.
Southampton on the other hand do have something to play for so it'll be interesting to see whether pride and possibly shop window effects will mean we put in a good performance or now the pressure is off we go back to slow sideways/backwards nonsense.
Unfortunately, and apologies for being a bit miserable, but I find it hard to get excited anymore as long as Martinez is still in charge.
Really not arsed with team selection or tactics; like some of the players, my mind is already on the summer hols.
Sam Hoare
4
Posted 03/04/2015 at 09:19:27
Denis, I feel the same but I suspect that may change if we start next season this well. I think it's this season that has lost all interest for me since the Kiev game.
Now we are pretty much safe from relegation, the pressure is off in a way and probably we'll start playing a bit better now there's so little to play for.
I hope he takes the opportunity to give some game time to the likes of Garbutt, Browning, Besic and Robles. Garbutt in particular as I will be livid if we lose one of the best young left backs in the country because we haven't given him enough game time in a season where so little has been achieved.

Christopher Timmins
5
Posted 03/04/2015 at 09:36:36
Welcome back to a 3 o'clocker on a Saturday, seems like an eternity since Goodison hosted a game at that time.
Helen Mallon
6
Posted 03/04/2015 at 10:01:41
Sam Hoare, I agree with your statement about Garbutt, he will become England's main left back for the Euros and I want that to be as an Everton player not for someone else. He was excellent for the Under-21s the other night. The commentator said he was the best deliverer of a ball in the Premier League and I must agree.
Mike Keating
7
Posted 03/04/2015 at 10:10:18
If Baines is still sore from the knock he got in the England game, why not rest him and give Garbutt a game?
I hope he can prove us wrong but I see another dodgy performance from Howard coming up.
If Koeman can outsmart RM again, it might just get Ballbag Billy thinking about a managerial shake up with the Dutchman as his main target.
Christy Ring
8
Posted 03/04/2015 at 10:20:37
After winning our last 2 league games and Osman and McCarthy giving us a lot better shape in midfield, with Barry back from suspension (unfortunately) the best he should hope for is a place on the bench. If Bob starts him, 'clueless' comes to mind.
Kunal Desai
9
Posted 03/04/2015 at 10:50:01
I don't think 8th place is anywhere near realistic. It's likely that 11th place could be our best possible finish.
The manager and players should look to restore some pride back and give the fans something after the abject display in the reverse fixture.
Lee Mason in charge. Does that fucker ever give us any decisions?
Harold Matthews
10
Posted 03/04/2015 at 11:12:22
Yes Kunai, with Lee Mason being such a big wrestling fan, Lukaku could be in for a hard time.
Jimmy Salt
11
Posted 03/04/2015 at 11:22:56
To be honest, guys, I think top half is out of the question. We will flirt with the bottom clubs til seasons end.
Sam Hoare
12
Posted 03/04/2015 at 11:40:24
We will surely finish 11th -13th. Pretty disappointing. Big Summer in terms of addressing the squad needed.
Harold Matthews
13
Posted 03/04/2015 at 11:19:40
Agree Sam. Young Garbutt will not improve the defensive side of his game sitting on the bench. All the left backs are suffering from the absence of a fit, fast, knowledgeable Distin but he couldn't go on forever.
It has become a very shaky area but Garbutt will never be up to the task if we don't play him. Going forward, he has us on the edge of our seats and the other sides of his game will only improve with minutes on the pitch.
Chris Gould
14
Posted 03/04/2015 at 11:14:55
I understand people's frustration with the Garbutt contract situation, but the fact is he is reserve to the best left back in the country. Baines is a fantastic footballer and when fit should always start.
We can't keep England's number 1 on the bench in order to make Garbutt happy. He isn't as good as Baines, he may never be as good as Baines, and Baines has a good few seasons left in him. I hope he signs a new contract because he is a great prospect and could turn into a future star, but he won't want to spend the next few seasons sitting on the bench.
Ultimately, a new contract means that we have the option to sell him for big bucks. Losing him for practically nothing is simply not acceptable. Guaranteeing him the first choice left back spot is not going to happen. I suspect that he will want this guarantee or he will be off.
Michael Polley
15
Posted 03/04/2015 at 11:41:28
Restore some pride guys, and secure a win. No more pissing about with sideways passing, and passing from the back. Get the ball in their penalty area – play direct. It's worked for the last two games. COYB
Tim Greeley
16
Posted 03/04/2015 at 11:38:20
Who brought up Barry!?!? Thanks for ruining my coffee!!
He is gonna start tomorrow. Just think about it. Barry HAS to sit for 2 matches... we win both. As soon as he is eligible, we all just know he is back in. That is so depressing.
What is up with Jay Rodriguez these days? He was injured but I don't think he has played all season. If Koeman doesn't rate him, we should get in for him. He'd be perfect playing off Rom.
Denis Richardson
17
Posted 03/04/2015 at 11:59:54
Depending on the fee and who our manager is, I'd be tempted to cash in on Baines in the summer whilst his stock is still high.
Garbutt and Oviedo may not be as good (at this time) but they are both decent. Money can then be used to finally bring in a class creative midfielder.
Baines is quality but he turns 31 next season so his value is going to dive over the next 12 to 24 months. He's also one of our top earners so would give us a decent wage to offer as decent midfielder.
No matter how good the player, we need to get better at rotating the squad and cashing in on players at the right time. Rather than holding onto them until they are in their mid 30s, still in high wages (Pienaar, Osman, Howard now... and the likes of Neville and Cahill not too long ago). We're like a pension fund these days.
Harold Matthews
18
Posted 03/04/2015 at 11:53:13
Chris. I'm with you on Baines. He's a very special player and the № 1 choice.
He definitely misses Distin and, judging from one or two of his recent surging runs, could well end up in midfield. Much will depend on whether or not he loses his England place to Luke Shaw now that Hodgson is bringing the young lads through.
Brian Harrison
19
Posted 03/04/2015 at 12:06:45
I think the Garbutt situation is really depressing. Here is a talented player who could walk for free at the end of the season. I am sure there will be quite a few Premier League clubs who will guarantee him a first-team place.
Terry Murphy
20
Posted 03/04/2015 at 12:43:58
Maybe just me, but I find myself looking at this game like it's a pre-season game...
Derek Thomas
21
Posted 03/04/2015 at 12:46:37
Brian @ 19, I'm not to happy with the Garbutt situation. I think he'll go. He had no worries leaving Leeds to get up the ladder and I don't think he will have any worries leaving us.
Iain Love
22
Posted 03/04/2015 at 12:57:51
Simply move Baines to midfield in these remaining games. Give Garbutt a decent run if he signs a 1-year extension.
James Marshall
23
Posted 03/04/2015 at 11:50:38
What makes everyone think Garbutt will be full back for England? He's never played for the senior team, and barely played for the Everton senior team either, so where's the logic?
Have you ever heard of Luke Shaw?
Eddie Dunn
24
Posted 03/04/2015 at 12:56:27
We need to build on the last two results, even though the performance at Queens Park Rangers was shakey at times.
If Rom plays, we could well win... but, if he fails to make the team, I just can't see us scoring. Therefore the question is: Can we keep a clean sheet?
Jags should be full of confidence after his good showing in Turin but, as for our hipster goalie, I don't fancy our chances.
James Marshall
25
Posted 03/04/2015 at 13:03:49
Oh and the whole 'Baines in midfield' thing is also a weird one - Baines is lost when he has to play a role that requires him to be aware of his surroundings 360. He's a specialist full back, and has never been anything close to being a midfield player – I'm sure some people have blurred lines between FIFA on their Playstation and actual reality.
Patrick Murphy
26
Posted 03/04/2015 at 12:55:13
It does feel like this season has run its course, and that there is little interest in what happens in the remaining fixtures, the International break hasn't helped with that either. The fact that we have five home games still to play, which is almost a quarter of our home fixtures tells its own sorry story.
However, the players can't be allowed to think that way otherwise there could be another unwanted twist in this campaign, so it's very important that the Blues continue to pick up points and hopefully show us some good football in the process.
I've just been on the Echo website and viewed Spurs versus Everton from this day in 1985 – oh for a time machine; how much the game and Everton FC has altered in those 30 years, no live TV coverage of a title-deciding match, not even a special highlights package, just a short news item on the Saturday Lunch-time programmes and snippets on the main news.

Mark Andersson
27
Posted 03/04/2015 at 12:52:54
Terry Murphy, you would think that the players would think of this game as more than a pre-season kind of game. They should be playing for pride, shop windows for those that want to move on. Or just have the common courtesy to please the fans who pay and expect some kind of entertainment.
Sadly you just might be right.
James Flynn
28
Posted 03/04/2015 at 13:00:43
On Garbutt, a few questions since we always have some folks in here who know how this works and I'm not one of them.
So:
1. We do have the month of June to sell him and make a bit of cash correct?
I know clubs (and Garbutt) could just wait until 1 July. But, just turned 22 Garbutt would seem as good a prospect and 20-year-old 㿌 million Shaw, surely. Not that we'd get anything near that, but that some club would rather throw Everton some millions to get a jump on the others in for him. ("We didn't want to wait til July lad. See how much we wanted you? We paid!!") Not to mention Garbutt's basically a Moyes-developed defender, an area Davey's reputation was second to none. Gotta believe that would help.
2. If the "sell him in June" scenario works out, does Leeds still get a wedge of the sale price? That it doesn't matter Garbutt had signed a second contract, or however many, Leeds gets a cut?
3. If his man tells him to wait until 1 July, he literally goes for free? He's an out-of-contract professional player at that point, so no tribunal and Everton get nothing?
Appreciate the answers.
He could re-sign, of course and I'm in the "Sign him up, Bill" group. No doubt about that. But, it just seems young Luke's man has positioned him perfectly for his next contract.
Gavin Johnson
29
Posted 03/04/2015 at 13:48:59
We won't owe Leeds another penny in relation to Garbutt. Ken Bates took us to a tribunal alleging we'd tapped the kid up. I can't remember the exact fee the tribunal set. I think it was either 𧼐k or 𨀼k without looking it up.
Getting Garbutt to sign another contract should be high on our summer transfer agenda and let's move Baines into midfield. He won't be any worse than Barry. An article from the 4-4-2 site (which is also on TW) thinks Baines & Besic would make a good pairing.
Richard Reeves
30
Posted 03/04/2015 at 13:46:05
The problem with the Garbutt situation is that many of us can recognise he is going to be one of the best left backs in the Premier League with more game time under his belt, and that already he offers just as much as Baines yet is still not getting many games, even though Baines has looked like being on the decline for a couple of years now.
I'm not saying the manager should just dump Baines; he's still amongst the best in the league and particularly after the way he conducted himself during all the contract speculation... but Roberto should've mixed it up a bit more and given Garbutt more incentive to sign a new contract.
Saying that, the manager should've mixed it up more throughout the whole team. Browning should've had much more game time along with Chris Long. I'm hoping these lads and others will get more games after we are mathematically safe but, with the amount of money each club gets the higher you finish in the league, I'm not expecting it.
Anthony Lamb
31
Posted 03/04/2015 at 13:54:33
So Gibson appears yet again to be doubtful for the match? If this "doubt" turns out to be more prolonged absences, how much longer will it be before somebody bites the bullet and brings these kind of situations to an end?
I am not sure in what other industries an employee who is "unfit for purpose" would continue to be employed for such a period of time. Obviously Gibson is simply not physically equipped to perform regularly in the professional game and thus be able to fulfil his contractual obligations? Within the requirements of contractual law of course, surely Everton should be able to put an end to this saga which is now bordering on the farcical?
If this team is to be developed in the immediate and longer term, it would appear imperative that players such as Gibson, together with others who for a variety of reasons (age, injury, personal related issues) should be moved out.
With specific reference to Gibson it would appear from a number of posts on other related threads that his constant absence seems to induce perceptions of his qualities and performance levels that now border on the mythical. We even had one reference putting him in the same bracket as Alonso.....and even Pirlo!
So even his constant absences now seem to be playing havoc with perspectives! I wonder if it the same with the management?

David Hallwood
32
Posted 03/04/2015 at 14:19:45
I agree with Dave Abrahams (#2) in that we know we've got to score at least two to get a win.
Obviously Martinez will start with Barry/McCarthy as the holders, the back four picks itself as does Rom. It's the difficult three behind that's the problem...
How about Mirallas (if fit), Barkley & Lennon? Pace and power. Pity none of them know how to tackle back.
Richard Reeves
33
Posted 03/04/2015 at 14:14:01
Hopefully the problem of having three left backs won't be taken out of the manager's hands by Garbutt walking away from the club. So, if things turn out well, Roberto will have to decide whether to sell one of the other two or move someone into midfield.
Baines isn't a midfielder – and never will be, in my opinion – but is a better left back than Oviedo. Oviedo, obviously younger, can do a job in midfield but is not creative enough for the middle and not the standard we should be aiming for on the wing. I would see what offers come in for either two players and go from there.
As much as I like Oviedo, I would probably let him go and keep Baines so we basically have a higher level of left back for that position giving both Baines and Garbutt more equal playing time and focus on the next age group coming through for that position.
Ross Edwards
34
Posted 03/04/2015 at 14:39:42
If we play like we did at Loftus Road we'll definitely get beat. QPR failed to take the chances presented to them but Southampton probably will.
They're going to be dangerous on the break with Tadic, Mane and Elia, and solid at the back, difficult to break down. Basically, like last season's Everton.
Ross Edwards
35
Posted 03/04/2015 at 14:43:55
Even though Kenwright will keep him on, I'm still unconvinced about whether Martinez deserves another year in charge — even if we are 95% safe.
A top half finish is the only thing that can salvage any positives from a disastrous league season.
Ross Edwards
36
Posted 03/04/2015 at 14:52:37
And one more thing. Garbutt will definitely not be England's left back in the Euros.
Baines is first choice, with Shaw, Gibbs, Bertrand, Cresswell and Rose all well above Garbutt in the pecking order.
Jamie Crowley
37
Posted 03/04/2015 at 15:24:39
Ross,
That's a bit of an indictment against Hodgson, that analysis.
England just don't give youth enough of a chance when it matters – always going back to their "tried and true" veterans.
James Royston
38
Posted 03/04/2015 at 15:45:29
Re Luke Garbutt: There where very strong rumours a while ago, even before he had his few games in the team, that the RS were keen on him; just imagine that happening. Let's hope he has not been "quietly spoken to"???
He is no doubt a great prospect; instead of talking about Baines playing midfield, why not try Luke in Barry's place? Great going forward and he can improve his defensive game but only by being tried & given some game time. The same applies to the other young lads: give them a chance – they are the clubs future.
Howard has been very suspect on lots of occasions for two seasons now; Robles should be given the rest of the season to prove himself or he will just move on.
Mike Allison
39
Posted 03/04/2015 at 16:35:14
I agree with your summation of the issue, Richard, but I believe the solution is to treat Oviedo as a squad player covering a variety of positions, mostly LB and LM but also possibly CM. I see him as having far more potential to play there than Baines, and he's a younger player so more likely to learn and adapt to a new position.
Harold, as an England fan, I hope Luke Shaw isn't 'brought through' yet. He's been fast-tracked ahead of where he should be, and is behind a host of other left backs in my opinion, possibly including Garbutt.
Dave Abrahams
40
Posted 03/04/2015 at 16:28:40
James (38),
Yes it was rumoured at the start of this season that Liverpool were very interested in Garbutt, so there is the possible chance that he will go there.
I think Garbutt can go very far in the game, but at the moment it is still only potential that he shows; he has never played enough games to prove he is as good as some people are saying on here. I think, in the few games he has played, he has looked very good going forward and in dead-ball situations, but defensively he hasn't impressed all that much.
I hope we retain him for his potential, but to say he will be England's full back in the future is very premature to me.
Mark Andersson
41
Posted 03/04/2015 at 16:39:26
Lots of good points to ponder, pity their all negative, all brought on by our over positive manager.
2nd season syndrome my arse. This fool of a manager will buy shite in the summer and have us playing the same crap.
Thanks to the wisdom and insights to ToffeeWebers points of view, I have no confidence in the future of being a life long blue.
Peter McHugh
42
Posted 03/04/2015 at 16:58:53
I would love to see Garbutt get an extended run in the team.
Eric Myles
43
Posted 03/04/2015 at 16:51:40
Anthony (#31), I expect it's not so much a case of Gibson 'unable to fulfill his contractual obligations' as you state but more a case of he has sustained an injury at work. So, if we wanted to get rid, we'd have to pay off his contract... so why not keep him around and get a dozen games a season out of him.
Mike Price
44
Posted 03/04/2015 at 17:02:30
Playing Howard is basically giving ourselves a handicap. He makes the team jittery and with him still first choice we are still in a relegation fight.
This Martinez blind spot is enough to cost him his job.
Mike Childs
45
Posted 03/04/2015 at 17:05:41
If we had a real manager, he would obviously use the rest of the season to evaluate Garbutt and either pay him or let him slide. Talk to Baines first, explain the situation and I can't see him being against it.
Gibson possible injury another case of making room for one of the BBS A.K.s.
For me the GK situations reeks of a BK money deal where I pay him more than any other player & I want my American Audience. Billy, I am from America; Howard is the worst keeper in the league 3 years running. Distin & Jags carried him the last 4 years.
Dave Abrahams
46
Posted 03/04/2015 at 17:25:30
Eric (43),
Or maybe if he is unfit to carry out his contract, maybe the insurance company would pay Everton off without us paying him off.
Patrick Murphy
47
Posted 03/04/2015 at 18:13:08
Roberto speaking about Southampton:
"They haven't been overachieving at all. Their results are down to their performances. They are a very well-organised team and have tactical flexibility they use really well."
I was rather hoping that this would be how Everton under Roberto would be described by opposition managers, but, alas it was not to be!

Glen Garrett
48
Posted 03/04/2015 at 18:25:17
The season is over for our Everton boys but it's now all about our team's pride.
Everton will stay up, no doubt, but have got to get it right next season. We need to be in Europe.
Everton are a big club; history speaks for itself.
Richard Reeves
49
Posted 03/04/2015 at 17:56:49
Mike (#39),
The only position where Oviedo can play in midfield is possibly on either wing as Martinez usually goes for two holding in the middle which is covered by four players for that position and that's not including Ledson who should be breaking into the first team now. Thats how good the lad is in my opinion, irrespective of age.
Oviedo can do a job on the wings if were hit hard with injuries but he's never a first choice for me and I don't think it's fair on him after what he's been through to only offer him a few minutes here and there. Mirallas will probably be sold and hopefully Lennon will go back to Spurs so that just leaves Pienaar to see out his final year and McGeady who I imagine will still be here after only one year.
What I would like to see is for the manager to sign Deulofeu permanently and Januzi as direct replacements for a first team start with Henen and Green being understudies to both.
Clive Rogers
50
Posted 03/04/2015 at 18:36:24
We'll get beaten easily. We are awful. Half the team is past it.
Mike Childs
51
Posted 03/04/2015 at 18:40:10
Touché, Patrick.
Peter Mills
52
Posted 03/04/2015 at 19:27:08
Patrick (#26), you got me all misty-eyed there. I remember listening to it on Radio City, but I'm pretty sure they could only provide commentary on the the second half. They broadcast the kick off, then moved on to music which was abruptly interrupted by a shout of "Andy Gray, one-nil". What a moment.
Andy Walker
53
Posted 03/04/2015 at 19:43:08
A chance to record our second win of the season against a top half-team. How times have changed, we used to moan that we couldn't beat top 4 teams away, now just beating any team in the top half, anywhere is an achievement.
David Greenwood
54
Posted 03/04/2015 at 20:37:09
Baines injured or returning? If he is injured, should be Robles, Coleman, Stones, Jagielka, Garbutt, Lennon, Barkley, McCarthy, Mirallas, Naismith, Lukaku in a 4-4-2 shape. The reality will be something far different...
Andy Crooks
55
Posted 03/04/2015 at 21:19:52
This is not like a friendly. This is a must win game, we are back-to-back defeats from anxiety once again. Ross (#35), why are you unconvinced about Martinez? Is the thought of him being here another year is appalling? We are crawling to safety and that is where he has brought us.
Michael Kenrick
56
Posted 03/04/2015 at 21:20:50
Mike Childs,
"Gibson possible injury another case of making room for one of the BBS A.K.s." — Is it me or does that mean a whole hill of beans? BBS = Billy BullShit? A.K.s... err??? I got nothin'. I know it's another language on your side of the pond, but a little clarity might help.
While we're on, I can't believe anyone could make a case that Everton are playing Howard in goal for the sake of the American Audience. I just don't believe that enters the equation anywhere at all. Roberto believes he's the more senior more experienced keeper and therefore has to play if fit. Simples. [And it's clearly got nowt to do with form either.]
Ross Edwards
57
Posted 03/04/2015 at 21:28:34
Andy, that is true although it is 99% certain that he will be here next season. I don't think he deserves another season but it's odds on that he will.
Brian Wilkinson
58
Posted 03/04/2015 at 21:25:52
Gibson will be told "You've played two games, need to use you sparingly so I thought it might be best to bring Barry straight back in."
I will eat my hat if Barry does not start tomorrow, depressing but I will not be surprised when Martinez announces Gibson is not starting.

John Malone
60
Posted 03/04/2015 at 21:55:55
Baines is a quality left back but has never been great defensively and has definitely lost his edge since he signed his new contract.
It's a really difficult one but I honestly think Garbutt could be a star if given the chance and it is definitely a new era at Goodison Park in which I think the senior players should be getting phased out and the new young british talent should be getting blooded.
This is what top managers get paid to do but for me I'd be thinking long term and building a young team like Pochettino is doing at Tottenham and saying goodbye to Baines, Howard, Barry, Hibbo, Ossie and eventually Jagielka who would be last to go.
Ernie Baywood
61
Posted 04/04/2015 at 00:08:22
With us relatively, safe I hope this is the start of a 4 month pre season.
Any ops needed can happen nice and early. Young players can be tried out. Decide if you're going to build the team around young Ross.
I've mentally checked out this season. Just about the only thing that can rile me against Soton is seeing Ross played on a wing.
Michael Winstanley
62
Posted 04/04/2015 at 00:11:01
I can't see Garbutt signing. Shame as I'd have offered Baines to Man City to give him a chance against Oveido.
We need to win tomorrow, we'll have to score at least two as The Beard will no doubt cause panic in our box and gift them at least one. The single biggest mistake Martinez has made.
Having said that, I'm going for 3-0. I expect Lukaku, Barkley, Lennon and McGeady to start, with Osman and McCarthy in the middle and the usual suspects at the back.
Minik Hansen
63
Posted 04/04/2015 at 00:55:09
Remember Moyes second season. I have a feeling we will cut it with Roberto Martinez.
And this current situation reminds me of our season in 09-10, where our performance didn't live up to our expectations but the team delivered it in the last few months to finish 8th. COYB.
Mark Andersson
64
Posted 04/04/2015 at 02:07:43
Minik, have you been stealing Roberto's happy pills? Look at what he done with Wigan. People on here love to quote their history, Martinez has history but it ended in relegation.
He brought his best players from Wigan and we know only one cuts the mustard, even that was heavily debated on another thread.
Everton 1 Southampton 3 – but a phenomenal performance.
Peter Barry
65
Posted 04/04/2015 at 03:46:18
So, Michael Winstanley, you predict that Howard will gift them a goal but that the final score will be a 3-0 win for us? Just a tad contradictory don't you think.
Darryl Ritchie
66
Posted 04/04/2015 at 06:20:04
Hoping for the best, but not expecting too much from this. More than the last two games, this one will be more of an honest indicator of just where we stand. We're a bit banged up (what else is new?), and they're a little off form... 2-2.
The Toffees have made a habit of playing well when I don't think they're going to. May the trend continue.
James Marshall
67
Posted 04/04/2015 at 06:29:34
Seriously, can we drop the "Baines in midfield" call? And now Oviedo in midfield? Really? These are two specialist full backs, and you want to expose their deficiencies in central midfield roles? Have you ever played either position? To be a central midfield player you need all-round awareness, positional sense, and the speed of thought and passing ability not to be made a fool of.
Oviedo wouldn't last 5 minutes in central midfield, and I'd give Baines about 10 before he was either hauled off, or sent back towards the corner flag/touchline where he belongs.
Neither player has anywhere near the awareness or ability to be thrust into central midfield in the Premier League – no chance. There are very few examples of full backs suddenly making it in the middle – the only one I can cite is Phillip Lahm, but he's a very rare breed.
Baines is an up & down player who's brain works in straight lines, and Oviedo is exactly the same. Neither player has a right foot either which makes them both perfectly suited to left-sided play, and completely unsuitable for central roles.
I see no evidence, or even any justification or reasoning from any TW posters on why they think either player should be tried in midfield.
Answers on a postcard....
Harold Matthews
68
Posted 04/04/2015 at 06:59:54
Mike A. When Luke Shaw played for the U21s he looked a class apart. Stones, Jenkinson, Ince, Redmond, Kane, Ward-Prowse and co were made to look quite ordinary in comparison. He was the youngest but was built like a tank and played with great maturity.
Since joining Man Utd he has suffered from a series of niggling injuries and has never reached full match fitness. This boy is a gem with the best to come. You'll see.
Harold Matthews
69
Posted 04/04/2015 at 07:35:21
I see Magueye Gueye won the game for Millwall. Looked slim and fit. Amazing.
Allan Board
70
Posted 04/04/2015 at 07:59:01
All bets off then concerning relegation? Don't fret, it won't be long before it's THE issue again... around November this year I would say.
Martinez and his staff are useless and will relegate Everton. How much more evidence do you need?
MARTINEZ OUT.
Sam Hoare
71
Posted 04/04/2015 at 09:04:57
James Marshall @67 – how about the evidence of when Baines actually played there and was one of our best players?! You say he does not have the passing ability and thinks only in straight lines but how about the sumptuous through-ball he played for Mirallas's goal? One of the very rare assists from DMC this season!
To say he can't do it before he's actually been given a run of games there reminds me of my toddler saying she hates Brussels sprouts before ever trying one! To me Baines clearly has tenacity, stamina, accurate passing and crucially some good vision. I think he could do well there though to be honest we are not short with Barry, McCarthy, Besic and Gibson.
Karl Graham
72
Posted 04/04/2015 at 09:14:48
Given we aren't mathematically safe, I suspect we'll see Martinez play his preferred side today which I guess will be:
Howard
Coleman Stones Jagielka Baines
McCarthy Barry
Lennon Barkley Osman
Lukaku
Subs: Robles Alcaraz Garbutt Gibson Mirallas Naismith Kone
If Lukaku fails his fitness test, Kone will start. Gibson has been good in the last couple of games but there is no way I can see him being picked ahead of Barry. Even if Mirallas is fit, he won't start... but, if he is, and makes the bench, expect to see him around the hour mark.
Mike Allison
73
Posted 04/04/2015 at 09:20:44
Oviedo has played in midfield before, and there are plenty of one-footed central midfielders.
Many players have been converted from full-back to central midfield and vice-versa. You're right about about it being a step up, you've effectively got 360 degrees to worry about when you've been used to 90, but the need to both attack and defend, judge when to do so, and use the ball effectively from deeper positions is the same.
Max Wilson
74
Posted 04/04/2015 at 09:23:34
Hi guys and gal. This hasn't been one of your best commentaries about a game to come. Lots of rubbish written, especially about Bainesy, the England international.
Soton want to beat us very badly, they will see this as a softer 3 points to get them Champions League footie. They will surge forward from the off. The Ref is another problem...
Lukaku will not play. Hamstrings take longer. Martinez won't be daring or imaginative up front, so expect that wonderful striker Naismith to figure.
Our defense has Jags in form and McCarthy is in midfield, so expect a fight. Lawro (shit shirts) can't bring himself to say we might win, he says a draw. We will be very lucky to draw. A win to-day would be amazing.
Mike Allison
75
Posted 04/04/2015 at 09:32:27
Harold, that may all be true, but he hasn't looked ready now, and the idea of the England team should be that we pick the best players. If Shaw is to be England's left back, he has to earn it every single time he goes out to play.
Andy Meighan
76
Posted 04/04/2015 at 09:41:39
Max Wilson saying it'll be amazing if we win today... my god, what a shit season this has been; totally and utterly depressing. I'd love to see the Spaniard gone by the end of the season but, like everyone else, I know it won't happen. I'm expecting more of the same next season.
I don't expect a classic today – we ll find it hard to break down a well-organised Saints side... so I'm going for a 0-0 or 1-1 draw.
Michael Winstanley
77
Posted 04/04/2015 at 09:46:14
Yes, Peter.
Ray Roche
78
Posted 04/04/2015 at 10:01:12
Regarding Lukaku's hamstring, I found this on another site.
"This season, the Blues have suffered a curious spate of the same injury – it seems they have a hamstring curse. Lukaku became the 13th first-team player to be hit by the injury and, since Martinez arrived 18th months ago, those 13 players have had an incredible 22 hamstring injuries between them. The worst player affected was midfielder James McCarthy who up to getting injured had been extremely influential for Everton."
I can't see him being fit for today's match and I certainly don't think we should risk him anyway, but The Thin Spanish Waiter, if he's still here next season, should get his Spanish arse in gear and get shut of HIS backroom staff and get some professional people in. We have a small enough squad as it is without having it further reduced by avoidable injuries.
Trevor Lynes
79
Posted 04/04/2015 at 10:31:25
With each higher position worth so much money, it seems certain that we will not tinker with our side. If we can finish 10th, then we should go all out for it. If we use youngsters and lose, Martinez will get slated. He may play one youngster but I cannot see anymore.
I would like to see Baines playing in front of Garbutt or vice versa. If Pienaar is on the bench then he could be brought on if that ploy does not work. Perhaps Robles may get a game, but it is unlikely IMO.
Is Atsu still with us, by the way? He is another alternative wide player and I was pleased with his last showing for us. His assist for the goal on his last appearance showed lots of awareness and the lad was voted player of the tournament in the African Cup. He has fine passing ability and is a better distributor than any other wide player we have, IMO.
Stu Gore
80
Posted 04/04/2015 at 10:41:52
Off to the game today. 3-0 Blues.
James Marshall
82
Posted 04/04/2015 at 11:01:51
Sam@71. I didn't think he did himself justice that day, apart from that one pass. He looked lost most of the time, though that could be due to a lack of experience in the role of course.
I just don't see Baines or Oviedo every being anything other than full backs, or at best, wide players.
Jermaine Jennings
83
Posted 04/04/2015 at 10:56:14
The sooner RM is gone, the better. Behind the scenes, the club is a joke and it's all down to him.
Look at all the various posts on here, we are all confused and don't know what to expect anymore. If the manager is portraying this to the fans then the players must be completely lost.
I've lost all interest in the season and with RM. I can no longer listen to him anymore. He even said in the Daily Mail yesterday that he is considering giving Alcaraz a new deal... OMG!!!
I will still go the games because I love EFC with a passion.
Sam Hoare
84
Posted 04/04/2015 at 11:04:52
James, I seem to remember everyone looking a bit lost that day. As has been the case most of the season!
You may be right but I think to dismiss a possibility before it has been amply tested is somewhat churlish. Personally I think he has a lot of the necessary qualities; crucially he is good on the ball and able to spot intricate, forward passes and then run into space for a return pass. Something we rarely see from our central midfield.
I certainly think it would be worth trying with so little to play for now and such an exciting replacement in Garbutt.
Ross Edwards
85
Posted 04/04/2015 at 11:14:39
Given recent performances, I don't think we'll win today. The performance at Loftus Road was appalling and we only won because they failed to take their opportunities when presented to them.
Southampton will be very tough to break down and will be dangerous on the counter. I can almost certainly guarantee that Gareth Barry will go straight back into the team which means he is going to be a liability as usual.
Martinez's compliment about Southampton being tactically flexible and all their players knowing what they're doing etc on Thursday actually can be used as an indictment against him because this season we have been the complete opposite to Southampton on every level.
Martinez is one of the most stubborn managers in the league, he plays players out of position and we have no structure or organisation to our play at all. We were lucky at QPR, we won't be so fortunate today.
Seamus McCrudden
86
Posted 04/04/2015 at 11:59:44
Is it just me or does anyone else get totally annoyed by the way Roberto talks up every team we play against just before kick off? I mean why? What's the point? If he is talking that shite to our players just before kick-off, is it any wonder we are performing so poorly.
Brian Harrison
87
Posted 04/04/2015 at 12:05:15
I think you have to go back a long way since there has been as much apathy about our remaining games. Most fans I speak to at the game just want the season over, but when asked what is there expectation for next season there is no great belief that we will be much better. There is no excitement in going to games, and a feeling that while RM is in charge then expect more of the same.
Dave Abrahams
88
Posted 04/04/2015 at 11:55:07
If you are allergic to something you avoid it or stop taking it, so why is Martinez still here? He is making life very depressive for thousands of Evertonians and for the first time since I started watching Everton, he is making me question why I'm going to the game. There is just no fun or entertainment going while he is there.
Steve Carse
89
Posted 04/04/2015 at 12:27:34
Brian (87), despite the apathy you speak of, there are just TWO tickets left for today's game!
Brian Harrison
90
Posted 04/04/2015 at 12:29:25
Steve,
I cant argue that this seasons gates have been excellent but I know season ticket sales for this season were very high. Maybe its the masochist in us all that keeps us going, because its certainly not for the entertainment value. Might be interesting to see what happens over the sale of season tickets for next season, I think to keep my seat I have to apply before May 1st and for the early bird price till the 24th May. Wonder why they didnt leave early bird and ability to buy your existing seat till the 24th.
Tony Abrahams
91
Posted 04/04/2015 at 12:35:44
That's why this club's fans deserve success, as much as any set of fans in England, Steve.

Mike Childs
92
Posted 04/04/2015 at 12:37:30
Sorry Michael K. For the confusion. A very interesting rebuttal and I hope your correct.
BBS = Bobby brown shoes. AK = ass kisser.
Michael Kenrick
93
Posted 04/04/2015 at 13:11:43
Thanks, Mike. For a moment, I thought you might be impugning Big Bad Seamus and the great Andre Kanchelskis!
Michael Winstanley
94
Posted 04/04/2015 at 13:30:55
Always liked Arsenal.
Jamie Barlow
95
Posted 04/04/2015 at 13:32:13
There's a fantastic comedy on BT Sports.
Mike Childs
96
Posted 04/04/2015 at 13:33:42
Don't much care for Arsenal but I'm enjoying them today.
Paul Dark
97
Posted 04/04/2015 at 13:31:06
Dave, 88 - Martinez and Kenwright are keeping this club's ambitions modest. Both need to go. Kenwright, great supporter that he is, has no idea how big a club we can be: he just won't let go.
The whole Rom episode and his agent shows how unambitious we have become as a club. A player like Rom should not have to play in the same team as a damaging donkey like McGeady (or even the likes of Osman). Martinez had a chance to make things exceptional after last season but fluffed it, and fluffed it badly. Even if we thrash So'ton today (which we won't), there is something ineradicably rotten at our club, and it starts with the chairman and manager.
Both must do the decent thing and go.
Kieran Fitzgerald
98
Posted 04/04/2015 at 13:35:47
If the RS do go on to lose today, it will give Southampton the chance to go up into 5th. If I was a Southampton fan the very least I would want from this season is to nail down 5th and direct entry into the Europa League.
They will look to go for us from the start today. We will really need to be up for today's game.
James Marshall
99
Posted 04/04/2015 at 13:48:03
Sam, fair enough re giving it a go. We all know it won't happen though as we have plenty of central midfielders and Bob is a stubborn bastard (as we all know).
Garbutt's comments earlier in the season clearly haven't helped his cause either, even though I think we all know (again) he was right.
In other news, I hope everyone's enjoying the early kick off :)
Jamie Barlow
100
Posted 04/04/2015 at 14:02:36
@Everton: Everton (to face Southampton): Howard, Baines, Jagielka (c), Stones, Coleman, Barry, McCarthy, Osman, Barkley, Lennon, Kone. #EFCvSOU
Paul Dark
101
Posted 04/04/2015 at 14:03:51
Barry ... Osman ... Kone ... hm
Can't see us winning.
Karl Jones
102
Posted 04/04/2015 at 14:06:08
What does Gibson have to do to get a start...Does he pass the ball forwards too much?
James Marshall
103
Posted 04/04/2015 at 14:10:15
He has to get fit.
Kunal Desai
104
Posted 04/04/2015 at 14:10:53
Gibson out for the season. Broken metatarsal apparently.
Denis Richardson
105
Posted 04/04/2015 at 14:19:12
So Gibbos out for the season - injured again, what a fucking surprise! Another one to get rid of once his contract runs out end of next season.
Denis Richardson
106
Posted 04/04/2015 at 14:33:01
Distin, alcaraz, Gibbo, howard, Mcgeady, hibbert, Atsu, Lennon, kone, Pienaar.
All should be shown the door asap. Too old, not good enough, too injury prone, not worth it - take your pick.
That's half our squad!
---
Add Your Comments
In order to post a comment, you need to be logged in as a registered user of the site.
Or Sign up as a ToffeeWeb Member — it's free, takes just a few minutes and will allow you to post your comments on articles and Talking Points submissions across the site.
© ToffeeWeb