Mirallas "very happy" at Goodison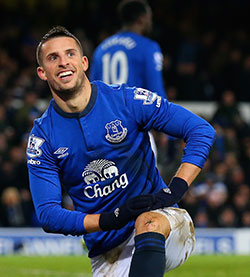 (Alex Livesey/Getty Images)
Kevin Mirallas has restated his desire to wait until the summer before deciding his future but he insists he is "confident" and happy playing for Everton.
The Belgian marked his return to the starting XI following injury with the only goal as the Blues beat Burnley to take their unbeaten run to five matches and he celebrated with a nod to the media chatter over his future.
Mirallas will have a year left on his current contract when the season ends, although Everton have the option to extend it by another year, but negotiations over a new deal have been shelved until the summer.
That delay, combined with the 27-year-old's admission that he wants Champions League football, has led to talk of him leaving Goodison Park when the transfer window opens but he rejects the notion that he is unhappy with Everton.
"A lot of people talk about my future, he said in a post-match interview with Sky Sports, "but I like to play for Everton and finish the season in the best form."
"After that I will talk with my partner (agent?), with my president and with my manager.
"But I am confident here. I'm very happy to play for Everton."
Mirallas has been linked with moves to West Ham and Tottenham in recent weeks, neither of which will be able to provide him with Champions League football, but privately he harbours dreams of playing in Spain.
Reader Comments (28)
Note: the following content is not moderated or vetted by the site owners at the time of submission. Comments are the responsibility of the poster. Disclaimer
Liam Reilly
1
Posted 18/04/2015 at 19:54:48
On his day, a very good player although arguably we should see more of them.
I hope he stays and I've no problem with any player with ambition.
Gavin Johnson
2
Posted 18/04/2015 at 20:08:54
He did today, what we all know he can do. I think he'll be silly if he moves. If he harbours Champions League dreams in the elite leagues, he'll be fortunate if he one of those clubs come in for him. If they do, I think he'll have problems cementing a first team place just based on his injury record.
If he gets injured at a club like Atletico Madrid, he isn't going to walk back into the team like he has done with us the last couple of seasons. That even goes for a club like Spurs who have more wingers than most at there disposal.
If he signs a contract extension, I'll be happy... If he doesn't, we'll get a decent wedge and buy someone else.
Colin Glassar
3
Posted 18/04/2015 at 20:27:47
Has his agent had a word in his ear? "Kevin, not one single callsfrom ze beeg teams, lad!"
David Hallwood
4
Posted 18/04/2015 at 20:50:50
Nice one Colin; Mirallas & Lukaku should start playing ordinary football consistently, and then maybe they'll get CL football, who knows, with the team they're playing the ordinary football with.
Dan McKie
6
Posted 18/04/2015 at 21:15:45
He is still one of, if not our best player. Who else have we got that can produce a little bit of magic out of nothing. We are still waiting for Barkley to produce anything and I'm beginning to think we will be waiting a long time. After that, it's probably Pienaar, but age is catching up with him. The rest of our midfield are work horses.
Paul Hewitt
7
Posted 18/04/2015 at 22:13:01
Then sign a new contract.
James Flynn
8
Posted 19/04/2015 at 00:06:41
Oh for goodness sake, Mirallas has never once said he wanted to leave.
He's a 27-year-old attacker who'll have one year left on his contract. Spurs aren't going to offer him much more money than Everton can. He just wants his next contract settled.
Here, if you were him and saw all the money thrown at veterans on the downward slope, how would you feel? I still say he'll re-sign.
Now, he'll still own a Bentley that's painted gold. That selfish, twatish, gold Bentley owning, um, something negative. Wait, I got it! That Belgian!!
I say he works out a contract and we'll see him next season in Royal Blue. And I'll be happy, despite the color of the car he drives.
Minik Hansen
9
Posted 19/04/2015 at 01:02:22
The club must've told him we're gonna spend big this summer! Fingers crossed. Great players attract great players. COYB.
Tim Greeley
10
Posted 19/04/2015 at 01:33:34
Super Kev - my man!
A happy Belgian is a scoring Belgian.
Steve Brown
11
Posted 19/04/2015 at 05:16:24
When he talks to his agent, he'll hear those terrible world "beeg Sam fancies you."
Harold Matthews
12
Posted 19/04/2015 at 06:18:37
Decent player but I don't like the man.
John Gee
13
Posted 19/04/2015 at 07:30:04
He looked dead happy when he scored.
David Holroyd
14
Posted 19/04/2015 at 09:20:27
He is a good player but that's all good. He can turn it on but those days are few and far between. With there being not much money in today's terms, he is a player we could get a good wedge for. Also, he has been here a while and he still cannot play many games before he gets injured. Sell.
James Marshall
15
Posted 19/04/2015 at 11:24:29
We should keep him, because he's one of very few players we have who can turn a game and make things happen from midfield. Lennon and Mirallas are the only ones who have that ability (Pienaar when fit maybe) to my mind.
He's arrogant and I like that in a player – Ross Barkley would do well to take notice of the arrogance and self-confidence Mirallas displays.
Colin Glassar
16
Posted 19/04/2015 at 11:43:26
If Spurs want to swap him for Lennon plus ٥M I'd take that any day.
Lewis Barclay
17
Posted 19/04/2015 at 11:44:21
Mirallas shows moments of brilliance but goes to ground too often and too easily, can't play 90 minutes in the Premier League and seems to get injured regularly. I think, for the right money, we should cash in.
Maybe someone should tell him about what happened with Pienaar a few years back?
Minik Hansen
18
Posted 19/04/2015 at 13:05:29
James Marshall, about arrogance – Kone lacks a bit of that. When there is a shooting opportunity, either he tries to dribble and then tries to shoot, or gives it to another player in a half-shooting position.
Steve Harris
19
Posted 19/04/2015 at 19:18:23
What Mirallas needs, and what we all need, is a decent manager who actually knows how to play a system that gets the best out of not only him, but everybody else as well, not some clueless fraud who shows every week just how out of his depth he is. Surely nobody has been fooled by a decent run of results but still dull, dreadful football... have they???
Harold Matthews
20
Posted 19/04/2015 at 20:48:05
Minik. I think you have to take the rough with the smooth when watching Kone. He's not a natural goal-scorer like Mirallas, Naismith or Lukaku but he did play a vital part in last week's Lennon goal and yesterday's Mirallas goal.
Mark Andersson
21
Posted 20/04/2015 at 05:19:13
Lewis, according to some on here, none of our players can last 90 minutes.
Arrogance is something you're born with, Ross does not believe in himself enough to be the hyped player he's been portrayed as.
Richard Lyons
22
Posted 20/04/2015 at 15:34:38
Does anyone know the meaning of the "mouthy-mouthy" hand gesture he made when he scored?
Max Wilson
23
Posted 20/04/2015 at 16:20:08
L.Barclay above seems closest to reality and his warning of being careful what you wish for is true of the "big clubs". We deserve some loyalty from Kev because he has been praised and appreciated by us fans and while his frequent injuries have been inconvenient, the club has done everything possible to help him each time. Loyalty should cut both ways and we fans have been dissapointed when he has appeared not to appreciate this.
Nicholas Ryan
24
Posted 20/04/2015 at 23:01:10
Dear Kevin,
Real Madrid and Barcelona won't buy you, because you're not good enough.
Which bit of that, don't you understand?
Michael Winstanley
25
Posted 21/04/2015 at 00:02:58
Neither Moyes or Martinez consider him the type to last 90 mins, I don't know that stats but he gets hooked more than most.
He's a luxury and if he's not at it then he's not worth being on the pitch. I've always hoped Kev would 'get it' as he aged but I don't see it happening yet. I'm not sure what his wages are but I would like to think we could do better.
Trevor Lynes
26
Posted 21/04/2015 at 22:30:36
FFS, none of the attacking midfielders can last 90 minutes but, if he can score double figures despite missing a few games, he will do for me. Talk of getting a good wedge for him sounds like someone from our board of directors.
I am a fan who wants to see my team win every game and play well. I am not in the least interested in selling one of our prize assets then see the profit made vanish into the BK treasure chest. We never spend more than we take and the board do not invest themselves.
BK does not want to sell, he wants an outsider to invest money that he will not himself and that go's for the rest of this pathetic board. Managers at Goodison are just there to take the brickbats that the board should be fielding. Well-paid punch bags IMO.
We will not get an adequate replacement for Mirallas if he is sold. What we really need above all others is a top play maker who can provide goal scoring opportunities. The best we have had in recent years has been Baines of all people. Our midfielders are basically mediocre with no one coming through from the academy except defenders.
Chris Jones
27
Posted 21/04/2015 at 23:36:22
Telegraph reckon a swap with Lennon's a done deal:
Graham Roberts
28
Posted 22/04/2015 at 19:28:06
To answer Richard's (#22) question, the hand gesture means 'shut the fuck up'. At least it does in the northern French city of Lille (where I live and where Mirallas once played), so it must mean the same thing in Belgium. I thought it was a universal gesture, but I've lived so long away from the UK that I'm not sure any more.
Agree with Minik (#18) that Kone should be a bit more arrogant. Fingers crossed you're right (#9).
Also agree with Trevor (#26) that we (desperately) need players who can score 10+ goals a season. COYB
Tim Michael
29
Posted 24/04/2015 at 18:40:52
The game against Burnley just about summed up Kevin Mirallas. Scored a goal (after a hash of a first attempt), made a cowardly tackle that he should have been sent off for, stupid showboating flick when we were in a promising position then subbed bang on 60 mins (as I predicted at the start of the game). That's Kev all over. You get good and bad out of him.
To be honest, I think he's become lazy and that probably due to a degree of disenchantment with his role at EFC. During the Southampton game, Martinez withdrew Kone and put on Naisy with 20 mins to go. It was the ideal situation to bring on Mirallas. I think he would have revelled in the centre-forward role in that last quarter of the game especially when opponents were becoming tired.
It's now really down to Kev if he wants to stay. One thing I will say is that if he contributes 10-15 goals in a season, I will put up with our 60-minute man!!!
---
Add Your Comments
In order to post a comment, you need to be logged in as a registered user of the site.
Or Sign up as a ToffeeWeb Member — it's free, takes just a few minutes and will allow you to post your comments on articles and Talking Points submissions across the site.
© ToffeeWeb