Baines to see specialist over ankle injury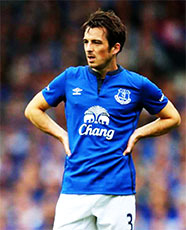 Leighton Baines is to see a specialist to determine the extent of an ankle injury that is causing pain and has been a problem area for some time.
The England international had to be withdrawn with a quarter of an hour to go in Saturday's to Sunderland and is rated as doubtful for this weekend's trip to West Ham.
"We're going to find out a bit more in the next two days," Roberto Martinez told evertonfc.com.
"It was really, really painful in an area that has been a bit of a problem for Leighton. We'll get more clarity over the next 48 hours and clearly we'll address it once we get that information from the specialist.
"We want to find the solution so that Leighton can be pain free because it seems like it's a problem that's been developing over a couple of weeks now and we need to put it right.
"He'll see the specialist this week and we'll make sure that before Friday we know if he's going to be available for the squad against West Ham or not."
Baines has surpassed 35 appearances in all competitions this season but has still missed more than usual thanks to a hamstring injury in November and thigh and knee issues earlier this year.
His absence, combined with that of Bryan Oviedo whose foot fracture means he won't play again until next season , will likely give Luke Garbutt a couple more opportunities in the first team before he makes a decision over his future.
Garbutt, viewed by many as Baines's natural successor, is out of contract at the end of the season and could leave the club as a free agent, with the Blues only able to pick up a development fee by way of compensation for losing his services.
Quotes sourced from Daily Mail
Reader Comments (13)
Note: the following content is not moderated or vetted by the site owners at the time of submission. Comments are the responsibility of the poster. Disclaimer
Tony Doran
1
Posted 12/05/2015 at 15:00:09
How stupid to be playing him for the last few weeks when nowt is riding on the games, risking making his injury worse. Especially when we have a ready made replacement in Garbutt who we need to give games to in order to make him feel like he has a future at the club. This is beyond a joke now, absolute comedy hour.
Mark Andersson
2
Posted 12/05/2015 at 15:22:00
Tony, I think Martinez wanted to win as many games to win back the supporters and chose to use Baines. Let's just see how Garbutt really is with 2 games to go.
All-in-all, a shite season that has a fair few of us despondent. I hear Blue Bill has called in the Ghostbusters to deal with the sticky grass problem. You gotta love Martinez for that one, eh?
Eddie Dunn
3
Posted 12/05/2015 at 15:29:33
I agree, Tony. I was just writing on the Garbutt thread that Martinez must know which two of the three to keep, but playing Baines when he is carrying a niggling injury, is asking for long term problems.
Looking back to the Sunderland game, it was a pretty quick call to get Garbutt on, which does suggest that they half-expected a problem arising.
Not clever, especially as Martinez is supposed to be a qualified physio.
Jim Hardin
4
Posted 12/05/2015 at 16:48:08
Interesting about Baines's list of injuries. It seems to be yet another player who under previous coaches was usually fit and under this one is not. I wonder if RM needs to wise up and change his conditioning regimen?
I was listening to a guest commentator on a morning soccer show over here and he mentioned that Pep is coming in for criticism at Bayern for the number of injuries they have suffered. It is being attributed to his belief in getting fit by "being on the ball" rather than actual physical conditioning (his team doctor resigned over criticism he wasn't doing enough).
Odd that another coach with similar beliefs to RM has the same issues as RM and yet both are still too stubborn to try it differently. In Pep's case he can just put in another star player and dance his way to a league title whereas with RM we don't have that luxury and need our players fit.
Trevor Lynes
5
Posted 12/05/2015 at 17:22:09
Oviedo has already played left midfield so we all know his ability. Garbutt and Baines are both left backs and each need to be tried further forward.
Personally I reckon that one playing in front of the other is a good option. Surely this has been on the agenda for some time. Both Baines and Garbutt are top dead ball specialists and Oviedo has loads of pace and ability too. I am therefor surprised that one has not been pushed into the Pienaar role as Baines is suffering without him.
Distin also was good at covering Baines when he moved forward but old Sylvain is out of favour!
Ian Jones
6
Posted 12/05/2015 at 18:33:54
Rather than blaming Martinez for all the injuries, some of which are valid, could it also be that Baines is getting on a bit, and may be a little more susceptible now to aches and pains. However, if he has been unfit recently, as stated in earlier post, why play him?
Doug Harris
7
Posted 12/05/2015 at 21:50:10
I think Baines has been nursing an injury for some time now, he took a heavy whack early in the game against Sunderland and looked to me that it really cracked him.
Nick Armitage
8
Posted 12/05/2015 at 22:58:15
Jim Hardin – interesting point, and he certainly suffered from the same problems at Wigan and may go some way to explain the exodus of medical staff from Everton.
Eddie Dunn – Martinez is supposed to be a qualified manager as well but I don't see a lot of evidence of that.
Martinez Out asap.
Steavey Buckley
9
Posted 13/05/2015 at 14:45:36
Baines being injured has a lot do with him being asked to do the work of a left back and a left winger.
Jamie Crowley
10
Posted 13/05/2015 at 22:14:41
I agree with Tony @1. It's asinine to play Baines if he's hurt in the final two games.
Play Garbutt – oh... and sign him! To not do so is criminal. I'm as positive about him as I was with Coleman when Seamus couldn't seem to get a game back in the day. Garbutt is a gem that just needs a little polishing.
Clive Rogers
11
Posted 14/05/2015 at 09:43:48
Baines has not looked right all season really. Garbutt should have had more games. Poor management.
Geoff Evans
12
Posted 14/05/2015 at 09:48:20
Baines is suffering all right... from poor management.
Graham Mockford
13
Posted 14/05/2015 at 10:27:11
I would agree with the common consensus that this has not been his best season but much of that has been about the way the side has been set up. It's been quite noticeable that he has been given more license to get forward in the last couple of months.
And given all that he still has the most assists of any PL defender (nine the same as Alexis Sanchez who is the leading forward). That's five successive years for that accolade. Calls for him to be replaced by an untested 21 yr old are crazy in my opinion. We are talking about the best full back at this club in nearly 50 years.
---
Add Your Comments
In order to post a comment, you need to be logged in as a registered user of the site.
Or Sign up as a ToffeeWeb Member — it's free, takes just a few minutes and will allow you to post your comments on articles and Talking Points submissions across the site.
© ToffeeWeb