Baines and Oviedo ready to return
by

32 Comments [Jump to last]
| 23/07/2015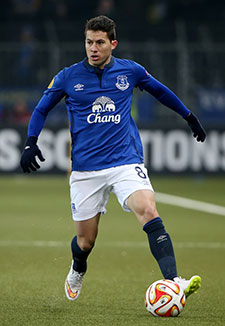 Bryan Oviedo hasn't played since pulling a hamstring in Bern in February
Everton's pre-season preparations have been handed a boost with the news that Leighton Baines and Bryan Oviedo are both set to travel with the squad to Scotland for the two upcoming friendlies against Hearts and Dundee.
Baines has spent the close season so far completing his recovery from the surgery he underwent on his ankle in April that the club hope has corrected a long-term problem.
Oviedo, meanwhile, suffered another injury setback in what has been a difficult 18 months for him personally when he fractured a metatarsal in training late last season and was forced to spend yet more time on the sidelines.
The Costa Rican was working his way back from the hamstring injury he suffered in the Europa League match against Young Boys in Bern.
"We have got some very exciting new with Bryan Oviedo and Leighton Baines joining the group for Scotland," Roberto Martinez told evertontv. "We now need to measure their playing time to ensure they keep progressing.
"They are raring to go as you can imagine. They are two pristine professionals and they are a similar profile of player, so they have been helping each other with their work. They are full of energy and desperate to join the group."
The timing of the duo's return will allow the manager to release Luke Garbutt on loan this coming season, with reports now suggesting that the 21-year-old left back will join Fulham, possibly for the entire season.
Gerard Deulofeu will not make the trip after injuring a hamstring in the Asia Trophy final against Arsenal last Saturday but Martinez does not think it will rule him out of contention for the season opener against Watford in a little over a fortnight's time.
He will remain behind at Finch Farm with Aiden McGeady and Darron Gibson to continue his rehabilitation work.
---
Reader Comments (32)
Note: the following content is not moderated or vetted by the site owners at the time of submission. Comments are the responsibility of the poster. Disclaimer
James Flynn
2
Posted 23/07/2015 at 17:57:31
Stephen Brown
3
Posted 23/07/2015 at 18:05:20
Please give Oveido an extended run on left of midfield. This will give the team some much needed balance!
Ajay Gopal
4
Posted 23/07/2015 at 18:06:51
Hope both can stay healthy and fit for the season. Two terrific players for us. I think Baines' ankle prevented him from taking penalties and free kicks effectively last season - hopefully he will be back to his best - that could easily make a difference of 5-7 points over the course of the season.
Brent Stephens
5
Posted 23/07/2015 at 18:17:41
Good news about Geri as well.
Kevin Molloy
6
Posted 23/07/2015 at 18:18:20
I hope they have fully recovered and are able to get some game time without any reaction or breakdowns.
Paul Kossoff
7
Posted 23/07/2015 at 18:33:52
Wouldnt it be great if this season just for a change, we don't have any serious injuries?
Dermot O'Brien
8
Posted 23/07/2015 at 18:43:27
It'll be like two new signings!
Great news, especially about Oviedo.
Sue Brown
9
Posted 23/07/2015 at 19:00:54
Great news. Let's hope that's their injury problems over for the season.
Guy Hastings
10
Posted 23/07/2015 at 19:19:33
'Upcoming'! Please, no.
Jim Hardin
11
Posted 23/07/2015 at 19:22:29
Great news especially about Oviedo. Oviedo on the left will allow RM to move Mirallas to the right side where he is much more effective.
Guy Hastings
12
Posted 23/07/2015 at 19:38:16
I rate Oviedo. That doesn't matter. If RM doesn't (where's the Wigan connection?), then that does.
Tony Draper
13
Posted 23/07/2015 at 19:36:52
Great news for both of these lads.
Hope they can both have sustained runs in the first team this season.
They both deserve a trouble free season Baines for his club loyalty and Oviedo because he's long overdue a run of good luck.
Mike Allison
16
Posted 23/07/2015 at 20:14:47
Stephen, it won't happen.
Martinez doesn't want the kind of balance you're talking about. He believes, along with many others, that teams set up in that simple way just become simple to play against.
We play with a wide man on the right and two "number 10s". Martinez has referred to this as playing 'between the lines', and the idea is that they take up slightly unusual & unorthodox positions, finding little pockets of space between the opponents midfield and defence, and between their central and wide players.
This is why he's committed to playing Osman, Naismith and Barkley 'on the left'. It is why Atsu never once got a run out on the left and it's why so many of us are hankering after Pienaar, because he's been doing this well for years.
You can feel free to disagree with the theory but there's no point wishing for something that I can promise you isn't going to happen.
Stephen Brown
17
Posted 23/07/2015 at 20:43:03
Mike, you are probably correct as pre-season games have shown.
However, it's clear that this policy is not working as the personnel are not good enough to pull it off. Therefore a bit a simplicity in formation could work wonders!
As you quite rightly state, Pienaar could be the answer?! Otherwise I'm all for square pegs in square holes!
Eddie Dunn
18
Posted 23/07/2015 at 21:11:40
Stephen - I hope you are right.

Callum Lapsley
20
Posted 23/07/2015 at 23:46:40
I don't think Baines's injury stopped him taking penalties or free kicks, he is just surrounded by greedy Belgians who want it all!!
Kieran Kinsella
21
Posted 23/07/2015 at 23:53:51
One's past it and the other is Pistone II. Next.
Jim Knightley
22
Posted 24/07/2015 at 00:10:44
Kieran - are you being serious?
Baines being back is always good news, and Oviedo has showed some brilliant flashes. I like the idea of him as an extra midfield option and he is a superb back up to Baines. I also fear though that his time in midfield will be curtailed by our central options.
Harold Matthews
23
Posted 24/07/2015 at 00:29:47
Great news. Two real unselfish team players with the right attitude.
Jack Cross
24
Posted 24/07/2015 at 00:43:51
That's good news both fit again. Let's hope Oviedo can stay fit as he showed so much promise when he covered for Baines.
Mike Allison
25
Posted 24/07/2015 at 10:47:43
Stephen, I basically agree with Martinez's thinking, but get really annoyed by the intransigence. Two "10s" (add Cleverley to the list now btw, based on the friendlies) can be Plan A, but there should also be a Plan B involving a natural left-footer.
Mark Fitzgerald
26
Posted 24/07/2015 at 10:54:11
Genuinely great news here. I am a huge admirer of Baines. I couldn't believe that some were calling for his head last season. I was delighted that Garbutt decided to stick with us but for me Baines is still streets ahead of the youngster and undoubtedly first choice LB.
Oviedo has been so unlucky with injury so I hope he gets an uninterrupted season now. I think he needs to reestablish himself to challenge for a starting spot but the competition is more than welcome.
Stephen O'Donnell
27
Posted 24/07/2015 at 11:04:54
I'm made up Oviedo is back. Fingers crossed he stays fit for a long time now.
Pienaar, your time is up...
Bill Farmer
28
Posted 24/07/2015 at 11:15:26
Mike at 22; thanks for explaining RMs strategy so lucidly. I'm no tactician but on those (not infrequent) occasions that this approach fails to bring success, it seems that his substitutions are usually like for like and invariably involve introducing or removing Mirallas.
It concerns me that his team selections and in-game changes are so robotically made that his fellow managers read him like a book.
I desperately want to see the guy succeed and cling to the hope that his first season was 'the real deal' rather than the horror show that followed it.
Jim Bennings
29
Posted 24/07/2015 at 15:34:51
Won't change anything from last season though will they??
Guy Hastings
30
Posted 24/07/2015 at 16:30:30
The pic of on the home page of Baines preparing to take a throw-in prompts me to ask whether RM has got around to the no small matter of us being totally crap at the basics of taking/receiving a throw?
I assume that last season's throw-in training consisted of Baines holding the ball for ten seconds while watching half-a-dozen traffic bollards. Then a kit-man picked up one of the bollards and moved it three feet, at which time Baines threw it at the bollard and it bounced off for an opposition throw.
The bollard then went off to show Lukaku how to trap a ball.
Helen Walters
31
Posted 24/07/2015 at 10:35:52
I appreciate I am a newby to the family, but I am looking forward to seeing Baines return to the team. Unfortunately, I have not yet had the privilege of seeing Oviedo play.
I love this site and it gives me such reading enjoyment whilst working in the call centre.
May I finally add my gratitude to all supporters who have made my trips to Gwladys Street a real joy, many more to follow I'm sure.
Roll on 8 Auguat 2015... optimism is running through my veins
COYB
Dave Pritchard
32
Posted 24/07/2015 at 17:21:50
I also hope he has nailed down who is taking our penalties this season. When he is on the pitch, it should be Baines with his almost unblemished record. Embarrassing last season with some of the carry-ons.
Minik Hansen
33
Posted 24/07/2015 at 20:37:59
Helen, you will surely be excited when Oviedo gets to play. He got fight and spirit in him for sure, keeps his head up throughout the game, in which others have lacked a bit of last season.
John Malone
34
Posted 24/07/2015 at 22:34:05
I like Baines and appreciate he is a quality player but I have to say under Martinez and without Pienaar in front of him he hasn't been performing very well and having the same impact he used to.

It could be down to his ankle injury or not enjoying playing for Martinez but I have to say when he was out injured Oviedo had a great run of form before he got his leg broke and was doing his job as well as scoring important goals!
Jim Bennings
36
Posted 25/07/2015 at 08:52:53
Dave
Lukaku will still be on pens that's obvious, at least until he eventually stutters up and misses, which probably isn't far away!
Phil McKeown
37
Posted 25/07/2015 at 13:09:24
I can't fathom the posters who think Oviedo can be a good option higher up the pitch; and I also have regret that we didn't cash in on Baines for silly money before he signed his lucrative new deal, making him the highest paid player at the club (2nd now behind Lukaku).
I'm not for one moment suggesting Baines got the cigars out; I just think he had already reached his peak and is now on a slow decline. That, coupled with Pienaar's legs going, drastically reduced his effectiveness.
Mike (#13), your analysis seems worryingly correct and it doesn't work. If he is going to persist with 4-2-3-1 then he needs natural width on both sides. RM winds me up just as much as Moyes ever did.
Add Your Comments
In order to post a comment, you need to be logged in as a registered user of the site.
Or Sign up as a ToffeeWeb Member — it's free, takes just a few minutes and will allow you to post your comments on articles and Talking Points submissions across the site.
© ToffeeWeb