Scoring duo delighted as Everton progress
by

20 Comments [Jump to last]
| 02/12/2015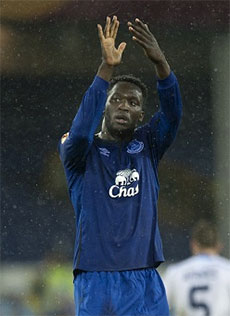 Romelu Lukaku has 13 goals already in all competitions, seven of them laid on by Gerard Deulofeu
Romelu Lukaku and Gerard Deulofeu were in understandably high spirits after their goals against Middlesbrough steered the Blues into the semi-finals of the Capital One Cup.
Both players continued their impressive form this season as the Spaniard opened the scoring with a wonderful individual effort from the edge of the penalty area before providing the cross for the Belgian striker to head home his 13th goal of the season.
Those first-half strikes, combined with a clean sheet for Joel Robles at the other end, helped the Blues ease the disappointment of Saturday's frustrating draw at Bournemouth with a 2-0 win and put Roberto Martinez's side two games away from a Wembley date for the final.
"We just have to work hard and keep doing what we have been doing," Lukaku told Sky Sports after the game. "Today was a good result and we were 2-0 up, but we kept the clean sheet. We could have scored more, should have scored more, but it is positive for us.
"[The first goal was] very important but Gerard did a good job, scored a nice goal. He is playing very well, he is helping us a lot and I hope he keeps [up that] level.
"We are hungry, young players and want to improve game after game. I think it shows. But we need to stay grounded and improve.
"I know that people expect more from us and that's what we want. We want to be better as well and we need to show it game after game."
Deulofeu, meanwhile, was revelling in the latest reason why he has no regrets about returning to Everton after initially returning to Barcelona following his loan spell in 2013-14.
The Spanish winger has been racking up assists – he has set up over half of Lukaku's goals this season – as he becomes an increasingly influential figure in Martinez's exciting young side and he admitted that he is happy with his form.
"I am enjoying my football a lot," Deulofeu said in his improving English. "Playing with Romelu, Ross and these players is [getting easier]. We're into the next round and we need to keep going for the next game.
"The last game against Bournemouth was disappointing because it was a game we should have won, but it is a good moment and we need to keep going for more."
---
Reader Comments (20)
Note: the following content is not moderated or vetted by the site owners at the time of submission. Comments are the responsibility of the poster. Disclaimer
Mark Andersson
1
Posted 02/12/2015 at 01:04:59
Let us just hope that both players are keen to stay and see it through, and grow together as a team win some silverware and become Everton legends.
James Stewart
2
Posted 02/12/2015 at 01:42:29
Meteoric form from Deulofeu, he is unplayable at times and Lukaku has found the consistency we all hoped he would. It will be a real battle to keep hold of these two if they keep this up. If we added a left-sided forward of similar standard, we would have an attack to rival any in the league.
Malc Kitchen
3
Posted 02/12/2015 at 02:09:45
Totally agree James, Yarmolenko would definitely fit the bill!
Regards tonight, I thought Rom and Seamus were poor in 2nd half, Leon tried and Funes Mori did okay! Stones was average, nearly cost us a goal and his control was not great at times!
Colin Glassar
4
Posted 02/12/2015 at 07:52:10
Rom and Geri could've had a hat full of goals in the 2nd half but we seemed, once more, to forget how to pass the ball to each other.
I'm not going to be overly critical when we have so many wonderfully talented players under the age of 24 eg, Rom, Ross, Gerri, Stonesy, Funes Mori, Galloway etc.... Their game management will improve with time as will their decision-making.
Let's just hope we can keep them all together.
Paul Mackie
5
Posted 02/12/2015 at 08:26:04
I saw an interview with Deulofeu (possibly in the Guardian?) at the start of the season where he was saying how much he enjoyed playing with Lukaku and that he was going to get "a lot of assists" for him. He's certainly been true to his word so far!
I love the understanding those two seem to be developing. They're both young and are only going to get better the more they play. Just need to sort the bloody defence out and we could really be on to something.
Dave Richman
6
Posted 02/12/2015 at 08:37:10
James Stewart (#2): "If we added a left-sided forward of similar standard, we would have an attack to rival any in the league."
We already do have one, mate... unfortunately our manager would rather play a 34-year-old who looks like he's running through treacle wide left than put Kevin Mirallas in the side.
Keith Conchie
7
Posted 02/12/2015 at 08:44:43
I thought we played really well in the first half, but you could see the difference in the 2nd half certainly. But this is understandable after the Bournemouth game, they seemed to want to just hold onto the 2 goal lead and not take any risks. It was frustrating at times but as I say totally understandable. And the fact that this was an away game against a team in good form.
I just hope Delboy meant what he said about wanting to play for Everton for many years, as his goal and assist were both world class last night, and he is forming an amazing attack with Rom and Ross and has a good link up play with Seamus.
I know our defence has been a bit shaky recently, but last night you could see Stones starting to take control of our back line and be more vocal. His partnership with Funes Mori is only going to get stronger.
Also, a quick word on Robles who I thought done really well, and looked sharp in goal considering his lack of opportunities.
Colin Glassar
8
Posted 02/12/2015 at 08:48:09
Marca (top Spanish football rag) dedicates most of its front page to Deulofeu today.
There's still a lot of resentment, and sadness, in Spain about Barcelona selling one of the country's brightest young talents in years. All we can do is enjoy him while we can as Barcelona, or one of the other European giants, will soon come calling.
Kieran Fitzgerald
9
Posted 02/12/2015 at 09:29:00
We're very reliant on both players being fit and playing well all the time. Injury or loss of form to one or both and we're screwed.
Our other creative outlets, Mirallas and McGeady, are very much out of favour and Lennon isn't getting anywhere near enough game time to contribute. Our other main striker, Naismith, is getting no game time and may well look for a transfer in January.
I don't think Mirallas and McGeady would be any great loss if we sold them in January. They're adding very little at present and both seem to have attitude problems. Naismith I would be sorry to see go but if he isn't getting enough game time he will be very unsettled and his head may go.
All three players would raise enough funds between them in January to cover most of the cost of a Yarmolenko or a Honda.
Mark Boulle
10
Posted 02/12/2015 at 12:52:02
Good spot Colin G. Maybe you saw an earlier version of Marca, but I had to trawl all the way down the webpage, past about 75 articles on Real Madrid, before I found this:
http://www.marca.com/2015/12/01/futbol/futbol_internacional/premier_league/1449008467.html
Enjoy the Deulofeu magic again in all its glory. Incidentally, the article starts off by saying (literally), that Delboy is "living a very sweet moment". Now we know why RM is always talking about 'moments' of form...!
Brian Harrison
11
Posted 02/12/2015 at 13:05:34
What an appropriate song our supporters picked to celebrate Deulofeu, this kid is certainly magic. He gets me off my seat at the game every time he gets on the ball, and he reminds me a lot of what Ronaldo was like when he first joined Utd. Now chances are the lad will go back to Barcelona in the summer, but I am sure he will want certain guarantees before he does return. Maybe they wont be able to give him the assurances he wants yet and hopefully leave him here for another season.
Keith Conchie
12
Posted 02/12/2015 at 13:27:03
I agree that Deulofeu may well go back to Barcelona at some point but I can't see it being this summer. They have got too many players in his position who will be ahead of him, and he seems to be really enjoying playing regularly and playing for us. The constant smile on his face and the way he talks about his team mates suggests he's in a very happy place personally.
However if and when he does eventually go, he will be missed. As we would if Rom and Stones were to move on, and indeed Ross (who often gets criticism for inconsistency but I really like and believe he would be a huge loss). These are all young and still learning, and we need to do all we can to keep them at the club for the long term.
Add to the list Galloway, Besic and Funes Mori, and we have the spine of a promising strong future team
James Stewart
13
Posted 02/12/2015 at 13:33:51
@6 You maybe right but there is obviously a problem between Mirallas and Martinez otherwise he would be getting more game time. If Osman is getting played out of position in Mirallas's position I think the message is pretty loud and clear. He will move on in January.
Deulofeu, Lukaku and even Barkley for the most part have hit a new level this season and throwing the likes Osman, Naismith, McGeady et al up top with them now just looks like a painful reminder of the more limited teams of years gone by. What we need now is a left wing playmaker circa Pienaar in his prime nothing less.
Peter Cummings
14
Posted 02/12/2015 at 14:39:20
All of us would like to see the Rom & Delboy partnership continue but they can't do it alone,after a great start and two goal lead in the first half it was obvious that nerves were on edge in the second with the usual crop of misplaced passes and loss of possession.
There is no doubt we need a Mirallas to provide an extra scoring threat as far too often Rom is alone up front but because of the managers reluctance to employ him Rom has to battle with multiple defenders, one positive was to see Baines back although Cleverley was less than impressive, Robles while having little to do showed enough to be given more consideration.
It will be interesting to see who we get in the semis but whoever we get we must attack hard.just hope it isn't 'them' from across the park IF they get through today.
Peter Lee
15
Posted 02/12/2015 at 15:45:02
During is first spell, despite some great moments I despaired of GD ever becoming a team player. Those reservations were still there when he returned but how wrong can you be?
He played little first team football last year but he has matured as a player incredibly in 18 months. I think it as much to do with the way that Everton have developed as a team too, but all credit to him.
I recall being mightily impressed with Ryan Griggs and Christian Ronaldo at the same age but neither of them had the ability to pick a final pass at that age that GD shows consistently for the blues. Long may it continue.
Regarding RL, his control and ability to retain possession under pressure is light years away from last year. All credit to him and, again, the way the team have adjusted to play better balls into him.
Thinking back again, he is in my view at least on a par with Didier Drogba at the same age.
Paul Andrews
16
Posted 02/12/2015 at 16:30:39
James Stewart,
Wijnaldum, the lad at Newcastle, may be up for grabs soon. A very good player.
James Flynn
17
Posted 02/12/2015 at 17:05:53
Delboy only goes back if it's what he wants to do. Whatever agreement the two Clubs have in place, Barca can't force him to go back. I'll guess he stays the two years and then we'll see.
Doesn't matter if the lower purchase price zooms up if he stays a third or fourth season. If he continues to improve, there's not some transfer fee Barca couldn't afford.
Would like to think, his staying 2-3 seasons will provide a fine motivation for Lukaku to stay, too.
James Flynn
18
Posted 02/12/2015 at 17:39:12
Everton (DelBoy really) getting a lot of love over here in on-line media.
Was scrolling thru Yahoo's Home Page. There's always a lot of soccer news in there. Not the Sports section, but on their Home Page. Someone in their hierarchy loves footy.
Went to the Yahoo Soccer page and had to scroll way down to be reminded that ManCity played yesterday and won. Them playing is why BEIN didn't cover our game live; only the replay. Yet, they got a blurb today and EFC is all over the site. Having Deulofeu has amped up the media coverage of EFC.
Harold Matthews
19
Posted 02/12/2015 at 17:41:22
Very interesting Colin. Thanks mate. Nice to knows your finger is on the button. 5 goals in 2 games for the Spanish U21s plus his Everton performances will have them rocking back in his homeland. Not surprised they worry about losing him.
This boy Deulofeu is football gold and is probably a No 10. The way he floated through before calmly passing the ball into the net was sheer magic. Reminded me so much of the great Roberto Baggio.
As for the Lukaku goal. Well, this time Del did a tremendous impression of Stanley Matthews and the big fella picked his spot. Class and entertainment of the highest order. I gasped with delight.
The rest of the team, especially Robles, did okay but they definitely seemed a wee bit shaky on the ball, especially 2nd half. I have no doubt that this was due to the complicated safety orders they were trying to follow. You could almost hear them thinking aloud.
Nice to see Baines back even though he needs to lose a few pounds. The same goes for Barkley. I know it's all muscle but it's very heavy and not helping his mobility and stamina. Watch the athletic slimline Kevin de Bruyne operating for Man City and you will see the difference.
Colin Metcalfe
20
Posted 02/12/2015 at 18:38:04
Harold your point about players carrying too much weight is true , I think a lot of modern players spend too much time pumping iron and it slows them down and inhibits mobility!
Give me a whippet like Jamie Vardy to a bulked up Micah Richards any day .
Add Your Comments
In order to post a comment, you need to be logged in as a registered user of the site.
Or Sign up as a ToffeeWeb Member — it's free, takes just a few minutes and will allow you to post your comments on articles and Talking Points submissions across the site.
© ToffeeWeb