Pre-season training starts today
4 July

32 Comments [Jump to last]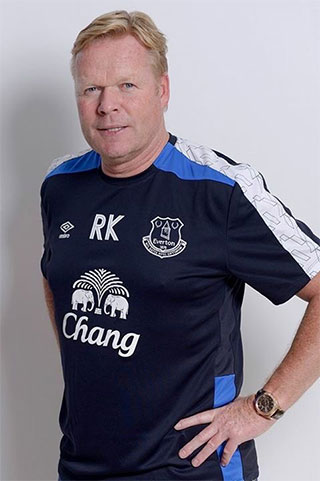 A return to Finch Farm for many of the Everton first team squad means pre-season training and an opportunity for Ronald Koeman and the new coaching staff to get to know their players.
Most of the players who have been competing at Euro2016 or Copa America will join up with the squad later this month, although Bryan Oviedo was among the players returning to Finch Farm following Costa Rica's early exit from the latter tournament.
Koeman and the backroom staff that he has padded out since agreeing to become the Toffee's new boss last month, will be putting their new charges through their paces at Halewood for the first time this week. They will then jet out to their training camp in Austria next week.
"I'm very much looking forward to getting down to work," Koeman told evertonfc.com. "I'm extremely full of energy after a long summer and the players have had a lot of holidays as well.
"That's one of the reasons I decided to change the date for starting the pre-season because it was planned in for 7 July and we changed it to 4 July because I think the best pre-season is five or six weeks of planning.
"After a long holiday, the boys need to work and to get back fit to play football."
Koeman's setup includes his brother and assistant manager, Erwin and fitness coach Jan Kluitenberg from Southampton, as well as new goalkeeping coach Patrick Lodewijks from Feyenoord.
"With a new technical staff, we need to show them how we will work together," Koeman continued. "[We will be] organising in the training sessions, we will have some good friendly matches and it's all about preparing the team for the first Premier League game.
"In pre-season, you get time to know all the players, to know the young players and, okay, you have the training sessions, but around the training sessions you have time enough to have a coffee with them and to have a talk to them.
"Of course, they need to know the manager, they need to know the rest of the technical staff and we need to know the players, the characters of the players and that's important. You get that time more in pre-season."
---
Reader Comments (32)
Note: the following content is not moderated or vetted by the site owners at the time of submission. Comments are the responsibility of the poster. Disclaimer
Kevin Rowlands
1
Posted 04/07/2016 at 15:22:31
Did anyone else notice in the clip of Koeman at Finch Farm this morning, Lukaku's shirt was hanging up right behind him in plain sight.
I think there's a subliminal message being sent, notice how the rhetoric has been completely toned down as well. Looks like the Lukaku camp have been well and truly told to shut the fuck up Everton are calling the shots, good!
Barry McNally
2
Posted 04/07/2016 at 16:01:46
Koeman brought them back 3 days earlier than initially planned, laying down a marker.
Gerry Quinn
3
Posted 04/07/2016 at 16:10:47
Nice one Ronald – call them back early – no more Mr Nice Man at Everton – get in there, NOW!!!
Jackie Barry
4
Posted 04/07/2016 at 16:25:20
Lol, I bet they are in complete shock. Work them hard, Mr Koeman, make them earn their pay. The truth is none of these players are bigger than our Ronald – and they know it!
Ian Burns
5
Posted 04/07/2016 at 16:27:42
The more I see and hear of Mr Koeman, the more I like his style. 4th July might be Independence Day in the USA but it is no holiday down on the Farm now RK has the reins.
If nothing else, I fully expect to see a fitter squad this season, containing hopefully Romelu Lukaku and John Stones!
Tony Draper
6
Posted 04/07/2016 at 16:35:06
Kevin @1,
My exact thoughts, mate. When Lukaku was away with Belgium, there was some "loose talk" that does seem to have ceased or completely altered content since RK held up the royal blue and white scarf.
I would love to be a fly on the wall at Finch Farm, some prize expressions on them faces. RK is a "Big Unit", but his career and reputation utterly dwarfs the sum total of everything that our entire squad, plus all our coaches have accumulated.
RK can look at any of them and say.... "Show me your medals, cupcake!"
Steavey Buckley
7
Posted 04/07/2016 at 16:40:15
I noted the players returning back to Finch farm, and thinking Koeman has got a job on there to help turn them around and make them a top 4 club.
Alan Bodell
8
Posted 04/07/2016 at 16:43:52
I sent RK a package and a note on how to get Lukaku more active.
Surgical gloves. red hot chilli mustard and directions as to which orifice it is to be applied.
Paul Black
9
Posted 04/07/2016 at 16:47:32
Kevin, 1...
The thing that appeals to me most is Farhad let him shoot his mouth of for so long before he made this move and another sign he's not a man to be messed with.
Jay Harris
10
Posted 04/07/2016 at 17:01:53
Hopefully we will start to see the discipline that was so sadly lacking under Martinez.
Interesting to see Jags referring back to the Moyes fitness regime when "they were told to run until they were physically sick".
Jackie Barry
11
Posted 04/07/2016 at 17:13:42
Yes Jay but lets hope that unlike the Moyes regime that they will be ready for the start of the season!
Laura Round
12
Posted 04/07/2016 at 17:29:02
Kevin (1) I said that to my hubby! I said that's no coincidence. Also how happy did they all look arriving at finch farm. Exciting.
Brent Stephens
13
Posted 04/07/2016 at 17:29:57
No more "we'll hit our stride by January" or whatever it was the last guy actually said.
Kevin Rowlands
14
Posted 04/07/2016 at 17:41:43
Brent, been watching the last guy on Espn coverage of the Euros, he might be a nice bloke and all that but boy does he talk some shite, no wonder things went tit's up last season. I'm already more confident about this season and our Ron has only been on the job one day.
Brent Stephens
15
Posted 04/07/2016 at 18:45:16
Kevin, a nicely nuanced description of the man's co-commentating skills! Love it.
Phil Bellis
16
Posted 04/07/2016 at 18:54:35
Alan, 8
My email to big Ron...
"Sand dunes, up em, run"
Retro, I know, but got you bloody fit!
Paul Conway
17
Posted 04/07/2016 at 19:35:48
Kevin @ 1.
I noticed that too. I didn't see the clip, but I saw it in a photo on NewsNow. It was very strategically placed and it seemed to be making some kind of a statement to the effect that Lukaku's bought into the Koeman revolution. (It wont be long before this phrase finds its way into the dictionary...)
Paul Setter
18
Posted 04/07/2016 at 21:06:00
Glad to hear it, though I would have started on the 1st. I think he will be a very busy this summer – we have a lot of dross in this squad and, for us to move forward, good players can't paper over the cracks, so a good percentage of them need to be shown the door.
Oviedo, McGeady, Kone, and Niasse and the not good at anything at all. McCarthy would be a good start. Bring the decent signings in along with the rest of the squad and a few of our talented youngsters and things should be looking brighter.
Peter Carpenter
19
Posted 04/07/2016 at 21:09:30
Get the bastards begging for mercy.......
Ray Said
21
Posted 04/07/2016 at 21:18:29
Thats the ticket Phil (16), the Howard K routine -up and down the sandhills until they collapsed. Reid said the pre season was so tough the amount of running they did in matches was easy by comparison.
The last manager forgot that footy is still a running game and most of that running is without the ball.
Trevor Lynes
22
Posted 04/07/2016 at 21:19:37
No problem for Baines, he enjoys hard training !
Lets hope that this pre season we get our new signings in early and get them bedded in properly.
Geoff Risebrow
23
Posted 04/07/2016 at 21:50:33
I am fully behind Ronald and have every faith in him. Great to see him getting the boys back early. Along with Moshiri, he is showing that he means business. There will be no slacking under this manager. I reckon Bainesey will be on all the penalties aswell!
Len Hawkins
24
Posted 04/07/2016 at 21:57:42
Sand hills were quite popular remember seeing the United squad in the mid 60's setting off running from the Palace Hotel by Birkdale Beach, Charlton Best etc. Didn't the Catt like using the Dunes he lived near Ainsdale Beach.
Brent Stephens
25
Posted 04/07/2016 at 22:07:23
Len, the Fisherman's Rest pub now stands where the Palace Hotel was, and was once used to lay out the bodies of 14 lifeboat men drowned in a 19th century disaster.
Mick Davies
26
Posted 05/07/2016 at 00:03:53
Anyone remember a 60's film called 'The Hill' with Sean Connery? I'm conjuring up an image of the Koeman's on either side screaming at Rom, Del and Kev "Get up there" . . "Now back again"
William Cartwright
27
Posted 05/07/2016 at 04:54:14
The Hill . . . . . . Yes I remember that. Now there is a low cost investment to the training facilities at Finch Farm, at least until the bricks and mortar arrive to build the overnight hotel suites . . . . .
Paul Burns
28
Posted 05/07/2016 at 06:43:42
The hill was great, Sean Connery and Roy Kinnear who signed for Spurs after impressing in the film with his fitness.
Tony Dove
29
Posted 05/07/2016 at 10:01:55
The Hill also featured Ian Hendry who later went to Blackburn and Harry Andrews who was to invent the famous liver salts.
Trevor Lynes
30
Posted 05/07/2016 at 12:26:12
Lets see some big movement on the transfer front... no more long winded and eventually disappointing situations please!
Ray Atherton
31
Posted 05/07/2016 at 17:32:32
Len 24#
Billy Bingham also had them running up the
sandhills. He lived near Southport.
Colin Metcalfe
32
Posted 05/07/2016 at 22:46:33
Good to see our Uruguayan striker in there with the rest of the lads , if Leandro Rodriguez can get fit and sort his hammys out he could be a great back up striker to Lukaku if he stays !
Amit Vithlani
33
Posted 06/07/2016 at 09:26:41
I noticed a few things which gives me hope of a new uptempo style. There was a drill showing one touch passing followed by a drill where the players had to control the ball and pass back in two touches.
It was also good to see Tom Davies and Pennington featuring prominently. I hope they get a few starts in the coming season
Add Your Comments
In order to post a comment, you need to be logged in as a registered user of the site.
Or Sign up as a ToffeeWeb Member — it's free, takes just a few minutes and will allow you to post your comments on articles and Talking Points submissions across the site.
© ToffeeWeb