Hibbert reveals hurt of cold shoulder from Everton

322 Comments [Jump to last]
5 August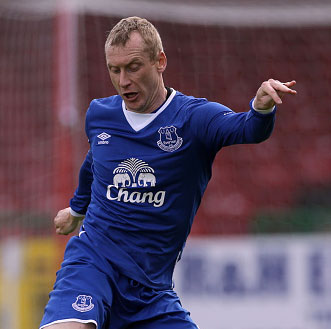 Tony Hibbert has spoken publicly of his surprise at how was let go from Everton when he found out from family that he wasn't being retained rather than being informed directly by the club.
Along with his long-time team-mate Leon Osman, the 35-year-old defender was released in June after 15 years' top-flight football with the only team he ever played for following Everton's decision not to offer him another contract extension.
A one-time first-team regular, Hibbert struggled with injuries in the later years of his career at Goodison Park and made just one appearance as a substitute last season.
His chances of being handed another deal with Everton were slim — indeed, the two-year extension he signed in 2014 was greeted with raised by eyebrows by many supporters — but the normally private and reserved defender has broken his silence to express his dismay at the manner of his departure after 25 years with the club.
"I was in Formby with my dad and brother when my wife Samantha rang to say she'd been getting text messages from friends that I wasn't being retained," Hibbert said to MailOnline. "It was on the [Everton] website."
"I couldn't believe it so I rang a friend at the club to check. They said, 'Tony, I honestly don't know why nobody has spoken to you'. I contacted Leon and he was in exactly the same boat.
"I won't tell a lie, I was really hurt. Surely someone at the club should've realised it wasn't right. I'd rather have been told at any point during the season there wouldn't be a contract so I'd have a chance to plan my future and say a proper farewell.
"No player deserves that whether they've been at a club for five minutes or 25 years."
Hibbert says that it's indicative of what he sees as a changing culture at Everton from the one that he came to know during his time as a senior-level player.
Where once he would receive regular contact from Chairman Bill Kenwright, the veteran full-back says that that kind of familial atmosphere has been eroded in recent years and was illustrated, he believes, in the cold way in which he, Osman and Steven Pienaar were released while Tim Howard was given a send-off at Goodison Park after the final game of last season in lieu of a testimonial.
"In what other job would someone be let go or fired without a senior manager talking and explaining what was happening?" Hibbert continued. "I never got that and I honestly don't know why. I didn't get the chance to properly say goodbye to the fans.
"Every contract I had at Everton, I never questioned it or demanded more money. I have never kicked up a storm even as a kid. But since David Moyes left in 2013, I have noticed the club hasn't got the same feeling.
"The People's Club, it's no longer that. It's a ruthless, horrible business and a lot of good people have gone.
"I understand a new manager wants to work a different way but it is a dog-eat-dog culture inside the club now. People are only looking out for themselves.
"Bill used to text me good-luck messages as a player. But I've not heard from him now. It's hard to blame only him because of his own issues but you'd like to think there are other people who know how to do the right things."
Hibbert underwent an operation this summer after suffering a fresh injury following his second-half cameo against Bournemouth in April and Everton have offered him the use of Finch Farm to work on his rehabilitation.
The Liverpool-born player admitted that it's awkward for him going back to his old stomping ground, however.
"It's hard for me to go in. It's a horrible feeling," he explained. "I feel embarrassed. Everything from the club feels like a new smack in the face. My wife is even angrier at how I've been treated. I've not even had the chance to say cheerio."
---
Reader Comments (322)
Note: the following content is not moderated or vetted by the site owners at the time of submission. Comments are the responsibility of the poster. Disclaimer
Phillip Mark
1
Posted 05/08/2016 at 23:21:11
Hopefully Ronald can bring a bit of the good feeling back. Possibly a bit of sour grapes, but he shouldn't have been treated like that.
Chris Perry
2
Posted 05/08/2016 at 23:22:34
Seriously! Get a grip Tony. You were an employee not some superstar. Sorry but pathetic.
Bring on the rants of those who think anyone one out there in the real world is treated any different. Get on with it and stop sulking!
Ian Glassey
3
Posted 05/08/2016 at 23:25:53
Don't know how he stayed in the team as long as he did, should have been binned off after the 2009 Chelsea final.
Chris Pitchford
4
Posted 05/08/2016 at 23:27:01
To be frank, I think that it is disgraceful that you (Tony Hibbert) have come out and complained about an institution that has fulfilled every obligation to you, both career and money wise, in the last three years despite you not having played or made any real contribution to the team.

You were always below average at best and I seemed to remember one quote from you, where you referred to the fans as: 'punters.' Fans are not punters, Tony. People who go to watch horse racing are punters.
Joe O'Brien
5
Posted 05/08/2016 at 23:28:05
Very odd if all that is true, and I would think it is. Shouldn't have got his previous conrtact to be fair, but having to find out that him and ossie weren't being kept on via the club website shows a lack of respect and class that I thought the club had. Kinda shocked by it to be honest
Roy Noon
6
Posted 05/08/2016 at 23:30:22
I assume when they were released, Martinez and his staff had already been dismissed. However, its still a very poor way of dealing with decent, loyal servants of EFC.

The family and community feel of EFC, has certainly been a strength in recent years and its something that we should do our best to retain.

I feel Elstone and Kenwright should repair the damage and apologise to Osman and Hibbert asap. All seems pretty shoddy to me.
Brent Stephens
7
Posted 05/08/2016 at 23:33:10
Disgusting way to treat any employee. Get a grip Everton.
Trevor Lynes
8
Posted 05/08/2016 at 23:34:28
I am not shocked and neither should he be. He has been a contractor for a long time and that is how most contractors are treated. Luckily the long term guys get benefit games but even managers are summarily dismissed.
Having been a contractor most of my life I fully understand his feelings but he was paid during his injury periods which is more than most contractors get.
It would have been nice for the club to have let him down easier but he has survived a few managers during his time with Everton and he has had a long-term well paid job !!
Paul Johnson
9
Posted 05/08/2016 at 23:37:04
Is this a serious article? The guy needs to get a grip on reality. He was an average (and I use the term loosely) footballer who will never have to work another day in his life. I fuckin despair.
Pete Cumberlidge
10
Posted 05/08/2016 at 23:38:08
We all know football is very much a changing environment and massive change in some quarters but not necessarily for the best. Listening to all the recent 1966 coverage took me back to the way football used to be but even so this will no doubt raise a number of concerns.

Always thought as a club we were more classy than the rest and kept the same historic "family" traditions but perhaps no more.

Don't really know what to really make of this but it doesnt come over well and confirms to an even worse extent what has been previously said about how Hibbo, Osman and Pinnear were let go with no farewell
John Hughes
11
Posted 05/08/2016 at 23:40:14
"Be careful what you wish for" notwithstanding, I have to say Tony that you have been royally rewarded for the very average talent that you were blessed with.

As I understand you have enjoyed an excellent lifestyle with homes most of us can only dream about, your kids have been privately educated and you have your very own estate in France.

Good luck to you Son, genuinely pleased for you but please, please don't start whinging because it won't wash.

PS - tell your Missus to count her blessings as well.
Mark Murphy
12
Posted 05/08/2016 at 23:43:00
I did think it unfair and a shame that Tim Howard got such a hero's send off while Hibbo and Leon were just allowed to disappear.

Hopefully the club will make amends and we will get the chance to thank them properly.
Colin Glassar
13
Posted 05/08/2016 at 23:45:00
I always thought Hibbo would stay until he scored a goal. Another dream shattered by EFC.
Ste Traverse
14
Posted 05/08/2016 at 23:47:34
With him hardly kicking a ball for us in the last 3 seasons, If I was being 'ruthless' I could put an argument across Hibbert has been stealing a wage for a number of years now.
And I'm glad that 'People's Club' bollocks looks to have been finally binned off.
Les Martin
15
Posted 05/08/2016 at 23:47:49
Tony Hibbert has had a long career at Everton during a time when players are paid salaries we can only dream about.
Yes Everton and someone has slipped up with regards to some courtesy, but these things sadly happen everywhere.
Best that he kept this to himself and enjoyed the memories and the club for the right reasons !
Terry Murphy
16
Posted 05/08/2016 at 23:50:13
I wonder if his chances of being given a proper farewell have gone up or down after this article.
David Barks
17
Posted 05/08/2016 at 23:50:49
Ok people, get a grip. Jesus, he wasn't great but he was a very good "defender" for many years. You know, that thing defenders are supposed to do.
He didn't ask for a parade, just to be contacted by anyone at the club regarding his situation, which never occurred. Doesn't matter if he was average or poor, that isn't right. None of you would find out that you are no longer employed from your friends seeing it on a website.
I think the difference between Osman and Hibbert was they were hold overs and might have been seen as loyalists to the Moyes era, and Martinez froze them out. A bit similar to how he froze out Mirallas. And remember that Osman had a little bit to say early on about Martinez training methods and lack of effort regarding set pieces.
James Stewart
18
Posted 05/08/2016 at 23:52:28
What planet is this guy on! He was very lucky to have been paid so handsomely by Everton for so long. Yes maybe it could have been handled better but why would hibbert assume anything other than being released would happen? He hadn't contributed for years.
Jonathan Miller
19
Posted 05/08/2016 at 23:55:25
Sorry, Hibbo, time to join the real world! You were a great servant to the club and you reaped the rewards. No doubt there will always be a welcome in the stands for you at any game.
However ,in view of the fact you are still allowed to hang about Finch Farm going through a rehab program most of us would never have access to, probably for free and giving you a chance to say goodbye to your team mates. I am somewhat at a loss for words. Talk about bite the hand that feeds you...
Colin Oakes
20
Posted 05/08/2016 at 23:56:00
I know how he feels, I was made redundant myself in June following only 2 days consultation. I was luckier than Tony as at least the company offered me free use of the copier to copy my CV!
David Barks
21
Posted 05/08/2016 at 23:57:07
Did anyone actually read what Hibbert said. He said he wanted an opportunity to say good bye, to have that last stroll around the pitch. He spent his entire career here, and the vast majority of his life. He's that loyal Toffee through and through that so many on here are constantly screaming about. Yet then he gets slaughtered.
Frank Mullin
22
Posted 05/08/2016 at 23:58:01
Although it was no surprise to any of us that Hibbo, Ossie and Peanuts would not be retained, the Board has demonstrated a distinct lack of class in failing to acknowledge the service of all three to the cause over many years. Yes, they were all well rewarded but certainly not mercenaries, unlike some I could mention. They should have been given a dignified send off and the club, sadly, is guilty as charged.
Patrick Murphy
23
Posted 05/08/2016 at 00:00:03
Admittedly the club was in a state of flux at the end of the season and the hierarchies priorities would have been fixed on obtaining a new manager during that period of time, however, someone at the club in a position of relative power should have taken all 3 released players aside and thanked them for their time and wished them well in their future lives.
Good manners don't cost anything - but here's the rub, if Tony and his wife feel so aggrieved by their treatment wouldn't they refuse all contact with Everton FC and is Tony totally unable to find another place to work on his rehabilitation if it makes him feel so uncomfortable when attending Finch Farm?
It's very unlike Everton FC to be so remiss in its treatment of its current or former players and it's highly unusual for a former player to be so critical of the club so publicly. I hope that we are a professionally run club and that we do act as a business rather than a half-arsed social club, but I also want Everton FC to retain it's human touch and be as generous in spirit towards its employees as it is possible to be.
There is absolutely no reason that being business-like and professional should automatically lead to ill-manners or bad treatment of people, it doesn't make sense and it just isn't Everton F.C. and I am sure it was more an oversight rather than a cruel or wilful act towards the three players involved. If it wasn't an oversight then it is a lesson that the club's new regime would do well to learn.
John Daley
24
Posted 06/08/2016 at 00:04:04
"
Everton have offered him the use of Finch Farm to work on his rehabilitation.The Liverpool-born player admitted that it's awkward for him going back to his old stomping ground, however."It's hard for me to go in. It's a horrible feeling," he explained. "I feel embarrassed
." Â 
To be fair, I would have felt more embarrassment turning in during the last two years, all the while knowing full well I was effectively getting paid for fuck all.
The situation surely can't have come as a surprise to either Hibbert or Osman, seen as though they'd hardly featured in the first team and there had been no noises about either being offered new contracts.
The pop about 'a new manager' wanting to work in a way at odds with the old 'People's Club' mentality also seems misplaced. Wasn't the club actually between managers at the time these contracts expired? The major upheaval within the club at the time probably played a large part in the very oversight that stung him so.
Steve Hogan
25
Posted 05/08/2016 at 00:09:08
I'm guessing that Tony was on a 'modest' 40K a week for the last four years of his tenure (I don't really know to be honest). That's a cool £8m in his back pocket, a figure that most of us could only dream of.
Think he played around three games in the last three season's (stop tittering at the back). From someone who's approaching retirement having worked since I was 16, and also been made redundant three times, I'm afraid I don't have a whole lot of sympathy for Tony.
He really should be celebrating the fact that he played football for a living, was paid quite handsomely, and now can sail off into the sunset in his mid-thirties, financially secure for life.
I wish...
Dean Richardson
26
Posted 06/08/2016 at 00:10:57
Agree with John #11. Don't blot your copy book Tony. You earn't more in one week than most of us on this group earn in one year...while lying on the physios bench week after week as well.

You were well paid. You did your very best but had Moyes not been in charge you would have been arguably plying your trade in lower divisions. The club could have done things better..but count your blessings and get real.
Tony Hill
27
Posted 05/08/2016 at 00:11:15
A sour effort. This is a multi-millionaire, unless he has been a fool with his money, who had played a handful of games over several seasons - if he had not made plans for a future away from the club then he was entirely deluded. I don't care that he wasn't contacted, fucking hell he's 35 and presumably has a brain in his head and an agent who can speak.
It's a shame that a (former) cult hero should choose so publically to criticise the club and in a manner clearly designed to cause harm on the brink of the new season.
Stu Yates
28
Posted 06/08/2016 at 00:11:22
I'm embarrassed for him coming out with this. Played about 10 games in 3 years in which he was handsomely paid yet moaning when he's released.

Decent workmanlike performer and nothing more. We've moved on, so should he.
Damian Nolan
29
Posted 06/08/2016 at 00:11:24
If anyone wants to know the class of Stones look at this disgraceful whine. If Hibbert were living in the real world then he would know how how he had fluked 3 years. He should be hoping that he can claim "lost in translation"
Ian Riley
30
Posted 05/08/2016 at 00:12:15
I wish my employer made me a millionaire and my final two years doing nothing and get paid. Get a grip and get real! Think about all those bhs workers signing on. All those in your city struggling to pay the bills.
Everton have given you 15 years employment and paid you very well. Give a little respect to Mr kenwright who gave you a contract into your later years. If he had kept his mouth shut Mr kenwright would have found him a role at the club. Why go to the press? Makes him look like an ungrateful modern day footballer.

Chris Sinnott
31
Posted 06/08/2016 at 00:12:51
Some of the comments are a joke. He wasn't a world class player, yes he did have injury problems, but he is one of our own and gave 110% whenever he played.

He deserves the courtesy of a phone call or a meeting. It takes nothing.
Kieran Kinsella
32
Posted 06/08/2016 at 00:13:56
To me it seems like no ones running the club. Everything seems to through Mosh but he's otherwise occupied so not a day to day owner.
Mike Price
33
Posted 06/08/2016 at 00:17:14
He was a liability as a player and is a liability as an ex player. What an absolute joke, he's one of the most limited players ever to be treated so well and became a millionaire on our backs.
The ridiculous 2 year contract Martinez sanctioned was only surpassed in its ineptitude by the Niasse debacle. He, and his wife, should be waking every day laughing hysterically and thanking God that Everton were completely incompetent in dealings with playing contracts. He's stolen a fantasy lifestyle that he was nowhere near close to deserving.
George Li
34
Posted 06/08/2016 at 00:28:04
I don't think that's the intention of the club to handle players these ways. As per all kind of transformation, it usually carries some chaotic transition and everyone was scrambling to handle the changes and somehow the process of players departure did not go through the standard treatment. I feel for Hibbert and sorry that no one discuss with him.

Then again, it must be some kind of awful comfort zone a player can get into doing nothing with their employer when they know their contract is runnin down. "No worries, it's a people's club, my new contract will be taken care of ". True is, we really really want to be a winning club again above anything else.
Dan Egerton
35
Posted 06/08/2016 at 00:39:47
He probably only earned 10-15k a week at best. 8 million? Some of you lot shock me.

Everton is meant to be the People's Club. This isn't People's Club behaviour.
Mark Halliwell
36
Posted 06/08/2016 at 00:43:09
From a level headed point of view he was treated badly not being told that he would be offered a contract. This is fair enough. To give an interview to the press though is pure bitterness. He was paid too much for too long. If we had sold him would another premier league club seriously have bought him.

On his best days he was a footballer who couldn't actually control a football in any manner. The best he could do was stop others who had the football and even at that he was lacking so many times.

In a climate where people are losing their jobs and have mortgages to pay, some crying millionaire footballer has shown his lack of sensitivity, class and intelligence. Good riddance
Mike Keating
37
Posted 06/08/2016 at 00:45:32
"No longer the People's Club"
It never was
Anyone from the Main Stand recall being dumped without a word from Wyness & Co?
It will get worse
The man is talking about how the club treat people not how lucky he was to still have a contract.
James Watts
38
Posted 06/08/2016 at 00:51:47
If this is true, and I do believe Tony, that's a disgrace. Shame on you Everton.
Garry Corgan
39
Posted 06/08/2016 at 00:51:54
Some of you lot are a disgrace!
Yes, Tony is set for life having done his time at Everton. But despite being a multi millonaire, he still goes to matches and sits with the fans in the Gwladys street. He is you and me with a bit more talent.
Not the greatest player in the world, no, but not a bad defender in his day either. Solid but unspectacular. That's not a crime is it?
The way some of you are lambasting him for because he would have liked a courtesy phone call is terrible. It's not much to ask for and it's the least he deserved. And it's a lot less than that arrogant, average goalkeeper, Howard, got.
Mike Moore
40
Posted 06/08/2016 at 00:52:00
What a load of crap, what did Hibbert expect hes been either injured or patently not good enough for years now, Everton are a business first and foremost, was Hibbert seriously expecting anything else? Sounds to me like a case of a bruised ego! Great that the club is finally moving forward and modernising to get back up to where we should be, if we lose the likes of Hibbert by the roadside so be it.
Tom Bowers
41
Posted 06/08/2016 at 00:59:31
Tony was a good player and a good servant but he, like Osman benefitted from Everton having a poor manager for many years and for the most part a below average team.
There are many hard working loyal guys out there who were given the shaft in their particular jobs, who never got a fraction of the money Tony earned and just had to bite the bullet and find another job.
James Watts
42
Posted 06/08/2016 at 01:00:03
Agree completely Garry (39). It was a disgrace because he didn't even get a courtesy call, and look what Howard got because he was leaving??
Mike Keating
43
Posted 06/08/2016 at 01:00:22
"A business first and foremost "
You just said it all mate
How sad you think this is the future for our club
Brian Wilkinson
44
Posted 06/08/2016 at 01:16:06
Understandable with sorting out a new manager, a blip and oversight.
I understand the bit about saying farewell to the supporters, but I feel he has burnt his bridges, with going public.
Andrew Keatley
45
Posted 06/08/2016 at 01:16:54
Seems like opinion on here is pretty divided about this.
My feeling is that it's not entirely Tony Hibbert's fault that he didn't get more games in his final few years; the emergence of Seamus Coleman, coupled with Hibbert's own injury problems saw to that.
Some people have cited his limitations as a player. I doubt Hibbert saw himself the same way - which is why he was able to play at the top level for so long. He earned his millions the same way every top modern footballer does, and he's entitled to a point of view. He's predominantly been described as a top professional, and I think he's entitled to have felt a bit let down by the way his release was handled by the club.
I'd imagine some of you criticising Hibbert's ability are the same voices calling for the club to sell John Stones because he doesn't show passion or launch it into Row Z often enough for you...
Andy Meighan
46
Posted 06/08/2016 at 01:17:09
Seeing the headline I was a bit shocked myself at how Hibbo has spoke out. But having read on I think he's got a dammed cheek complaining. The "my wife was even angrier" line stuck in my craw. And who, may ask, is his wife to complain?

This club of ours has given Hibbert and his snotty wife – and yes I've met her – a living that the likes of us long-suffering fans could only dream of.

Haven't read any other posts so don't know the general feeling. But I feel quite strongly about this. Loved Hibbo for his commitment and service but, no, I'm not getting any sympathy here.
Alan Humphreys
47
Posted 06/08/2016 at 01:26:36
Here's a thought, instead of using Everton for rehabilitation get yourself to a private gym - be less embarrassed then.
The fact that at 35 and needing another op after making less than a handful of appearances over the last 3 years and he still thought he'd get a new contract shows how deluded and self-absorbed footballers can be.
On his day, of which he had many, he was a great (old school) full back, sadly for him football moved on to the marauding full-backs of today and Hibbo was found sadly lacking.
Seb Niemand
48
Posted 06/08/2016 at 01:34:28
Does it not strike anyone else that this kind of carry-on just seems incredibly out of character for Hibbert?
Neil Clemow
49
Posted 06/08/2016 at 01:41:39
It's quite embarrassing how many people can't read.
It doesn't matter what he earned and how few games he has played.

What the guy has said is, it would have been nice to have been told he no longer had a job.

If you left work today and no one said anything to you, you would be walking back through the door on Monday morning.
Steve Austin
50
Posted 06/08/2016 at 01:57:42
I am caught between two lines of thought on this one. Finding out through your wife via a friend through social media isn't the way to tell a long term employee he is out. A simple phone call, hey Tony piss off and raise carps now. Tony going to the media, was foolish as it does tarnish him. I believe.

As for it being a business, it always was. The model has just changed with the landscape. Yes our history is great, and I do love to read about it. But what I enjoy most about our history is when we were doing the business and winning things. And I lived through it. Well I want to live through it again. So if Everton is being more professionally run, more ruthless to make sure it wins everything. Then so be it.

Good bye corner store, hello Wallmart. And if that upsets people that Everton become bigger, badder, better, then they can kiss my royal blue arse as I dance for joy when we do win. As for the peoples club .isn't that Sunderland.
Jim Hardin
51
Posted 06/08/2016 at 02:01:32
Disgusting comments from many of you on here. What the heck does his salary have to do with anything? You fans calling for loyalty from Lukaku and others being greedy or mercenary, can shut up now and forever. Hibbert deserved to be treated with the respect of someone who was loyal to the club, injuries or not. Someone made a decision to let him go along with Osman and Pienaar. That same person or persons then, "forgot" to tell them. It wasn't an oversight or a blip, it was cowardly and disgusting. He has offered an insight into your club that is not flattering and how the organization is not what we pretend to think it is. Instead of listening to what he is saying and the deeper problems the words point to, many on here slag off the messenger.
I am so sick of people pointing to the salary of a player and using it as an excuse for binning the player as a person. This isn't about how much money he made, as if there is a magic number that once passed, makes everything said to or done to the player, okay. He wasn't even told he would be let go FFS. For the first time since I have been a fan of Everton, I am ashamed of Everton and its lack of class and some of its supposed fans and their lack of class.
David Milner
52
Posted 06/08/2016 at 02:10:18
Tony Hibbert was paid 25 k per week & has been injured for most of last season. He was out of contract & he was aware his contract was up. What was his agent doing to earn his 10% of Tony's salary.
Sour grapes, nothing else.
Anthony Dwyer
53
Posted 06/08/2016 at 02:18:45
We all love Tony, because he's one of our own, but lets be honest here, since he became ill a few years back he's been paid for doing fuck all.
Hibo could and should have been moved on a long time ago as his place had been taken by Coleman, he's never stood any chance of regaining it.
I think Hibo should have left quietly with his millions in the bank, and been greatful.
Very dissapointed he's done his dirty washing in public.
David Barks
54
Posted 06/08/2016 at 02:20:42
Honestly many of the comments on this post have painted a disgusting picture of Everton supporters. Really sad to be honest.
Anthony Dwyer
55
Posted 06/08/2016 at 02:21:08
PS one last point id like to make is that I do not condone what the club have done, but IMO Everton are bigger than any one player, and maybe Hobo could have considered the fans before his rant.
Charles Barrow
56
Posted 06/08/2016 at 02:40:44
There are two sides to every story. I believe Tony is genuinely hurt that the end of his career came to an abrupt end. But on the other hand he can't have Been surprised, surely. He has hardly played for the last 3 years and is well past it age wise. Like a lot of posters I think he's lucky he's been paid very well over that time for doing very little. I can't understand those few posters who think this view is disgraceful and something to be ashamed of?. Yes, the club should have been a little more sensitive perhaps but that's all. No one is surely suggesting he deserves another three years at 25k a week!
Matt Garen
57
Posted 06/08/2016 at 02:50:38
He should never have played for Everton again after 30th may 2009. Woefully out of his depth.
Roman Sidey
58
Posted 06/08/2016 at 02:52:21
Is anyone certain that the same people criticising Hibbo are the same that are calling for more loyalty from the likes of Lukaku and Stones? I am about to criticise Hibbo yet I know full well that there is no space for loyalty in football anymore.
Is everyone (the player included) forgetting that Hibbo had his testimonial a few years ago. Not every player gets a testimonial, but the club felt Hibbo deserved one. Also, Howard was still actively playing when he signed a contract with a team in another country (well within his rights to do so), and, therefore, the club knew that match would be his last. It is a lot easier to give a player a run out on the final day of the season when it is absolutely determined that they are leaving.
The other point that jumped out at me reading Hibbo's quotes, is the fact that he was off in Formby (chasing squirrels?) when he heard the news. I can't speak for Hibbo, but if my contract had expired and I was in a position where a new one wasn't the most probably thing, I would be in the office day and night trying to sort it out before driving up the coast for R&R.
For a professional footballer to have graced the cover of more fishing magazines that football magazines is reason enough for that footballers to count his lucky stars and shut the fuck up. I'm about to retire from rugby after 20 seasons in the sport, and I'm still parting with in excess of $1000 per year for the luxury of playing on 14 Saturdays out of the year. I don't expect a lap of honour unless I'm part of the XV that lifts the trophy - not likely.

Ernie Baywood
59
Posted 06/08/2016 at 03:16:40
I'm shocked by the sentiment on here.
Tim Howard got a hero's send off. David Moyes (the most sickening) got one.
Hibbert and Osman didn't even get told they were going! Surely you can see that's wrong.
I doubt it's vindictive but it highlights how rotten the club was last year. How could they not carry out the most basic of courtesies?
And, by my reckoning, if your opinion is that they get paid well to play so don't deserve any kind of respect from the club when they're done, then you're a hypocrite when you demand passion from the team. There's something known as discretionary effort - it's what you put in beyond the minimum required for your pay. If you want it, you have to offer something more than just salary.
Darryl Ritchie
61
Posted 06/08/2016 at 03:39:32
I don't think it's about the money. Hibbert's wages have made him a rich man. No one, even Hibbert, can dispute that. It's about professional courtesy, or rather the clubs' lack of it. Hibbert doesn't seem an overly dense type, so he had to know what was coming...the phone call. The call to come into Fiinch for a private meeting. The call never came. I can understand why he's a little pissed off.
Who ever made the decision not to renew his tenure, should have made the phone call. Even a janitor deserves to be told face to face, that he's no longer on the payroll. This has nothing to do with his skill as a footballer.
Jamie Crowley
62
Posted 06/08/2016 at 03:40:31
Absolutely disgraceful.
After that many years of service he certainly deserved a "sit down" and a chat before they let him go - IN PERSON!
It's fucking embarrassing. It really is. You just don't treat people that way.
It's mortifying and we should never, ever treat a player - who's been spotted while injured in a hoodie in the stands with the away support - that way.
Foul. Shameful. Embarrassing.
We're better than this.
Someone from the Club should publicly apologize, invite Hibbo back for a halftime walk-out to a round of applause for his years of service, and make this right.

Jamie Crowley
63
Posted 06/08/2016 at 03:51:16
Oh... and...
"Everton are a business..."
True statement. But just because they are a business, that excuses this treatment of a life-long Blue?
That argument doesn't wash.
It's akin to the word "shrewd" which in society means, "one hell of a businessman and a tough negotiator" but in reality actually means, "he'll screw your wife while your head's turned".
There are some businesses out there that actually treat their employees with dignity and respect. They value the job they do for them and value loyalty, and repay that in-kind.
Then there are businesses that treat their employees as cattle. Commodities to be cast off / traded at will.
We just acted like the latter, not the former.
Now which Everton do you prefer?
Shame! Shame! Shame!
Nick McGregor
64
Posted 06/08/2016 at 03:51:48
As Jim said, I'm really disappointed by the club and also that so many feel the need to slag off Tony. I suppose the internet tends to bring out the worst in humans.
Hibbert has been a part of Everton for most of his life, a conversation from the club is the absolute least he deserved. Wages are irrelevant. Wouldn't you be bitter if you worked somewhere for 15 years and nobody told you that you were let go?
As some have said, he likely knew his contract wouldn't be renewed, but that's not the point. The club should have showed some class and at least thanked him for his dedication to the club and assured him that he was always family.
I find it interesting that many say that Everton is a business - a business transaction took place between Tony and the club, no thanks is necessary. While Everton (and football clubs in general) are businesses, they are certainly more than that. We feel irrational love for our club that we don't feel for other businesses (at least I don't follow GlaxoSmithKline's website and fan forums!). The other side of the same coin is that I expect the club to treat its longtime players with respect. But in this instance Tony was treated worse than many employees in traditional businesses.
Sorry for the long rant. The negativity just bums me out.
Andy Codling
66
Posted 06/08/2016 at 04:18:04
Im sure he will be ok on his private fishery estate, jesus christ when I left the forces there was no one to shake my hand or pat me on the back , it was hand in your ID card and your kit and go.
This guy has become a multimillionaire being very average at his job, please stop whinging.
Robin Cannon
67
Posted 06/08/2016 at 04:23:00
Wow, I don't think I've ever been so fucking saddened by the sentiment of so many Everton fans all at the same time. He didn't deserve someone contacting him to tell him he'd been released? Fuck off, I wouldn't treat any employee like that.
He didn't say he deserved another contract, he didn't say they were wrong to release him, he said that someone from the club that he's been at since he was 10, and never given less than 100% effort for, might have let him know that he was being released rather than reading it on a fucking website.
David Chait
68
Posted 06/08/2016 at 04:37:23
I hold my club up to higher standards of common decency and the treatment of Hibbert and Pienaar was wrong.
Then they watch Howard get the Royal carpet farewell so they must have thought they would have been told surely to give their farewell too.
No .. Very poor Everton!
Daniel Lim
69
Posted 06/08/2016 at 04:44:00
"In what other job would someone be let go or fired without a senior manager talking and explaining what was happening?"
I think there are a lot.
He's living in a different world maybe.
John Daley
70
Posted 06/08/2016 at 04:45:28
"You fans calling for loyalty from Lukaku and others being greedy or mercenary, can shut up now and forever"
What has one got to do with the other? How are the positions of a supporter and an employee in any way the same? A fans loyalty is to the club they've supported their entire life, not any individual player who may be passing through. That still applies even if they pass through at a really leisurely pace, park their arse, have a picnic and become almost part of the scenery before strolling off. Sorry, but the clubs still here, we're still here. They're either off wearing another teams shirt, talking shite alongside 'Thommo', 'Merse', muzzyless 'Beags' and the other boggly eyed 'banter' inflicting Sky twats or taking their dog for a walk and picking up it's turds with twenty quid notes.
That's clearly a concept you struggle with though after spending an entire season attempting to act as Tim Howard's human shield. 
An obscenely paid 'professional' like Lukaku, on the other hand, owes it to his employer to at least refrain from publicly running his mouth off about his hoped for next career move, his many suitors and who his dads got a stonk on for, whilst still raking in his current clubs coin. 
As for Hibbert? Where was the 'disloyalty' on Everton's part? They gave the by then bit part, fringe player, a two year contract. Many were surprised by the decision to do so and plenty pointed out it surely wasn't awarded on merit but rather sentiment. It was a cushy little two year retirement top up. The two years came and went without him being offered a further extension. Even Scarecrow could fathom the writing was on the wall without walking his straw arse to see the fucking Wizard.
People talk about Hibbert showing tremendous loyalty as though he could have had his pick of clubs. Let's face it, loyalty is easy when no one else would look at you twice. It's like saluting saggy jowelled, simpleton lipped, spit sprinkler, Timothy Spall for not shagging about even though he used to be on the telly sometimes.
Tony Draper
71
Posted 06/08/2016 at 04:50:45
I can understand that finding out that you are not being retained by the club from friends and family rather than from the club itself may feel more than a shade chilly.
For comparison, I completed plumbing work for a bunch of arseholes who not only decided not to pay me just over ٠,000 BUT, threatened me into the bargain. What really hurt was that they declined to thank me for my tireless efforts, dedication and professionalism.
However, your situation isn't exactly a complete surprise is it Tony ? For example, was there any indication during the duration of the most recent contract that an extension or new contract was under consideration ?
Furthermore, when you returned home after you had slapped your paw mark on that last contract, did you:
a) laugh your kecks off for hours on end.
b) pop on TW & GoT to express your deep appreciation to the devout.
I am sure Tony, that when you and your millionaires wife look around you at all the fine trappings, when you consider the financial security that you will all enjoy for the rest of your days and when you look back upon your glittering career at the greatest football club in all eternity that you will always think "Everton Football Club and our marvellous fans have been extremely good to me for many, many years and I shall be deeply thankful in perpetuity".
Finally Tony, the deal was .
You scored, we were to riot .
You let us down !

Ronnie Pearce
72
Posted 06/08/2016 at 04:57:41
Obviously the club was in turmoil at the end of last season. I would assume that Martinez had drawn up his retained players list before he was sacked. Hibbo, Ossie and Peanuts wouldn't have been on that list and would have been informed if the status quo had remained.
I don't believe the culture at Everton would have changed overnight. From all I've read, it is the manager who informs senior players whether they are needed or not. In the interim perhaps Kenwright or Elstone should have contacted the players as they have been mainstays at Everton for most of Hibbo and Ossies career.
On the other hand, surely the aforementIoned players realised they would not be offered new contracts? Their age and lack of game time for the last couple of seasons should have triggered doubts.
Surely their agents should have discussed the situatIon wIth the club hierarchy.
Isn't that why the parasites exist, to get the best for their employers?
Couldn't Hibbo talk for himself? He's been around the club long enough to be comfortable to ask questions. He is still apparently using Finch farm to rehabilitate himself.
I feel he has done himself a disservice by proclaiming his dissatisfaction in this manner.
Perhaps the club were at fault, but some communication from either Tony or his agent could have resulted in a pitchside acknowledgement of service before the home game against Spurs.
Not likely to happen now though!
John Daley
73
Posted 06/08/2016 at 05:00:04
"...they watch Howard get the Royal carpet farewell so they must have thought they would have been told surely to give their farewell too."
Howard's future departure was already signed, sealed and delivered. There was no doubt for the club, the player or the fans.
The decision to retain or release players reaching the end of their contracts would have been up to Martinez to determine and deliver once the season was over. He got sacked. Shit happens.
William Cartwright
74
Posted 06/08/2016 at 05:02:09
Sad ending to a wonderful career, and unecessarily so. However it is a bit galling that after years of well paid service, millionaire status etc., that tony sees fit to take 'revenge' and publicly air his frustrations in this way.
Not also how the anti-Everton mail, who have been promoting an exodus from Everton for 2 seasons, suddenly give page space to what is frankly an embarrassing sideshow. Oh of course, it paints Everton in a bad light light. . . . . .
Both parties should have behaved better to the other. Fact. And also very simple to do. Lesson to be learned and all that.
Brian Wilkinson
75
Posted 06/08/2016 at 05:06:04
We knew Moyes was going, he got his last game send off, so did Howard, how are we supposed to give Hibbert his send off, when we had no manager for the final game.
How do we know what plans the new incoming manager had for players out of contract, how the hell could we give them a send off when no one knew.
The fact is we gave him an extended contract, when he wasn't even fit to play, he got a testimonial from the club, like other have said, he got a good three year contract, when he wasn't even fit to play, three years,
Now see how many employees would pay a person, three years pay, without doing a shift.
You would be notified and paid up well before three years, I'm sorry but Hibbert got treated more than well by Everton Football Club, the club stuck by him, gave him a few extra years contract, when they could have released him instead.
Hibbert is a very lucky man, nearly every Blue on here were saying get rid of the deadwood.
If Hibbert and Osman would have got another contract, this site would be red hot with wtf.
They should have been notified before hearing it elsewhere, but to slate the club saying they do not care anymore, after how you were looked after these past few seasons is a disgrace Hibbert to go public
Tony Draper
76
Posted 06/08/2016 at 05:11:52
Lyndon Lloyd, I doff my cap to your subtle genius. Your selection of the headline photo is the work of a true master. Chapeau.
Tony Draper
77
Posted 06/08/2016 at 05:29:57
A comment to fellow TWers displaying dismay at Evertons heartless treatment of Hibbo, Ossie & 'Nuts.
It could and maybe should have been handled more tactfully.
But Hibbo has been like Harpo Marx and said fuckall throughout his long career, but when he chose to speak he made a tit of himself.
An honest servant who will now be remembered for three things.
Getting dry bummed in the FA Cup Final.
Failing to score.
Moaning in the national press.
HAT-TRICK !
Terence Leong
78
Posted 06/08/2016 at 05:34:18
It's never about the money.
It's about some basic professional courtesy.
At a transitional point, where the manager came in at a certain juncture, the CEO and chairman could have displayed some class.
I think Hibbert is probably aware that he won't be given a contract. But such cold shoulder is not classy at all.
We are supposed to be classy, having started the ex players foundation, Everton in the community.
From the article, it seems that Hibbert has been training for awhile already.
Meaning, all these while, the management never saw it fit to at least say hello or goodbye.
I think the club can do better.
Brian Wilkinson
79
Posted 06/08/2016 at 05:35:38
Hibbert should be thankful he got an extended contract a few seasons ago.
Its more than how Southall got treated after the service he gave Everton, attended a match and the club wanted him to pay to watch Everton, cheeky buggers, he should have got the freedom of Goodison for what he did in goal for Everton.
Clough never got the England job because of not being a yes man, same reason Southall has never been given a media job at Everton, because he's one of us and says it how it is, no bullshit with big Nev
James Wong
80
Posted 06/08/2016 at 05:41:12
What's wrong with all of you?
He just expected somebody to tell him he didn't make the cut before he found out from other people. Embarassing from the club. Doesn't cost one cent to do this.
Obviously it was a transition period between managers but somebody should have done it.
Ian Jones
81
Posted 06/08/2016 at 05:44:30
I am also amazed at the negative reaction by some Everton fans to Hibbert and his news.
It is great that there are diverse opinions and healthy debate on pretty much everything Everton related. Wouldn't want it otherwise.
However, surely the simple thing here is down to common courtesy and respect. It really doesnt matter how long a player has been at the club, how many games have been paid, including more recent matches, and how much the player has earned from the club.
I also get the point made from those who have been made redundant in the past and were treated just as poorly or worse.
No need for big fanfares, but all employees should receive some form of official communication from the club if they are being let go for whatever reason. That's the bare minimum expected of any decently run club.
I am all for becoming a more professionally run oufit. But let's not forget decent manners.
Cream rises to the top. Let's not start getting sour on tbe journey.
Tony Draper
82
Posted 06/08/2016 at 05:48:53
James @80.
No-one forced Hibbo to go squawking to "The Daily Mail" (for which he may well have been paid) did they ?
Although from Hibbo's remarks it does sound like Mrs Hibbo has been making the bullets.
Michael Farrelly
83
Posted 06/08/2016 at 05:52:28
In all fairness he should have been sat down late last season and told it is all over at Everton. Then along with Ossie been given a send of prior to the last home against Norwich at Goodison. The board have missed managed this obviously. However this doesn't match the gross miss-management applied when he was re-signed two seasons previous in what can be described as a ridiculous decision. Agree with most he was able to carve a out a long career and should now be set financially for the rest of his life. I'm sure on reflection he will realise this and get on with it.
Paul Johnson
84
Posted 06/08/2016 at 06:00:12
Tony Hibbert wasn't loyal he was a very well paid employee. If It is anyone he should have a problem with it is his agent.

Jamie Crowley
85
Posted 06/08/2016 at 06:04:01
My Grandfather told me, before he left to take a seat next to the Big Man, "never judge a man by the size of his wallet."
Seems odd to me, feeling that was rather sage advice and a truism to live by, that we are using the money earned by Tony Hibbert during his loyal years of service to beat him with like stick.
The Club surely, no matter what he earned, should have had the decency to notify him, man-to-man as it were, that they'd not be renewing his contract!
It's just that simple.
Everton acted like soulless, smarmy, two-bit snake-oil salesmen.
Or better yet a low-level, greasy, fat mafia thug with chest hair you could knit a sweater with and a gaudy gold necklace around a 1/2 buttoned, fake-silk shirt.
"YO! Vinny! Should we tell Ant-nee he's out?"
"Nah! Fuck 'em. He had his ride. We paid um. He don't need no fuckin' parade. We got work ta do."
Nice... class... so proud... that's the way we treat 'em!
Brian Wilkinson
86
Posted 06/08/2016 at 06:06:24
An agent gets paid well for players negotiations, maybe Everton handled it poor, but surely shouldn't the agents have been in talks about a new contract well before our released players were released.
Why has nothing been said from his agent, one things for sure, an agent will be in there like a rat up a drainpipe, if theres money involved negotiating a contract, maybe Hibbert was not informed, but I am not having his agent did not know either before the release went on the website.
That is what an agents job is, to look after his player and arrange contracts, if Hibbert has any gripes, he should be asking his agent, not slating Everton off to the press.
Peter McHugh
87
Posted 06/08/2016 at 06:39:28
Bad form by the club. However, all Hibbert had to say was he felt sad nobody informed him personally. I think most would agree with him if he just said that. He's done more than that and after picking up a king's ransom he should have kept his further opinions private.
To say "my wife is even more annoyed" and "it's hard getting rehab in a top of range facility for free" just comes across as a whinger and he's rightly vilified.
Ernie Baywood
88
Posted 06/08/2016 at 06:44:30
I'm disappointed in the club, but also the way the game is headed. Today I've read people happy that Besic is injured because they don't rate him as a player and people convinced that Hibbert didn't deserve any courtesy because he spent a lot of time injured.
The game is well into the process of a long and disappointing change, and the supporters aren't behaving much better. We should be better than that.
Jay Woods
89
Posted 06/08/2016 at 06:54:43
Stop conflating how well he was paid or how poor a player he was with how he deserved to be treated when the club released him. These are different and unconnected issues.
Yes, he was a very average / bad player and yes he was very well paid for his mediocrity. But that does not mean the club should treat him as contemptibly as it did in the manner it released him.
Having said that, he should not have moaned about it to the press, but rather should have taken it on the chin. What does it matter to him now anyway? He has made his money, his career as a top flight player is over, the club is not going to change its mind and besides all that, everyone already knew how his ejection had been handled and had expected him to be somewhat displeased about the manner of it. We would have thought much more of him if he just walked away graciously.
All this press story has done is remind us of how non-special a player he really was and bring the club who overpaid for his services into disrepute in front of the footballing world.
Paul Andrews
90
Posted 06/08/2016 at 07:05:37
He should have been called into the club and told face to face. It was though time for him to leave,same with Ossie.

A good servant to the club,no nonsense defender who served us well.

In saying that I have waited a long time to hear the words "Everton are a ruthless business". Long overdue.
Steve Guy
91
Posted 06/08/2016 at 07:09:00
It's unfortunate that both TH and LO didn't get a send off, or by the looks of it, a "thank you" from their employer.
However, TH deciding to go public in this way is equally poor. I am certain this was an oversight by a Club that rightly prides itself on its treatment of ex players. In this instance TH has, by his own admission, been allowed to carry on using the facilities to get fit; presumably so his agent can then tout him round other Clubs. I imagine the gates may be locked at Finch Farm come Monday morning.
Tony Hill
92
Posted 06/08/2016 at 07:10:50
His contract was up. If I had a fixed term contract and my employer did not offer me new terms then I would regretfully draw the conclusion that I no longer had a job. If I thought I deserved to carry on then I would make my case to my employer, I would not expect them to come to me - especially if I retained an agent whose sole purpose was to look after my interests.
What I certainly would not do is to bemoan my fate in public.
Henry Hayes
93
Posted 06/08/2016 at 07:13:42
He had a 2-year contract which was due up, there where no talks over a new contract, he was old in football terms and had hardly played for 2 years due to injuries... what did he really expect? The contract was fulfilled by the club and he was paid up fully for his services. Anyone in the real world would be thankfull to have been so well paid for so long.
Slagging off the club who looked after him for so long, paid him handsomely, and sent him round the world on club trips, all expenses paid, in top hotels with good facilities and also still gave him free use of their own facilities... It's unbelievable to be honest.
Anyone in the real world would thank their lucky stars and have nothing but praise for their previous employers. I'm sorry, Tony, but I don't think you're a good judge of whether the club is the People's Club or not. He sounds out of touch with the real world. too long pampered with the rest of the squad.
Let's face it, the club probably only gave Tim Howard a send off because he was a club ambassador and would represent the club Stateside (biggest market in the world); he also has a large profile in America. Tony is out of touch with the average man's reality... terrible bad mouthing the club like this to the press
David Ellis
94
Posted 06/08/2016 at 07:17:43
This is all a bit confusing. Yes the club should have spoken to him about his contract not being renewed. Full stop. Nothing to do with how much he was paid or how good he was. The cleaning lady should also be due the same courtesy.
However I don't get the point about him "complaining" at training at the Club. Surely this is a courtesy extended to him. Of course he can't train with the team...er...he's no longer in the squad or an employee. But he should be grateful that the club allow him to train at their facilities - this is not the mark of a club becoming a "horrible" place or running just "like a business". Doesn't add up.
Eric Myles
95
Posted 06/08/2016 at 07:21:02
HaHa Tony (#92), I've been in that position a few times with an employer.
My contract being up in 30 days and having a 30 day renegotiation / notice clause I reminded them weekly that my contract was expiring and they had made no offer to extend.
The day after the contract expiry I get frantic calls while on the golf course asking why I'm not at work!!
Thomas Surgenor
96
Posted 06/08/2016 at 07:24:28
Seems like this has divided the fan base.
I'm a bit conflicted myself. I was always proud of the "people's club" tag, where we done things the good old fashioned gentlemanly way.
Then this summer my attitude has changed and I've been enjoying (and somewhat impressed by) the ruthless business like approach of the new regime.
I think this change in attitude was required for the club to survive and progress. However, I do think someone at the club should have had the decency to tell Tony that he wasn't being kept on after 25 or so years of service. He may not have set the world alight during that time but he would have ran through brick walls for the club! Plus he is one of us, a true die hard for Everton and that is probably the reason it hurt him more than say Pienaar.
The lads an Evertonian with nearly a quarter of a century service. Someone should have told him in advance what we all "knew" was happening.
I think he just hurts a bit more cause he loves the club so much. Hopefully when the hurt disappears he can see that this new ruthless approach is to save our club.

Eric Myles
97
Posted 06/08/2016 at 07:27:32
I don't get from his statement that he is training at Finch Farm, but that the offer has been made but it would be embarrassing to him to do so given the circumstances. That I can understand.
Paul Conway
98
Posted 06/08/2016 at 07:29:44
Everton should show the same ruthlessness to some of the deadlegs in the squad at the moment.
A player like Hibbert spent all his football career as a loyal servant to us and showed blood and guts.
Himself and Ossie could have been oriented towards coaching roles at the club, in some capacity.

Paul Smith
99
Posted 06/08/2016 at 07:33:19
I think he has cause to be pissed at learning of his fate the way he did. It might be that the sacking of RM and state of flux at the club had something to do with it. Nethertheless, it seems like a reaction from someone who feels hurt and scorned but should probably have held his counsel and cool. He might regret his outburst.
Willliam Bruce
100
Posted 06/08/2016 at 07:36:00
The least they could have done is bake him a cake. Footballers like cake.
Phil Sammon
101
Posted 06/08/2016 at 07:36:16
'Bill used to text me good-luck messages as a player. But I've not heard from him now.'
Probably because you haven't been a player for 3 years, Tony.
David Ellis 94 has it right.
Eric Myles
102
Posted 06/08/2016 at 07:39:44
I've also been in the position where HR has sent me my 30 days notice by sms, while I was in a meeting with the client in a different country.
My boss went mental when I showed him the message (he was sat next to me) as nobody had talked to him about it and he needed me for another 3 months.
The kicker was, the day after cancelling my visa, HR 'phoned me on the way to the airport to ask me to come back to work.
Chris James
104
Posted 06/08/2016 at 07:54:00
Few points here.
Obviously the club should have spoken to Tony first before information was released - regardless of job done, money involved, etc that's just basic professional courtesy.
That said, I think Tony Hibbert has been very well served by Everton and should really not have been surprised that he wasn't going to gt a contract. The guy had barely kicked a ball in 2 years and had picked up what I can only imagine is a very generous salary (the sort of amounts that we 'the people' could only dream of).
Also if his contract was coming to an end, surely he or his agent should have been in regular communication with the club to find out what was happening rather than just waiting to be told. I'm pretty sure if my contract was up in June and I hadn't really been able to do the job I'd have a) expected it to probably end and b) requested a meeting so I knew what was happening and could plan accordingly.
I'm sure Everton could be better run (the time it takes us to close transfers compared to just about EVERYONE else is a strong indicator of that, as are some of the commercial deals) but I also think players need to be a bit more savvy too.
This does kind of show just how pampered and out of touch modern footballers are from the realities of work that everyone else faces.
Pete Edwards
105
Posted 06/08/2016 at 07:54:07
I like this part: "In what other job would someone be let go or fired without a senior manager talking and explaining what was happening?"
I'd counter that with: "In what other job would someone be paid millions without having to do their job for 3 years?"
Hibbert is obviously upset and angry but don't burn your bridges... the club has made you a millionaire many times over – you should be thankful for the opportunity for such a long time!
Steve Davies
106
Posted 06/08/2016 at 07:54:31
Did anybody really think that the club were going to give Hibbo another contract. Most of us knew that we were watching his last game for the Blues last season. He must have known that too. Unless he honestly thought we would continue paying him for doing nothing as he has hardly played in last 3 years.
If we had given him another contract then most of us would have been on here criticizing the club.
Maybe the club should have handled it better but he was lucky to have been handed another contract last time.
Why wasn't he looking for another club.
Thanks Tony but in the words of Vic Reeves 'Let it lie'
Nik Ramsden
107
Posted 06/08/2016 at 08:02:27
I don't think any of us were surprised when his contract wasnt renewed and neither should he have been TBH, but he should have been treated better than that regardless of length of service or talent. You should always be the first to know if you're being let go. Loyal servant who could have been treated that little bit better at the end. Shame.
Graham Clarkson
108
Posted 06/08/2016 at 08:03:44
Poor Tony. When he's out shopping with Mrs Hibbert he needs to nip into a mirror shop and take a good, long, hard look at himself. Pathetic.
Alec Smith
109
Posted 06/08/2016 at 08:06:12
A bit shocked at some of the anti-Hibbert comments to be honest. Ok he was an average player, but thats not the point. He was 100% Everton. Not one of these mercenary players like Lukaku.
The way Everton handled this simply lacked class!
Liam Reilly
110
Posted 06/08/2016 at 08:13:27
Maybe he should've been allowed to hobble on in the final game, so he could be skinned and we spend the remaining minutes worrying about throwing away another lead.
This is horseshit; he shouldn't have been given his last contract and he didn't need to be too sharp to realise that he wasn't getting a new one,so the club could pay for his next operation.
The club don't owe him a living and looked after him very well, testimonial et al.
Shut up.
Brent Stephens
111
Posted 06/08/2016 at 08:17:27
What an embarrassing advert for our "great club", what a stupid signal to send to any player considering whether or not to join this "great club" of ours - that even the most rabid and long-serving of Evertonians can be dispensed with like this, leaving him to find out in this way. Potential players might well think "I thought they, rightly, got pissed off with the likes of Stones and Lukaku, neither of them Evertonians, looking for greater glory and money elsewhere, and not showing any, what's it called, 'loyalty'. If that's the way they treat loyal players, god help anybody else who joins them."
Before this week - Hibbert was a long-serving, proud Evertonian, with the admiration of every single other Evertonian (there are not many things I'd say with that certainty but is there any Evertonian who'd say they never had anything but admiration and "love" for this guy?). An average footballer. Paid the market rate. An income most of us would have accepted. Unlucky with injuries. Age caught up with him. It was time for him to go and for this "great club" of ours to inform him in a decent way. Simple as that, for me.
During this week? This exemplary Evertonian learns he's no longer wanted, not from the club but from others. This is no way to treat any fellow human being. Because he had a high income (at market rate) doesn't in my view justify treating him like this. Because some people are treated like this by some employers doesn't in my view mean that we should treat others like this. What a sorry world that becomes, what a race to the bottom that becomes - the sentiment that some are treated like that, so it's ok to treat others like that. And the idea that we can justify it by saying he WAS well paId. And justify it by pointing to what he (and his family) said and did AFTER he found out (and I don't defend for one second anything said or done by them once they found out).
I'm off to the game today but this sours the day for me.
People's Club, my arse. Just another business, eh. Disgusted at them and saddened that anybody can defend that sort of behaviour by the club.
Thomas Lennon
112
Posted 06/08/2016 at 08:23:56
Who should have told him? Martinez's staff were fire fighting ineffectually in their last few weeks and months as Rome burned ever brighter.
Comments were made many times that contracts were looked at at the end of seasons. They never got there, the entire staff were fired.
Koeman would have got a players list without those three on it.
As we have been told all football decisions are down to our managers, this was a football decision. Clearly no-one left a note saying 'give Hibbo a bell to say we don't need him next season'.
Mind you it is easy to picture the culture change from 'keep Hibbo going we haven't got a spare 㾶million' to ' how much should we spend on a new right back' that happened overnight would cause Hibbo to disappear from managers minds quite quickly.
The possible exception was the very gentlemanly and ever present Kenwright who maybe should have thought about it. The fact it was not done was an oversight, pure and simple. An apology should be forthcoming and that is an end to it.
Eric Myles
113
Posted 06/08/2016 at 08:27:19
Or maybe Liam (#110), Hibbert and Osman could have been allowed to participate in the lap of honour at the end of the final game, maybe with an announcement to the fans that they were not going to be back next season?
Provided they'd told the players themselves beforehand...
Eric Myles
114
Posted 06/08/2016 at 08:31:55
Thomas #112, if we had no manager in place just who had the authority to make the decision that these players were surplus to requirements??
Chris Gould
115
Posted 06/08/2016 at 08:39:09
Very well said, Brent.
I agree with every word.
Daniel Lim
116
Posted 06/08/2016 at 08:39:57
For those who used the fact that Howard got his chance for a grand sent-off, have you considered the possibility that the decision of not offering Hibbo and Pienaar new contract was only made after the final game of the season?
I don't condone what the club did, but I am even more strongly against what Hibbo just did. He wants the club to show some decency, but is he showing any by going public about this and using some rather strong language. And we are taking about a club that spent a lot of resources to develop him in the first place and subsequently paid him multi-million pounds.
To put it a little more bluntly, no club ever bid for him (I may have missed this), and EFC kept giving him new contracts, has the club shown less loyalty than he has?
Since he was getting many encouraging text messages from BK, I thought raising this issue with the chairman and then just keep quiet would be a more gentleman approach.
Brin Williams
117
Posted 06/08/2016 at 08:40:46
"The People's Club, it's no longer that. It's a ruthless, horrible business and a lot of good people have gone.'
I must say I liked the title 'The People's Club' – that's how I will still refer to Everton – we are the people, we are the fans, we are the club.
However, if as Hibbo states it has changed into a 'ruthless, horrible business', could it be that during his spell with us that Everton was seen as a cuddly/comfortable place, where players could text/speak to the chairman when and probably as they liked and the poor old tea ladies would run around and tender to the 'superstars' every whim.
By what he says, things have changed, attitudes have changed, in fact as it says on the tin 'Nothing will be the same' – god, how I love that slogan... and about time too. I for one am over the moon that knife-toting little Everton have become ruthless and, at long last, a business. I am sure that there will soon be many others that see us as horrible – but those we can discount.
Colin Glassar
118
Posted 06/08/2016 at 08:42:04
This is all Ossie's fault.
John Bradley
119
Posted 06/08/2016 at 08:44:27
Despite the fact Hibbo barely played over the last 3 years, he deserved to say goodbye to the fans and club. This just stinks of Martinez having his favourites I.e Howard, and having those he didn't trust (Hibbo and Osman). What a weasel he was. After Martinez left surely Elstone should've picked up the pieces and made sure they were respectfully informed of the decision made.
However, to go and slate a club, which has loved you every bit as much as you have loved it, in the media is a disgrace. Hibbo is no better than one of those kiss and tell birds now. You've sold your soul Tony...an ill informed decision he will really come to regret! I'd be very shocked if Osman did the same, but then again that lad seems to have a brain.
Jeff Armstrong
120
Posted 06/08/2016 at 08:47:15
Thomas, I don't think it was an oversight, there is only one man who should have made those calls, to those players, and we all know who it is, he has proved he is Number One shithouse. End of debate.
Steve Guy
121
Posted 06/08/2016 at 08:52:43
Btw, from what I understand he spent most of the last 3 years injured and in France managing his fishing business. I think he should have realised just how lucky he has been in his career and gave his ex employer and The Dear Leader in particular, a break.
Daniel Lawrence
122
Posted 06/08/2016 at 08:53:37
Maybe the same person that decided to give the other sick note Gibson another two years for doing nothing!

James Hughes
123
Posted 06/08/2016 at 08:56:51
Brent #111 Well said Sir. Some of the comments on here are disgraceful. I hope that these people are neither employers or line managers as their people skills are appalling. I would wager a pound that if the same thing happened to some on here they would be sprinting to the union or HR with a grievance and demanding compo.
When all is said and done Hibbert was an employee in a fixed term contract and should have been told he was no longer needed.
Michael Ward
124
Posted 06/08/2016 at 09:00:12
I'm afraid I have little sympathy for Tony or Leon. 2 footballers who received testimonials from Everton let's not forget, 2 footballers who featured very little in their final season and so were unlikely to get new contracts, 2 footballers who have agents who the club paid handsomely every time they got a new contracts. Why is the onus completely on the club re he new contract? Why couldn't the players or their handsomely paid agents ask if they were getting a new contract? If I was on a fixed term contract and it was coming to an end you can bet I would be asking my employer months before it finished what was likely to happen. If my boss was sacked just before that contract was about to end that would be doubly true. Add to this that the club are doing to y a favour by letting him use the facilities. I think the lack of respect Tomy has shown to the club with this interview far outweighs he lack of respect he received by the lack of a courtesy conversation
Andy Williams
125
Posted 06/08/2016 at 09:00:17
I often don't agree with much of the ill informed shite posted on TW but I have never been so ashamed of fellow readers as I have been reading some of this bollocks. Hibbo, no matter what you thought of his quality, no matter what you thought of him gaining his last contract, is one of ours. Talking to that rag of a newspaper may not have been the wisest of choices but we don't know the circumstances of the interview. Have a bit more class. Class is the one thing that Everton has had to tide us through the dark days.
John Codling
126
Posted 06/08/2016 at 09:01:07
What a crying twat he has turned out to be, he got 2 more years contract when he was surplus to requirements, and when we were in need of a right back, he was knackered as usual. The club has made a millionaire of this whinging twat... what did he want, a street ticker tape parade?
All the people crying out for jobs on the couching staff for him and Osman, need to get real; their day is done, get over it, move on.
Don't give me this fucking 'great servant' shite – he was average at best, he got an opportunity most of us would give our right hands for, and was handsomely paid.
And as for his wife getting angry, what's up has the gravy train pulled into the station? Welcome to the real world of everyone else.
Mike Green
127
Posted 06/08/2016 at 09:01:39
Haha - very good Colin #118.
Kudos to David Barks, Jamie Crowley, Brent Stephens...
It's not about money it's about basic manners, decency and dare I say it, professionalism. I would love to see the reaction of some on here telling him to get a grip if they got a text in five minutes from a mate saying they'd lost their job after 15 years.
Also, maybe a few thousand fans fancied the chance to give him, one of them, a bit of a send off too?
People who bring things like this down to money know the cost of everything and the value of nothing.
Guy Hastings
128
Posted 06/08/2016 at 09:05:06
As Tony Hancock observed in the Blood Donor, 'Courtesy cost you nothing'. Am I alone in thinking that HR is invariably the worst-run and inept dept in any business? It's certainly the case in my experience.
John Keating
129
Posted 06/08/2016 at 09:08:32
Welcome to the real world Tony.
I can only go back to the very late fifties, but I have seen far better footballer play for us and finish with nothing.
You have become a multi millionaire playing for a team almost all of us would play for for nothing.
The last 3 seasons you've done sweet FA.
You are still using the Clubs facilities so they are still a bunch of shits eh ?
There are thousands of far better Evertonians than you with piss all in their pockets.
You should keep your bloody trap shut and concentrate on counting your money
Arsehole !
Dominic Tonge
130
Posted 06/08/2016 at 09:11:44
I don't think Hibbo is too far wrong. Leon Osman and Tony Hibbert would bleed blue blood if you cut them. Hibbo is a one club man, and both were often sited as examples of how strong the group was at Everton. The way they were both dealt with is bad, both deserved to have been talked to by the club, rather than find out second hand. It doesn't matter how much players earn, they sign a contract that is offered to them (and quite honestly if my boss comes in later and offers me circa 25k a week I would sign in a flash) . It's a shame things have soured his view on our club , it must be a kick in the teeth as he himself is a blue.
As a side note , I have to say that I think the cup semi was the opposite of what most here are saying. Hibbo was clearly unfit having come back from injury, he was outclassed and chasing shadows . But he was the ONLY player who could take kudos from that game. For me that day Hibbo showed he put Everton first, he played like a blue, he chased and harried, he didn't give up, he was screaming and shouting at team mates and was the only one who seemed to care. He stood up and was counted. Hibbo and Ozzie were great servants to the club and he asked for a chance to thank the fans , stroll round the old lady one last time , and a bit of common courtesy.
Brin Williams
131
Posted 06/08/2016 at 09:15:47
What is interesting to read is the difference in the player's opinion and that of us here
Berry McWilliam
132
Posted 06/08/2016 at 09:15:53
Absolute disgrace to discard two stalwarts in this manner. You lot having a go at him for wanting an opportunity to say goodbye, and a thanks for his service, need to have a good hard look at yourselves.
You work at an institution for 20+ years, regardless of your pay, skill level or title, you want to be shown some respect and appreciation for your life long contributions, let alone an opportunity to say goodbye. To think his handsome pay packet should exonerate any duty to treat him like a valued employee is absurd and reeks of jealousy.
Sam Barrett
134
Posted 06/08/2016 at 09:19:12
I like Tony Hibbert, did a steady job for years under Moyes, and should've been treated better when released. However, if Everton have now become a 'ruthless, horrible business' we may just win something? Lets take them 2 characteristics onto the pitch from now on.
Mike Allen
135
Posted 06/08/2016 at 09:19:59
I assume some idiot jumped the gun and released the news to the media before they should have, so I would assume someone from the club apologised or should have. However, it would have been more of a shock if he was offered a contract.
After his latest injury, they offered him the use of Finch Farm so there must have been some dialog. I just hope that the fee he has received for his revelation lessens the hurt.
Kieran Jones
136
Posted 06/08/2016 at 09:21:32
First four comments on this topic are a disgrace. Everton Football Club should be ashamed of the way they treated Tony Hibbert. The first person to know about being let go should be the person themselves. Not the general public. Shame on you, Everton FC.
Jon Withey
137
Posted 06/08/2016 at 09:23:59
Even if they'd just let our very worst player ever go - there is no excuse for that lack of class.
Ray Roche
138
Posted 06/08/2016 at 09:24:22
OK, so, what it boils down to is that
(a) Tony Hibbert was a bang average full back who has spent the last three years of his 15 year career at Everton being injured and not playing, all the time being paid a weekly wage that would raise a smile if offered to many people as a yearly salary.
(b) Some bumptious clown at Everton's HR department didn't see the need to advise him, and Osman, that their services were no longer required.
Who is in the wrong?
Both.
Hibbert for (legally) stealing a living for three years and then squealing to the press when he wasn't contacted. Did he call the club for an explanation or just run to the Daily Fail?

Everton, for not showing the most basic humanity and consideration to an employee who has played his heart out for the club whenever he's been asked to. Some one should be called up for a caning for that disgraceful oversight.
Steve Jones
139
Posted 06/08/2016 at 09:24:44
No-one pick up on the praise for Moyesie in Hibbo's piece?. Moyes just got a new job didn't he?.
The club screwed up here. You work for any outfit as long as Hibbo's been here and you want to feel that your service was appreciated. He was an iconic player to the fanbase, can't be denied, you can understand if he wanted to at least mark his departure in some way.
The dig here is at Bill and the board funny I thought that would be cheered more on TW!.
Lee Brownlie
141
Posted 06/08/2016 at 09:28:27
Get his point, but to claim he should have been given special, personal treatment when the club was actually between managers and all things were effectively up in the air is a bit sour.
He admits he knew what was / wasn't coming but he still got plenty of cream at the end of his career so to whinge it wasn't finally served up on a personal platter...
And say that it's not even the People's Club anymore!.. is hardly the most dignified response to his deemed 'mistreatment', is it?
Martin Nicholls
142
Posted 06/08/2016 at 09:31:00
Hibbert did the same thing as EFC - allowed his contract to run down without doing anything about it. To compare a highly paid professional footballer with the ordinary working man is to be frank, ridiculous. I retired last year after working for 49 years for the same public sector employer - I was granted the standard £75 leaving gift. I organised my own "farewell" by inviting colleagues, friends a nd former colleagues for a drink in the Ship & Miter. That Hibbo is the real world!
Dave Abrahams
143
Posted 06/08/2016 at 09:36:52
John Moores said in the early 1960's football is no longer a sport it is a business, having said that, I don't think manners should end, it takes a couple of minutes to say thanks for his time at the club. I think someone at the club should have sorted this out.
Thanks for your time at Everton Tony, I hope you enjoy your retirement.
Guy Hastings
144
Posted 06/08/2016 at 09:39:19
Martin 42, you forget that the 'real world' that TH has lived in for the past 20 years or so, since he was signed up by EFC as a kid, has been Goodison Park. And that is the case for all pro footballers who nowadays are snapped up almost before the umbilical cord is cut. What he earned is irrelevant. I've been made redundant/let go/fired several times and the measure of the firm is the way that they do it.
Tony Waring
145
Posted 06/08/2016 at 09:42:39
Notwithstanding the comments about him being a millionaire etc., if everything Hibbo says actually is true it doesn't say much for Everton FC. So he's a millionaire, so what. ? That's present day football. I would also point out that he was a great player - not world class - in his prime and a great servant, a one club man, unlike many of the mercenaries out there today. As for the cup final saga I don't think he actually fouled the Chelsea player but then we can all argue fine points ! All in all thanks Hibbo for being an Evertonian through and through.
Bobby Thomas
146
Posted 06/08/2016 at 09:45:50
Everyone knew Duncan Ferguson wasn't going to be offered a new deal, but Moyes pulled him in to deal with it face to face.
The relationship between them had been up and down, to say the least, and apparently Ferguson wouldn't shake Moyes hand and got off. Ferguson returned to see Moyes after his break in Magaluf to apologise and shake his hand.
There may have been a power vacum towards the end of the season and despite nothing much coming out of the club the dressing room and atmosphere at Finch Farm, at least, clearly just wasn't the same the last couple of years. A departed member of the medical staff had described it as previously being like a family.
Long and short of it is this. No one pulled the players in and told them face to face. Three players that must have played about a thousand games for Everton. And they never had the chance, as others have had recently, to take applause from the crowd and have a moment which, for me, all three richly deserved.
Mike Fisher
147
Posted 06/08/2016 at 09:46:01
I think this article and many of the replies reflect the sad fact that football is no longer the beautiful game, but a business divided by a huge gulf between those who earn a living from it and those who live for it as fans.
I would make three observations.
Tony Hibbert was an Everton player and a loyal member of the squad. I would add he was a journeyman like player who got to stay at the same club so perhaps loyalty and opportunity determine that to some degree. I do think the club behaved badly from not giving him the common decency of an explanation that he was not to be offered a further contract.
Secondly, whilst I am sure that Tony was not on a mega wage he will probably of earned in a week what many people earn in a year so I can understand the lack of sympathy. Perhaps Tony would have been better advised to keep a dignified silence, take advantage of Finch Farm to get back to fitness, and try to secure one final contract in the lower leagues. It is a little bizzare how footballers fail to appreciate that in any other world they would of been managed out of their job years ago as he was unable to fulfill his job due to health reasons. That's what happens to real people in the real world.
Lastly, I wish him well. I hope my observations adequately reflect the situation of a footballer reaching the end of his career and hopefully having the means to start a new one. It's unfortunate that some people have to be so nasty. It is not just the club who lose grace, but also th fans when they aggressively hit out at an honest man who always tried his best. He may be a footballer, but he is also human and no doubt his feelings have been hurt as we all would in such circumstances.
Kevin Tully
148
Posted 06/08/2016 at 09:47:29
I can't believe what I'm reading to be honest. Are Tony Hibbert & Leon Osman deaf, dumb and blind? Surely they have agents, and if they don't, why the fuck didn't THEY approach the club at least 6 months before their contract was due to end? Or were they like two fucking children who wouldn't approach the headmaster to ask a question?
Regardless of the rights and wrongs of the situation, the two players in question are clearly either deluded, detached, or down right clueless as to how to conduct themselves.
And as far as this "People's Club" shite that has been promoted in place of winning trophies, great - I'm glad we are finally showing some professionalism. We are not some non-league "sit in a bath of beans" for 24 hours club to raise money for charity.
It seems we are happy to let boxers and ex-players train at Finch Farm, distracting the first team whilst they fuck about with Tony Bellew.
I hope Koeman puts a stop to all of it, and he insists on a more professional approach. I did hear he has made some changes already in this regard, so good for him.
Phil Walling
149
Posted 06/08/2016 at 09:49:28
Any decent employer would pick up the phone and wish a longstanding employee well in the future.
Obviously, the Money Bags of Everton were too busy loading the wheelbarrow for Lukaku to bother with such niceties !
Mark Dunford
150
Posted 06/08/2016 at 09:52:53
This is a very telling article about the decline that took place during the Martinez era and ultimately manifested itself on the pitch in a disjointed squad, malfunctioning team and public displays of anger from senior players. It doesn't really matter how well Tony Hibbert or Leon Osman were paid during their long time at the club they both joined as children. They were loyal employees who deserved to be treated decently by the organisation that employed them when the time came for them to leave. Managing this sort of thing properly is one sign of being a decent employer. They both had testimonials but - even accepting that the manager had gone and Chairman was ill - it surely isn't beyond the capacity of the club to have found someone in authority who could have spoken face to face with them before a press release was issued. It could easily have taken less than an hour. Shaming and needs to be sorted to avoid anything like this happening again.
Rob Halligan
151
Posted 06/08/2016 at 09:54:47
Is right, Kev. Let the EITC continue to promote the Peoples Club tag, who do an excellent job by the way, and let the new regime get on with the main business of winning trophies.
Mark Dunford
153
Posted 06/08/2016 at 09:55:57
And, I'd like to add my thanks and good wishes for the future alongside all the others in this thread.
Ken Williams
154
Posted 06/08/2016 at 09:57:28
If I read the article right Tony's only complaint is the way he found out that he was being released, after all the years he served the club a personal word from the chairman would not have been difficult.
Peter Morris
155
Posted 06/08/2016 at 10:07:08
I don't want to make excuses because like the rest of the posters on here, I don't have all the facts, but I speculate that the vacuum created by the sacking of Martinez will have contributed to this disappointing turn of events. Tony strikes me as an honest and down to earth lad, and I'm not surprised that he felt he was given the cold shoulder by a club he has been with all of his life. On the flip side,Tony can't forget that the club did award him with a testimonial, and that he was paid full wages for the best part of 3 years without making any reasonable contribution to the club's cause, but perhaps for him it's not about that, and it does serve to show that no matter how big or small the organisation, no matter how much money is involved, simple human decency, courtesy and consideration are very important in making 'employees' feel valued. They don't just go to work for the money. Just ask the workers at Iceland, who are paid a pittance, but regularly vote their company one of the best to work for in UK. Why? Because the company treats them with respect right through their careers with them. That's why.
I expect Bill will be horrified reading this and I don't expect he let it rest there.
Jonny Flynn
156
Posted 06/08/2016 at 10:16:05
Tony and Leon were great loyal servants to our club but their loyalty was rewarded with good wages setting them up for life. Yes, the situation was poorly handled but feel aggrieved internally or have a word with Bill – don't go public and stir up a hornets' nest we can do without, while making yourself look bitter at the same time. Wish both the best.
Denis Richardson
157
Posted 06/08/2016 at 10:18:45
To be fair he does have a point. Very strange for any club to let players leave without any communication.
On the other hand it can't really have been a surprise for Hibbo and the others that they weren't offered another contract. (Unless they thought the Everton charity train was still running and they could squeeze another contract out of the club for doing not very much...)
Justin Packett
158
Posted 06/08/2016 at 10:21:28
It's a shame two long serving players should be treated like this, both Evertonians as well.
Okay, they have both been paid well, but I guess they have saved the club a lot of money in transfer fees by staying so loyal.
Kunal Desai
159
Posted 06/08/2016 at 10:26:04
Two sides to every story. Why don't we wait to hear what Everton have to say before jumping to conclusions.
Irrespective of this situation the club and to a an extent the fans must get away from this sentimental bollocks we hold over players. Its time for a different mindset, think a little ruthlessly. This is a corporate business not the scouts club.
Eric Myles
160
Posted 06/08/2016 at 10:27:30
I don't get 'the Club awarded him a testimonial' excuses, OK if he made millions to line his own pocket but these days testimonial money goes to charity, not to the player.
Christine Foster
161
Posted 06/08/2016 at 10:33:55
You bloody lot are a disgrace. Class? We used to pride ourselves that we supported a club who did things right. Did things the right way. Maybe it is history, I don't care if an employee was a multi millionaire with a lifetimes service or a one month fill in..
they deserved to be appreciated for their efforts and thanked personally from someone, anyone in the club.
There is a right way and a wrong way of dealing with things, not only were the club at fault but also this has been known from the end of the season when Oasis said the same thing. Someone having read that, Elstone or Kenwright should have got on the phone and apologised. They didn't the just fucked them off.
Now, some of you supporters of this fine club seem to think he got what he deserved, nothing. No courtesy, no call, no consideration and no thanks. It's not about the money or his contract it's about recognition for what he has given. Yes he was well paid, yes he milked it due to previous extended contracts, yes he would have known his time was up but did it make it right to not even get a word of thanks from the club he gave his life too?
It really makes me wonder about those who post on here with such abuse, it may be the way of the world to some, but not to me.
Bobby Thomas
162
Posted 06/08/2016 at 10:34:20
Get the three of them on the pitch at half time first home game of the season.
Would go a long way to solving the problem.
Jim Potter
163
Posted 06/08/2016 at 10:34:58
A decent bloke and player. He, like any employee anywhere, deserved to be told face to face.
Good luck with the fishing Hibbo.
Robert Elliott
164
Posted 06/08/2016 at 10:38:53
Fair enough the club should have communicated with the likes of Osman and Hibbo directly. Less sympathy with Pienaar. Good player though he was, he jumped at the first chance to leave and was prepared to run his contract down in order to do so. That after Everton and Moyes resurrected his career. The only things I would say negatively about Hibbert would be 1. Does he have to run to the media with his complaints and 2. If he feels so strongly about the nasty place the club has become could he not use gym facilities elsewhere? I'm sure he's got a bob or two tucked away?
Ian Hollingworth
165
Posted 06/08/2016 at 10:39:43
Boo hoo
The question Tony should be asking is where was his agent in all this. Surely it is his job to negotiate with the club and inform Tony of the situation etc.
That said we had no manager at this point and the previous buffoon had already frozen Hibbo out.
Ian Hollingworth
166
Posted 06/08/2016 at 10:39:46
Boo hoo
The question Tony should be asking is where was his agent in all this. Surely it is his job to negotiate with the club and inform Tony of the situation etc.
That said we had no manager at this point and the previous buffoon had already frozen Hibbo out.
Ian Hollingworth
167
Posted 06/08/2016 at 10:40:06
Boo hoo
The question Tony should be asking is where was his agent in all this. Surely it is his job to negotiate with the club and inform Tony of the situation etc.
That said we had no manager at this point and the previous buffoon had already frozen Hibbo out.
Stephen Sullivan
168
Posted 06/08/2016 at 10:41:05
"Not been the People's club since Moyes left"
The above statement is laughable. We all know how Moyes looked after "number one" and his cronies (Hibbert and Ossie for example) and had no thought for the greater good of Everton and it's fans when he left.
I seem to recall Osman receiving a nice extension to his contract from Moyes as he left for Man utd even though he been next to useless for a long time and contributing nothing.
Regarding the "People's club" slight from Hibbert It's in the interest of the "People" ie the fans that our hard earned money does not get wasted on players contracts when the contribute nothing (like you for the past few years). It's also not classy at all to go running to the Daily Mail (of all newspapers) to slag off an former employer who rewarded you very handsomely indeed. As for your wife well she would be disappointed that the gravy train has come to a sudden halt wouldn't she?
Bobby Thomas
169
Posted 06/08/2016 at 10:43:07
Spot on Christine.
There was one fella on the Besic thread saying he was ashamed to be a blue sometimes as, in the aftermath of his injury, some posters were saying Besic may not be that big a miss and didn't necessarily rate him. Seriously.
Some of the comments on here certainly don't make me ashamed, but are pathetic.
Eric Myles
170
Posted 06/08/2016 at 10:56:03
Exactly Christine (#161) although I don't think it's just a matter of a thank you from the Club, but a chance to say thank you and a final farewell to the fans of the club he is a supporter of himself.
Mark Ryan
171
Posted 06/08/2016 at 10:57:49
He seems to be very bitter. That is the only aspect of this story that surprises me. He knows that football is a ruthless business. He also must have realised a long time ago that his number was up and that he was living on borrowed time. He always gave his best which at times wasn't of the highest quality but he gave 100% but when you start spending so much time on the bench or the treatment table you must surely know in your heart of hearts that you are going to get laid off sooner rather than later. It seems that his departure was dealt with clumsily but to come out and moan is really sad. He should have taken up his grievance with Bill instead of going public. Perhaps he feels he deserved to be treated better but quite frankly he's been paid more than he deserved and ought to very thankful for being supported so well over recent years. I'm disappointed he's gone public to moan. Tell your story but don't fucking bleat like a wounded lamb. Better still, go and get yourself employed at Sunderland if you feel you are up to it and be professional about it.
Shane Corcoran
172
Posted 06/08/2016 at 11:03:31
This is what we all want isn't it? A club that only cares about winning and will do everything in its power to get it.
It wouldn't have taken much for someone at the club to give them a call.
Ray Roche
173
Posted 06/08/2016 at 11:04:32
Why don't we...or those who feel sufficiently strongly about this miscarriage .e-mail the club and ask for either an explanation as to why two popular, local and loyal players have been treated so badly? And ask for the club to make a statement of sorts or,as has been suggested, invite them onto the pitch at half time next week. Surely a bridge building exercise such as this might put an end to this sorry affair. I have.
Eric Myles
174
Posted 06/08/2016 at 11:05:42
"Not been the People's club since Moyes left"
Yet we were lead to believe that all was sweetness and light after The Dour One left Stephen (#168) and everyone had smiles on their faces and Martinez even knew the name of the tea lady.
Sounds a completely different story now, what with all those departing backroom staff?
Ray Robinson
175
Posted 06/08/2016 at 11:07:19
I was no great fan of Hibbert as a player but I'm sure he's a smashing bloke and deserved better than this, surely? - and Osman too.
Ray Roche
176
Posted 06/08/2016 at 11:08:37
OK, so I did say that it might be an idea to e-mail the club so I did. Written in some haste, I maybe should have read it through first but, there you go, I didn't. Se below, feel free to e-mail them yourselves if you feel strongly enough about it.
"Dear Sir or Madam,
Reports in today's press suggest that one of Everton's most loyal servants,Tony Hibbert, has seen his services dispensed with without the courtesy of, at the very least, a phone call or letter from the club. Leon Osman also appears to have left the club with little or no fanfare. Hibbert, and Osman, both deserve to be treated better from a club which likes to regard itself,with some justification, as the "Peoples Club".I hope that the Club can find a way to show some respect to two fine servants of our great club and allow their many fans the opportunity to thank them in a fitting manner, possibly by inviting them onto the pitch at half time during next weeks match or sometime soon.
Regards,
Ray Roche
Season Ticket Holder."
Tony Abrahams
177
Posted 06/08/2016 at 11:11:33
Correct as usual Christine, but I wonder if Hibbert, has personally fronted Kenwright or Elstone, before this has come out in the open?
People wonder why there is no loyalty in football? It's always been dog eat dog, and full of flavours of the month. The money now involved will only make things worse
Stephen Ashton
178
Posted 06/08/2016 at 11:12:22
Didn't both Hibbo and Ossie have lucrative (for their charities) and well supported testimonials? At which we all had the opportunity to say thanks for long and faithful service.
OK it could have been handled better, but as has already been pointed out, the club was in a state of flux. Hibbo has been offered the run of Finch Farm to get fit, he should really just bite his tongue and count his blessings.
Can't really believe that this non story has generated a 170 post thread.
Eric Myles
179
Posted 06/08/2016 at 11:17:27
"I speculate that the vacuum created by the sacking of Martinez will have contributed to this disappointing turn of events"
But Peter (#155) if Martinez hadn't already made the decision to release Hibbert, Osman and Pienaar, in which case there was ample time for them to be told and participate in a lap of honour, then who had authority to decide to release them before Ronald rocked up??
Whoever that was needs a rocket up their arse, not for releasing them, but for the negative publicity this is bringing in not having common courtesy to let them know before an official announcement.
Brent Stephens
180
Posted 06/08/2016 at 11:19:05
Ray, like you, I emailed said People's Club earlier.
Colin Foster
181
Posted 06/08/2016 at 11:30:55
If any of you have jobs would you be happy to get a call from your wives to say you had been sacked and to say he had no talent?

I believe he was the best DEFENSIVE full back for many years and it wasn't his fault that he was out so long with injuries. BK and RE should hang their heads with shame AFTER they have apologised both privately and publicly.
Ray Roche
182
Posted 06/08/2016 at 11:34:21
Good lad Brent, it'll be interesting to see if either of us get a reply. I thought that by posting my effort it might stimulate a few more so say "Sod it, I'll write as well".
Steve Jones
183
Posted 06/08/2016 at 11:39:42
Stephen 178
This non-story is all about common bloody decency and whether the club we support still has the capacity to show it.
I'd be disappointed if it wasn't something that was still an important talking point for us.
Dennis Stevens
184
Posted 06/08/2016 at 11:39:56
The only thing more contemptuous than the behaviour of the club in the way they've dealt with these players is the attitiude displayed in many of the posts above. Evertonians? What a fucking embarrassment!
Colin Foster
185
Posted 06/08/2016 at 11:44:08
Com on Stephen 178.
Why shouldn't he be able to use Finch Farm, he suffered the injury while on club duty.
Jim Starling
186
Posted 06/08/2016 at 11:51:57
I think it's an awful way to treat long serving players. Hibbo never let anyone down and made the most of his talents; little Leon was a very important part of the club too.
However much he earned in cash is irrelevant, he was a loyal bloke that should at least have been given the courtesy of a meeting with Bill to thank him for his service and say goodbye.
Ciarán McGlone
187
Posted 06/08/2016 at 12:03:42
Thoroughly disgusting way to deal with someone who has given good service to this club.
Those above bringing their rather I'll founded assessment of his talents or what he earns into this.. completely miss the point.
A decent fella treated abysmally by his employer.
Len Hawkins
188
Posted 06/08/2016 at 12:12:29
Yes it would have been nice if Hibbert Osman and Pienaar had been invited to Kenwrights den for tea and stickies and a certificate thanking them for their service. But in the real world I have had to sit waiting in an office with 7-8 other workers to find out which TWO were going to keep their jobs on an annual wage less than they earned a week. No it's not nice but when I was a teenager coming to watch the Holy Trinity and the rest I'd have paid to play alongside them so to be paid handsomely for the last 25 years doing something a hell of a lot of us only dream about is worth the bum's rush. Accept it Tony you were very lucky.
James Marshall
189
Posted 06/08/2016 at 12:13:22
The best thing about this is that it shows we're getting rid of the plucky little Everton tag, and Peoples Club bullshit. It's about time Everton started to get ruthless and be run properly like a forward thinking, successful club.
We've been tinpot for years so I see this as a good sign. Sentiment doesn't get you anywhere in sport, and we've been innocent bystanders for 25 years as a result of our insistence on relying on our 'istory.
I love Hibbo, and wish him the best, and agree that he should have been told in a right & proper manner - but the overriding thing here is the above. Forwards not backwards.
Steve Kidd
190
Posted 06/08/2016 at 12:18:39
I'm not one to usually comment but I feel particularly strongly about this whole affair. Just because we have the recently come into a bit of money shouldn't change the way that we treat people. Hibbert gave his all whenever he played over 16 years or so, to not even be given the decency of being called into the office to be told why he was being released smacks of a "nouveau riche" attitude, and I for one, wonder how many of the so called Evertonians above would have felt the same way if we went back even 10 years ago. Don't let money corrupt you or your basic beliefs, if it feels wrong and looks wrong, then chances are, it's wrong!
Jack Convery
191
Posted 06/08/2016 at 12:23:35
Is he trying to start a riot !
To be fair every employee should be notified by their employer if their services are no longer required - unfortunately the world we live in is not always what it should be.
Liam Reilly
192
Posted 06/08/2016 at 12:28:26
A lot of sanctimonious shite on this thread.
He was out of contract and to expect another one when he's contributed nothing for 3 years is idiotic. He should've went to the club before his contract ran down.
Shane Corcoran
193
Posted 06/08/2016 at 12:28:37
James #189, you can't have manners and ambition?
James Marshall
194
Posted 06/08/2016 at 12:31:47
I agree with Liam 192 - why do players just say nothing to clubs? Surely they know when their contracts are going to run out, so why not mention it?
I've been a contractor in the past, and you know exactly when you're going to be out of work, so you go to your employer and you talk to them about it - what about the agents? Surely they know when their clients deals are expiring so it gets talked about?
I find all this to be a bit unbelievable if you think about it this way.
What did Hibbo and Ossie do, just go to training every say and say nothing to anyone? Just trained in silence? It doesn't make any sense not to speak to someone at the club about it.
Shane - read all of my post 189 again.
Eugene Ruane
195
Posted 06/08/2016 at 12:41:45
2015.
BK: "Hey...and what about that lad? (begins to weep). Hibbo - one of our own. A real true blue, been with us since he was 2 years old, he bleeds blue, you can't buy that (places string of onions round neck) Legend material, a local lad made good. From the terraces to the first team, stuff of dreams...small boys isn't it...carp for goalposts...mmm?" (wipes tears with flannel, rings it out in bucket) continues in this vein for another hour
2016.
SFX: "Deedle-ee-dee, diddle-ee-dee, diddle-ee-di dooo deedle-ee-dee, diddle-ee-dee, diddle-ee-di dooo (Nokia ring-tone)
BK: "Don't answer it Jenny, it'll just be soft-ollies on the ear 'ole again."
Raymond Fox
196
Posted 06/08/2016 at 12:43:53
Its a poor way to run a business, if you are being dismissed which is what Tony has been, is it to much to ask to be told so by someone in charge at the club.
He's not complaining about not being offered another contract, its the way it was done.
Who was the coward who couldn't tell Tony and Leon face to face that they were not being offered another contract, pathetic.
Anyone sticking up for the club on this one, needs to get a grip.
Mark Halliwell
197
Posted 06/08/2016 at 12:49:10
I stand by what I said. He was treated badly but I don't want some fucking millionaire crying in the press whether he has a point or not. He should have gone years ago and been told. If that makes me heartless, the world's gone fucking mad.
Kevin Tully
198
Posted 06/08/2016 at 12:54:21
If the players in question had said to the press "We tried every channel of communication we could to get an answer on our position, but we were just ignored" then I could have some sympathy.
But, I hope everyone knows the C.E.O, Robert Elstone, is at FF nearly every day. Why didn't they approach him directly and ask him what was going on? Or ensure their agent made their position clear 6 months before their contracts were due to expire?
Taking the interview into consideration, it just sounds like they turned up for training and didn't ask anyone what the fuck was going on. Incredible.
Ray Roche
199
Posted 06/08/2016 at 13:09:11
Some people are missing the point. It makes no difference how much you earn, what you should have done, whether you've been a contractor, whether you've also been sacked..there is a right way and a wrong way to do something and this is wrong. Dispensing with an employees services, regardless of the level of responsibility, wages type of employment etc., requires a modicum of decency and respect. Some people on here think that because their boss crapped on them then it's OK for ALL bosses to do the same.( And please, don't give me any shite about how much Hibbert etc was paid a week.)
Damian Wilde
200
Posted 06/08/2016 at 13:16:21
Can I ask the people slagging off Hibbert. Is it too much to ask that he got a five-minute chat in the CEO's office to say "Hi Tony, thanks for your efforts, unfortunately we will not be offering you a new contract. We wish you all the best and would love it if you get to say bye to the fans on the last day."
Do you think it's better practice to release the information on the website before telling him???? You actually advocate that approach? Disgrace.
Why should Tim get a send off and not Tony? It lacks class, we're supposed to do things better.
Ciarán McGlone
201
Posted 06/08/2016 at 13:16:57
Tony Hibbert was not a contractor. He was an employee.
Shitty employers act like this, and it should be condemned by all right thinking people.
Brent Stephens
202
Posted 06/08/2016 at 13:16:58
Interesting how much we Evertonians demand that the players act respectfully towards the club, and yet...
Anyway, now off to clip Bill around the ear before entering the School of Present-Day Capitalist, Managerialist, Neo-Liberal Bullshit.
Colin Glassar
203
Posted 06/08/2016 at 13:17:30
Ray, I have to agree with you. Despite being millionaires, and injury ridden, Hibbo and Ossie have been a loyal servants to the club and it's only common decency to say to them "sorry lads, but you're being released". That's all it would've taken.
I read a while back that Hibbo has never had an agent and always accepted whatever deal was offered to him. Still, he didn't need to go public with this and should've gone fishing instead. Naughty Hibbo.
Brent Stephens
204
Posted 06/08/2016 at 13:20:23
Colin, isn't that the double standard I've just posted about though - Hibbo shouldn't have said anything. Why? Is that all about loyalty and respect and...
Brent Stephens
205
Posted 06/08/2016 at 13:20:23
Colin, isn't that the double standard I've just posted about though - Hibbo shouldn't have said anything. Why? Is that all about loyalty and respect and...
Colin Glassar
206
Posted 06/08/2016 at 13:23:49
Sorry Brent, I didn't see your last post. Could you repeat it?
Mike Galley
207
Posted 06/08/2016 at 13:35:57
I get it that Tony has had a great wage/life from our club. I still feel this could have been handled in a better manner. Call me green if you want, but I've always thought our club conducted itself better than most. I'm going to try and be kind and say it was an oversight due to the club being in a state of flux. New owner recently installed, no manager etc. This does seem to be out of character for Tony though.
Brent Stephens
208
Posted 06/08/2016 at 13:36:02
#202, Colin
Frank Crewe
209
Posted 06/08/2016 at 13:39:31
Osman and Hibbert were not servants they were employees and their "loyalty" didn't come cheap. I would also point out that, as far as I know, we never received a single bid for either of them during their entire careers at Everton so being loyal wasn't that difficult. Nobody else wanted them.
What did he think was going to happen? A statue? Name a stand after him? He's been a professional footballer for a lot of years. He's seen many players come and go at Everton without any fanfare. Why did he think it would be different for him?
Didn't score a single goal for the first team. Coleman eclipsed him years ago. Never got a single England call up. Even Osman got one of those. He was a bog standard squad player yet the club turned him into a multi millionaire. So what does he do? Bites the hand the fed him, and fed him well, for all those years.
He was earning more in one year than I've earned in fifty years so you can imagine that I have very little sympathy for his complaints. He can swan off to France and live a nice comfy life. Pension sorted. No worrying about bills. Busy doing nothing. If he wants to swap lifestyles with me I'm more than willing. I won't complain about how hard done by I am either.
Kieran Kinsella
210
Posted 06/08/2016 at 13:39:34
Kevin Tully,
Agreed. It makes them seem pretty arrogant if they assumed they'd get new deals. You'd think they'd question it before checking the bank account and realizing the direct deposit had stopped. That said, we should have handled it better
Nicholas Ryan
211
Posted 06/08/2016 at 13:54:35
1. To be told you have been sacked by anyone other than the employer him/herself is simply criminal.
2. Hibbo has said nothing for a decade, so why now? The article says 'told Mail online'. I wonder whether he knew he was talking to Mail Online?
3. His comments about 'The People's Club' are valid, in that they paint a picture of life at EFC under Martinez, and how that compared unfavourably to the club under Moyes. We need to know about that.
4. Many times under Moyes, we got wins or ground out draws, because of that very 'togetherness' that Hibbo talks about. If it vanished under RM, then it probably had a direct effect on results.
5. Football in 2016 is simply a [not very attractive] business. I'm not sure that that is necessarily a good thing.
6. If being 'The People's Club' ceases to matter, and doing things the 'right way' doesn't bother anyone, then I'll revive my Lancashire membership, and watch cricket.
7. We must never forget what makes us different.
8. On the other hand, if Hibbo and/or Ossie thought they would get new contracts, then despite their long service, I'm afraid they were living alone on the planet 'Delusion'!
Dan Davies
212
Posted 06/08/2016 at 13:56:22
Good luck both Hibbo and Ossie. I really don't understand the motive of Hibbo going to the press and making this public a week before the season starts though?
Strange this. Has he done it off his own back or been advised by somebody? Why would the 'Mail' even run this story?
Struggling to understand what Hibbo is trying to achieve here other than stirring the pot...? Another PR masterclass!
Kieran Kinsella
213
Posted 06/08/2016 at 14:01:01
Dan
I wondered that too but based on the fact that RM said Hibbert only "started to talk" in April I doubt he sought out the Mail. Dominic King formerly of the Echo is there and has a tendency to to produce Everton hit stories. I imagine he had one of his buddies seek out Hibbo. They probably asked him a bunch of loaded questions then picked out the worst bits to produce this story.
Kieran Kinsella
215
Posted 06/08/2016 at 14:03:18
Nicholas
He wasn't sacked he just wasn't given a new deal but it's a conversation both he and the club should have initiated before his deal expired.
Brent Stephens
216
Posted 06/08/2016 at 14:15:02
But I've seen nothing that suggests Hibbert thought he should have a new contract, only that he shouldn't have been told this way.
Jamie Crowley
217
Posted 06/08/2016 at 14:22:47
Kevin Tully -
MATE!!! (I do love using that word, it's so foreign to me) What the hell are you on today??
And as far as this "People's Club" shite that has been promoted in place of winning trophies, great - I'm glad we are finally showing some professionalism
It's professional to not call in a player who's been with you since he was 10 years old and tell him man-to-man that it's time to move on? You just bin him off in the scrap heap of former players - the cattle butcher's pile of carcasses?
Everton conducted themselves in a pitiful manner and our treatment of Hibbo was the furthest thing from professional that could have been.
Embarrasing and wholly awful way to treat an incredibly loyal man and employee. Nay, downright shitty.
Professional???... you're havin' a laugh Tully!!
Tony Draper
218
Posted 06/08/2016 at 14:23:45
Jamie @85.
Earned ?
Earned
?
You surely mean PAID ?
Earnings and wages are most definitely NOT the same thing !
Anyone who is, or has been, self employed will rapidly explain the differences. Mr & Mrs Hibbert have grossly benefitted from one or many more of these differences.
In his absolute pomp, Tony was a "decent" squad level defender, but never ever more.
Let's (for sake of illustration) say that he was PAID 㿈,000 per week by said Everton Football Club Company Limited.
I select this figure simply because it broadly equates to the national average annual income for an able bodied person (note, able bodied, it is important here).
IF, Mr Hibbert was paid 㿅,000 each and every week, then in a single year, he would have received 52 years pay at the national annual rate. In other words, the same amount as an able bodied person would during their working lifetime.
A single year !
A working lifetime !
If a taxi driver picked up a fare (let's say a Mr & Mrs Roberts) in a mad rush to get to John Lennon Airport for a swanky cruise to celebrate multi-millionaire "Mr Roberts" recent retirement (at the grand old age of 35). In the rush to get booked in, "Mr &Mrs Roberts" omit to tip (not pay, but tip) the cabbie. How would you view the cabbie, if, he/she subsequently toddled off to (shall we say) "The Daily Mail" at the behest of their spouse telling just how hurt they felt at not being thanked/ tipped ?
Yet, the cabbie had been told that they were free to use "Mr & Mrs Roberts" private gym and swimming pool at their leisure ?
If Mr Hibbert now feels "hurt" then he has already been more than amply compensated for his honest, loyal and dedicated contributions to the most fucking boring and sterile period of Everton Football Club Company Limited's entire history.
Should Mrs Hibbert feel so aggrieved at the manner in which her husband's contract was not renewed, then I suggest that she book them a first class flight to reality.
I do feel that Hibbo, Ossie and 'Nuts should have had the chance to wave goodbye, I'd have liked that. But at least Ossie and 'Nuts didn't go "Carping" to "The Daily Mail" just 'cost their missus threw a hissy pissy.
Jamie Crowley
219
Posted 06/08/2016 at 14:35:55
Tony -
When you go to work and do a job - never bitch and give your all to the employer...
Do you EARN the money or are you PAID?
I mean you - Tony Draper - are you paid or did you work hard and earn it?
You're falling into, dare I say, a thoughtless trap. It's not about how much Hibbo made. If you put that into the equation you're falling into class envy / warfare.
Rise above that Tony. Just forget, for one second, how much Hibbo was paid.
Did Everton act with class and dignity?
Another way to look at it...
Suppose a kid started aged 16 or so as a janitor at Everton. Came and went, loved the Club, worked hard doing what he does to keep the place running and tidy. At aged 55 after a working-lifetime of service he decides to hang it up and retire...
Should Everton recognize him before he exits? Or at a minimum should someone pull him in to an office, have a word, and thank him for his loyalty and what he'd done for the Club all that time?
The answer, Tony, unless you've been raised by wolves, is yes.

Dave White
220
Posted 06/08/2016 at 14:40:43
Jamie (219) I was going to post but I can't put it better than that - all he's asking for is for someone to tell him he's not being retained before the world is told - is that a lot to ask? Totally stunned at the vitriol on here.
Thank you so much Tony, if more players acted like you have throughout your career football might not be the laughing stock of sport like it currently is.
Anthony Jones
221
Posted 06/08/2016 at 14:56:45
Maybe it was just a case of the people in the know all thinking it was someone else's responsibility? Martinez had gone. Kenwright may have health issues. Moshiri is not long in. Elstone is probably frantically trying to survive under the new majority shareholder.
Still a poor way to treat any player, and a public apology should be issued.
John Grace
222
Posted 06/08/2016 at 15:38:26
Is this a joke?
Yes Hibbo was a loyal servant ( not exactly hunted by other clubs) but get a grip Tony.
Wadded for life. Sh*t happens, deal with it.
P.s.
Do you ever go on price comparison sites to get a cheaper energy deal or cross your fingers when the motor goes for it's MOT?
Welcome to the real world Neo.
Sue Brown
223
Posted 06/08/2016 at 15:46:24
Can't believe some of the things written on here sometimes. It has nothing to do with wages, wealth or the fact he was at the end of his playing career anyway, it's a matter of basic manners and that old fashioned often forgotten term "common courtesy".
I got from the article that Hibbo felt more that he didn't get the chance to say a farewell to the fans as well as his hurt from the club hierarchy.
Let hope the club put matters right before too long, and we can have a befitting riot for him!
Tony Draper
224
Posted 06/08/2016 at 16:18:21
Jamie @219.
I am self employed. There are times when I have genuinely
EARNED
far more than I could afford to pay myself.
Times when I have drawn nothing.
Absolutely Zero !
Fuckall !
Not because, unlike Mr Hibbert at Wembley, I genuinely deserved fuckal!
BUT, because I went unpaid.
Sometimes, as I referred earlier, not only have I not been paid but I have been threatened, indeed I have had tools and materials stolen /removed/not returned/damaged in addition to the labour not paid for.
When I say threatened, I mean a knock upon the door at 3am by 3 big blokes in ski masks kind of threat. After that, I didn't resubmit my 3 month overdue invoice.
These are the harsh realities.
Still, I choose to be self employed, therefore I select the lifestyle (it means that I can take time out when needed with my elderly parents, albeit at some cost to my earnings. Flexibility and continuity in balance. I have chosen this, it's good. Not incredible, but best fit).
But £28,000 a week ? Erm, no.
40 minutes work in 3 years on full pay ? Oh tickle my cock.
For Everton Football Club Company Limited not to have invited Messers Hibbert, Osman and Pienaar for a farewell cuppa and a bourbon biscuit, custard cream or even a choccy hobnob IS remiss.
I would NEVER fail to do that I may not have the money available to buy the teabags, milk n biccies, but a fond and genuine handshake and a look in the eye as I was saying "thanks, best of luck" costs nothing. Undisputed fact.
However, Hibbo's tale of woe DOES sadly display what a bunch of fuckin mollycoddled, namby-pamby, jessies the modern day footballers portray themselves to be. Their choice.
Frankly, after his sad, pathetic admission of henpeckerry, I'm bloody glad that our ex-right back isn't being paid to go fishing in France any longer.
I thought that Hibbo was one of the lads, he clearly isn't. Does he really expect us all to swallow this cock n bull story, which effectively hinges upon the fact that his fixed term contract was running down like the "Countdown Clock", came as a complete surprise ?
Bollocks, utter and complete bollocks !
That only suggests that the full time carp fisherman "assumed" that another couple of years malingering on the annual national average income per week was even likely !
John Keating
225
Posted 06/08/2016 at 16:44:54
Hibbo is his own worse enemy
We should have given him to another classless act - Chelsea.
He's been where most of us would give an arm and a leg for - to put on the shirt at Goodison.
Not only that he's made millions while doing it.
If he was a real true blue and had a bit of class he wouldn't have run to the papers !
As for his missus... well a new pink Bentley will probably keep her mouth shut !
Julian Wait
226
Posted 06/08/2016 at 17:04:35
1. If true, this should have been dealt with privately with the club, not in public.
2. It's the Daily Mail ferchrissakes ... ignore #1 above.
Brent Stephens
227
Posted 06/08/2016 at 17:07:22
John Keating. So you think Hibs isn't a true blue. I think a true blue wouldn't suggest that.
John Keating
228
Posted 06/08/2016 at 17:12:06
No Brent I am a true Blue and have been all my life.
I like most would give anything to wear the shirt and play at Goodison.
When I think of my hero's Collins, Young and Vernon etc and see what they got and then look at Hibbert well words fail.
Please never, ever question my loyalty.
Brent Stephens
229
Posted 06/08/2016 at 17:16:42
But you question whether Hibs is a true blue. Can't have it both ways.
Yes, I was brought up on Young, Vernon etc. Great days, John! Oh for a few like them, eh.

Eric Myles
230
Posted 06/08/2016 at 17:30:30
"What did he think was going to happen? A statue? Name a stand after him?"
No Frank (#209), it seems all he thought was going to happen was to walk round Goodison Park one last time waving to the fans.
John Keating
231
Posted 06/08/2016 at 17:32:47
As far as I'm concerned Brent, Hibbert should have kept his mouth firmly shut and done things "in house"
Running to the papers and crying about how hard done by he is, is, in my opinion definitely not on and certainly not the way a Blue would act.
He, like most of them is a spoilt overpaid shithouse.
We talk about Alex Young and his era, days before modern media, we never heard of what was going on
I have had the greatest of pleasures of reminiscing with Young and he, we know had problems with the Club, yet not one bad word about Everton comes out of his mouth, actually the complete opposite.
Sorry we will have to agree to disagree but in my opinion Hibbert is an extremely lucky lad that hasn't realised how lucky he has been.
Rather than stoke up argument and discontent he should have stayed quiet, moaned in private, praised in public.
David Barks
232
Posted 06/08/2016 at 17:38:02
Eric,
It seems hard for some on here to actually read what Hibbert said doesn't it. He just thought someone from the club might have actually contacted him at some point. And he's personally upset that he wasn't able to say goodbye. Not sure why that's so controversial to some.
Brent Stephens
233
Posted 06/08/2016 at 17:38:05
Ok John. We'll agree to differ. I meant no offence. Bring on the spuds.
Eric Myles
234
Posted 06/08/2016 at 17:43:46
" In the rush to get booked in, "Mr &Mrs Roberts" omit to tip (not pay, but tip) the cabbie. How would you view the cabbie, if, he/she subsequently toddled off to (shall we say) "The Daily Mail" at the behest of their spouse telling just how hurt they felt at not being thanked/ tipped ?"
What a load of bullshit Tony, no comparison at all to a loyal employee completing a long service at his club.
Dave Williams
235
Posted 06/08/2016 at 17:56:11
Tony # 224 spot on! Yes it wouldn't have done any harm for the club to mark the occasion with farewell cream cakes but I cannot believe that he didn't know anything. If he had an agent then the agent would have discussed it with the club. If no agent then he surely would or at least could and should have asked the club if his contract was being renewed. He knew it was running out and he must have realised after so long not contributing that it was highly doubtful that he would be retained.
Footballers can be very expectant- Keegan said in his book that he was appalled that Newcastle didn't give him a big ex gratia payment when he left after all he had done for them, totally disregarding the handsome pay packet he had. No mention from Hibbert about the testimonial we gave him and how we continued to pay him handsomely when he barely kicked a ball for 3 years.
I would love to hear from Mr.Elstone about his views on this but if what Hibbert says is true then yes we could have had a quiet word with him but for him to whinge about the club treating him badly is outrageous - he has done better out of us than we have out of him as he was never more than a mediocre player who somehow became a cult figure in some people's eyes for being too poor to ever score a goal.
Eric Myles
236
Posted 06/08/2016 at 18:00:19
So from your post #224 Tony, it sounds like you're very envious and bitter with regards to Hibbert, Osman and Pienaar for your own twisted reasons.
Jamie Crowley
237
Posted 06/08/2016 at 18:01:14
Tony D -
We're obviously going to have to agree to disagree.
I believe Tony Hibbert was entitled, under the guise and parameters of employer decency, to have been given an audience after years of employment to inform him of his pending exit from the Club he was a member of since he was 10 years old.
You believe he's entitled to no such action. He's been paid a king's ransom (and he has...) and therefore due to the exceedingly high compensation can be let go without notice.
I think that's a fair summary.
I applaud and more importantly respect your self-employment. I, too, am self-employed and have the highest degree of respect for anyone who does the same.
We have something in common - we both know how incredibly difficult that can be at times.
Cheers.
Tony Draper
238
Posted 06/08/2016 at 18:11:57
David @232.
"And he's personally upset that he wasn't able to say goodbye. Not sure why that's so controversial to some."
So why did't this multimillionaire ex-Everton right back pop a piece in "The Liverpool Echo" at his own expense ?
Surely he must be able to afford that for less than the price of a pair of "Jimmy Choo's" or "Manolo Blahniks" for the deeply offended Mrs Hibbert ?
One in which he expressed his gratitude, admiration and eternal loyalty to his boyhood club, friends and hundreds of thousands of fans and followers ?
He didn't.
Never bothered.
Apparently, Everton did fail to terminate the association between Everton Football Club Company Limited and Messers Hibbert, Osman and Pienaar with the style and panache that was the hallmark of "The Millionaires Club" of the heydays of the 60's, 70's and 80's, that's disappointing, truly it is.
However, the millionaire's of those bygone times were the owners, not the artisans.
The very moment that Anthony James Hibbert decided to go slagging off Everton in the press was the very same moment that those of us who PAID to watch him throughout the years of sterility have the right to play our "JUST FUCKIN' HOLD ON THERE SUNSHINE !" card !
Anthony James Hibbert ?
Mick Davies
239
Posted 06/08/2016 at 18:37:29
He had a testimonial, his contract wasn't renewed; does this idiot need a weatherman to tell him it's raining?
Millionaire thanks to Everton FC, would any other PL club have put up with 'Kung Fu kick' Tony and his red cards and needless free kicks - never mind his lack of talent? Total disrespect to the goose that laid his Golden Eggs
David Barks
240
Posted 06/08/2016 at 18:41:57
No Mick,
Millionaire because he did something better than any of us, in an entertainment business that people obsess over.
Daniel Lim
241
Posted 06/08/2016 at 18:44:12
If you think the club have not shown enough courtesy, professionalism, bla bla bla. I think you have a point, but barely.
Imagine if you had been in a company for 20 years, your CEO organised a party, as big as those annual dinners and invited the suppliers and some important customers to the event to show appreciation of your long term service and dedication to the company in the past 20 years. The company also raised some funds from the dinner and donated the proceeds to a charity that you specified, and put your name down as the donor.
Fast forward 2-3 years, the company has a power struggle and the CEO has just been ousted and replaced (ok, this part about the power struggle is not really an important part of my argument, but just for the sake of trying to paint the same picture as what happened in EFC). At the same time you have been on contract after the dinner event and your contract ended yesterday. You didn't care to check with the HR whether you were going to get a new contract (ok, I made this part up). Nobody came to say good bye to you, your HR didn't send you a thank you email, etc.
Do you get very upset and go on social media to blast your company?
If your answer is yes, then my opinion of you is that you didn't worth and didn't deserve that party that your company organised for you at your 20th anniversary in your job.
The more I think of this, the more I feel Hibbo is the unappreciative one.
Tony Draper
242
Posted 06/08/2016 at 18:45:28
Eric @236
Post 224 doesn't even mention Ossie or 'Nuts mate.
Envious of Peinaars talent ?
Too fucking right !
Oh for just one afternoon to be Stephen Jerome Pienaar wearing the "Royal Blue Jersey".
Feet that could glide hardly touching the hallowed turf of the Kings.
Leon Osman ?
Fast feet, bloody hell !
I'd love to have been Leon, even as a last minute sub, just once.
A courteous gent beyond all question.
Anthony James Hibbert.
Cult, Gwladys St hero, who pissed on his chips. Shame.
Eric, you have the freedom to read whatever the fuck you wish to read into whatever you wish.
But,
That's you.
You're doing the reading.
Leave me to express my own opinions for myself, ta.
Daniel A Johnson
243
Posted 06/08/2016 at 18:50:20
The point he's trying to make is NO ONE AT THE CLUB told him his contract was not being renewed.
In any kind of business, that's unprofessional. We recently let a contractor go but he was told 3 months before he left he wasn't being kept on.

Eugene Ruane
244
Posted 06/08/2016 at 18:51:53
Fuck me, 200+ posts because a not very bright lad said something not very bright.
The torches are lit, the monster's on the loose, let's get the (see 231) 'spoilt overpaid shithouse.'
(Hibbert a 'shithouse' - really?).
Once again, hell hath no fury like a TWer spurned.
"Rooney, what a twat, see him kiss his fuckin' Manc badge when I was bellowing red-faced at the top of me lungs that his wife is slag and likes it up the arse! The nerve of him!"
Damian Wilde
245
Posted 06/08/2016 at 18:55:51
Nicholas (211) - good post
DD (212) Is Tony not allowed to process his thoughts? He was annoyed and maybe just wanted to communicate this. He isn't employed by the club, so can say what he likes.
Frank Crewe
246
Posted 06/08/2016 at 19:02:39
Nobody told him his contract wasn't being renewed? Yet even though his last contract was up and it's his bread and butter he didn't think to ask? I think if I had been in his boots I would have.
@Eric Myles. Didn't he do that at his testimonial?
Tony Draper
247
Posted 06/08/2016 at 19:03:57
Jamie @237.
Yep, he was. I've not once said otherwise. We defo agree on that.
The instant that he went moaning to the press, HE opened the gates.
Excessively paid ex-employee etc.
James Hughes
248
Posted 06/08/2016 at 19:10:14
If Hibbo scores we riot, I thought was a mark of respect to a Blue.
Eugene that link is a crowded place full of blinkered people. I couldn't find my space :)
Mick Davies
249
Posted 06/08/2016 at 19:12:13
An old neighbour of ours retired a few years back. He served in the tank regiment throughout the war, inc D-Day, and worked every day after as a welder. He received no money and no help for 9 months, running up debts and getting into a panic about him and his wife being made homeless.
If it wasn't for a chance meeting with a community volunteer who worked for an advice centre, no one would have known of his plight: they contacted the authorities and he received all his due pension money. He never had an agent, accountant or lawyer to represent him, and was too proud to air his problems with the public.
This begs the question: did Hibbert's agent tell him his Everton career was over? If not, and his representative's let him down, is he not intelligent enough to visit the ground he's been working from for 15 years, and ask for a meeting with the CEO? I'm baffled that he's only just realised he doesn't play for EFC anymore.
Daniel Lim
250
Posted 06/08/2016 at 19:13:44
If he would feel much happier if given the chance to run around GP to say goodbye to the fans (as some of you put it that it's what he wanted), then FFS, go ask Elstone or RK or Walsh or just buy a front row ticket and invade the pitch at half time vs Spurs. Problem solved!
Christine Foster
251
Posted 06/08/2016 at 19:15:02
Assumption makes an ass of those who don't know all the facts. Who knows if Hibbert HAD been asking about being retained or not and had been fobbed off and told to wait? Who in the club made the call NOT to extend the contract before a new manager came in?
All I can say to any of you who:
a. Couldn't care less
b. Think he didn't deserve a conversation
c. Likened his situation on pay/ earnings to their own (get real)
Hibbert and Osman were paid employees of the club who did not know exactly their employment position as both contracts drew down. They OBVIOUSLY did not or could not get answers to any questions they had or were fobbed off with a "wait and see".
They didn't get a heads-up before they were let go. Irrespective of who earned what, how lucky they are or whatever... they were employees that were let go by press release.
You really think that's okay? Really? No wonder we get the tag of bitter blues!

David Booth
252
Posted 06/08/2016 at 19:17:49
What an engrossing thread this has turned out to be. A mountain out of a molehill if ever there was one.
We will never, ever, know the internal workings of our - or any - football club.
And one could on many occasions be forgiven for thinking that, on par with players' wages, they are crazily out of kilter with every other commercial enterprise in the country right now.
So this sort of apparently ham-fisted end to a long-serving player's contract could, on the face of it, have been handled better? Certainly, Mr Hibbert seems to think so.
However, let's stop and think a bit...
Here's the situation as I see it:
Tony Hibbert had a contract that he knew expired this Summer.
Presumably he was made aware of the expiry date when he signed it?
Presumably, he and or his agent will have made a note of that date in their diaries?
Presumably, as that deadline approached, one or both would have made enquiries with the club about whether it was going to be extended?
And presumably they will subsequently have had the joint wit and intelligence to realise that it was not?
Instead, we are asked to believe that Hibbert woke up the morning after his last pay day and was completely horrified to discover there wasn't going to be another. And no-one had had the decency to tell him!
What?
Really?
It may well be that the club did not send him a hand-crafted, wax-sealed certificate, in finest linen, beautifully concealed inside a Faberge Egg and delivered by a coach and horses to break the news to him - but are today's footballers (including the likes of our consistently average, if loyal former-fullback), so deluded as to think they deserve some sort of fanfare and 'apology'?
I would be amazed if the club's HR department had not fulfilled all their legal obligations and notifications to the letter, especially when such large sums of money are involved.
Yet here's Hibbert wanting us to believe that one day, without warning, Everton simply stopped talking to him.
Personally, after he and Osman got whipped in the 2009 cup final, I think he was extremely lucky to get paid for another SEVEN years.
He's been a crock for the last three, so even during that time he will surely have earned in the region of two million pounds or more for doing sweet FA.
Even if the club had been neglectful, who is he to complain after earning a genuine fortune and not having done more than a few days' work in the last 1,000-plus alone.
On that evidence alone, I would say the club have gone overboard to look after him.
We've got used to the likes of Ronaldo being a prima-donna. And even Yaya Toure's recent 'unhappy birthday' outburst wasn't completely unexpected - so cosseted are these vile, vain, greedy, self-centred people we invest so much of our hopes and money in.
But a second-rate fullback, who no-one has seen hide nor hair of for the best part of the last three seasons?
Hibbert, you should be ashamed of yourself - not sorry for yourself.
You have gone from being one of us, to a complete gobshite.
John Keating
253
Posted 06/08/2016 at 19:25:26
Amazing that it appears Hibbert woke up one day to find out he was out of contract. I thought players could speak to third parties in the last 6 months of their contracts. Surely that would have sent the message straight and clear to poor hard done by Hibbert.
Unlike most people, it's a pity he had to sully his Everton career crying to the papers. All those in sympathy with him should have a collection as him and his missus must be under severe financial pressure.
I doubt very much the miners, ship builders, steel workers etc got a personal call from the boss.
Paul Kossoff
254
Posted 06/08/2016 at 19:33:35
Hibbert is a very lucky man to have been at Everton on the wages he was paid for very little return.

Bite the hand that fed you and made you and your family very wealthy? Unbelievable.
Chris Butler
255
Posted 06/08/2016 at 20:13:52
He isn't wrong, we have lost our identity as a club ever since Moyes left. I'm not saying it was Moyes created that identity, he and those working for the club just continued with it.
Up until he left, ticket prices were not cheap, but reasonable. Now ticket prices start at 㿐 for any Premier League game, that's why I have decided not to attend any home games this season. There's no need for ticket prices to be that high considering the TV deal, why not just set a maximum price of 㿊 for adults and 㾶 for kids and concessions? It means that different elements of the local community can attend.
I also don't agree that we should've sold 32,000 season tickets leaving only 5,000 tickets, half of which are restricted for those who can only afford to attend the odd game.
Even though I don't agree with all of Southall's views, it's disgraceful that he was given the cold shoulder by the club. The way Osman, Hibbert and Pienaar were treated this year is disgusting. Yes, it was time for them to go, but it could have been done in a better way.
The reality is we're becoming just like the RS in the way we treat fans and employees which is utterly disgraceful. I will always love the club but I don't like the people running it.
Paul Tran
256
Posted 06/08/2016 at 20:19:00
Chris, we've lost the identity we had under Moyes since Moyes left. That's not the identity of the Everton I grew up with. It's not one I want back either.
Let's look forward to what we can achieve rather than look back on what passed for achievement.
Tony Draper
257
Posted 06/08/2016 at 20:42:00
Chris @255. Bloody hell, mate, that really is some convoluted reasoning. OK, so we won't see you at the match. Fine. Somebody else will be taking up that seat/them seats. I'm bloody sure that the regulars will be delighted with the new occupant.
So now, why not go: shopping for shoes with the deeply offended Mrs H? Or carp fishing with multimillionaire Mr H? ou can trade your stories of your Everton goalscoring exploits with either on a quid pro quo basis!
Craig Fletcher
258
Posted 06/08/2016 at 21:04:43
I think Daniel (243) has got the point of Hibbert's argument, I.e. that he was not told that his contract would not be renewed / re-negotiated.
I don't think Hibbo is so completely dense as to wake up one morning and all of a sudden realise he isn't an Everton player.
To a point, both parties are at fault. Yes I think the club should have had a meeting with him and his agent in May at the end of the season and told him his contract would not be renewed. However for him to speak out in the press in the manner he has is distasteful at best, and at worst will forever tarnish his relationship with the club and fans.
As hundreds here have noted, Everton (and the fans) have given Hibbo riches which most fans could only dream of as he packs his fishing rod and rides into the sunset into early retirement.
Sajid Patel
259
Posted 06/08/2016 at 21:28:06
Poor part on Everton FC. He should have been informed by the club and not through a third party.
You got players Lakaku talking crap regularly and Hibbert has always been loyal until he was let down by the club.
Matt Garen
260
Posted 06/08/2016 at 22:22:26
David Booth, post #252. Absolutely to a tee spot on. Nothing else needs to be said on the matter.
John Davies
261
Posted 06/08/2016 at 23:01:59
Sorry. An unbelievably average footballer drawing an amazing salary for playing just a few games each season over a long period of time. I have no sympathy with yet another overpaid, molly-coddled prima dona. "My wife is even angrier at how I've been treated." How fucking pathetic. Get over it Tony and grow a pair.
Chris Corn
262
Posted 06/08/2016 at 23:18:13
What was his agent doing.? Surely that's why he's employed: to negotiate a new deal or try and get him another club. If he wasnt aware he was getting released, his agent clearly isn't doing his job.
Chris Corn
263
Posted 06/08/2016 at 23:28:34
Chris 255, the identity we had under Moyes is the same as we have now and have had for nearly 30 years. Not good enough. I saw precious little at Goodison today to make me think anything will change either.
Bob Hannigan
265
Posted 07/08/2016 at 00:02:46
Totally sux, terrible way to treat a "loyal soldier"
Chris Butler
266
Posted 06/08/2016 at 00:03:48
Chris Corn 263, I was talking about moral identity more than anything else. I was always thought of Everton as a club with a social conscience, I just feel that we should continue with it. We do a lot to help the community and I'm proud of it.
Obviously the RS were formed purely for profit and have continued that legacy as the devils club. I think it's wrong to abuse a ex player just for stating their opinion on a subject. I personally just feel with haven't really moved forward since 2013, so like you I don't understand we're all this optimism is coming from.
Paul Tran, I don't disagree with you, I don't know how we're are going to get the Nil Satis Nisi Optimum mentality back. While I was never Moyes biggest fans at least the players worked hard and largely gave 100%. Even our better players like Stones and Lukaku rarely perform very well.
Tony 257, I'm not pretending that Hibbert was a legend, nor did I state Everton will be bothered by me not attending. My personal view is just we shouldn't become like the RS, we should make tickets affordable, continue with our community work and treat ex players with respect.
Jay Wood
267
Posted 07/08/2016 at 03:32:13
The likes of Jim Hardin, Jamie Crowley, Brent Stephens and Christine Foster most closely echo my own sentiments on this thread.
Yes, I want a slicker more professionally run club which can seriously compete for titles and trophies, but that can be achieved alongside and not at the cost of simple basic courtesies.
I take a great deal of pride in how my club conducts itself and is a world leader within the ranks of professional football in such initiatives as EITC and the Former Players' Foundation.
How Tony Hibbert and Leon Osman discovered from friends and family their long association with the club was over, rather than being told face to face by someone of standing at the club, is at odds with how I expect Everton conduct their affairs.
I expect better from my club.
Rick Tarleton
268
Posted 07/08/2016 at 06:55:19
Exactly right, Jay. Hibbert wasn't exactly Alex Parker, but he was a loyal local lad, like Osman, and they deserved better. I want Everton to be better than that. You don't have to be in the Alex Young class to deserve a kind word and a handshake.
Anto Byrne
269
Posted 07/08/2016 at 07:08:38
Neither Pienaar, Osman or Hibbert came on to the ground to salute the supporters. Martinez had let these players know their time was up. Not like any of them are true legends of the club.
Hibbert has been content to draw a wage yet contributed nothing to the youth development. He could have got his coaching tickets. Nice work, £20k a week to swan around and do fuck all.
Eric Myles
270
Posted 07/08/2016 at 08:11:21
Tony #242, you, like most criticising on here, seem envious of Hibbert's money, not talent. As if someone who gets well paid should be shit upon and be happy to accept it.
Frank #245, no he didn't say farewell at his testimonial, that was in 2012, and his contract was renewed since then, it's now 4 years later when he's being released.
Paul Burns
271
Posted 07/08/2016 at 08:27:31
About time that "People's Club" crap was put to bed... meaningless drivel used as an excuse for failure.
John Audsley
272
Posted 07/08/2016 at 08:32:34
Unfuckingbelieveable.
Hibbert deserved to be told he was leaving, to hear from a mate shows the club can be pretty shambolic.
Didn't expect this reaction on TW.
Sam Morrison
273
Posted 07/08/2016 at 08:57:00
It wasn't Hibbo who awarded himself a new contract so the ire about that should be directed elsewhere.
It also wasn't Hibbo who decided how much he should get paid - he was fortunate enough to be around when the money in the premier league when stratospheric.
Hibbo didn't decide what his level of talent would be or what injuries he might suffer. The only thing he was in control of was the effort he could put in on the field - something that I never saw to be lacking at all.
Like the thread about Osman merely talking about Martinez on the radio, I just don't get the savage reaction. All he's saying is it wasn't a nice way to learn that the club he'd been at for years were letting him go.
Paul Kelly
274
Posted 07/08/2016 at 09:20:30
Hibbo got a cold shoulder, should get it treated at the FREE facilities at finch farm.
David Booth
275
Posted 07/08/2016 at 14:10:12
Sam (and many others): surely he knew the exact date his employment ended three years ago – when he signed a contract with an expiry date on it?
He has a diary, and maybe even a wall calendar I would wager?
Is he not capable of using them?
Hibbert's ill-advised decision to complain about his 'treatment' – after receiving an ill-deserved contract extension well beyond his value to the club – shows what a pampered, out-of-touch-with-reality bubble the modern-day footballer lives in.
When, with all due (now lack of) respect, a quite ordinary full back who has never made a mark outside Goodison seeks to publicly promote how sorry he feels for himself, and how Everton have 'let him down', it shows how ridiculously entitled they deem themselves to be.
This particular man has long survived on a sympathy vote from club and fans alike and been handsomely paid for doing virtually fuck-all for at least the last three years.
Hard done by? Upset? Angry?
How dare he, when many of us now gasp at the cost of a matchday ticket.
So get some sense of perspective all those who are sympathising with him.
These players think they are demi-gods. And your blind sycophancy fuels and sustains that belief from the moment they wake up on a morning, check their bank balance, go training for an hour, and then back to sleep again.
David Donnellan
276
Posted 07/08/2016 at 14:52:14
I think he has a point, he should have been sat down by someone at the club & told to his face that his Everton career was over & he deserved a send off from the fans on the last day of the season, I mean even Phil Neville got that!
I have no problem whatsoever about what money he was paid by the club, that is the market he works in. If you are a professional footballer playing in the Premier League or even the Championship you are going to be a very wealthy man.
I have always liked him, a decent player but not a world beater. I liked it that he was one of us, as I do when I hear any of our players are true blues. I liked that he appears down to earth, watching games with the fans & preferring to go carp fishing rather than falling out of Spearmint Rhino with a bottle of Courvoisier in his hand. I for one wish him the best for the future in whatever he does.
However, in my eyes he has scored an own goal by going to a shithouse right wing rag like the mail to air his grievances, he ended up coming across rather bitter, whether he intended to or not.
Eric Myles
277
Posted 07/08/2016 at 14:58:37
It seems like a lot of people on here would be quite happy to get their DCM on a Friday afternoon and would not complain about it down the pub at the weekend??
David Donnellan
278
Posted 07/08/2016 at 15:13:47
I wouldn't compare the local pub to a shit rag like the daily mail, Eric and I agree with you that this could have been dealt with much better. My only problem is him going to the daily mail of all papers! (Well any paper really) Take your grievance to those that our concerned.
Jim Bailey
279
Posted 07/08/2016 at 15:28:11
Astounded this thread has so many posts.
Taking away the ins and outs of whether or not he should have been told and questioning the club's professionalism and decency, he comes across as a spoilt, petulant brat with incredible double standards.
I' very disappointed with him, falls just short of YaYa spitting his dummy out because he didn't get a birthday cake.
Sad sign of the times, I suppose.

Barry Jones
280
Posted 07/08/2016 at 15:30:43
It was probably an honest mistake by the club. They didn't tell him he'd been released because they didn't realise he was still with the club the last three years.
Kevin O'Regan
281
Posted 07/08/2016 at 16:04:15
Just because a club / an employer pays you well does not mean that they should not also show you respect. Just becasuse it's possibly the norm, and happens daily in many places does not make it right.
It was bad form by EFC and should be put right, and not happen again – business or no business, respect is something which a club of EFCs tradition and stature should show to all players. Just cause some of you didn't receive that respect or wage does not mean Hibbo & Co don't deserve a bit of common decency.
David Booth
282
Posted 07/08/2016 at 16:23:26
Jim (279), equally staggered at the length of this particular thread - but it shows that, at last, football fans are finally beginning to wake up and resent the preferential treatment these most pretentious of people demand in every aspect of their day-to-day lives.
I always think that before complaining about what you haven't had or got, you should think a minute about what you have and have had.
As a footballer, with their unique, ivory-towered, privileged, idolised lifestyles, this need for a vital pause for thought is even more acute.
But here we have a multi-millionaire having the audacity to seek sympathy in the national press for how he has been 'wronged'!
Prima facie, how anyone of us who works 9-5, five or more days a week to earn a living can support that, beggars belief.
This failed right back wouldn't even lend anyone in this thread a fiver if you asked him for it - yet many have expressed compassion and would doubtless dig into their pockets for him if he ended-up skint in a few years' time.
Wake up.
It's we who are being insulted here. Not the club.
And least of all Tony 'I love me, who do you love' Hibbert.
Mick Davies
283
Posted 07/08/2016 at 16:30:42
Kevin @ 281, I think you're missing the point most of us are trying to make: Hibbert is an adult; he attended Goodison Park, Bellefield, and Finch Farm for all of his adult life; he has an agent who negotiates on his behalf; he had a contract extension to the end of last season... you still with me?
Even I knew his contract ended, but apparently, it was a shock for him that he was no longer an Everton player, so, why didn't he a) phone his agent and ask him when his contract expiry date was or, b) go to the buildings that he's been attending all his working life and ask someone in authority about the situation, instead of blabbing to the media, giving our club a bad name when he's has years of not having to get up and work 9 to 5, for a meagre wage, with no job security, worrying about paying bills and receiving no applause for the job he does
Jim Bailey
284
Posted 07/08/2016 at 16:52:01
David @282
I agree fully and hereby promise not to personally extend this particular thread any further.
David Booth
285
Posted 07/08/2016 at 16:54:17
Mick (283): precisely!

Andy Walker
286
Posted 07/08/2016 at 17:01:40
The view expressed that how much you earn should determine whether your employer should treat you with respect says more about those who have posted this view than Hibbert.
Everyone in employment irrespective of how much they earn, is entitled to be treated with basic respect and decency by their employer. If you reached your annual pay review, heard nothing from your employer, just got your next pay slip with no pay increase and then had to ask your manager why no increase or pay discussion? only to be told there's no pay rise this year, would this be ok? Presumably it would for some, sadly.
Tony Draper
287
Posted 07/08/2016 at 17:23:51
Do not recall the currently "deeply hurt" Mr & Mrs Hibbert running to "The Daily Mail" to express their delight and thanks when the last contract was secured, or did I miss that?
Andy Walker
288
Posted 07/08/2016 at 17:29:31
David @282, if you are that bitter and resentful about players earnings, why on earth follow the game? The money the players earn comes from the fans like you and me, either via ticket prices, TV subscriptions, merchandise, even posting on TW helps to cement footballs' value to advertisers and sponsors.
The game's evolved over the last 20 years, if you don't like what it now is you have a choice, but it's pointless complaining about those players who are fortunate enough to benefit from the financial rewards funded by us fans. Good luck to them.
Andy Walker
289
Posted 07/08/2016 at 17:35:12
Tony 287, 1 July 2014 Daily Mail:
'Tony Hibbert signs new two-year contract to keep defender at Everton until 2016'
You did ask.
Read more: http://www.dailymail.co.uk/sport/football/article-2677102/Tony-Hibbert-signs-new-two-year-contract-defender-Everton-2016.html#ixzz4GfI9n6ls

William Cartwright
290
Posted 07/08/2016 at 17:43:03
David @ 278; You may find that the Daily Mail went to Tony, not the other way round. Ask yourself why? I've accepted that the agenda of the anti-Everton media runs very deep to be clearly understood but it is there nonetheless.
Tony has shot himself in the foot over this and the club were stupid for giving him the opportunity, as well as the way they treated Osman and Pienaar. Yes, they had contracts extended past their sell-by dates; why? Who knows... but that has nothing to do with the lack of PR logic shown by all concerned. Made even more obvious by the quieter style of his two colleagues.
What price good management eh!?
Mick Davies
291
Posted 07/08/2016 at 17:57:18
Andy @ 288, "David 282 if you are that bitter and resentful about players earnings, why on earth follow the game? The money the players earn comes from the fans like you and me, either via ticket prices, TV subscriptions, merchandise, even posting on TW helps to cement footballs' value to advertisers and sponsors".
The vast majority of cash that the parasites in sport are feasting on comes from 'every' person in the world, whether they like sport or not.
When you see Sky Sports and all it's adverts for credit cards, McDonald's burgers etc, plus the boards they interview players, coaches etc in front of, that's where the bulk of the cash comes from. Without any consultation, every Mars Bar bought by a consumer helps to make these greedy sods richer. And if you think that doesn't affect you, the taxpayer loses out as this 'benevolent' advertising is tax exempt.
David Booth
292
Posted 07/08/2016 at 18:02:57
William (#280), very true.
We exist in a media world dominated by Liverpool, Man Utd, Man City, Chelsea and Arsenal.
The coverage they receive - particularly our neighbours, who they need no excuse to go into a masturbatory frenzy about - is truly nauseating.
Working on that profession, I know that headlines are there to sensationalise and copy is very often written to suit the author, not the subject.
But even allowing for an element of misrepresentation and misinterpretation, Hibbert has still marked himself as the most surprising of prima donnas.
For that he deserves no sympathy whatsoever.
He's received 'special treatment' almost throughout his career and especially since 2009.
He should have been shipped-out before the players even returned for training after his typically inadequate performance in the cup final, yet we paid him millions of pounds to stay with us for another seven years!
And he now has a problem with that?
David Booth
293
Posted 07/08/2016 at 18:11:11
Andy (288) and Mick (291), I stick with it, like you both, because I am a passionate Evertonian. I resent the obscene money they earn because, er, it's obscene! There's nothing I can do about either, apart from express my opinion.
And it's not about how much Hibbert earns per se – it's about his lack of gratitude and appreciation. Plus the fact he feels he is still owed something.
He'd make a brilliant Judean People's Front committee member, discussing tactics with with fellow long-standing under-performers, Osman and Pienaar (he was head & shoulders a better player than both of them): "Right lads, what have Everton ever done for us...?"
Brent Stephens
294
Posted 07/08/2016 at 18:24:57
I think what, for some of us, was a focus on the actions of EFC (deploring them for not discussing the contract situation with Hibbo personally or through his agent) has, for some others, become solely a focus on Hibbo: what he should have done before that by taking the initiative in clarifying the situation earlier (which he should have); and what he should not have done after in talking to the Daily Mail about it (which he shouldn't have). They can all be valid points. I think they are.
I'm saddened at the personal vitriol in this. It demeans us as Everton fans. Once a blue, always a blue, and all that.
Martin Mason
295
Posted 07/08/2016 at 18:34:27
Remember that those football players who make big bucks are a tiny percentage of the millions that play the game. Making it to the top earning wise needs a lot of application.
Remember though that EPL teams are playing to packed houses and away tickets almost impossible to get. I think what these thick young men and their agents get paid is obscene but how to stop it? The answer is nothing because it's a simple matter of supply, demand and free trade which I fully support. I won't go and watch a game live any more but it doesn't matter, the damage is done by my Sky and BT Sport subscriptions without which I can't watch F1, MGP, Cricket and Rugby. I get the football whether I want it or not.
Brent Stephens
296
Posted 07/08/2016 at 18:36:41
As I suspected, Martin, it's all your fault!
Eric Myles
297
Posted 07/08/2016 at 18:41:23
"When, with all due (now lack of) respect, a quite ordinary full back who has never made a mark outside Goodison "
Don't you find it a little incongruous David (#125) that we are happy to let a defender that can't defend go for 㿞m, but criticise a defender who knows how to defend??
Eric Myles
298
Posted 07/08/2016 at 18:45:12
David #293 "He'd make a brilliant Judean People's Front committee member, discussing tactics with with that fellow long-standing under-performer, Osman and Pienaar (who was head & shoulders a better player than both of them): "Right lads, what have Everton ever done for us...?"
Where has Hibbert ever questioned what Everton has done for him?? Have you ever heard a bad word from him before now?
Dan Davies
299
Posted 07/08/2016 at 18:53:12
I questioned Hibbert's motive of going to the press earlier in the thread and if the 'Mail' contacted him digging for a story that makes more sense.
It does portray him in a slightly ungrateful light. I wonder if that is what he wanted or has this been skewed by the journo, I wonder?
Seeing as he's been with the club since he was 10, could the club have offered him some sort of role, even if it was teaching kids how to defend?
Eric Myles
300
Posted 07/08/2016 at 18:56:29
I expect that all those who complain about Hibbo's weekly wages will never watch a football match again considering you are perpetuating the money-go-round.
Not only that but you'll never go to a cinema again to watch those overpaid prima donnas? And miss out on the daily dramas of Coronation Street and Emmerdale too??
David Booth
301
Posted 07/08/2016 at 19:04:08
Eric (297), that's apples and pears.
As far as I'm aware, we have categorically stated we are not happy to let him (Stones) go.
But I'm not criticising Hibbert principally for his defensive qualities, although I have never been consistently impressed by his ability to do so.
His shamefaced, 'woe is me' crocodile tears are the issue here?
If he was daft enough to 'forget' his contract had run out by himself, who's to say the club hadn't, indeed, confirmed that officially and he'd missed that as well?
I would find it staggering if they hadn't and just deleted him from the 'current employees' HR file without any form of official communication.
So who's to say he's even presenting a true picture?
So it's not a case of his footballing skills, or the size of his pay packet here.
It's that after contributing nothing for three years, he has had the front to claim he's been hard done by.
For me, it's the audacity and questionable validity of that that irks.
Looks like he's petulantly aggrieved because he didn't get a Hollywood send-off.
Perhaps Spielberg could be persuaded to produce 'Tony Hibbert: the movie...'? Maybe that would placate him?

David Booth
302
Posted 07/08/2016 at 19:05:17
Eric (298): he has now!
Ian Linn
303
Posted 07/08/2016 at 19:08:09
I don't think Hibbo deserved the ending he got from the club and I definitely don't think he deserves the vitriol from a lot of people on this site.
I wish all Everton players showed the commitment on the pitch he did.
Ste Traverse
304
Posted 07/08/2016 at 19:11:34
It should have been handled better, but because of his lack of contribution over the last 3 years I have little sympathy for Hibbert.
He's basically been picking up more in a week than most of us earn in a year for fucking off to France fishing. Cry-arsing to the press (a rag as well) was probably not the best idea.
And people have mentioned his 'loyalty', well I don't recall him turning down potential moves to stay here. I don't recall anyone even being linked with him.
He was very limited player who did a good job for us. The club should put this to bed by getting him and Osman on the pitch at half-time in the Spurs game.
Andy Crooks
305
Posted 07/08/2016 at 19:19:01
I expect Tony is appalled at what the Daily Mail have done to what might have been an expression of disappointment. I doubt the club made a conscious decision to snub him either.
I imagine someone at the club, responsible for that sort of stuff,has fucked up. It shouldn't too hard to put right.
I don't get, though, what he earned has to do with it. What level of pay must be reached before being disregarded doesn't matter? When you are a mid table club getting the little stuff right makes a huge difference.
Brent Stephens
306
Posted 07/08/2016 at 19:25:15
Andy, the answer is if "I" am to be made redundant, then common decency demands that "I" should be told personally but if it's somebody who is paid more than "me" then they don't matter and common decency doesn't come into it, cos I don't like people being paid more than me.
Ron Marr
307
Posted 07/08/2016 at 19:32:49
Yeah it was unfortunate there was no formal contact, even if to state the obvious. I wonder if after the nightmare ended, and before Koeman was hired, that maybe the two Bobs, the consultants from Office Space, were hired, and it went down like this:
Bob #1: Tony Hibbert.
Everton Mgmt: Who's he?
Bob #2: You know, squirrely looking guy, mumbles a lot.
Everton Mgmt: Oh, yeah.
Bob #1: Yeah, we can't actually find a record of him being a current employee here.
Bob #2: I looked into it more deeply and I found that apparently what happened is that he was laid off five years ago and no one ever told him, but through some kind of glitch in the payroll department, he still gets a paycheck.
Bob #1: So we just went ahead and fixed the glitch.
Everton Mgmt: Great.
Everton Mgmt: So um, Hibbert has been let go?
Bob #1: Well just a second there, professor. We uh, we fixed the *glitch*. So he won't be receiving a paycheck anymore, so it will just work itself out naturally.
Bob #2: We always like to avoid confrontation, whenever possible. Problem solved from your end.
Andy Walker
308
Posted 07/08/2016 at 19:34:43
Andy, I agree, how much someone earns, or doesn't, should have no bearing at all on how you treat them, that's basic human decency.
People who believe it's justifiable to treat him in a disrespectful way simply because he earns much more money than them are the ones who have the problem.
Bitterness, jealousy, false sense of entitlement, who knows why some folks feel this way.
Brent Stephens
309
Posted 07/08/2016 at 19:42:19
Andy (W), I hope you didn't see my #306 post as anything more than tongue firmly in cheek!
Andy Walker
310
Posted 07/08/2016 at 19:43:58
Brent, I did wonder mate! ;)
Eric Myles
311
Posted 07/08/2016 at 20:26:59
David (#301) apples and pears? If a defender who can't defend is worth £50mn, what price is a Hibbert worth?
Gotta be double that.
Eric Myles
312
Posted 07/08/2016 at 20:29:45
David (#302) and justifiably so, like Ossie before, and no doubt others to follow.
David Booth
313
Posted 07/08/2016 at 21:22:13
Eric (301), I appreciate the point you are trying to make - but are you seriously suggesting Hibbert was twice the player Stones is?
Can't remember anyone bidding for him - or ever having been likely to - never mind those football Monopoly players at Chelsea and Man City.
Stones meanwhile, would become the country's highest-value UK defender if he moved right now. So irrespective of our respective opinions, there is no comparison.
Different era and far different players. And no real relevance in this thread?
You're straying from the point here: which is that Hibbert feels sorry for himself, after earning millions for being retained well past his point of usefulness.
I would suggest part of the reason for that unmerited extension was Evertonian sentiment - the exact quality he is petulanty claiming he hasn't had quite enough of!
And (302), 'justifiably'?
Do you seriously believe for one minute that he received no notification whatsoever from the club prior to, or on expiry of his contract?
Even if that were the case, more fool him and his agent, for not checking well in advance - when, logically, the date would have been re-confirmed?
It would be very interesting to hear what the club had to say on this matter, wouldn't it? I am sure they would confirm that he had been informed the same as every other player who comes to the end of their contract.
Mike Connolly
314
Posted 07/08/2016 at 21:31:46
Had to Laugh, Howard got a send-off from the Fans. Herbert would have as well….But guess what? He was injured again and not selected against Norwich. Good servant but mostly popular with the fans because he had not scored a goal.
I'd happily swap our niceness for some trophies that eluded us through the Herbert years. May be he could limp on at half-time at a match for some appreciation off the fans.
James Power
315
Posted 08/08/2016 at 08:44:15
Really enjoyed this thread, some very funny comments. I think a) he should have been spoken to b) should not have gone to the papers.
However, I am a little confused and surprised it has yet to be questioned, if he hasn't been in touch with the club or the club with him, how has he been told he can still use the facilities and hence his subsequent embarrassment (presumably due to once being the main man and now yesterday man)?
James Power
316
Posted 08/08/2016 at 08:47:01
ps: Has anyone read "My father and other working class football heroes" by Gary Imlach? Clubs used to treat players so much worse back then.
Of course two perceived wrongs don't make a right. It's a great book anyway and shows how far the balance of power has shifted as well as the game itself.
Eric Myles
317
Posted 08/08/2016 at 08:56:06
David (#313), given that a defenders first priority should be to know how to defend, something that's been sorely lacking the last couple of seasons judging by the goals against column, don't you think that one that can would be more highly regarded than one that is lacking in that department? Even Williams from Swansea is being seen as an upgrade on Stones, and would be worth twice Stones's fee if we concede half the amount of goals and finish in the top 6.
I don't see Hibbert's confirmation of Osman's previous comments on the running of the Club to be a 'woe is me' complaint, more a 'woe is Everton' in that we are turning from a loyal family club with values and decency into one that represents everything that we know and love about our neighbours over the park, or the chavs from London.
Colin Glassar
318
Posted 08/08/2016 at 11:19:40
Talk of cold shoulder, poor Samir Nasri only a few weeks ago said, "I'm definitely a Guardiola type player". He's just been put up for sale. Football is a cold-hearted business.
David Booth
319
Posted 08/08/2016 at 12:13:12
Eric, Stones v Hibbert is a separate issue in this context I think.
However, if you genuinely believe Hibbert was better than Stones, I rest my case on that one! Out of form (as every post-Martinez player), the latter may be, but come on, you're playing devil's advocate and seeking to divert the discussion there I suggest?
Meanwhile the fact that Osman too has been lamenting the fact that 'fings aint what they used to be...' just reinforces the ludicrous nature of his fellow whinger's subsequent sob story.
How interesting that the two chief architects of Everton's recent mediocrity, who have enjoyed a cosseted, favourite sons' lifestyle while contributing naff all for years and being well-paid for it, now see fit to moan when they've been dispensed with.
Some gratitude for a club who has bent over backwards to retain them, pay them well and extend both their contracts way beyond their validity and usefulness.
For them to criticise Everton for not continuing to fawn over them any more is vain and immature beyond belief.
Talk about biting the hand that fed them...
Welcome to the real world you hypocrites.
Steve Smith
320
Posted 08/08/2016 at 13:31:02
Probably already been said above. What were the agents of these three players doing during the last six months of their contracts?
I just do not believe that any of these players were expecting new contracts, in Hibbert's case, there isn't a supporter that I know who wasn't amazed that he'd been awarded a new two year contract last time.
Hard to judge whether the club could have done things differently because they haven't said anything or responded to Hibbert's comments. Either way, the lad has had a profitable career with us and I imagine will be offered a free seat at our new dockland stadium any time he wants one.
Ernie Baywood
321
Posted 08/08/2016 at 13:44:32
I doubt any of them expected contracts. Hibbo just thinks the club should have told him he was being released before they told the media.
Jim Burns
322
Posted 08/08/2016 at 18:26:06
What a can of worms!
Level of income - not relevant.
Relative level of ability - not relevant.
Frequency of appearances lately - not relevant.
Simply a question of Everton ensuring their communication with a long standing and loyal player was managed correctly. Not rocket science, and should be the norm.
Some of the vitriolic comments on here towards Hibbo are way over the top. I've never met the lad, maybe some on here have and can justify descriptions such as 'shithouse' .

Jim Burns
323
Posted 08/08/2016 at 18:34:48
Oh - and if the view that Hibbo is out of order for going to the Press to moan does carry weight - then timely and appropriate communication from the club to him would avoid giving anyone - media included - the opportunity to stir the shit and show the club in a bad light.
Bottom line here - simple, timely and respectful, communication from the club should be the norm.
Stan Schofield
324
Posted 08/08/2016 at 20:14:07
Jim, I agree that some of the comments are over the top. At the same time, I'm a bit surprised that the whole thing got into the public arena the way it has (through MailOnline), apparently without any coverage of the club's side of the story. Knowing media coverage for what it can be, inaccurate in so many cases, it's important to be careful about drawing any conclusions without a sufficiently full knowledge of the facts.
Mick Davies
325
Posted 08/08/2016 at 00:16:45
Jim @ 322, he has an agent, why between them couldn't they work out something that WE all knew: his contract expired this Summer... does he need agents to tell him when his grass needs cutting, or his car is about to run out of petrol?
I'm pretty certain the club's solicitor would have put down a date. And didn't he get a testimonial, awarded to him by this nasty club, who should have allowed this ageing crock to play in the last game v Norwich – at the expense of Coleman – even though he was injured?
I've never heard Hibbert come out in the papers and complain about the problems at Everton, ie, the lack of investment, the aborted ground moves, the mismanagement by Martinez etc. But as soon as something upsets him, he puts the boot in, to embarrass the club that he should have been honoured to play for (and be well paid by) when no other Premier League club would have been interested in this player of limited ability... thanks for the gratitude, Tony.
Mike Corcoran
326
Posted 09/08/2016 at 00:34:16
Wages etc wtf, Hibbo and any employee anywhere should be treated with dignity when the time comes.
Mike Corcoran
327
Posted 09/08/2016 at 00:37:25
One of the finest tacklers of the post Premier League age too!
Jim Burns
328
Posted 09/08/2016 at 09:14:13
Mick @ 325. No need to complicate it ,second guess what players agents or club solicitors did or didn't do. My point is that it isn't necessarily about Hibbo alone - irrespective of the level of vitriol spat at this lad in hindsight.
Any employee - from the best paid player to the tea lady - should have been given the simple respect of a well communicated exit process.
Two reasons - one, every employee is entitled to that respect; two , it protects the reputation of the club from poor publicity / attack .such as this one.
It's simple and should be the norm.
Mike Berry
329
Posted 09/08/2016 at 12:54:43
Its the way of the world. Modern management skills Bah! Hibbo was always one of us on the pitch. Always wanted him to get THAT goal. Yes, I was at his testimonial. The club should give him a job as some sort. He is a genuine cult hero. Whatever you do Lad, the best of luck and thanks
Peter Swift
330
Posted 09/08/2016 at 15:26:03
Am I alone in being disappointed by the way these two loyal stalwarts have been treated? It is not the Everton Way. There is no excuse for someone in the club's management not meeting them for a chat – it's simply good manners.
I think we should chant their names at each game until the club bring them on the pitch at half time to enable us to say goodbye – and thank you – in a proper manner. Come on Everton – you are classier than this.
---
Add Your Comments
In order to post a comment, you need to be logged in as a registered user of the site.
Or Sign up as a ToffeeWeb Member — it's free, takes just a few minutes and will allow you to post your comments on articles and Talking Points submissions across the site.
© ToffeeWeb