Leaked consultation document offers further hints at Bramley-Moore Dock specs
Saturday, 16 February, 2019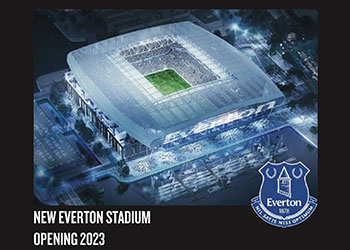 This artist's rendering is believed to be a placeholder based on a very early design concept
Everton will reportedly launch an internal probe into how a Meis Studio presentation to club stakeholders has emerged on a supporters' website.
A PDF from last November's consultation over the Blues' proposed new ground at Bramley-Moore Dock showing initial plans for the stadium's layout and architecture was leaked by EvertonArentWe.com last night and reported on nationally by The Mirror.
The document, put together by Dan Meis, the US-based architect tasked with designing the structure and its surrounding features also shows an artist's rendering of a possible design for the 52,000-seater stadium but it is understood that this is not final. (For example: The artist's rendering looks similar to a very early concept design from when a dockside location was first proposed and features a cut-away portion in the north stand that does not appear in the overhead layouts in the PDF.)
The PDF features schematics of the potential stands at Bramley-Moore Dock, including the South Stand which would house the home end, with options provided for safe-standing on the lower terrace together with comparisons to other Premier League stadia.
There is also an overhead plan of the site with plans for a riverside car park for 700 cars and a fans plaza adjacent to Regent Road and the listed hydraulic tower which would remain in the corner of the complex.
Having released the results of the initial consultation of supporters and local residents, Everton plan to canvass fans further this summer over more specific elements of the ground, including its design and the final capacity which remains a source of controversy.
The Liverpool Echo suggest that an investigation into the leak will be undertaken.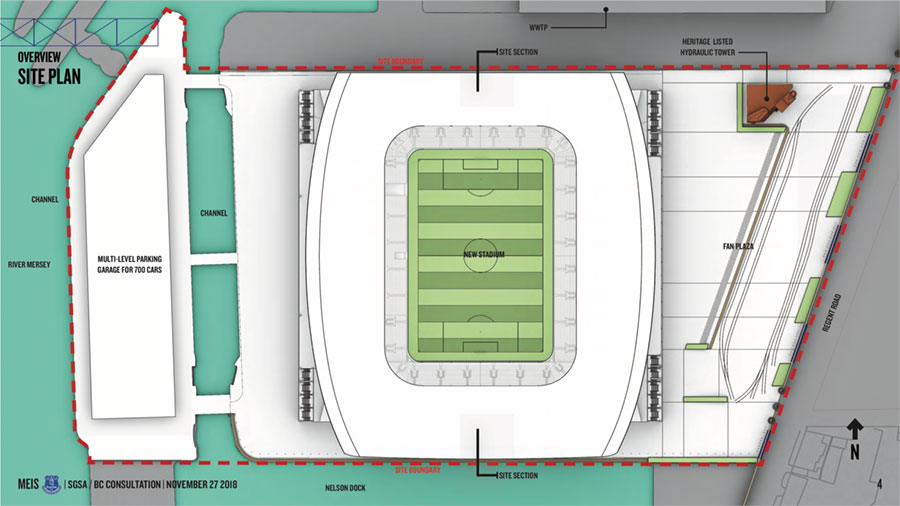 An overhead view of Bramley-Moore Dock shows how the stadium would be orientated on the site using the full width available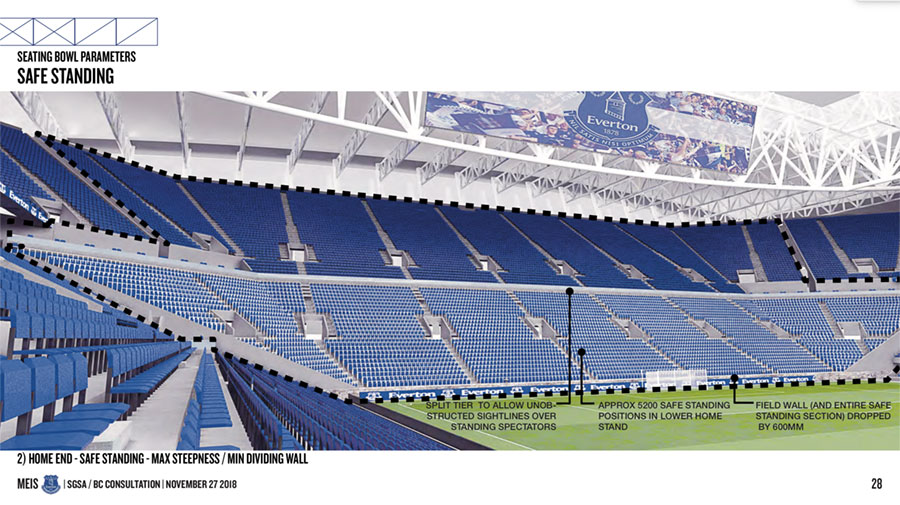 The home end would be housed in an expansive south stand that could feature safe standing in the lower half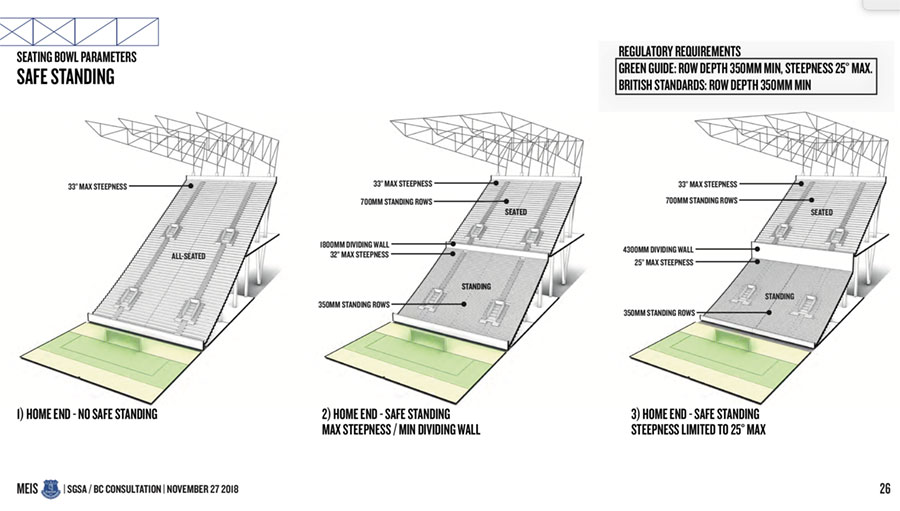 ---
Reader Comments (115)
Note: the following content is not moderated or vetted by the site owners at the time of submission. Comments are the responsibility of the poster. Disclaimer
Karl Parsons
2
Posted 16/02/2019 at 08:35:37
Doesn't tell us much we didn't already know. But can anyone tell me why do we need to fill the dock in when the space could be used for underground car parking instead of that big ugly thing next to the stadium?
Steve Ferns
3
Posted 16/02/2019 at 08:48:41
Drain the dock, convert it into a car park and put a stadium on top. Nice idea Karl. I don't know if it's feasible though.
Billy Roberts
4
Posted 16/02/2019 at 09:04:10
Nice to see some images, wether they are accurate or not is another thing.
I'm trying not to be negative about this but wouldn't a multi-level carpark of that size and positioned riverside completely obstruct the view of the stadium from the river?? This defeats the object of having a unique riverside setting doesn't it?
Like a lot of other amateur architects I always thought a stadium on top of a multi-level car park would be fantastic, why does the pitch have to be at ground level or sea level in this case.
That would solve it, Dan Meis!! Give me a call.
Clive Rogers
5
Posted 16/02/2019 at 09:05:52
I can just see myself after the game, looking down on my car under 60 feet of water with bubbles coming up. This is EFC.
Chris Gould
6
Posted 16/02/2019 at 09:10:19
If you haven't clicked on the PDF link then make sure you do. It all feels very real, and the overhead image is incredible.
Billy, the images seem to suggest that the car park is not elevated. I'm guessing it's ground floor and then basement levels (under water). So it wouldn't block the view of the stadium.
Steve Hogan
7
Posted 16/02/2019 at 09:19:10
Jesus, some preliminary drawings are 'leaked 'and people are up in arms about car parks, views from the river, why the ground is facing a certain way etc etc.
For the record Dan Meis the appointed architect is probably the best on a global basis at designing sports stadiums.
Can we not celebrate the fact, that despite the doom and gloom happening on the pitch, the club at least seem to have made the right appointment in selecting the right person to design our new waterfront stadium?
I'm sure before a brick is laid, the guy will be back on Merseyside to explain why he chose the design he did and the location.
Let's find a reason to be positive for a change.
Richard Duff
8
Posted 16/02/2019 at 09:34:01
Still not sure why 52,000 was agreed. I can see how the footprint is restricted to force capacity down but the comparison of the new side elevation versus slices from comparison stadiums suggests we could go taller to add more.
Also, the aerial render at the end looks a bit underwhelming compared to Chelsea and Spurs. I hope that's because we choose brick and wood to compliment the location rather than smoked glass and chrome for the London bling.
Love the idea of the wall behind the goal though.
Derek Taylor
9
Posted 16/02/2019 at 09:37:25
So very dated and ordinary. I was hoping this wasn't the real thing!
Alan J Thompson
10
Posted 16/02/2019 at 10:00:30
Have we been consulted over this leak?
Colin Glassar
11
Posted 16/02/2019 at 10:01:10
I think it looks ace. I would've liked some iconic symbol of our history as a city stuck on the roof, but that might be included in the final sketch.
My only concern is the pathway to the car park. How many drunks, or idiots, will be falling into the river after a game?
Joey Crawley
12
Posted 16/02/2019 at 10:08:55
Nicely "leaked", Bill. Just the tonic the fans needed to appease the baying hoards.
I for one say "build it, build it now!" Farhad get in the blower to Alisher and get some roubles in, then back on the blower to Chong to get on the blower to Samsung in Seoul as I'd never trust an English firm to build this, just look at the Royal Liverpool Hospital, too much corruption, too little pride in their work.
The Koreans in association with the Germans built us the Mersey Gateway, a truly wonderous feat of engineering, in budget and kinda on time. Now we just need to get Peel on board and get the diggers out.
Once the ground is built and the Usmanov billions are flowing, we can all consign this false new dawn to the dustbin of history and finally put the Moshiri, Usmanov, Arteta, Brands plan for world domination into top gear, it's gonna be sooooo beautiful, uuummhahahahaha.
Stu Gore
13
Posted 16/02/2019 at 10:19:55
Isn't the reason the pitch is terrible at Monaco's stadium because the car park is underneath? Sure I heard that somewhere. Love the wall behind the goal with the mooring posts.
I would've liked to see brick outside to match up with the tobacco warehouse. Looks great. Hope we can have the standing sections.
Tony Everan
14
Posted 16/02/2019 at 10:20:55
It feels like spring. Is it April the 1st already?
A stadium adjacent to the river and the river view of the iconic stadium blocked off by a multi-storey car park ?
This is what it is all about, the magical stadium adjacent to the river. Every pre-match and PR shoot of the stadium will be from the river with the stadium as the iconic backdrop. To even think that there would be a multi-storey car park in the way is utter madness.
Whoever came up with that wheeze shouldn't be trusted to make the tea. Never mind anywhere near a design board.
Here is an idea, build it somewhere else, nearby. Out of the way.
Passenger A on the cruise ship: ''Where is Everton's new iconic world class stadium? I can't see it!''
Passenger B: ''Just over there, if you look closely, you can see the floodlights just behind that multi-storey car park.''

James Marshall
15
Posted 16/02/2019 at 10:44:01
These are concept designs from what I've read, not the final draft.
Also, the car park looks way lower than the stadium anyway so it won't obscure the view. Do you think the designers might have considered that aspect? Maybe, just maybe they have thought about it.
Just a thought.
Pete Cross
16
Posted 16/02/2019 at 11:09:01
Brent Stephens on Overwhelming Support for BMD thread has posted a link to all 40 pages of the consultation breif.
It gives a lot more information.
Anthony Murphy
17
Posted 16/02/2019 at 11:12:57
Trying to be positive because there are so many positives here but I'm disappointed if completely honest! Hate saying that and I totally appreciate this isn't the finished spec, but it just lacks character for me (internally mostly).
I would love to see the Archibald Leitch criss-cross featured somewhere - for me the most obvious nod towards Goodison. The relatively small amount of executive boxes is in all honesty a missed opportunity although I wouldn't advocate for cheese shops like the new White Hart Lane.
Having a reclaimed brick wall behind the goal looks awful if you ask me, but it's just an opinion.
Brian Harrison
18
Posted 16/02/2019 at 11:13:13
I saw the pictures that were posted on Twitter yesterday, and although maybe not the finished article I am sure the finished design won't be a million miles away from these pictures.
I said last week that the second consultation taking place later in the year will be more about explaining why the 52,000 figure has been decided on rather than any plans to change the basic design. I am sure during that second consultation is when both Dan Meiss and the club would have wanted to release these plans, rather than them being leaked now. But they have been leaked and you can't put the genie back in the bottle.
I am sure over the coming days the club will put out a statement saying this is just a draft idea and they are still considering what the stadium capacity will be. I have never understood the need for a second consultation, surely the most important thing was to get approval from people living in the area and local businesses to make sure the planning application would have no objections when they put it to the Council.
The first consultation seems to have been given a massive thumbs up by all the relevant parties, so what the second consultation is for, I have no idea.
I know its being painted as a chance for fans to have their say on the design and capacity. But last year Dan Meiss did workshops with the fans were their views were aired, with most wanting a 60,000 stadium. Made up of seating and safe standing which looks like safe standing is part of the 52,000 capacity design.
This was also reinforced during the first consultation, despite all the information that has been released about the first consultation, I haven't read anything about what capacity the fans wanted during that consultation.
Frank Crewe
19
Posted 16/02/2019 at 11:13:40
Why are people making such a big deal out of the car park? I'm sure the architects have taken into account views from the river. It is not possible to tell from the plans just how high the car park will be.
'Multi-storey' simply means more than one storey. It may just be two storeys high with the lower one below ground level. If you look at the placeholder picture, the car park is an open-air ground-level park so presumably the 1st level is below ground level. It does not obscure the view of the ground at all.
No architect in their right mind would block off a river view of their own creation with a bloody great car park. For their own reputation and prestige, they would want everyone to see it in all its glory.
Anthony A Hughes
20
Posted 16/02/2019 at 11:19:10
Interesting design and looks impressive although in the size comparison section with the other clubs stands it looks a little on the small side.
Phil Martin
21
Posted 16/02/2019 at 11:50:39
I understand these may not be the final designs.
That said, I don't find the interior pictures particularly unique or inspiring. There is nothing distinctive from what I have seen.
I really hoped the rumours about doing something similar to the Lucas Oil stadium would be true The capacity is mediocre. I'mm not feeling inspired from those pictures. It's just a smaller, less inspiring version of what Spurs are building.
Tom Hughes
22
Posted 16/02/2019 at 11:51:37
I have a few slight reservations about the leaked document. Haven't read it all but it appears to only show 5000 safe-standing rail-seats in the home end (convertible to 10,000 if 2:1 ratio if granted under new legislation). Plus 1,500 (convertible to 3,000) in the away section). So, I can't see how 62k is ever going to be attainable in this format. Tbh, the car park will probably act as a much needed wind-break on this very exposed side, and needn't be as high as the stadium generally.
Bottom line is, unless the site prep and acquisition costs are half the total costs (which itself would be ridiculous), then this is nowhere near a £500m stadium. Looks like only 30 boxes, unless they have some diddy ones in there (less than practically all Premier League clubs I think), and pretty much standard fayre otherwise.
Given that this site should lend itself to hotel use, you would expect 3-4 times that number of boxes, all convertible to hotel rooms for 365-day usage. With external private boxes (rooms) too. Not to mention a full or sliding roof for concert/arena conversion, and general comfort. No advantage taken of using a slightly sunken pitch in the dock basin, to minimise construction cost and stadium height.
Looks like it would've had to be a completely different orientation for Commonwealth Games conversion too, meaning that the whole site is nowhere near being fully utiised and is not as capacity-restrained as suggested previously. Hopefully, it's not the finished article.
Phil Martin
23
Posted 16/02/2019 at 11:59:23
Tom, I agree totally. It feels like they went to the best architect and asked him to draw the most modest, cost-efficient stadium he could think of. As opposed to "design us something special and then let's look at where we can cut some of the costs".
Neil Copeland
24
Posted 16/02/2019 at 12:08:49
Clive #5, don't worry mate – if you can still see your car below water that murky it will only be about 6 feet down!
Chris Masters
25
Posted 16/02/2019 at 12:10:52
It doesn't matter if we have or indeed will have the best stadium on the planet. This site would still be full of Evertonians negatively berating every minutia from the size of individual car parking spaces to the colour of the seats in the toilet block.
Chill out, people, and don't sweat the stuff that we the fans have no control over. Opinions are fine... but almost entirely negative most of the time on this site. Suddenly remembered why I try not to log on any more.
Mike Littler
26
Posted 16/02/2019 at 12:17:30
Compared to the current and future stadiums in the Premier League, this looks distinctly midtable with very little scope to expand or develop. Hopefully the final designs will be altered massively otherwise I fear we will be too far behind our peers before it's even started, let alone finished!
Tony Everan
27
Posted 16/02/2019 at 12:18:29
I just have to be positive about it all really though.
It's a near miracle that we are on the brink of getting a waterfront stadium. I have recovered from my knee-jerk reaction to the multi-storey car park and realise it will fit seamlessly into the design.
Only one niggle is when the comparisons are made on the PDF link to the top six clubs capacity-wise, I would like our capacity to be a bit closer to theirs so that there is no meaningful conception of being a smaller club, capacity-wise.
Raymond Fox
28
Posted 16/02/2019 at 12:21:32
Its a very big improvement on Goodison and I welcome that, it looks good.
It also has the potential for the capacity to be increased to 62,000 if required and so brings us in line with our top opposition, so again good.
52,000 capacity is more than adequate for us now, but who knows... maybe by the time it's built, we will have a team that requires a bigger stadium, let's hope so.
Wouldn't it be great if Moshiri's Russian mate could come fully onboard and make that happen!
Tony Twist
29
Posted 16/02/2019 at 12:22:53
Well, with regards the external view, that must have taken about half an hour at the end of the day to decide on the look! Hardly inspiring.
Mike Littler
30
Posted 16/02/2019 at 12:29:49
I didn't want to be negative but, if this is anywhere near the final design, then I fear it's nothing more than a larger Riverside Stadium and not even close to any of our peers. It's mid-table sized, hardly any boxes, and reliant on safe-standing to boost capacity (all other clubs will benefit from this also, so I struggle to see how it helps).
£500 million for 12,000 more seats 30 or so more boxes will condemn us to mid-table as opposed to elevating us to the top table. "Behind before we start" comes to mind.
Andrew Myers
31
Posted 16/02/2019 at 12:37:38
Chris #25,
Well said, I fully agree with you. I posted similar sentiment on another thread a few days ago about the continuous negativity on this site. One day we should challenge the site to start a thread where only positive posts are allowed – it would probably remain blank!!
Paul Hewitt
32
Posted 16/02/2019 at 12:37:50
Steve @3. It is feasible.
Colin Malone
33
Posted 16/02/2019 at 12:37:52
Looks like a bowl shape to me, just like the Emirates and London stadium, Stadium of Light etc. Not what we were promised.
We need clarification from the club, because if this is the project, I would want to stay at Goodison.
Derek Knox
34
Posted 16/02/2019 at 12:43:33
Dan's better than I had originally imagined, how did he get all that design, on the inside of a cigarette packet?
I had never imagined the projected image to be the shape as shown, but having said that, it does look quite impressive after you study it for a while.
Loved a lot of the posts from fellow TW'ers, like some have mentioned the under-stadium car park sounds a good idea, but I would imagine the logistics on this have been examined and presumably dismissed, because of practicality and cost.
There is also the pitch factor, "grass not growing on a busy street", seems a suitable analogy, although it is usually proclaimed by the follically challenged, as to their mental capacity.
At least we have had a glimpse of what the Stadium will approximately look like, even though it has been a 'leak', another reason for the dismissed underground car parking possibly.
I hope there is not too much of a delay in investigating the 'leak' as this could slow the process down too. It has certainly piqued interest and been released when skies are greying at Goodison recently.
Denis Richardson
35
Posted 16/02/2019 at 12:48:09
2023 — not too long to wait.
Just hope it's the likes of Man Utd and Man City we'll be entertaining and not Tranmere...
Steve Ferns
36
Posted 16/02/2019 at 12:51:54
Having read the entire booklet Brent posted, I have to say I am actually very excited by this and not at all underwhelmed.
There's little on the outside of the stadium save for a thumbnail at the very end. I suppose this part is yet to be finalised as it is harder to design the outside when the inside is still in progress.
As for the worry about the lack of boxes, why is that a concern? I am sure that will be spot on.
In terms of the large corporate seating, this is not boxes but the seating for the lounges. We already have made the most of this at Goodison. I sit in The People's Club lounge and the seating is in the middle of the Park End. There is a second lounge called the Captain's Lounge and they sit in the same part and have their lounge next door to us in the Park End.
There is also a load of them in the Main Stand as well as actual boxes:
Hospitality Suites at Goodison Park
It's the corporate seating that needs to be expanded. Everton struggle to sell the actual boxes and that won't change in the new ground. The facilities won't actually be any better. In terms of corporate lounges, again, I can't see this being much better in the new stadium. It is sold out but if you tried to get in for next season, I think you'll get a season ticket. The packages are very reasonable considering what other clubs charge.
So I struggle to see the criticism here. The club know exactly where they are at with this. Any decision on the numbers will have been made very carefully.
Steve Ferns
37
Posted 16/02/2019 at 13:00:45
Sorry, I forgot to add the main thing I wanted to say. If the ground is 52k, then I can live with that.
When you see the stands super imposed and you see just how it is designed so we are ALL so close to the pitch and all of our sight lines are perfect, then that's the most important thing.
The entire stadium looks like it's been built with atmosphere as the most important thing, even the only thing. So, it looks a real fans stadium, not just one that looks good on telly or a PlayStation.
Paul Richardson
38
Posted 16/02/2019 at 13:09:23
The two enormous things to bear in mind are:
Does it separate from the other lot?
Does it create a unique riverside stadium, an iconic landmark worthy of British Heritage status, part of the landscape of Liverpool, like the Liver Building?
After that, it is the stuff which generates emotions in Evertonians, such as:
Some obvious recognition of our magnificent history (the best in the history of the worldwide game) without being, as Moshiri says, a museum?
Intimidating... home end in particular?
Rocking sound?
After that, it is:
Corporate boxes and hotel rooms... easy money.
Marketing!!!
Peel's induction/involvement... this is the masterpiece in their plan, so what are they bringing (financially in particular) to the party?
A lot to pull together... if all of this has been thought through. And a desire, while all this is going on, to be a top six club.
When I think this through, the 'top six club' aim can wait for the stadium... but what guarantees are there (see Arsenal and Usmanov)?
At least it gives us the chance to be top six... we will continue to be Don Quixote if we don't and I have faith in the Evertonians coming through our youth system to be in place by 2023... just... to be worthy players in the pantheon of gods!

Bobby Mallon
39
Posted 16/02/2019 at 13:50:36
I can't wait to take my sons there...
Don Alexander
40
Posted 16/02/2019 at 14:02:50
Not only are we leaking goals on the pitch, we're now leaking docs from the office. Has the Everton Admin Office gone "zonal" too?
Moving on, just about anything in terms of sight-lines has to be better than dear old Goodison but moving to a riverside stadium with only a 180 degree radius is likely to be very testing re car parking.
Looks good on paper though.
Steve Ferns
41
Posted 16/02/2019 at 14:11:47
What do you mean by a 180-degree radius, Don, and why is it important?
Jerome Shields
42
Posted 16/02/2019 at 14:18:31
Is all the Admin going to be in the Liver Building?
Paul Tran
43
Posted 16/02/2019 at 14:20:09
There's a lot of talk about the new stadium keeping the rocking Goodison atmosphere. A rocking atmosphere requires the people in it making the noise. Surely if no-one makes any noise, it won't matter how the stadium is designed?
John Wilson
44
Posted 16/02/2019 at 14:57:28
I looked at the pdf. The capacity should be viewed from perspective of how many seats are needed for fans in the future. Is even 60,000 maybe enough?
Look at EFC ground in comparison to other new stadiums from the aerial view (see pdf https://www.evertonarentwe.com/EFC.pdf (page 31). EFC looks bland by comparison. Just flat and square/ rectangular shaped.
Look at Chelsea's plans for their new stadium and look at Spurs' ground too. They look amazing. Fire the architect or keep him and get a creative design team in to to the stadium project justice.
It should be a stadium that stands out for the future. Everton legends must be shown outside the stadium based on current or future technologies. It would be great if there could be sounds (and images of say Dixie Dean or Graham Sharp scoring goals and hearing the crowds back then) from EFC legends on match days before coming in and on going out home.
It would be fab if would could see 3-D image holgrams of EFC legends... not too far away in technology i hear. Look at the banners now the way things can move... ie, adverts showing cars moving as though driving).
Why also not try to make the stadium more aerodynamic ie curves circular - even have some aspects of the Everton badge from an aerial view? Just something to stand out but not just for now but something special for the future too.
I can't believe we gave Anfield to the shower over the park and kept Goodison Park. Anfield was a far better ground. Goodison looks terribly dated now.
Billy Roberts
45
Posted 16/02/2019 at 15:06:14
Well, I've just downloaded the PDF images, and I am impressed with what I see, I really can't fault it when you think of all the needs factored in.
It's a very symmetrical look, what new stadium isn't going to be but it still has character and makes you want be in it. I can't imagine a spot in that ground that wouldn't give you a great view.
The comparisons with the other clubs main stands are interesting, most of them are larger but generally it is just roof space. Anfield excluded – their seating goes way back, but is that an improvement? The important thing to note from these images is the closeness to the pitch and ours trumps most. The biggest difference is to compare ours with the London Stadium – it is shocking how far away the West Ham fans sit in comparison.
Just looking at these images has really got me excited about going to a match there and I'm sure there will be many more like me.
Can anyone provide any links to the outside fascia or concourse and the mysterious "multi-storey" underwater car park?
I can't get enough of this stuff.
Bill Watson
46
Posted 16/02/2019 at 15:07:52
John #44
John, let's not rewrite history. Until the 1970-80s, Anfield was landlocked, had a much smaller footprint than Goodison and a much smaller capacity. The ground was very faded and dated.
The space they now have is as the result of blighting the local area for three decades.
Steve Ferns
47
Posted 16/02/2019 at 15:15:40
Bill, it should also be noted that we didn't "give away" Anfield and "keep" Goodison Park from scratch. We got forced out of Anfield and had to build Goodison.
I think people still fail to note that the other lot really are an "off-shoot" of Everton. They were set up by John Houlding after a failed takeover bid. He had a lot of support and that support left Everton and assisted him in setting up the new club.
They had a very significant proportion of our hierarchy and an even more significant proportion of our team. And that team was the reigning League Champions, let's not forget. The imperious Rob Sawyer has wrote about this many times. I'd suggest John Wilson checks out his work.
Brian Wilkinson
49
Posted 16/02/2019 at 15:20:19
Looks good to me and as we all know, not the finished article yet.
Just one thing that maybe other posters May be able to clear up, it says can be used as safe standing with a 2 for 1 ratio.
If this is the case, how would they accommodate safe standing if say that section is full of season ticket holders.
What if some do not want to stand, but with renewing their season ticket, they take up their usual seat?
It's a grey cell moment and sure someone will have an answer to this scenario.
Steve Ferns
51
Posted 16/02/2019 at 15:31:55
Brian W, I'm sure we would need to avoid the West Ham scenario, but that's the most recent example.
As a season ticket holder, you would have a "seat" guaranteed, and you simply renew. West Ham did not just transpose the seat from Upton Park to the Olympic Stadium. This was the problem, everyone moved, no one knew each other and it has been hard to get anything going for them.
I would expect Everton to say that those in the Gwladys are entitled to a seat in the new "Home End" the one with the "Big Wall". You would not simply get your seat, but you would be allocated one within it.
As for the seats themselves. I suggest you look at the safe-standing seats and see how they work. It is very different from the terraces we once knew.

John Wilson
52
Posted 16/02/2019 at 15:34:35
Thanks for your knowledge Bill Watson, #46, and Steve Ferns, #47.
I had always assumed we just gave Anfield to them. Was this before we were called Everton, when we were St Domingo FC or when we were called Everton?
Steve Ferns
54
Posted 16/02/2019 at 15:46:03
John, we won the League in 1891, at Anfield, parade the trophy around the ground. Whatever happens, we will always have that over them.
I cannot recall when we changed to Everton, I think it was around 1880, and certainly before the formation of the Football League. So in 1891 when the dispute happened, there was very much an Everton Football Club. In fact, if John Houlding had got his way, Liverpool FC would actually be called Everton Athletic.
Rob Halligan
55
Posted 16/02/2019 at 15:47:43
John, have a look at this and it will tell you everything about how we came to end up at Goodison:
https://en.m.wikipedia.org/wiki/Goodison_Park
Justin Doone
58
Posted 16/02/2019 at 16:01:41
All promising but I'm with others in that I don't want an ugly car park of a stadium or one that will obstruct views from the water or main roads. Hide the car park or don't bother having one.
I'd rather increase stadium capacity or have a realistic and fairly cheap option to expand in the future than a car park.
Instead, put a light rail stop or bus stop next to the main road and a ferry stop on the water side to get people in and away for free if needs be.
I think the future of the area will be a traffic-free zone so, other than staff and players, everyone else can walk or shuttle in.
John Hammond
59
Posted 16/02/2019 at 16:12:45
Leaked, my arse.
This to me is one of the possible designs and layouts out of a few and the club have decided to put it out there to give us a little teaser with very little happening until the Cardiff game.
Hugh Jenkins
60
Posted 16/02/2019 at 16:26:29
Steve Ferns (56) . That is an extremely instructive comment and a titbit of information I haven't heard before.
So, henceforth, I shall never again refer the RS as the RS - they shall be "Everton Athletic". - 5 times - eh?
Dan Parker
61
Posted 16/02/2019 at 16:38:07
It's a shame it was leaked. Hopefully doesn't cause any obstacles in the process. Looks great though.
Don Alexander
62
Posted 16/02/2019 at 16:46:58
Steve F, my "180-degree radius" comment was merely predicated on the fact that the river in such close proximity denies car-parking space all the way round the ground. That doesn't mean I think there's anything to complain about but parking is one of the bugbears of life in any city, with extortionate prices to match.
That said, I wonder if the Walton scallys will trek down to the Ten Streets to "G'ard yer car, Mista?"
And I can't help wishing the current Everton were a bit more "Athletic".
Martin Berry
64
Posted 16/02/2019 at 16:59:30
Those pictures from outside seem to show brickwork similar to the Lucas Stadium and Don Meis did mention about it having character to reflect the area. I would say this is indeed very accurate.
I think it looks spectacular and will be an amazing site. The issue about capacity will not be a problem, plans for an increase will be in place so relax and drool.
John Wilson
65
Posted 16/02/2019 at 17:02:42
Open air at the docks, would that mean: seagulls dropping bird crap and smelly because of the water?
Brian Williams
67
Posted 16/02/2019 at 17:10:08
Martin #66.
Which pictures show the brickwork you mention?
Tony Abrahams
68
Posted 16/02/2019 at 17:10:44
Interesting thread, I don't know much about these things, and even if it looks fantastic, I'm not sure I would be able to tell anyone how good it was until I've been inside the stadium when it's built (pray to god).
John @44 talks like he knows what he's on about, until you read his last paragraph, which is absolute bollocks IMO.
Anfield was never the better ground, although this started to change when the people in-charge of Liverpool FC devised a plan to try and make their stadium better, whilst the people in-charge at Everton never had a pot to piss in, and had to keep robbing Peter to pay Paul whilst Goodison Park was beginning to rot away.
Let's unite behind these leaked plans, and pray that we are all around to see Everton play in our new stadium, fingers crossed!
Paul Birmingham
69
Posted 16/02/2019 at 17:17:31
This shows the commitment and intention of the club, to progress plans for the Bramley-Moore Dock stadium. How and who leaked this is concerning for the club and fans alike.
Until the final issue and draft is made then it's all speculation, but it's something to look forward too.
Who knows if the pitch will be at ground level or sunken below ground level? Atmosphere and noise looks a prime consideration.
Hopefully the car park won't be a Mount Pleasant type, and will be proportionate to the stadium design.
There will be some massive rebuilding to accommodate this site in terms of transport and roads, but hopefully they'll add a train link from Sandhills, and build the Toffee Walk along the river front towards The City Centre. A compelling journey celebrating the history of EFC.
There is hope but, at the end of the day the football team must step up, and step up rapido, as this current slump is not doing Evertonians or potential investors any good.
I hope the club communicates as appropriate the exterior and surrounding Plaza details.
The existing wall at Bramley-Moore Dock is to be retained, so I believe... so hopefully this will become the new Bastion of Everton Football Club.
A long way to go yet, but plenty of hope.
Rob Marsh
70
Posted 16/02/2019 at 17:54:19
Help, have I got this right?
The end that currently looks like the present Park End will be the new Gwladys Street end and the other end that looks like the current Gwladys Street will be the away end?
Rob Marsh
71
Posted 16/02/2019 at 18:05:39
This stadium might not be the one we get, but this one I would like to get:
Harvey Miller
72
Posted 16/02/2019 at 18:22:38
No doubt about this, it's the real document. No fake would be at this level of details.
I really like the concept, it's really been done with the spectator in mind (or at least that's what they are trying hard to convince somebody).
Compared to the other stadiums, watching the game (even from the higher positions would seem preferable to those other stadiums. Chelsea though looks quite the same with 60,000 seats. Maybe we could alter the plan to that?
I can't wait to see this happen but I'm afraid it just might not happen while I'm still around (59 years total, 53 with this pleasure and burden called Everton FC).
Bill Watson
73
Posted 16/02/2019 at 18:24:30
Steve #47
Houlding was left with a football ground and no team. Everton's players were professionals and League Champions and I don't think any stayed with Houlding. Why would they?
All but one or two of the Everton Committee stayed loyal so Houlding was, more or less, on his own and up the creek without a paddle. He tried to hijack the Everton name, registering the name 'The Everton Football Club and Athletic Ground Company Limited' but the real Everton appealed to the FA and Houlding was told to 'do one'.
Liverpool have been a lucky club from the word go. In 1893 Accrington Stanley resigned and Bootle dropped out of the 2nd Division. Liverpool applied for one of the two vacant places and, to everyone's surprise, got one.
nb. John Houlding is buried in Everton Cemetery but the grave, although impressive, is neglected. They may have money (at the moment) but one can't buy class!
Brent Stephens
74
Posted 16/02/2019 at 18:33:25
"...a little teaser with very little happening until the Cardiff game".
My arse.
Steve Ferns
75
Posted 16/02/2019 at 19:06:32
Bill as I remember it, they had at least two of the title winning side and tried for more. I'm happy to be corrected and I don't have time to go and look it up, and to be honest, it really doesn't matter! Most of it is disputed anyway. There's lots of different versions of events. There's a clear divide between "our version" and "Liverpool's version".
Steve Ferns
76
Posted 16/02/2019 at 19:15:23
Don, on the subject of the car park, how do you access it? Surely you can only access it by Everton land, and if so, you can't get there as the stadium is in the way. You must go under it?
Anyway, I doubt this a normal fan's car park. It'll be for the players, officials and VIPs.
Steve Croston
77
Posted 16/02/2019 at 19:18:09
It looks great. The view won't be blocked by a carpark, get hold of yourselves chaps!!!
I'm chuffed to bits and think it will become one of the most iconic stadiums in the world. Riverfront view with a boss team in it. Night matches are going to be MAGIC!!! COYB 🌃😁👌👏
Paul Birmingham
78
Posted 16/02/2019 at 19:46:11
Let's hope the stadium can be lit for night games and is a beacon of hope for Evertonians.
The Allianz Arena stands out for night games, let's see what Dan Meis has planned for the exterior.
Kev Jones
80
Posted 16/02/2019 at 19:54:38
Bill #45 I've just been on a dekko with Troy Tempest in Stingray and I can tell you that to allow travel to and from the undersea car park, there's a plan for a series of clear plastic tubes to take traffic running under the city and from Birkenhead.
Derek Taylor
81
Posted 16/02/2019 at 19:55:49
Moving into more modern times, some of us have learned to be somewhat circumspect over any grand plans put forward by Everton FC. - particularly those that relate to new stadia development.
Trouble is, getting the plans passed and/or raising the dosh have presented a problem in the past and already leaks and misinformation seem to be threatening this grandiose scheme however well conceived it may be.
The distrust of those who control the business of our cub is demonstrated by the widespread belief that this 'leak' has occur ed not by accident but with the intent of diverting attention away from the mega disappointment that is Moshiri Season 3.
Certainly, the arguments over seating/standing capacity and the view from the Wirral keep our minds off the awfulness that is Everton in the playing sense for a moment or so but that won't wash for long and just a couple more defeats 'when play resumes' will see Bramley-Moore relegated back to the minority interest columns.
David K Shaw
82
Posted 16/02/2019 at 19:56:16
There's a lot to be positive about this, the progress certainly looks to be more concrete than we may have feared.
I'm sure the final external view will be more impressive than the thumbnail view and I'd agree that the car park can only be either sub terranean or required to be there for good reason. The more Lucas Oil the better for me.
My only concern is that the dimensions of the gantries, width of the seats and depth of the seats are all below modern stadia standards. In effect we are squeezing 52,000 seats into a modern day 42-45,000 stadium and it won't be as spacious as some of the top stadia, Spurs, Arsenal and Chelsea in particular? I would reluctantly accept a 52,000 seat stadium if it gave a rocking Goodison atmosphere every game and had the highest standards in comfort and facilities.
David Cochrane
83
Posted 16/02/2019 at 20:09:32
I can't believe for a moment that the design will look anything like this. I want to believe that these plans are purely for technical obligations concerning seat spacing etc, as they show, just to submit something?
The interior renderings look at best to be basic and utilitarian. Apart from the hazy overhead view there are no other exterior hints on the brochure. I hope that when these come to light they will just floor us with amazing architectural detail. If this costs £500M, OMFG!
David McMullen
84
Posted 16/02/2019 at 20:13:26
Can't believe how many say it looks great.
I get it that it won't be the final design but they are real drafts. Not sure there's much difference from what was already out there. While the comparison to Goodison it will be bigger, it's not as big as the likes of NWHL in size as well as capacity. Underselling our potential in my view.
The outside image looks like the Buro Happold from a couple of years ago – little difference. It really isn't iconic! Doesn't fit in with the docks. The roof looks totally inadequate for a cold and windy waterfront.
The car park is just plain daft! (It should be underground within the dock in my opinion). The river side should, without a shadow, be a waterfront that allows access to the fans and public alike.
Tony Everan
86
Posted 16/02/2019 at 20:36:59
Tom #22 may have hit on a possible reason for the car park structure positioning.
In that it acts as a wind break, a buffer against the worst storms and tides that Irish Sea can throw against the stadium and thousands of people that will be milling around in all sorts of weathers. It could be a necessary device.
It would be interesting to know if any of that had any basis in fact.
Rob Marsh
87
Posted 16/02/2019 at 20:59:50
Since I've seen this potential stadium of ours, I knew I'd seen something very similar before, what's below is complete and working one and might be very like what we get, the capacity is slightly larger at 54k.
There is a lot of similarity if you look closely (to my eyes anyway!)
Paul Birmingham
88
Posted 16/02/2019 at 21:18:11
Rob @89, good research, mate. That Gladbach stadium, looks the business.
More food for thought... but deffo, this thread is going, well.
This could be a very long thread as, we want the best, interesting to see the the cost of the Borrussia Stadium, accepting there's a lot of ground work to do at the Bramley-Moore Dock.
Steve Pugh
89
Posted 16/02/2019 at 21:45:05
One question. Would people moaning prefer a pretty stadium with a shite atmosphere or a plain stadium that helps to create a brilliant atmosphere?
And before you say both – you can't have both.

Jerome Shields
90
Posted 16/02/2019 at 22:26:52
John #61, I bet the leaker won't be found. I am of the same opinion as you - Moshiri and his close team I reckon had nothing to do with it.
If Moshiri can get a stadium anything like that built, it will be some achievement. Good Luck to him. He is going to need it if it was leaked by who, in my opinion, leaked it.
Joey #12, Maybe be spot on.
Don #40, Liked Zonal comment.
Mark Wilson
92
Posted 17/02/2019 at 01:21:36
It never ceases to amaze me how saying your not keen on something, anything, brings forth howls of protest from a surprisingly large number on here. The negativity police out in force again over these leaked drawings. Do any of you believe in "opinions"?
It's interesting how many of the negativity police have disappeared after giving some of us a good telling off earlier in the season for "moaning" about the defensive frailties of the team and Silva's nightmare zonal strategy etc. Not quite so many now saying it was wrong to be concerned.
Anyway, the important thing here is that the club's reaction really does say everything you need to know. These are obviously quite close to the final design, or certainly one of two final concepts, the other maybe being a bit more radical and placed side by side the pros and cons of each can be argued.
We've only seen one set leaked but I'm convinced there will be alternative approaches drawn up. This leak may be awkward for the club but it will have given them some food for thought as honestly the general reaction seems one of folk being underwhelmed and surprised at the apparent lack of a standout design feature that really makes this an amazing new feature of our cities waterfront.
The car park stuff doesn't bore me at all. I'm one of many disabled fans irritated at the constant attempts to declare the whole area a no-go zone for cars. It's not feasible to use much by way of alternative transport for a lot of disabled fans so the thought that they are at least looking at on-site parking, albeit it limited, is reassuring.
It's okay to say you love the leaked designs, or hate them, or something in between. It's not excessive positivity or negativity. It's just your view and there's nowt wrong with expressing it.
Meanwhile the team are still incredibly shit and a relegation fight could be looming after two weeks of other teams results and any news from the FA investigation into us maybe tapping up Silva, like a 3-point deduction at just the right moment to increase the relegation fear. Now there's some incredible negativity to upset the police.
Mark Andersson
93
Posted 17/02/2019 at 03:05:37
Love the excitement of the "glass half-full" fans... the other half have some valid views that makes for interesting reading..
I just want a team of players to entertain and win more games than they lose... Sadly, I feel I won't live to see it...
Rob Marsh
94
Posted 17/02/2019 at 04:00:38
Paul Birmingham #90,
To build it cost €86.9 million and it was built between 2002-04.
It looks to me like there might be a nice atmosphere in there and it does look similar to the pictures of ours.
Paul Birmingham
95
Posted 17/02/2019 at 07:45:57
Rob @96, thanks for the insight on the Gladbach stadium.
There's deffo hope on the horizon for EFCs new Bramley-Moore Dock stadium.
Anthony Murphy
96
Posted 17/02/2019 at 10:52:51
Can I just raise a point or two without being accused of negativity?
Having looked through the PDF several times, it would seem obvious Meis has had to cram 52k seats into quite a limited footprint, resulting in very few executive box seats (only 280) as well as very little space around most standard seats and restricted concourse area. It looks to me like 52k is the absolute maximum we will get if all seated which makes me think we may end up with less in the end. I wonder if the space afforded for disabled supporters is also the minimum? Likewise, space afforded to dugouts and media etc. What would people think if capacity was reduced to say 49k to allow more space and facilities? Not having a moan, just asking a question.
Similarly, it seems the space afforded to standard seating is going to be a lot tighter than most of those featured in the comparison. One of my biggest issues currently at Goodison is the space to sit comfortably (I appreciate not all seats) and would love to not be sitting with my knees rammed up against the seat in front. Again, not seeking to be negative but I think it's a fair point. What do people make of this?
Don Alexander
97
Posted 17/02/2019 at 11:20:04
I have to say, Anthony, that scanning the dimensions of seats, gangways and the like, that very thought went through my mind.
Alasdair Jones
98
Posted 17/02/2019 at 12:40:47
The one glaring concern I have with the proposals for the new stadium (and I accept these are "leaked") is the positioning of a multi-storey car park on the water's edge. This could give rise to significant and numerous objections because of the importance of the Liverpool Waterfront.
This is an important first view of the city for cruise liners and other passenger ferries. Whilst I do not think the structure would detract from the World Heritage site to the south, it is important that the opportunity to present an iconic and identifiable structure in the form of the stadium is not lost. Car parks don't do that!
Tim Gerrard
99
Posted 17/02/2019 at 14:25:16
From reading some comments on here, unless you just think everything is brilliant, then you are negative, and no discussion should be had. If you don't want to consider other fans points, why go on a site? Who knows your own viewpoint may be changed.
I went to the fans forums with Dan Meis and having viewed the documents here it seem to me that due to the favoured orientation of stadiums in the UK the site we purchased seems too small and Dan is having to squeeze the stadium into the site, thereby restricting the capacity, and the amount of space for individual seats etc.
One of the problems with Goodison Park is that it is landlocked. This site would have been big enough if the orientation was different, and Dan can only design with the site given him. Maybe the solution would be to go back to Peel and purchase enough land to build the iconic stadium.
Ryan Holroyd
100
Posted 17/02/2019 at 14:55:47
Laughing at Derek Taylor (the same DT as on The People's Forum, by any chance?) thinking the plans have been leaked so that it will stop people from noticing the team is crap!!!
Do you really think Everton fans are that stupid??!?! Not everything has to be a conspiracy. We all know the team is crap — without drawings of a new stadium!!!
Jay Wood
[BRZ]
101
Posted 17/02/2019 at 15:40:56
Can't beat a good conspiracy theory, Ryan @ 100.
Mike Dolan
102
Posted 17/02/2019 at 17:37:32
I wouldn't be too concerned about the parking lot obscuring the view from the Stadium. The architects were probably thinking that it's going to be so interesting watching the game that they positioned most of the seats facing the pitch.
The whole reason riverside site is mostly negated by a massive architectural oversight by not placing three of the stands next to the river so most of the fans will be denied a great view. I think the repositioning of all of the stands so that they all face the river in a long line could accomplish 100% percent river views even from the safe-standing stands.
The pitch itself a simple green patch) could be viewed beautifully, if anyone is interested, from the parking lot which would be repositioned in the area now taken up by the three stands now facing the river.
Apart from that, I think it looks great.
Paul Jones
103
Posted 17/02/2019 at 19:09:41
On the basis of this information found the design underwhelming. After watching today's games seems a bigger version of Doncaster Rovers ground.
Although the Car Park will fit well with them other ones that are near to the Three Graces World Heritage Site. Might as well used an Architect on a retainer from City Council planning department. More St John's Precinct than Three Graces or St George's Hall.
The next part of the cunning plan is someone to turn up at night and release some Water Vole or Newts that have a protected status.
Billy Roberts
104
Posted 17/02/2019 at 19:16:05
Mike Dolan, I have read your post twice and still don't understand your point at all.
People's concerns about the carpark are about the view from the river and the Wirral, ie, the iconic image, and not for the fans as you say who should be looking at the footy for 90 mins.
Please explain how you have three sides facing the river again?
Billy Roberts
105
Posted 17/02/2019 at 19:33:44
After reading Mike Dolan's post again I realise he isn't mad but most probably just pissed.
Apologies Mike for taking you seriously.
Dave Evans
108
Posted 17/02/2019 at 20:41:33
Mark 92 Negativity police? You have to be having a laugh. Most of the time these threads read as they were written by R.S. Follow them, some people don't write anything positive about Everton ever.
I'm looking forward to being on the banks of the Mersey with the family watching the team. Hope it happens, what about yerself?
Paul Smith
109
Posted 17/02/2019 at 22:19:51
It did remind me of Donnies ground. Better than Woodison mind. UTT!!!
Stephen Davies
110
Posted 17/02/2019 at 22:35:06
Whilst recognising the November document is not final...
It IS broadly accurate as of that date, changes are still happening but it is very revealing of direction of travel with more premium seats, reduced stand rake, narrower seats closer together for most fans & reduced stand heights. Lots of factors at play including site complexity, affordability, heritage, access, safety, Brexit cost impacts and more so compromises have been largely forced but there remains a tendency to see risk more clearly than opportunity at Board level.
Orienting N-S allows the normal football orientation to reduce sun glare in the goalsand accommodates a car park and fan park but seriously compromises the stadium itself. Reorienting E-W or angled will help the stadium but impair the other aspects. Despite the flaws/consequences having been under-estimated N-S is likely to stick because a change now will add time, cost and further delay planning but as normal with Everton there remains debate and doubt.
The Board is said to be split on this and on capacity, design (with Bill increasingly vocal lobbying Moshiri for changes). The only seemingly fixed element is how much more money Moshiri is prepared to cough up. Every indication at the moment (based on a call with Sasha last week I was briefed on) is we are getting something that falls short of Meis' original designs and the new Spurs benchmark but still better than most of the recent builds.
No matter what else happens the numbers are still very tight (despite Moshiri promising equity part funding and including 2600 more premium seats). The stadium may pay for itself it won't be directly net income geberative for quite some time so we need commercial spin-off benefits to make much headway.
In my view it is definitely still worth doing as Goodison cannot survive forever and BMD is better than out of town but it is now a project beset with compromises...and with a very frustrated lead architect. There was interesting informal call between him and one of the various EFC podcast guys efforts a few weeks ago, none of which is for broadcast, but which corroborated most of the above and provided a lot of insight about how often EFC have changed their minds & the consequences of that - not Spurs level dysfunctional but bad enough.
Billy Roberts
111
Posted 17/02/2019 at 22:36:16
For all the posters a bit underwhelmed by the leaked images of the inside of new Goodison. Can I ask a question or two, what's wrong? And what's missing? Is there something I haven't noticed? How would you improve the ground (inside only as we speak)?
I genuinely think it looks good, how can any modern football ground look iconic? Maybe it's best to save the debate for when we see the outside images.
I personally can't wait for them but these leaked images, to me, are impressive.

Mike Dolan
112
Posted 17/02/2019 at 23:21:40
No problem, Billy, just taking the piss.
Seriously though I find it a little absurd that people are worried that the back of the stadium the part facing the river should look better than the front of the Stadium the part that is more of a landmark to the City. Surely the people of the city should get to see the better side.
The parking in any modern facility is usually located so you can walk from the car directly into the stadium so nothing new there. Also the project when the plans are released is to viewed in its entirety, there is absolutely no reason why a parking lot shouldn't be a great addition as a piece of architecture.
There is nothing I have seen so far that suggests that it will be anything other than first class for the people of the Wirral to look at. But please save the best views for the city side.
Ian Linn
113
Posted 18/02/2019 at 03:41:26
I listened to an interview on the American Sirius radio soccer channel (157) with James Pallotta, Roma chairman the other day.
Great interview, talked about their new stadium, why they were building it the way they were, why the training ground was attached to the stadium and loads of other good stuff I can't remember.
Rational, well informed and inspirational, our glorious leaders could learn a few things from him, like being vocal about what they want to achieve and why decisions are being made, rather than everything being shrouded in secrecy and us having to make do with leaks like the world's worst best kept secret.
I guess a little more transparency and communication is all we ask for.
Alan J Thompson
114
Posted 18/02/2019 at 04:14:22
I'm totally against this concrete car park, it's Everton penny pinching again, I mean, where are the up and coming local entrepreneurs going to earn a living and get a start in life now?
"Mind your car, Mister?" It's traditional!
Tony Abrahams
115
Posted 18/02/2019 at 11:27:58
Very interesting, that, Stephen @110 – although I'm not sure Bill's lobbying will go down too well the way he ran down Goodison.
Not what the architect wanted? Not as good as Spurs? But a very good stadium on the dock nonetheless, on "The banks of the ROYAL BLUE Mersey?"
Dave Abrahams
116
Posted 18/02/2019 at 11:56:09
Stephen (110) "net income geberative", not being funny but is that a spelling mistake? I've looked in the dictionary, there is no such word, what does it mean?
Stephen, I stress I'm not taking the piss, can you possibly rephrase that sentence?
Jay Wood
[BRZ]
117
Posted 18/02/2019 at 12:29:12
Dave @ 116. From a little known alternative dictionary.
geberative (adjective):
relating to the activity of the endangered and protected Merseyside vole. Example sentence - "The geberative Merseyside vole loves to tunnel its way under BMD, and as such, persons of the red hue of the city wish to ensure its natural environment is left undisturbed and so are campaigning to block Everton FC's stadium build".
to geberate (verb):
relating to the stadium build of Everton F.C. Example sentence - "Everton hope to geberate funds for their new BMD stadium from a wide-range of yet-to-be-revealed sources".
a geberator (noun):
an Everton employee or associate charged with raising funds for the club's new BMD stadium. Example sentence - "Bill Kenwright offered to be the lead geberator in raising funds for Everton, but majority shareholder preferred to appoint Nick Leeson, the rogue trader famed for bringing down the 200-year-old Barings Merchant bank in the 1990s".
On Stephen's (presumed typo) you reference, I'm guessing he means " net income geNerative" and simply hit the neighbouring 'b' instead of 'n' on his keyboard.
Like yourself, not being familiar with either phrase, I assume the correct phrase means we will make money from the stadium, but in the context Stephen uses it, not enough to satisfy our desire to challenge the very top sides so we still need to increase alternative income streams, other than the TV contract and stadium generated monies.
Phil (Kelsall) Roberts
118
Posted 18/02/2019 at 14:49:23
Richard Duff #8
I would prefer a wall built in front of the goal rather than behind it. Then we wouldn't have to worry about crosses into our box and zonal marking.
Phil (Kelsall) Roberts
119
Posted 18/02/2019 at 14:55:21
Stephen Davies #110.
Why N-S or E-W? If it was NW-SE then given the sun should be starting to shine SW to NE on most days after 12 midday, then a NW-SE alignment will mean that the sun will not come into play down the ground at any time – but pity the poor people with the stand down the side facing the sun – either blinded by Everton's brilliance on the pitch or that great big red thing in the sky. (They could always hope for grey days when we play. So no different to now.)
Ray Roche
120
Posted 18/02/2019 at 15:35:24
Jay@117
My mate, an RS, is cruel bastard. He caught a Merseyside mole and buried it.
Alive.
Ray Said
121
Posted 18/02/2019 at 15:59:11
Phil (119) and Stephen (110) — don't worry about which way the stadium faces, the sun never, ever shines on us.
Dave Abrahams
122
Posted 18/02/2019 at 16:15:53
Jay (117), thanks for taking the time to explain that likely spelling mistake.
Jay it won't be just voles those red fans will pretend to protect to stop us getting the new stadium, they'll go to any lengths, it is really getting to quite a few of them.
I hope none of them start talking about Voles in Ned Kelly's tonight.
Jay Wood
[BRZ]
123
Posted 18/02/2019 at 17:10:48
Dave, if the boogers start giving you grief in Ned Kelly's tonight, just tell them Ray Roche's story - and try and be as deadpan as yer can as yer do so, swearing on Bill Kenwright's life it is the 'God's Honest...'
Tom McEwan
124
Posted 18/02/2019 at 19:46:39
Mark Wilson @92. Superb post!
Phil Martin
125
Posted 18/02/2019 at 20:18:12
The 52k capacity is a figure imposed by the club. Their expectations and ambitions are that we won't need anything bigger in the short to medium term. This is not due to a lack of space around Bramley-Moore Dock. It does bother me because I sincerely doubt once built it will ever be extended beyond 52k.
I also miss the point of that wall behind the home end goal made of reclaimed bricks. Surely it's just going to be hidden behind advert hoardings.
I see nothing within those pictures that would make anyone feel envious or even identify the stadium as being unique. It's just a watered down New White Hart Lane.
Paul Bernard
126
Posted 19/02/2019 at 09:58:59
No need for 52k, never mind 60k. I've been to Goodison the last few seasons and found that nobody is there. Until a player misplaces a pass and 35k fans get on their back.
I've been swerving the home games recently because Goodison is not a place I wish to visit were we do the away fans' job for them and slate Everton players.
Eric Myles
129
Posted 23/02/2019 at 01:51:36
Billy #104, maybe Mike is thinking of something like this?
Eric Myles
130
Posted 24/02/2019 at 00:38:43
How are the cars going to get to and from that car park?
There's no roads shown and, if they use the exterior circulation on both / either side of the stadium, there's little space for supporters.
Add Your Comments
In order to post a comment, you need to be logged in as a registered user of the site.
Or Sign up as a ToffeeWeb Member — it's free, takes just a few minutes and will allow you to post your comments on articles and Talking Points submissions across the site.