Opinion
Howard Kendall, Big Dunc & Me
Meet Ray Parr, the man who became mates with Everton's greats
Ell Bretland

17/12/2019
11

comments | Jump to last
This article was first published at The Sportsman and a version of it is reproduced here by kind permission of the author.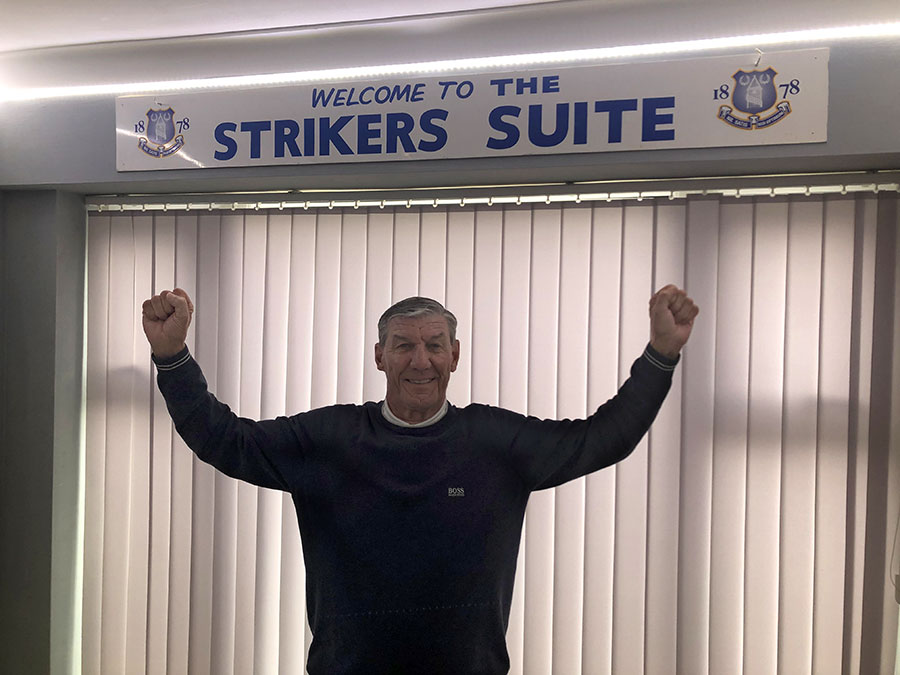 Ray Parr is an Everton icon.
He was there when the Toffees lifted the FA Cup in 1984 and was on the plane home from Rotterdam after they clinched the Cup Winners Cup. He was even in the dressing room when the First Division title was won.
However, he didn't score a goal for the club. He didn't even play a game. He wasn't a professional footballer, just a top mate to so many of the players and the club's greatest manager.
Howard Kendall was one of his best friends, Duncan Ferguson a good pal too. Legends Dave Hickson, Brian Labone and Alex Young, they'd all been to Ray Parr's residence in Walton.
Though he lives in Formby, he owns a house on Goodison Road and it is here where Ray hosts and entertains Everton royalty on matchday.
As The Sportsman approaches the house for an exclusive look inside, Goodison Park towers over us as we stand a mere Leighton Baines spot-kick from the Blues' famous stadium.
Ray welcomes us in and we are hit by a treasure trove of Toffees nostalgia. Signed pictures adorn the walls. Programmes are framed, shirts hang proudly. Gary Lineker, Wayne Rooney, there is even a Dixie Dean autograph. 
Blues at the game will have no doubt seen characters of Toffees folklore knocking on one particular door on the terraced street and being summoned in. Many will have wondered why do so many legends visit this one place?
Well, it's been dubbed 'The best executive lounge in the Premier League'.
The Striker's Suite was Ray's brainchild when he decided a box at Everton was becoming a little too costly at the end of the nineties. Rather than forking out for hospitality, he decided instead to invest £20,000 into a house and renovate it into a plush pad.
Members join and are wined and dined before every home game. A chef works in the kitchen, a waitress is on hand and there is even a man on the door.
"It's just like a season ticket," Ray tells us.  "The lads come in here and pay for the place upfront all season.
"We brought the ten members over from the box and it's expanded; now we have me, my Mrs and 24 guests. They arrive two hours before the game starts.
"There's the bar," he points at a wide array of wines and beers. "It's all quality stuff, there's no three for a tenner wines there! It's all properly chilled, you just help yourself and drink as much as you want.
"Then about an hour and a quarter before the game starts we all sit down and have a nice two course meal."
What is special and poignant about this amazing conversion is the love in the room for former Everton manager Howard Kendall who sadly passed away in 2015. Everyone would gravitate towards him.
In one part of the house is a really lovely tribute Ray has made for his friend. A homage to the Toffees great, pictures of his successes with the club pack the wall. Sitting underneath is a brown leather chair featuring a gold Everton badge.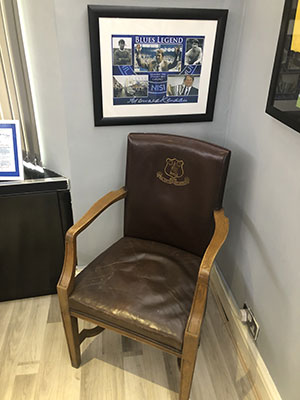 Howard Kendall's chair in the corner of the Striker's Suite
"That's the original Everton chairman's chair taken from when the club was first formed back in 1878. That's the original. It's 'Howard's Corner'," Ray looks on, reflecting.  "He was our most famous guest who came every single week".
Dear friends, he would accompany Kendall across Goodison Road on matchday and the duo would go out into the city with their wives every week.
"We'd pick him up from Formby, bring him in, sit him in the chair there".
Ray reaches over to grab his visitors book. It is a who's who of Everton and autograph collectors would be in heaven. However, it's not just Blues heroes who have visited.
Ian Callaghan is one Reds Legend. City hero Mickey Summerbee also features. "He loves it in here," says Ray of the former winger.
'Lady in Red' singer Chris de Burgh has been in but of course had to change the last word of his biggest hit while in the company of dyed in the wool Blue, Ray. Robert Plant of Led Zeppelin and Phil 'The Power' Taylor are another two famous guests.
We're here hours before the Premier League match against Norwich.
Jim Walters, father of former Stoke striker Jon is one proud member and stands socialising with fellow Blues. There is a buzz and pre-match chatter fills the air as beer is poured for guests. Then the doorbell rings. In strides Dave Watson, the last captain to lift silverware for Everton.
Ray greets his friend as guests continue their conversations. While most fans would be star struck, its a regular occurrence at this household.
Food is served. Wine is passed along the row. This is a real get together with great fare, very different to your standard pre-match pint and pie.
"This is our menu," he says as he produces a brilliant list the top eateries would be proud of.
"All the guests are invited by me," he explains. "Nobody walks in with footy shirts on or anything like that and there's no effing and blinding. It's just like taking your wife to a nice restaurant."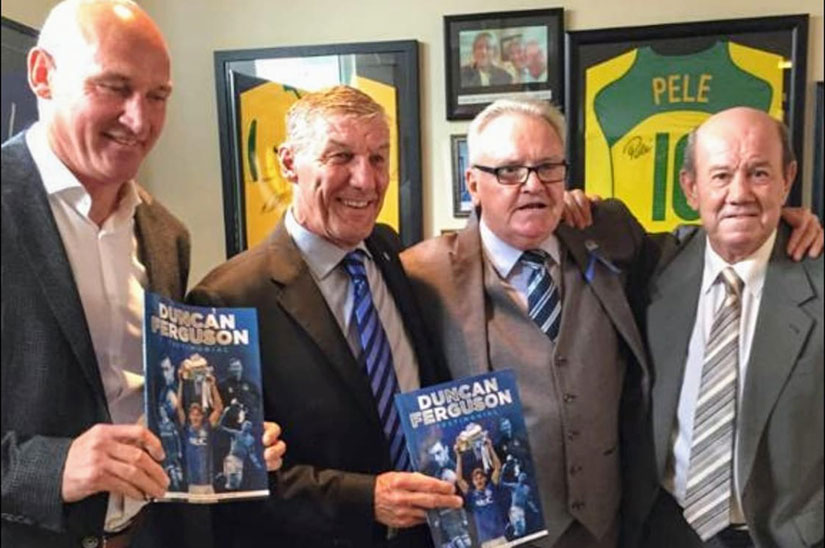 The door bell rings again. John Bailey, considered one of the funniest players in Everton dressing room history is here, a regular every week.
'Are you going to Waggy's night next week, Bails?'...'Is the Pope Catholic?' he jokes. Part of the Everton family, of course he'll be there.
Ray has a giant TV which covers the bay window where members can watch the lunchtime kick-off. However, sometimes, when a few of the legends of the eighties side are visiting, they will watch old matches back together. 
"They put the DVDs on. They'll stick on probably the one goal Bailey scored!" he jokes.
"Andy Gray will pause it like when he's in the studio: 'Look at that for a pass lads!'
"Those fellas remember every kick of every game. It's thirty years ago. One game of hundreds they played. The memory is unbelievable."
Ray was there for the eighties heyday, big mates with the squad. First Division title winners twice. FA Cup victors in 1984 before they lifted the Cup Winners' Cup a year later.
"In our glory days, I was right in with everybody," he tells us, matter of fact. "In the eighties, Kendall, Phil Neal and me, our three lads used to play in the same team of a Sunday. I'd known Howard before then but we'd go out socially."
Introduced to Toffees forward Andy Gray by former Everton and Manchester United player John Gidman, the pair became firm friends.
As an avid match-going fan who was in the stands for Everton's 1966 FA Cup win, soon the team he adored became his gang of pals.
He was the man who arranged everything when the Blues headed down to London to see Peter Reid win the PFA Player of the Year award. Ray also attended the banquet after the '84 Cup win.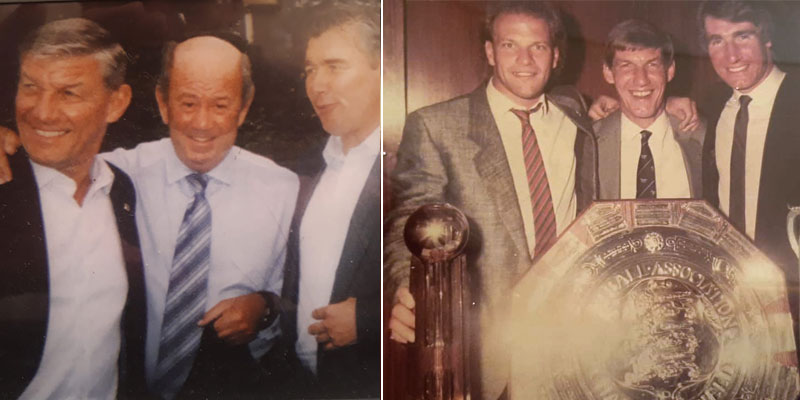 "Kendall was so disappointed because he had to stay with the directors in one hotel and we went to another and had the cup. Howard had said after: 'I just wanted to be there with the players.' 
"I'm sat there and they come in with the cup. The hairs stand up on the back of your neck."
He even travelled back with the squad after they beat Rapid Vienna 3-1 to lift the Cup Winners' Cup in '85.
"I came back on the plane with the lads and then me, Gray and (Graeme) Sharpy went back to Formby to Andy's house where we had a few bottles of champagne and watched the game all over again through until 8 in the morning. No wonder they were f**ked on Saturday for the Cup final (Everton lost 1-0 to Manchester United in extra time). We weren't pissed or nothing but they'd been up for 24 hours!"
Who could blame them for staying up and enjoying one of the most epic triumphs in the club's history?
At times, his son, a mad Evertonian too, would come home to find strikers Gary Lineker, Sharp and Gray at the house.
"All his mates would come round," Ray laughs.
The regional chairman of the Variety Club of Great Britain charity for 25 years, raising hundreds of thousands of pounds for charity, he has plenty of showbiz contacts and connections.
However, appearing on 'Wogan', going out live to 15 and a half million people was more through fate and luck.
Everton featured on the hugely popular show to sing their iconic FA Cup final song 'Here We Go' before they defeated Watford in the 1984 showpiece at Wembley.
Ray and 'Rab', another of Gray's mate, we're invited down to watch the recording.
"I rang my Mum and said 'keep an eye on the front row and I'll try and get a good seat."
She will have had a shock when she tuned in.
"We got the coach at Bellefield (Everton's old trading ground) and stopped at Childwall Fiveways, stocked up with lager, got loads of booze on board, we had the words on video and Andy took charge," says Ray.
"We had the words on a sheet, four hours non-stop, here we go, here we go, here we go, here we go, here we go...' so we could learn it. 
"We got to Shepherd's Bush studios at 4 in the afternoon. We're in the green room, been drinking about four, five hours…"
Nervous producers tried to halt the merriment but the players insisted they simply wouldn't go on if the boozing was cut short. A great time but vital for Dutch courage too.
When it came to the performance, some players were away on international duty and so there were spaces on stage. Ray took his opportunity to appear on television with his beloved Blues.
"There were all these Le Coq Sportif tracksuits, and they said: 'There's two left, any more players?' So I said, 'Come on Rab, let's go!' 
"That's how we got on stage!
"I was 40 at the time, must have looked the oldest player in the world. So we've got these tracksuits on, got on the tele and we're over the f**king moon! 
"When the producer did take one, take two he said 'Come on! There's only two players having a go here!' Gray snapped with a smile: 'Players?! They're not f**king players! 
"If you look, Sharpey hasn't a clue, they're all pissed!"
As part of Ray's charity role he would travel round with Everton's three trophies to show local school kids.
He had them all at home. One time, after arriving home from a night out, he decided to surprise the babysitter who himself was another Blue.
"I put all the cups out at the bottom of his bed. We woke up to screams, he couldn't believe it!"
Ray is as Everton as they come. He's played cards with a young Wayne Rooney at Big Dunc's house alongside the Scot's snooker star brother-in-law John Parrot. His next door neighbour is Tony Hibbert. He's played golf with Alan Stubbs and Leon Osman. He competed against Joe Royle on the football pitch during his school years.
He could fill a library with Everton stories.
Another amazing tale is the time he got stuck inside Goodison Park with the manager and his trusted assistant Colin Harvey, a member of the famous Holy Trinity.
"It was the 4-4 game against Liverpool in the FA Cup, 1991," he says. "We were behind but kept equalising and Kenny Dalglish ended up resigning the next day.
"That night after the match we were down the dressing room, in Howard's little cooey. It was me, Howard, Colin Harvey, Griff (another big Evertonian mate), and Father Brian Crane (the Everton club chaplain).
"The champagne was out and we're celebrating. The banter was fantastic. Anyway, Howard's said: 'Colin, can you get a cab back to Formby for Ray and I?'
He comes back: 'Gaffer, we're Iocked in! The shutters are down, the lot. The alarms are on, everything, we can't get out!' 
The manager and club priest are locked inside the stadium after an epic Merseyside Derby. Luckily, they managed to make a call to be rescued.
"We phoned Harry the groundsman. Twenty-five minutes later he comes round, slippers on, no teeth in, effing and blinding.
"What we had to do was, because he only knocked off half of the system, we had to crawl!"
On Saturday, Duncan Ferguson enjoyed a euphoric start to life as Everton caretaker manager as his team defeated Chelsea 3-1 and his celebrations on the touchline made for emotional scenes. He too was extremely close to Kendall.
Since he first arrived in L4, he has been a friend to Ray and attended his wife Rita's 70th birthday party with his family recently.
He even slept at Ray's house on the eve of Everton's FA Cup semi-final win over Tottenham at Elland Road. Injured, Ray drove him to the ground and can still remember fans bowing down to the car, mobbing it, shouting 'Duncan'.
Forced out to join Newcastle in 1998 as Everton we're strapped for cash, it was Ray who travelled to the north-east to hand Duncan his cheque from the club after the deal was completed. He is close.
"He was really cut up. There's no way he wanted to go in a million years," Ray insists. 
"He took a cut to come back. He is a proper Everton fan. He loves the scousers and loves the people. He's first in at Finch Farm and last out, never see him out of a trackie! His whole life is Everton."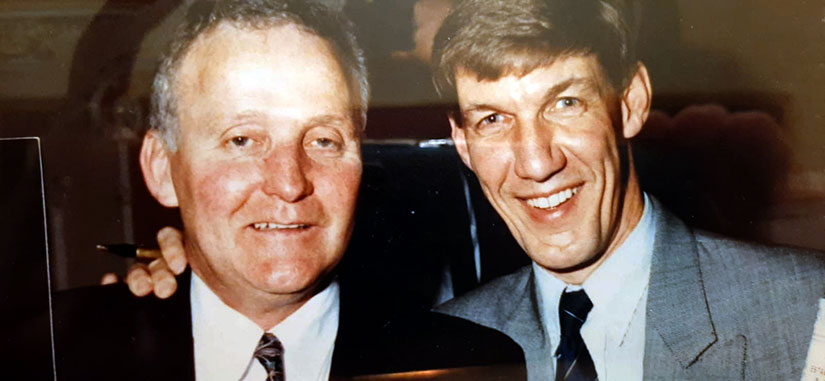 We've saved the best story til last.
"Daniel Amokachi invited everyone to his wedding in Tunisia. It was close season and he was marrying Miss Tunisia.
While a lot of the players couldn't make it, Ray and Big Dunc, out for a meal one night, decided they would make the trip and surprise 'Amo'.
"So me, Duncan and another mate jumped in with us and we went to Gammarth. We're sat  round the swimming pool; I've got a Bacardi, Duncan's got a scotch, we were having a really good time. 
"Then a father and son ask can they sit with us. Our friend had an upset stomach, so the guy asked what the problem was and we told him he wasn't well. 'Come with me' he says and they're gone for 45 minutes.
Finally their friend reappears. "'He's the f**king Prince!' He'd taken him back to a big mansion and called his personal doctor. We were in a nice hotel like!'"
If that wasn't crazy enough, he took Ray and Dunc to see some of the sights in an old battered car.
Then things got even more peculiar.
"The following day we go to Amo's wedding. They come in on two thrones and the guests are presented to him," he explains, reminding us they are the only two friends from Everton who were able to attend.
Suddenly, Amokachi spots them: 'Duncan! Ray! What are you doing here?!' 
"The next day he took us to a disco in the desert somewhere. He picked us up and we were travelling for about an hour and a half through the desert. We only wanted a drink!"
"We arrive and go into this massive, big disco. So the music's playing away and then a voice booms: 'Ray Parr?! What are you doing here?!' 
"It was f**king Pete Price!" he laughs.
All the way out in the African desert with Everton's strikeforce, miles from home, and iconic Liverpool DJ Pete Price was in the same club. Crazy. Better yet, it was Ray he had recognised.
Duncan laughed: 'F**king hell, Ray, I'm supposed to be famous, not you!"
After his heroics for Everton, every fan would want to go out with Big Dunc.
Ray has lived that dream and more.
Watch: Howard Kendall, Big Dunc & Me – meet Ray Parr, the man who became mates with Everton's greats

Follow @EllBretland
Share article:
Reader Comments (11)
Note: the following content is not moderated or vetted by the site owners at the time of submission. Comments are the responsibility of the poster. Disclaimer
Jay Wood
[BRZ]
1
Posted 17/12/2019 at 10:20:50
This has got to be right up there with the very best articles it has been my pleasure to read on TW, or even beyond.
What a truly amazing club and supporters we have.
So many laugh out loud tear-inducing quirky moments and memories.
Just past 7am in the morning here in Brazil and this one piece has set me up brilliantly for the day.
Thank you all concerned for sharing.
Superb stuff!
Tony Abrahams
2
Posted 17/12/2019 at 10:56:59
Agree Jay, but I'm only up to the part where they stopped drinking at 8AM, after that marvellous occasion in Rotterdam, and even now some 34 years later, I'm still deciding if it's this, what cost us the treble!
Mark Andersson
3
Posted 17/12/2019 at 11:34:36
Great read...
Alasdair Jones
4
Posted 17/12/2019 at 13:07:57
Excellent article and a great read.
Ray is a most engaging character and I had the pleasure to spend an afternoon with him at Goodison. The game was vs Wimbledon in 1989.
A friend of mine, Tom Duke knew Ray, the connection I think being Finance/Banking. He invited Tom up to attend a game so I went along with Tom's son. We journeyed up from Warwickshire and met Ray at a hotel off the East Lancs where I left my car. Then off to the game with access to the staff/ directors car park behind the Park End where we ran into Colin Harvey, then manager.
From there into the executive Lounge where Ray seemed to know everyone. The game I remember was poor ending 1-1 but Ray got us some photo ops with the players as they headed into their lounge. I remember in particular Kevin Sheedy and Martin Keown who quizzed me as to the best route back to Oxfordshire where I guess his family were still living.
Tremendous day out and grateful to have spent time in the company of this most generous and welcoming guy. So if for one reason or another you read this comment Ray, many thanks again for a great day out.
Jay Wood
[BRZ]
5
Posted 17/12/2019 at 13:10:22
As well as reading the article, I strongly suggest people click on the final YouTube video also in which Ray is telling his story in his own words.
He throws in a cracking story about Howard Kendall and John Bailey, when the latter told his manager he was taking up a job offer in Cape Town.
Joe Bibb
6
Posted 17/12/2019 at 14:45:18
Great article but Ray needs to check on that Chair, it has the Everton Crest and Moto on it which wasn't created until 1938.
Joe Bibb
7
Posted 17/12/2019 at 14:45:19
Great article but Ray needs to check on that Chair, it has the Everton Crest and Moto on it which wasn't created until 1938.
Paul Kelly
8
Posted 17/12/2019 at 18:37:24
Brilliant article, truly was, the Wogan appearance was quality.
Any chance of a pre match invite Ray? Sounds the nuts in there.
Eddie Dunn
9
Posted 17/12/2019 at 20:23:18
Tony, I got back to east London early the next morning(at the time )with my mates and we put the vhs of the game on and had a few cans. We were wrecked, been up all night in Rotterdam, but it explains a lot about our performance the following Saturday.
Karl Masters
10
Posted 17/12/2019 at 23:27:25
I'm picturing Ancelotti, a couple of Italian coaches, a Priest and Ray crawling under a roller shutter to leave Goodison at 1am, after a few too many bottles of Chianti to celebrate beating Liverpool at Goodison later this season!
Fantastic article. Loved it and thank you for sharing it.
Andrew Heffernan
11
Posted 19/12/2019 at 17:11:51
Great stories, this is what makes a club, not agents, TV or synchronised flag waving.
---
Add Your Comments
In order to post a comment, you need to be logged in as a registered user of the site.
Or Sign up as a ToffeeWeb Member — it's free, takes just a few minutes and will allow you to post your comments on articles and Talking Points submissions across the site.
---
---
© ToffeeWeb