Dai Davies diagnosed with terminal cancer
Monday, 17 August, 2020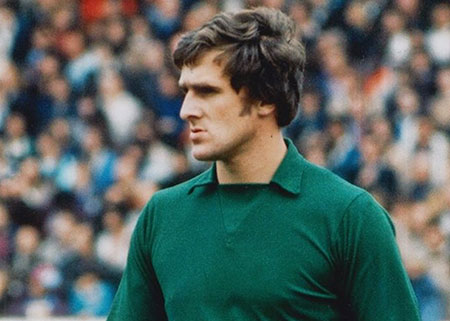 Former Wales and Everton goalkeeper Dai Davies has been diagnosed with pancreatic cancer.
The 72-year-old spent seven years with the Toffees in the 1970s and made 82 Leaguee appearances after joining from Swansea City.
He left Goodison Park in 1977 to join Wrexham and went on to represent the Swans again, as well as Tranmere Rovers and Bangor City.
Davies was also capped 52 times by his country, a record until he was surpassed by another Everton goalkeeper, Neville Southall, in the 1990s.
Dai's family have asked people to share memories and stories while he is in hospice in Wexham:
Dad has had exceptional care at the Royal Hospital Liverpool recently after being diagnosed with cancer of the pancreas.
Gareth, Rhian and myself are now able to see him daily as he has been transferred to Nightingale House, Wrexham. It would be nice to be able to share memories and stories with him.
If you'd like to send Dai a message, then please send to our private email address: daisaveswales@gmail.com.
---
Reader Comments (55)
Note: the following content is not moderated or vetted by the site owners at the time of submission. Comments are the responsibility of the poster. Disclaimer
Brian Murray
1
Posted 17/08/2020 at 13:33:30
Sad news about Dai Davies. Like a lot on here, I grew up on him and Lawson in the mostly painful '70s.
Brent Stephens
4
Posted 17/08/2020 at 16:43:59
Sad news. Dai was my son's favourite player when he was at Everton. Best wishes to the family.
Karl Jones
5
Posted 17/08/2020 at 17:21:51
I can remember a particularly damp evening game around Easter 1974.
As usual, I was standing at the front of the Street End when we had the green semi circular slopes behind each goal. My mate shouts "Hey Dai... Happy Easter, and motions to Dai to come and get an Easter Egg.
As Dai runs up the slope, my mate throws him the Easter Egg, but Dai slips over on the greasy slope. However, he manages to juggle the Easter Egg four or five times, but still manages to catch it.
The whole Street end laughs and then gives a huge cheer and breaks into the "Dai Dai Dai Dai Dai Dai" song (To the tune of "Those were the days, my Friend" for those old enough to remember the song)...
Those were the days when Footballers were down to earth, approachable people, and non more so than Dai Davies... Great days.
Jay Wood
[BRZ]
6
Posted 17/08/2020 at 17:31:57
I remember attending a young boys' footy league end of season presentation do.
They got Dai in to give out the awards. The evening was split into different age groups with the older lads going first. He did a question-and-answer slot after giving out the awards.
One of the questions the older lads asked was:
"Who is the best keeper in the league."
Dai replied deadpan: "I am."
The younger kids were a bit smarter and he was asked a similar question:
'Apart from yourself Mr Davies, who is the best keeper in the league?'
They got the answer their smartness and politeness deserved.
From memory, I think he said Shilton and Jennings. There were a lot of good keepers to choose from back then.
A really lovely fellah.
Best wishes to Dai and all the family.
Brent Stephens
7
Posted 17/08/2020 at 18:48:44
Karl, Jay #5 I emailed Dai as per the email addy Jay #1 provides (too many bloody Jays!). Return email from Bethan, Gareth and Rhian.
Email him. Diolch!
Peter Mills
8
Posted 17/08/2020 at 18:50:52
I'm pleased this news has now been given appropriate prominence - well done all concerned.
I sent a message to Dai's family today, I'm sure they will appreciate all they receive. Once a Blue, always a Blue.
Peter Mills
9
Posted 17/08/2020 at 19:11:41
Oh, what could have been in season 74-75. Dai made 35 League appearances, he helped get us into a position to win it, but we took only 8 points out of a possible 20 in the last 10 games, and lost the Championship by 3 points.
Kevin Naylor
10
Posted 17/08/2020 at 19:52:54
Yes, agree, this should be of much higher prominence among a quiet Everton news day. My teens were the '70s and Dai with his front teeth missing was a big part of that. I wish him and his family the best during a very difficult time.
Joe McMahon
11
Posted 17/08/2020 at 20:14:49
Dai was Everton keeper when I started supporting, and my first Everton player on a Panini sticker.
Best Wishes to him and family.
Paul Birmingham
12
Posted 17/08/2020 at 20:44:31
Very sad news, about Dai, and Best Wishes to Dai, and his Family, at this very difficult time.
Brings back memories of the old ground and of times when going the match as a young lad was a day to be savoured, and Everton almost but didn't quite get there in terms of success.
Tony Hill
13
Posted 17/08/2020 at 21:11:11
Our Welsh support and presence in the team have been very strong for many years and Dai is part of that proud heritage.
One of our own, of course.
Jay Harris
14
Posted 17/08/2020 at 22:03:14
Well done Lyndon.
I sent an email yesterday telling him and the family hope loved he was at Goodison.
I hope all Blues follow suit as it seems as though the family would welcome it.
Brent Stephens
15
Posted 17/08/2020 at 22:13:07
The family are aware of this TW thread.
Paul Avery
16
Posted 17/08/2020 at 22:35:13
Like Joe at #11, Dai Davis was number 1 Everton keeper when I first remember supporting the Blues. God bless you, Dai x
Patrick McFarlane
17
Posted 17/08/2020 at 22:37:24
I'm pretty sure that Dai's last appearance at Goodison was when he appeared for Swansea in February 1983. Despite Everton still having a chance of winning the FA Cup having beaten Spurs the previous weekend only circa 17k were in the ground that day 25k fewer than had attended the Spurs cup-tie.
The game ended two apiece, Andy King scoring twice for the Blues and Gale and Robbie James were the scorers for the Swans.
Like many on here, he was one of the first Everton keepers that I saw regularly, sharing the shirt with David Lawson. He wasn't really noticed most of the time, mind you as a youngster I wasn't really interested in goalkeepers only the goalscorers captured my imagination, but I don't remember Dai having really bad days and if he did, it didn't matter to me at the time, he was playing for Everton, and that was good enough for me.
Best wishes to Dai and his family at this trying time.
Sean Callaghan
18
Posted 17/08/2020 at 22:50:27
As a very young kid in the mid/late 70s, Dai was one of the first players (along with Bob Latchford) who I remember wanting to be when playing kick-about.
Maybe it's because of the Home Internationals seeming as big a World Cup Final but I always loved seeing Everton players turning out on what seemed like the biggest stage of them all. The guys like Dai, George Wood, and - far too infrequently - Bob, seemed like absolute mega stars to me at the time.
For that reason, Dai will always be up there with Blue legends like Ball, Dixie and Big Nev, etc. Very sad to hear this news and sending all good thoughts to Dai and his family.
Eugene Ruane
19
Posted 17/08/2020 at 22:52:48
I saw my first Everton game in 1966 (0-0 home to Man Utd). I was 7.
I'm currently a STH in the upper Gwladys and am now 61 (but don't look a day over 60 and a half).
When you support a football team from a young age to a much older age, you (naturally) go through various stages re your relationship with the team, the club, chairman, individual players etc.
As you get older, you generally tend to get a little more analytical/critical and when applied to 'your' team, this can sometimes be more than a little harsh.
But when Dai Davies played for Everton, it was a time in my life when I analysed very little. Everton were 'the greatest teeeam the wiiiiiiirld has ever seen' because...we just were. Our players were the best because they played for Everton and..that was that - simple.
So for me, at that stage in my life, Dai was, no question, a hero. A toothless, non-heroic-looking hero but a hero.
When he ran towards the St End it was taken as read he'd get a "WAY-ULZ WAY-ULZ NUMBER ONE.." and give us a wave.
The news of his current condition is very sad obviously but I hope it is some consolation that he is so fondly thought of by players and supporters alike.
It should also be a source of pride to his family that he will be forever part of the history of Everton Football Club and of the Wales national side – achievements very few of us get near.
For me the memories of Dai are fond because he's part of my mad carefree uncomplicated early teenage years. Everton weren't winning anything but it was enough to be an Evertonian. It still is.
Best of luck, Dai.
Don Alexander
20
Posted 17/08/2020 at 22:55:33
Dai did little wrong as a goalie (and all goalies make errors, just like all outfield players) but to say he had a hard act to follow after Westy is an understatement, and then some. Nonetheless, he acquitted himself well.
As an important aside, pancreatic cancer is a little known one but is especially lethal. Because it's so little known, money to combat it is sourced in no small amounts from charity. I'd urge our club and fans to donate anything they can.
I wish him and those close to him all the comfort in the world.
Will Mabon
21
Posted 18/08/2020 at 00:37:33
Sadly Don, it's rather more prevalent than it is widely known... and growing. It
is
lethal, can be very fast-acting, and is starting to take people of younger age, too.
In my early teens then, I remember Dai as a very solid keeper, a physically strong and brave man. He was reliable and operated taller than his actual height in the air.
Best of comfort to him and his family.
Terry White
22
Posted 18/08/2020 at 01:23:46
Your words are very apposite and well-chosen, Don (#20).
Gavin Johnson
23
Posted 18/08/2020 at 01:55:14
I thought it was Nev when I first saw the headline yesterday stating Everton & Welsh goalkeeper legend has terminal cancer. I was in shock until I clicked on the story.
Dai was before my time but I remember seeing him in my older brother's Panini sticker collection when I was 8 years old and started supporting Everton.
My thoughts go out to Dai and his family at this difficult time.
Paul Kernot
24
Posted 18/08/2020 at 03:10:50
Dai was in goal when my dad took me to my first game when I was 6. I wasn't tall enough to see over the wall so dad made me this fold-out thing which he leant against the wall pretty much next to the players entrance.
I don't remember much from those days other than white socks running past my face but I do remember the names and that Dai was the keeper.
Sorry to hear the news, Dai. As someone said earlier, Once a blue, always a blue. I live in New Zealand now but still roll out clips of old games from my youth. Thanks for the wonderful memories.
Tony Everan
25
Posted 18/08/2020 at 06:37:32
Best wishes to Dai and his family, I know how hard it is for you all, having lost my mum to cancer. Cherish every moment you get together.
Like many of us, my first matches were in the '70s and Dai was one of our heroes.
Robert Williams
26
Posted 18/08/2020 at 09:41:13
Never say die, Dai.
Dave Abrahams
27
Posted 18/08/2020 at 09:44:40
Lovely to see these tributes to Dai. 52 caps for Wales prove he was a very capable goalkeeper for both Everton and Wales. Like all 'keepers, he made mistakes. He came close to winning honours at Everton, won the 3rd Division Championship with Wrexham and was a steadying influence with every team he played for, including Tranmere Rovers across the water.
You played many times for the Blues so will always be remembered as one of us. Wishing you some peaceful days in your battle against this illness, and best wishes to all your family at this sad time.
Dave Williams
28
Posted 18/08/2020 at 10:06:16
I think we bought him from a lower league club for about £10k and he gave us many years of good service.
Always a far better keeper than Lawson with whom he competed for the shirt and was a good, solid keeper who was better than the guy we have now.
He has always seemed a really decent bloke and, having recently experienced the same illness with my best mate's wife, my heart goes out to him and his family.
He is clearly a much-loved figure by us fans and hopefully he will get a big boost from the messages on here and elsewhere.

Karl Masters
29
Posted 18/08/2020 at 11:19:18
I remember Dai most from that fateful 1974-75 season – I was only 8 and I still don't know how we didn't win the League and ended up 4th.
Funnily enough the game that sticks most in my memory from that season is the England v Wales fixture at Wembley in the Home internationals. Wales led 2-1 early in the second half and Dai played a blinder for Wales as they tried to hang on for their first victory on English soil in decades.
Ultimately, Brian Little of Aston Villa nabbed a late equaliser for England, but Dai and his Welsh teammates were the only Home nation to qualify for the 1976 European Championships with a solid goalkeeper in Dai giving them a decent defensive record.
He left for a ridiculously low transfer fee of £8,000 when George Wood was signed. I learnt later it was as a Thank You so he could go back to Wales and sign for Wrexham. He returned for the 5-2 FA Cup match in 1980 and a couple of times with Swansea, always looking furious when Everton scored!!
I wish him well. For supporters over 50, he's someone you just don't forget.
Barry Rathbone
30
Posted 18/08/2020 at 11:37:55
I went to quite a lot of games with dear old dad in the 60s but came of age in the tortuous 70s going home and away with the lads.
Dai was integral to those times – God bless you and your family, Dai, thanks for the memories.
Dave Lynch
31
Posted 18/08/2020 at 12:25:32
God bless, Dai, I have no words.
As a 60-year-old blue, I have fond memories of you in an Everton shirt.
Never shirked a challenge and gave all for our and your club.
Forever in our hearts and memories.
Chris Cooper
32
Posted 18/08/2020 at 12:26:27
I never saw Dai play in the flesh for Everton. The first Everton game I went to was Nottm Forest at home, 1977-78 season. George Wood was the keeper that day.
But I remember watching earlier games on tele when Dai was between the sticks for Everton and he always looked decent.
In 1979, I went to the Racecourse ground, Wales vs West Germany: Dai was in goal that day... fond memories.
Good luck, Dai. Best wishes to you all.
Colin Glassar
33
Posted 18/08/2020 at 13:01:55
Wishing him all the best. Not a great goalie but better than David Lawson by a country mile.
Matthew Williams
34
Posted 18/08/2020 at 13:09:08
Very sad news. Best wishes to Dai and all his family at this time.
Charles Barrow
35
Posted 18/08/2020 at 14:03:45
Always remember his heroics in a derby match at Anfield - I think 1975-76 season.
Dai played brilliantly and made several fantastic saves to keep them out. The match was a draw I think.
Certainly an underrated keeper in my mind.
Soren Moyer
36
Posted 18/08/2020 at 14:36:43
Sad, sad news! We won't forget you. I wish courage for your family my friend.
Eddie Dunn
37
Posted 18/08/2020 at 15:17:04
Dai and family, wishing you all the very best at such a difficult time. I always liked our Welsh goalie and recall some heroics, particularly in derby games.
I live down in West Wales now but plenty of younger blokes in these parts have heard of the precursor to Big Nev.
Diolch yn fawr iawn.
Liam Reilly
38
Posted 18/08/2020 at 16:26:19
Very sad and very tough time for the family; especially in the current climate. I was very young but remember him fondly when he played for Everton.
We've done well with Welsh players down the years: Dai, Nev, The Rat, Sheedy and the honorary Mr Van Den Hauwe.
Steve Barr
39
Posted 18/08/2020 at 19:21:11
Very sad news. Another great Evertonian.
Just looking at this old YouTube video of our win over Leeds 3-2, season after they won the league. Some excellent players on both sides and Dai making an excellent save from "sniffer" Clarke in the first half.
Go to 6 mins 20 secs in for the save. Excellent goalkeeping.
https://www.youtube.com/watch?v=mwUl7a7AsQA

Keith Dempsey
40
Posted 18/08/2020 at 21:03:10
Sheedy... Welsh? I bet Jack Charlion was pleased he wasn't, mind you I don't think he was Irish either, Liam.
Will Mabon
41
Posted 18/08/2020 at 21:07:27
Steve, a good time to remind of that match. I've watched the highlights many times, and will again in a minute!
Seems every fan you speak with that was old enough, was at that game. I was, with my father and sister in Upper Bullens, very similar view to the camera position. Fond memories of the 70s, in many ways; home, away, everywhere.
Stephen Brown
42
Posted 18/08/2020 at 21:12:31
All the very best to Dai and his family. As a Welsh Evertonian, I always have a special affinity with people like Dai!
Good luck Dai!
Harry Wallace
43
Posted 18/08/2020 at 21:37:54
Meddyliau gyda Dai a'i theulu. Bendith Duw.
Mike Barrett
44
Posted 18/08/2020 at 21:47:36
Keith @40,
Sheedy was born in Wales but had Irish citizenship as his father was born in Ireland.
Frank Boyle
45
Posted 19/08/2020 at 00:14:23
Eugene @ 19 says it all.

Paul Ferry
46
Posted 19/08/2020 at 06:24:22
You were my first goalie, Dai. You are one of the main reasons why I'm still gobsmacked that we didn't win the league in 1975.
I'm so very sorry to hear this news. A great career, family, and person. Little more to ask for. Take strength from the love around you.
Dai, wrth ichi wneud y siwrnai olaf hon, cymerwch gysur yn eich bywyd, eich teulu, a ninnau yn Everton o vintage y 1970au y mae gennych le arbennig yn ein calonnau ar ei gyfer. Bendith Duw, fy ffrind a phob nerth I chi, Bethan, Gareth a Rhian
Wales Number 1
Paul Tran
47
Posted 19/08/2020 at 06:48:17
Dai was special for me because, in those days as a small boy, I was so happy to be at Goodison, watching my team.
Dai was a big part of that. I hope he and his family realise how much that meant to me and many others.
Best wishes to Dai and his family.
Paul Hay
48
Posted 19/08/2020 at 10:28:37
Always gave his all and a credit to the club. As a kid, I thought he, like the rest of the team, was the best!
Thanks, Dai, for the pleasure you gave.
Roy Kjaerstad
49
Posted 19/08/2020 at 12:00:15
Dai Davies was 'my' 'keeper, because he was in goal when I started following Everton. Although new heroes come and go, the original ones remain special, and I still have his awesome Topps card from the 1977 season!
I thought he was a great goalie, and have often wondered why he was omitted from the team for the big games in the spring of '77 – Lawson played both the League Cup Final and the FA Cup Semi-Final, as well as the collective 3 replays. For those fans more seasoned then me; do you know if it was just a matter of Lee rotating or was Davies injured?
He played in league matches before, between and after those generation-defining matches, and I like to think that, if Davies – already an international and used to the big occasions – had been selected, Lyons, Latchford and King might have got the trophy their Everton careers had deserved, and given the fans something to treasure forever.
Pure speculation, of course, but that's an inevitable part of fandom, I suppose! My deepest appreciation to Dai for giving his all for Everton, and to his family for the wonderful gesture of organizing for greetings to be brought through.
Mike Owen
50
Posted 19/08/2020 at 14:36:04
I remember Dai having some blinders for us. Always liked him, especially after he charmingly helped me 15 or 16 years ago with a book I did on Everton in Europe.
Roy, post 49, that is an interesting point you make about those cup games. Lawson also had some great games for us. But, given Davies's international experience, he might have been a better bet, as you say.
I cannot remember the reasons why but I do recall there being spells when Dai was No.1 and other periods when Lawson had the shirt. I have a very vague memory that one would get injured then the other would come in and keep his place for a while.
On that issue, perhaps worth noting that when we played AC Milan in the Uefa Cup in September and October 1975 (after failing to win that title) Lawson played in the home leg and Davies in the away.
Neither keeper conceded, but for a penalty in the San Siro. We failed to score in either game, as a number of controversial reffing decisions went against us. Has much changed in 45 years??!!!
Certainly not the affection which many of us have retained over all those years for Dai.
My best wishes to Dai and his family
Paul Washington
51
Posted 19/08/2020 at 16:40:25
Mike #50, that AC Milan game, in the 1st leg at Goodison Park I'm sure we had a good goal by Bobby L ruled out.

Awful news on Dai loads of love to his family. During that near miss season we were linked with Peter Shilton and at one game he pulled off a fab save, the Street End started singing, "You can stick your Peter Shilton up yer arse"!!
Brian Wilkinson
52
Posted 19/08/2020 at 23:34:41
Always preffered Davies to Lawson, such a shame and likeable goalkeeper, thoughts are with the family.
Graham Hammond
53
Posted 20/08/2020 at 11:09:18
Very sad news indeed. Dai was perhaps a little bit before my time but was in goal for the very first game my Dad (bless him) took me to as a kid, Altrincham at home in the FA Cup.
Never met him myself but knew a nice couple a few years back who were great people and liked him a lot so that to me was a ringing endorsement of him.
God bless you Dai, love to you and all your family, very best wishes. Thoughts and best wishes also go out to anyone who has lost a loved one to this terrible disease or is going through it currently.
Jerome Shields
54
Posted 20/08/2020 at 19:54:35
Best wishes to Dai and family.
Paul Burns
55
Posted 21/08/2020 at 11:28:05
Eugene (19), absolutely spot on, good summary, you do over-analyse everything as you get older rather than just let it wash over you when you're young.
Loved the '70s, should have won the league in '75, went to about 200 games in 1977 alone, spent half my life queueing up for match and train tickets.
Great days, pay on the gate for away games, Lawrenson's and Crown coaches, the Specials before the ordinary days, mad chaos most of the time.
Good luck to Dai, one season they seemed to alternate between him and David Lawson every game, anyone got any stats on the way they swapped goalies game to game?
We knocked on the door a few times in the '70s and kicked them down in the '80s, time for a repeat.
Gary Reeves
56
Posted 21/08/2020 at 18:58:54
Shared the goalie shirt with Lawson, though heaven knows why.. Davies was a much better keeper.
You'd have saved McDermott's chip at Maine Road Dai (and maybe your fellow countryman would have given us the benefit at the end)! Memories, and what-might've-beens... anyway, well played ,Sir.
James Edwards
57
Posted 23/08/2020 at 15:20:43
I've had the pleasure of meeting Dai on several occasions over the past few years on a Saturday morning at Llangollen skip site. We chatted about Everton, Wrexham FC and football in general.
On one of these Saturdays, I brought along a photograph of the Everton 1970-71 season and Dai was thrilled and joked about how young he looked! He is a true gentleman and I always looked forward to catching up with him.
---
Add Your Comments
In order to post a comment, you need to be logged in as a registered user of the site.
Or Sign up as a ToffeeWeb Member — it's free, takes just a few minutes and will allow you to post your comments on articles and Talking Points submissions across the site.