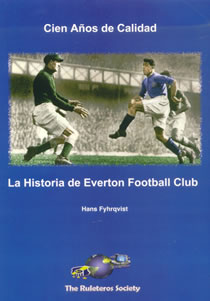 Cementing a great connection between Everton FC in Liverpool, England and its counterpart, CD Everton in Viña del Mar, Chile, this Spanish-language version of Everton's incredible history has been published by The Ruleteros Society, where copies of the book can be purchased from their online shop.
Titled One Hundred Years of Quality — the History of Everton Football Club, the story it tells was first written by Hans Fyhrqvist for the Finnish Everton Supporters' fanzine, Bullens Bulletin. An English translation by Marko Poutiainen was an early feature of his first Everton website that eventually became ToffeeWeb.
In 1994, that Concise History caught the attention of Michael Kenrick, who offered to proof-read it and then went on to work with Marko as editor for his burgeoning website. Michael penned new sections covering the Royle Era and the last few years through the reign of Walter Smith. The book includes a final section by Mike Owen that takes readers through Everton's historic 100th season in the English top-flight league.
The work was translated into Spanish by Gerry Allison and includes a version of the All-Time Top-Flight Table, updated through Season 2002-03.. The Ruleteros Society distributed a number of copies to prominent football clubs in the Spanish-speaking world. They have since had a response from Real Madrid, thanking them for the book and stating that it will be placed in their football library. Additionally, the Chilean Ambassador to the United Kingdom (who also received a copy) was very quick to offer his thanks and express his interest in what the Society is about. Howard Kendall has also written to the Society thanking them for his copy, which was issued in recognition of his contribution to the book (the foreword).
Price: £7.99 Published: 6 April 2004