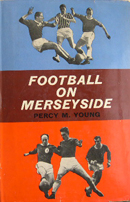 This is a unique and factual account of Everton's early history, the only downside being it gives equal coverage to our cousin's from the dark side.
There are some fantastic black and white photo's from the 1950's including on page 145 a pitch invasion at Stamford Bridge when Everton were the visitors and two middle-aged manic looking spectators complete with long raincoats are about to confront the Everton 'outside-left' Laverick with a view to throttling him. Who said pitch invasions are a curse of the modern game?
There is also a full and scripted account of the celebration dinner at the Adelphi Hotel in August 1892 to mark the opening of Goodison Park. The ground was officially opened by Lord Kinnaird, president of the Football Association, along with Mr G Mahon, president of the club. Interestingly, in his reply to the toast of the club, he stated 'that it was his endeavour to save the game from the taint of rowdyism and betting'. Sky Sports, watch out!
I'm sure there would be sufficient interest if anybody decided to publish a re-print of this book. If you're lucky enough to get hold of a copy then do so; it's the definitive early history of Everton Football Club. — Steve Hogan
Price: £5/10s/6d Published: September 1963