JANET ROYLE, WIFE OF THE IPSWICH Town manager, starts edging away when asked what salacious tales must have fallen behind the lines of The Real Footballers' Wives: The First Ladies of Everton (Mainstream Publishing, £9.99). After all, we know about what goes on behind the backs of that glamorous breed, the modern-day footballer. It's been on the telly, hasn't it? Or in today's tabloids and tomorrow's broadsheets. So it stands to reason that the women behind the men would either not want to split on their husbands or would not know what there was to split on. Either that, or they've got too much shaking around in their own cupboards.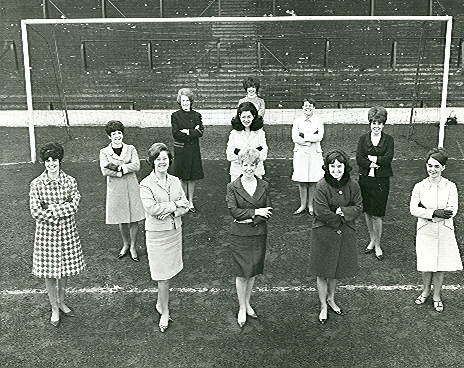 Call a book by that alluring title, however, and the question has to be put. "They live totally different lives now but I don't envy them at all," Mrs Royle, whose husband Joe was the pin-up centre forward at Goodison Park 35 years ago, said. "Our husbands tended to play for their local club so when we went out, they'd know the fans, they'd have been to school with them. There's nothing they wouldn't already know. Nowadays, there's so much money in the game and that brings a whole array of temptations. I don't think there's anything we don't know about our husbands. But you're making me nervous. Go away!"
Maureen Harvey bails us out, stepping in to the conversational lurch between the piles of books, sandwiches and cups of tea in the Dixie Dean Lounge. A pretty lady in her mid-fifties, she would not have been out of place in Footballers' Wives if the lurid ITV series had been filmed in the 1970s. "I love watching it," the wife of Colin Harvey, one of the title-winning "holy trinity" midfield, confesses, "but if there is any reality in the storylines, it's not from our era. That's why I watch it, for all the hype and frocks and mock glamour.
"There's nothing salacious to tell from our day, I'm afraid, but that's the point of the book. It shows the contrast between the lives we led back then and those of the modern-day footballers' wives. We weren't showbiz then. We'd go out in Liverpool together and fans would come up, shake hands and ask for an autograph, but I never found it a problem."
So if you are left wanting more after reading the kiss, snort and tell tales of Paul Gascoigne and Stan Collymore, do not rush to buy Becky Tallentire's deftly-written tome. Just as Ulrika Jonsson and even Faria Alam tended to go steady on their "revelations" over their main man's technique — who could forget Sven-Göran Eriksson's dishwasher-stacking strategy? — the women behind the Goodison men have no wish to sensationalise their past.
So why tell the story at all then? It is not as if the wives offer fresh tactical insights or fascinating transfer chat. Tallentire, a born-and-bred Evertonian and author of Still Talking Blue, explained: "I was arranging to get some photos of the old players signed and ringing up their homes where often their wives would answer. I asked Nancy Young where she'd met Alex and when she said down the 'local hop' it struck me how different their lives must have been from their counterparts today. Some of them didn't have cars, they had relatively modest incomes, and while I love the TV series, it's the opposite of this story. This book captures a passing era."
"This book shows the reality of the lives of footballers' wives," Carole Dobson, another glamorous lady, said, accompanied by Martin, her husband, who himself is writing a football book. "I followed Martin through his managerial and coaching career and I remember when we were at Bury, we campaigned the chairman for a room for the wives. Before that, we just had to stand around in the corridor and there'd be wives there with a babe in arms and a 3-year-old and a two-hour wait."
There are many whimsical tales in the book. How Brenda Thomas had her front tooth knocked out in her sleep as Dave, her England winger, relived the afternoon's match. The time Maureen Harvey wrote to the Daily Mirror after they had sweepingly concluded that "unlike most footballers' wives, Mrs Revie is an educated lady". Of the occasion Trish Lyons, a totally glam bunny girl at Playboy clubs, was chatted up by George Best as she waited for Mick, her captain, to get changed. Then there is the other side of Tony Kay's imprisonment in the betting scandal of the mid-Sixties and the effect that had on his family. Several of the couples have now split up but Tallentire always deals with this aspect sympathetically.
So will she be writing about Coleen McLoughlin and Wayne Rooney in 20 years' time? "I wouldn't be interested," she said. "She has nothing I want to know about. She's a girl whose boyfriend earns too much for any teenagers to cope with. They just seem to lead totally shallow lives. That's why this book is poignant, reflecting on the era before money turned footballers' lives into soap operas."