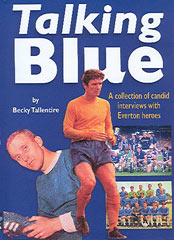 Exactly how close was Howard Kendall to signing for Shankly? Did Graeme Sharp's constant whinging at the referees ever get them to change their mind about one single decision? How much did Alex Young earn when he first arrived at Goodison Park? And what went through Kevin Sheedy's mind when he flicked the V-sign to the Kop?
But more importantly, does Andy Gray really sound like Marge Simpson when he sings, can Duncan McKenzie still jump over a Mini, and does Paul Bracewell ever wish he'd been chosen for a shampoo commercial?
All those nagging questions which have bothered you for years are answered right here and now in the most candid and forthright collection of interviews ever given by the royal blue heroes of past and present:
| | | | |
| --- | --- | --- | --- |
| Alan Ball | Paul Bracewell | Martin Dobson | Andy Gray |
| Adrian Heath | Howard Kendall | Brian Labone | Duncan McKenzie |
| Derek Mountfield | Joe Parkinson | Graeme Sharp | Kevin Sheedy |
| Neville Southall | Gary Stevens | Alex Young | |
Talking Blue cuts straight to the chase with questions submitted on a 'no holds barred' basis by disenfranchised Evertonians, via the miracle of the World Wide Web and asked by the only woman with the temerity to do so, Becky Tallentire.
Price: £14.99 Published: September 2000