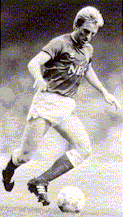 The things that struck the onlooker about the young Gary Stevens were his pace and stamina rather than any outstanding technique or intelligence. True enough, he never was as naturally gifted a footballer as his right-sided partner in crime Trevor Steven, for example, but he was certainly able enough and always showed a willingness to work hard on his ball skills and learn to play better football.

He joined Everton as a Barrow schoolboy playing in midfield, but somewhere along the path from youth team to fist eleven he was converted into a right-back. It was a position that suited him well, so much so that he made his senior debut in the number two shirt at the tender age of eighteen. Even at that stage his quality showed; even if a winger tricked his way past the Stevens challenge he was frequently thwarted by a second tackle from the youngster before a cross could be delivered, such was his ability to recover.

Stevens settled so neatly into the side that Everton found they could do without Brian Borrows, a contemporary of his and no mean footballer – considerably better technically than Stevens but lacking the raw pace that frustrated so many wingers who faced Stevens. Borrows was released in 1983 by Howard Kendall, who judged – rightly, as it transpired – that Stevens's footballing attributes could be improved considerably. Indeed, after no little effort on his part, Stevens became a very capable footballer, his crossing in particular improving tangibly.

The effect to which Stevens linked with Trevor Steven down the Everton right did not go unnoticed. The benefits of their highly successful partnership were reaped not only by their club but also by their country. The fine Everton side of the mid-eighties supplied four players to the England squad for the 1986 World Cup in Mexico, the right-sided pair accompanied by Peter Reid and Gary Lineker. In fact, only Reid of those four was missing from the party at the 1990 World Cup in Italy, though by that stage all four had left Everton. Stevens went in 1988 after falling out with manager Colin Harvey, signing for Rangers, where he was joined a year later by Steven. Later he returned to Merseyside with Tranmere Rovers, for whom he played an important role in their relatively successful spell in the early nineties.