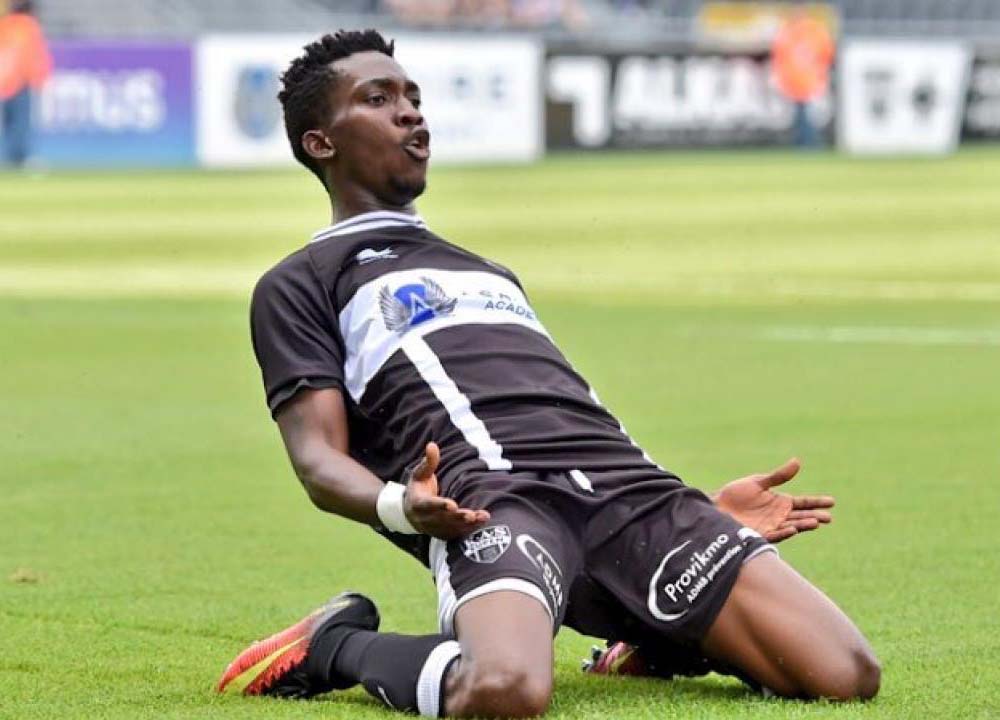 Everton completed the signing of Henry Onyekuru, an exciting striking prospect from KAS Eupen in Belgium, for an officially undisclosed fee, reported to be around £6.8m at the end of June, 2017.
The Blues were said to have beaten off competition from Arsenal, Paris St Germain and West Ham to land the 20-year-old who signed a five-year contract to become the club's third signing of that summer following the acquisitions of Jordan Pickford and Davy Klaassen earlier in the month.
Onyekuru, who finished joint-top scorer in the Belgian league the previous season, will spend the 2017-18 season with champions Anderlecht where he will wear the No 9 jersey.
"I feel very happy and delighted with this move to Everton," the player told SCORENigeria after he came through a medical at Finch Farm and finalised personal terms. "I am delighted because my first target of signing for a Premier League team has materialised.
"It wasn't an easy decision to make for me, but with the advise of top players and proper studying of the other offers. It is a great deal for me."
Onyekuru, who wears the name "Henry" on his jersey, was picked up by the Qatar-funded Aspire Zone Foundation to develop when he was 13 before moving him to Eupen, the club they purchased in 2010. To date, he is the most promising product of the Aspire academy and he almost secured a move to Celtic during the January transfer window but the Belgian club blocked the sale.
Onyekuru failed to qualify for a full UK work permit when he was signed. Any player who is over 16-years-old and not from the European Economic Area (EEA) requires a work permit to play for a British club. In 2015, the FA changed the work permit criteria making it more difficult for non-EEA players to sign for Premier League clubs unless they were "internationally established at the highest level". Everton chose to loan him out to continue his development in the Belgian league with Anderlecht where he got off to an impressive start, scoring nine goals.
Despite this record, the Anderlecht manager seemed to have a dim view of him, defending his decision to move Henry from his preferred striker position to the wing by saying, "He was lost in that top position and did not know how to ask for the ball. That's why I sent him back to the flanks." Then in December 2017, right before he was injured, he told a press conference that Henry "always let himself down."
Henry suffered a serious knee injury playing against his old club Eupen, with initial fears that he would require surgery and miss the rest of the season. He returned to Finch Farm for treatment and scans ultimately showed that he would not need an operation but it created uncertainty over his future, both in terms of qualifying for the Nigerian World Cup squad, and gaining enough international appearances to justify a work permit that would allow him to play for Everton in the Premier League in 2018-19.
He had regained his fitness by late April 2018 but didn't make another start for Anderlecht for the remainder of the season. He was duly left out of Nigeria's team for Russia 2018, with some in his native Nigeria speculating that the Belgian club have withheld him from the team on purpose so that he would not be picked and could return to them for another loan the following season.
Anderlecht's hierarchy rejected the insinuation, with Vanhaezebrouck insisting it wasn't Anderlecht's fault that Henry would miss the World Cup. "Everyone sees that he is not ready to play – he is afraid of the duels – and then I cannot pick him to please him. By the way, Henry still has a lot to prove with the national team. He was not a fixed value before his injury either, hey?"
Although Anderlecht had successfully negotiated an agreement with Everton to take him for the 2018-19 season, the player and his representatives were reportedly exploring other opportunities, with Borussia Moenchengladback a mooted possibility.
Onyekuru's work permit requirements continue to prevent him playing for Everton. A player can secure a work permit through playing the required number of competitive international matches for their country in the two years before the application was made. The exact figure on this varies given where the player's home country stand in FIFA's official rankings – with a player sometimes only needing to appear in 30% of international games.
However, to qualify for a UK work permit, Onyekuru would have needed to appear in 75% of Nigeria's competitive fixtures over the last two years, given their FIFA World ranking of 47. Onyekuru has only ever made two appearances for Nigeria, which falls way short of the amount required.
An alternate pathway to playing in the Premier League could open up for Onyekuru in 2019, however, when he will qualify to apply for a Belgian passport, giving him entry to the UK marketplace — Brexit notwithstanding!
The Nigerian striker was due to return to Anderlecht for the second season of his 2-year loan deal but he informed the Belgian club that he did not want to play for them again.
Despite earlier reports of a potential loan to Borussia Moenchengladbach that came to nothing, Onyekuru secured a move to Turkey with Galatasary for the 2018-19 season after passing a medical in July 2018. Under the terms of the deal, Everton would receive a €800,000 loan fee while the player himself would get a salary of €1.2m.
Henry did reasonably well at Galatasasry, scoring some notable goals in 35 games for the Turkish side and finishing the season in soe stylke as they edged local opponents Basaksehir to the Turkish Super Lig title. Onyekuru scored the winner in a dramatic showdown, his 17th goal in all competitions for Galatasaray this season
It capped what has been a successful season for the 21-year-old, one which will enhance his chances of more regular action for Nigeria and, in turn, bring him closer to meeting eligibility requirements for a work permit to play in the English Premier League.
His 14 goals in 30 league games meant he finished top scorer for Galatasaray but, according to Paul Joyce of The Times, there are no guarantees Onyekuru would break into Everton's first team next season if he were granted permission to play in England.
Joyce quotes Marco Silva as saying: "I didn't decide yet. At this moment we have four [right-footed] wingers in our squad — Richarlison, Lookman, Bernard and Theo — and he is one more with a right foot. We would have to think about a work permit, also." Earlier, Everton were also rumoured to be considering "offering" the young Nigerian striker to Besiktas to offset the remaining €5M of what they owe the Black Eagles for Cenk Tosun, but that valuation seems ridiculously low.
He now has seven caps for Nigeria but is expected to be in their squad for the Africa Cup of Nations which kicks off in Egypt near the end of June 2019.