Match Summary
The season finally begins, and it was a lively start, debuts for Tim Howard and Andy Johnson. Watford earnt an early free-kick to test the Everton defence, and a good attack from Everton saw a great cross in from Johnson that was just over Davies's head. At the other end, Young was given a chance from distance that had to be beaten away by Howard. Another free kick, this time against Stubbs although he won the ball, could not get past the Everton wall as the Blues withstood an enthusiastic bout of attacking pressure from Watford. Johnson had a great run down to the other end but he had no support whatsoever.
A great ball in by Beattie reached Arteta who volleyed it over when he really should have got it on target, but moments later, Andy Johnson netted beautifully on his debut, after a nice interchange with partner James Beattie, struck on the half-volley over Ben Foster with his left foot. What a great way to start! Johnson came close on the next attack but ref Peter Walton was spoiling the party atmosphere a bit, with some hideous decisions aggravating the packed Goodison crowd as Watford tried to counter.
From another free kick, Marlon King came close. Finally, Everton won a free-kick off Shittu, who had denied Johnson his run on goal and got a yellow for his trouble (perhaps it should have been a red...). Arteta rattled the crossbar in classic style from the free-kick, and Valente got battered by Francis, who also went into the book. Off Arteta's beautiful free-kick, Cahill's header smacked the inside of the post! Beattie got booked for a silly block.
Watford had put up a good fight in the first half, aided by strange refereeing decisions, but Johnson had had a great first half debut for Everton, finally delivering on all the promise and the hype of pre-season. Everton had to weather another onslaught from Watford, and Valente went off early in the second half, to be replaced by new boy, Joleon Lescott, for his first appearance. But a worrying start to the second half saw Everton pushed back and back until Davies got a good counter going, and Johnson almost got the ball to Beattie.
But the incessant pressure from Watford continued as they pushed to create more threatening chances with Everton looking unsettled and unable to control the game. Henderson had been getting some good chances and Francis probably should have scored when he pulled an easy shot wide of Howard's post. Everton living dangerously...
Davies should have been through on goal but was fouled: no free kick, again! Moyes finally decided that perhaps something adventurous was required, swapping out Davies and Beattie for McFadden and Anichebe, but only with little more than a quarter-hour left. But it was King who got lose, beating Stubbs and zeroing in on goal, but Tim Howard came out fast and cut down his options, saving well.
The strange referring decisions continued, but this time hugely in Everton's favour after some good work by Cahill. Shittu: handball — Penalty! (although the video clearly showed the ball hit his forehead...) Mikel Arteta stroked it home with consummate ease, and a very relieved Goodison Park celebrated in fine style.
After more great work from Johnson and Arteta, Cahill could have scored but his poor shot was blocked away, and Watford galloped up the other end to score. It was Francis who finally found the net for the Hornets with a horribly deflected shot off Stubbs that left Howard stranded and spun in off the post. But that was an own-goal, then so was the deflection that gave Johnson his opener — moreso as AJ's strike was going well wide.... Anichebe was unfairly booked for playing on after the whistle.
A nervy win in the end, but up to seventh in the table! And unbeaten all season long so far!! Fantastic!!!
Match Preview
The new season gets underway this weekend when newly-promoted Watford, back in the Premiership after edging out Crystal Palace in the Championship Playoff final in May, visit Goodison Park. Time was once that a team could achieve promotion one season and win the title the next, but today's heavy weight of favour towards the big four clubs of the Premiership has destroyed that openness among England's top division.
So the likes of Everton are left to to harbour dreams of springing a surprise and cracking the top four as the summit of their aspirations. Of course, the Blues did it just two seasons ago, and many fans believe with an improved squad, earning a Champions League qualifying spot is a realistic goal this season.
Optimism among the online Evertonian community was running high earlier in the summer following the swift acquisition of Andy Johnson, Joleon Lescott and Tim Howard as David Moyes sought to get his chosen targets in place well before the start of pre-season training.
Perhaps expecting further additions to the squad — supported by tentative suggestions by the manager that he hoped to make a couple more additions to his squad before the August 31 transfer deadline — that optimism has waned somewhat with the transfer inactivity at Goodison Park since. But the beginning of a season is always a time for blind optimism so it's hard not to have a pang of excitement at the possibilities afforded by a clean state.
Twice pitted against Arsenal and once against Manchester United over the past three seasons, Moyes will probably be relieved that he gets to face off against less daunting opposition, although he is sensibly taking nothing for granted against the newboys from Hertfordshire.
Watford were surprise graduates from the Championship last season and some had tipped them to be leaving that division in the other direction at the start of the campaign. Naturally, they are firmly among the favourites to go straight back down from whence they came in 2006-07, but there is much to be said for team unity and purpose and if the Hornets can harness some of that, they could spring a few surprises of their own. Moyes will be determined to make sure they don't derail his hopes of making a winning start to the new season, something the Blues haven't done so far under the current manager — our last opening-day win came five years ago at Charlton Athletic when Duncan Ferguson and David Weir scored in a 2-1 win.
Ferguson, of course, is gone but Weir has been appointed club captain in what will surely be his last season at Everton. While some see it as a sign that the 35-year-old will be a regular starter, the reality is that there is a big difference between team captain and club captain. The latter is more of a symbolic accolade in recognition of a player's ambassadorial qualities on and off the pitch.
That said, it was always likely that one of the elder statesmen of Weir or Alan Stubbs — surely not both? — would start against Watford given Lescott's lack of experience at the top level, with Joseph Yobo first choice in the other central defensive slot. Weir is ruled out, however, because of injury.
Tony Hibbert's illness means that Phil Neville will start at right back, particularly with Alessandro Pistone, the only other realistic option in that position, also sidelined through injury.
Nuno Valente, who had limited pre-season involvement due his extended break following his World Cup adventure, should start on the left ahead of Tim Howard in goal.
Moyes's midfield selections will revolve around Mikel Arteta and Tim Cahill; if he's available, the only question will be whether the Spaniard is used on the right or as the driving creative force in the centre. From there he will likely rotate between Simon Davies, Leon Osman, James McFadden, Kevin Kilbane, Neville, Lee Carsley and, the wild card, Andy van der Meyde until he finds the right combination.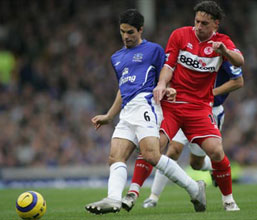 Mikel Arteta:
the driving creative force in midfield
Based on prior form, Osman would be the most consistent option on either flank but the manager's pre-season selections suggest that Davies could start on the right and he has hinted that McFadden will also be involved from the off, possibly on the left, a position in which he has never impressed in his time with the Blues. Van der Meyde's lack of fitness means he will assume his familiar spot on the bench.
Up front, even though Moyes has warned against such an assumption, the obvious choice is to start with Johnson and James Beattie, with Victor Anichebe providing youthful exuberance and unpredictability from the substitute's bench.
Everton were erratic during their pre-season programme, which is to be expected, so it's hard to assess their readiness for what is an important week. Moyes's focus on fitness will be an important factor, but equally vital will be team cohesion and improved methods of keeping the ball and moving it around the pitch more efficiently than before.
How much Johnson's pace and movement affects the usual pattern of long, aimless balls punted forward from defence or promising moves from midfield stalling in the last third will be crucial. He is rightly being seen as having the potential to transform this Everton squad, but he won't be able to do it without the continued form of the likes of Arteta and Osman.
A win against Watford this weekend would really lift the fans and provide justification for the uptick in optimism this summer. It would also stand us in good stead for two tricky games that follow in the ensuing seven days against Blackburn and Tottenham, both of whom finished in the top six last season and who have strengthened during the close season.
So, time to sit back and see what's in store from Everton in 2006-07...
[ToffeeWeb's betting pick: Andy Johnson scores and Everton win 1-0: 20-1]
Wimbledon, Mk II
After what seems like an eternity, football is back. I think everyone gets that tinge of excitement on the first game of the season. It was good to see the lads and enjoy a few beers in the pub before the game. We watched Liverpool spawn a jammy penalty that plundered them a point at Sheffield United (Champions – don't make me laugh) and just hoped Everton could fair a bit better against fellow promotion newcomers Watford.
I actually had a bad feeling that we'd loose this one 1-2 while the others all predicted a win. I'm always negatively cautious in a game like this against a team who's just come up trying to prove themselves, although must admit I didn't know what to expect from this. At about 14:50pm we swiped our way into Goodison.
Having spent all of last season pretty much right at the back of the Lower Gwladys it was nice to change seats this year and we now have a good one a lot nearer the front. You feel more involved from there.
Neville led the team out to the Z-Cars. Tim Howard was making his debut in goal and got a good reception. Stubbs was preferred to Lescott at the back alongside Yobo and Valente started at left back ahead of Naysmith. It wasn't that surprising that Carsley started this one given the style of Watford's play and the overcast conditions. Davies, Cahill and Arteta made up the rest of the midfield. Up front there were no surprises with Johnson making his debut alongside Beattie.
We won the toss and hence attacked the Park End in the first half. It was Watford however who showed all the early attacking intent. They had an early throw in and piled players into the box. It was only then that I realised the actual size of their players. 11 Terminators.
This matched their style of play. Very route one and very aggressive. Made for a dull game overall. Everton didn't help this though and pretty much resorted to the same tactic with the midfield bypassed. The referee didn't help either and was the same joker who officiated the Blackburn Rovers debacle last season – Mr P Walton.
Watford had some good early opportunities but were wasteful and every chance they did get went straight out Howard. I think it was actually from a Watford attack when Everton broke and scored. Carsley controlled the ball well and played a good ball out wide to Neville in space. His ball to Beattie was well flicked on towards Johnson. He touched it back to Beattie and got on his bike. Beattie played a good ball back into his path and Johnson finished well. Everton had the lead on 15 minutes somewhat against the run of play.
This seemed to relax Everton a bit and they started to create a bit more – twice hitting the woodwork. From a good ball in from the left Cahill leapt and caught the inside of the post which was very unlucky. Arteta was equally close with an excellent free kick that hit the bar and bounced over. Watford were undeterred however and should have scored not long before half time when their impressive skipper Gavin Mahon had a free header which he could only direct straight at Tim Howard. I think most were fairly relieved to hear the half time whistle.
The second half was somewhat dire as Watford pressed to get themselves a point. It didn't happen for Watford but they'll cause a lot of teams problems this season. Valente limped off early in the second half although it didn't look too serious. He was replaced by debutant Jolean Lescott who surprisingly played left back. Watford had two great chances to equalise. First with Francis who screwed a sitter wide and secondly with King who did all the hard work well and then shot straight at Howard. At the other end great work by Johnson who crossed for Beattie, only for him to hit his shot against his other leg and it trickled wide.
As the game wore on people began to get restless and demanded changes from Moyes. Most – justifiably – wanted Beattie off for Anichabe. I wanted Kilbane on for Arteta. I felt Arteta wasn't really contributing given Everton's tendency to bypass midfield and Kilbane would've got down the line and got stuck in. As it was this didn't happen and the changes proved to be justifiable as it won Everton the peno to seal the game. McFadden (who replaced Davies) turned nicely and slipped in Cahill his cross from the byline was bocked by the full back with his hand and the ref gave a penalty. It looked clear as day to me. Neville gave the ball to Johnson, who promptly gave it to Arteta (for Godsake, couldn't they have sorted out who takes penalties before the game), who swept it home nicely to seal the match. We could now breathe easier. Incidentally the other change was Anichabe on for Beattie.
Just when it seemed all was well Watford grabbed a late goal. Relatively poor defending by Everton saw King with a good chance. His shot was probably going straight at Howard but Stubbs block took it the other way and it clipped in off the post. 2-1.
Overall it was a poor game but one in which I was happy to take the points. Watford's style of play is very reminiscent of Wimbledon's back in the day – route one. It works for them though and I can see them bullying a few points out of teams this season. Everton meanwhile will not win many games playing like this.
Player Ratings
Howard: Hard to judge as he didn't have a lot to do. Faultless for the goal. 6
Valente: One moment of indecision aside he was looking solid enough until he came off injured. 6
Stubbs: Not at his best but carried Yobo through the game at times. 6
Yobo: Had a 'mare. 5
Neville: Put in his usual shift. Not as many silly fouls this time either. 6
Carsley: Was the pick of the midfield quartet and made many important tackles and interceptions. His good work started the move for Everton's first goal as well. 7
Davies: The pick of the attacking midfielders before being subbed. 6
Cahill: Largely anonymous. 5
Arteta: Largely anonymous but did step up to score the vital second goal. 6
Beattie: First half: 8. Second half: 4. Overall: 5.
Johnson: Easily Everton's best player. His running is excellent. Didn't really realise how fast he was. Took his goal well and brings other players into the game well. We may have finally found a 20-goal a season striker. MOTM. 8
Subs:
Lescott (for Valente): Playing out of position at left back. Was positionally sound but his heading has a lot to be desired I think. 6
Anichebe (for Beattie): It didn't take much to improve on Beattie's second half showing really. He didn't see too much of the ball however. 6
McFadden (for Davies): Got into the game quite well and it was a lovely reverse pass to set up the penalty. Might play his way in for Blackburn on Wednesday. 7
Also my mate watched it on some Arabic channel and said Everton's was never a penalty. It hit the lad in the face! Strange as I was so close to it and could have sworn it hit his hand.
Match Report
Everton's opening game of the season was against newly promoted Watford, a fixture that Everton would have hoped they could win with comfort. The game started with Carsley getting a new nickname, Super Lee, as given to him by the person on the PA system.
Andy Johnson:
forceful run for his debut goal
Both teams had some decent chances; on-loan 'keeper Howard made some routine stops and Arteta sent a half-volley over the Watford cross bar. The deadlock was broken on the 16th minute with AJ and Beattie linking up well and allowing Johnson to finish left-footed past Ben Foster. Andy then won a free kick for the Blues just out side the area, Arteta struck it brilliantly and it hit the top of the bar and rebounded. Minutes later, Arteta crossed in another free kick from the left wing which Cahill nodded onto the post.
In the second half, Watford just played Route One, which put Everton on the back foot, but was terrible football to watch. With 10 minutes to go, Cahill won a controversial penalty, after referee Peter Walton created a new rule whereby a defender's head is now handball! However, Arteta converted it comfortably with his right foot. In the dying seconds of the game, Watford pulled one back with 3 minutes of added time to play Damien Francis (who scored here for Wigan last season )... or was it an Alan Stubbs own goal?
Overall, we played quite well, especially the first half but we were poor for about 15 minutes after half-time and in the last 5-10 mins.
Player Ratings
Howard - 7. Was steady with all the shots at him and was unlucky to concede a goal.
Neville - 7. Organised the team well in the first half and made some good challenges. His distribution was generally good.
Yobo - 8. Solid. His pace saved us on a few occasions and he is a good ball winner.
Stubbs - 6. Average game for Stubbbsy. Put in some good challenges but looked slow.
Valente - 6. Ok until he got injured, linked up well with the midfield.
Carsley - 7. Had a good game but was a big factor to their goal.
Arteta - 8. Class. His running and passing were excellent. Unlucky not to score the free kick which cannoned the crossbar.
Cahill - 6. Anonymous for most of the game, but won us a dubious penalty.
Davies - 6. Keeps the ball well but seems reluctant to go forward, prefers to knock it back.
Johnson - 8. Caused real problems with his pace and the move with Beattie for his goal was class. Needs better service from midfield.
Beattie - 7. Worked hard in the first half and linked well with Johnson. Tired early in the second half.

Lescott - 6. Played at left back and looked ok.
McFadden - 6. Was quite lively when he came on.
Anichebe - 5. Made little impact but worked hard to create for Johnson.
* Unfortunately, we cannot control other sites' content policies and therefore cannot guarantee that links to external reports will remain active.