Match Summary
Andy Johnson was back in the starting line-up but Everton were without Mikel Arteta, Phil Neville and Victor Anichebe who sustained injuries in training. Andy van der Meyde got his first league start of the season. James McFadden played a deeper supporting role with the so-far less-than-impressive Johnson & Beattie partnership in attack.
Wet, cold and blustery conditions meant some of the less hardy fans stayed home to watch this fabulous festive feat of football on soaraway Sky Sports... er, okay, well it wasn't quite that good, actually. After a promising start from Everton, West Ham soon realised they could pass the ball effectively through the home side's midfield (what a concept: blusrty wind, so play the ball on the ground, pass to feet! How did they do that???) and succeeded in winning no less than 12 corners during the first half. Their execution, however was not good enough to beat the well-drilled Everton defence, and the Hammers would come to rue those lost opportunities to take a stranglehold on this game.
There was one good chance for Johnson, but his shot was saved on the stretch, while at the other end Bowyer had a golden chance but fired straight at Howard. For the rest of the game, AJ seemed to be waiting for the ball to bounce right for him, allowing time for his marker to nip in repeatedly and dispossess him. Hopefully this is not a continuing sign of his increasing ineffectiveness...
The second half was better, with Carsley dropping back to do his defensive job rather than pretend that he is an accomplished attacker: he ain't. And a moment of superb determination from James Beattie led directly to a much-needed goal for Everton and for Osman, when the ball came back to the little fellow from Beattie's cross following a great last-ditch save of a long lost ball. Leon Osman controlled the difficult bounce and hoisted a great shot past Green into the West Ham net. A superb finish: a snatched moment of quality in a game of dismal dross.
And the dross if anything got worse after the goal, since the standard Moyes Gameplan was back on course. Would Everton go for the jugular? Ha! Don't be daft. It was back into the old defensive shell, and the second-half looked to end on a knife-edge with West Ham surging forward, wave on wave, Harewood and Sheringham thrown on to get the equalizer against an increasingly nervous and thoroughly unconvincing Everton display. The complete lack of quality on show was typified in excruciating fashion when Everton won a dangerous free-kick that was taken atrociously by Lee Carsley as he spooned it fully 30 feet over the crossbar!
Painfully, it seemed that an equalizer was inevitable. That was until the third minute of stoppage time, when James Vaughan, thinking he was Patrick Evra, drove in around the West Ham right-back and fired hard through Green to finally finish off the game in emphatic fashion. Who said scorelines were flattering?
Match Preview
Reeling from a comprehensive 3-0 defeat at Old Trafford in midweek, stuck in a run of form that has produced just two wins in 11 games, and likely to be without their two top scorers for the third game running, Everton take on West Ham in front of the Sky cameras this Sunday.
David Moyes has said that he believes his side has the ability to put together a run of results to challenge for a top-four berth this season. While their explosive start to the campaign proves they do have the ability, that recent run of results suggests that they either don't have the consistency, firepower or the breadth of tactics or strategy to accomplish such lofty goals.
Certainly, the absence of Andy Johnson — he remains doubtful with a hamstring injury — and Tim Cahill will be a major hindrance the longer it continues, as will the near complete absence of any goal threat from James Beattie.
The manager's rhetoric in the run-up to the visit of West Ham has again centered on the fact that, in his mind at least, Beattie remains the key to the Blues' current goal drought. That would suggest that he will be central to the strategy on Sunday, possibly in partnership with James McFadden who has actually looked capable of making something happen up front in the last couple of games.
Of more concern, though, is midfield. At Manchester United, Moyes deployed two defensive midfielders in the middle... with the predictable result that there was no real passing game and not much in the way of attacking momentum.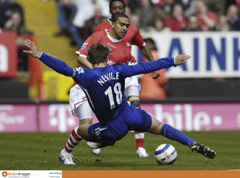 Phil Neville:
better at right back
On balance so far this season, Phil Neville has shown that his best position is right back for a number of reasons: he has created goals with good crosses from that position, his distribution from midfield has been atrocious in recent games, and Joseph Yobo is simply not a full back.
The problem is, though, that the manager has so few other options in midfield. Simon Davies offers so little (and may be unavailable due to a death in the family) that Moyes's only option to really shake things up is take a highly unlikely gamble on Andy van der Meyde. He showed last season that he can create chances for Beattie with balls in from the flank so, assuming he is fit (!), I personally would welcome his inclusion, if only because it's something different from the predictability that now seems to consume every Everton fixture.
One player who will surely be making a return to the starting line-up is Tim Howard who had to sit out the United defeat due to Premier League rules regarding loan players facing their full-time employers. While it would be harsh to blame Richard Wright for any of the goals on Wednesday, Howard's sure hands and willingness to play the ball out from the back via the full backs will be nice to have again.
West Ham, for their part, have arrested a miserable start to the season with three consecutive home victories but they have been abysmal on the road, recording just a single point so far and exiting the Carling Cup at Chesterfield last month. They will be without defender Danny Gabbidon but have James Collins, Tyrone Mears and John Pantsil back in contention.
After throwing so many points away over the past couple of months and creating so few chances in recent matches, it's hard to go into any fixture believing the Blues will come out victorious at the moment. Despite their poor away form, The Hammers have more than enough ability in their ranks to cause the Blues as many problems as they did in this fixture last season when they came away with a 2-1 win.
It's certainly going to be an interesting test of Moyes's side's determination, levels of confidence and ability to adapt.
Matchday Stats
The 114th meeting between Everton and West Ham United sees Everton trying to get their season back on track after the recent run which has seen them pick up just 10 points from the last 10 games.
Everton's full record against West Ham is:
| | | | | | | |
| --- | --- | --- | --- | --- | --- | --- |
| | P | W | D | L | F | A |
| Premier League | 22 | 11 | 6 | 5 | 40 | 19 |
| Division One | 74 | 37 | 13 | 24 | 125 | 92 |
| Division Two | 6 | 2 | 2 | 2 | 10 | 9 |
| FA Cup | 9 | 4 | 1 | 4 | 12 | 12 |
| League Cup | 2 | 1 | 1 | 0 | 4 | 2 |
| TOTALS: | 113 | 55 | 23 | 35 | 191 | 134 |
The last match between the sides saw goals from Leon Osman and James Beattie secure a 2:2 draw at Upton Park. The last home match against West Ham saw another James Beattie goal, but that wasnít enough to stop West Ham winning 2:1 in what was Evertonís 2,000th top flight League match at home.
Whilst our overall record against West Ham United is quite favourable, our home record is even better:
| | | | | | | |
| --- | --- | --- | --- | --- | --- | --- |
| | P | W | D | L | F | A |
| Premier League | 11 | 7 | 2 | 2 | 22 | 6 |
| Division One | 37 | 24 | 6 | 7 | 77 | 31 |
| Division Two | 3 | 2 | 0 | 1 | 5 | 2 |
| FA Cup | 1 | 1 | 0 | 0 | 2 | 1 |
| League Cup | 1 | 1 | 0 | 0 | 2 | 0 |
| TOTALS: | 53 | 35 | 8 | 10 | 108 | 40 |
Our overall and home records against West Ham United would, therefore, point to an Everton victory, and Evertonís record for 3 December supports this:
| | | | | | | |
| --- | --- | --- | --- | --- | --- | --- |
| | P | W | D | L | F | A |
| Premier League | 1 | 1 | 0 | 0 | 2 | 0 |
| Division One | 15 | 7 | 4 | 4 | 19 | 20 |
| League Cup | 1 | 0 | 1 | 0 | 0 | 0 |
| Full Members Cup | 1 | 1 | 0 | 0 | 5 | 2 |
| TOTALS: | 18 | 9 | 5 | 4 | 26 | 22 |
The only other Premier League match on this day was our 2:0 win over Blackburn Rovers at Ewood Park last season. The goals from James McFadden and Mikel Arteta ensured that Everton celebrated their 4,000th top flight League match in some style.
Although the above stats would suggest an Everton victory, Evertonís record against West Ham when live on television is not so clear cut, as both teams have won 2 of the 5 matches shown on TV, although West Ham have yet to beat Everton in the Premiership live on Sky:
| | | | | | | |
| --- | --- | --- | --- | --- | --- | --- |
| | P | W | D | L | F | A |
| Premier League | 3 | 2 | 1 | 0 | 6 | 2 |
| Division One | 1 | 0 | 0 | 1 | 0 | 1 |
| FA Cup | 1 | 0 | 0 | 1 | 1 | 2 |
| TOTALS: | 5 | 2 | 1 | 2 | 7 | 5 |
So, while the historical stats would suggest that Everton should win, or at least claim a draw, we mustnít forget that we are talking about Everton here, and things on the Blue half of Merseyside are never that clear cut!
Another factor that sometimes can swing matches, although it shouldnít of course, is the man in the middle. The man in green (or black, or yellow) for this game is Martin Atkinson. His only other Everton match this season was against Fulham when he turned down strong claims for a penalty against Andy Johnson (mind you heís not the only one!). In fact, Martin has only refereed two Everton matches in his short Premiership career, and both have resulted in 0:1 reversals (Fulham away this season and Portsmouth at home last season).
Milestones that can be reached this game:
∑ If he starts, Phil Neville will be making his 50th Premiership start for Everton. If Phil doesnít start but comes on as substitute, then he will be making his 50th Premiership appearance for Everton instead.
∑ If he plays any part in the match, Leon Osman will be making his 100th appearance for Everton in all competitions.
Everton take their chances to sink Hammers
Everton's injury problems deepen but they recorded a second-successive home win nonetheless despite gale-force conditions on Merseyside. Second-half goals from Leon Osman and James Vaughan helped the Blues overcome a West Ham side whose goal drought on the road was prolonged despite the invention of Carlos Tevez and a hatful of set-piece opportunties from corners.
With Mikel Arteta and Phil Neville injured in training and Simon Davies missing for a second-successive game because of a family bereavement, David Moyes was forced to reshuffle his pack again. Joseph Yobo was deployed as an emergency right back once more, with Alan Stubbs partnerning Joleon Lescott and Nuno Valente continuing on the left.
In midfield, James McFadden made a rare start in the left-midfield position in which Moyes originally favoured him when he first signed, and there was an even rarer sight on the right flank: Andy van der Meyde. Leon Osman and Lee Carsley completed the foursome in the middle with James Beattie and Andy Johnson up front.
The Blues settled quickly with some neat early play that was encouraging in such windy conditions even if it didn't produce anything in the way of chances in the first 10 minutes. The Hammers, meanwhile, took a few minutes to find their footing but signalled their intentions in the ninth minute when a slick move that involved some typical trickery from Tevez before Konchesky and Etherington combined well down the left flank before the latter's shot was charged down.
Tim Howard then dallied as he prepared to clear and Bobby Zamora, a scorer in this fixture last season in West Ham's surprise 2-1 win, blocked his kick sending the ball bouncing dangerously across the area but, thankfully, there were no claret shirts nearby and Stubbs hacked it clear.
By the midway point of the first half, a pattern had emerged whereby the visitors had clearly decided no to fight the elements but keep the ball on the deck and they played some lovely stuff at times.
A swift 18th-minute move that should have produced the opening goal was a case in point but after Tevez had jinked his way to the byline and cut it back perfectly to meet Lee Bowyer's run, the former Newcastle man's scuffed shot was diverted over the bar by Howard for another in a series of seemingly endless West Ham corners.
Everton, meanwhile, seemed more content to try and use the gusts to their advantage, with Howard and Yobo in particular employing the hoof-ball tactic to see if the ball would swerve around sufficiently to catch out the opposing defence. More often than not, having survived another corner, it simply gave the ball straight back to West Ham but occasionally, as in the 28th minute, the conditions favoured this tactic. On that occasion, Ferdinand could only head a Howard clearance into Beattie, Johnson picked up the rebound and lashed a shot across Robert Green that the 'keeper did well to palm wide.
While Tevez was the Hammers' live wire, cutting in from the left twice in as many minutes to force similar saves from Howard, the big positive for Everton was Van der Meyde who was enjoying by far and away his best display in a Blue jersey thus far. Inventive, purposeful and mobile, he frequently teased his opponents down the right flank and whipped in a number of inviting crosses that, unfortunately, were not anticipated by any of his teammates.
And the Dutchman proved handy at corners as well, one of which almost resulted in the Blues taking the lead 11 minutes before the break. Unfortunately, as it flew across a multitude if bodies in the six-yard box and too far behind Lescott, he was unable to react quickly enough and it bounced off his knee and into the 'keeper's clutches.
So, goalless at half time, with West Ham looking perhaps the more threatening but Everton strong in defence and occasionally willing to pass the ball around as well despite the absence of key personnel like Arteta.
The second half saw a notable shift to the better in the home side's game, though, while West Ham looked a little less cohesive. Whether that was simply down to the switch in ends — and, therefore, different wind direction — or Moyes's half-time pep talk, who knows.
But after Johnson had given it way to Tevez in the centre circle and Zamora had wasted the resulting opportunity, Everton took the lead five minutes after the restart. Yobo's flighted ball down the line seemed to be bouncing out of play for a goal kick but Beattie chased it down, hooked it into the area from the byline where Osman brought it down neatly before hoisting the ball into the top corner with his left foot. It was a lovely finish and a terrific platform on which to go on an win the game.
The visitors were visibly less effective than they had been in the first half and when the next chance arrived 12 minutes later, it fell to Osman once more but Green was equal to his shot on the stretch.
James Collins then despatched a header straight into Howard's grateful arms before Johnson had another rare opportunity to run at the defence but sliced a long-range shot high and wide and Tevez floated a free kick narrowly over back down the other end.
Van der Meyde, who had spent the afternoon swapping flanks and putting himself about impressively, was removed from the fray because of a lack of match fitness with 19 minutes left, allowing Vaughan to put his stamp on proceedings.
He would have to wait until the third minute of injury time, though, because West Ham, having thrown on Sheringham and Harewood, stepped up their efforts for an equaliser in the closing stages. And Harewood went close to achieving that goal in the 77th minute with some great work to engineer space for a shot from the angle that Howard parried to safety.
Everton remained a threat, though, and after Johnson had capitalised on an error by Anton Ferdinand and crossed for Vaughan whose shot was blocked, the 18 year-old sealed the win with a well-taken goal in stoppage time. McFadden's determination won the ball, Carsley spotted the run of Vaughan who ran directly towards goal before sweeping it home under Green's body.
Much has been made of the poor standard of football on offer from the Blues but in all fairness it was better than many have made out, albeit marginally, and both the conditions and Everton's injury crisis were partly to blame.
To have come out with a 2-0 win from a game that was far more even than that scoreline suggests was a fantastic result and it will have pleased the manager no end to have seen Osman, who was unfortunately injured late on, and Vaughan find the net for the first time this season.
Everton Battle to Victory in Swirling Wind
With the last two games being away from home, it seems a while since we last had a home game so we were all delighted to go the game today, albeit in horrible, windy, drizzly conditions. We were in the pub in good time and had plenty of time to tuck into a few beers.
The FA Cup draw was on in the pub and I donít think Iíve ever had so much fun watching a cup draw. When a team was drawn out everybody would be cheering or booing accordingly, depending on the quality of the team. The roof nearly came off when Liverpool got drawn at home to Arsenal, whilst most people were generally happy enough with Evertonís home draw versus Blackburn Rovers.
As the pub emptied out a bit we moved into the main lounge and I spilt shit loads of beer all over the floor. As we were chuckling away about this, some random fella came from nowhere and said ďdo you want a laugh, you should hear the team!Ē. We enquired, he responded: ďBeattie and Johnson up front; Van Der Meyde on the right, McFadden on the left and Carsley and Osman in the middle. Neville and Arteta are injuredĒ. This was a bit of a shock although I was made up Neville wasnít playing really as heís been playing crap lately, I reckon. At that, we headed onward to Goodison Park.
We were in our seats nicely in time for Z-Cars and Stubbs lead the boys out. The fella in the pub had not lied about the team. Howard was in goal, with the back four, from left to right consisting of Valente, Lescott, Stubbs, Yobo. Gaz said ďwe should switch ends if we win the toss with the windĒ. As he said this the teams switched ends. I guess weíll never know if this was deliberate or not. Although I suspect not.
West Ham United were the quicker team to settle and got a foot on the ball early on. Everton initially struggled with the conditions and passes were going astray. Not least from Yobo who played a terrible ball back to Howard. His clearance was well charged down and went hurtling back into the box. Stubbs smashed it out of play ďno nonsenseĒ style, which lead to a succession of West Ham United corners. Overall, they had 12 in the first half, which is simply ridiculous. Thankfully they failed to take advantage of any of them. The closest they came, however, was when Tevez broke excellently into the box and played in Bowyer, who, with the goal at his mercy, hit too close to Howard who nevertheless reacted well and tipped the ball away for a West Ham United corner. Elsewhere, two rampaging runs from the impressive Tevez demanded more comfortable saves from Howard.
As the half wore on Everton battled their way back into it, however, and carved out some chances of their own. Andy van der Meyde was clearly Evertonís most important outlet as he got the better of Paul Konchesky on a few occasions. The best chances came when a poor clearance from Anton Ferdinand hit Beattie and bobbled back into Johnsonís path. He was on the move, took the ball to the edge of the box and let fly with a low crisp effort that was well stopped by Robert Green. With 15 minutes to go Ďtil half time, Iíd taken too much blowing wind in my face and watched too much dross so decided to go for a pint. As I was down there, I watched the rest of the half on a screen. From here I saw Lescott miss an absolute sitter from a corner. Not much else happened in the half and the first half ended 0-0.
I came back up in time for the second half and Gaz was wrapped up as if he was in the Antarctic! I guess I made the right decision in going for a pint this time!
If Everton were poor in the first half, they improved dramatically in the second and got stuck into West Ham United a bit more. I think everyone just gave that 10% more and collectively things improved.
The first goal came on 52 minutes when Beattie chased a ball forward. It was a nothing ball but he did well to get to it and loop it into the box. West Ham didnít clear it properly and Osman had read it. He picked it up on the bounce and lofted it deafly into the corner of the net on his left foot. A lovely finish by Osman and kudos also to Beattie for never believing the ball was dead. More of that please Mr Beattie!
This lifted the crowd immeasurably and it was GAME ON! There were also some unsavoury chants about Steven Gerrard that I probably canít mention. Everton were lifted and probed forward much more. Osman managed to get himself into the box a second time but this time his shot lacked power and Green saved comfortably enough. Overall I enjoyed the second half much more than the first. It was much more entertaining.
West Ham United made some changes to try and re-address the balance a bit. On came Harewood and Sherringham and off came Bowyer and Zamora. 4-3-3!
Despite all this, West Ham United only carved out two chances of any note, both of which were pretty comfortable for Howard. One was a free header for Collins that was comfortably caught; the other was a Tevez drive that was straight at him. Lescott and Stubbs both stood up to be counted here and restricted West Ham United to very few opportunities. At the other end, Johnson blazed high and wide when put through I think by Beattie; and Lee Carsley curled it well, well, well over the bar from a free kick after McFadden was criminally chopped down, I think by Mullins.
Everton now made some changes of their own to steady to tide a bit. McFadden was due to come off and even had his name announced on the tannoy, as this happened Moyes mustíve realised that Osman was down injured and he came off instead. A stay of execution for McFadden! It was worth it though as his play noticeably improved upon this. Shortly afterwards, Vaughan came on for Van der Meyde, moving Beattie into the unorthodox position of right wing! So we now had a midfield of Stubbs holding, McFadden on the left, Carsley in the centre and Beattie on the right. Thatís one centre-back, two strikers and a defensive midfielder. Talk about being short on numbers!
West Ham United also changed it with one last throw of the dice, with Maccerano on for Jonathon Spector (!). With West Ham United pressing forward now for the equaliser, it was always going to be a possibility that we could hit them on the break. Brilliant chasing back from McFadden in injury time robbed someone near the half way line. The ball went straight to Carsley who was alert and played a great pass first time to Vaughan. He took a couple of touches, ran it into the box and with West Ham United neither expecting or prepared, he hit a lovely low drive which was just too quick for Green and squirmed under him. He went off celebrating and was mobbed by every outfield Everton player. Replays show that he did a rather strange dance when he scored but hey, score goals and you can do what the hell you want!
Everton now made one final change with Mark Hughes (another centre-back!) replacing Beattie. I think he got a touch or two before the full time whistle went.
Full time and I was made up. After being basically disgusted with Everton at half time, I have to give them credit for battling hard in the second half. Overall, I think we deserved it. The ref (Martin Atkinson I think) also serves a mention for letting the game flow in what must have been difficult conditions. We now need to beat Portsmouth next week Ďcos itíll be tough going against Chelsea the week after that.
Player Ratings:
Howard: Good judgement on a lot of decisions and made an excellent save in the first half. Distribution wasnít very good but that had as much to do with the difficult wind I think. 7
Valente: Did OK. Was solid enough although distribution wasnít the best. 6 Lescott: Had an excellent second half and was very solid. 7
Stubbs: As skipper, he did exactly what he had to do. He led by example and marshalled the team well. My man of the match. 8
Yobo: Oh dear! Never a right back although thatís common knowledge really. 5
McFadden: Made some silly fouls but stuck at it when out of position. Got a soft booking also. Great chasing back for the decisive second goal. 6
Carsley: Good solid stuff in the middle and an excellent pass for the second goal. Iím glad heís now decided to take a bit more responsibility with the ball as heís got the ability to do it. Just donít mention the free kick! 7
Osman: The goal aside, I donít think he was on the ball much really. Picked up a yellow card but it was probably worth it. Came off injured with about 20 minutes to go. 6
Van der Meyde: Had an excellent first half and tired a bit in the second. Should stay in the team for Pompey. 7
Beattie: Did OK. Full marks for chasing the ball for the first goal. Had to play on the right wing for a while as well. Good work. 6
Johnson: Absolutely nowhere near fit. 5
* Unfortunately, we cannot control other sites' content policies and therefore cannot guarantee that links to external reports will remain active.