Match Summary
A threadbare, injury-ridden makeshift side for Everton today down on the south coast, with four fit centre-halves comprising the back four, Valente moving to left midfield, with "Van der Medye" (with his shirt name spelt wrong!) getting another start on the right. Johnson was declared fit enough to play alongside James Beattie up front.
The game started at a frantic pace, with a good competitive edge being shown in midfield, Portsmouth having the edge, with Kanu and the rest of the home side showing considerably more intent then Everton could muster. Then, on 15 mins, a goal out of the blue. On a loose ball around the middle of the park, Mathew Taylor hit an incredible volley from 40 yards into the net, with Tim Howard off his line.
It was a stunning blow, and a cruel twist of the game for Everton, who had not really shown well enough in the opening exchanges. It was a while before a decent chance came, with a Lescott flick on, nodded the back across the face of goal, right int the path of Beattie, but it needed a lunge from him for a certain goal... and instead it rolled through harmlessly to James who made the save after what should have been an equalizing goal for Everton. Yobo later floated in a weak cross that Beattie headed at James, lacking power.
At the other end, Everton were undone again by a another moment of skill from their humble hosts, as a ball in from the right was volleyed in smartly from a deep wide position by Kanu, miles away from any of his markers, Howard unable to do much about it. The second goal settled things down for Portsmouth, whose confidence increased accordingly. Another good chance came their way with a header that could have beaten Howard but the connection by Benjarni was poor.
Kanu ran into Lee Carsley and fell over, the ref booking Beattie... presumably for being on the field! As half-time approached, Everton had clearly struggled to perform effectively, with the Portsmouth defence denying the Everton forwards any meaningful time on the ball.
Anichebe came on at the start of the second half, in place of James Beattie, and David Moyes making his attempt to change the game, with McFadden on also for David Weir. Stubbs had a pop from a free-kick but it was always going wide. Van der Meyde was involved as Everton tried to kick on, but his crosses were too deep. In the next attack, running in on goal, he got sandwiched by Taylor and he collapsed: yellow card for 'simulation'! Kanu had another pop from the edge of the area.
Johnson fouled and got the yellow card this time. A good Van der Meyde cross was headed strongly by Yobo at the far post but James saved. James Vaughan came on for Andy van der Meyde with 10 mins left and nearly connected on his first touch. McFadden had one of his runs and earned a corner. Another ball swung in by McFadden was a chance but no-one rose to attack the ball.
Everton did well as the game progressed to generate a number of scoring chances that were very promising, but the crucial indictment is that none of them were turned into goals. There was another chance for Vaughan at the death, and also for Krancjar at the other end, and a silly bit of handbags between Vaughan and Campbell after the old Arsenal warhorse had stuck in a high boot, while Stubbs got carded at the end for a tackle from behind.
It was always going to be difficult for a severely depleted and patched up Everton side, and the early wonder goal did them in. Moyes did what he could to change the game but it wasn't to be. A first defeat in 49 years for Everton at Fratton Park, who slip to 10th, while Portsmouth climb back to third!!!
Match Preview
Struggling for numbers in crucial areas but buoyed by Sunday's win over West Ham, Everton travel to the south coast to face Portsmouth, a team who, despite the cash splashed by the club's new owners, have surprised many with their impressive start to the season.
Tim Cahill, Tony Hibbert and Mikel Arteta all remain on the injury list, joined by Leon Osman, injured last week, and that will limit David Moyes's options in midfield and defence, just as it did against the Hammers.
Phil Neville missed that game but while Osman was ruled out earlier this week, Neville is rated as doubtful but has a 50-50 chance of being passed fit to face Harry Redknapp's Pompey.
If so, it's a toss up whether he is deployed at right back where he has shown to be most effective or is drafted back into a midfield that last weekend featured both James McFadden and Andy van der Meyde. With neither having shown previously that they could cut it on the flanks, it was no doubt pleasing for Moyes that the Blues got such a good result.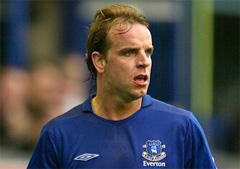 Van der Meyde:
hope for his future at Goodison after last weekend?
The Dutchman, in particular, got deserved plaudits and Osman's absence means he will surely get another opportunity to stake his claim to the first team this weekend. Simon Davies is also a potential replacement for Osman.
Up front, James Beattie's industry and Andy Johnson's apparent return to fitness mean that their thus-far profitless partnership will likely continue and, fitness permitting, the rest of the side will remain unchanged as well.
Pompey are a point better off than Everton going into this one with an identical home record to Moyes's men, i.e. five wins, two draws and just one defeat. That solitary loss was to Bolton, whom the Blues beat two weeks ago.
With the likes of Kanu, Pedro Mendes and Lua Lua, they have plenty of ammunition to capitalise on Everton's injury-affected team. But they are still Portsmouth... beatable at Fratton Park where the Blues have a 100% record in the Premiership so far.
Given the injury problems Moyes has to deal with, a creditable draw would be a fine result to take back to Merseyside, but there is always the hope that Johnson can end his goal drought and nick this one for us by the odd goal and leapfrog over Redknapp's outfit in the table.
Matchday Stats
After the victory over West Ham, Everton's 54th match against Portsmouth sees them trying to win two consecutive League matches for the first time since the derby victory this season, which followed the 2:0 win at Tottenham.
Everton's full record against Portsmouth is:
| | | | | | | |
| --- | --- | --- | --- | --- | --- | --- |
| | P | W | D | L | F | A |
| Premier League | 6 | 5 | 0 | 1 | 7 | 3 |
| Division One | 44 | 16 | 8 | 20 | 71 | 89 |
| FA Cup | 1 | 1 | 0 | 0 | 5 | 0 |
| League Cup | 2 | 0 | 1 | 1 | 3 | 4 |
| TOTALS: | 53 | 22 | 9 | 22 | 86 | 96 |
The last match between the sides saw Everton win 1:0 at Portsmouth thanks to a Andrew O'Brien own goal which the Premier League's dubious goals committee took away from Leon Osman.
Whilst our overall record against Portsmouth is split 50:50, our record there is not too bad considering:
| | | | | | | |
| --- | --- | --- | --- | --- | --- | --- |
| | P | W | D | L | F | A |
| Premier League | 3 | 3 | 0 | 0 | 4 | 1 |
| Division One | 22 | 6 | 3 | 13 | 29 | 55 |
| League Cup | 1 | 0 | 1 | 0 | 1 | 1 |
| TOTALS: | 26 | 9 | 4 | 13 | 34 | 57 |
Overall, it would appear that a Portsmouth win or a draw is the most likely result, but this is tempered by the fact that Everton are still undefeated at Portsmouth in the Premier League. Then again, Everton's record for 9 December shows what a bad day, generally, this is for the club:
| | | | | | | |
| --- | --- | --- | --- | --- | --- | --- |
| | P | W | D | L | F | A |
| Premier League | 1 | 0 | 0 | 1 | 0 | 5 |
| Division One | 12 | 2 | 4 | 6 | 11 | 14 |
| TOTALS: | 13 | 2 | 4 | 7 | 11 | 19 |
The only other Premier League match on this day was a 0:5 defeat at Manchester City in 2000. We have, though, played Portsmouth already on this day, back in 1933, when the clubs registered a 0:0 draw at Fratton Park.
Milestones that can be reached this game:
· If he starts, Phil Neville will be making his 50th Premiership start for Everton. If Phil doesn't start but comes on as substitute, then he will be making his 50th Premiership appearance for Everton instead.
Moments of class win it for Pompey
A potentially temporary third-place berth was up for grabs at Fratton Park today but it was Portsmouth who made the leap into the Champions League places with a comfortable win over injury-ravaged Everton.
That the game was settled by an indefensible opener by Matthew Taylor was less important than the fact that the Blues were largely out-classed by Harry Redknapp's well-organised outfit and never looked like clawing their way back into it despite some positive substitutions by David Moyes.
With Tony Hibbert, Phil Neville, Alessandro Pistone and Gary Naysmith either injured or not sufficiently fit, Moyes deployed four central defenders across the back, with Joseph Yobo and Joleon Lescott playing as full-backs either side of Alan Stubbs and David Weir.
James Beattie continued his partnership with Andy Johnson up front and in the midfield, Simon Davies returned to the starting line up in place of Leon Osman while James McFadden made way for Nuno Valente on the left. Andy van der Meyde made a second-successive start on the opposite flank.
Pompey are a team in good form enjoying prospects in the Premiership like they never dreamed and it showed in the early going as they knocked the ball around with purpose. Everton, meanwhile, resorted to a frustrating game of hoof ball; last weekend they could blame the conditions, this time tey will, no doubt, blame the makeshift line-up, but the fact is that any permutation of first team should be able to play together and move the ball on the deck.
Nevertheless, neither side had put a stamp on the game until, out of the blue, the home side took the lead through the kind of goal for which you can't legislate. Davies slid into a challenge with Kanu, the ball bobbled up and from perhaps 40 yards out, Matthew Taylor belted it over Tim Howard and into the net. Taylor, who had scored a similar goal against Sunderland last season, wheeled away in delight and the home fans broke out into annoying and seemingly endless song.
Stung into action, Everton might have responded within five minutes but when Stubb's free kick was flicked on nicely by Lescott, Beattie, whose predatory instincts seem to have abandoned him long ago, didn't make the crucial touch to divert it past the 'keeper. Instead, David James dived to stop the ball with his palm and then gathered it at the second attempt.
Then, a nice move ended with Van der Meyde dinking it over the top for Johnson but he was, incorrectly, flagged offside and Yobo worked space for a cross that Beattie headed goalwards but it was easily claimed.
Having failed to make that spell of pressure tell, Everton fell behind by a second goal in the 26th minute when Gary O'Neill crossed and Kanu, completely unmarked, volleyed it back across goal and into the far corner. The Nigerian, seemingly washed up after an unsuccessful stint at West Bromwich Albion but who is now the Premiership's top scorer with nine goals was quite the contrast to Beattie who cost £6m and has yet to notch a single goal from open play so far this season.
Someone needs to tell him, though, that he is not going to do it from direct free kicks either. Yet again, Beattie stepped up to take another long-range free kick that never seem to trouble anyone but the wall and fans behind the goal; this time it deflected off Taylor's out-stretched boot hit Andy Johnson on the back and sailed harmlessly wide.
Sean Davis, buouyed by Taylor's exploits, then tried an audacious chip of Howard but his effort didn't have enough behind it to arc over the Everton 'keeper before Van der Meyde tried one from distance himself but it flew wide. Pompey kept pressing before the break and Benjani steered a header from O'Neill's corner, while Taylor flashed a free kick narrowly over.
With the Blues in dire straits, Moyes made a double change at half time, pulling off Old Man Weir and Beattie, throwing McFadden and Victor Anichebe on, and moving Davies to right back.
Unfortunately, while Blues did improve with the addition of two strikers, their efforts still smacked of desperation and, more often than not, met stiff resistance from the home defence.
Stubbs rocketed a 55th-minute free kick just wide and Van der Meyde, again impressive on the ball, was booked for diving even though he was clearly and deliberately clipped by Taylor as he nipped between two players on the right flank.
Meanwhile, Pompey remained an occasional threat and when Taylor flicked it on for Benjani, the Zimbabwian managed to push it through Howard's legs but didn't get enough on it to carry it into goal.
Everton stepped up their efforts to get something from the game in the last 15 minutes and they nearly pulled one back when Yobo rose to power a header from Van der Meyde's corner but James got down well to bat it away. A couple of minutes later, a great cross by Davies was destined for Johnson at the back post but Anichebe intervened and could only head it on and out of play.
Still the Blues came forward and a nice interchange down the left saw McFadden slip it wide to Valente on the overlap but his dinked cross was headed wide of goal by James Vaughan with his first touch after replacing Van der Meyde.
Ultimately, Everton were undone by two moments of magic by a Portstmouth side that seems to have just the right blend of skill and tenacity to take them far this season but at the heart of the Blues' failings was a weak midfield and an inability to move the ball effectively on the deck on a consistent basis. Howard, who distinguished himself from his predecessors in the early part of the season by bowling the ball out to his defenders with pleasing regularity seems to have dropped that tactic altogether, preferring now to hoof the ball as far downfield as possible. The predictable result was that it would come straight back in front of another blue wave.
Carsley did his usual job of breaking things up in the defensive midfield role and occasionally scything people down, earning himself another booking, but his distribution was disappointing. Davies put himself about a lot but offered little going forward and Valente didn't really make the most his opportunity on the left flank until he started getting forward in the latter stages.
The biggest threat seemed to be Van der Meyde, who drifted in from the right to try and create things in the centre but Johnson was closely marshalled and Beattie is neither Beattie nor Anichebe offered enough movement to create the openings needed. And while he was often able to beat a couple of markers, he usually ran into a blue wall before finding a pass to make.
It's easy to blame the forwards but they had precious few chances and, in the most damning indictment, Andy Johnson didn't get a single clear-cut opportunity in the entire 90 minutes... again! And it's just as easy to point to the missing personnel, but Moyes's team have been playing this ineffectively at various times for the past five years. Even more worrying is the fact that the manager doesn't seem to know why his team isn't scoring. Perhaps he should sit down with a stiff drink and a notepad and watch this one on tape from start to finish.
* Unfortunately, we cannot control other sites' content policies and therefore cannot guarantee that links to external reports will remain active.