With a line-up that pretty much picked itself, given mounting injury constraints once again, the tone if this game was established in the first 10 seconds from Everton's kick-off, the ball drilled back for Neville who hoofed it up the field and possession was given to Villa on a throw. The next move stunned Everton as Villa moved the ball infield with pace that left the sleepy Everton defence dazed as Sidwell struck a superb shot past Howard to silence the hopeful Goodison crowd.
It was nothing less than a static and unenergetic Everton deserved and their hopeless play for the next 20-odd minutes confirmed that most of them must have still been recovering form one helluva Saturday night bender — could there be any other explanation?
After Cahill had been the first to test Friedel with a shot that was too direct, Lescott finally got them level on the half-hour from a good Arteta free kick and it was the Blues who finished the first half strongly, without playing the most cohesive football in a game that was becoming increasingly competitive.
Everton looked like they would take control in the second half with a series of attacks pinning the Villa defence in front of their Park End goal. But an unspeakably stupid Jagielka howler gifted the lead to Young and Villa when he committed the ultimate crime — passing back without looking up. He couldn't have laid it on a plate for the lively Young if he'd tried.
Everton fought back with tremendous determination but it proved simply impossible for them to get the ball to Anichebe, who looked increasingly isolated in a game that largely passed him by. Fellaini gave his usual display of rare skill and vision interspersed with hesitancy, sloppiness, clumsiness, and a maddening lack of awareness that saw him first get booked and then very nearly sent off for a second yellow card. He shows no indication of understanding or coming to terms with the pace and speed of thought needed in the top flight.
As the Blues clearly struggled to penetrate, Davey did his usual dithering act on the sideline... finally coming up with his masterstroke in the last 10 minutes: Van der Meyde (!) on for Capn Pip... and Baines (!!!) on for Anichebe. Well, say what you will... they eventually grabbed the equalizer with just second left in what had become a thrilling rough-and-tumble battle of epic proportions. And it was Lescott again who hooked the ball into the net at close range in the 93rd minute. Queue massive celebrations at a point saved....fantastic stuff, and great Goodison entertainment no amount of scripting could create
But the celebrations at claiming a point were short-lived as yet another mix-up in the middle, two Everton players going for the same ball, gifted possession to Villa and Young was off to the races. He finished the Blue renaissance off with aplomb, stunning the shell-shocked Goodison faithful once again. An utterly sickening end for the Blues to a game that will have the neutrals and pundits purring about classic old-fashioned blood-and-guts football that can only be served up in the English Premier League.
Match Report
The wave of jublilation that swept around Goodison Park when Joleon Lescott acrobatically volleyed home his second goal of the game with just shy of 93 minutes on the clock felt like victory. It was certainly an outpouring of relief and a feeling of atonement for Everton who had twice shot themselves in the foot but battled back manfully both times to cancel out Aston Villa's advantage.
They appeared to have salvaged a precious point against the side best placed so far to assume the Blues' mantle as de facto challengers of the top four but the buzz of elation was still ringing around the Old Lady when one last midfield slip allowed Ashley Young to race into the clear for a second time in the match and deliver a sickening body blow with the last kick of the game.
The tragedy of it all was that despite having just one fit, recognised striker on whom to call in the form of the industrious but ultimately frustrated Victor Anichebe, there were so many positives to take from this game from Everton's point of view. Not least of which was the manner in which they took hold of this match after the 25th minute, wiped out Steve Sidwell's first-minute sucker punch, and were on course to turn the match on its head until a moment of madness from Phil Jagielka turned a quest for victory into one for a creditable draw.
Martin O'Neill's highly-fancied side were quicker out the gates, hungrier in the challenge and faster to the 50-50 ball for the first quarter of the game but they will know in their heart of hearts that it was a hefty dose of pre-Christmas giving on Everton's part, a pinch of good fortune and a predictably woeful performance by referee Martin Atkinson that allowed them to flee Goodison with three points under the arm at the end of a thrilling but gut-wrenching encounter.
The triple loss of Yakubu, Louis Saha and James Vaughan had predictably dominated the headlines before this game, as had talk of Anichebe grabbing the opportunity of having the stage all to himself and staking a claim for a regular place in the side. The young Nigerian duly started up front as the lone striker spearheading an midfield quintet unchanged from the win at Spurs a week ago.
Mikel Arteta resumed the central midfield role in which excelled at White Hart Lane but it was he who dallied with his first touch of the ball and allowed himself to be dispossed by Luke Young midway inside his own half. James Milner laid Young's quick pass back to Sidwell and he drove unerringly past Tim Howard from 20 yards to stun the home faithful with just 34 seconds on the clock.
Psychologically, it must have been a hammer blow to David Moyes's side — chasing the game from the first minute with a blunted 4-5-1 formation was clearly not the gameplan and a long afternoon looked on the cards as Villa harried and pressured their way through the next 24 minutes. Everton looked lethergic by comparison until their first sight of goal in the 25th minute brought them to life.
Leon Osman sent a purposeful header forward into the path of Tim Cahill but his first-time shot from the angle was parried by Brad Friedel and the danger was cleared by the visiting defence. Anichebe then won the Blues' first corner which Marouane Fellaini despatched into the keeper's arms and the young Nigerian had the home fans on their feet baying for a penalty when he chased Osman's through-ball and was knocked over by Milner's defensive barge.
Everton were level within three minutes, though. Cahill won a free kick on the left flank and Arteta whipped in a dangerous ball which was deftly flicked on by Osman, leaving Lescott with the simple task of guiding it past Friedel.
The pendulum had definitely swung Everton's way and all of a sudden it was one-way traffic to the Villa goal. Fellaini again failed to test Friedel sufficiently with a header, Osman put a right-wing cross just too far ahead of Anichebe before the striker latched onto Cahill's knockdown but powered his shot straight at the 'keeper.
As half-time approached, the hosts kept getting closer to finding a second goal and after Osman volleyed well wide they might have done three minutes before the break when Fellaini rose once more to meet Steven Pienaar's lofted ball from byline but, with Friedel seemingly beaten, his effort was headed off the line by Cuellar.
Indeed, Villa had been so contained for the latter part of the first half that they didn't threaten Howard's goal until two minutes into stoppage time when Fellaini collected his customary booking for a clumsy foul on the edge of the box and Gareth Barry planted his direct effort into the American's arms.
Everton might not have appreciated the half-timeinterruption but they looked not worse off for it at the beginning of the second period, resuming their pressure on the visitors and winning and early corner. Osman, showing a real talent for dangerous corners from the right side, floated the ball to the near post where Fellaini looked for all the world as though he'd finally found the net. Unfortunately, a miracle save by Friedel pushed the ball onto the crossbar and the Belgian was denied again.
Despite their depleted strikeforce, it just seemed a matter of time before the Blues made the breakthrough but the game took a sudden and unexpected turn in the 54th minute. Without looking up, Jagielka attempted a routine backpass to Howard but his soft ball ended up being perfectly weighted for Ashley Young who raced onto it and finished with aplomb.
It was an unfortunate lapse in judgement by a player who has been magnificent at times this season and arguably the Blues' most consistent player, His error had practically undone all the hard work that had been done to drag the team back to level terms and into a position where they could win the game.
The result was that Villa gradually slowed the game down and shut up shop, leaving Everton frustrated in their attempts to break them down. Indeed, even as the Blues mounted a late assault and Moyes threw Andy van der Meyde on for Phil Neville and then Leighton Baines for Anichebe, it wasn't until a minute past the regulation 90 that their next genuine chance arrived, Joseph Yobo heading half a yard wide from a corner.
Less than two minutes later, though, the roof came off Goodison. Jagielka, now playing as a makeshift striker was almost put in by Osman but won a corner instead which Van der Meyde took and was headed out by Barry. Osman crossed to the back post, Jagielka headed it back into the six-yard box where Cahill's cushioned header sat up perfectly for Lescott. With a shoulder-high scissor kick, the defender lashed a volley past Friedel and wheeled away in delight to be mobbed by his teammates.
Two Villa defenders lay face down in the turf, their despair at having seen two points evaporate in the heat of Everton's late rally laid bare... and that should have been that.
Following the restart, though, a Villa attack ended with the ball in Howard's arms and he cleared downfield, looking to perhaps launch one last attack for the winner, but the ball came right back from Laursen's header. Arteta couldn't control it and it fell to Agbonlahor whose flick put Young away on goal. His pace took him easily past Lescott, allowing him to smash it past Howard in virtually the same way he'd scored his first. 30 seconds past the three minutes signalled for stoppages, it was game over, no time for further reply.
The long-suffering match-going Evertonians have witnessed just one victory at Goodison all season and they'd already endured one 3-2 defeat in injury time before this latest kick in the guts... though the Blackburn defeat was in more extenuating circumstances. Given Villa's proximity in the table and the fact that they wiped the smiles off Blue faces so soon after they'd equalised, this one was doubly painful.
A crucial slip in midfield by Arteta and one horror moment from Jags aside, it would be hard to single anyone out for criticism because this was a determined team performance that deserved more than it ultimately got.
Fellaini had one of his most effective games, Pienaar less so but he was still effervescent and inventive, Osman had a really good first hour and had a crucial role in the second goal, as did Cahill again not being that effective in the final third. Even Van der Meyde showed some nice touches for the brief time he was on.
Anichebe's performance was not, however, the damp squib that some have portrayed it to be in the aftermath of this match; his physical presence alone played its part and he suffered in the same way as Yakubu has this term from the team's general inability to create chances on the floor in the area. He was well shackled for the most part by Laursen and Davies, even if the latter twice benefited from leniency by the officials when he clearly handled the ball, once in the penalty area. His lack of speed and off-the-ball movement, though, highlight the need for striking reinforcements next month.
Moyes has been criticised in thr past for waiting too long to change things up but on this occasion he no doubt felt, as I did, that his best XI — and his best chance, therefore, of getting something from the game — was probably already on the pitch. The introduction of Van der Meyde for Neville was a positive one and the withdrawal of Anichebe for a defender may have raised a few eyebrows but his decision was almost vindicated.
Again, it'll be up to the manager to lift his side after this one because every point gained remains crucial in what remains an unpredictable race for Europe, albeit one that will remain out of reach while this horrendous home record continues.
Match Preview
It was tempting to write Everton off after their pathetic display at Wigan Athletic a fortnight ago but, as often happens with David Moyes's side, they came back in their next match with the kind of performance that confounds the more critical among us and proved that they do have a bit of backbone after all.
Last Sunday's 1-0 victory at Tottenham was an immense display from back to front, particularly in view of the twin losses of Yakubu and his replacement, Louis Saha, to injury. And with both missing this weekend against Aston Villa and James Vaughan himself already ruled out until the New Year, it will be up to young Victor Anichebe, the closest thing to a fit striker with Premier League experience that the Blues have at the moment, to lead the line in what is a massive fixture in the context of the fight for fifth place.
Anichebe has been playing with a minor back injury but will spearhead the familiar 4-5-1 formation against a Villa side that look to be serious contenders to be in and around the battle for 5th and perhaps 4th place come May.
Big Vic has struggled for consistency when given a run in the team so along with the big responsibility that will be placed on his shoulders as the lone striker comes a big opportunity for the Nigerian international to really show that he has what it takes to be a regular starter.
He demonstrated his power, opportunism and finishing power in the Blues' Uefa Cup run last season but he his goals return in the Premier League will probably be a disappointing to him in light of those match-winning exploits in Europe.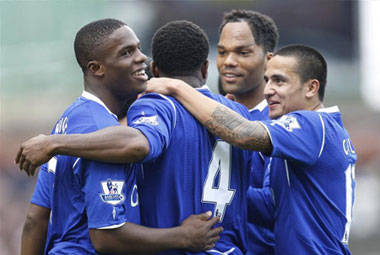 Big Vic
(left): Big responsibility
While the win at White Hart Lane was founded on a towering performance by the defence, particularly by Phil Jagielka, the key to the victory from an offensive point of view was a star turn by goalscorer Steven Pienaar and a composed display by Mikel Arteta in central midfield, a role many fans have long felt he should fill on a regular basis rather than being isolated on the flanks.
A repeat performance by those two and more involvement from Tim Cahill will be vital to the Blues chances against Martin O'Neill's men who are disciplined, strong and difficult to beat.
It doesn't look as though Moyes will have to worry about Villa's chief aerial threat, John Carew. He is apparently ruled out with a back strain and winger Ashley Young is also struggling to shake off a calf strain. O'Neill may turn to young striker Nathan Delfouneso in attack with danger man, Gabriel Agbonlahor.
With Hull's victory over Middlesbrough this weekend, 5th place remains out of reach at the moment but a win at Goodison on Sunday would bring Everton level with Villa on points and back within a point of the Tigers.
* Unfortunately, we cannot control other sites' content policies and therefore cannot guarantee that links to external reports will remain active.