FAN ARTICLES
The Last Domingan
By
Ian Macdonald
: 19/02/2009 :

Comments
(0) :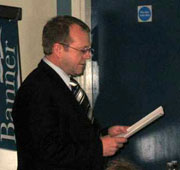 Paul Wharton
And so came to pass the second part of our trilogy of Mahon, Cuff and Baxter, unfolded on another great educational night at Goodison, the venue of this class was the aptly named 'The Peoples Lounge', for Cuff was a man of the people.
It was held on Friday 6th of February, 2009. The following report on another great night for Blues is long but so is our history. First at the top of the class was fellow Blue and Shareholder Paul Wharton who works so hard to put these nights together.
Intro and Acknowledgements
My name is Paul Wharton EFCSA.
Ladies and Gentlemen, we at the Shareholders Association welcome you to our forum, "The Last Domingan".
Tonight marks the 60th Anniversary of William Charles Cuff's Death; this is the Second part of our Trilogy Series.
We all think we are good, great Evertonians, in my view we cannot even lace his boots. We think of great players in our past like Kendall, Ball and Harvey but Cuff was so much more to Everton and tonight you will see how I make this bold statement He is the Greatest Evertonian and tonight we honour this man.
Speakers:
We have the acclaimed author of "Thank God for Football" and friend of our Association Mr. Peter Lupson, who will talk about the Welsh part of the Cuff Family, along with Glyn Griffiths, the Welsh players fans connection. Then football historian Robert Galvin.
And firstly, Max Dunbar from the Everton Collection who will give a talk and take a Question and Answer Session.
Max Dunbar talked about the Everton Collection Trust
The Everton Collection— Project Update
Background
In 2007 The Everton Collection Charitable Trust purchased the David France Collection with the generous assistance of Heritage Lottery funding. At the same time, Everton Football Club donated their own archive to the Trust.
Last year The David France Collection was integrated with The Everton FC Archive to form the most comprehensive football collection in the world — The Everton Collection.
The Heritage Lottery Fund also awarded the Trust funding for a three year project with Liverpool Record Office. This project began in June 2008, with a mission statement "to catalogue, conserve and promote The Everton Collection to as many audiences as possible." The total project cost including the acquisition cost and match funding in cash and in kind is over £2 million with a grant of just under £1 million. A large amount of time and effort went into the complex process of developing and writing the application and the large number of supporting documents required.
Who owns the Collection?
The Everton Collection Charitable Trust owns The Everton Collection. The Trust are an independent body, separate from the Club. This is an important issue as it ensures the Collection is protected from any club politics or disputes that may occur in the future. The Trust has an overall responsibility to preserve the Collection for future generations.
The Chairman of The Everton Collection Charitable Trust is Lord Grantchester. There are several other trustees including a senior National Museums Liverpool officer, leading heritage experts, historians and Club officials.
The Trust meets quarterly and discusses project developments, new acquisitions and fundraising events.
It is crucial that the Trust keeps fundraising to continue building and promoting The Everton Collection further. Everton FC has pledged to support this in the HLF application.
The Trust are working in partnership with The Everton Collection project team based in Liverpool Record Office at Liverpool Central Library. The Everton Collection project began in June last year. The project team are highly-qualified with vast experience working with world-class archives and sporting collections:
David Stoker is the Manager of Liverpool Record Office with 20 years experience as a qualified archivist, managing major cataloguing, digitisation and outreach projects. David played a leading role in securing Heritage Lottery Funding for the project.
I'm the Project Officer, managing the project to ensure the Collection is professionally catalogued and conserved. I will be managing the digitisation of the Collection, creating a website and producing exhibitions across the city. I have an MA in Museum Studies and have worked as a Sports Memorabilia Specialist at Christie's and was the Curator at the Museum of Rugby in Twickenham Stadium.
Belinda Scarlett is the Learning Officer, managing the project's learning and outreach programme. Belinda will be developing learning resources, including education packs, loan boxes and online learning resources for schools. Belinda has an MA in Arts & Museum Management and was previously working as the Access Officer at the National Football Museum in Preston.
Karen Sayers is the project Archivist responsible for cataloguing and conserving the Collection to ensure all material is publicly accessible at Liverpool Record Office and on the website. Karen has an MSc in Information Studies and is currently studying for an MSc in Archive Administration. Prior to working on the Collection, Karen was a chartered Librarian and Archivist at the British Library and at Cumbria Record Office.
Also working on the project is Liverpool Record Office's fully qualified and accredited conservator, Sharon Oldale, who has already been conserving and preserving programmes and photographs.
We also have ten committed volunteers who are essential to the project's success. Our fully trained and experienced team of volunteers are currently cataloguing and labelling all 17,000 items.
With such a skilled and experienced project team, the Collection could not be in better hands!
Where is the Collection?
The majority of the Collection is housed in Liverpool Record Office at Liverpool Central Library
All material is stored in the most secure location in Central Library — The Strong Room. All the city's rare and valuable archives are stored here — the Collection is shelved alongside the city's charters, for example.
When the project team started in June we were confronted with boxes full of material from David France and the Club. None of this material was in any particular order, especially items that were brought over from the bunker underneath the Park End Stand.
Over the last 6 months the project team have taken most items from the Park End bunker to Liverpool Record Office and have integrated all the material together to create 'The Everton Collection'.
Every single item in The Everton Collection is now catalogued and packaged in conservation-quality boxes and acid-free paper. It is essential all the material is stored in conservation-quality packaging as it prevents items from deteriorating.
A major part of the project is to preserve the Collection for future generations. This has now been achieved by the project team packaging all the material to professional archival standards.
There is also material from the Collection on display at Goodison. All the trophies, silverware, medals, shirts and other memorabilia on show in the Dixie Dean, Brian Labone and other suites now belong to the Trust and are currently on loan to the Club. The project team plan to work closely with the Club to update these displays to show more of the Collection over the next few years.
What's in the Collection?
The project team have now brought the two collections (The David France Collection and Everton FC Archive) together to form The Everton Collection.
There were originally thought to be 10,000 items in the Collection. With the Club's own archive forming such an integral part of the Collection, there are now well over 17,000 items.
Many will have read David France's books about his Collection and so will already be familiar with many of the highlights:
Minute Books (29 volumes, dating from 1887-1964)
These books show the minutes from various Committee meetings at the Club. As David France calls them, they are "the DNA of the Club" showing how the Club has evolved. Many key events have been recorded in these books and will be a football historians dream come to true when they are made fully accessible.
Programmes
From 1886 to present day there are over 10,000 programmes in the Collection ranging from Home and Away matches to Cups, overseas tours and even baseball and athletic programmes. It is estimated that more than 90% of all Everton programmes are in the Collection.
Photographs
From 1881 to present day there are over 1,500 photographs showing images of teams, players and supporters. Many of the early photographs have needed some restoration work and our conservator has already restored many of the early team photographs.
Contracts & Letters
As we are celebrating the life of Will Cuff, it is appropriate to mention a series of letters between Cuff and Harold Hardman in the Collection. The letters cover a period of several years and show a true friendship developing between Cuff and Hardman – with Cuff even coming forward as an eye-witness to a fight Hardman was involved in.
All this material has come from The David France Collection, but it is now just as exciting to discover new material from the Club's own archive.
Since June we've discovered an 1885 ticket for a charity match between Everton and Liverpool – 7 years before Liverpool FC began!
We've uncovered over 200 scrapbooks and hundreds of programmes from a passionate private collector, Don Cooper.
We've also found more medals, tickets, trophies, shirts, badges and rosettes – the list goes on and on!
Some other highlights are the more obscure items in the form of presentation gifts from overseas clubs — a Czech miner's lamp, models of a Geisha Girl and a Saudi Arabian model aeroplane!
The Everton Collection has now grown from The David France Collection to a larger, even more comprehensive collection — all thanks to the Club's generous donation.
What's happening to the Collection?
The Collection will be launched in September with a new website, learning programme and a major exhibition at Central Library.
In order to successfully achieve all this, a number of phases need to be completed:
Cataloguing
From the very first day of the project we needed to know exactly what there was before any other work began.

Bringing the two collections together has taken 8 months.

Physically, we've had to relocate all the Goodison material to Liverpool Record Office and package over 17,000 items to professional conservation standards

Digitally, the Collection had to be broken into sub-groups to make it easier to manage and catalogue. Excel spreadsheets were created for each sub-group and each item has now been catalogued on Excel. All these records are now being exported into the professional archival management database, CALM, at Liverpool Record Office. This digital catalogue information will then be used to produce an online collection on the new website.

Digitisation
The majority of the Collection will be digitised by a professional heritage digitisation bureau, UK Archiving, over the next two years.

UK Archiving are one of the leading heritage digitisation bureaus in the country, with specialist scanning and image capture equipment designed specifically for valuable archives, such as The Everton Collection.

Every page of every Minute Book is currently being digitised and transcribed, which will allow users to read and search the Minute Books like a virtual book on the website.

Every page from every pre-war programme will be digitised next, along with other early material such as contracts, letters and cigarette cards.

Why are we digitising the Collection?

Preservation reasons — once an item is digitised, there is no reason for anyone to handle that original item again.
Website — our aim is to ultimately have the whole collection fully searchable on the Trust's website.

Website
The website will be designed for different audiences who will want to use the online collection in different ways:

Fans will want to look up programmes from favourite matches
Historians will want to research the Minute Books
Teachers will want to use old team photographs in their history lessons
Children will want to find out who Dixie Dean was

We also want the website to be interactive and encourage debate — discussion forums/blogs/facebook sites (e.g. visitors could pick their top 10 items and discuss, or curate their own online exhibitions)

We are currently going through a tendering process with 6 leading web designers and plan to appoint a company in the next few weeks. The first phase of the website will be ready in September — where the Minute Books and other select material will be fully searchable.

More material will be added as more is digitised over the next few years and we hope to have the majority of the Collection online by 2011.

Exhibitions
Since June, selected material from the Collection has already been displayed in various exhibitions across the country:

The 12th Man Exhibition – Central Library, Liverpool (August-September 2008)
UEFA's 'Only a Game' Exhibition – World Museum, Liverpool (October-April 2009)
FA Cup Exhibition – Houses of Parliament, London (January 2009)
FA Cup Trophy Tour Bus – Williamson Square, Liverpool (February 2009)
Some key items shown to Andy Burnham, Secretary of State for Culture

The Collection will officially be launched with a major exhibition in the Picton Room in Liverpool Central Library. The exhibition will run from September to early 2010 and all the treasures of the Collection will be on show.

It's hoped elements from the show will then form a travelling exhibition to tour local libraries and community centres across Merseyside.

Material will also be lent to the National Museums Liverpool for the new Museum of Liverpool which opens in October 2010. Other items will also be lent to the National Football Museum in Preston for a proposed Everton Collection display in their permanent gallery.

Learning
An extensive learning programme will also be launched in September.
Education packs and online learning resources will be produced by the Learning Officer to help teachers incorporate the Collection into the National Curriculum.

Loan Boxes and specialist Handling Sessions will be developed, to take the Collection out to schools and community groups.

The learning opportunities with this Collection are huge. It can be used to teach children more than just Everton's history — we will use the Collection to explore local, national, social, business, advertising and economic history.

We have already held a Family Activity Day in Central Library and recently held a Handling Session in Central Library. A video of this handling session has been produced and our Learning Officer is now showing this film to teachers to develop new learning resources.
When can I see the Collection?
The Everton Collection will be launched in September 2009. This will include a major exhibition at Central Library, a new website and an extensive learning programme.
It must be stressed that not all material will be immediately accessible as we will still be digitising items over the next few years. However, as more material is digitised more will become available on the website.
By the end of the project I hope to have the majority of the Collection fully searchable online, material on display at national museums and schools across Liverpool using the Everton Collection to inspire and educate future generations.
Evertonians can be justifiably proud that their team, which has such an outstanding history, will have the most comprehensive football club archive in the country if not the world accessible for all in the public domain and preserved to professional standards.
Max then threw open to the forum questions and answers which included the following from our attentive crowd.
"How can the gaps be filled of the meagre 10% missing to complete the final items of our history "? Max responded and said that the collection was on going and the trust is constantly looking at football auctions and EBay to add to the collection.
"Can fans lend items to the collection?" Max: By all means we would welcome any addition worthwhile.
"After the three years funding what then?" Max: We are constantly looking of methods to raise funding. There is the potential of selling copies of the football photographs etc.
"I noticed there are no minutes from 1965 onwards, can we see them?" Max: Well we will endeavour to ask the present custodians if we can access to these notes bearing in mind Everton are a private company and some of the information within those minutes may be sensitive.
"Will online access be free?" Max: Yes it will not just for football fans but for everyone who wants to go through the looking glass of our history on Merseyside.
"In 1938 the other lot adopted the Liver Bird, can we reclaim it as we did have the bird on our first medals and it was on the crest of the Cities Emblem. Let's not forget we were the first club in the City?" Max smiled and said he would enquire.
Next to the podium was Steve Williams who is the Trust's financial manager. He gave a very frank and honest speech including that they critical of themselves for not doing a better job of publicising this great work. Steve said that the lottery funding does not accommodate buying new articles they have been doing this with any donations. There is the E-commerce aspect to help.
One of the crowd asked how about putting a match on to help pay. In the past Everton and Liverpool have played for the benefit of the local unemployed etc.
Steve said that they would have to be careful as not to get a flop as it costs in excess of £50,000 to stage a game at Goodison and we have to be careful to cover these expenses. We are going to make the trusts minutes available so that fans can add ideas on how to help. We accept our failure in the PR, we want to make it better maybe Newsletters by email.
A lot of work has gone into this collection, it has to be right from the go.
In the run up to September fans will hear a lot more about the exhibits etc and there will be a permanent exhibition constantly refreshed in its new home and Goodison.
Next to face the class was Paul Wharton. Paul had a bonus for all his hard wok from Cuff's past. The day before Cuff died Everton played the reds the result was 0-0 so as an omen in the week in which we played the dark side again Paul bet the same result and collected £180 for a £20 stake happy days.
Thanks, Will! Oh we beat them in extra time, good finally overcomes evil in another trilogy against the reds, bit like the Lord of the Rings.
The Last Domingan
Tonight fellow Evertonians we are honouring one of the true greats of football, on the 6th Feb 1949, Everton FC and Football lost in Will C Cuff one of the Greats. It is 60 years ago today that Will died. Let's go back to 1878 to Stanley Park when Will started to play football.
When all of us were 8, 9, 10 years of age we all dreamt of playing for Everton Football Club, well there was no Everton FC for Will.
St Domingo, his church, started to play football with fellow church goers, with the help from the Minister Rev. Ben Swift Chambers. The minister not only started a church team that was going to burst into a fantastic league team, but created such an Enthusiasm for Football that would stay with him till he dies 70 years later.
We will learn about his morals and sense of duty.
Will The Player
There is much talk of Will Playing for St Domingo and Everton FC.
We have here a cutting from a newspaper article that "Will" participated in, stating that he was a member for Walton Breck FC and Mount FC, where injury forced him to retire.
In 1890 he became a member of Everton FC, he was clearly friends with George Mahon and supported George's stance against John Holding when we moved from Anfield in 1892, Will became a shareholder.
Will was training to be a Solicitor and was also the Choirmaster of St Domingo's, at 23 to have this position was no mean feat. "Will" took St Domingo's choir to the runners up spot in Wales "Estifodd"
George Mahon with the help of Dr Clement Baxter clearly laid the foundations at Goodison Park and Will kept it going. Unlike George, who was into Local Politics, Will was more interested in football politics, a career that would take him to the summit of the football world.
Will was asked to be a director in 1894, he was asked to take the combination side (Back then when you were a director your duties on Match day was to be a Steward outside, not sitting down like nowadays to a 3 course meal, I can just see Robert Earls face if asked to be a steward by Bill Kenwright)
In 1901 Will was asked to be the Club's Secretary (This was the only paid position) In 1906 we won the Cup and in 1914-15, The Football League Championship returned to the club, as we all know we won the first at Anfield.
In 1909 Will sanctioned the South America Tour, to Argentina and Uruguay. He wanted Everton to be promoted all over South America and Europe too. In 1911 he started the Central League System and managed Everton Reserves, they hardly lost a game. In 1919 Will took a break from Football to concentrate on his work.
After a three year break, he was back as Chairman, this was a period when his leadership would really come to the for. We would go on to win the League in 1928 and 1932, also the cup in 1933, were numbered shirts were worn for the first time. We would have a world class stadium, the first double decker stand in the country, and also we were the richest club in the land.
The only black spot was when we were relegated for 1 season in 1929-30.
He sold Stopgate Lane Training Facility for £60,000 to a Brewery and bought Bellfield for £30,000.
"Dixie Dean called him the master"
He knew good players when he saw them;
Freeman, Dean, Lawton, Britton, Troup.
He saw raw talent in Gee, Chedozy, Mercer and Geldard and nurtured it, when he wanted to sign these young players he would take some of the senior players along to meet them just to impress the youngsters.
He was totally against the pools coming into football his concerns came right as Liverpool Vs Man Utd played a match that was crooked, some players from both teams had life bans.
Morals were high with Will, we agreed with Bristol Rovers to buy Cliff Britton and, when the end of the season came they sold him to Newcastle Utd, Will took Bristol Rovers To the league, they came down in our favour and awarded Everton FC £300, which we gave to charity.
Everton Stand Alone
Will was never more pleased when "Cash n Boots" was brought to a head, when all the captains of the League Clubs stood in a room before the Management Committee, They addressed all the captains "We know that this practice goes on, will all the players who have accepted cash or know team mates who have please sit down."
Will said "I have never felt more proud of Jack Sharp standing there all alone and of Everton FC."
How we Play
We always say that we at Everton have a tradition of playing football. Well, Will burst into a dressing room at half time when we were getting beat 3-0 as the team was playing the third-back game, "I don't know what you are playing at but stop it now, I don't care if we get beat 6-5 as long as we play in the Everton Tradition."
We did get beat 6-5.



The slogan on the banner says everything about WC Cuff
1938-39
We won the League again this time without Dixie; we had a new leader, Tommy Lawton.
Will stepped down as the chairman of Everton but he stayed as the Director of the club. He steered The Football League through the war, He was also on the League Management Committee from 1925 whilst he was also Vice President of the FA.
In 1938 the Shareholders Association was formed he becomes our President in 1939.
He stated "It existed to further the welfare of Everton and not primarily to fill seats on the board with its own nominees. So long as he was satisfied with this, the Association would continue to have his support."
He was our president till 1949.
In 1944 he was made a life President of the League, he was presented with a Silver Fruit Bowl and a scroll.
As A Man
In 1938-39 he stood down as chairman of Everton FC and became chairman of the league.
The start of the war years and I would just like to tell you of Will Cuff the man.
In 1939 his Solicitors firm, Cuff/Roberts was told to suspend his practice till the war was over, as Mr Roberts had gone off to war.
Mr Roberts was away for 6 years till he returned in 1945, Mrs Roberts was paid every week for those 6 years.
I think that shows you the measure of the man.
In 1945 the Shareholders commissioned a portrait to an artist, Mr Frank Copnall, to celebrate 50 years service to Everton Football Club.
This was presented to Will on 1st Feb 1946, he was very pleased with this portrait and stated that he would like it to be hung in the Everton Board Room in the future.
In this period, relations became soured with the other Directors. He accused them of little ambition as he went round the country, he could see how the Everton Pedestal had slipped, how we were viewed.
He also fought against the Block Vote, he wanted "One Man One Vote"
Funeral
We have just seen a bid for 100 million for a footballer.
Before he died, he was working on a transfer ceiling of £20,000, we will never know if this would have worked.
As he died on the 6th Feb 1949, at the Holywell Hotel, Parkgate, Wirral, his funeral took place on the 10th Feb 1949 at Fairfield Church and was buried in Anfield Cemetery.
There was a mile long procession.
Tributes
From Jimmy Guthrie, captain of Portsmouth 1939 Cup winning team who went on to be the leader of the PFA.
"Will Cuff was the best friend the PFA had, he would always listen and help were he could."
"Will started the benevolent fund for players"
"Hard but fair, always fought his corner."
Family
David France talks about soccer widows, His Liz being one. I am fortunate to have a footballing wife, no mixed marriages, an Evertonian for me. Will's wife Jessie would never have seen him, "Football" "Football" "Football"
She must have been the first fully Football widow.
Not everything went rosy for the Cuffs.

Henry Hudston Cuff aged 4 and Hilda Margaret aged 18, are both in Alongside Will in the grave. Really Sad.
I wanted to try and see what happened to the Cuff Family in General.
Whilst I was researching in the Central Library I came across a press cutting from April 1949. It was a part of Will Cuff's will. It stated that the Portrait would be bequeathed to EFC to hang in the Board Room and a Henry Hudston Cuff would benefit to the tune of £22,000. I rang Peter Lupson "I thought you said this lad had died aged 4."
He did, came the reply. Well this fellow lives in Stratfield, New South Wales, Australia, in this era if one offspring died, another would take the name.
The search was on, is there anybody left in Oz.
The trail went cold after Henry and the two Children form Oz.
I contacted the Sydney records office; they sent me a request from a Linda Riley looking for a Lillian Belinda Cuff.
I emailed Linda; she is the great Granddaughter of Will. Henry Charles and Dorothy the grandchildren of Will are still alive today at 70 and 74 years of age.
Linda has a sister Kim, who now lives in Essex, she couldn't come tonight, work commitments.
All what you see here tonight Linda Riley has, they knew he was a chairman of Everton and the League, but they Didn't know how much he gave our Club, they know now and are very humbled to know they are related to such a great man.
After Paul's great input we were visited by four intrepid travelers from Chile.They where the directors of our sister club CD Everton. The four Chileans came onto the stage to rapturous applause you could clearly see they were touched by the welcoming. Tony Heslop came forward spoke to them in Spanish and related our feelings towards them for coming so far to make connections to the club that inspired the forming of our South American counter parts. It was after all Will Cuff who deemed a trip to football mad South America would be fitting to embroid the Everton name across the world. One of the directors through Tony told us their great gratitude to Mr Cuff and the strong affinity people have in Vina Del Mar with Everton. Each director was given a special momento of their visit to their holy grail. The next day at half time they where invited onto the pitch where again they where given a great welcome. I hope the talks they had over dinner with our directors will cement our special relationship and that 'match' may come to fruition, Everton v Everton!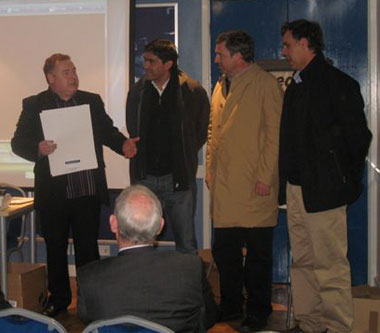 Tony Heslop centre and our four Chilean guests
After a short break we cleared some more memory banks in our brains to store more information on what was to follow which was a talk by Peter Lupson and Glyn Griffiths on the Welsh Everton connection.
Will Cuff's Welsh Background
Until publication of Peter Lupson's book 'Thank God for Football' it was not known that Will Cuff was half Welsh. When the book made this known, a regional Welsh language paper 'Llais Ogwan' immediately appealed to its readers for information about Will's mother as it was thought she came from their particular area. This was followed by a series of articles in the Welsh language national daily 'Y Cymro' about Will's Welsh background, and a major TV feature about Will and his Welsh family was shown on S4C. The people of Wales were obviously very proud to claim the legendary Everton chairman as one of their own!
Will Cuff, for his part, was also very proud of his Welsh heritage. There is even a photo of his daughter Hilda in Welsh national costume in the family's possession today. We also know that Will entered the St Domingo choir into the important Welsh cultural festival, the Eisteddfod, when he was choirmaster.
Will's mother was born Mary Thomas in Pwllheli in 1840. She was baptised in St Beuno Church which has since been pulled down, but the font she was baptised in now stands in St Peter's Church, Pwllheli. Her parents were John Thomas and Jane Jones, both from Pwllheli. Neither could read or write. On their marriage certificate they simply signed their names with a cross. John was a carrier by profession. He transported goods in horse-drawn wagons, and would have been the equivalent of a modern haulage firm. He combined this with transport
Reader Comments
Note: the following content is not moderated or vetted by the site owners at the time of submission. Comments are the responsibility of the poster. Disclaimer
There are no responses so far to this article. Be the first to offer a comment using the form below.
Add Your Comments
In order to post a comment to Fan Articles, you need to be logged in as a registered user of the site.

Log in now
Or Sign up as a ToffeeWeb Member — it's free, takes just a few minutes and will allow you to post your comments on articles and MailBag submissions across the site.
© ToffeeWeb