FAN ARTICLES
Petition for Standing Area at Goodison
A petition has been set up to allow for a few hundred Everton fans to be able to stand up in front of their seat all match, out of the way of those who do not wish to stand constantly. Fans standing up in front of their seat is an issue that won't go away, so it therefore must be dealt with to improve choice, safety, customer service and atmosphere.
http://www.ipetitions.com/petition/standupifyoulovetheblues/index.html
The proposal is for an area at the rear of the Lower Gwladys Street for 200-300 fans to be able to stand up permanently in front of their allocated seat. Some fans just prefer to stand, while some prefer it because it improves their atmosphere and allows for more singing and new songs. As Jimmy Gabriel once pointed out 'when the crowd goes quiet, the team goes quiet', and if it helps the team then why not?
Ideally, the standing area will take the form of this safe standing area in Germany: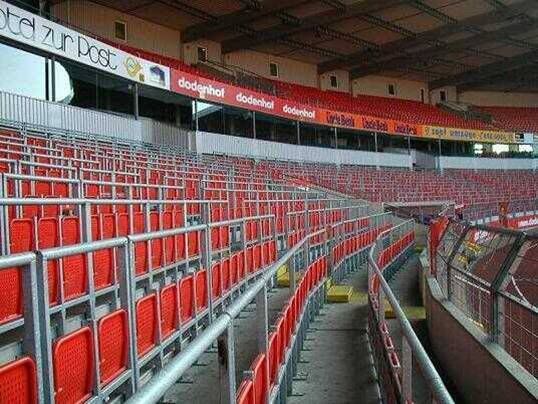 If you look carefully at this diagram you will see that the standing will be at the back of the lower Gwladys Street, and especially if combined with cheap acoustics attached to the underside of the Upper Gwladys, then their noise and songs can spread easily to the rest of the stand for them to join in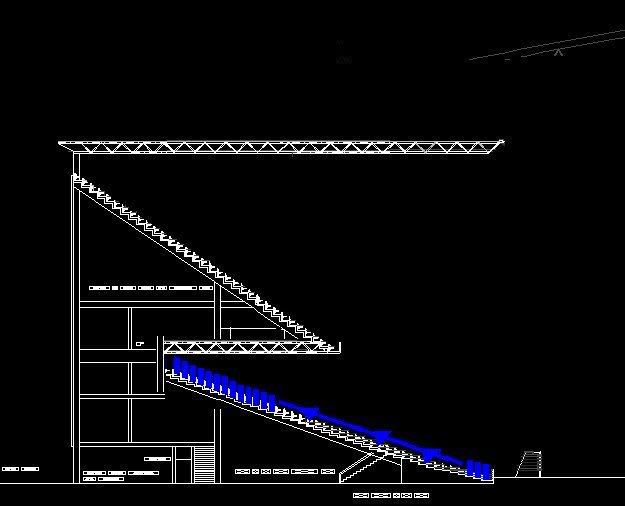 Current Problems: a) Fans on the last row of the Lower Gwladys St can't see past the halfway line when stood. These tickets should not be sold in the designated standing area (in the region of 20-30 tickets to be unsold).
b) Fans over a certain height on the 2nd to last row cannot see the Park End goal when stood. Therefore warnings should be printed on these tickets and this should be highlighted by staff at the point of purchase.
c) During big matches and big moments. Then fans will often stand constantly stand up anyway. Fans on those last couple of rows currently move to the gangways in order to see, so the above solutions will also improve safety. In addition it is to be noted that fans stand up before a match, at half time and full time when there is far greater movement, so for 200-300 to stand up when not much is happening while the ball is in motion is insignificant.
d) The rear of the Gwladys Street has always been the traditional home of Everton's vocal element. This has become diluted in recent times as fans whether they like to stand and sing or not are being issued tickets wherever. If this is highlighted at the point of purchase that it is an area where fans like to stand and sing then if they still choose to go there then they cannot complain. So it improves customer service.
e) Those who wish to have more sustained singing and standing are currently spread out over the ground making it very hard to get new songs, or any songs, going during your average match.
f) These fans who wish to back their team vocally are currently being ejected by stewards leading to an alienation of an important section of our fanbase.
http://www.ipetitions.com/petition/standupifyoulovetheblues/index.html
FAQ's
Why do you need to stand to get the singing going? Starting off songs and joining in with them before they are loud is not easy, but this is essential for songs to take off. Fans feel more self-conscious when everyone is sat so are far less likely to start off songs and join in with them before they are loud. With everyone around you standing it significantly eases this pressure allowing for songs to get going.
What are the Safety issues? The Football Licensing Authority (FLA) do not recommend standing in upper tiers or in stands over 25 degrees, (which is a safety concern for Kirkby if you want atmosphere there). The FLA recognise that there is no difference in safety whether fans constantly stand in front of their allocated seat or if they sit. Their concerns are with the customer service aspect which is answered above. Safety certificates from the council can ask for 10% of this area to be unsold which ties in with the request for no tickets to be sold on the last row.
Incidentally, Everton recognise that there are no safety concerns with fans standing up because as recently as January they sold us tickets for a terraced area against Macclesfield. For games there is regularly 7000 standing for large periods and nothing was said by them. NB: this is a petition for a tolerated area for standing in front of your seat, rather than on terraces past.
Is it legal? Standing up in front of your seat is perfectly legal, the legal requirement is only for stadia to be all-seater. Whether a fan stands up or sits has no bearing on the law. Standing and sitting are normal human actions. Current ground regulations at Goodison only allow for standing during moments of excitement. So the club only needs to change their regulations to tolerate a small amount of fans standing in this during non-exciting moments too.
What if I don't want to stand? That is fine. Don't buy tickets in this area. The standing area would be behind the those who wish to sit.
What about idiotic behaviour? It was once commented to me that to prevent idiotic behaviour the standing area should be in the Gwladys Street rather than in the Directors Box as no-ones behaviour could be worse in those who occupy that area! The point, although in jest! is that an individual will be an idiot whether stood or sat. However, it should be noted that this area is not by the away fans, or near the pitch. Fans in this area will already have their names on tickets so the accountability is there. Correctly trained (plain clothed perhaps? ie the one fan in the full replica kit, hat and scarf!) stewards can maintain this small area. If 7,000 are stood in a big match like the derby then 300 v Stoke will be fine
Everton don't sing, if you want to sing why don't you go on X-Factor? This is a very ignorant view of Everton's history of singing. We have always had fans who wish to sing at the match. The singing on the Gwladys Street can be dated back to at least the 1920s. If you don't wish to sing, don't. Some of us do though, but we are being stifled by the aforementioned problems.
Is it manufactured support? No, just the obstacles that have prevented our vocal support have been removed. In the terracing years, we had several hundred if not more who would congregate at the rear of the Lower Gwladys St. This would allow them to congregate again and stand up without worrying whether those behind wish to sit or not. If we go there and decide not to sing, then fine, but at least it would be our choice.
http://www.ipetitions.com/petition/standupifyoulovetheblues/index.html
Further Reading:
http://www.fsf.org.uk/campaigns/safestanding.php
http://www.susd.vitalfootball.co.uk/
Reader Comments
Note: the following content is not moderated or vetted by the site owners at the time of submission. Comments are the responsibility of the poster. Disclaimer
Add Your Comments
In order to post a comment to Fan Articles, you need to be logged in as a registered user of the site.

Log in now
Or Sign up as a ToffeeWeb Member — it's free, takes just a few minutes and will allow you to post your comments on articles and MailBag submissions across the site.
© ToffeeWeb