FAN ARTICLES
Planes, Trains & Automobiles
By
Ian Macdonald
: 27/10/2009 :

Comments
(5) :
Ian Macdonald recounts his travels to Belarus to see the Blues's win over BATE earlier this month. My apologies to him for posting this so belatedly. — Lyndon
Well after all the trouble we had getting visas to Everton's latest European destination in Minsk we all thought that everything else would be a doddle. Well it was, but we had some journey.
We set off Tuesday night in a very large mini bus disguised as the New Delhi express. I had to let a couple of Blues down (Sorry, Neil) for a lift to our first journeys stop to Stansted airport. We arrived in time not missing the exit off the M11 as everybody seems to and if you do it's a 30-mile round trip back. So be warned.
At the airport theres the obligatory, as it seems these days, Wetherspoons. A fine watering hole with breakfast and ale relatively cheap but not as cheap as our next stop. We flew with Ryan Air your least favourite airline in many ways. A name change costs you £100 — a sex change is cheaper in Bangkok, but that's another story.
As we set off to our next stop Kaunas in Lithuania the air hostess tells you what to do in an emergency. I often wondered what's the point at 30,000 feet your done for !No life jacket can help you at that height unless your superman. Well Marti on our trip does wear his underpants on the outside so I decided to sit next to him just in case. The stewardess was quite nasally in voice, Barry pipes up "Take the clothes peg off your nose we can't understand yer". There were quite a few Blues on this flight which made the journey quicker with all the banter. The rounds of ale cost more than the flights.
When we started our descent I noticed how flat the area was. It reminded me of Holland. As we landed quite a few Eastern Block natives started clapping I don't know if its relief from getting away from us lot or just happy they got there in one piece. Kaunas is a small airport not much bigger than Birkdale and miles from our next stop Vilnius, the capital of Lithuania.
This is another Ryan Air scam where you think the airport is near the city you want to be but its miles away because Ryan Air won't pay expensive landing charges or any if they can. Its a bit like when you use to book to go to Brussels but landed sixty miles away in Charleroi until the fair trades made them take off their misleading' fly to Brussels' advert.
We negotiated a few cabs and mini buses for our sixty kilometer journey it worked out about a tenner each. Their currency was called lita.
First thing we did was  book our train ride to Minsk, a four hour journey at the princely sum of £8 one way, take note Virgin. I often thought why does it take so long on the train for a distance of 160 mile ? Well we were soon to find out.
We had a full day and night in Vilnius which had been previously occupied by the Russians, Germans and now Evertonians. After we booked into our hotel we set off to the old town. It was quiet but it was a Wednesday it seemed to me it was a student town with churches again everywhere. We saw a nice plaque of Pope Paul from Katowice outside one catholic church. I think this was the most favourite Pope of our generation. Then we ventured into the only Irish bar in the town 'The Dubliner' it was ok but were in a new foreign country so I always think we should go to local bars and taste their delights, Guinness is well Guinness every where. We found some really cheap bars near the train station the locals were not that friendly and never joined in with our songs about Everton and the Beatles hits. I always say when someone asks where are you from? "The home of the Beatles". I don't like saying the word LiverpXXX.
In one watering hole they had dangled over the bar hundreds of their previous currency notes all worthless now.
Apart from the Irish bar I noticed there was no presence of any football allegiance anywhere. I started drinking the local vodka Bostrik, well it stuck a chord with me at 25 pence a shot. As you find in many of these places the lemonade ( usually Sprite ) is five times dearer than the spirit. We drank and sang till early in the morning.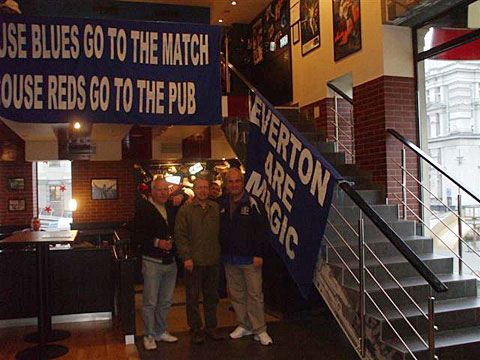 After what seemed only an hour's sleep we had our early morning call to get the 6.30 am train to Minsk. The station was in walking distance, we met up with about 30 traveling intrepid Blues all looking like they had been dragged through a hedge full of cheap ale and vodka. Passports at the ready with our shiny new £73 in total visas embroiled in letting us into  a land of golden pavements and diamond street lights. About twenty minutes into our journey the train stopped we saw loads of Lithuanian military police come on board with laptops, how far have this lot come, to check mainly the smiling  westerners it seemed. After about half an hour we were allowed to continue our journey but only for about another 15 miles then the Belarusian police came on. It appeared they had won the war with the Lithuanian police for the biggest silliest caps which resembled something  that Jamie Oliver would fry a dozen eggs in. This lot where more stern and asked us to fill in another travel document with our passport info on, what is so good about this place with more security measures than after 9/11 in New York.
After refusing to smile back at us and taking any photos we were allowed to carry on. As the train built up steam I noticed tanks and troop carries on trains opposite, were we at war again? Everything it seems is geared to another conflict   ,thing was the military warfare I  saw would be no match for the average kids laser gun these days. Why don't they just throw away their paranoia and enjoy life, go to Bangkok and have an operation to put smiles on their faces instead of investing in war mongering. Just an observation like. Seeing as we left our hotel  so early I asked for carry outs to be made when we opened our bags we had to Google some of the food inside but we were hungry and dived into the unknown food on show.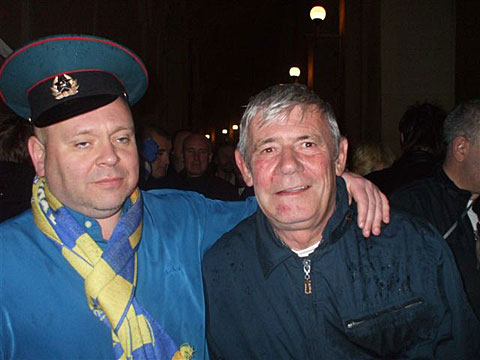 As we arrived in Minsk station we were met by another party of police who gave us information sheets in English on what not to do at the game. For instance it started off saying 'You are to observe the legislation of the Republic of Belarus since you are here. Spectators are to be admitted to the stadium before 2.5 hours of the beginning of the match.
At the entrance you are to be inspected by the law enforcement forces.
You are not allowed to be drunk or drugged up. To possess cold steel, fire arms, gas, spray guns and other types of weapons, explosives and ammunition, pyrotechnic and smoke agents etc '
Welcome comrade to Minsk!
The info sheet was also designed for when England visit here next week. In fact at the stadium they where selling England and Everton programmes.
Taxis again to our hotel, Yubileiny, not before we changed our money again to Russian Rubles "Rodney we're millionaires"! We got  about 45,000 for a tenner there was no coins only notes and loads of them, some must have been worth half a penny.
In our conversion of currency a pint was about 42pence!
When we arrived at our hotel we could not get over how nice it was for an Eastern block country we were pleasantly surprised. As we went into the foyer we were met by several nice looking girls who smiled and waved at us and apparently for 100 dollars would show you around and a lot more. These hotels had their own casino, nightclubs and lap dancing bars so after a hard day's work you never had to venture far for entertainment.
Had a shower then met me mate Paul who had traveled with ESCLA, Everton supports club London area. There was a good forty odd of them
It was good to see Paul as he did not want to go back on the ale just yet so we set off to explore this fine city. What struck me was how clean it was with massive buildings as if one builder was trying to outdo the other in stature. There was October square ( apparently a couple of days earlier it would have been September square),Victory Square and Gorky Park ( what film is that from?),it's the only city in Belarus to have a metro. A replica of the shroud of Turin was in the local catholic church. And apparently Lee Harvey Oswald, who killed JFK, was a resident here in the country's capital.
There were trams everywhere and state of the art road crossings depicting how much time you had to cross their large avenues. It looked like a mixture of new and old but a race to make the city as modern as possible. Its amazing how much you can see in a short time if you want to. On our tourist hours I picked up some Russian dolls ( no not the ones in the hotel foyer) which have a smaller doll inside several times and local boxes of chocolates. My sisters and cousins love me watching Everton in Europe if its not souvenirs  it's duty free perfumes.
But enough of tourism, we were here for some drinks and the game.
A lot of Blues had gathered at TGI Fridays, see the West had won here, but we were a day late for mad Wednesday when the waitress's and other girls  danced topless on the bar. Doh! It was pricey for the ale in there but you could have been in America so we set off to find a local bar which was not easy as they seemed to be hidden down side streets but once there the prices of ale fell like the Berlin Wall.
It was time to set off for the game, on the walk to Dynamo Minsk stadium we were confronted by some Dynamo and Bate fans asking to be in pictures with us, they were inquisitive. They kept saying "English hooligans", no not us mate, were too old.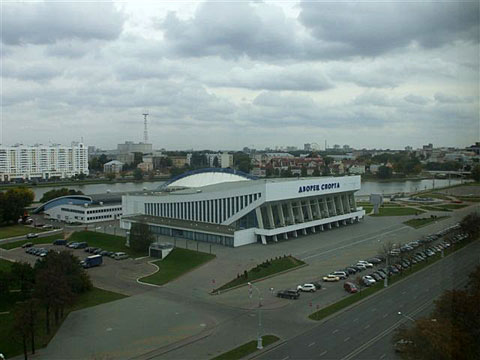 Outside the Dinamo stadium we found our sectors for the visiting fans blocked by a few hundred soldiers and police. There were 30 odd Russian toffees down for the game, some without tickets so I gave them some spares I had, now I did see a Russian smile. We were charged £6 by Everton but the local's tickets cost only £2.50. I suppose we have to pay our big stars somehow. There was barrier after barrier and at least two searches. I was guided to a tent and asked to empty my pockets I knew the score so I pulled out a old supporters club badge which looked like I was in some sort of authority it worked and they ushered me to move on. Other Blue were not so lucky and had English and local monies taken from them and the dreaded rubber gloves came out. But what can you do, who can you protest too? It's a similar story in the other Eastern Block countries I've visited.
The rain had started about half an hour before the game, what is it with our European visits and bad weather. Florence was the same as was Anderlecht. the rain now was on par of Bristol Rovers away when Jeffers broke his ankle and the Gas men beat us. I was handed a bin bag, no not by the missus this time, which I gratefully put on my head.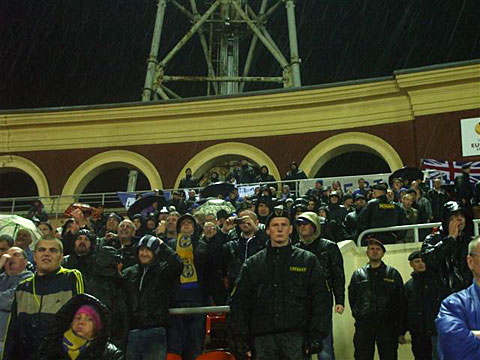 The locals were up for this in a two thirds full stadium with Dinamo fans one side showing us a welcome to annfield sign and Bate fans in yellow opposite
The fans were mainly locals from Minsk rather than actually from Borisov but they made a lot of noise. You see the game had been moved from Boristov twenty odd miles away because the ground was too small.
They loved doing the Mexican wave but it was the waves of water that was getting me down as well as the half time score of one nil to them. Second half we thankfully turned it around with a gritty performance, a much critised Hibbo was mom at centre half such was our depleted side with goals from Cahill and Fellini whose hair even in this downpour does not go flat, weird!
There was a joke going round before this game "Who are the three Russians to have played for Everton"? Answer Kanchelsis, Bilyaletdinov and Getthatfuckinhibbertoff "Well Hibbo's performance laid that joke to rest for a while. It seems to me we need a boo boy and unfortunately Hibbert's the one but to be fair he needs more games like this under his belt just now.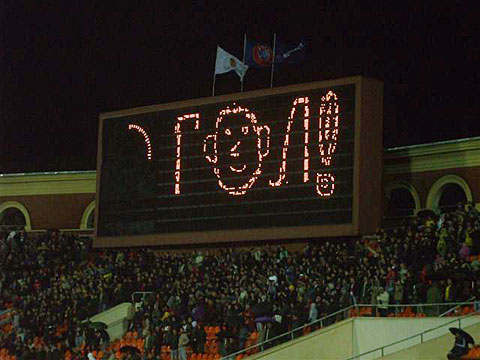 One of the hardy Blues put a grand on Everton to win at 7to2, I'm not sure if that was in Rubles I hope it was in pounds and highly rewarded for his faith in the Blues. At the end of the game Cahill led the team over to see the soaked to the skin traveling Toffee's. He and Distan threw their shirts over the high fence I think one of them knocked a lad out it was that heavy with rain.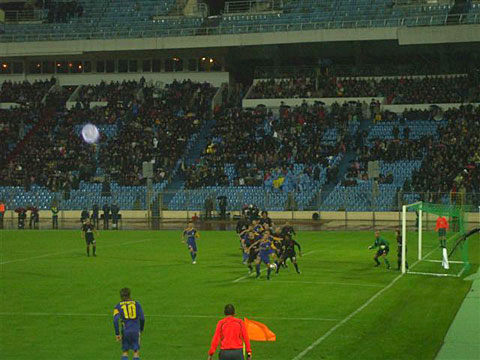 I estimated about 600 Blues had made this crystal maze journey, quite a number when you consider only 200 followed Celtic in Russia a few weeks before. All the usual suspects were there, we have some great fans. I always say we are an extended family. We even have our own Norwegian Blues following us who really do live like millionaires in these cheap countries compared to back home. 
We were kept in for a while at the end then dispersed into the city. Most of us got changed first and went back on the ale. I felt sorry for the day tripping Blues as they would not have dried out till John Lennon Airport.
I still can't believe this relatively new stadium was built with no roof when it's located in not the warmest of places or driest.
Next morning it was a repeat, 6.30 am train. As we checked out the old you've used the mini bar scam was being used and unless a few million rubles was passed over you were not getting your passport back. I suppose it's the same the world over in these polite bureau, despot countries.
The train going back to Vilnius was a blessing in disguise as we were put into the sleeper carriages. It was like a boys dormitory. I thought of the Walton's as one by one of us said goodnight John Boy. It was a great couple of hours kip then we pooled our Belarus monies together and bought the train shop out of ale and biscuits etc. I just gestured what can we have this money  to the stewardess, she smiled and blushed. I said no I don't mean that we want drinks and food. Do you think traveling everywhere with males makes you have gay tendencies? NOOOOOOOOOOOOOOOOOOOOOOO!
Same routine with the border police only this time they were searching our bags asking for cigarettes or alcohol. I though here goes my chocolate and Russian doll presents. So I made the sign of they were for my baby's, have a heart.
Mini buses back to Kaunas airport and thoughts of I hope we don't get another country like this again. I mean you have no chance of understanding the locals or fair play. The local police/military are intimidating at times and you think you could end up in a difficult situation for next to nothing, thousands of miles away. No give me Spain, Germany or France in a later round, because I think were through now after the Bate result away. But looking forward to Lisbon and Athens. We have a lot to thank Mr Moyes for and a nice bank manager. The only time we went on  a European destination for many years was pre-season, lest we forget we have come very far under this manager.
Sometimes I think should I just do the day trips but they cost on average double what we pay but they are well organized. You see most of my mates are on a budget and our Phylius Fogg routes are the only way they could travel to our European destinations. But they are different and tiring. The Beauty about these cheap places is that everyone goes the bar for their round. I thought of the title for this article but someone got there first 'Evertonians master Bate'. Hmm... a classic.
Reader Comments
Note: the following content is not moderated or vetted by the site owners at the time of submission. Comments are the responsibility of the poster. Disclaimer
Kevin Hudson
1
Posted 28/10/2009 at 01:47:00
"Google some of the food.." Classic! Great piece...
Guy McEvoy
2
Posted 28/10/2009 at 09:48:13
You're a legend Ian. Good to see you again in Lisbon. Great piece.
Tony Williams
3
Posted 28/10/2009 at 10:15:34
After the result, I was expecting a recreation of the swearing scene at the airport car rental area.
David Booth
4
Posted 28/10/2009 at 18:25:08
What a wonderful account.

Every football fan who reads this will empathise with the whole piece.

So much (much), more to football, than the 90 minutes we all sometimes focus too intensely on.

One of my most memorable trips, albeit on an admittedly smaller scale, was to Finn Harps in the seventies, when I was just a kid.

We caught the ferry to Dublin, hired a car and drove five hours to Ballyboffey, had a wail of a time before, during and after the match, then thrashed it back to Belfast with all sorts of scally adventures en-route and were the only Evertonians to make that night's ferry back to Liverpool.

So I'm very envious, Ian. A tale full of experiences you'll never forget and all sorts of escapades you'd never have savoured if you'd just flown there and back on an official trip.

Feels great doesn't it?
Martin Mason
5
Posted 28/10/2009 at 18:31:02
Ian, God bless you guys, you are the salt of the Evertonian earth.
Add Your Comments
In order to post a comment to Fan Articles, you need to be logged in as a registered user of the site.

Log in now
Or Sign up as a ToffeeWeb Member — it's free, takes just a few minutes and will allow you to post your comments on articles and MailBag submissions across the site.
© ToffeeWeb