FAN ARTICLES
Where Eagles Fly
By
Ian Macdonald
: 10/11/2009 :

Comments
(9) :
Well our Brucie bonus for beating Olomouc in the qualifying round was a glamour tie with the club that gave us Eusebio, the mighty eagles of Benfica. You could sense with all the talk about this away fixture, first it was this season's Nuremburg invasion with thousands of Blues making the pilgrimage to the Estádio da Luz
So early Tuesday morning wake-up call again and it was back to Stansted airport as our starting point only this time there was a coach load of us.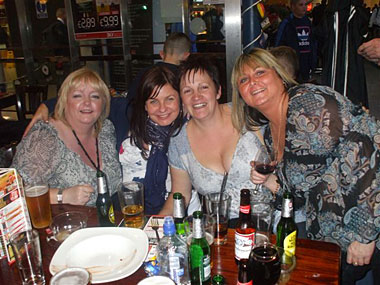 Some of our pom-pom girls at Stansted
Our first night found us in Porto where Jose Mourinho made a name for himself. We actually went past the Estádio do Dragão ground on our way in from the airport, all lit up from their Chumps League tie with Apoel Nicosia from Cyprus. The rain poured down. Again, I thought, bloody typical when we're in Europe. Once in the hotel we all got a quick wash and change and went down to the bar. The hotel was four star and so were the bar prices, seven Euros a pint!
My fellow traveler Tommy speaks fluent Spanish which is not a million miles away from Portuguese... I asked him to ask the bar man was there anywhere else round here to get a drink? No, came the reply. I asked another member of the staff... No again.
After about two hours and a hundred Euros spent at the bar, Mad Alex waltzes in and said there was a local bar near. "How far, Alex?" "About 150 feet"! Bastards, the staff wanted us kept there in their bar spending mad money.
So off went Tommy and I to explore this new drinking hole but, before we went, we said goodbye and good luck to the Nicosia fans who had come back from their game disappointed at a disputed penalty. They even asked our opinion when we saw it on TV and in good Scouse humour said it was just to see the look on their faces, then added it wasn't lads.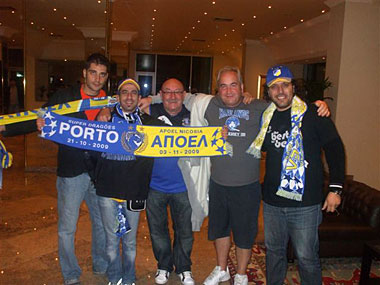 The Nicoscia fans
So after two minutes walking we arrived in the bar that was never there. I went to the bar first, as usual, and was pleasantly surprised... sod that, I was ecstatic. For a large white wine and a bottle of super Brock, the princely sum of €1.35. Yes we had found Utopia, selling food as a bonus just as cheap.
We mingled with the locals in a bar best described as Star Wars — the barmen had no front teeth to whom I kept singing "All I want for Christmas is my two front teeth".
The locals where in different time zones and I don't mean GMT. One fella was a sixties rocker, another had flares on, one had an 'I Love  Wham' T-shirt on (I deffo don't) and finally one local had a nose like Jimmy Durante, a belly like Chubby Brown and teeth like a star fish, so we fitted in well! They were a good bunch.
The bartender was a Boavista fan and wished us well against Benfica. It seemed to me that Porto and Benfica fans are not the best of friends, as well described by the present Porto fan by showing his arse when describing them. Unlike my mate Barry who has a Liverpool tattoo on his, this guy only had spots.
Well after spending 15 Euros I was full of beer and phoned a taxi to get back to the hotel 150 feet away. The Delta taxi never came. I think I'm barred now from this Merseyside taxi firm as I call them from most of Europe.
Incidentally, do you know Portugal is the only country in Europe with the same time zone as England?
Once back in the hotel, we had a nightcap then to our bedroom where David Attenborough was in attendance with my other two mates Podge and Steve. You see, my mate Tommy snores like a mating Elephant seal, and Podge similar. Mr Attenborough made himself comfortable with his recorder and after ten minutes, left and wished Steve and I luck and gave us two sets of ear plugs.
Unfortunately for Steve the ear plugs weren't enough and took his bedding to the bathroom and tried to sleep on the floor with the tap running to try and din the seal colony's noise out. After an hour Steve joined Mr Attenborough in the bar and discussed similar seal colonies in Patagonia. Steve's a character, he was a guest for three years in San Quinton jail and even in there had never heard snoring like Tommy's.
Next morning bright and early we set off to the local train station for our journey to Lisbon. Once inside the station we were surrounded by hundreds of students who had come from all over the city for a mad day out. Each school was trying to outdo the other in raucous singing and dancing, all in their colours. I thought they made Millwall's firm look laid back. Honestly it was manic. I wondered whether to ask them to come to Lisbon and back us against Benfica.
After a crazy three hours journey drinking the buffet coach bar out of ale again we arrived in Lisbon in high spirits, well I like vodka. We checked in at the local Novotel where once again our rooms turned into dormitories. These rooms are based on two sharing but we can't count. At night it reminds me of that old song we use to sing (No not Koppites are Gobshites), "there was eight in the bed and the little said roll over, rollover, so we all rolled over and one fell out, there was seven in the bed and the little one said roll over"…... and so on. It saves money for the entertainment kitty basically.
A thoughtful Evertonian gave the Everton pr a great idea regarding our missing little Blue Madeleine McCann. This little princess as you know was abducted in southern Portugal and it was a great opportunity to inject further interest in her plight and her family's terrible situation. So 6,000 T shirts with her picture on wearing an Everton top was produced to be given too the traveling hordes of Evertonians to wear. I wore one like so many others, how could you possibly not given the chance. There was two versions, one in English (where still looking for you), and one in Portuguese translated as Don't stop looking for her. If there is a God please end this families torment and find her safe and well.
Off we all set to the designated meeting point like nearly all European ventures the cities largest square preferably with fountains. The Rosario square ticked all the boxes. This was Nuremburg again, there was literally thousands of Blues congregating in the sun which had thankfully came out to shine down on the righteous. Reinforcements where bussed in from the local airport, the day trippers joined in racing to get even in the beer stakes.
There were crates of ale every square yard. Party on!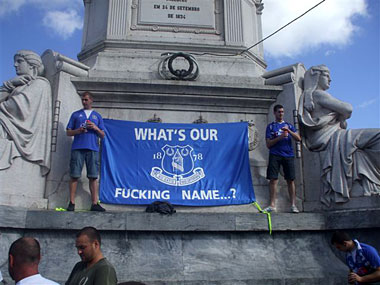 Exactly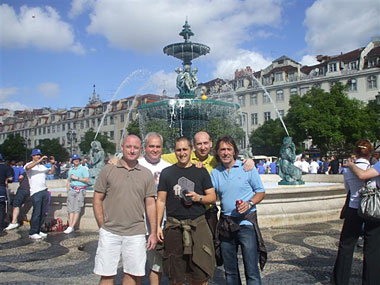 Foam for the fountain
There were footballs everywhere being kicked about like rockets into the air I watched them come back to earth careful they did not hit my drink. At the local bar prices rose as numbers increased in this fine setting. Although all the local supermarkets did a roaring trade. Some of the lads bought washing powder for the fountains; well a traveling army has to wash its clothes somewhere. Sadly the foam never worked quite as well as did in Valencia. Then it came out of the blue skies a direct hit, whilst gabbing as usual the missile disguised as a football knocked my half pint of vodka and orange clean out of my hand. Maybe it was a sign from God in this predominately Catholic country. Ah well pass me a Superbrock beer.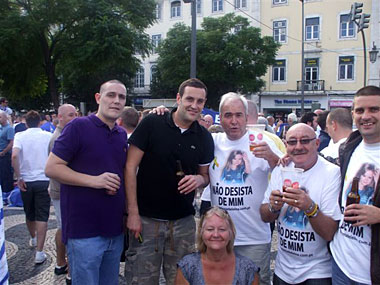 In that square I met so many friends who had traveled from across Europe and Bootle to see the Blues, many making hardships to get to this famous football clubs venue. I heard one lad came over on motorbike. So many Dads', lads and daughters enjoying themselves. It's what European football is all about the Real's, the Barcas and Benficas. It's a good taste in your mouth we, want more of this please Moysie.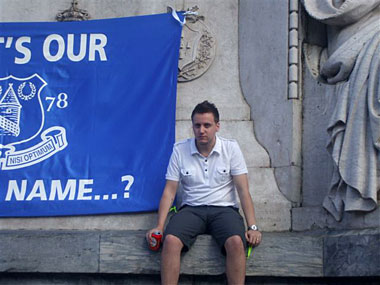 Jags was upset he wasn't playing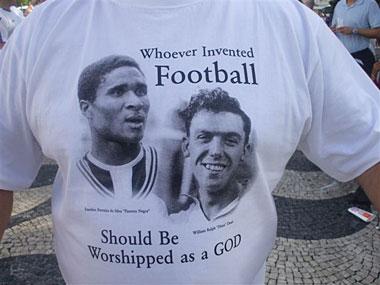 Football giants
It was getting near kick off time so off we went following the crowds down to the nearby tube station. Once on the trains the Everton songs reverberated around the carriages, these are good times and so many good memories especially for our younger Blues to crow about back at school. Its been a long time coming these last few years, Everton back in Europe consistently  again.
A few stops and there we were at our destination, a football pilgrimage to one of Europe's greats
Apparently there was trouble getting in, though I followed the Benfica fans and found a different way in. Once again over the top policing outside it looked like they were expecting a war, well I suppose we did bring an army. There was no respect for your seat number, it was a sit anywhere policy, but why?
As the game drew nearer to kick off our numbers grew bigger and bigger, eventually taking up the whole of the top tier. The attendance this night was twice as big as their previous home game with Bate, swollen with over seven thousand expectant toffees; it really was a Blue army.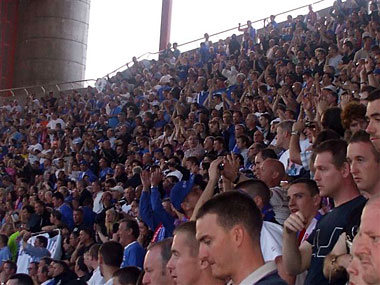 Toffes, Sir. Thousands of them!
The stadium Estádio da Luz looks like the inspiration for the Emirates or the new Wembley. Sagres beers are Benfica's biggest sponsor with the name embodied on the seats in the far stand opposite where we decamped. I'd let Chang sponsor a new stand at Goodison but they would have to build it and why not?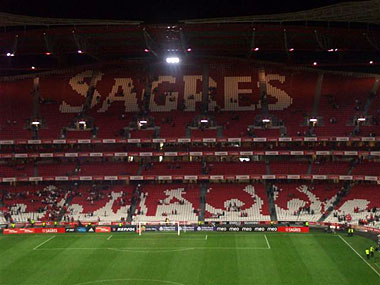 How about building us a stand, Mr Chang?
Once inside the stadium before the game I eagerly waited for the famous Benfica symbol, the Eagle, to perform its flight around this magnificent stadium, as a bit of a twitter in my youth I was not disappointed in this majestic bird's flight. You can see it here on you tube http://www.youtube.com/watch?v=_FYHCySENrc
The golden Eagle, named Vitoria, once released from its Jessie's by its trainer soared high to the top of the stadium roof line then flew in ever diminishing circles downwards back to its keeper. That fellow Blues was as good as it got for us this night within the ground.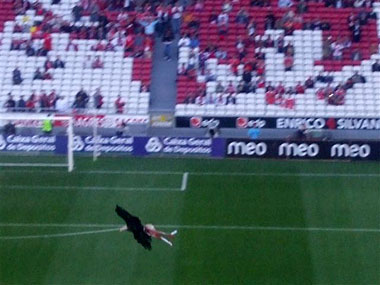 Where eagles fly
 Enough reports have been made of this result but my thoughts are that the squad size and quality in depth has come home to roost coupled with unbelievable injuries to key players. I'd be more worried if we did not have anyone coming back to make a difference, its just when are they coming back?
After the game those who had not left earlier to get the Sagres beers in where kept in the ground for a full half hour. I sat next to Jimmy who was 'celebrating' his 50th birthday, I was glad he was not celebrating his 80th as we got beat 5 nil !
After the game we headed back to Rosario Square, when we sat down I said to my fellow traveler's don't be so down we are in Lisbon drinking ourselves silly in a European competition not a pre-season friendly don't forget seven years ago we were fighting off humiliation with relegation.
Given our resources we have come far so let's enjoy it while we can. Deep down though I thought what might have been had we scored first, imagine seven thousand Blues going ape; we would have been higher than that eagle.
The lucky men sellers selling watches etc were not so lucky dealing with Evertonian's, I think they got ripped off instead around the bars. I've still got a lucky man waiting for me in Benalmedina to sell a watch to me that I offered twice as much for as he wanted. You can visibly see their brains not computing as they don't expect a higher offer.
Back in our hotel bar it was looking like the Somme, bodies everywhere in varying degrees of drunkenness. There I met a guy, Dave, who works as a scout for Blackburn and was watching Argentina's winger Angel Di Maria, I said afterwards I think after the display he gave tonight Blackburn could not afford him. He tore us apart.
Dave was based in Malaga and covered Spain and Portugal; he is a big mate of Sam Allardyce. Stoke's Abdoulaye Faye was brought into this country by him. Dave was telling me he was a nutter and battered his agent whilst at Bolton because the deal he got him was in his opinion a insult. He was also instrumental while working at Chelsea in bringing Anelka from Bolton where Big Sam was at the time. Dave tried to tell me that Dioff was a nice guy and people got him all wrong, yer a bit like Hitler and Po Pot Dave.
Barry and Mick met a guy earlier in the bar from Luxembourg who watched games all round Europe with no affiliation too the club, Gunter  picked our game as he thought there would be no trouble ( see the reputation WE have),so Barry poked him in the eye. Only joking. Gunter was amazed at our support and friendliness.
Next day we set off back to Porto and back to Blighty.
We lost two on the plane journey outwards as Ryan Air thought they could not walk a straight line, we explained they were a bit simple but it never worked. Arriving at 12.30 am back at Stansted we boarded our coach and reflected on another good trip but marred only by our teams result
Next European away day for us is in the historic city of Athens where we hope to smash a few plates and get into the next knock out round.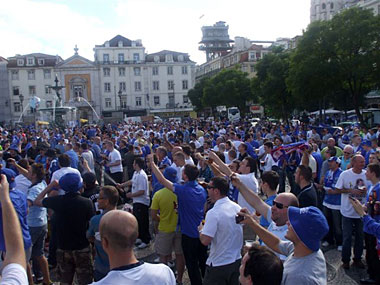 Happy days
Reader Comments
Note: the following content is not moderated or vetted by the site owners at the time of submission. Comments are the responsibility of the poster. Disclaimer
Ciarán McGlone
1
Posted 10/11/2009 at 09:22:44
Nice article...

Maybe we should get our Harris hawk (if we haven't outsourced him)..to fly around goodison before kick off...
Gavin Ramejkis
2
Posted 10/11/2009 at 09:55:41
There's a Shite Hawk or two sitting in the Director's Box
Gavin Ramejkis
3
Posted 10/11/2009 at 09:56:24
For those out there no aware, description number one

http://www.urbandictionary.com/define.php?term=Shitehawk
Eugene Ruane
4
Posted 10/11/2009 at 10:26:57
I was impressed by the Eagle at Benfica and although I didn't think we could top their football, we should have made more of an effort at Goodison regarding pre-match trained bird type-stuff.

My own suggestion would be 10 Ostriches running up and down randomly in front of the main stand, each one with a letter in it's beak.

Eventually, when their trainer gives them the signal, they would all come together to spell out 'NO TO KIRKBY'.

At the same time, a large well-trained, well-fed parrot would fly up and down in front of the directors box, dropping it's guts and shrieking truly disgusting obscenities at Bill and co.

I'd have to be taken to hospital with applaud burns.



Peter Hurley
5
Posted 10/11/2009 at 14:56:48
Cheers Gavin forgot how enertaining the 'Urban Dictionary' can be my personal favourite however is the following;
http://www.urbandictionary.com/define.php?term=redshite

Feel free to add your own descriptions and use the voting thumbs :- )
Brian Waring
6
Posted 10/11/2009 at 15:58:25
We have had 10 headless chicken's running around Goodison for awhile now.
Gavin Ramejkis
7
Posted 10/11/2009 at 16:07:26
Peter - top shelf and deserving of a massive thumbs up
Chris Butler
8
Posted 10/11/2009 at 22:02:27
Hopefully Athens will be just as enjoyable for the travelling blues.
Chris Butler
9
Posted 11/11/2009 at 12:37:33
Bit harsh on the 2 front teeth boys... hopefully he didn't understand.
Add Your Comments
In order to post a comment to Fan Articles, you need to be logged in as a registered user of the site.

Log in now
Or Sign up as a ToffeeWeb Member — it's free, takes just a few minutes and will allow you to post your comments on articles and MailBag submissions across the site.
© ToffeeWeb