FAN ARTICLES
Taxi for Athens
By
Ian Macdonald
: 15/12/2009 :

Comments
(6) :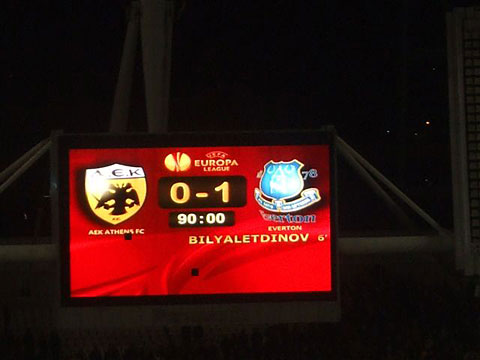 Well this trip could have been a Greek tragedy before we started. Let me explain, we booked flights from Luton to Athens with Easy Jet, then word on the street was that the flight had been cancelled but nothing officially was sent to me. So I went into my managed bookings and behold it was true there was a booking malfunction, we then had to opt for a refund or book another trip so we decided to fly from Gatwick to Athens. But when was Easy Jet going to tell us, the day of the flight when we arrived at Luton, just when. They send you emails about hand luggage do you want to hire a car or hotel but not a message oh by the way your flight is cancelled. First thing we were doing when we get to Athens was to look up this Stellios fella the owner of Easy jet.
The car journey down to Gatwick was an education, did you know that the word laxidaysickle comes from the middle ages about a person who was lazy and did not go into the fields much to cut the crops with a sickle! Then we went through the Black Adder series culminating in Black adder goes forth, we don't talk about football much honestly.
Seen the word 'terminal' again on our way to the daffy duck long stay car park. Lucky I'm not scared of flying
Killing time before the flight I went to the duty free but these days you may as well go to Bargain Booze I think it's cheaper.
At Gatwick there's another weatherspoons this time it was the flying horse. My mates went for a drink I choose to go to Seafood Caviar  house and Prunier then I saw the prices and just got the crab sticks. Caviar's only fish eggs anyway !
As we got on the plane I saw there was loads of Blues it was like an Everton special. The stewardess told me it was a record for Easy jet with the least amount of bags in the hold, only five cases booked in, everyone was traveling light and in good humour. It was a four hour flight but as always the banter made it seem half the time.
When we landed we opted for taxi's to the city centre. The taxi fare from the airport was 35 Euros, 27 kilometers to the city centre, Stavros our driver said it could be more though as there was some protest going on in the city centre. I said it could be less when you deduct Scouse tax. We set our watches to 2 hours ahead which meant we were running out of drinking and socializing time.
When we got to our hotel I noticed graffiti everywhere the locals must get aerosols for birthdays and Xmas. It was a bit like Beirut where we were located, Metaxa, although the Novotel was a nice place to stay but pricey. My mate Tommy said he got a great deal at his hotel it was only £20 a night ours was £75.After talking to Tommy later in the day he wished he could sleep in our room, his hotel was dirty and infested by reds.
It was getting a bit of an Odyssey to find our way round this city so I rang up a few mates on where to go. There were four of us together most of the time Kevin and Tommy from the Isle of Man and Podge from Mars I think.  
We got another taxi to the main meet up area called Omonia square. On our way we saw ladies of the night in abundance, lucky men, mountains of rubbish, police walking in squads of ten or more for safety and characters more becoming from the film the Hills have eyes. It seems to me that Athens like many cities has a big drug problem.
Athens is massive, five million people live here on top of each other in the main. When I looked at the city from the top of our hotel (one of the highest buildings) the houses where all white and none of them was more than three storeys high they just went on and on, no green space in between areas. Athens sprawls along a large glacial valley. In the main I thought it was a shit hole, dodgy and as moody as hell in many areas we ventured through in the safety of our yellow cab but unlike a yellow cab journey in New York it had no character for a city which is often called the cradle of civilization. Well maybe its turned full circle and away from its pomp and pride and has gone back to the dark ages.
On our first night we were at a bar in Omonia square having a drink with Plato and Pythagoras our conversations was based on each other's theories as to why Everton could not attract investment and what does the future hold for our ground. Pythagoras thought it was to do with us crunching our numbers and the books did not add up, Plato butted in and thought that Moyes had done fantastically well when you consider his net spend and Everton was still an attractive investment.
Anyway the doors burst in and this mountain of a man stumbles in. I asked who it was Plato said "Ian its Hercules he's been on the ouzo all day again, he's a bloody nuisance he keeps going on and on about the jobs he has to do". My mate Podge says "alright big fella  what's the problem "? "Ask those two, they keep giving me hard tasks, jobs no one else could do". I said look Hercules where I come from 'the home of the Beatles' ( I hate using the L word),your lucky you've got a job to do. Hercules calmed down and told us what a bad  week he had. I did feel sorry for Hercules when he explained that he had to kill a lion barehanded, clean some stables by himself, kill the Hydra in the Grafton amongst other tasks. Oh well beats working in McDonalds I suppose.
I wished we had the wisdom of Zeus as we decided to go into the Hard Rock café for a few drinks. For 4 bottles of Corona it cost us 28 euros sometimes I think were divvies not one local was in there, I wonder why when the average we were paying was 2.5 euro a dink elsewhere.
So off we went to the Athens Sports bar where we saw the Man Utd v Spurs game. Now this bar was wallet friendly with pitchers of larger for 8 euros and a tasty bar maid. This is here we met Maniloto a local guy whose English was great. I asked him where did he learn our language, "Jail" was the reply hmm watch your wallets lads. Nah he was a good guy he told us tales of the city and where to visit and where not too. On AEK he told us of their past, how they were formed by immigrants from Turkey and that the owner was nuts. Apparently he got mad (or rich) and bulldoze their old ground so they had to play in the new Olympic stadium which is too big for their fans but also shared with Panathinaikos who fill it a lot more The team had not been paid in a month, maybe they should be twinned with Portsmouth.
We ended up drinking in the local bar opposite our hotel till half five in the morning after we negotiated 2 euros for a litre bottle of Amstel or Heineken. There was about twenty of us and my mates were in great form, entertainment by traveling Blues is free and great. But drinking to excess is our Achilles heel for getting up next morning.
Next morning we had a kebab for breakfast and spoke to the locals in the café, we tried to learn the basics to communicate, thanks, how much, goodbye and hello. Its one hard language, I ended up speaking my version of Esperanto and just got smiles or frowns. Apparently Ouzo is a tourist drink in the main their version is Thepourj without the aniseed in.
On the afternoon of the game we decided to visit one of the wonders of the world, the Acropolis. Built on top of a hill so that all could see its magnificence during the 'Golden age of Perikles' around about 450 BC it was top of my must see when we drew AEK out of the hat.
On our way to the ancient ruins we walked through the area known as Plaka which was full of nice restaurants and souvenir shops it was there I bought myself a memento from Athens a Hopolyte helmet like the Spartans wore to go on my mantle piece with the Russian dolls etc from my travels in Europe with Everton. Then the rain came.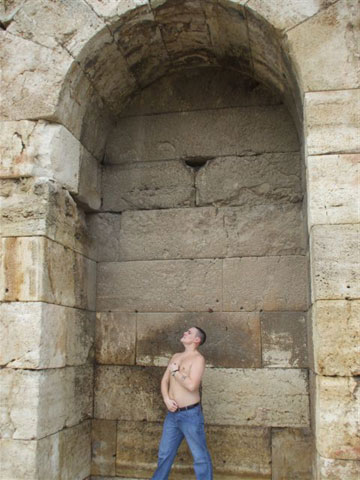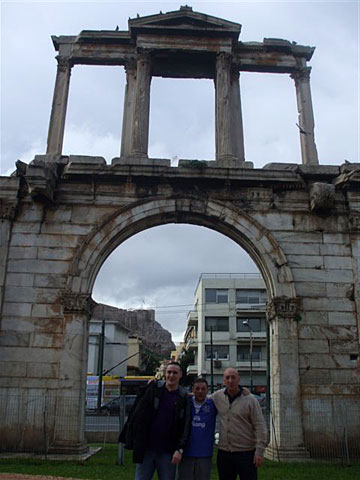 Now Athens must have only five days of bad weather a year. Yep you guessed it we had one of them as it seems the norm when we visit European cities only Lisbon being the exception. The rain came down in torrents so much so the drains could not cope and we were walking in eight inches of water. When it did subside we set off up the hill to the ruins only to be told it was shut now as its only open half day Wednesday. So now you know where these shopping hours originated two thousand years ago in Athens!
Before the game there was trouble on the trains going to the Olympic stadium our venue for the game and outside by the train station where thirty odd local boys would set upoun Evertonians in small groups not like the hero's of their forefathers they would be ashamed of this lot.  They were no Spartans but cowards who would not go near larger groups of Blues. There is safety in numbers when away lads in Europe just like the nutty eighties. On the trains going to the stadium organized groups of pickpockets mingled with our fans in a fashion that Fagan (not the ex red manager!), from Oliver would be proud of. Many of our fans retaliated and got a slashing on their hands. To be fair to the Greeks this slim seemed to be from other countries, a scourge  in many European cities these days due to freedom of movement in Europe. These jackals  pray on tourists in the main but one city, Milan, has hit back on them hard.
As usual the four of us got a taxi again to our destination, for the game this time, so we did not have to run the gauntlet outside the station. We were dropped off at a gate for the home support but had no problems, maybe I look like a local. As we got to the visitors gate a few Blues arrived in the queue with blood on their faces ambushed by the cowards. I felt sorry for them but they had no protection by the police. One or two Evertonian's had been mugged at knife point for their wallets and phones. More stories emerged  once inside the ground of rogue taxi drivers and assaults, pity the Echo never reported anything so that a formal complaint could be made to UEFA about the handling outside the ground but were not the lovable reds.
Now everyone raved about this stadium during its recent Chumps final but for such a modern building there was no adequate toilets or refreshment areas just a cabin and portaloos, Perikles would be embarrassed by such a flaw in its design.
Yet again in these hard economic times there was a great turnout of Blues pity the locals never turned out in numbers but the torrential rain never helped. At Goodison I thought the AEK fans were amazing that night we welcomed them with open arms pity it was not reciprocated on their patch.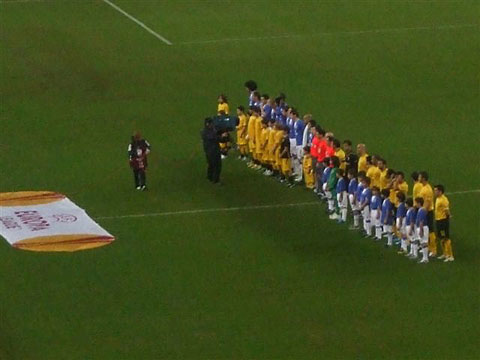 The teams get ready and soaked like us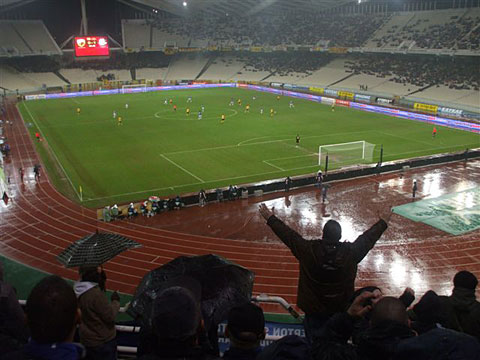 Let it rain!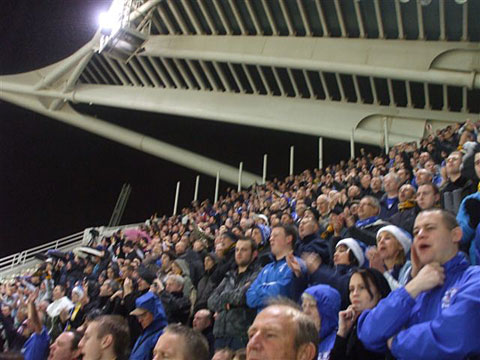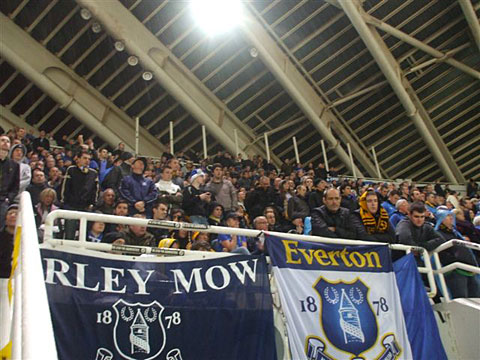 Gret support again
The rain poured down throughout the game but never dampened the traveling Blues voices. An early Billy Dainty goal calmed our nerves but once again we had two players carried off. I think we will have to go to the butchers and get a lucky rabbits foot each, were running out of players.
In the second half our attention was roused by the lovable locals in the section at the side, below us, trying to burn their captured prize, an Everton flag with the words 'Come on Everton these are shite'. It was taken off a couple of Blues outside the ground by the nice police and given as a sacrifice to the local hoodlums to do with what they wished. Well the IQ level of the wannabe arsonists must have been about 3 as a soaking wet flag would need to be doused in petrol not water to go on fire. They eventually emptied every cigarette lighter they could muster and burnt a small section of the flag. The Evertonian's responded by singing "Your going with the fire, out with the fire", funny at the time but not for the lads who had only just paid £85 for the flag. At the game I spoke with the local Athens Everton supporter's club chairman, Jimmy, who invited us back to the James Joyce bar, but we never found it, sorry Jimmy.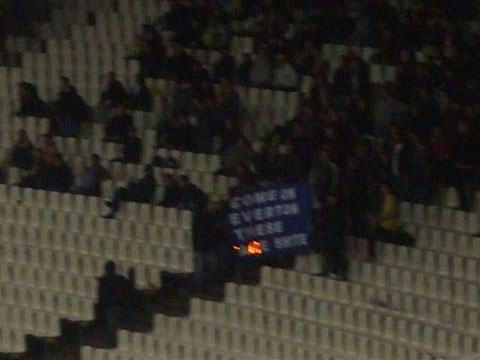 A burning desire to beat us
When the game finished, as is the norm now, we were kept inside the stadium for about half an hour. With a good display in terrible conditions the Evertonians were in great voice. After our win and Benfica's at Bate it was confirmed we had qualified for another European adventure in February.
In the end our game never turned into a Greek tragedy as expected by many, the team was patched up but many displayed the old virtues of last season with passion and hard work on a surface that gave doubt as to whether the game would be called off or not 
The noise of the traveling Blues trickled down to the away team's dressing room. Moysie got changed into his suit and came out to thank the fans in the pouring rain. I was a bit mischievous when I said he's resigned and was thanking the fans for our support the rumour spread around. Moysie's gone!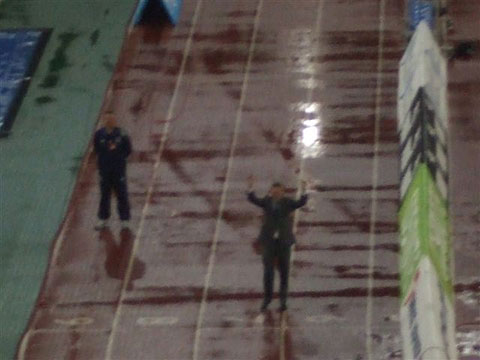 Thanks, Dave!
After the game those on the train where treated like scum and sardines the police on board the train would not allow any windows to be opened in a crammed environment packed with Blues, one lad said it was so that the pepper gas would have maximum effect. Police intimidated some fans kicking them in the back of the leg looking for a retaliation, balaclavas placed over their faces at one point  helmets on ready to kick off, it was heard the name of Liverpool mentioned by the police, our lovely cousins did cause a bit of trouble a couple of years ago there  at the chumps final.
As usual we opted for a taxi back to Syntagma square which was a nicer area for a drink; many Blues were staying around here. Its next too Parliament square where the ministry of silly walks started with their changing of the guards with the pom poms stuck on their shoes. Its here that many protest are held. Whilst we were there next day, thousands of firemen came to lobby their parliament over pay and conditions. It seemed there was a mass protest twice a week here. They want to start protesting about the detoriation of their once magnificent city.
We then went back to our cheap bar  opposite the hotel where the owner was now making plans to refurbish it and naming it 'The Goodison' as he took record takings of over three grand in a couple of nights from just twenty odd Blues, no wonder he was happy smoking his pot in the bubble pipe!
I promised my room mate Podge I'd get him up early to go back to the Acropolis as we both would have regretted not following in the  footpaths of Aristotle and co.
I had to do the wet flannel in the face on Podge who had entertained the troops till six in the morning.
We were now natives and got the metro to the aptly named acropolis station, 1 euro return. When we got to the entrance it was really busy, bloody organized groups of tourists everywhere from Japan to USA we thought about mingling in with the French group who had some lovely women but we were soon found out with Podge's union jack shorts on. I realized we were running out of euros for the 12 euro entrance fee and there is no cash point on top of one of the eighth wonder of the world's entrance, get it sorted Plato. Then a bit of luck two Scouser's were coming out of the exit I asked sheepishly could we have their tickets, no problem. Thanks who ever you are.
Once in we had our tourist hats on taking photos of everything that did not move and getting told off for touching the two and a half thousand old marble pillars. I left some estimates to finish off the Acropolis it included putting  a roof on it some double gazed windows in on the sides and a disco down stairs, well works slack on Merseyside at the moment and you never know.
When you get to the top there is a fantastic view of this sprawling city. In the distance you could see the Olympiakos ground near the sea port. Nearer was the Panathinaikon stadium, Hadrian's Arch and the temple of the Olympian Zeus. I wondered how many past famous Greeks had viewed the same scenes, how they looked out for invading enemies mainly by sea and fortified the area accordingly.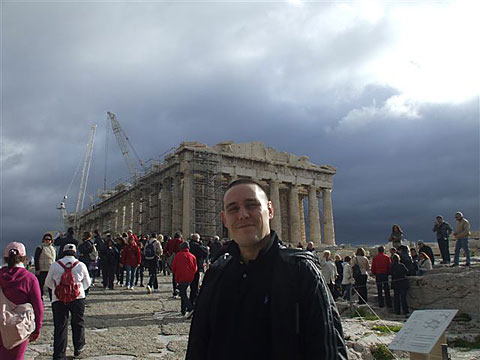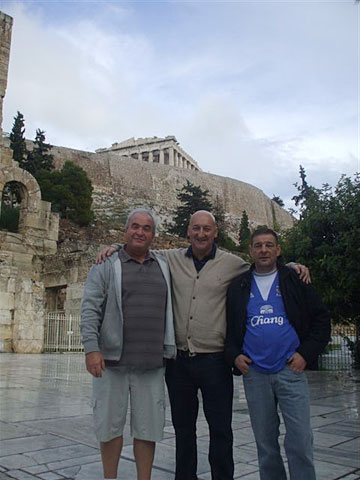 But after visiting the Pantheon and the immediate area there is not a lot more to show what a glittering past this city has had. Is it a  the myth of how great Greece was ? Rome and even London has so much more history to view.
On the way back to the airport we went by train this time as the taxi's had taken most of our spends by now (and cost us a small fortune ),and forty euros to six for the train fare it was a no brainer as we found that the metro station was a five minute walk away. The metro station was named Larrisa also the name of another local football league club. The biggest by far football club in the city is our old adversary Panathinaikos followed by Olympiakos and AEK. On the Thursday Panathinaikos were playing Galatasary away I thought that would be fun as these two countries love each other as much as Hicks and Gillette do.
On the plane back home it was the same routine a scouse comedy act but it soon fizzled out as the lack of sleep and one too many drinks caught up with most. On the way home we went over the snow covered Alps mountain range. Speaking of mountains Atlas was the Titan who held the world up on his shoulders a bit like Tony Hibbert the night before holding up the decimated  Everton defence.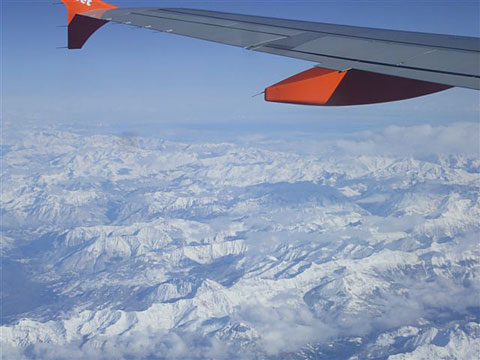 In reflection Athens is a city I don't think I'd go back too in a hurry but thanks to Moyes its another European city I may not have gone too, ticked off now.At least one more Euro journey left with many past great named teams in the next draw. I fancy Spain or Germany again  but who knows if we get our key injured players  back soon and one or two good loans in January it may be a longer venture in Europe this year as long as we don't get fleeced like Jason and his Argonauts. Happy days.
Reader Comments
Note: the following content is not moderated or vetted by the site owners at the time of submission. Comments are the responsibility of the poster. Disclaimer
Guy McEvoy
1
Posted 15/12/2009 at 07:22:53
Great stuff Ian. I was there too with a couple of reprobates you know. Rough edge city, but still a good time if you have decent company. Helped by a cracking result under the circumstances....
Guy Hastings
2
Posted 15/12/2009 at 11:04:37
Super piece, Ian. Best read of the morning so far, including Guardian and Indie.
Chris Butler
3
Posted 15/12/2009 at 12:46:01
It's ridiculous, something has to be done about these countries playing in Europe. Fans that travel to these countries are reguarly attacked by police.
Hopefully we get a trip to somehwere nice in the next round. I've got a sneaky feeling that we'll get Juventus in the next round and trouble is bound to occur in Italy.
UEFA didn't have to balls to punish Roma for their awful behaviour. The club need to do something about this like send stewards to the ground rather than relying on corrupt local police forces.
Gerry Morrison
4
Posted 15/12/2009 at 20:33:14
Thanks, once again, for a great read. One thing though: the greatness of the Greeks is not a myth. Everything that is good, in Rome or London, comes from the Greeks.
Thomas Christensen
5
Posted 15/12/2009 at 22:00:11
Ian, that was great to read. Sounds like you had a great time. It is amazing that more isn't said about the violence that goes unnoticed — you referenced a few different acts. Mates of mine have been to Barcelona and come back without their wallet and mobile gaining only a terrifying story!!

On the football side you said the Hibbert played well in defence — He really has been putting in some solid performances. I thought he played particularly well @ CB against the RS

David Booth
6
Posted 16/12/2009 at 01:21:54
Another wonderful account Ian — felt as if I was there.

Hopefully by February, I'll be able to afford to follow our team on their next Europa adventure.

Shame the police always seem to regard such games as a chance to provoke, rather than prevent.

Add Your Comments
In order to post a comment to Fan Articles, you need to be logged in as a registered user of the site.

Log in now
Or Sign up as a ToffeeWeb Member — it's free, takes just a few minutes and will allow you to post your comments on articles and MailBag submissions across the site.
© ToffeeWeb