FAN ARTICLES
How to turn the corner
By
Ian Delaney
: 24/12/2009 :

Comments
(11) :
Everton are currently sitting in 15th place in the league table. Most football fans in the country would agree that we are in a false position in the league table, and so this begs the question what exactly are Everton doing wrong?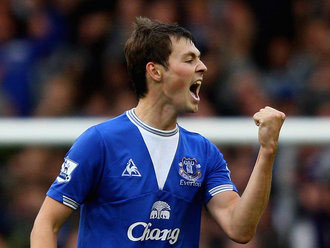 Some Evertonians have pointed the finger at some of the new signings that Everton gained in the summer — in particular, Diniyar Bilyaletdinov. However, what many of these fans are aware of is that 'Bily' has got 4 goals and 5 assists this season, which makes him the clubs second highest goal scorer — only ahead of him is the in-form Louis Saha. Therefore, these figures alone should suggest that Bilyaletdinov is a quality player and, once he is fully settled into the squad, then he will certainly be one of our most influential players.
So, to find where Everton's problems lie, we must look elsewhere. One thing that does stick out, is the lack of goals that have come from Tim Cahill. His recent goal against Tottenham was the first that he has scored at Goodison Park since February 2009. That goal in February was actually the only league goal that he scored at Goodison all of last season.
So why is Tim out of form? Many say that he is being played out of position — which he has been in some games. However, he is still standing in the penalty box for corners kicks and free kicks, no matter where he has been playing, and it was goals from these positions that he originally made his name with.
Everton can't just blame the barren spell of one player though for their low league position. We must also look at other players. Jô hasn't been banging the goals in either, neither have Fellaini or Osman.
Injuries are another thing that we like to bring up when we talk about our drop in form. Yes, it's true, that if Mikel Arteta and Phil Jagielka had played against Birmingham then we would probably have beaten them… but, at the end of the day, we don't want to be relying on the fitness of those two players, do we?
Our other injured players, however, are now being filtered into the squad: Leon Osman, Yakubu and James Vaughan all made an appearance at the weekend.
There is however one thing that doesn't get talked about so much when we think about our drop in form, and that is the absence of Joleon Lescott. If Evertonians cast their minds back to the start of the 2005-06 season when we started poorly, Everton had just let Alan Stubbs go. Could history be repeating itself? Loose a focal centre-half and have a bad start to the season? This could be a bigger factor than most people think that it is.
And of course, there were the unfortunate events at Wembley at the end of May. The 2-1 defeat against Chelsea may have hurt the players a lot more than they will have let on; so, if we had won the cup, would our start to the season have been much more positive and confident? There is a strong possibility.
After the draw against Birmingham, David Moyes said "I am frustrated because we had opportunities. I thought we were in control and we should have won the game. I thought in the final third we were wasteful and it's proved to be costly."
Will Landon Donavan make a difference to our fortunes? Will we be bringing in anymore players? Only time will tell…
Reader Comments
Note: the following content is not moderated or vetted by the site owners at the time of submission. Comments are the responsibility of the poster. Disclaimer
Dave Wilson
1
Posted 24/12/2009 at 22:57:11
Central defence is of genuine concern; both Yobo and Distin are better players when they have a good talker next to them, neither talk enough. I'm pinning me hopes on the Heitinga/Neill partnership, they were torn to shreds early against Chelsea, but neither panicked and we finished the game defending well. They weren't bad last time out either.

I've criticised both this season for their fitness levels, but they are both hugely experienced and want to play passes rather than aimless hoofs, even if Yobo and Distin were fit for the SOL, I'd persevere with these two... at least for a little while longer.
Dick Fearon
2
Posted 24/12/2009 at 22:30:53
Ian provides valid reasons to explain our lowly league placing but he misses what I believe are the most important ones.
The reason Cahill's goals have dried up is that when he is in range he finds that nowadays defenders give him high priority.
It is good to see Bily grabbing a few goals but it should be taken into account that he is an attacking midfielder whereas Cahill also does a lot mork work in helping out the defence. What is lacking are a few goals from the likes of Pienaar, Baines, Osman, Hibbert et al.
Probably the most important factor other than injury is tactics employed by David Moyes. Neither him nor any of his coaches have experienced the game from an attacker's role. They have spent their lives plotting and scheming on how to stop goals and not how to score them.
It is patently obvious and has been for some time that we have some kind of system in our own half yet none at all in the opponents. Moyes plans on low-scoring games and while that reduces our own opportunities, it also increases the chance of losing by an odd goal.
In summary I would say that, since the Premier League began, all succesful teams have struck a balance between attack and defence. In Everton's case it has definately been on the defensive side. I cannot see any change to that balance until a coach with attacking experience is brought in.
Colin Malone
3
Posted 25/12/2009 at 10:52:56
Miss Lee Carsley more than we miss Lescott.
Ron Joynson
4
Posted 25/12/2009 at 12:42:18
Colin

Who is Miss Lee Carsley? Guess that you wouldn't dare call him that to his face, pal.
Tony Williams
5
Posted 25/12/2009 at 13:58:10
We are scoring goals quite freely but unfortunately shipping them all too freely as well. Once the defence gets to become settled and the players are in there, we will start winning games, sometimes quite easily.
Brian Waring
6
Posted 25/12/2009 at 17:04:05
Hang on Ian, why are we in a false position, the table doesn't lie?
Rob Sawyer
7
Posted 25/12/2009 at 20:36:50
When we sell a decent player, we often go into some form of denial and state that they were never that good anyway. When Lescott left, many people said we were better off with Distin. Distin has his qualities but is not in the same class as Lescott in terms of pace, mobility and goal-scoring threat. He is also no spring chicken. Losing half of a rock-solid defensive partnership through transfer (with the other injured) was always going to haunt us for some time.
Dick Fearon
8
Posted 25/12/2009 at 22:19:13
Tony W, I agree that our goals against column is bad. The goals for column looks even worse. It does not say much for our other so-called strikers that Saha has scored almost all of our paltry total of 12 goals. This is despite him missing entire games through injury and only getting bit parts in others.
We can never know whether a two-man strike force would have improved the situation but one thing for sure is it could hardly have made it worse. Moyes did try it with huge success against Chelsea but that was only because he thought we were on a hiding whatever tactic he used.
All other games has seen a frustrating and totally negative exercise watching the entire Everton team streaming back towards our own penalty area every time the opposition get possession of the ball.

Dermot Ryan
9
Posted 26/12/2009 at 08:30:00
We have scored 24 goals in the premier league. I'm guessing we've scored close to 10 in the Europa league and a number more in the league cup before we got knocked out. That is a lot more than 12. It is true that we are relying far too much on far too few players (particularly Saha) to get us goals. But I have no idea where Dick gets his 12 goals from. I'm worried folks let their own certainty that we are a hoof-ball, low-scoring, defensive-minded, un-Arsenal like team get in the way of realizing we are a pretty high scoring team with plenty of high-scoring potential that is leaking goals and low on confidence. A big difference.
Dick Fearon
10
Posted 26/12/2009 at 12:32:17
Dick hanging his head in shame,
I can only blame Mssrs Walker and Guiness for excluding the away goals.
In the words of Tiny Tim, Merry Christmas to o one and all.
Iain Love
11
Posted 27/12/2009 at 14:04:10
Not sure wether it's the loss of Lescott or the other three central defenders we are missing the most.
I agree Cahill is off-form and maybe the lack of goals from him has made people look at other areas of his game; one thing I'm not keen on is his persistent fouling, especially when it stops a promising move.
The main reason we are 15th and not top 8 is the injuries and if anyone thinks different they are living in la-la land.
Add Your Comments
In order to post a comment to Fan Articles, you need to be logged in as a registered user of the site.

Log in now
Or Sign up as a ToffeeWeb Member — it's free, takes just a few minutes and will allow you to post your comments on articles and MailBag submissions across the site.
© ToffeeWeb