Martinez looks inward amid impasse over loans
Nothing to report on Atsu and Traore deals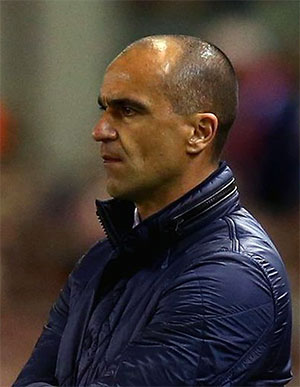 "It's time to focus on the squad and the players we have at Everton"

– Roberto Martinez

With no further movement on two of his proposed loan acquisitions, Roberto Martinez appears to be shifting his focus inwardly as he prepares for the start of the new season in just eight days' time.

The Blues kick off their Premier League campaign at Leicester City on 16th August and, in the wake of the capture last week of Muhamed Besic and Romelu Lukaku, the Everton manager had stated his intention to bring in at least one new face before the beginning of the season.

A proposed loan move for Chelsea's Christian Atsu has stalled, however, with the London side apparently voicing concerns over how much the 22 year-old Ghanaian would play during his time at Goodison Park.

And Martinez indicated that there was nothing to report on a deal to bring Lacina Traore back on loan again after his abortive spell with the Blues in the second half of last season.

That has led to a noticeable ratcheting down over the past month of the Catalan's rhetoric with regard to the expectations of new arrivals between now and the end of the transfer window and his latest comments suggest that he is less bullish now on the prospect of adding to the squad before the deadline.

"There's nothing to comment on," Martinez said when asked about Everton's attempts to bring Atsu in on loan, a move, it should be noted, he has not as yet publicly confirmed is on his agenda — local press sources reported the deal as being "very close" last week, however.

His answer regarding Traore was similar: "At the moment, there's nothing we can comment on there either."

Though the signings of Lukaku, Besic and Gareth Barry bring the senior squad back up to more or less the same levels as the end of last season, there are growing fears among supporters that a squad that lacked endurance through key injuries to the likes of Steven Pienaar, Kevin Mirallas, Bryan Oviedo and Lukaku himself, not to mention a crucial element of quality needed to crack the top four in the final reckoning, last season will not be fully equipped to cope with the extra demands of Europe this time around without a handful of new players.

One or two new members — Luke Garbutt, for example — could be promoted from the Under-21s but that would still leave the squad three players shy of the manager's own goal of 28 which he outlined at the beginning of the summer.

Judging by his latest comments, though, Martinez is looking towards a greater contribution from some of his long-term injured players to help bridge the gap.

It's important to see how quickly those players can get back on to the pitch before we make final decisions about the window

Roberto Martinez

"At the moment, it's more about looking in-house and looking to see how good we can be with the players that we have," he is quoted as saying by ESPNFC.

"We had three long-term injuries last season. That was a real shame, as they missed a lot of football.

"Now Darron Gibson is back fully fit, having had a really good second half of preseason; Arouna Kone is slowly getting into a position where we're going to see him on a football pitch sooner rather than later, which is very positive; and then there's Bryan Oviedo too.

"It's important to see how quickly those players can get back on to the pitch before we make final decisions about the window, but I would say that I'm very pleased with the squad. It's time to focus on the squad and the players we have at Everton."

There also appears to be an inference from the 41 year-old that he will be judging the need for further reinforcements on how the last pre-season friendly at SC Paderborn goes this weekend and, possibly, on the League three matches the team will play between now and the transfer deadline.

"The window allows you to bring more players in, but that's going to be measured depending on how every day goes in this period, he continued"

"The window is a period that we want to use to our advantage, and we'll keep working hard and make sure the squad is as strong as it can be when it closes.

"We are excited. We need to get match-fit. We need to get better in order to achieve what we want to this season."

Quotes sourced from ESPNFC



Reader Comments (57)
Note: the following content is not moderated or vetted by the site owners at the time of submission. Comments are the responsibility of the poster. Disclaimer
Jim Bennings
1
Posted 08/08/2014 at 07:44:28
With Mirallas and Lukaku nit looking likely to play any football before the Leicester game next Saturday, I think it's fair to say that at present we are not really ready for the new season.
We have completed our number 1 transfer target in bringing Rom back who over the course of the season will be massive but he is not going to fully tuned yet.
We have more or less the same side as we went with last year, minus Deulofeu.
We have no real pace other than Mirallas, who is more about trickery than really skinning his full back.
We need more pace in the team and that has to be Martinez's priority before the window shuts.
I have no idea whats!oever what the hold up with the Traore deal is, why would discussions about extending his loan further be such a drawn out affair?.
Jim Bennings
2
Posted 08/08/2014 at 07:56:18
"Arouna Kone is slowly getting into a position where we will see him on a football pitch again"
Shouldn't he have been further down the line now with regards to his cruciate injury?
It was last October wasn't it?
And he hasn't figured with the squad at all yet during pre-season.
I think your looking more at November to be honest Roberto.
Brian Williams
3
Posted 08/08/2014 at 07:55:23
Hmmm. Starting to feel just a "little" bit concerned now. Roberto seemed not quite his usual bubbly self in the latest interview I saw.
I'm sure I'm not the only one that thinks we could do with at least another two, possibly three.
I hope he's just playing his cards close to his chest and surprises us with two excellent loans/buys, preferably before the season starts!
James Morgan
4
Posted 08/08/2014 at 07:27:01
We can't rely on the same size squad as last year with us playing in Europe. We don't know how Kone will hold up and Lukaku can't play every game. We are on the cusp of being a top side and we can't afford to slip back among that middle pack. A striker and winger are a must and a right back would help too. Another 60 grand one from Sligo Rovers maybe?
Mark Tanton
5
Posted 08/08/2014 at 08:05:36
Hmmmm... The Lukaku euphoria is dying off to be honest. June - "Six or seven", July - "Three or four" and August - "What we've got". Concerning. Should we be happy/placated/satisfied/impressed by the Lukaku signing or is just a distraction from another Everton manager's transfer frustrations?
Kieran Fitzgerald
7
Posted 08/08/2014 at 08:03:21
It looks like some of the younger players are going to get more game time earlier than expected. The bench for the Leicester game and the league cup tie in late August is going to be a big indicator. I can't see any of the younger players getting near the Arsenal game but I suppose you never know.
Lewis Barclay
8
Posted 08/08/2014 at 08:14:21
As I said before, however great it is for the club that we've secured Barry and Lukaku on permanent deals I think the squad is in no better position than we were at the end of the first transfer window last season.
I think the winner of the Europa League goes in to the Champions League next year, which means we'd have two possible ways to get there. As much as I dislike saying it, I think we should focus on playing our best players in the Europa League and the prem and play our young players in the domestic cup, even more than we usually would.
Jakob Herd
9
Posted 08/08/2014 at 08:19:16
Sounds to me that the wage 'Bill' has caught up with all the new contracts: Barry, Stones, Lukaku, Barkley, Coleman and Martinez himself... some financial limitations may have hit home and RM has been told to limit expectations...
The side should be better due to settled contracts and (hopefully) the progression of the young players.
Lets see if they can scrape out enough for a few loanies to help through the difficult winter months

Colin Glassar
11
Posted 08/08/2014 at 08:40:58
Don't we get the sky money next week? Expect more reinforcements once the coffers are replenished.
Phil Walling
12
Posted 08/08/2014 at 08:44:30
I suspect that Blue Bill will say that the investment has been on the players we have rather than on players currently with other clubs.
No doubt he would add 'Roberto knows how much I love him, after all I've plastered his mug all over the west wing of our sacred home, haven't I ?'
Peter Bell
13
Posted 08/08/2014 at 08:56:02
I always believed the number of players brought in would be dependant on whether we signed Lukaku or not. Had he not signed, that 㿈M would have been available to sign 3, 4 or maybe 5 more players. The fact he has signed has made him to revert to Plan B and the loan option
Jim Bennings
14
Posted 08/08/2014 at 08:58:09
I don't think it's anything really to do with negativity as such as more a slight concern that with the European campaign on the horizon, the demands on a relatively small squad could prove damaging.
During our last three European campaigns, in 2007-08 season we took to it like a duck to water and produced the goods in not only having a great run in the Europa League but got to the semi of the League Cup too.
In 2009-10 however our league form suffered catastrophically during the Autumn of 2009 which finally culminated in being 3-0 down away at Hull City after half an hour, we were decimated by injuries and poor form because our squad was not that big and we were needing to rely on untested young players.
This year it is not negative but we need to be honest, six months ago our target was to nab that final Champions League place sheaf of Arsenal.
Right now we are facing more games but with roughly the same squad as last season, minus Deulofeu, but plus Besic.
Its more about being concerned than totally negative.
I'm not down about Everton at present, we have some good players here now, but we are going to need a few more, and a nit of variety, such as a pacy wide player and another back-up striker at least.
Karl Jones
15
Posted 08/08/2014 at 09:04:44
There's bound to be another couple of players coming in, but it will go down to the last minute of the window at the end of August as usual.
Drew Shortis
16
Posted 08/08/2014 at 08:40:15
On balance I would rather bring in a one or two top quality (potentially world class in Lukaku's case) players each transfer window than fritter our money away filling the squad with average players who won't make a significant impact on a starting eleven.
I do agree that we need a back-up striker and pacey winger and I hope Roberto will sort this before the window, even if its just on loan.
I agree with his policy of integrating the youngsters into the first team as it is our best chance of bridging the gap between ourselves and the money clubs. I remember when Moyes first started playing a raw Seamus Coleman. We could see he had potential but it took some patience. In the end he developed into the best right wing back in the league. Barkley and Stones have made the breakthrough and I look forwards to seeing the likes of Garbutt, Galloway, Ledson and Henen (if signed) follow in their footsteps over the next few seasons.
The shift in expectations since Martinez's arrival is great with fans now concerned that we could slip down from challenging for a Champions League place rather than slipping into the bottom half of the table. However, we all expected it to take a few seasons for Roberto to assemble his own squad of players and he is still in the process of doing this.
For me, after the signings of Barry, Besic and Lukaku, the best thing this summer has been our new-found ability to hang on to our best players. So far it hasn't even got to the point of serious rumours or players becoming unsettles. I'm sure that a few years back we would have been fighting tooth and nail to hold onto Barkley and Coleman and the signing of Lukaku would have seemed like a pipe dream. Expectations are on the rise. Lets not get too despondent over a few disappointing pre-season results and the slowing down of transfer activity!
Denis Richardson
17
Posted 08/08/2014 at 09:08:16
We are so unprepared, our squad is pathetic, CANNOT BELIEVE we haven't won a single preseason game FFS! Why do we even bother?
Lets send the league a formal letter requesting we step down as we are SHITE!
Serious guys, get a grip. A week and a half to go before the KO (against 'mighty' Leicester!) and some people on here already needing the local Samaritans. Transfer window has about 3 and a half weeks to go and we don't have a single player on loan at the moment. We'll get a couple more in before the end of the month, may just not be before the KO - then again we still have........a week and a half before that.
Look at it another way, our current squad is better than it was a week and a half before the KO last season.
Enjoy the weekend.
Mark Murphy
18
Posted 08/08/2014 at 08:59:19
James, Groundhog Day is right – apart from Besic in place of Fellaini, the squad is the same as the start of last season. The signings of Barkley and Lukaku have been spun as squad additions rather than squad maintenance.
Our first 11 v Leicester will be the same one that almost, but didn't, get into the top four last season. Is Fifth the new Optimum?
Pienaar, Osman, Naismith and Hibbert will be involved heavily this season and whilst I will love them forever they would no longer attract attention from any other top six wannabes. We're not doomed – just not as good as we could be with a little extra push...
Björn Håll
19
Posted 08/08/2014 at 09:13:29
I have a feeling that we are trying to get Memphis Depay... I would love that. I would also like if we tried to signb John Guidetti. Great work rate and some talent.
Phil Walling
21
Posted 08/08/2014 at 09:09:50
With Mo Besic the only player of Premier quality added so far, we can but assume that reliance will again be put on loan signings being tied up as the window closes.
Of course, that outlook will change if we get thumped by Leicester and/or the other clubs we face before the end of August.
One way or another, I shall be very surprised if Roberto is ecstatic about his summer's work....other than his Nice Little Earner in Brazil , of course.
Ray Roche
22
Posted 08/08/2014 at 09:14:37
Jim Bennings @2
Jim, I thought Kone had a cartilage problem, not cruciate. Still seems an inordinate length of time to be out, though.
Incidentally, it may appear that the so called doom mongers who expressed concern about the poor pre season may have been right, Martinez has arranged a behind closed doors friendly to help us to catch up with clubs with a more professional outlook. You know, clubs who got their players back on time or early, (Mirallas was only due back yesterday according to Martinez), clubs who organised top class opposition to play against. Mind you, if we HAD played better opposition it might have been even more embarrassing ...
Robert Pierpoint
23
Posted 08/08/2014 at 09:24:02
http://www.surreymirror.co.uk/Everton-preparing-bid-favour-Newcastle-United/story-22131047-detail/story.html
The Surrey Mirror would obviously have the inside scoop on Everton or Newcastle dealings. Excellent player, if not a bit of a pain to manage.
Paul Mackie
24
Posted 08/08/2014 at 09:26:00
I'm not too concerned to be honest. Roberto knows what we need, he's no fool.
Personally I'd be content to see us spend this season focusing on the Europa League and blooding our U21s who are likely to make the grade into the first team. I think this season could be the true 'transitional' season that we all expected last year and I'm alright with that.
Jay Harris
25
Posted 08/08/2014 at 09:21:25
Denis
or put another way it is weaker than the squad that finished last season and we have the EL to contend with.
WE have lost Delefeu, Velios, Traore and look totally toothless up front.
We also had big Vic and Jelavic at the start of last season.
It is the poorest preseason in my memory and RM doesnt look too enthusiastic at the moment.
There are 6 pointers coming up against Arsenal and Chelsea and you suggest not panicking.
If we had any ambition at all we would go and get that lad Nolito or a similar quality player or are we just going to continue with the we don't have the funds nonesense while the "other top 6" splash the cash.
Peter Moore
26
Posted 08/08/2014 at 09:17:10
Completely agree Denis. 1st 11 to play Leicester:
Howard
Coleman?
Jagielka
Distin
Baines
Barry
McCarthy
Osman
Barkley
Pienaar
Naismith
Subs:
Robles
Stones
Alcaraz
Garbutt
Besic
Gibson
McGeady
Mirallas
Lukaku
Forgive me if I've missed anyone. I know it's not nailed on but I don't think the starting 11 will be much changed from above. No doubt Lukaku, Mirallas & Besic will start the 2nd & 3rd games. Plus 3 loans to come in before the 4th game.
Also bear in mind last year's loanees didn't exactly just make up numbers did they? Get a grip, fellow toffees, see the bigger picture and stop moaning!
Jim Bennings
27
Posted 08/08/2014 at 09:37:37
Ray
I'm not sure now what kind of injury Kone sustained, it's been that long and quite frankly we never hear much on the guys progress.
He may well get blooded on at the end of September when the League Cup starts for us or the Europa League group stage (though I wouldn't hold my breath)
One thing that's certain he will take a long time to get up and running again, that's why I said I think realistically your looking at November before he's anywhere near full match sharpness.
Tony J Williams
28
Posted 08/08/2014 at 09:41:20
Sounds good Paul but the money is in league placing and that's what the board will be banking on.
The Europa League pays a pittance, slightly increased now, but you need to get to the later stages before you actual start seeing a profit.
The league is the bread and butter of the club, so I doubt we will see the youngster playing much. They will be playing in the Carling Cup games and the initial 6 Europa League games
Mark Tanton
29
Posted 08/08/2014 at 09:52:58
I for one will be very disappointed if Leon Osman starts at Leicester.
Derek Knox
30
Posted 08/08/2014 at 09:38:35
Karl # 15 &16
Does that mean 4 players coming in then ? :-)
The one thing that I really admire Roberto for is giving the under 21's a chance to prove what they can offer, not only this season, but last season too,when he had only ust started the job !
However, what does disappoint me, is that apart from Luke Garbutt, the others have, been given ample opportunity to do so, and basically failed to show any positives, or glimpses even, as to how they could add to the squad !
I agree with fellow posters who say we need a left sided player with pace, and back up for Rom should he either be injured (hope not but it does happen) or hiiting a lean spell.
I would, also in addition, go for Micah Richards, as back up defensively, would be quite cheap, and needs a change, because he is a good player. I always finish off, with and a decent goalkeeper to oust El Teflon from 2nd choice !
Mark Fitzgerald
31
Posted 08/08/2014 at 10:05:03
To be fair, I reckon everyone agrees that the business completed to date has been excellent – Barry & Besic permanently signed, smashing our transfer record to get Lukaku, long term deals for our 'young starlets'. Cold we genuinely have expected much more?
I'm happy to see RM take a close look at the 'kids' in pre-season. Not sure how many are currently good enough for the 1st team but if we could identify even one or two who could contribute this season then I'd be encouraged.
It remains to be seen if any loan deals come to fruition but there's time yet. Personally I'd love it if we could sign one more pacey attacking player with some pedigree. Do that and the upcoming season would be full of more promise.
Mark Halliday
32
Posted 08/08/2014 at 09:44:25
Some people on this site are more concerned with what other clubs are doing; we have just made a club record signing and tied down the spine of an excellent young team to long contracts.
What would these people have the club do? Would they have the club take on unsustainable levels of debt that we would be repaying over the next ten years, which would then affect transfer policy.
Remember those transfer windows wishing we could bring in new players but knowing we needed to pay down debts that had been incurred years previously. We certainly do not want to do a Leeds, if Van Gaal cant come up with the goodies this season Manure may find it difficult to pay a massive wage bill with no European games. Is this what we want at Goodison.
COYB.
Drew Shortis
33
Posted 08/08/2014 at 10:23:10
Peter Moore 27
I would expect to see Mirallas and Lukaku start against Leicester. Martinez hasn't left them out of pre-season because they are injured but because he has assessed that an extra rest after the world cup would be more beneficial. Unlike much of the squad that has been playing pre-season they have spent the summer training hard and playing competitive matches so they should still have a good level of match sharpness. I think Roberto want's to avoid a possible mid-season burnout. A wise move in my opinion. He obviously feels that Besic and Barkley both have the stamina to cope with the demands despite their involvement in the world cup.
My starting eleven versus Leicester: Howard, Coleman/Stones, Jagielka, Distin, Baines, Barry, McCarthy, Mirallas, Barkley, Pienaar/McGeady, Lukaku. Not a bad first eleven with Besic, Osman, Naismith and Gibson on the bench. We definitely need the likes of Atsu and Traore in to give us the back we need, but I'm confident these kind of players will be signed or loaned in before the end of the transfer window. I think we have adequate numbers to compete with until then.
Ian Bennett
34
Posted 08/08/2014 at 10:32:49
Ben Arfa on loan would be a reasonable shout.
I would hope for a player who is more consistent and has a better attitude, but on his day he can be top class. If he joined a top club instead of a mid/regation side he might have an incentive to perform and prove Pardew is a complete numpty again.

Drew Shortis
35
Posted 08/08/2014 at 10:44:12
Ben Arfa is another good option for the flanks. We need a player of this kind who can unlock tricky defences. Just been reading a Newcastle fan forum and they are moaning about their transfer window just as much as us. The consensus seems to be that Ben Arfa has had a major falling out with Pardew and they all fully expect him to depart the Sports Direct Arena.
Ian Burns
36
Posted 08/08/2014 at 10:23:37
To be fair to RM he knows he needs two more players, specifically a wide player but if Chelsea feel Atsu won't get the playing time, it means RM has to suddenly switch targets which must be frustrating in the extreme, hence his low key interview on the situation.
With regards to the youngsters, Browning didn't look out of place and the others haven't had that much time on the pitch although it has to be said that Garbutt definitely looks the part.
My concern is not about the squad, he has time to do whatever he needs to do before the window closes but my concern is about our preparation for which I was slaughtered on another thread for criticising and airing my concerns.
I am pleased to see we have arranged another game behind closed doors, maybe one or two youngsters will be given another chance to put their names in the first team hat.
Mark Murphy
37
Posted 08/08/2014 at 10:38:19
Ray, it's also possible that, if we had played better opposition, we may have raised our game. Last season, we played better football v Arsenal, Chelsea & City than we did against West Brom, Stoke and Palace.
I think (hope) that Roberto has viewed every friendly as an experiment and a fitness exercise. We won't play like that over 90 minutes in a league game.
Chris Sillett
38
Posted 08/08/2014 at 10:42:07
My optimism for the season is slowly going down, this is starting to remind me of the summer after we finished 4th - two steps forward one step back. Such a big opportunity to go out and really improve the squad but instead (yes Lukaku was a record signing) we have so far only re-signed two of last seasons players and one new player. I'll be shocked and very disappointed in both RM and Kenwright if we don't get another 2 or 3 players before deadline day!
Patrick Murphy
39
Posted 08/08/2014 at 15:06:57
Everton cannot afford to concentrate on one particular competition over another and our priority has to be gaining as many Premier League points as possible. Even during our greatest times the managers always made sure that enough points were put on the board to maintain our place in the top-flight. So first target is and always should be - get to 40 points as soon as possible and then see how the rest of the season goes depending on how long it takes to get to that figure.
Judging by the performances of the two European sides we have just played it will be a lot more difficult to win the EL than some people seem to think and even with our best eleven available that competition is a very tough one as all of the teams involved want CL.
Personally I would like to see another defender in the squad and if Micah Richards was available at the right price and wages he would fit the bill.
Don't forget there is another window in January although admittedly we never seem to use that one for bringing players into the club. Perhaps it was folly to give extended contracts to Osman and Hibbert as they are fast approaching the end of their football careers and seem to lack the necessary ability to compete consistently at the highest level.
But it does look like Bill has decided or has been told to close the wallet, for now and unless some bargain is available I think what we have now is what will take us into the first part of the season and we'll just have to get on with it and hope its enough to keep us competitive in the Premier League. That is the only competition that we should be paying attention to as its the one by which a team's standing is truly measured.
Not that I'm averse to a good cup run of course and a trophy would really help the cause - but once again it will probably take at least another season before we get our hands on one.
Since I compiled this post - several hours ago - Nixon in the Mirror wrote that the Atzu deal was being negotiated to a conclusion but he is the only one that thinks so.
James Morgan
40
Posted 08/08/2014 at 15:20:16
What does Colin "The Looking" Glassar foresee?
Peter Moore
41
Posted 08/08/2014 at 15:14:51
Drew Shortis 34
The point I was making was that the team I suggested was a worse case scenario, and even without Mirallas, Lukaku, Gibson, Besic etc we should still be strong enough to start the season with.
If the transfer window closed at the start of the season, as it undoubtedly should, then I would feel differently about our squad.
I really hope we piss off the press again this season with the quality of our loan signings!
Derek Knox
42
Posted 08/08/2014 at 15:14:49
Patrick # 40
I tend to agree with most of your sensible comments, and again I am with you re. contracts for Osman and Hibbo, which seem to be have been made more on loyalty rather than ability or possible contribution to the squad.
No doubt this will trigger a salvo of comments by some posters, but I would say that Osman can at least still provide something, even if just 45 minutes of a game or for cover. In Tony Hibbo's case, where do I start, there is no question of his commitment to the Everton cause, but on the pitch he plays like a player wearing divers boots and pushing a wheelbarrow full of bricks, only a bit slower !
It looks like there has been some form of resolution ( although not officially confirmed ) with regard to the Atsu deal, I really hope this is the case, I do rate this player.
If we can get Nolito too it not only covers us twice, for the left wing slot, but he can also play as a striker. I would deffo go for Micah Richards too. Oh and a replacement for El Teflon !
Peter Z Jones
47
Posted 08/08/2014 at 15:51:17
Ian Bennett and Drew Shortis. Totally down with getting HBA on board. Ben Arfa is an amazing player shackled by the idiocy of Pardew. The hell with Christian Atsu. I saw HBA drag Newcastle to FIFTH not so long ago. He's only 27. Proven premier league match winner when he's on form.
HBA Barkley Mirallas
Lukaku
What team ISN'T shitting their pants looking at all the pace, power, and skill in that front four?

Tony J Williams
48
Posted 08/08/2014 at 16:17:38
Makes a bit of a mockery of keeping Traore when he was injured if he doesn't come back for a second spell.
Chester Barnes
49
Posted 08/08/2014 at 16:24:51
Anyone know what is happening with the Henen deal?
Tony J Williams
50
Posted 08/08/2014 at 16:31:50
He was kidnapped by the taxi driver Chester
Jack Plant
51
Posted 08/08/2014 at 16:39:23
Seems very early in the window to be admitting defeat on the transfer front, there's still three weeks to go! I'm sure we'll get a couple of people in last minute like last year. Looks like we'll be starting the season with what we have now though.
Ian Burns
52
Posted 08/08/2014 at 16:54:18
Looks as though we are getting Atsu - all issues ironed out we are hearing!
Roger Helm
53
Posted 08/08/2014 at 17:07:05
I am managing my expectations downwards - no silverware or CL qualification this term I think - the squad isn't big enough, and poor cover for the attacking players.
But the long term outlook is good with a group of good young players on long contracts. I think we are in for a "transition" season, so let's just enjoy the footy and take what we can.
Gavin Ramejkis
54
Posted 08/08/2014 at 17:12:36
FB alight with new we have done a deal to loan Atsu anyone confirm it yet?
Brian Furey
55
Posted 08/08/2014 at 18:28:23
Looks like it's true
Sky Sports understands Christian Atsu has agreed to join Everton on season-long loan. Everton have been leading the chase for the Ghana international after holding talks with the player earlier this month, but the deal stalled because the player could not be guaranteed regular first-team football. However, those problems have been ironed out and Atsu is set to become the latest new face at Goodison Park.
Can't say I knew the guy til ye lot started talking about him a few weeks back but he looks quite good. Well done Bobby and BK again.
Iakovos Iasonidis
57
Posted 08/08/2014 at 19:42:28
Paul Mackie 25 got it right : " I think this season could be the true 'transitional' season that we all expected last year and I'm alright with that. "
I am alright with that too. Europa league could be our highlight this year.
Si Cooper
58
Posted 08/08/2014 at 20:14:32
Injuries permitting, I think RM will put out his best XI against Leicester, so would expect Lukaku and Mirallas to start even if they have not appeared in pre-season. They just won't play the whole game (nothing new for Kev) as it will be a few weeks before they are fully up to speed, even though they won't just be twiddling their thumbs between now and then.
Any additions in the next few weeks are likely to be squad bolsterers rather than first eleven shoo-ins so there should be plenty of scope to get some loan deals or relatively cheap transfers worked out once teams have ultimately decided who they can afford / need to let go.
My one (minor) concern would be whether the pool of prospective candidates is going to be shrunk by the progression of the Europa League. Presuming we are hoping to get players who will be useful for us at the group level at least, then there may be some promising players who are going to become cup-tied in the near future.
Peter Cummings
59
Posted 08/08/2014 at 20:06:45
Apparently the Atsu deal has been sealed, so that's another hurdle cleared. I can't help feeling that this could be a season of ifs and buts though as I don't think Lukaku has yet shown the potential to set the EPL buzzing despite the hype, while Besic is also an unknown quantity.
While the 'other lot' across the park are throwing cash around like it's going out of fashion, we continue to be the poor relations; unless BK can come up with a buyer (is he still trying??), the situation won't improve anytime soon.
Drew Shortis
60
Posted 08/08/2014 at 20:45:40
It seems there are two main views on how we are doing as a club.
The more negative appraisal: No better off than last year in terms of numbers and quality. Being left behind by our rivals on the transfer front. Lacking any depth in the striking department. Missing out on a golden opportunity to progress.
The more positive appraisal: Star players secured on long term deals. No destabilising outgoing transfer sagas (see Fellaini and Baines this time last year). Two of our most important loanees from last season made permanent. These two loanees need no time to settle in and can hit the ground running. More inbound transfers sure to happen before the window closes (Atsu now looking likely). A European campaign to look forwards to.
I guess I'm a glass half full kinda guy but I'm thrilled with how this transfer window is panning out. Sure the pre-season friendlies have been rubbish viewing, but if we start the season well nobody will remember or care about them.
We finally have a potentially world class 20+ goals a season striker on our books. We have thrown off the tag as a selling club that works on a shoestring budget. All of our signings are real quality, not just squad fillers. We have a chairman who, despite his failings, has total faith in our excellent young manager and will do all he can to support him. Our boss has a plan for the future that doesn't rely on a cheque book and gives talented youth an opportunity.
I for one am brimming with confidence and am eagerly anticipating the new campaign. Why all the doom and gloom?
Denis Richardson
61
Posted 08/08/2014 at 21:22:42
Jay 26, sorry for the late reply but come on fella - how can you use Traore and Vellios leaving as an example of the squad being weaker than last season. Did you keep a straight face when you wrote that? Exactly how many games did these guys play last season?
Added to that, Big Vic and Jelavic were gash last season so not exactly a massive loss.
I'd happily not have Velios, Vic or Jelavic as they added pretty much nought last season. As for Traore, I think he made on appearance in the FA cup and was then out for the season.
Fact is we didn't hav
Denis Richardson
62
Posted 08/08/2014 at 21:31:11
e Lukaku nor Barry at the start of last season so our first team this time round is much stronger.
Harold Matthews
63
Posted 09/08/2014 at 00:26:43
Good sense to wait till the end of the window. Injuries to key players will alter our shopping list.
Matt Muzi
64
Posted 09/08/2014 at 13:36:05
If Atsu is coming then that is a great addition. The irony to me is that this time last season CM was the concern, now we're well covered there.
My concern is despite their ability we've lost three strikers in Anichebe, Jelavic & although he was a fringe player Vellios. Kone is showing no real signs of progression, which means we're banking on Lukaku.
We need another striker, that is an absolute priority & what's happened with Henen?
Trevor Lynes
66
Posted 11/08/2014 at 13:00:26
The first team squad is LESS than last season. We have lost Deulofeu, Traore, Vellios and Gueye. Barry and Lukaku were already members of last season's squad and we have signed Besic who is the only extra first-team player.
A short time ago,we had Anichebe and Jelavic as back-up strikers and now we have no-one until Kone is fit. Traore has been a total waste of money as he spent a long time on our books when injured and now we are not sure whether he will be back??? It's like renting a TV which works for just one week and no replacement is available for the rest of the rental period. Why was he not sent back to his parent club?
Our squad is also depleted by not only Kone's injury but also Oviedo's unfortunate one. We are a few days away from our first game and we will be without Kone, Oviedo and perhaps Coleman. Now we are told that we may be without Mirallas and Lukaku.
I cannot see any further than the first six matches in which we play against three of our main rivals who have all their big guns ready. Our Premier League challenge may well be in tatters by the end of September.
---
Add Your Comments
In order to post a comment, you need to be logged in as a registered user of the site.
Or Sign up as a ToffeeWeb Member — it's free, takes just a few minutes and will allow you to post your comments on articles and Talking Points submissions across the site.
© ToffeeWeb