Vital point earned as Eto'o poaches late equaliser
FK Krasnodar 1 - 1 Everton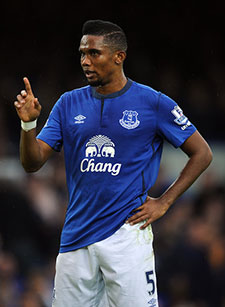 Samuel Eto'o scored what could prove to be a priceless equaliser late on
Everton secured a precious away point from a difficult Group H match in Russia against an enterprising Krasnodar team thanks to Samuel Eto'o's 83rd-minute equaliser.
Roberto Martinez had made five changes from the team that started against Liverpool at the weekend, two of them enforced by injuries to James McCarthy and Kevin Mirallas, with Christian Atsu and Darron Gibson coming into the team.
There were also starts for Eto'o, Leon Osman and Aiden McGeady but the Blues quickly found themselves on the back foot, with Krasnodar living up to their pre-match billing as an expressive attacking team with a flurry of early opportunities.
A succession of cheap giveaways in the centre of the field allowed the Russians to prove Everton's back line but Tim Howard stood firm with saves to deny Amahdov and Izmailov, while McGeady and Gareth Barry forced good stops from Dikan in the Krasnodar goal and John Stones narrowly missed with a free header.
Poor defending by the Toffees, though, allowed Ari to nip onto a knock forward and then lash the ball past Howard two minutes before half time.
Martinez withdrew the lively but profligate Atsu at half time in favour of Romelu Lukaku but though the Belgian provided some much-needed physical presence up front, he was largely isolated for the first half an hour or so while Everton threatened to buckle at the other end with more sloppy defensive play.
Ari almost looped a deflected shot under Howard's crossbar and substitute Wanderson went even closer after jinking his way past four white shirts but his shot clipped the angle of crossbar and post.
The hosts had pressed Everton with a high line for much of the contest but as fatigue set in among their players, Everton were able to start pushing forward more themselves as the match wore on.
Lukaku was foiled by Dikan with a rare shot from the angle but the visitors were rewarded for their increasing pressure when Eto'o ghosted onto Leighton Baines's cross to steer the ball home from close range.
Lukaku saw a late header fisted away by the goalkeeper as Everton pushed for a late winner but had to be content with what was, in the final reckoning, a hard-earned point that keeps them on top of the group with Wolfsburg and Lille drawing 1-1 in Germany.
Martinez was happy with the result, admitting that his side had done well to contain Krasnodar's early impetus before growing into the match.
"Krasnodar played really, really well," the Catalan said. "They started with a lot of energy and they pressed us really high. I was very pleased in the manner we stayed in the game because, obviously, they created a couple of opportunities.
"We showed incredible character to know to wait a little bit and be able get ourselves into the game. I thought in the second half we finished really, really strong. Probably the energy levels were in our favour at that point.
"It's an incredible result for us to be able to get through a very good side," Martinez concluded. "I thought they used the home advantage really well and, for us, it was a very good away performance [in that we weathered] the early storm in a couple of periods and then I thought we finished really strong and could have won it at the end."
Full coverage: ToffeeWeb Match Reports
Reader Comments (116)
Note: the following content is not moderated or vetted by the site owners at the time of submission. Comments are the responsibility of the poster. Disclaimer
Phil Walling
1
Posted 02/10/2014 at 19:44:00
Atsu the natural successor to Gueye and Gibson and Ossie no longer up to this level. The other seven outfield players had to work hard to cover these non-contributors and did it well.
I made Hibbo, Stones and Bainsey our mainstays and we will be stronger on Sunday.
Joseph Clarke
2
Posted 02/10/2014 at 19:51:25
First decent cross and we got a goal! Crap performance. Worry for the rest of the season.
Geoff Evans
3
Posted 02/10/2014 at 19:41:35
Another late equaliser masks a poor performance against another mediocre (at best) team. Take off the rose coloured glasses Roberto and face up to the fact we haven't got the talent to play possession football, we can't pass water. We don't retain possession and we haven't got an out ball.

Murdo Laing
4
Posted 02/10/2014 at 19:55:11
Tough game that. Krasnodar were bright up front, and mixed it up a bit with their substitutions. Atsu has hardly had any game time at all, Phil, not for Chelsea either. Despite that, I thought he did show some bright touches, but gave ball away too easily. He will improve, I am sure, and it's too early to judge Gibbo's return in fairness.
I've said on a separate post that our biggest problem is not so much the personnel on the field, it's our inability to vary the pace of play moving into the attacking third , most defenses have time to regroup . Mc Geady showed in flashes in the game how a bit of pace and directness can really trouble defenses . All said and done, decent result against a competent side, but hardly memorable.
Jay Harris
6
Posted 02/10/2014 at 20:02:19
Agree with Phil. When your midfield players constantly give the ball away in the way that Gibbo and Ossie did, then you have to question their purpose in the squad, let alone the team. I disagree on Atsu though. He is not even as good as Gueye.
Eto'o showed what top quality players bring and there is only Bainesy and Stones who fit that description right now.
Colin Williams
7
Posted 02/10/2014 at 19:58:16
Geoff, I think we have the players for possession football. BUT... he never plays them together! Also if the senior players don't perform, fuck them off! And play our talented young squad players. Grow a pair ffs!!
I would much rather play our talented youngsters than them, overpaid, overhyped, won-fuck-all players. I'm pissed off with another shite display by the same shite players.
Denis Richardson
9
Posted 02/10/2014 at 20:10:17
Shit performance but I'll happily take a point away in Russia.
Home games are the key, we need at least one win in the double-header with Lille.
Onto Sunday.
At this time, I think the team just needs to get a run of results regardless of the performance. That's two games where we've been below par but come away with some sort of result. I'll take that. I'm not going to overly criticize the performance.
Oscar Huglin
10
Posted 02/10/2014 at 20:09:46
We travelled over 2,000 miles mid week - after a tough derby - to play a stubborn and strong attacking side (let's not forget their humbling of Real Sociedad earlier this year...), and came away with an important point and some encouraging performances. Those criticising Gibson... seriously?! He just came back from over a year out injured! I thought he did well considering.
I thought Osman looked very composed in the centre, and his magic feet were important at times. Could be very important in Europe this season, very much a squaddy now. Stones was fantastic, well worth his England call up. Hibbert looked like the right back we all used to love, but unfortunately is still no where near good enough going forward and will be replaced by Coleman when he's fit.
Atsu was very encouraging going down the right - he had me on the edge of my chair a few times before he came off. McGeady played one of his best halves in an Everton shirt in the first 45, and was solid in the second half. He's really coming on this season. And Eto'o did exactly what we signed him on for - he got in a good position and scored an important goal exactly when we needed it.

My only gripes were the performances of Jagielka and Lukaku. Rom is looking less and less confident, and needs to get a few goals in the next few weeks in order to get going. Jagielka had his best game of the season on the weekend and I'm hoping he can carry that forward and forget today's performance.

All in all, I cannot understand the negativity. The comment thread before the game was mostly "I'll be happy with a draw and no injuries", and now the game's over (and exactly that happened), everyone's moaning! Amazing...

We'll win this group at a canter if we keep this up.
Jim Bennings
11
Posted 02/10/2014 at 20:15:57
Good result but these performances are becoming downright rotten.
What's happened to our cohesion and any kind of pace to our play?
We can't keep blaming injuries and we can't expect to keep getting away with playing so bad and we probably won't on Sunday and we probably won't at home to Aston Villa when club football resumes in two weeks..
A good result tonight nevertheless from a game that could've been over long before we levelled.
Brian Waring
12
Posted 02/10/2014 at 20:17:46
Not a great performance (well shite really!) but a great point against a decent side and done without Mirallas, Coleman, McCarthy,Pienaar and Barkley.
Andy Meighan
13
Posted 02/10/2014 at 20:19:25
I knew it was going to be tough and would have well settled for a point beforehand. But the game taught me one thing: what is Martinez's obsession with Osman? There's not a prayer he should be starting games, let alone finishing them.
He's been a good servant but at times looked like he was towing a caravan and should now be gradually phased out the squad. It won't happen, of course...
Ditto McGeady – he just doesn't cut it either, and Barry looks quite ponderous at the minute and looks in good need of a rest. Let's not forget, though, we were missing Barkley, Coleman, McCarthy and Mirallas – arguably our four best players – so not all bad news.
I will say this though: We will slaughter them at Goodison.
Eugene Kearney
14
Posted 02/10/2014 at 20:28:50
A useful away point indeed.
We are now on top of the group table with 4 points as Lille and Wolfsburg drew. Points and + 3 goal difference. A good enough start.
We need those injured players back though......

Steve Orchard
15
Posted 02/10/2014 at 20:25:46
Missed the first half coming back from work but stuck the telly on and we looked absolutely shaken to shit did we really get battered that badly in first period? We couldn't find one simple pass to another player ,what happened to our great possession football ? Glad we got outta there with a point though all is not lost
Mike Keating
16
Posted 02/10/2014 at 20:34:14
Let's play the Liverpool way; Shite and still get a result
Barry, Osmam, Jags, Hibbo and Atsu all found wanting
Could not believe how mant times we gave the ball away
Very lucky and totally disappointing
Richard Lyons
17
Posted 02/10/2014 at 20:23:12
Didn't see the game, but blimey it looks like we'll need to raise our game and quickly. I'm more worried than ever about Lukaku, if indeed he was "chasing shadows" for the most part. Is it too late to claim our money back, using the Trade Descriptions Act as a legal argument?
Drew O'Neall
18
Posted 02/10/2014 at 20:40:29
I only saw the last half an hour due to work commitments but from what I saw Hibbo did well, throwing himself in front of things and taking some nice touches.
Gibbo did ok in the middle too with good stamina until the end.
Ossie is a better bet than McGeady too currently, every time the latter gets it you feel he's going to give it away and start an opposition counter attack, at least Ossie looks to create and wins a throw etc if there's no way of maintaining possession.
Sean Patton
19
Posted 02/10/2014 at 20:44:07
Seeing as you didnt see the game Richard it is a bit daft to have a go at Lukaku who did ok but holding the ball up back to goal is not his game. The service to him was god awful play to his strengths and he will thrive as he did last season.
I thought they faded in the last 15 minutes and were defending deep and trying to hang on so the equaliser was no surprise,with a touch more composure we could have snatched the win
Stephen Brown
20
Posted 02/10/2014 at 20:49:18
Strange game - we were terrible in all honesty yet I always felt confident we would get a point and even thought we might win it in the last few minutes!
Lyndon Lloyd
21
Posted 02/10/2014 at 20:47:50
I'm more worried than ever about Lukaku, if indeed he was "chasing shadows" for the most part.
Apologies if that phrase causes some misinterpretation, Richard – it was more an illustration of the fact that he was a little isolated up front until the last quarter of an hour which wasn't his fault. I've altered the description above accordingly.
He did well, actually. Held the ball up and tried a couple of his trademark runs at the defence but was closed down. And the fact that he had two defenders on him for Baines' cross allowed Eto'o to steal in and score, a role he's having to get used to this season, I think.
Mark Tanton
22
Posted 02/10/2014 at 20:53:37
No one has done more interested grafting than Lukaku this season. He's worked his bollocks off - firing the ball at his neck from sixty yards is not what he needs.
James Byrne
23
Posted 02/10/2014 at 20:49:18
I guess on paper a draw wasn't a bad result; but against an average Russian prem side we should have done better.
I'm getting quite worried now about our recent performances and tonight was terrible. Stones and Eto'o shown some class but everything else was poor.
Rob Baker
24
Posted 02/10/2014 at 20:51:15
Positives: Away pt against a lively team who were bang in form at home. Top of the group with two down. Another goal from Eto'o
Negatives: Atsu was appalling and I don't want to see him in our first XI again. The possession football is just not working Roberto! The defenders had no out balls and worried me constantly. The spineless offence worry me, the lack of directness from McGeady early doors had me screaming SHOOT. 2013/14 was a blip, 2014/15 form is reality and very mediocre :-(
Michael Upton
25
Posted 02/10/2014 at 20:51:55
I saw the game differently to some, it seems.
A few points:
a) I think Krasnodar actually looked a decent side.
b) Osman is too lightweight in possession but always has been - I thought some of his passing and footwork, especially in the last 20, was excellent.
c) Stones is coming on well.
d) Criticism of Lukaku is pretty harsh considering he was feeding on scraps and had sod all service.
e) McGeady can be frustrating but given a run could prove a vital creative outlet.
f) DM is a concern when McCarthy is absent. Barry and Gibson simply didn't provide enough composed cover.
g) Baines is on the way back to form.
In the end, I thought the team showed good character and deserved the equaliser.
4 points from 2 is fine.
Now let's get some PL points, too.
Mark Frere
26
Posted 02/10/2014 at 20:50:56
Astu is a poor replacement for Deulofeu... a real shame he's rotting in Seville's reserves.
Brian Harrison
27
Posted 02/10/2014 at 20:52:49
This display just typifies the way we have been playing all season, a slow and ponderous approach it is so negative its painful to watch. I never think we are going to come out of the blocks firing and looking to impose ourselves on the game. We seem happy to try and keep possession predominantly in our own half, and rarely look to open up the opposition with quick one touch passes.
We were all hopeful that we could again challenge for a top 6 position, but our play suggests that we will do well to even get into the top half. I think RM needs to look at some videos of our games between October and December last year were we did attack from the start and played some lovely one touch football and not this laborious football his team are playing now.
Ian McDowell
28
Posted 02/10/2014 at 20:59:31
BBC match repot
That victory showcased a bright, attacking display from a near first-choice Roberto Martinez side to give them confidence of achieving their manager's aim of going as far as possible in this season's competition.
Martinez made five changes for the 4,800-mile round trip, but kept his defensive unit - including holding midfielder Gareth Barry - intact.
How does that make any sense? Happy with the point but performance gives more questions than answers again.

Mark Dunford
29
Posted 02/10/2014 at 20:57:19
A very good result against a strong team crammed full of Brazilian mercaneries. We played on the back foot with a weakened team. Stones was outstanding, Eto scored a clever goal and combines well with Baines who also played well. Atsu lost the ball too easily and McGeady is a poor version of Mirallas. Howard made a few decent saves. Not much else to say. Except, can Lukaku be given a role which doesn't involve playing with his back to goal. He looks so dangerous when facing the opposition goal and I don't think we're getting best out of him. Odd booking for him at the nd may come back to haunt us
Andrew Hawes
30
Posted 02/10/2014 at 20:53:59
Great to get the result, but I am concerned that we are now in October and we have yet to produce a performance to match anything from last season, although we are topping our group.
Before the season started, I thought being on the coattails of top four after a tough first ten games would be acceptable. I'm happy enough in that respect, but would really like a few solid performances now. Watching most of these games it's only a matter of time before someone does another Chelsea on us as our defence is just so shaky.
Brian Hennessy
31
Posted 02/10/2014 at 21:00:30
Howard, did well made a few good saves, hadnt a chance with their goal
Hibbert, pretty solid defensively, couldn't agree with ITV pundits blaming him for the goal, he was covering his man and didnt expect Jags to make such a mess of things. Made a few really good tackles.
Baines. Had a decent game particularly in final 15 mins.
Stones was excellent with some vital tackles. If I was Roy Hodgson I would pair him up with Cahill for England. Hard to see how Jage could be picked ahead of him at the moment.
Jags. Terrible mistake for the goal, cant understand what he was trying to do, caught in posession a few times too.
McGeady. Worked hard and nearly scored in first half but for a good save from keeper. He is no Mirallas but offered much more than Atsu on the other side.
Gibson. Probably the worst game I ever saw him play for Everton, his passing was terrible and turned his back on the through ball for their goal. Hope it was just rustiness
Barry. Also gave the ball away far too much, looks half the player he was since he signed a permanent contract.
Atsu. He has plenty pace but little else, got into a couple of good positions in the first half before making a mess of them. Glad to see him subbed at half-time. Hope I am wrong but I think he will offer us very little this season.
Osman. Went missing for most of the first half, got a bit more involved in the second half but overall was pretty poor.
Eto'o. Our best player along with Stones, held the ball up really well and you always felt if he got half a chance he would take it... and he did. Still full of running right up to final whistle.
Lukaku. Worked hard when he came on at half time, will never have the same touch as Eto'o but you expect him to take most of the chances he gets.
Nicholas Page
32
Posted 02/10/2014 at 21:07:29
6-7 fucking players Martinez said we needed. That's new players. NOT signing up loans or getting injured players back. NEW FUCKING FACES. Besic finally cost ٢m after haggling over his fucking travel expenses, a couple of mill on Gary Barry and Lukaku cost (apparently) ٢m a year on the drip. And Sky and the media make us feel guilty for spewing loads on transfers. In reality we were, yet again the lowest spenders in the division.
It eventually catches up with you, Bill. Mark my fucking words!!!
Lee Simpson
33
Posted 02/10/2014 at 21:27:23
I would like to give a mention to anyone who travelled today that might happen to be reading. Takes loyalty to a completely different level. Off the fucking scale. Massive well done. Hope you enjoy the experience!!!!
Peter Mills
34
Posted 02/10/2014 at 21:27:02
Tough trip and opponents, decent point, job done, get home safely.
Jim Bennings
35
Posted 02/10/2014 at 21:24:17
I have said it for ages and I will say it again, our midfield lacks creativity.
Yes, we have been unlucky to lose Barkley but we knew he was injured well before the window closed,
Why did we not look for a creative midfielder or could knit moves together and look different to what we have?
How about the lad playing behind Demba Ba here for Besiktas?
The lad with the beard think he's a Turkish International, he looks class.
If we are meant to believe Osman is our creative force this season then we have major problems.
Jim Bennings
36
Posted 02/10/2014 at 21:32:58
Sahan the name of the Besiktas player.
Looks the part.
Barry Stevens
37
Posted 02/10/2014 at 21:10:17
Firstly, this russian team are not as mediocre as some are claiming. They are known as a freeflowing attacking team, yet tonight we kept them to mainly shots from range. They beat Real Sochidad 3 nil over 2 leg's in the qualifiers, and drew away at Lille in their last Europa match. This was a good point gained.
Secondly, in the early parts of the season it looked like corners against were our nemisis this season. We've now had 2 game's with 20 odd, and haven't looked like conceding from any.
Lastly, we are missing Ross so much. The way he drops deep, collects the ball and drives foreward dribbling would change the team's dynamic big time. This in turn pulls the oppisition player's out of position, leaving gaps for Lukaku etc to run into. As it stands our only runners with the ball are on the flanks.
Peter Laing
38
Posted 02/10/2014 at 21:37:48
No pace in the team whatsoever. I would love Deulofeu back at the earliest opportunity. Our best counter-attacking moments last season came with Gerard and Bryan Oviedo raiding down the flanks but it was all too fleetingly. The Stoke game sticks in my mind, we absolutely smashed them in the first half and I was hoping that was going to be Roberto's blueprint. The possession / keep-ball approach this season is at best turgid and at worst damaging as with the goals conceded.
Darryl Ritchie
39
Posted 02/10/2014 at 21:29:46
First match in Europe in while. The blues seemed were nervous and very tight, in the first half. Should have been expected IMO. An awful lot of errant passes and giveaways, though.
We were on the front foot at the end, and looked the most likely to snatch it. We looked the fitter of the two sides in the second half. How about THAT for a change!
We've got the first away match done and dusted, with a point to boot. No further injuries (that we know about). Lille away should be a tad easier.
John Malone
40
Posted 02/10/2014 at 21:39:22
Granted we didn't play great but this team are no mugs and, for me, a point away in Russia will do nicely.
Special mention to Tony Hibbert had a good game tonight great to see those sliding tackles and no-nonsense defending.
Colin Williams
41
Posted 02/10/2014 at 21:24:37
Without Stones tonite at centre-half, god knows what would have happened!! He really is the main man at the back. The guy is developing great leadership qualities by consistently playing at a high standard and showing senior players the way forward.
This type of play will only create massive momentum for our young players to follow his leadership, and combined with good quality experienced pros hopefully, a brave manager who will trust youth. We may have a team to smash those red twats, plus compete with the best in Prem! Well.... that's my dream!

David Harrison
42
Posted 02/10/2014 at 21:41:25
Can't understand the criticism of Lukaku tonight. He held the ball up well, threatened with a couple of half-chances & created the space for Eto'o to score. Not a convincing performance but not as dire as some are suggesting. I would have taken a point before kick off.
Hugh Jenkins
43
Posted 02/10/2014 at 21:52:15
I look at it this way; If Hitler could have managed a draw at Stalingrad, we might now all have been speaking German! Any draw away from home is a good result – unless the opposition are, effectively, several divisions below the visiting team.
Jack Cross
44
Posted 02/10/2014 at 21:29:00
Well at least we got a point, what more can one say.

Jim Bennings
45
Posted 02/10/2014 at 21:57:49
Demba Ba, I can perhaps see why Martinez was linked with the move for him.
He actually looks quite useful: strong and holds the ball up.
David. Lukaku still runs like he's in quicksand, no mobility at all.
Gavin Johnson
46
Posted 02/10/2014 at 21:57:07
Good performance from Lukaku. He made all the difference in the 2nd half once Atsu was taken off.
Mark Taylor
47
Posted 02/10/2014 at 21:49:56
Something old, something new, something borrowed, something blue. So goes the song.
The old bit was Jags looking leggily off the pace and positively lumbering when trying to play the Martinez way from the back. Also Barry looking half the player of last season, Lukaku looking his normal clumsy self and the pitiful inability to break forward with pace, something our opponents did entirely naturally.
The new bit was McGeady having a good game and Osman, bizarrely, having a better second half than first. Gibson was also new (isn), but rubbish. As was the idea of Hibbert as an attacking wing back. Hard as he tried, he isn't.
Something borrowed was Atsu and right now, it's a case of return to sender.
Something blue was the unexpected equaliser, a touch of class from Eto'o who otherwise played in fits and starts.
If we are honest, we were crap until the last 20 minutes or so when Krasnodar either foolishly decided to sit on their lead or maybe just tired (I think the former).
In the next transfer window- and to complete the song- Martinez needs Bill to give him the proverbial sixpence in his shoe. A midfielder who can transition defence to attack would help, given we only currently have one of those, and he's injured. And someone who can stop us looking so headless chicken at the back would not go amiss either.
Lewis Barclay
48
Posted 02/10/2014 at 22:16:19
I'm worried about Sunday, I feel we could be in for a bit of a throttling by ManUre.
Andy Finigan
49
Posted 02/10/2014 at 21:43:25
Our defensive midfielders and in general our midfield look too slow. Barry reminds me of the 30-plus aged players playing in the Sunday League when I was 17. Making tackles when the ball has gone.
Every time the opposition attack, our defense look in trouble and it puts the fear of god in me. I would have settled for a point away in this tie so hope it gives the lads a bit of confidence for Sunday.
Iain Johnston
50
Posted 02/10/2014 at 22:08:03
I've watched Atsu twice now and twice he's been played out of position. He's a left winger, we won't see anything from him until he's played there... Shades of OFM playing Coleman on the left a few years back and we all know how that panned out.
Why don't we try another left footer, say Baines on the right and see how that works...? No...? Then why do it with the players further forward...
Craig Fletcher
51
Posted 02/10/2014 at 22:16:55
Krasnodar are a very decent team. As Barry (37) said, they've had good results in Europe this season even though its their first crack in this competition.
Performance wasn't great but there were positives - Eto'o, Stones, the actual result, Baines looks better and better with each match, Hibbo was his resilient self, McGeady I thought did well.
What was a little disappointing was that Browning or Garbutt didn't get a run out, but ultimately we got a draw from a very tricky away game, so I'm happy with that.
Safe travels back to John Lennon airport boys.
Peter Bell
52
Posted 02/10/2014 at 22:33:24
I remember people on here saying Atsu was Delafeo plus the final ball, I havent even seen him look remotely like Delafueo never mind the final ball
Colin Malone
53
Posted 02/10/2014 at 22:14:32
As with any football team in the world, with so many changes, continuity goes out the window. It takes more than one game to gel, so I would see that as a very good excuse for the performance. COYB.
Sam Hoare
54
Posted 02/10/2014 at 22:45:31
A terrible performance masked by a satisfying point away from home.
We just looked so slow and pedestrian with the ball. Gibson and Barry both playing beneath themselves and I'm certain Atsu is capable of more too.
Hope we see a little more accuracy and urgency on Sunday or it won't be pretty!
Phil Sammon
55
Posted 02/10/2014 at 22:46:25
Some pretty pathetic and short sighted comments on here regarding Atsu. He's a kid with hardly any first team experience in England. He's also just moved clubs and finds himself thrust into a starting position partly due to injuries. Ok, so he made mistakes and didn't have a great game. Hes a winger and has to try make things happen.
Mike Oates
56
Posted 02/10/2014 at 22:42:46
I tell you what, we are nowhere near a Top 6 team unless we have Coleman , a Stones andJags combination a Baines/Pineaar combination and a Barry and McCarthy midfield combination and a front three of Mirallas, Barkley/Naismith and Lukaku.
All other reserves, Hibbert, McGeady, Eto, Atsu, Besic, Robles, Osman, Gibson are NOT even close to supporting a good PL team.
We have deserved to be beaten out of site by Wolfsburg, Liverpool, Chelsea, Liverpool, and finally Krasnodar . It grates me but we are not yet anywhere at the races, too many seem lethargic, too many errors, simple mistakes and no pace at all . We are heading nowhere !
Clive Rogers
57
Posted 02/10/2014 at 22:33:41
Personally I thought Eto'o had a very poor game until he scored. Sluggish and didn't look interested at times. It is becoming noticeable that we just don't have the legs when Eto, Osman and Barry play.
Mark Boulle
58
Posted 02/10/2014 at 22:44:54
We just look listless still, really wish I knew why. The team needs an injection of energy from somewhere - I think Martinez has to find a role for Oviedo to be starting games and hopefully from Sunday. I would play him on the left of the attacking midfield 3, with Pienaar in the middle and McGeady on the right. Besic should have played with Gibson tonight as well.
I was thinking during tonight's game that Kone would have been a good outlet for us. He's the quickest of the three forwards we have and could have been useful as an out-ball, which we didn't have tonight when Krasnodar were pressing us high up. He simply has to get involved after the international break - Roberto needs to start picking him and he needs to be in the manager's face pushing for game time. If he's still not ready by then, we should cancel his contract and send him packing - he's had more than enough time to recover and get fit.
Nothing to add to those who pointed out that Gibson gave the ball away repeatedly - poor, but he needs time and can do a job. Not sure if Atsu can get to any kind of level where he can add anything this season though.
Peter Bell
59
Posted 02/10/2014 at 22:51:54
Phil, not interested in all that.
There was histrionics on this website when Atsu signed I thought he was the next Messi, even in the early stages I can see not even in the same league as Del Boy
Dave Pritchard
60
Posted 02/10/2014 at 22:55:11
Two poor performances in the last two games but two draws away from home. Be happy with the same again on Sunday I suppose but would be much happier if we actually start to pass and dominate games like we did at times in the first few games.
Brian Wilkinson
61
Posted 02/10/2014 at 23:46:51
I must have watched a different game because I thought Osman had a decent game along with McGeady.
Osman played better the second half because he had ten team mates, if anyone wanted slating it was Atsu, he may not be match fit but the games I have seen him play for us, think I would prefer Gueye and that's saying something.
Will take a point which I do not think we deserved, more performance like that and its goodnight Viena for this season.
On a final note, I hope next season Kone is stripped of the number nine jersey.
Ian Tunstead
62
Posted 03/10/2014 at 00:18:11
Yes, you must have watched a different game, Brain.
Sam Hoare
63
Posted 03/10/2014 at 00:25:48
Peter Bell,59. With all due respect you've absolutely no idea how good Atsu will be. No-one does. He may be dross or he may realise the potential that a lot of people clearly think he has. To write him off now is childish at best. I seem to remember Deulofeu had some shockers when he started here. And at the end to be honest.
Steavey Buckley
64
Posted 03/10/2014 at 00:30:33
Everton are not attacking down the wings and putting in inviting and dangerous crosses with any regularity to score from (except on the occasion, one from Baines that found it's man for Eto'o to score from.) Lukaku has to work very hard to find any decent passes played to him, to find any space to shoot from. So without any decent width it is going to be hard work watching Everton, I'm afraid.
Mark Andersson
65
Posted 03/10/2014 at 00:26:44
I've not seen the game but as usual the posts on here tell you a conflicting story of who was good and who was bad.
The only consistent is the team is not playing anywhere near the level as last season.
So I would expect more of the same come Sunday.
Andy Crooks
66
Posted 03/10/2014 at 00:59:38
Sam, # 63, spot on. Any player given a run of games will improve. I believe that the bit parts, cameos, ten minutes now and again, squad rotation, does no one any good. Pick the best team and when someone is, God love them, too tired ,pick someone else. However, don' t judge players who haven't had a run of games. Confidence is what makes okay players good players.
Gary Hughes
67
Posted 03/10/2014 at 01:10:02
Abysmal blues, just like the derby we were slow, one paced, sloppy & generally second best in every area, only John Stones emerges with any credit. I don't know what's gone wrong from last season, we secured Barry & Lukaku, strengthened with Eto'o & Besic, & the likes of Gibson & Oviedo returning appeared to give us strength in depth. The sad truth is we appear to have gone backwards. This needs sorting Roberto, Evertonians have taken you to their hearts but if we carry on like this that goodwill will become severely strained sooner rather than later.
Minik Hansen
68
Posted 03/10/2014 at 01:33:22
Atsu played in the Eredivisie last season, give him time to shine. Krasnodar is decent, the club has done well to get into Europa League, dealt with the cards.
Andrew Keatley
69
Posted 03/10/2014 at 01:39:35
I thought Stones was absolutely phenomenal. He has to continue at centre half. And we are missing Coleman hugely; he turns us into a completely different team. But the overall performance was horribly sluggish, and there are too many players reacting slowly all over the pitch. There's no variety in our play, no balls being played early, not enough running off the ball, and too much of an emphasis being placed on pointless ball retention. I think most fans are seeing these shortcomings, but we don't seem to be deviating from the Martinez hymn-book, and I'm starting to wonder how many pages that particular book actually has...
Tim Greeley
70
Posted 03/10/2014 at 01:03:25
Fuck it. Park the omnibus Sunday and try to do what Palace did to us. From what I've seen, Man Utd's defense is every bit as shaky as ours. So, if we frustrate them upfront and counter, we could pinch it. Of course, without Barkley, our counter attack is pitiful League 2 shit. But hey, let's try it.
Attacking them from the off seems like Chelsea-level suicide. This strategy will require Bryan Oviedo, of course, as he is the Man Utd Slayer!!
As for today.... I followed along on TW but am now currently waiting for my wife and daughter to fall sleep so I can assess myself.
Danny Kewley
71
Posted 03/10/2014 at 01:48:50
Nice to see some of the locals in Everton shirts! Wasn't the best game but there were some positives.
McGeady is improving good style and Stones made a couple of the best tackles I have seen for ages. COYToffeeeeeeeees!!
John Voigt
72
Posted 03/10/2014 at 01:42:53
Every season is different. Hopes were raised based on things like a 7 game win streak and doing the double on Man. United.
In order to come close to duplicating those type of results requires a thin Everton side being healthier than they are now.
John Stones has been a big positive. I didn't want him to just be given a starting spot at center back, but he's earned his place through his fine play.
It would have been better to have him start from the beginning of the season, but Disten through all his good service was given the chance to keep his spot. My opinion that's good management by Martinez.
Let's not forget that during the long Moyes era the number of points Everton finished on was often in the mid 50's.
unless the injury situation gets better I see this year's team finishing with a Premier League point total more like the Moyes era and not last year's 72.
Everton are lacking the players right now that add spice and pace to their play.
That's not the fault of Martinez. I also thought his team selection today had an eye on this weekend's big game and I was happy Everton came away with a point today.
Through 2 match days in the Europa League only Everton have a win. That's a positive and if goal differential comes into play they also have the edge.
Harold Matthews
73
Posted 03/10/2014 at 00:08:58
The long trip and firm surface didn't help but we were pretty dire for 70 minutes. One or two of the lads came to life in the last 20 minutes when the opposition eased off the closing down but a point was daylight robbery. They should have been out of sight.
Not sure I want to judge individual performances. Players with very little game time, players recovering from a virus, players coming back from injury, players in unfamiliar positions and with unfamiliar partners. A real rag-tag bunch with no fluidity or cohesion.
With Sunday in mind the senior regulars will have been careful not to bust a gut and Martinez will be pleased to have got 90 minutes into Hibbert, Eto'o and Gibson. ( Messi reckons anything less than 90 minutes doesn't work.)
None of these European games are easy. City are almost out, Spurs were held at home and Real Madrid needed a dodgy penalty.
The long journey severely cuts our recovery time but we can't face United with a negative attitude. Martinez is always well ahead of things and will have a specific plan which will have already been worked on at the Farm. Let's hope it all goes well.
Andrew Presly
74
Posted 03/10/2014 at 02:11:40
I'll call time of death on Atsu tonight, with regret.
Mark Andersson
75
Posted 03/10/2014 at 03:44:18
Well said John 72. Always a realistic and positive view.
Man u are there for the taking, if we have a flash back to last season I think we can get all 3 points.
1 point and a solid performance will also be better than nothing.
James Marshall
76
Posted 03/10/2014 at 03:51:58
1-1 away in Russia to a team that just turned Sevilla over, across 2 legs and have posted 11 goals in 3 Europa League games is a good result. I still don't understand why Evertonians on here pick our performances apart so harshly all the time, especially without looking at the circumstances surrounding each game.
We're top of the group with 4 points, and played without a few of our first team players, yet still got a result. This was a tough assignment, make no mistake. McCarthy, Mirallas, Lukaku, Coleman all missing from the lineup and we still got a result.
Also people are freaking out about the Utd game at the weekend, but they only just beat West Ham 2-1 and have struggled for the most part in their games so far. Remember, they're no better at the back than we are and Rooney is suspended. We'll hopefully have Macca and Coleman back as well.
As for people laying into Lukaku - you have to look further at it and point the finger at the service he gets. In the derby every ball he received was fired at his head or chest at about 60mph so there's more to it than his personal performances. Strikers are only as good as the service they get and he'll come good & score plenty of goals.
We still have lots to look forward to this season. We'll be fine.
Eric Myles
77
Posted 03/10/2014 at 05:48:06
James #76, in one respect you are right, it was a good result, but it was a poor performance which is why it rightly gets picked to bits. It amazes me that professional footballers cannot make passes to their own teammates around the opposition penalty box which allows counter attacks when we have all our defenders forward. We could have come unstuck a few times in the second half because of that.
"As for people laying into Lukaku - you have to look further at it and point the finger at the service he gets." Isn't that what has been said about every striker that OFM ruined?
Ernie Baywood
78
Posted 03/10/2014 at 06:41:00
Couldn't tell from the pictures but was it an artificial pitch? Looked a bit too perfect to be real.
Peter Z Jones
79
Posted 03/10/2014 at 05:45:56
Overall, not the greatest performance, but a great point given the circumstances. Just win the home games and we'll be in great shape to top the group. Some of the credit has to be given to Krasnodar though. They pressed us early and often and then we eventually wore them down with our possession as the game went on. They're a tough team and as others have pointed out, shouldn't be underestimated. Just because nobody watches the Russian Premier League, doesn't mean all their players are crap.
I must defend Atsu. He wasn't even bad! He was one of the few players in the first half (along with McGeady) that actually carried some kind of a threat on the counter and ran at the defense with pace. So he lost the ball a few times. Big whoop. Gibson probably lost it twice as much in far more dangerous positions!
If anyone should have been subbed off at halftime, it was Osman. Completely anonymous. Bobby could have brought Naismith on to sit in behind Eto'o and move Atsu wide left on his good foot. Unfortunately, as good as Bobby was with the subs last season, he's been equally poor so far this one. And I'm a big fan of the man.
Why even play Hibbert when Browning is there? The guy is, was, and always will be a complete non-entity going forward. We are a team that features attacking full back play to generate chances. What about Hibbert fits in with that? If Coleman is out and Browning still can't get a full game, when is he going to gain experience at this level? I could understand if he was some ways away from being half decent, but if you're willing to play him at Anfield, clearly there is some belief in his abilities. Nothing about his play in that game suggested that belief was misplaced. Let's work on developing those abilities rather than wasting games on old guys that are past it. Early in the Martinez reign, when has our youth failed to deliver? Lukaku became our first 15 goal scorer since who? Yakubu? Barkley is our creative fulcrum. McCarthy is the rock in midfield. Stones is our best defender. I'm gonna go out on a limb and say that Browning can be a serviceable deputy. It's not really a big ask.

Paul Andrews
80
Posted 03/10/2014 at 07:04:08
One thing from last night.
It should Stones first and either Jags or Distin from here on.
It's difficult to drop the skipper but I would give the Stones/Distin partnership a go.
Phil Hoyle
81
Posted 03/10/2014 at 07:54:16
Peter #71 - fully agree with your summary. I thought Gibson was awful - gave the ball away too much and really looked uncomfortable when being pressed. Not sure if that is a lack of match fitness but he needs to improve.
Thought Eto looked class all round. Surprised me how hard he seemed to work for the team even when we didn't have the ball.
Overall, I will take a point but agree the overall performances need to improve.
Andy Veitch
82
Posted 03/10/2014 at 07:55:05
I totally missed the game but just throwing this out there with all the comments about bad passing / caught in possession: What was the pitch like, was it a typical Russian setup?
I don't buy any comments about it being the same for them. They would be used to it. That's what home advantage is all about.
Jim Bennings
83
Posted 03/10/2014 at 07:46:57
The trouble with people saying "Give Atsu time" is the simple fact that we don't really have time. Good though the result last night was, the fact remains we are still struggling to win many games and our overall performances are so scrappy and disjointed.
Mirallas is out until December; we need Atsu and McGeady to perform right now – we can't keep giving them an excuse to hide behind.
All you ask of Atsu is get the ball and take men on, why do you need a settling-in period for that? He has just played in a World Cup for heaven's sake, surely if someone passes the ball to him in space you need need 5-10 games to start doing something exciting with it?
He is not the same as Deulofeu. Deulofeu was far more direct and far more skilled, he may have been extremely frustrating and greedy at times but that side of the game may have eventually been coached out of him.
Gerard Deulofeu was quite simply mesmerizing in some games last season, the home derby match where he destroyed Liverpool on the break with his direct running at times, and the Stoke home game a week prior; the two month hamstring injury curtailed his progress last season.
I for one would love him back here on loan in January.
James Stewart
84
Posted 03/10/2014 at 08:21:44
Another poor performance but when I saw the team sheet I didn't really expect anything else. Zero pace in the side apart from McGeady who I still think is twice the player on the right wing that he is on the left. Atsu was absolutely shocking.
With Mirallas, Barkley and Deulofeu, we had exceptional pace on the counter attack and could break at speed. Without them, we look a very average side unable to be direct and forced to just maintain the most sterile of possession which is really tedious to watch.
Paul Hughes
85
Posted 03/10/2014 at 08:31:25
Well, it was a good away point. Particularly with Wolfsburg and Lille drawing later on. But, goodness, it was painful watching.
The passing across all the team, from front to back was woeful. When an opposition team presses us, we appear not to have any options.
Atsu - I thought he looked capabable of beating his man, but on the couple of occaisions he actually did, he was too slow to get away. A winger with no pace does not fill me with confidence.
Eto'o - In my view, his goal masked a poor performance, particularly in the second half. He seemed to always either misplace a pass or take the wrong option. I was just texting my mate how bad he was playing when he scored. So I'm taking some of the credit!
Tommy Coleman
86
Posted 03/10/2014 at 08:56:13
Very good point against a good side. With the players we had missing the team and manager did a good job, thought we were going to win it in the end.
Eddie Dunn
87
Posted 03/10/2014 at 09:00:34
The difference between the two sides was that the Russians had pace all over the park. This caused us all manner of problems.
We only came good in the last 15 mins when they tired.

James Fletcher
88
Posted 03/10/2014 at 09:27:20
While I thought Hibbo had a decent game I would've preferred to have seen Browning as a replacement from Coleman, seems like that would've been a lot more like-for-like.
Max Wilson
89
Posted 03/10/2014 at 09:28:01
Howard, Hibbert, Stones, Jagielka, Baines, Gibson, Barry, McGeady, Atsu, Osman, Eto'o. Subs: Robles, Oviedo, Lukaku, Naismith, Besic, Browning, Alcaraz. This was the team
Paul Johnson
90
Posted 03/10/2014 at 10:02:17
John Stones is starting to look like a serious player. I know he still makes the odd mistake but he was my MotM last night. He reads the game so well.
If we can keep hold of him, he is a future captain of Everton and England for many years.
Eddie Dunn
91
Posted 03/10/2014 at 10:07:24
A while ago someone on ToffeeWeb said that the reason why we have the players that we have, is because of our limited budget.
It is frustrating, but apart from our absolute best 11, we really can't replace anyone with a player of the same quality.
Suffice to say that Martinez must be scratching his receding hairline, just as much as the rest of us, trying to find the magic formula.
We have youngsters still learning their craft, and veterans trying to last a bit longer.
Guys with injury plagued careers, and loanees .
The Europa league will take it's toll on our thin squad, as it does on every team, every year.
We have to accept that unless money is spent in january on three new faces (permanent or on loan), we will finish ninth or tenth, and hope to get to the latter stages of the Europa (enjoying playing a few of the great European names), and a decent go at the FA Cup.
Joe O'Brien
92
Posted 03/10/2014 at 10:09:22
The difference between this season and last is confidence. Playing with or without confidence is a huge imo. When you're playing with confidence everything clicks, players are more in sync. Moves and plays come off more.
To write off Atsu is crazy, was this is 1st start for us? Only a handful of appearances and people are saying that he's so rubbish? I think people need to be far more patient.
Same goes for Lukaku; he's still young with a massive price tag to justify. The pressure he's under must be huge, from himself and the media and supporters. He'll come good.
A big part of all this is the way the back four are playing. Once we get Coleman back and have a solid back four of Baines, Jags, Stones and Coleman with a couple of clean sheets with the Barkley due back, this team will turn it around. That's just what I think...
Steve Jenkins
93
Posted 03/10/2014 at 07:48:19
38 Peter
Completely agree - no energy and pace in our midfield. Barry, Gibson and Osman are all slow, one paced pedestrian players.
Second poor performance in a week, but second decent result. We're very unlucky to have lost so many key players from our midfield/attack area that give real pace and dynamism - Barkley, Mirallis and Kone (has pace we very much lack).
Last night we started with Hibbert, Gibson, Barry and Osman, all slow, one paced players 2 of which are very much getting on and whose legs aren't what they used to be.
I appreciate you need experience but experience should not come at the expense of having totally slow players that can't keep up with the game.
3 in one midfield was far too many, it affected the balance, and the slow ponderousness and lack of energy that these 3 have in their game meant our midfield was again overrun.
Besic should have started instead of one of the three to give the midfiled, energy, dynamism and better balance.
I'm banging head against a brick wall, the saving grace is that the players we have to come back will readdress the balance and the youngsters coming through appear whilst obviously lacking experience seem to be far more of the athletic, dynamic type that we very much lack in depth as a squad.
Chris Fisher
94
Posted 03/10/2014 at 11:31:10
My only criticism is Martinez over-using the word 'incredible'!!! I love Bobby's attitude compared to the years of wanting to shoot myself every time Moyes was interviewed... but not everything is 'incredible'!!
A workman-like performance, a solid performance, a good point away from home would of been fine but there was nothing 'incredible' about the performance or the character of the team yesterday. 'Incredible' would be walloping Man U 0-7 on Sunday or winning the Premier League; 'incredible' is not drawing a good but not spectacular match.
Dan Farrell
95
Posted 03/10/2014 at 11:44:49
Considering the injuries, not a bad result.
I wish we would cross the ball more and in turn Lukaku would get in the box more. Does anyone else think this? Big money for a center forward and we hardly cross the effin ball to him. Whether he's not getting into these positions because he's being told to try other things I don't know.
On another note, I cannot wait for Barkley to be back fit, boy do we miss him.
Brian Harrison
96
Posted 03/10/2014 at 11:41:04
I think we have a lot more to concern us about RM than his constant references about something being incredible or phenomenal. I look at his activity in the transfer market which worries me a lot more:
He brought Robles as understudy to Howard yet he looks awful and he wasn't even prepared to play him against Swansea.
Alcaraz is another who looks very ordinary and another player he hardly uses.
Kone, well it's hard to comment on someone who has hardly kicked a ball for us.
He bought Barry who had an excellent season last season, but he gives him a 3-year contract – can anyone see him playing regularly in 2 years, never mind 3?!?
Eto'o, a 2-year contract on big money – another who won't be figuring in 12 months.
Then we have the younger signings: Lukaku for 㿈 million was about 㾸 million more than he was worth, Mourhino certainly played RM for a fool with that one; I don't remember too many other clubs looking to sign this goal scoring forward. Maybe they also thought no chance for 㿈 million.
Then finally McCarthy, another who started very well last season but now seems to spend most of his time in our own half and when he first came he looked like a good box-to-box midfielder. So again, questions to be asked.
Harold Matthews
97
Posted 03/10/2014 at 12:19:12
Brian. Wouldn't like to share a flat with you mate.
Andrew Ellams
98
Posted 03/10/2014 at 12:50:14
Brian, Lukaku minus 㾸 million gives you Balotelli and I would take Lukaku over him any day of the week.
Robles, didn't cost much and is still very young for a keeper and has plenty of time to learn.
Alcaraz, experienced international with Premier League experience and if you check the stats, Wigan were a much better team with him in the side.
Kone, good solid player who tore us apart 3 months before joining. He picked up an unfortunate injury in a game; it's sport, it happens.
Brian Harrison
99
Posted 03/10/2014 at 12:57:58
Harold,
Is there anything in my post that you disagree with? I think the fact is that, unlike most managers, he didn't join a club that was in the doldrums and needed turning around. He joined a club who year on year competed in the very top half of the league, he inherited a team with some excellent players. Now he is starting to add his own players it seems to be getting worse rather than better.
Oh, I forgot to mention McGeady... how I could I forget him.
Peter Cummings
100
Posted 03/10/2014 at 12:31:13
What surprises me the most is what everyone who posts on the site seems to agree on, myself included, that we have never come to terms with mass defending. We lose possession too easily, we can't put two passes together. Too many of the team play out of position, especially Lukaku, who should be a striker relying on crosses into the box; and finally poor selection and subs by the manager.
I think he underestimated the Russians yesterday big time who proved to be a real handful until the last 10 mins yet had to be gifted their goal by us. Our main men on the night were Baines, with Stones and, surprisingly, Hibbert, and Howard seeming finally getting to grips in dealing with high balls.
All-in-all, a very hard-earned point, but I would advise RM to read this column more often, if he ever does.
Jay Rollinson
101
Posted 03/10/2014 at 13:11:29
How come Robles is always held up as a stick to beat Martinez with, when people want to make out his ability to sniff out a player is non-existent? He was only signed to serve as second-choice keeper under Howard.
I don't recall people holding Steffan Wessels, Carlo Nash, Jan Mucha, Marcus Hahnemann etc against Moyes in the same way. They were all dodgy keepers and, unlike Robles, didn't have either age or any hope of an improvement in ability on their side.
Pete Edwards
102
Posted 03/10/2014 at 13:26:48
Getting a decent result while not playing well is a good sign in my opinion. Win your home games and don't lose the aways and it's happy days as far as I'm concerned.
James Marshall
103
Posted 03/10/2014 at 14:00:41
Eric #77
What you've described is the Martinez way of playing. He commits player forward at all times, and therefore leaves our defenders wide open a lot of the time. We got away with it last season but got found out toward the end of the season.
Now look at us. Basically we're Wigan with better players, at least at the moment. Everything a lot of people were worried about this happening when Martinez joined the club as I'm sure you know (maybe you were one of them, I certainly was), so hopefully he realises and fixes it and this is only a phase due to various other things.
We're massively imbalanced without Coleman in the team, and we miss Ross big time with his drive in midfield. Currently whichever 11 he puts out looks a bit wonky, and lacks the cohesion we had last year. We also miss Mirallas, and amazingly, Naismith when he doesn't play.
Martinez's philosophy seems to work when he has his true first 11 all fit, but as soon as we lose a couple of players, we're nothing like the team we can be. I just hope we're able to struggle along until said players are back.
McGeady is shite and loses the ball too often, Atsu is so inexperienced, Hibbo offers nothing going forward (albeit I still admire him as a defender), Gibson is lacking match sharpness, Osman is on the way down, we missed McCarthy as well the other night so all these factors make the team both imbalanced and wide open defensively.
It's all about opinions, naturally, and everyone has a valid point to make here & there. I could rattle on about it all night, but I still think a 1-1 out there was a decent result given the circumstances. Even better knowing Lille & Wolfsburg drew, and we top the group – it's all good at the moment.
I also think we'll give a good account of ourselves against Man Utd at the weekend, though I'd like to see Oviedo given a run out which I doubt.
Robert Workman
104
Posted 03/10/2014 at 15:03:14
I watched the game on various Internet streams - mainly Setanta, plus some American stuff and a bit of ITV4. I just couldn't believe the amount of negativity towards Everton. It started before a ball was kicked and continued right through the commentaries. It was all about Krasnodar. Aren't we supposed to have a bit of British bias? Not here.
The only person who spoke positively about Everton was Pat Nevin. When given another loaded anti-Everton question on Setanta, about their season so far, he calmly and, in my opinion astutely, pointed out that if you reverse one result (namely the 2-3 against Palace, which he said - and I agree - we could have easily won despite their 2 shots = 2 goals, plus dodgy penalty) then things would look quite different.
Phil Walling
105
Posted 03/10/2014 at 14:17:10
I find myself in total unison with the last two posters and because of family links to Wigan had much reason to be sceptical of Roberto from the off.
Said to be 'a lovely bloke', who talks a smashing game, close examination of his record shows him to be set in his ways, intransigent and almost obsessed with 'playing a beautiful game'. Other managers read him like a book and set out their stall to thwart his obsession with ticci tacca or whatever all that regressive passing is called these days.
Last season, he made a better team of predominately Moyes players than Moyes had done himself but, as more of his own signings and tactics have been introduced, we have gone backwards. We can only hope that he has the vision – and the means – to put things right.
Michael Kenrick
106
Posted 03/10/2014 at 16:11:38
I've always struggled with this supposed 'logic', viz: "if you reverse one result, then things would look quite different." Really?
If you swap the wavelength of scattered light to red, the sky would look quite different...
But – and here's the rub – it doesn't.
Brian Harrison
107
Posted 03/10/2014 at 16:20:53
Michael
Totally agree, funny how the result they want to change is always a loss, well let's take our win over West Brom now make that a loss and were would that leave us.
Ben Jones
108
Posted 03/10/2014 at 16:24:40
If I have to be honest, I've got "the result is more important than the performance" policy.
I didn't see the first half, and I'm glad I didn't from the descriptions on here, but at the end of the day, we travelled 4½ hours to play away against a decent Russian team and got a good point while not playing well.
We should see McCarthy back adding some pace in that pedestrian midfield, and I'm hoping Pienaar and Coleman are back for the Man Utd game. I can only see an improvement in terms of performance against Man Utd, especially as they have no defence at the moment, Herrera is injured and Rooney suspended.
Paul Holden
109
Posted 03/10/2014 at 16:52:01
We're going to have to get a lot better very soon!
Harold Matthews
110
Posted 03/10/2014 at 14:47:48
Brian. Andrew @ 98 covers it pretty well. McCarthy is one of my favourite players who does exactly what the manager asks him to do. McGeady is not the best player in the world but he has terrific pace, two feet and keeps trying. He also provides the odd moment when he opens things up and helps us score a goal. Something he has managed to do on several occasions this season. Normally he would be coming off the bench but injuries have pushed him forward and Martinez will be glad he signed him.
According to Tim Sherwood and other professionals, Barry is our most important player and has to play every game. Whether he can last 3 years is anyone's guess but let's hope he can.
As for the massive Lukaku fee? Well he gave us something extra last season and Martinez obviously took a liking to him and was determined he stayed with us. Other clubs including one particular German outfit , were bidding over 㿀m. How he ended up at 㿅m plus ١m add-ons is a mystery but he's a permanent Evertonian now and I will support him all the way. Naturally he has much to learn but with Eto'o, Dunc and Joe Royle around him, I would expect him to improve considerably within the next few years. We'll see.
Linda Morrison
111
Posted 03/10/2014 at 16:58:33
I think I must have been watching a different game to most people yesterday. I've not read all the posts but I can't see any mention of the fouls committed by the Russian side, especially in the first half.
Every time Everton players got near the ball they had their shirts pulled to stop them running and were subjected to being pushed and shoved all over the place.
Some posters to this site have become so negative recently, probably due to the fact that people are so unhappy we have not taken off where we left off last season.
A few points to consider:
We have been playing this season without our best player – Ross Barkley.
For most of the season, several key players have been missing and now Kevin is out until at least November.
Unlike other teams, we are not able to spend hundreds of millions on players as we do not have it and also we do need a new stadium.
I doubt many clubs would be playing super dooper footie with half of their first team missing and that is where we are at now.
Last night the people coming back did okay. Gibson will improve and the defence is back to taking control.
I think we will be lucky to get a point on Sunday, but Man Utd will still not be in the top 4, you'll see.
Brian Harrison
112
Posted 03/10/2014 at 17:07:52
Harold,
I hope you are right in saying that Lukaku will learn from Eto'o and Ferguson; I'm not sure Joe will have any input with the first team. As for Andrews 98 comments well just saying Robles is young is hardly an endorsement that they will improve and he says Kone tore us apart, not sure that's true but I think you need more than one good game to justify his signing. As for McCarthy, I think the lad has talent and I think RMs way of playing him is stifling the lad; let him get forward and play to his strengths.
I hope that I am massively wrong and RM will make me eat my words, he did a very good job last season and I hoped we would push on again. By that I don't mean get into the top 4, just that our style of play gets better, and I can't believe hand on heart that the majority of supporters are enjoying our football at present.
Eric Myles
113
Posted 03/10/2014 at 17:23:15
James (#103), what I was trying to describe was my frustration that:
a) Our players can't make a pass to each other unless it's among the back four outside our own box, and certainly not in the opposition's box;
b) Lukaku is playing in a position where he is not effective.
Point a) is not the fault of the manager (except that he chooses those players he knows cannot pass).
Point b) is. I don't remember Lukaku being played consistently on the wing last season, the one game against Arsenal stands out as a piece of tactical nous, but now every game? It's like having Andy Johnson run the channels. He won't score from there.
The Martinez way of playing requires some adaptation and I think this season we've seen some pragmatism from RM in adapting the way of play to certain games. But it still all hinges on our players being able to pass to a teammate in the final third, something that doesn't appear to be improving.

Phil Walling
114
Posted 03/10/2014 at 19:19:32
Linda, listen to ANY club's manager and he will say half his team are missing. Because we are Evertonians we focus on Everton's misfortunes.That's natural but the real problem is the poor quality of the squad outside the first 13/14 'first picks'.
That's what happens when a club of Everton's limited resources allows its manager to blow the entire transfer budget on one player. However good that player is... or isn't.
Wayne Smyth
116
Posted 03/10/2014 at 19:20:46
Like Linda, I saw a different game to many.
The first half performance was not good, but then Atsu in particular stunk the place out. Not necessarily a personal criticism, since I've also read that he's a left winger, so I think he needs a run in his natural position before we write him off prematurely, like many of us did with Naismith and so many other players over the years.
I've read (in the media) that Martinez played a near full strength side, but that is a ridiculous statement. We certainly put out the best 11 we had, but we were without Barkley, Mirallas, Coleman, Pienaar, McCarthy, Distin and Kone. Look through those players and it's basically most of our creative, pacy players. It's no surprise the team Martinez cobbled together was not playing to the standards we know they can.
The Russians are a very good side. They put a lot of energy into their game and worked their bollocks off closing us down, and I think it's clear they tired significantly in the last 20 minutes, allowing us back into it. They were clearly on the ropes in the last 10 minutes.
Honestly I don't think we'll see really good performances from this team until Pienaar and Coleman are back. Pienaar seems to work so much better with Baines, and Coleman offers us a hell of a lot going forward as well as being a damn good defender. We just don't have quality cover for them like we do for McCarthy or Distin.
On a positive note, I was impressed with Hibbert after fearing the worst before kick-off and being a critic of his recently. I thought his legs had gone, but one massively quick sprint, in the second half I think, put that thought to bed. Defensively he was solid, and offered himself more than usual going forward too, so I'm hoping he was just a bit rusty in previous games this season.
Stones once again gave us a performance of a player 8 or 9 years his senior, with some quality defending and I thought Lukaku did okay when he came on, as he only had scraps to feed on. I've also seen criticism of McGeady, but I thought he was our best attacking player, and if my memory serves me right provided the cross for our goal.
In short, I think any reasonable criticism of the team or manager has to take into account the players who are unavailable to him.

Dean Adams
117
Posted 03/10/2014 at 20:13:43
Without Coleman and Mirallas on the right we are wide open. It is glaring and will cost us. The only reason that Lukaku is out there is because Bobby Dazzler knows how weak we are there and is trying to cover up.
Michael Kenrick
118
Posted 03/10/2014 at 21:02:05
Good summary of the game, Wayne. I wouldn't argue with any of that.
Except one small detail: the cross for Eto'o's goal came not from McGeady, who you would have expected in that position, but in fact from Baines, who was over on the right side having just taken a corner.
Talking of corners, they had rather a lot, didn't they! And the ones we took were mostly delivered well into the danger area – noticeably better than in recent games – but almost all headed away by the opposition.

Mark Frere
119
Posted 03/10/2014 at 21:22:33
I thought Gibson delivered a couple cracking corners, Michael, but we just don't have any dominant headers of the ball. It's not like years gone by when we had players like Cahill, Lesscott, Fellaini, and Rodwell all in the same team; we were much more of a threat from corners in those days.
---
Add Your Comments
In order to post a comment, you need to be logged in as a registered user of the site.
Or Sign up as a ToffeeWeb Member — it's free, takes just a few minutes and will allow you to post your comments on articles and Talking Points submissions across the site.
© ToffeeWeb