Eto'o levels after sloppy goal given up
By Michael Kenrick
02/10/2014

Comments (108)
jump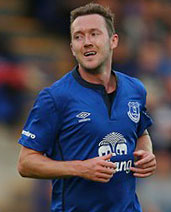 Aiden McGeady's experience of the Russian league earned him the nod to start against Krasnodar
FK Krasnodar 1 - 1 Everton
Everton made the long trip to southern Russia to face a tricky match against FK Krasnodar in Group H of the Europa League. Mirallas, Coleman, Distin, Pienaar and McCarthy all stayed behind, while Samuel Eto'o led the starting line-up with a strong-looking bench.
Everton kicked off wearing their white change strip with dark blue/purple shorts. But Krasnador started by pressing then back, Pereyra taking an early shot over. Gibson then gave the ball away dangerously as the visitors looked rather nervous, Izmailov unable to convert at close range with Jagielka defending well. Everton were losing the ball cheaply and putting themselves under unwelcome pressure. Ahmedov's shot blocked away for the first corner.
The Russians kept coming forward with no little determination if some lack of skill and accuracy while Everton did their utmost to slow things down, Hibbert defending for the second corner. Stones then produced a brilliant tackle with Hibbert struggling to track back from an advanced position.
Ahmedov pulled out a fierce shot that was saved very well one-handed by Howard, low to his right, a very important save! Ari then got free but Jagielka did enough to put him off after Everton's first venture into the home area saw McGeady run the ball out.
McGeady took a good shot after running along the 18-yd line, Dakin giving away a second corner that Stones then challenged him for, causing the Russian keeper to lay prostrate, holding his head, with the Krasnodar players protesting excess aggression. Barry then tried to curl a floater around Dakin as Everton started to show themselves a little more going forward, having withstood the early onslaught in a very professional manner.
Atsu won a free-kick by the right touchline that Gibson curled in deep behind everyone, Stones heading the follow-up cross from McGeady just over the angle. Everton were looking to control possession but Osman was far too easily dispossessed, giving the home side a chance to advance. A deflected shot won another corner that was defended away.
Hibbert sent a great long ball forward to Atsu but his return ball after turning was horrible, putting the Blues under pressure again, Stones again imperious in Everton's defence. More corners for the home side were defended solidly. Atsu again got lose on the right but his ball back for Eto'o was poor and Atsu failed to get himself back onside. Hibbert guarded the next attack away for another corner, leading to a glancing header that Howard handled confidently.
Hibbert again tackled Laborde brilliantly but got called for it, and Hibbert was again alert to produce an excellent block on the byeline, but Ari broke through on a loose ball over the top with poor tracking from Jagielka and smacked it easily past Howard to give the home side the lead just before half-time.
Martinez acted at the break, bringing on Romelu Lukaku in place of Christian Atsu who had not done all that well. But Krasnodar won a trio of early corners, Hibbert and Barry needing to be alert in defence. Everton were still struggling to get any real flow or rhythm to their play, resorting to punts from the back at times, and not holding possession gong forward. The one time they did, Osman had strayed offside.
There followed a 5-minute period where Everton's forward play was absolutely shocking, every forward ball either punted or clogged wildly forward with little or no control, and producing turnover after turnover.
Better work down the right finally won only Everton's third corner, Baines delivering well but it was won by the head of Ari, and Everton were again under pressure. Krasnodar really should have scored a second when they scythed through the Everton defence and it looked like Russian shooting practice, the Blues clinging on mostly by good fortune as more corners rained in.
Down the left this time, Baines did brilliantly to cross for Lukaku... who was out near the corner flag as an excellent ball whizzed across the area just begging for a tap-in. In the follow-up Gibson lashed one from distance over the bar as Wanderson, another Brazilian, came on for Izmaylov. An absolutely brilliant mazy run from the sub beat five Everton defenders, clipping it off the top of the bar, so close to a second goal...
After some exceedingly laborious attacking, Lukaku finally got a shot from a narrow angle winning a corner that was delivered superbly by Gibson but no-one could convert it. Wanderson then fouled Osman to give Baines a chance for a set-piece in from wide right that was headed away, Osman's clever feet winning a throw on the left side.
Everton seemed to finally develop some urgency around the 75-minute mark, Lukaku doing well to get forward down the inside left channel and win Everton's 5th corner, which was again delivered well but headed away. Osman did well to cross again into the danger area but again a long way from any goal-poaching Everton strikers, who were elsewhere.
McGeady was working hard to create things down the right, winning the 6th Everton corner which was again well delivered in well by Baines but headed away, then on the follow-up Eto'o was finally well positioned to turn in an excellent ball from Baines on the right with finally not one but THREE Everton strikers poaching in the 6-yard box. It was a vital goal that finally gave the Blues something to hold on to.
A late corner taken short saw Baines then cross for Lukaku to head down but Dikan tracked the ball and wafted it away as the Blues probed for a winner. Jedrzejczyk fouled Baines, but Gibson's delivery was short and an opportunity was wasted. Lukaku was then called for exuberance, leading to a silly yellow card for not retreating 10 yards.
A poor giveaway led to Wanderson having a gifted shot before the Turkish ref finally blue for full-time. A respectable if unimpressive result after a rather poor performance left Everton still top of Group H with 4 points.
Scorers: Ari (43'); Eto'o (82').
FK Krasnodar (4-1-4-1): Dikan; Jedrzejczyk, Sigurdsson, Granqvist, Kaleshin; Gazinskiy; Izmailov (64' Wanderson), Ahmedov; Pereyra (83' Petrov), Laborde (71' Mamaev); Da Silva Ferreira (Ari).
Subs: Martynovich, Do Carmo Carneiro (Wanderson?), Burmistrov, Adzhindzhal, Sinitsyn.
Everton (4-2-3-1): Howard; Hibbert, Stones, Jagielka, Baines; Gibson, Barry; Atsu (46' Lukaku), McGeady, Osman; Eto'o.
Subs: Robles, Oviedo, Browning, Alcaraz, Besic, Naismith.
Referee: Hüseyin Göçek
---
Reader Comments (108)
Note: the following content is not moderated or vetted by the site owners at the time of submission. Comments are the responsibility of the poster. Disclaimer
Joseph Clarke
1
Posted 02/10/2014 at 15:41:13
Eto'o is our most talented player by far. However, his age is against him. That is the only reason we were able to get him. I hope he gets a lot of games whilst his skill and fitness lasts.
Andrew Ellams
2
Posted 02/10/2014 at 15:48:33
They are a team that has only been in existence for 6 years, already playing in Europe and being investigated for breaking FFP rules. Sounds like another case of Rubin Kazan or that Anzi team that Eto'o used to play for...
Mike Hughes
3
Posted 02/10/2014 at 16:09:10
Looks solid defensively (well, the best we can do in the circumstances and with Coleman injured).
Good to see Gibson starting and it would be good if Oviedo got a game – when we're 3-0 up from an Eto'o hat-trick.
However, these are a bit of an unknown quantity and a tough game wouldn't surprise me.
I can also see Browning coming on with 30 mins to go as well as Naismith for Ossie (the latter being better as a late-ish sub these days in Prem games but OK to start here).
Colin Williams
4
Posted 02/10/2014 at 16:15:01
Hibbert and Osman together!
They should have retired gracefully last season.
Chris Regan
5
Posted 02/10/2014 at 16:34:30
Andrew, they have more history than Chelsea or City.
Stu Cameron
6
Posted 02/10/2014 at 17:16:09
Hope this is not another Swansea... no shape whatsoever. We're getting skinned down the right. I've seen nothing of Atsu that impresses me and McGeady loses the ball too much. What happened to our possesion football? Come on Blues!
Gareth Hughes
7
Posted 02/10/2014 at 17:19:23
Gibson instead of Besic, Osman instead of Naismith, Hibbert instead of Browning and the usual slow tippy tappy garbage. We're getting battered thus far. I really have no idea what Martinez is doing anymore...
Jim Bennings
8
Posted 02/10/2014 at 17:21:17
Our passing has been shite again!
Stu Cameron
9
Posted 02/10/2014 at 17:44:15
Shite; Osman non-existent, no link-up down the wings. Martinez is really starting to worry me with his tactics and team selections recently.
Jim Bennings
10
Posted 02/10/2014 at 17:45:29
We are shite.
Passing too slow, no end product and basically we look set for a long hard slog of a season.
Brian Furey
11
Posted 02/10/2014 at 17:46:52
Keep the head, lads.
In my opinion we created the better chances and McGeady looks well up for it. Their keeper is the best player so far.
Joseph Clarke
12
Posted 02/10/2014 at 17:36:20
We are a very generous team. We always help the opposition whenever we can.
Anto Byrne
13
Posted 02/10/2014 at 17:47:09
We picked up from where they left off at Anfield. Ponderously slow, no imagination, and another defensive mix-up. Awful so far.
Kevin Rowlands
14
Posted 02/10/2014 at 17:49:40
How many times do we give up possession cheaply? It's shocking. As for Atsu, thank god Martinez refused to guarantee Chelsea he would get playing time?
And I'm sorry I don't want to beat a dead horse but thanks for the memories, Leon, time to retire. Gibson, is he actually playing?
On the plus side, despite the balls up at the end, John Stones is going to be world class. Enjoy him while we can — he's going to be Everton's next big pay day.
Marc Hints
15
Posted 02/10/2014 at 17:56:50
What a crock of donkey shite I am witnessing once again! How the hell is Osman and Hibbert playing, it's embarrassing to watch. I'm losing faith in Martinez as I just do not get the teams he puts out. Also, how has McCarthy got fatigue after 6 games!
Si Mar
16
Posted 02/10/2014 at 18:03:55
This is diabolical, Martinez honeymoon is over.
Stu Cameron
17
Posted 02/10/2014 at 18:11:06
This is horrible to watch
Stephen Brown
18
Posted 02/10/2014 at 18:18:23
Shocking so far...
Si Mar
19
Posted 02/10/2014 at 18:16:36
Could it be argued we are actually playing this badly on purpose?!?!?!
Chris Regan
20
Posted 02/10/2014 at 18:18:39
Martinez hasn't got a clue, our team look absolutely clueless and have done so all season. We really are going backwards.
Stu Cameron
21
Posted 02/10/2014 at 18:29:59
Where's the fucking subs? if Martinez is gonna treat this like a pre-season game, give some of the kids a go, they can't do any worse.
Gibson, Eto'o and Osman are awful. Write this season off. For fuck's sake.
Chris Regan
22
Posted 02/10/2014 at 18:38:26
So slow going forward, awful in defence.
Chris Regan
23
Posted 02/10/2014 at 18:39:12
Genius, absolute genius, from Eto'o. In Roberto we trust. Nah!
Dave Duggan
24
Posted 02/10/2014 at 18:32:00
80 mins gone, 1-0 down and out players get to the half way line and literally walk with the ball ignoring the space to drive into before knocking it sideways and then back! Fucking hurrendous display!
As I type we equalise but still a pathetic display again! Fuckin sort it out!
Paul Melling
25
Posted 02/10/2014 at 18:41:18
Another get-out-of-jail goal... but I will take it! We have grown into this game after looking dodgy for a while. Give credit to the Russians though, they are a decent team.
Chris Regan
26
Posted 02/10/2014 at 18:42:31
Fuck me, just seen Hibbert running into the opposition box with the ball. This must just be a dream...
Gavin Johnson
27
Posted 02/10/2014 at 18:48:48
Bad performance... Good Result.
Simon Jones
28
Posted 02/10/2014 at 18:49:42
I liked how Eto'o gave the boys a talking to when he scored. When he is on the field, he looks like the most switched on player we have. We were pretty shit though, a lucky point IMO.
Si Mar
29
Posted 02/10/2014 at 18:52:21
2 lucky points in 5 days, hope our luck doesn't run out on Sunday!

Jim Bennings
30
Posted 02/10/2014 at 18:55:45
Two games on the spin we get out of jail.
What's happened to our performances this season? It's easy to blame injuries to some key players but the tempo has died to our play.
Peter Murray
31
Posted 02/10/2014 at 18:55:53
Most of the current posters are off the mark.
We went there, did a job: 4 points. Favourites to go through.
Why all the whingeing?
Paul Andrews
32
Posted 02/10/2014 at 19:01:26
Great point for us.
John Stones was immense. How good will this kid be in a year or two?
Stu Cameron
33
Posted 02/10/2014 at 19:00:44
Stones was by far our best player tonight; he's gonna be world class but, if we carry on playing like this, he won't be with us much longer.
Keith Glazzard
34
Posted 02/10/2014 at 18:58:57
Other teams will struggle to get a point there, and although we can see where we could have done a lot better, let's take what we've got.
Paul Johnson
35
Posted 02/10/2014 at 18:57:28
I thought that, once Gibson got into the game, he looked the best of the three central midfielders and was no slouch. Stones was my MotM and I also thought McGeady showed up well. Barry has never been the swiftest of players but he looks so off the pace this season. All round, a good result.
We look so much better when we move the ball forward rather than sideways; if he is brave enough to play Eto'o and Lukaku from the start on Sunday, I fancy us to get something.
Jamie Barlow
36
Posted 02/10/2014 at 19:03:55
Good result at a hard place to go to. Not many will win over there.
Was gonna have a moan about the lack of urgency and pace but I can't be arsed.
Hibbo man of the match and McGeady looked our most dangerous player even though he usually wastes a lot. I thought he kept the ball well tonight.
We miss Coleman so much.
Anto Byrne
37
Posted 02/10/2014 at 19:03:21
I have to say the last 15 minutes was better but not by much, it should be a different game at Goodison; I think we made them look better than they really are.
John Paul McGurk
38
Posted 02/10/2014 at 19:08:37
Aidan McGeady showed tonight what he is capable off and can go right or left. I thought it was a good result against a good team
Craig Fletcher
39
Posted 02/10/2014 at 19:08:27
Fair play to Krasnodar - they played out of their skins. Their lad Ari and Wanderson when he came on very impressive.
We were very poor first half, but improved as the match went on. Eto'o was class, McGeady looked good and seemed our best source of goals.
Ossie struggled, Gibson poor, but I think Hibbo had a good game and made some crucial blocks/tackles.
All in all one point in what's likely to be our most difficult away group game in Europa is a decent return. Performance not great but we got the result which was the bare minimum.
Jim Bennings
40
Posted 02/10/2014 at 19:13:16
Anyone else think Tim Sherwood talks good sense?
Something unusual these days for pundits but I agree with his assessment on Atsu not being up to it yet and Gibson and Barry being too alike, not enough variety in the central midfield.
Craig Fletcher
42
Posted 02/10/2014 at 19:16:00
Agree with earlier posts too re John Stones. Some fantastic, well-timed tackles from the young lad.
Peter Jones
43
Posted 02/10/2014 at 19:22:28
John Stones was excellent tonight. Osman provided the only consistent constructive input. His absence is the main reason for why we have not controlled midfield this season. But the star by a long way, in defence and attack, was Leighton Baines.
Jon Ferguson
44
Posted 02/10/2014 at 19:19:58
I couldn't get out of work and so only saw the last 10 minutes but if someone had offered 1-1 beforehand I'd have taken it in an instant.
Going to an unknown quantity, in Russia, on Crimea's doorstep, and playing a team who knocked out Racing Santander in the qualifiers, was never going to be a guaranteed 3 points. We have 4 points and are in the driving seat for the group.
Joseph Clarke
45
Posted 02/10/2014 at 19:27:27
Sherwood, good sense; Ratcliffe, nonsense.
Colin Williams
46
Posted 02/10/2014 at 19:20:21
I'm just really glad we have Stones playing regularly! We would struggle without this gifted natural footballer playing such a mature role at centre-half. I hope to see McCarthy and Besic playing on Sunday, they could give us the edge in centre-midfield.
Kevin Rowlands
47
Posted 02/10/2014 at 19:29:30
PM #32, yes, we got a result but I think people have a right to criticize the performance; it was not good. We got out of jail as they were easily the better team.
On the plus side, Besic, McCarthy, Naismith and hopefully Pienaar and Coleman should be rested and ready to go Sunday.
David Chait
48
Posted 02/10/2014 at 19:32:58
Very good point... Their goal started with Leon watching the player run past him in midfield with no pressure... but I thought we were the better team generally in the 2nd half and deserved the point.
I'm not sure the Gibson - Barry partnership is the best one... I would like to have seen Besic again with Barry.
Geoff Evans
49
Posted 02/10/2014 at 19:30:19
Two late equalisers have masked dreadful performances against mediocre (at best) teams. Possession football my arse — we couldn't pass water.
Mark Pierpoint
50
Posted 02/10/2014 at 19:44:49
A good point in the end. I think we made a mistake in taking Atsu off and leaving Osman on. He had a poor half, but his pace would always make him more threatening than Osman, who offers nothing if you want to play a counter-attacking style.
I thought Barry, McGeady, Eto'o and obviously Stones had good games...
Brent Stephens
51
Posted 02/10/2014 at 19:44:01
Poor for two thirds of the game, much better final third. I like the way we came back. Good man, that Stones.
Marc Sansum
52
Posted 02/10/2014 at 19:50:25
Osman provided the only consistent constructive input? WTF were you watching????
James Stewart
53
Posted 02/10/2014 at 19:54:13
Overall very poor. Atsu was shocking Oviedo has to come in on the left and McGeady on the right for Man Utd.
It was poor from Martinez to not give Browning any game time as well after his display last week. Made no sense at all.
The only positive really was Stones again.
Kevin Rowlands
54
Posted 02/10/2014 at 20:01:14
Agree Mark#53,I'm not normally an Osman basher but he was so poor tonight, I lost count of the amount of times he gave the ball away or was easily muscled off it, the lad needs to start thinking about retirement.
Paul Andrews
55
Posted 02/10/2014 at 20:02:46
I am a big fan of Leon Osman, he's been a very underrated player in my opinion. His best days are behind him though.
He is too easily knocked off the ball, caught in possesion more and more frequently. He didn't have a good game tonight.
Brian Furey
56
Posted 02/10/2014 at 20:02:07
I'm curious what the McGeady bashers think of others complimenting him on here. I think he will always give the ball away at times but because if his skill, pace and two-footed ability will always create chances for others as well as himself. I'm sure Eto'o and Lukaku like him supplying crosses or final passes.
Andrew Rimmer
57
Posted 02/10/2014 at 19:46:23
It worries me that anyone can suss out our tactics and nullify us. Sooo predictable. And with no outlet up front apart from a bollard we're doomed.
Anthony Flack
58
Posted 02/10/2014 at 20:05:37
Jeez, I am no Osman basher but he was terrible. Perhaps only Gibson was worse. Stones the best player with decent shifts from Baines and McGeady. Very happy with effort and drive from Eto'o seemed to rub off on others including Lukaku towards the end.
Happy with result; overall positive with lots of key players missing.
Jay Harris
59
Posted 02/10/2014 at 20:09:14
Bainesy – MotM performance and Eto'o showing the difference top class makes.
Bainsey has played every minute this season including games for England.
Doesn't this prove that the lads who are supposedly tired are just not fit enough.
For me, McCarthy has been a shadow of last season since Man Utd showed an interest.
As other posters have said, we had no midfield to speak of with Ossie, Gibbo and Atsu on the pitch.
What happened to giving Besic and Naismith some game time ahead of Sunday?
Tony Abrahams
60
Posted 02/10/2014 at 19:40:21
Osman surprised me tonight. I've never been one to give him stick, except to say he can't last more than a hour. Tonight, I thought he was painful to watch, until about the hour mark, when I thought he got a lot stronger.
I'm made up with the point and I thought, the longer the game went, the stronger we got. That is a very good point, against a half-decent team, IMO, and I think the squad will take a lot of confidence from that result. Very few teams go to Russia and have it easy and the most pleasing thing to me is we are starting to look a lot fitter.
Peter Gorman
61
Posted 02/10/2014 at 20:21:15
I'll be the only Peter tonight talking any sense. We are shocking at the moment.
How many sub-standard players do we have now? Atsu is the new McGeady, can't believe a professional footballer can fail to pick out a team-mate with such regularity. A talent, of sorts.
What a waste of time that was to watch. Since the players clearly aren't arsed I'm struggling to think of reasons why I should be. My heart goes out to those fans that travelled.
Harvey Miller
62
Posted 02/10/2014 at 20:09:44
We had some midfield: Barry, Gibson, Osman, none of them has any pace. Add to that McGeady and Atsu who don't really backtrack and you know the Russians will be all over our half and so they were.
We got result because they are in Europe for the first time and it takes time as we know too darn well.
Anthony Jones
63
Posted 02/10/2014 at 20:42:30
Roberto must believe his own hyperbole. His philosophy can make any 11 a strong team. Well, bollocks. Without pace and energy in midfield we will always struggle.
John Crawley
64
Posted 02/10/2014 at 20:43:41
Not a great performance but a good result. Another individual howler by Jagielka who was all over the place for their goal and then kicked the ball into their forwards path. Gibson looked rusty and Osman was poor until he started to come into for the last 15 minutes. McGeady was our most potent attacking player he looked like he could create something every time he got the ball but we just didn't find him enough.
Hibbert did okay but looked like he could be done for pace I would have liked to have seen Browning given a game instead. I thought the midfield would have looked better balanced with Besic in for Gibson and Naismith in for Osman. Atsu didn't play well at all and doesn't look like a patch on Del boy as a loanee.
Peter Jones
65
Posted 02/10/2014 at 20:40:59
I saw the same game as you. The reason I mention Osman is not that he played well for 90 minutes but that when we gained some control in the second hald in the time that led up to the goal it was because he got on the ball and gave us some tempo and possession.
The reasons he didn't play so well in other parts of the game were the reasons Krasnodar were good. They outnumbered our midfield and pressed our back four and midfield so that our passing game went to pot. He wasn't the only one to be crowded out and if our players are forced to pass backwards then nobody up front will have very much time on the ball.
However his job is to make the forwards play IF he gets the ball and that really did not happen for most of the match until the period I mentioned when he did really well. If we want to play well for the whole match make sure he gets on the ball a lot more.
Howie Rushton
66
Posted 02/10/2014 at 20:48:03
We went to Russia with a depleted squad for a midweek game sandwiched between the RS and United and came away with a result.
The boys were poor in the first half admittedly, but their resilience to fight back in the second half was impressive. Eto'o and Stones showed they are both absolute class.
A great result when you consider the location and the managers squad limitations.
We really miss Barkley more than I thought we ever would.
Keep the faith.
COYB
Dave Lunt
67
Posted 02/10/2014 at 20:42:17
It gets a bit worrying when our 2 best players were the full backs (yet again?) Hibbo was great particularly. The midfield lacked pace and were all over the place. Still, we would all have settled on 4 points from the first 2 games.....

Christopher Kelly
68
Posted 02/10/2014 at 21:00:59
I said it before. New rule: Macca OR Besic on the field AT ALL TIMES. That was a disaster waiting to happen. Come on, Roberto. If you breathe football as much as you say you do, stop making such a fool of yourself with your team choices.
The man is not learning.
Chris Regan
69
Posted 02/10/2014 at 21:02:54
A few issues for me.
Just why do we luck so slow and ponderous moving the ball forward?
Why don't we press the opposition when they have possession?
Why are we making so many mistakes at the back?
Why is there no plan B? Our game plan is too predictable.
Anyone got any answers please send them to Roberto.
Bilic is in the capital tonight, I would love to see him at Everton. Although Tottenham are beating Besiktas at the moment.

Paul Burns
70
Posted 02/10/2014 at 21:32:40
Never seen a team deteriorate in such a short space of time, we're worse than the fucking Moyes era already. Martinez seriously needs to get more professional and fast or he'll be out on his arse because what's being served up is crap and no amount of misguided optimism can gloss it up.
Diabolical.
Steve Guy
71
Posted 02/10/2014 at 21:41:46
Jeeez. Injuries to key players, playing away to the group dark horses, players out there who have maybe 90 minutes in the last year and we get a hard-earned point with a show of character. Yeah we were crap!
I do wonder what planet some of you are on. That was a great result. I don't see Wolfsburg or Lille going there and doing much better. Hibbo did a great job and John Stones was outstanding. Coleman and McCarthy back on Sunday.......all good.
Steve Guy
72
Posted 02/10/2014 at 21:48:14
Bilic!!! You have to be joking. Short memories some people......
Tony J Williams
73
Posted 02/10/2014 at 21:51:14
Look on the bright side, we have been shite for the last two games but are unbeaten. ...I say the last two games, our last good game was the first 70 mins against Arsenal.
Lee Courtliff
74
Posted 02/10/2014 at 21:52:12
Generally poor but a massive point.
Lille and Wolfsburg drew tonight so we are looking good in top spot.
It's been a poor season so far but when Coleman, Barkley and Mirallas are back hopefully we'll get back to the football of last season.
Long , long way to go yet.
Dave Williams
75
Posted 02/10/2014 at 21:53:32
Howie has it - we are slow in MF because we miss Ross. Last season he was the one to break forward with pace and without him we have none.
For those over-reacting think Mirallas, Barkley, Pienaar, McCarthy, Besic, Coleman and that is why we didn't play well.
We do need to replace the 30-plus brigade and with so many of them playing today it explains a lack of pace and energy.
Michael Kenrick
77
Posted 02/10/2014 at 22:38:07
Sorry, Jay (#60) but "Bainsey has played every minute this season including games for England" — no he hasn't.
He did not play any of the 90+ minutes at Swansea City.
Eddie Dunn
78
Posted 02/10/2014 at 22:44:12
Hibbo did really well, as did Stones and McGeady, who had something to prove to the Russians.
Same old defensive frailties.
Our achilles heel seems to be the diagonal floated pass from the wing, over the centre- backs. As soon as they turn they are in trouble.
We were a trifle lucky tonight, like at Anfield.
Let's hope we can build on it.
One downer though, Atsu looks truly awfull, can't pass for toffee.
Jamie Crowley
79
Posted 02/10/2014 at 22:34:13
Wolfsburg and Lille drawing was an excellent result for us.
We need to win this group. We will receive a much easier draw in the round of 32.
A point in Russia is never a bad point. Win at Lille and we are definitely in the drivers seat in the group. A win with a Wolfsburg - Kr draw would see us on top of the group by 4 points halfway through the group stages with 2 of the 3 remaining games at Goodison.
Didn't see the match, but sounds poor. The bigger picture with our group - a very difficult one - is much more rosy.
I said at the outset of this tournament we need to do everything in our power to win the damn thing. It's a back door to CL, and we need to take it. Despite playing poorly we are doing what we must to get through and draw one of the lesser teams in the first knock-out round.
Declan Martin
80
Posted 02/10/2014 at 23:14:52
Was Atsu's performance the worst ever seen in an Everton shirt?
Things improved when he was taken off and Lukaku on.
Squad very thin if it includes him
Trevor Thompson
81
Posted 02/10/2014 at 23:21:45
I think giving up goals is Everton from now on. We're just going to have to score more than the opposition.
Jay Harris
82
Posted 02/10/2014 at 23:59:45
I stand corrected Michael. I didn't think anyone played in that game.
Ernie Baywood
83
Posted 03/10/2014 at 00:00:48
Thought we did OK to be honest. Krasno look like a good fast team who are very strong in possession.
Osman had a strange game. The pace of the game seemed to completely bypass him for an hour yet after that he started getting on the ball and was a big part of us establishing some pressure. Usually at 60 minutes it's time for him to get off the pitch.
McGeady was nice and lively - I think we have to live with his bad points at the moment for the sake of some attacking threat. That said he did a decent defensive job too.
Eto'o oozed quality in the first half but the second showed what Lukaku brings. Doesn't always look pretty but he does provide an attacking focal point. Their defence didn't fancy him at all.
What can you say about Stones? England have never produced a John Stones before. His development is going to be so good to watch.
Ian Tunstead
84
Posted 03/10/2014 at 00:05:03
Paul Ferry, What was it you said about Atsu and how good he was? I would rather we kept Kennedy and give him a game. Why do we continue to do other teams a favor by giving their squad players a warm up season when our own squad players could be given a chance?
No fluency, no cohesion, players played out of position again and looked lost. Osman in his prime was never good enough yet he is still getting games when he is past it. He couldn't run to begin with but it is just getting painful now. I couldn't believe it when one of the opposing players skinned him twice in the one dribble. Only Stones come out with any credit.
Martinez Out!
Andy Crooks
85
Posted 03/10/2014 at 00:48:34
Declan, if you think that Atsu's was the worst ever performance in an Everton shirt you must be much, much younger than me
Andy Crooks
86
Posted 03/10/2014 at 00:48:34
Declan, if you think that Atsu's was the worst ever performance in an Everton shirt you must be much, much younger than me
Gary Poole
87
Posted 03/10/2014 at 01:35:18
Ernie - fully agree. We stabilised things and were ok for 20 minutes in the first half and then, disappointingly, let a goal in before half time. We then survived a tough start to the second half and came very strong in the last twenty minutes and looked the like we might pinch it.
We weren't at Goodison, we were halfway across the world in a hostile and unfamiliar environment.
I thought it was a really good battling point (well) away from home, against a very tricky team and will help with confidence.
COYB!
Danny Kewley
88
Posted 03/10/2014 at 01:35:24
Definitely got out of the gulag tonight!
Krasnodar were better than I thought but we will progress!
Gary Edwards
89
Posted 03/10/2014 at 02:12:19
Switched the telly off at half-time as with the exception of Stones we were gash. So many supposedly established players are off form questions must be asked. With the exception of Chelsea there seems to be a malaise sweeping through top Premier League teams.
Osman should not start a match, any match ! he's not got it in him any more, he's a sub at best.
Why didn't Browning play ? On the Derby showing he's in better form than Hibbert and this would have been the ideal match to gain further first team experience.
When he came on against Arsenal I marvelled at how tiny Atsu is, the ball seemd to touch his knee and toe simultaneously, sadly it seems like little in ability and contribution he makes to the team.
Can we out the School of Science chants on the backburner for a while ? the dross being served up is not the School of Science.
Tony J Williams
90
Posted 03/10/2014 at 02:46:22
Should have watched the second half Gary, when they tired, which was inevitable, Ossie started to play some lovely football with Baines and Eto'o.
Hibbert put in some great challenges and at one point was rampaging into their box looking for a goal after we equalised.
How the Fuck can you say that Browning is in better form after just half an hour of footy?
Danny Kewley
91
Posted 03/10/2014 at 04:15:47
Was dying for Tosh to score a special jag (without the E} type of goal for the winner there near the end. Would have been made up!
Darren Hind
92
Posted 03/10/2014 at 03:50:51
Some pretty harsh comments IMO.
its not about performances at this stage. its about staying in the boat.This is a great result.
"Osman and Hibbert finished" ? says who? If we can get through the group whilst preserving energy levels of other players then they are doing their job. We're not in a position to be putting experienced players out to grass.
Remember our fantastic ECWC victory? How many of us remember the early stages of that ? we came out of the traps backwards?
Todays game is more demanding,, its all about "energy levels" If we are to make any sort of progress this season, every member of the squad needs to do his bit.
Simon Harris
93
Posted 03/10/2014 at 04:21:49
Osman did contribute when they tired, but offered next to nothing in the preceeding 70 minutes. I felt sad for him as he was a bystander for large parts.
Martinez made the mistake playing him from the start alongside his other dad's army midfield duo.
Aside Besic and Naismith there must have been a (fit) hungry energetic, run for 70 minutes player on the books who could have done a job, then bring the guile and experience of Osman on.
As for John Stones - love this kid, and alongside Coleman we've got the makings of a fantastic football playing defence.
Can we get Moyesy back on loan, to scout us a few more gems....
Gavin Ramejkis
94
Posted 03/10/2014 at 07:30:59
An absolutely awful display, comedy of errors defending, last ditch tackles which are never a great sign, glad to pinch an undeserved point but you can't whitewash a display which would see a more clinical team inflict a rugby score against us.
Mike Gwyer
95
Posted 03/10/2014 at 07:26:52
Andy Crooks #86.
Agree, but it's close. I laughed at some of Atsu's football, no not the happy laugh but the hand over your eyes, giggling like a fool laugh. Actually, fuck it, he really was bad.
James Hughes
96
Posted 03/10/2014 at 07:50:59
A point is a point, whether we deserved it is a moot point!!
I had to agree with the studio panel last night. Ratters quite rightly labelling our defending atrocious and Sherwood highlighting that everyone is aware how RM sets up his teams and how to play against him.
I am a bit worried about the direction this team is given.
Ged Simpson
97
Posted 03/10/2014 at 08:02:22
I predicted usual dross of a far awat Europa league game and am pleased with result.
Pros: Stones. Lukaku learning to hold onto a ball, enthusiasm and skill of Mcgeady, Eto having that strikers knack. We drew with key players out or rested.
Cons: the main one that is ever present. That is if a team presses and plays high up pitch, our defence panics. Avery defensive central midfield (though that may have been sensible). Ossie.
Final point - I think some of the criticism of Martinez as bordering on the hysterical.
Phil Walling
98
Posted 03/10/2014 at 08:30:00
As a confessed Premier focussed Evertonian, I feel this Thursday night rubbish can only provide a distraction from 'the day job' or, more likely, an excuse for falling short.
The main problem is that we simply haven't got enough players of the right quality to allow sensible rotation to challenge on more than one front.
The likes of Robles and Atsu will never be top level performers whilst Gibson, Osman, Hibbert, Distin, Alcaraz and Kone appear to have 'their futures behind them.'
That's no less than eight players who, whilst they might cover the odd crack, cannot be relied upon to do more than just that. Given that the demands of the modern game – or is it the delicacy of it's exponents? – sees injuries taking longer than ever to mend, the squad is clearly inadequate.
All of which calls into question the wisdom of such an apparently financially challenged club blowing a staggering 㿈 million on one player – a less than stellar striker!
But we are where we are. We can only hope – rather than expect – Roberto's Way to see us through. One thing is for certain, and that's if we don't come through, there will be no lack of philosophy to explain it all away.
Colin Glassar
99
Posted 03/10/2014 at 09:01:59
Concentrate on the league and FA Cup has been my mantra for years now. The EL and League Cup are Micky Mouse IMO. A waste of time and resources.
Anthony Flack
100
Posted 03/10/2014 at 09:38:25
A couple of, in my opinion, ridiculous pops at Lukaku in posts. He played well with the fairly meagre support and sight of the ball. He worked hard and seemed willing to get stuck in.
The assessment of how Everton played cannot be made in isolation of how the opposition perform. The Russians or their international brigade played well, pacy, closing down, lots of short passes and defended well. Sure we did not tear them apart, but we stopped a decent side winning 2000 miles from home with a team about 50% strength.
Not bad really, is it.
Phil Walling
101
Posted 03/10/2014 at 09:44:04
No pop at Lukaku personally, Anthony. Only the wisdom of spending so much on one player when we have holes all over the place!
Craig Bellew
102
Posted 03/10/2014 at 10:08:21
Chris #70,
I have been asking the exact same questions since pretty much the start of the season. The issues you have I share and ask myself the same questions during and after EVERY game.
Ponderous and pedestrian are two words to describe our passing and general play along with predictable as you state, the slow passing forward and the very obvious triangles normally with the ball ending up back with Jags/Stones/Barry infuriates me beyond belief but it's rolled out again and again to the point now where I feel our back line and midfielders have all been possessed by the ghost of Barry 'The Crab' Horne.
We miss a player in the centre with drive and the sooner Barkley is back the better but until then please give Besic more playing time as he seems the only player in our whole midfield who has any drive at all.
As for a Plan B, there isn't one and he doesn't have one cos he seems to only know one way of playing and very rarely will he deviate from this, if at all. This has to change as that word 'predictable' is becoming all too familiar.
Pressing the opposition for me should be a given each and every game. Not doing this has cost us so many goals this season with the Chelsea game the standout game for me of what happens when you allow your opponent 5 yards space to pick another teammate out. When you watch the top teams lose the ball, they go hunting in packs to retrieve and, for the want of a better word, go again. Chelsea do this better than any other team and I would love to see us do this even in spurts rather than just sting back and watching the play go by.
As for our individual mistakes, each and every week at the back they seem to end up in a goal with Jag's awful attempt at clearing the ball last night just another example to add to a huge list of calamities this season.
I would love to be able to put my finger on how we can go from the 3rd best defensive team in the EPL to what we are currently witnessing. I am seriously lost as to why or how this can be sorted other than the obvious which IMO should've been done prior to the window closing and that's purchasing a top centre half to go with Stones (fingers crossed for January 2015 window).
One point that I haven't seen mentioned yet re last night's game was the amount of times I saw Barry found wanting and more importantly the amount of times his passes went wayward. He seems to have played a lot of games when I thought Besic would've been drafted in for games like last night's. RM please rest GB and soon as his is increasingly becoming a passenger in our midfield.
Speaking of passengers, I would like to say a few words on Ossie... but I won't as I like the lad, and it's all been said before.

Anthony Hughes
103
Posted 03/10/2014 at 10:45:34
I agree with Phil about the size and quality of the squad. I couldn't believe the amount of people before the season started banging on about how we are blessed with a squad full of depth and quality. We have a good 14-15 quality players with a group of as yet to be proven youngsters. We knew that our resources would be stretched this season with the Europa League and we should have added to the squad accordingly.
Also on the point of Krasnodar being a decent team – did we not make them look better than what they are? How good is the Russian League, what do any of their sides do in European competition?
Paul Andrews
104
Posted 03/10/2014 at 13:06:53
Darren @ 93
Absolutely right in your comments there. If other sides go away and get that result it us hailed as a professional job done.
University College Dublin were on the verge of eliminating us in 94. We got the result and rested players, that will do me.
Peter Gorman
105
Posted 03/10/2014 at 13:47:39
If some people claim to not know what the problem is, I am equally astonished as to where the optimism is coming from.
How can anybody be optimistic after that game? On that evidence, we have no squad depth at all. The minimum you'd expect of a professional player is that he can pass to a team-mate when both are not under pressure but so many of our players can't even do that. Atsu is the chief culprit, what a terrible footballer.
Are some of you thinking all is well because we scored a goal against a pretty shite Russian team? And yes, they are shite. They could have walked the ball into our net several times last night and somehow cocked it up.
I'd love to have some of what you lot are on because all I am seeing is the same rancid performances from the same players dating back to the shambles that was pre-season.
Anthony Flack
106
Posted 03/10/2014 at 14:01:04
Yep, Phil – my minor moan was not aimed at you, but I did misunderstand your point.
I think the holes you refer to have become more evident this season. Jags looks laboured, Distin a shadow of himself, Barry has carried on from where he left off (he splits opinion, but for me was poor to average) from Feb 2013 onwards....
But there are positives!
Tom Bowers
107
Posted 03/10/2014 at 15:59:12
Sadly we have to admit that RM's season last year was just a blip. I guess it wasn't hard to improve on the Moyes setup. Everton have really looked all over the place in 2 Euro games but somehow lead the group.
Howard was the hero in the first game and did his work well yesterday but shutting down in the middle third has been abysmal with little or no effective marking or tackling. Atsu looks like a waste of space and Gibson seems well off the pace. Looks like his injuries have taken their toll. McGeady looks lively but not top class and Barry also is looking his age.
Sunday looks like a no-hoper unless there is a drastic improvement which I have said after every game so far but they have been dodging bullets. Missing the likes of Coleman, McCarthy, Mirallas and Barkley could be used as an excuse but I don't think so.
After the Jagielka heroics on Saturday, he was woefully inept in the build up to their goal yesterday and he is making mistakes he never did before. i can't see things improving anytime soon.
Craig Bellew
108
Posted 03/10/2014 at 16:03:07
Can you list the positives from Pre-season to date Ant #107 as I'm struggling to find any, other than the emergence of Tyias and that was all but very brielfy in one or two pre-season games and the derby ! Eto'o at a push I would include too. Looking forward to seeing these as positives is what we all need right now with how we are performing.
---
Add Your Comments
In order to post a comment, you need to be logged in as a registered user of the site.
Or Sign up as a ToffeeWeb Member — it's free, takes just a few minutes and will allow you to post your comments on articles and Talking Points submissions across the site.
© ToffeeWeb