Osman joins '400 club' in style
Everton 2 -1 West Ham United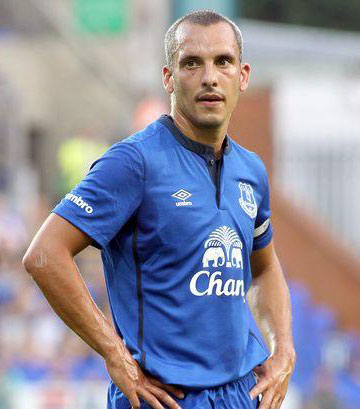 Leon Osman marked his 400th Everton appearance with the knockout blow in a testy encounter at Goodison Park as the Blues extended their unbeaten run to seven matches.

West Ham had come from behind to level the match 10 minutes after half time and a bad-tempered affair was finely balanced going into the last quarter of an hour before Osman slid home substitute Samuel Eto'o's perfect centre.

With Leighton Baines ruled out, Roberto Martinez was forced into a change at left back where Tony Hibbert was preferred to Luke Garbutt while Gareth Barry was replaced by Osman in a defensive midfield role. James McCarthy was passed fit, though, and there was a much-anticipated return for Kevin Mirallas from a hamstring injury.

Everton had dominated the early exchanges without carving out many chances until Seamus Coleman's cut-back from the byline put the opening goal on a plate for Steven Naismith but he skied the ball into the Park End.

The Scot was involved six minutes later, though, when Martinez's side took the lead, heading the ball down for Ross Barkley whose elegant touch opened up space for a shot that deflected into the path of Romelu Lukaku. The Belgian made no mistake with the goal gaping, hammering it home to make it 1-0.

Everton rode their luck with poor distribution out of defence and sloppy possession but it took the introduction by Sam Allardyce of Mauro Zarate to bring the Hammers more into the game. His run at the defence ended with a shot deflecting off Phil Jagielka's foot and over Tim Howard.

A fractious contest threatened to boil over at times, particularly when Mirallas took his frustrations with referee Mark Clattenburg out on Morgan Amalfitano and ended up in a shoving match with James Tomkins but escaped with a yellow card.

Two minutes after the other Hammers sub Matt Jarvis had seen a counter-attacking chance closed down by Jagielka, Everton won the game with a rapier-like attack on the break of their own. Clattenburg allowed the Blues the advantage after Lukaku was taken out by James Collins and Eto'o advanced before picking out Osman in the middle who couldn't miss.

The win, the third in those seven games, moves Everton to within two points of fourth place in a congested top-half of the Premier League table.

Full coverage: ToffeeWeb Match Reports



Reader Comments (79)
Note: the following content is not moderated or vetted by the site owners at the time of submission. Comments are the responsibility of the poster. Disclaimer
Bill Gall
1
Posted 22/11/2014 at 18:21:47
Second goal was great team play and Collins should have received a straight red for his last man tackle regardless of the advantage given.
Everton to me were drawn into West Ham's type of football with retaliation tactics and although Hibbert did not really have a stinker, the majority of West Ham's attacks came down their right-hand side and we had no attacks down our left-hand side.
Hopefully Baines will be okay for Thursday as I am sure Wolfsburg will have had a couple of people watching the game.
James Martin
2
Posted 22/11/2014 at 18:40:44
Osman was really good, gave us more forward momentum from midfield than Barry often does. Obviously defensively you have that trade off as see for their goal. Overall though he was one of the better players on a day where there were a few poor performances out there from Barkley, Naismith and Mirallas.
Sharabi Singh
3
Posted 22/11/2014 at 18:51:41
Good win.
Defence still makes me nervous though every time the ball goes anywhere near them. Sooner Stones is back, the better. Bring on Spurs!
Tony Twist
4
Posted 22/11/2014 at 19:17:05
Very fortunate win but a win all the same, gratefully received.
Lots of injuries at the moment which is not a good position to be in with some important matches coming up. Martinez really does need to introduce more pace and accuracy into our play and dare I say it directness.
Any team at the moment seems comfortable playing us as we are very one-dimensional and Martinez is as stubborn as Moyes with regards not adding a bit of variety.
Denis Richardson
5
Posted 22/11/2014 at 20:08:59
Very happy for Ossie and that second goal was great to watch.
Overall it was a tough game and am glad we managed to get over the line with the 3 points. Hibbo was solid at leftback but I'd still have given Garbutt the nod.
Barkley really didn't contribute anything, he started off okay and looked to get into the game at the start but then drifted out of the game badly – and that dive was just embarrassing and disappointing to see. Not sure what the answer is but if Man City offered 㿨m for him I'd bite their hand off.
Great to get 3 points, not great to see Naismith injured, hope it's not a long one...
Jim Bennings
6
Posted 22/11/2014 at 20:10:53
I'm made up with that win, it's a big result against a side in form, they gave us a hard time albeit very direct typical Allardyce football.
I'm still worried by our lack of good performance levels, we never really shone today infact at times we looked like we were closer to losing than winning especially at 1-1.
Barkley, ok was out of position but he can really infuriate.
Has a long long way to go.
Nevertheless a hard earned win, see the same old injury culprits Gibson and Pienaar fail to make the squad again eh?
Ian Bennett
7
Posted 22/11/2014 at 20:30:38
So happy to get 3 points, and hopefully start to get some players back as we hit the busy period.
Brian Wilkinson
8
Posted 22/11/2014 at 20:27:40
Well in Ossie, may not have the legs anymore but still valuable to our squad.
Great win, Everton; over to you Tony Bellow to round off a great Saturday.
Trevor Lynes
9
Posted 22/11/2014 at 20:33:21
Pienaar is missed down the left side as he helps out when Baines is playing. Hibbert was totally on his own and had a difficult game. I reckon he played because it was expected to be a physical game against Sam's team.
All things considered we coped well against a very determined and physical West Ham side. In a few past matches we have struggled against direct tactics. A lot was made of West Ham having injuries but absolutely no mention of ours.
We were missing Baines, Barry, Oviedo, Gibson, McGeady, Pienaar and the invisible man Kone. Also Mirallas was off the pace and now we have lost Naismith by the looks of it.
I reckon Osman played very well and he ran half the length of the pitch to convert Etoo's slide rule pass. Great goal on his 400th appearance, keeps us in touch until we get a few back.
Colin Glassar
10
Posted 22/11/2014 at 20:45:20
Well done, Ossie, even if you are blamed for everything on here from poor team performances to being the main culprit for global warming.
Eddie Dunn
11
Posted 22/11/2014 at 20:50:53
Well done, Ossie. I've been a critic recently, but fair play – he had a sound game and took the goal well. I think Eto'o crossed it a little hard, and Ossie did well to adjust his body to angle it in ( many players would have got under it and blazed it over the bar!).
A good result against a team in form, and good to see us scrap toe-to-toe with the odious trio of Nolan, Tomkins and Collins, and come away with 3 points.
Brent Stephens
12
Posted 22/11/2014 at 20:58:47
Brian, you've goaded me into seconding your praise of Ossie's performance today.
Tony Byrne
13
Posted 22/11/2014 at 20:51:45
It was a very tough game today against a physical outfit typifying the way big Sam plays the "beautiful" game.
I thought Ossie was MotM but was ran close by Jimmy Mac who played his usual great performance, 㾹 million was worth every penny for this lad.
Barry is the glue of our team so it was no surprise we looked disjointed at times, obviously not having Baines or Pienaar down the left also didn't do us any favours.
I think Barkley is suffering a loss of confidence at the moment which is not helped by that pleb Hodgson openly berating him in midweek, Wilshere in the same game gave the ball away on numerous occasions against Scotland, he's a cockney though who delivered a decent ball for England's first goal so is now a world beater... Pisses me off. If you don't fancy the lad, Woy, then don't pick him. I personally couldn't give a toss about England.
Anyway 3 massive points and next up Wolfsburg, I'd take a point now if offered. COYB.
Paul Andrews
14
Posted 22/11/2014 at 22:06:29
You don't get to play 400 games in the most competitive league in Europe unless you are a good player
Ossie is a good player
Trevor Lynes
15
Posted 23/11/2014 at 00:14:20
Today, Merson even mentioned the amount of ground Osman ran to slide in the winner. This lad may well have found his best position today as he made room, passed well and chipped in with a goal which neither of our two holding midfielders are managing so far. He was the player who made the chance that Eto'o missed near the end of the game so he was involved at both ends of the pitch this afternoon. Unfortunately he is an unsung hero!!
That's seven without a defeat gentlemen, lets make it eight against Wolfsburg. I reckon when we have a full squad available (if ever), we will be back up challenging the so-called big teams.
James Flynn
16
Posted 23/11/2014 at 00:26:33
Too bad Ossie as an Everton pup wasn't put on the same medical regimen as Messi. Would have been quite a player.
Christopher Wallace
17
Posted 23/11/2014 at 01:20:21
West Ham make it difficult for most teams. Barry coulda made a difference in the midfield scrap.We defended well enough and ground out a win.
Bloody Arsenal managed to lose 2-1 against a team that only managed one shot on target!
We can certainly beat Spurs and Hull, and recommence our winning run at the Etihad.
COYB
ps: Nice game-winning sub by Roberto.
Jason Heng
18
Posted 23/11/2014 at 01:57:56
Anyone knows what is the "win-rate" when Ossie and Hibbert play together?
Brian Furey
19
Posted 23/11/2014 at 01:54:57
I'm neither for or against the lad but as am curious why so many wanna see Garbutt play. Is it based on anything solid or is it like those calling out for Atsu instead of McGeady a month or so ago?
Derek Thomas
20
Posted 23/11/2014 at 03:09:58
Brian (#19); Based on his excellent performances at his loan club, where, if you agree that playing at that level is 'harder' than U21 is all that can be asked of him. It will take a lot of Roberto's spin to keep him happy with the situation, assuming that the staff actually rate him. I'd be sick as a pig if I was him. His contract is up in the summer, then we shall see.
Christopher Wallace
21
Posted 23/11/2014 at 03:20:56
Brian
Generally Hibbert is a safer option but today would've been a nice game to try Garbutt out. They started with Tompkins and Jenkinson down that side so no real attacking threat.
Hindsight, I suppose... I think they were setting up to combat our trademark left-sided penetrations – to be fair, they limited Tony Hibbert to one shot.
Matt Traynor
22
Posted 23/11/2014 at 05:43:10
I don't think yesterday would've been a "nice" game to blood Garbutt. He may have done okay on loan at a lower league club, but comments I've read from those who've seen him play at England representative level suggest that he's good going forward, leaves a lot to be desired defensively.
We were run ragged down that side during the match. Hibbert, whilst he looked over-run at times, managed to remain composed and probably did better than some of us give him credit for. If Garbutt had played, they would've targeted him as the weak link and we could have a new hate figure on these pages.
It's a cliche, but RM sees them in training and he'll know whether the lad's ready or not. He's definitely a prospect though, and I'm sure he'll earn his chance in due course.
Darren Hind
23
Posted 23/11/2014 at 06:26:26
Martinez has not got much right so far this season but, by making Tony Hibbert his go to man everytime he has an injury crisis, he is recognising what seems to escape many Evertonians.
Tony "Where dya need me, boss?" Hibbert. A consummate professional, who was written off after an injury-ravaged season, has been called upon several times now and let nobody down.
As for Ossie? Scored and created more than Barry and McCarthy have managed between them all season.
Ossie and Hibbo – have Everton EVER had two players who have qualified and played in Europe more, or accumulated more Premier League points?
Not bad for two "Championship" players...
Terry Murphy
24
Posted 23/11/2014 at 08:26:53
My respect for Barkley would increase immensely if he apologised for that fall. Even if he was expecting contact – that was poor.
Mike Green
25
Posted 23/11/2014 at 08:46:55
Not sure I agree Terry.
My view is Nolan looked like he was coming in like a train on Ross and he went to ground to protect himself – there were no histrionics, he got up as quickly as he went down.
There are so many double standards in football – no one questions Steven Gerrard over his self-styled signature "dive for cover" which has won LFC countless free-kicks on the edge of the D, or scores of players who "draw" fouls to win dubious penalties.
Ross might be feeling a bit embarrassed, but I don't think he should be – he's suffered bad injuries and I think he thought "here comes another....", I don't think there was anything malicious in it and it was in a pretty neutral part of the park.
The person who should feel embarrassed is Kevin Nolan for his completely over the top reaction, and let's not even start on Tomkins.
Tom Magill
26
Posted 23/11/2014 at 09:07:21
Darren 23
Totally agree Darren,I think Hibbo and Ossie would die for the cause, epitomised by Ossie's brilliant reaction after he scored. I can't understand the criticism on here for two total stalwarts.
Dave Pritchard
27
Posted 23/11/2014 at 09:51:21
At the game I thought it was a foul on Ross but having now seen it on MOTD it is embarrassing. I agree that he was probably expecting a tackle but that should not be a reason for falling over like he did. Probably indicative of his confidence level at the moment that he would rather look for the free kick than try to continue the attack. Ross was probably our weakest player out there apart from the unfit Mirallas. Maybe leave Ross on the bench for a few games (not easy with all the injuries though) and when he is on he must play in the behind the striker role I think.
James Martin
28
Posted 23/11/2014 at 10:13:08
If I'm not mistaken, we've won the last few games that Ossie has started and slipped up when he hasn't. For me, him and Pienaar are still two of the few players in the team who can take the ball on the half turn and get us moving forward.
Too many of the others – and I include top performers like Naismith and McCarthy in this – are too conservative in possession, always going backwards as soon as they are under pressure. Osman will lose the ball at times but he also creates those forward passes which lead to advanced positions and goals.
He's not a 38-game-a-season, 90-minute starter any more, but can he come in and do a job at home against a stubborn defense when Barkley and Mirallas can barely trap a ball? Absolutely. We will also see a far better Everton when Pienaar returns.
Frank Wade
29
Posted 23/11/2014 at 11:03:40
Agree 100% James. We have to hope that Ross gets his touch back. He is a long way off Ossie at the moment.
Trevor Lynes
30
Posted 23/11/2014 at 11:02:29
I agree, James. Hibbert was selected in my opinion because of the anticipated 'war' that Sam's sides tend to initiate.
I hope that Garbutt gets his chance as the lad is very much like Baines. He is really good going forward and combines well in the England team with the winger. He has a great left foot (like Baines) and has bags of pace. But he is not yet as good defensively and has not been tested against physical teams. In hindsight, it made sense for Hibbert to play.
I also agree with the comments on Pienaar. Baines absolutely blossoms when Pienaar plays and we are a real threat when those two are together.
It also gives Coleman more chance to attack down the right providing us with a double pronged front. Mirallas was obviously ring rusty and will soon be back to his best and will supplement our goal haul.
Frank Wade
31
Posted 23/11/2014 at 11:15:56
Should add that Ossie's legs seemed to hold out better than usual, still able to create that chance for Eto'o late on.
Mike Powell
32
Posted 23/11/2014 at 12:41:20
Well deserved win against a team that just kicked anything that moved – well played, Blues. Eto'o was outstanding when he came on – great ball for Ossie's goal.
We need to win battles like this. COYB
Tim Locke
33
Posted 23/11/2014 at 12:35:05
Watching the game, he went down just in front of me, it looked like a slip, and he was back up quickly. I think we can end up being in danger of saying everyone who goes down dived.
I thought MotD did a poor job, forgot to show the goal which was disallowed. I would have liked to see a replay on if Lukaku was offside. Also, the card for the pushing that McCarthy got, no free kick was given. Players need to keep clam when pushed and keep hands down, Kev was a lucky man.
Barkley on the left? Really come on, he is a centre mid, we should have two wingers and play Barkley in the middle.
Overall, an okay performance, West Ham starting with 5 at the back allowed us to come onto them but, once we scored, the game opened up and I thought we looked better. The top of the league is looking so tight, and if we thought we had a chance last season to make top 4, this season is even better.
COYB
Colin Glassar
34
Posted 23/11/2014 at 13:24:29
Errrmm, don't know if this is the right thread but going back to Ross's dive. I know it was awful and embarrassing to the player and club but can we move on? He didn't injure anyone, he didn't get anyone booked or sent off, he didn't get anyone relegated etc... that's something Captain Creasehead does and never gets as much stick in the media as Ross is getting.
The lad made a silly mistake, which he won't be repeating in the near future, so let's get behind him and hope he starts getting into his stride ASAP.
Harold Matthews
35
Posted 23/11/2014 at 13:36:00
Very true, Matt. It would have been the wrong match for young Garbutt. With Mirallas giving Jenkinson the freedom of the park and Barry not there to give his usual left side cover, we needed someone with experience and Hibbo did a good job. Pienaar and Garbutt would be very interesting.
Patrick Murphy
36
Posted 23/11/2014 at 15:46:34
Agreed, Colin. Yes, the lad took a tumble; yes, he was wrong... but in nearly every Premier League game somebody does something similar.
That isn't to say that he shouldn't be chastised by Roberto and his staff, but I love the way certain PL players at certain PL clubs are allowed to do all and sundry and be praised for being professional or a good team player. Don't do it again, Ross, we are a club that still has some idea of fairness.
On another note, where are all those posters who were telling anyone who would listen that Brenda was some sort of genius? He won't be there in the New Year, more's the pity.
Karl Jones
37
Posted 23/11/2014 at 15:52:28
Re Barkley's dive yesterday... Anyone watching Liverpool getting beat this afternoon would have seen a blatant dive by Sterling in the penalty area right after Palace's second goal. That was just as embarrassing. No booking and the commentators never said a word about diving. They never shut up about Barkley yesterday though.
Colin Glassar
38
Posted 23/11/2014 at 15:55:51
Saw Sterling take a dive today in the box – that won't be analysed to the death by the media will it?
Mike Powell
39
Posted 23/11/2014 at 15:56:46
Great weekend for us Blues: Everton win, Bellew win and Liverpool lose – doesn't get any better than that.
Never felt more like singing the Blues,

When Everton win and Liverpool loseÂ…

Oh Everton, you got me singing the Blues!
Jamie Barlow
40
Posted 23/11/2014 at 16:11:36
It's not wrong for the media to jump all over Ross. I wish they would go even further and publish a league of shame every time these wankers do it. It's ruining the game.
Dave Pritchard
41
Posted 23/11/2014 at 16:13:48
Very good Patrick.

Michael Polley
42
Posted 23/11/2014 at 17:50:46
Hard fought win. Any criticism is a bit harsh. The guy is only back from a hamstring injury.
Big game against Spurs next Sunday, but they are beatable. RM should probably rest key players against Wolfsburg, and let's hope Baines is fit.
Colin Glassar
43
Posted 23/11/2014 at 18:01:30
A draw against Wolfsburg will do so hopefully some of the "fringe" players get a chance e.g. Garbutt, Besic, Hibbo, Eto'o, Robles etc... start the game. We will need the likes of Bainaar, Mirallas, McCarthy, Nessie etc... fully fit against the spuds.
Ian Bennett
44
Posted 23/11/2014 at 18:04:45
Need to play Eto'o at Spurs. His experience would be a plus against their defenders.
Colin Glassar
45
Posted 23/11/2014 at 18:10:22
I think Rom will unsettle the Spurs defenders and Sam can come on later to finish them off.
Graham Mockford
46
Posted 23/11/2014 at 18:08:59
Just for those that missed it here is Ian Tunstead's post just four weeks ago. A more incisive knowledgable understanding of the game I have yet to read on here. Keep them coming!
"Osman has been stealing a living from Everton for a decade. I have played with and against better players at amateur level. How he has lasted so long at a Premier League club, I will never know.

I don't think I have seen a worse footballer play so long in the Premier League. Robbie Savage was shite but he could make a tackle and got stuck in. Danny Murphy was garbage but he would score a few vital goals each season. Osman's only quality Premier League attribute is his first touch but he flatters to deceive far too often because usually his second touch makes his first touch redundant.

The lad can't or won't tackle, runs like he's running in treacle, and has no skill to beat a man. He isn't the best at putting a cross in, can't head a ball, has no engine, gets brushed aside too easily, but usually can't even keep up with the play to attempt to challenge or close down the opposition.

His shooting is pathetic and far too many times has wasted excellent build-up play from the rest of the team with his inaccurate powder-puff shooting. Most of the time, he is non existent and makes it seem like we are playing with 10 men. He's not even the type of player like Hibbert who you think is shite but gives it 100%; his lack of effort or running around is an insult to all Evertonians.

Taking all that into account, why would anyone in their right mind think he was good enough to play for a Premier League club? He's the type of player who would be good in five-a-side team but on a big muddy pitch is far too ineffective. The sooner he retires, the better."
Andy Walker
47
Posted 23/11/2014 at 18:09:21
Well done and congratulations Ossie, you have given everything to our club and yesterday made the difference, thank you.
Barkley should take a look Ossie if he wants to see the attitude and respect we expect from our players when they put on THE blue shirt. His dive was disgraceful and more like something you would see at our classless neighbours.
Paul Andrews
48
Posted 23/11/2014 at 18:20:49
A disgrace that an Evertonian could write that.
Jim Bennings
49
Posted 23/11/2014 at 18:19:58
Colin
To be honest I think we'll get a pasting at Wolfsburg mate, the fact is we are going to have a threadbare team out probably and knowing that a point against Krasnodar puts us through will possibly mean eye off the ball in Germany slightly.
Our away form in general is patchy, the Spurs game is tough because they have lost their last FOUR at White Hart Lane so will be eager not to let that happen again.

Dean Adams
50
Posted 23/11/2014 at 18:21:29
Ossie looked quality all game to me and to be fair I thought Tony Hibbert did a solid stint in Bainesy's role. He is a nice fella as well. Really down to earth. He even joked about his shot yesterday just being a missed-timed tackle. Every club needs homegrown lads like him. Unsung heroes that put in a shift with little or no thanks. Thanks Tony and it was a pleasure meeting you after the game in the 85 lounge.
Brent Stephens
51
Posted 23/11/2014 at 19:00:33
Graham #46 - tell me Ian didn't write that and you just made it up?!
Graham Mockford
52
Posted 23/11/2014 at 19:04:19
As they say Brent, you couldn't make it up!
Brent Stephens
53
Posted 23/11/2014 at 19:13:47
The thing is, Graham, just like a dud clock is right twice a day, at some point there will be "I told you so". That clock has needed mending for years now!
Christopher Wallace
54
Posted 23/11/2014 at 19:15:11
Graham
That comment you quoted - it sounds like someone who has never watched an Everton game for the last 10 years and just likes to post a TW cliche for whatever reason... even if he wasn't on the pitch "Ossie was shite today".
We all have our views and can form opinions on football matters. Moyes and Martinez make errors like all managers, but they know a damn sight more about football and footballers than anybody posting on TW.
Leon is a great example to all the kids out there, that aren't blessed with outstanding natural ability (about 99.99%), of how much you can achieve with hard work, dedication and perseverance.
Shit, don't know why I even bother!
Tony Abrahams
55
Posted 23/11/2014 at 19:49:11
Disagree with that post Chris because I think Osman has more natural ability than most. If he was a bit quicker and stronger, I'm sure he would have been an absolutely tremendous player. But I do agree that he always works hard for the team and his dedication and perseverance has given him a very good career at Everton.

Colin Glassar
56
Posted 23/11/2014 at 19:59:07
Christopher, the sad thing is is they disappear for a while and then reappear later attacking another player with the same amount of bile. And they call themselves Evertonians.
Keith Glazzard
57
Posted 23/11/2014 at 19:55:44
Ossie was the classiest player on the pitch, until Sam came on of course. And what a lovely combination for the winner. May they work their magic many more times for us.
Christopher Wallace
58
Posted 23/11/2014 at 20:13:28
I'd give my right arm to be slagged off on TW every week, having pulled on the Royal Blue to play the game I love for the club that has dominated a large part of my life.
Lucky Leon's been doing that for all this time, despite his inability to walk, run, head, shoot, cross, pass, etc.... good work if ya can get it!
Steve Orchard
59
Posted 23/11/2014 at 20:53:49
Graham 46 what a load of bollocks. Sure there are games when its a bit too fast paced and physical and he gets brushed aside but generally hes a pretty good little player and links up well. Great servant to the club.
I could understand it if he played about half-a-dozen games every season and had a poor attitude like some players in the past but he's an honest, solid pro and doesn't deserve this stick.
Michael Kenrick
60
Posted 23/11/2014 at 21:23:33
I'm gonna take a different tack, Colin and Graham, and reassert the time-honoured tendency for Evertonians to provide a critical analysis when performances aren't up to snuff.
Some of us recognize that Osman is not a great player. That didn't stop him from putting in a great display on his 400th senior appearance yesterday. And many Evertonians who have been less than impressed with his abilities (me included) were quick to recognize his contribution. But that performance, good as it was, didn't magically improve the vast majority of the previous 399 — far too many of which more closely fit Ian's scything description of his limitations, as manifested so often on the pitch.
There may be one or two who are attacking players with bile; but most of us are providing fair and balanced assessments of what we see. However, I very much doubt that many, who can see for themselves what's good and what's not, will have their views changed by someone accusing them of having an agenda or needing a scapegoat. Most people are just calling it as they see it, be it Howard or Osman or Distin or Barkley...
The fact that some players attract more critique than others, and that the focus changes depending on their performances, shouldn't come as a surprise. It's just Evertonians exercising their critical faculties. They're not going to change on your say-so.
Graham Mockford
61
Posted 23/11/2014 at 21:35:53
Of course Michael I'm not expecting to change anyone's opinion, I just think you are completely wrong about Ossie.
I would also point out that I have no problem with 'fair and balanced opinions' but is that how you would describe the post I copied? To me it is utterly ridiculous, and to describe it as 'scything' gives it credence it does not deserve.
To think that a player can get picked 400 times for Everton when the 'vast majority' of his performances somehow relate to the description provided by Ian Tunstead's is quite frankly delusional.
For me it is no coincidence that the last four times Ossie has started we have won. He is not as good a defensive player as either Barry or McCarthy, he doesn't possess the occasional brilliance of Barkley, he's not as good a finisher as Naismith, he can't beat players as well as McGeady but he has an instinctive football brain, he can pick a pass and he gives the team a greater tempo.
Oh and he belts out a pretty good tune.
Colin Glassar
62
Posted 23/11/2014 at 21:56:27
Michael, for many of those 400 games, Ossie has been played either on the wings or in a deeper role where he can't influence games. Now I'm not saying he's a great player, I'm not even saying he's an above average player but what I will say is he's an honest player who gives his all for the team.
Now I know everybody has a right to criticise players, managers and team performances, and I do my fair share; what I refuse to accept is the OTT comments directed at our local lads (Ossie, Hibbo and now Barkley). These are the lifeblood of any team and without them we would lose any sense of identification with our club.
Seamus misplaced several passes yesterday and not a peep. Mirallas was invisible for large parts of the game and nowt. Eto'o missed a sitter but apparently he can do no wrong. I love these players and to err is human; what I won't do is call them all the names under the sun and then hide when they do what we all know they are capable of.
As long as they wear the shirt with pride and put in a shift they will have my support.
Tim Locke
63
Posted 23/11/2014 at 22:35:37
Graham and Colin's points are spot on. Here is a player who clearly divides, but that is no surprise. I have lost count of the number of people who think such and such a player is poor, even the Barca fans weren't 100% agreed on Messi's greatness, so what hope does Ossie have?
The bottom line is Ian's views are so extreme even a blind man can see they are wrong. You can build whatever case you want for Ossie's qualities or lack or them, we are always going to be divided; but what I do know is 36,000 people on Saturday rose from their seats and gave that man a hand, and no-one I sat near, or spoke to after the game wished he wasn't playing.
Brent Stephens
64
Posted 23/11/2014 at 22:17:40
Of the other players who Osman has played alongside in his 400 games, I would put Osman in the bottom half in terms of ability. But not the bottom quartile, say, or he wouldn't have been picked so many times by Moyes and Martinez (chalk and cheese as managers, strange they picked and keep picking him so often).
What I noticed and surprised me when I first started reading TW a few years ago was the bile directed at him. At first I questioned my own perception of him in games so I started watching him more closely in games and also again in recordings of the same games. What struck me and still does is that he makes his first error in a game and there are some immediately on his back on the Live Forum while others make more than one error and not a dicky bird. And in reverse, others on TW laud the first good touches from other players but never a dicky bird about Osman, or "one game doesn't make him good". And I will go so far as to say all that appears dishonest.
What is not now surprising (but hilarious) is that I can (but won't) list the names of those with this selective tendency (as I see it, IMHO, using my own critical faculties, etc).
Jim Knightley
65
Posted 23/11/2014 at 22:51:17
Leon has been persistently over-criticised on here for years.. apparently we were playing with 9 men when Hibbert and Osman appeared together, and they very much became a symbol of Moyes's limitations (and a symbol of rebuke for the anti-Moyes brigade).
Osman is no world-beater, but he is a good Premier League footballer. He was played out of position for much of his career, and many of the ill-advised critiques directed his way ignored that. Many better players have suffered from being played out of position (Modric, Ramsey, Mata etc), and I think Osman's career would have been a better one if he had had the opportunity to play centrally consistently.
He is now a decent squad player for us, and has offered much more than Atsu, who received high/surprising levels of praise before kicking a ball in an Everton shirt, and none since. I congratulate him on his milestone, and I for one think he has been a very good servant for this club. He is not a top four player, but he is a very good Premier League player, and is still an essential squad ingredient as goals in recent weeks have illustrated.
Jason Lam
66
Posted 24/11/2014 at 01:58:24
Osman does not have the body strength to protect the ball or speed to get away from challenges. West Ham let Osman play his game to their own downfall.
Chris James
67
Posted 24/11/2014 at 06:34:25
I would be genuinely delighted if we've found a position where Osman can be impactful and maybe this deeper role as an alternative/sub for Barry with McCarthy doing the running is precisely where it lies.
It clearly won't work against all teams, especially those with robust/tough midfielders we have to battle, but as an option where Leon can come in and add a little finesse and incisive passing from deep to Macca's steel and effort then maybe there is something there. We would need to see it work a couple more times first though obviously.
What I really hope this doesn't do is provide Martinez a vindication for playing Osman in the side regardless of the position. When pushed further forward or on the flanks (and generally when in the same team as the similarly high quality but less mobile Barry) he has been on a scale from abject to invisible for MANY, MANY months.
I'm not saying other players have excelled or should escape criticism, but the likes of McGeady, Alcaraz, Distin, Barkley and Naismith (heck even Hibbert) have all had a fair few good games to balance the lacklustre ones. The only other player who's looked as routinely ineffectual up to now was Atsu.
Anyway, like I said, I would be genuinely happy if this deeper-lying role brings the best out of Leon and allows him to make a meaningful contribution and I'd love to see him alternated/subbed in for Barry a few more times to check that out. He'll get a little extra space and time to pick a pass (that just isn't there closer to the box when we often see Ossie being bundled out or closed down) and he could be just what we need to vary the slow-paced sideways build up that seems to be the main trade of our current centre backs + defensive mids when we gain possession.
On a broadly related note, do we know when our walking wounded will be back? By my reckoning there's at least 10 on the treatment table and we really could do with Baines, Pienaar, Oviedo, Stones, Barry, McGeady and Naismith back in contention. It wouldn't be terrible to see Alcaraz and Gibson on the bench either, although I've long since given up on the hopes of ever seeing Kone play in a royal blue jersey again (not that he'd be pushing Lukaku and Eto'o out of the team mind even if he were fit).
Tony Abrahams
68
Posted 24/11/2014 at 06:40:21
Brent @64: it really does determine what you class as ability.
Osman not quick enough? Yes, not Strong enough? Yes. Not clever enough? Never. Great little footballer with one of the best first touches in the whole Premier League.
I remember a spell where Leon got about 7 MotMs out of 8 when Moyes gave him a run in behind the striker when Cahill was injured.
I actually wanted him to be replaced by Besic, early in the second half, when we couldn't get close enough to West Ham. But when the sub finally came on, Eto'o looked like he only wanted to play with one man: Osman – the clever little footballer.
Graham Mockford
69
Posted 24/11/2014 at 07:37:51
Chris,
From where I was sitting, he wasn't playing a deeper lying role, he was playing the centre of a diamond with McCarthy holding, Naismith advanced and Mirallas and Barkley wide.
And If you are looking for robust / tough midfielders West Ham were playing that yard dog Nolan.
You are obviously of the opinion that he is a poor player who doesn't deserve his place; that's fine... however, I don't think Roberto is going to need vindication to play him, he's been doing that routinely since he came here.
Trevor Lynes
70
Posted 24/11/2014 at 16:15:21
What fans are forgetting is the fact that when Osman first got in the side it was a bloody awful side. We missed out the midfield and hardly scored a goal from open play for ages. We tended to score from set pieces.
Since the team has started to play football, I reckon Osman has had a much more positive impact. Coming off the bench, he has changed games on occasion and he is the one player who can produce really incisive passes from deep.
The role he played against West ham suited him as he had more space and used it intelligently. If some fans here cannot appreciate that then so be it!
Brent Stephens
71
Posted 24/11/2014 at 16:18:41
Tony #68. I wouldn't disagree at all about that ability in terms of his first touch. In saying I wouldn't put him in the top half of ability (in broad terms, not just touch) but would put him in the third quartile, I was trying to play safe and acknowledge his limitations, so that I could move on to my main part about those on Live Forum who are trigger happy when Osman makes his first error but not when others make their first several errors. I just wanted to pre-empt any accusation that I could only see good in Osman, so I could make a point about what IMHO is selective perception. (Between you and me, I'd actually put him in the second quartile but don't tell anybody!)
Paul Andrews
72
Posted 24/11/2014 at 17:30:31
Of course everyone is entitled to their own opinion on players.
David Moyes and Roberto Martinez disagreed with Osman's detractors on 400 occasions. The England manager on 2 occasions.
You can't play 400 games in the most competitive league in Europe without having ability.
Brent Stephens
73
Posted 24/11/2014 at 17:42:30
Paul #72, totally agree. I don't think I've ever seen an answer on TW to the question, posted several times, as to why, if Osman has been so bad over the years, those managers kept / keep selecting him. His detractors always seem to duck that question.
Kev Johnson
74
Posted 24/11/2014 at 18:27:26
You know, Ossie's goal was really well taken, as well. Looked easy, but Eto'o hit that pass with power and he had to swiftly adjust his body to make the right connection. I tell you, even in my Sunday League prime, I could have missed that! High praise indeed.
The fact that the ultra-skilful Eto'o later missed from close range when Ossie fired a brisk pass at him just shows how deceptively hard it is to get yourself in the right position and sort out your feet in those situations. Admittedly, the two were closer together for Sammy Boy's chance, but the pass wasn't hit as hard so it almost evens out.
Sue Brown
75
Posted 24/11/2014 at 18:53:26
Tony#68
Agree with you there regarding Osman and Eto'o. They certainly picked each other out with some great passes and seemed to know what the other was thinking, both using that unique football brain.
Denis Richardson
76
Posted 24/11/2014 at 18:15:50
Brent/Colin - am not knocking Ossies' achievements and getting to 400 appearances for us is a great honour for him but even the likes of Neville got over 300 appearances and he was pretty underwhelming for a lot of the time he was with us. Am also amazed looking at our records that big vic got about 170 appearances and he really WAS garbage most of the time he played (Nuremberg aside).
Ossie is a decent pro who's filled in when needed and tended to be played out of position a lot as he didn't really have the quality to make the CM position his own (e.g. when we had the likes of Graveson, Arteta, Cahill). Playing out of position no doubt meant he quite often gave a performance that was a bit shite, which probably leads to people's perception of him being a bit shit - he never was and never will be a winger and regularly struggled playing out wide.
On the other hand he also wasn't good enough to regularly dictate games from the middle. He's generally been a solid member of the squad but I always thought just lacked that little bit to be a top player (be it strength, speed, height, power etc). (I cannot recall a single transfer rumour of any other club wanting to buy him off us since he's been playing....)
He had a great game in the middle over the weekend but he has been pretty average (being kind here) on a number of occasions before. The post by Ian is obviously over the top but as Michael K says, the one performance against West Ham is not suddenly going to erase all those crap performances from before. To be fair though he's also given a few decent performances over the years and scored some important goals, it hasn't all been bad.
Imo he's been a very useful member of the squad but had we had more money and a more attack minded manager over the last dozen odd years, I think he would have found it hard to make so many appearances. Again, just my opinion.
Ossies' 400 appearances at least show him as a being a top pro ready to help out when needed and obviously he's had the trust of the manager. He's been a very good servant to the club but is not going to get near legend status despite his many appearances - unless he carries on playing like that for the rest of the season!

Brent Stephens
77
Posted 24/11/2014 at 19:32:01
Denis #77 - a balanced analysis.
Colin Glassar
78
Posted 24/11/2014 at 19:26:17
Denis, I agree almost entirely with you about Ossie; what I can't accept is the sheer hatred shown to some of our players by people who claim to be fans.
And please, please never compare a true blue Evertonian like Ossie to that Mancunian sewer rat Neville who, even though captain of our team, didn't know the basic history of EFC and couldn't wait to scurry back to his Mancunian homeland.
Darren Hind
79
Posted 24/11/2014 at 20:10:49
Maybe by accusing Ossie of "stealing a living" Ian was merely expressing an opinion, but is it an honest one?
Now that might appear a dumb question, so I'll explain it.
The only time I see Ian post is when he comes on to vigorously defend Davey Moyes. You have to ask yourself the obvious question. How can a manager as shrewd as Davey Moyes be gormless enough to allow a player to steal a living under his nose... about 350 times?
If Ian's claim that Ossie has been stealing a living is a valid one then his Ginger hero is either an even bigger thief... or he 's a fucking idiot!
---
Add Your Comments
In order to post a comment, you need to be logged in as a registered user of the site.
Or Sign up as a ToffeeWeb Member — it's free, takes just a few minutes and will allow you to post your comments on articles and Talking Points submissions across the site.
© ToffeeWeb