Blues win a rip-roaring encounter
By Michael Kenrick
22/11/2014

Comments (193)
jump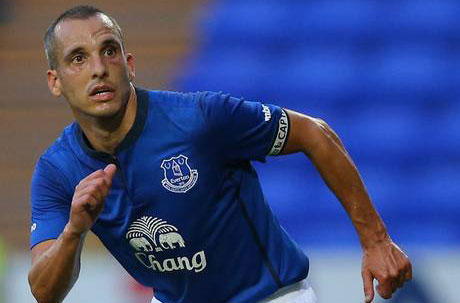 A tremendous performance and brilliantly executed winning goal for 400-club star, Leon Osman.
Everton 2 - 1 West Ham United
Kevin Mirallas returned after recovering from a torn hamstring he sustained against Liverpool back in September but no sign of any youngsters filling in for the injured Leighton Baines or Gareth Barry as Roberto Martinez sticks with his tried and trusted core of players, both Seamus Coleman and James McCarthy declared fit in a fitting postscript to Roy Keane's nonsense comments earlier this week.
Changes from the last Premier League game included recalls for Hibbert, Naismith and Osman, who was making his 400th senior appearance for the club. Aiden McGeady was out sick.
Everton kicked off and Everton began with plenty of sideways and backwards passing until Barkley played a scything pass for Mirallas to run onto but he was flagged offside. Barkley tried to put in a dangerous cross but slipped on the freshly soaked grass and West Ham made their first attack, a cross from deep that Howard picked out nonchalantly with Carroll powering himself intro the net.
In their next attack, Jenkinson fired in a wicked low cross through Hibbert playing left back that Jagielka did well to deflect away as Everton started to get pressed on the ball as they tried to walk their way forward, while the Hammers were getting more and more confident, denying Everton space.
The pressing play began as Everton tried to cross the half-way line, but Naismith finally found Lukaku with space to turn only for the striker to greedily chose a weak shot rather than a return ball for the well-placed Scot. Barkley went on a nice long run only to run the ball disappointingly out of play as he struggled to get the team moving forward better.
The pattern continued until Osman finally played a decisive ball for Coleman to run onto and the layback for Naismith was perfect only for Everton's leading scorer to balloon his shot high over the Park End goal, and absolutely dreadful execution on a perfectly played set-up ball. Nolan went mad when Barkley faked a poor stumble as he expected a foul that never was, and got called for it, although Mirallas totally overhit the free-kick.
Everton upped the tempo finally, Osman doing brilliantly to create space for himself, playing in Naismith at the byeline for a low cross but no-one there for the tap-in and the move ended with a dreadful shot from Hibbert that was miles off target. But the pressure was on and Lukaku finally converted when Barkley tried to crewate some magic but the inevitable block by Reid fell nicely for the big man and he lashed it past Adrian in the West Ham goal.
But, having got the go-ahead goal, the Blues were pushed back by some very adventurous Hammers play, with a number of dangerous crosses but when Everton did get the ball, they farted about at the back until it was given away, Amalfitano failing to get his shot on target. Amalfitano and Jenkinson were cutting in almost at will, giving Hibbert a torrid time on the left, but he was not being helped buy some dreadful giveways by his colleagues at the back.
Naismith did power forward but both Lukaku and Barkely were offside as Lukaku finished the move nicely. Naismith gave away a professional foul but Howard handled the free-kick very well. Then it all got rather silly, everyone pushing and shoving, handbags at ten paces as Amalfitano went down under a challenge from McCarthy. Reid was shown a yellow card for his reaction. But only a yellow for the offender, McCarthy, who had lunged in a little too competitively, and just caught the West Ham player's foot. It certainly spiced things up at a packed Goodison Park, but the over-reaction from the West Ham players was uncalled for; the challenge was not that malicious.
Things got a little scrappy as Clattenburg seemed to lose control a little, allowing Carroll to power forward after some physical play with Osman and McCarthy but his shot was thankfully woeful.
No changes at the break as Everton continued to struggle, trying to play their soporific passing game against some aggressive old-style Allardyce-inspired closing and pressing. Big Sam made a couple of changes after 5 mins and his team came close to scoring from their first corner, Barkley taking a hard shot in the chest.
It looked innocuous as Zarate skipped through and fired in a low shot that clipped up off Jagielka's foot and flew over Howard into the net. The Argentine substitute had scored within 2 minutes of coming on. West Ham were well boosted by the goal and the competitive nature of the fixture heated up even more.
Mirallas was looking very rusty and showed far too much of the ball to Collins on an otherwise very promising opportunity, that he followed up with a poor challenge on Amalfitano who seems expert at getting his teammates all riled up on his behalf, James Tompkins getting involved with Mirallas and getting a yellow.
McCarthy picked out Naismith well and the Scott played in Lukaku a little wide, and Rom could not pull his shot back on target. West Ham were very much up for it, and started to get their dangerous crosses in again as the game became more open. Eto'o replaced Mirallas at least 20 mins late; he had been very poor.
Barkley fouled Zarate wide left, and Amalfitano almost scored, his shot slightly deflected. Jarvis was next to run around the Blues defence, firing into the side-netting. Eto'o was trying to create some magic but his clever balls weren't coming off. West Hams's corners were causing massive havoc but from one, Everton finally broke at pace Lukaku fouled by Collins as he powered forward and picked out Eto'o who played an absolutely brilliant low cross on a plate for Leon Osman to slam into the back of the Gwladys Street net. A fantastic goal off a brilliant move, with Clattenburg playing a very sensible advantage that allowed the move to finish so superbly for Everton. Collins was booked for his blatant attempt to stop the play, but probably not a straight red with defenders between him and the goal.
Some fantastic stuff ensued, West Ham coming so close to equalizing in a tremendously competitive response, Collins advanced and placing his shot too close to Howard. Besic replaced Barkley, who had struggled to impose himself on the game, but West Ham kept coming at the home side with some classic old-style enthusiasm in what was a rip-roaring encounter for a packed Goodison Park under the floodlights.
But this wouldn't be a real game without yet another injury... Naismith getting stretchered off near thee end, as the play continued to flow from end to end and the Hammers gave the Blues defence a real challenge. Atsu came on for the last few minutes of this pulsating encounter, with Fat Sam scowling on the sideline as his spirited side were given 5 minutes of added time. They had pummeled Everton with a variety of crosses and to be fair to Howard, he had handled nearly all of them very well.
Osman, who had played very well for the full 90-odd minutes, did everything he could to return the earlier favour, with a tremendous give-and-go that laid the ball on for Eto'o to convert but it seemed to hit off his leg and screw wide of the post when it seemed easier to score a classic winner.
Everton resisted the onslaught, Howard with another excellent catch of a high cross in the dying seconds. This has to go down as a vital win for Everton, who were put under tremendous pressure by a very sparky West Ham side that provided some really tough opposition who could easily have gone away with a draw or even a win. At times, this was like a good Premier League game of old, and the amplified tempo forced Everton to come out of their shall a little and secure three very important points against an in-form side above them in the table.
Scorers: Lukaku (26'), Osman (73'); Zarate (56')
Everton: Howard; Coleman, Jagielka, Distin, Hibbert; McCarthy [Y:35'], Osman, Barkley (79' Besic); Mirallas [Y:60'] (63' Eto'o), Naismith (88' Atsu); Lukaku.
Subs not Used: Robles, Browning, Garbutt, Ledson.
West Ham United: Adrian, Reid [Y:35'], Cresswell, Jenkinson, Collins [Y:73'], Nolan, Tomkins [Y:60'], Noble (52' Jarvis), Amalfitano (82'Vaz) Te, Cole (52' Zarate), Carroll.
Subs not Used: O'Brien, Demel, Jaaskelainen, Lletget.
Attendance: 39,182
Referee: Mark Clattenburg
---
Reader Comments (193)
Note: the following content is not moderated or vetted by the site owners at the time of submission. Comments are the responsibility of the poster. Disclaimer
Jack Plant
1
Posted 22/11/2014 at 14:16:58
Great to see Mirallas back in, and Barkley getting a start, I just hope he isn't pushed out wide.
Steve Brown
2
Posted 22/11/2014 at 14:19:15
Disapponted RM has decided to play Hibbert at left-back, if that is what he decides to do.
Denis Richardson
4
Posted 22/11/2014 at 14:42:39
Have been a great fan of Roberto since he came but that decision to play Hibbo at left back is unbelievable. Really feel for Garbutt, who must be wondering where his future lies if he can't get into the side in front of a 34 year old RB! Very disappointed by that - so much for giving youth a chance.
Also sad to see Besic not even make the starting line up and little ossie presumably will play next to McCarthy.
Hoping for a win but not impressed by the line up at all.
Tom R Owen
5
Posted 22/11/2014 at 14:45:04
What a young bench!
Denis Richardson
6
Posted 22/11/2014 at 14:46:17
What's happened to McGeady?
Steve Brown
7
Posted 22/11/2014 at 14:51:16
This looks more like the old WHU than the bright and exciting new team.
Jay Harris
8
Posted 22/11/2014 at 14:47:37
Another case of choosing favourites to be square pegs in round holes.
Hibbo is never a LB although he may be pushing Distin out to LB and putting Hibbo with Jags.
A very suspect back 4 especially against Carrol.
We could have done with the beef and pace of Browning IMO.
Not happy to see so many forward players at the expense of MF again. Would have preferred Besic and give Nais a rest.
Great to see Kev back and McCarty fit though.
Donal OMahony
9
Posted 22/11/2014 at 14:56:22
Maiden post....well, mini post....COYB !
Joe O'Brien
10
Posted 22/11/2014 at 14:55:00
Disappointed that Garbutt not getting his chance. Looks like West ham will flood the midfield and look to take away a pt. Very young bench but exciting for the future. Would be nice to see Ledson get a run out. Hopefully it'll be 3pts. If we get an early goal we'll win comfortably. RM should have been brave and started Luke tho.
Trevor Lynes
11
Posted 22/11/2014 at 15:16:40
Hibbo is more physical than young Garbutt but the lad could well come on later in the game.
Helen Mallon
12
Posted 22/11/2014 at 15:46:47
I also have been Roberto's big fan but Hibbert at LB my arse. No matter how well he plays slap in face for the young
Anto Byrne
13
Posted 22/11/2014 at 15:49:18
Very shakey back four, FFS push Naismith out wide or get him off. Leave Barkley in the middle. Very disjointed first half.
Max Wilson
14
Posted 22/11/2014 at 15:59:38
Half time: Several changes look needed. Kev and Hibbo look out of it – Browning or Garbutt and Eto'o on please.
Andy Crooks
15
Posted 22/11/2014 at 16:08:44
Our young players must be really poor or our coach must be as set in his ways as the last one.
David Harrison
16
Posted 22/11/2014 at 16:25:35
I could end up with a yolky face but when is the best English player of his generation going to start taking games by the scruff of their neck? No doubt Lukaku will get loads of people on his case if we don't manage to win this one but at least he is scoring goals, which is why we bought him. How long before Ross justifies the hype?
Joe O'Brien
17
Posted 22/11/2014 at 16:32:18
Get in, Ossie!
Max Wilson
18
Posted 22/11/2014 at 16:33:15
Ossie Ossie Ossie! 400 hundred games. Buy the book!!!
Michael Upton
19
Posted 22/11/2014 at 16:58:26
Great to secure a win against a decent side in good form after conceding a fluke goal.
I blame Osman :-)
Linda Morrison
20
Posted 22/11/2014 at 16:58:38
Phew! We won the game which is very good considering that Kevin and James were definitely not match fit.
I hope all the Ossie critics on this site will finally give the player the credit he deserves.
I agree with the posts about Barkley. Big Dunc in The Echo seems to think if Barkley stays at EFC he will go on to great things. Me, I think if we don't see him start to fulfill that potential and MCFC will give us 㿨 million plus a player, I would take it.
Michael Polley
21
Posted 22/11/2014 at 16:59:28
Good result. We dug in and got 3 pts, but every silver lining as a cloud – can't believe we've now lost Naismith to a probable hamstring injury. Get one player back and we lose another. What's the fuck is going on with hamstring injuries at our club!!!
Mark Frere
22
Posted 22/11/2014 at 16:57:44
Get in there! Not the best performance in the world but delighted with the 3 points. Eto'o is class and is such a luxury to have to come on and change a game. The pass to set-up Osman was sublime.
Hopefully this win will finally kick-start our season... I been saying that after every win this season!
Gavin McGarvey
23
Posted 22/11/2014 at 17:01:51
Andy, I think like OFM Martinez wants players he can rely on in the tough games. Does the result make him right? I guess so to some degree.
I wanted to see Garbutt at LB but that was a really tough physical battle there today. That also made it difficult for Barkley as well I think. Possibly Martinez is right that he's still a bit young for playing further back in the midfield.
Although diametrically opposed in styles of play, there do seem to be a few similarities in the managers that Kenwright picks. Personally if it was like that all season, I'd be concerned. Today though I can be nothing but happy.
Kev Thomas
24
Posted 22/11/2014 at 17:07:04
A good win, 2 points off 4rth, and still not paying well. Imagine when it does all come together; it might be like RM says and we will find our best form after Christmas. I'm starting to believe it! Eto'o though...
Paul Andrews
25
Posted 22/11/2014 at 17:09:31
The crap centre forward hit the net again.
Kev Thomas
26
Posted 22/11/2014 at 17:12:27
Hibbo at left back, an unfit Mirallas, an uninspired Barkley, and Ossie in the central midfield position. Result? Won. If we can click, in the second half of the season...
Mark Frere
28
Posted 22/11/2014 at 17:13:16
Garbutt should've started today. What the fuck is the point of him being here if he is 4th choice Left-back! If he's not up to scratch on the defensive side of his game yet, he should be on loan at a Championship club. I bet most lower league clubs would love to have Garbutt.
Dave Hall
29
Posted 22/11/2014 at 17:24:28
Cheers, Michael Kenrick, for giving Timmy credit for a very solid performance after he's come into Osman-esque levels of largely-undeserved stick this season.
Anto Byrne
30
Posted 22/11/2014 at 17:22:07
Looks like Barkley is getting games to get match fit; not quite there but did one or two good things. Hibbo was solid offering very little going forward, can't change an old dog..
Patrick Murphy
31
Posted 22/11/2014 at 17:28:50
Barry, Baines and Stones out injured but we still managed to nick the three points. At times, it wasn't pretty... but we need as many wins as possible to keep ourselves in the mix.
I thought Hibbo did pretty well at left back although I wouldn't have chosen him personally. The key today was the defence not panicking for the most part. Eto'o is some player but how did he manage to miss that chance near the end? Ossie a good way to celebrate his 400th appearance – there aren't too many players who have worn the shirt so often for the Toffees.
Geoff Evans
32
Posted 22/11/2014 at 17:17:56
Lukaku and Osman both shite again, only scored one each, get rid, useless the pair of them!
Kunal Desai
33
Posted 22/11/2014 at 17:33:38
Walrus chewing buffoon Sam needs to visit Specsavers, saying Lukaku's goal was offside, clearly he's not seen the deflection off his defender when he actually makes Lukaku onside.
Bill Gall
34
Posted 22/11/2014 at 17:27:45
Starting to wonder about Barkley... I don't know if it is to much coaching trying to force him into rigid positions in the team and stifling his natural abilities.
Michael Kenrick
35
Posted 22/11/2014 at 17:31:13
I get the feeling from some of these comments that I enjoyed that game more than most. We were given a very stern challenge by Fat Sam and his brutes, who had done their homework and came at us with, er... no fear.
I think that forced us to stop farting around so much and it was good to see both goals coming from some really determined forward play, the first albeit somewhat fortuitous. But that second goal... Sublime!
And very happy for Osman. I thought he put in a really good performance for the full 90+ minutes, showing up those on here are so quick to parrot the claim that this not possible anymore. I've been a big critic of him when he has been poor so I'm more than pleased to give him full credit for this one. Perhaps someone can analyze has full game contribution in midfield today?
I'm not Howard's biggest fan either but did he make a mistake today with that bombardment of crosses Lyndon predicted? I think not.
Good game. It might be the first one I rewatch this season.
Nigel Gregson
36
Posted 22/11/2014 at 17:29:09
I think this was done with the view to playing Garbutt against Wolfsburg. I expect serious rotation in the next two weeks, (We have four games...)
Mike Childs
37
Posted 22/11/2014 at 17:46:34
Ross should get a benching for that Dive. Something to make it stick that there is no place for that at EFC.
Sue Brown
38
Posted 22/11/2014 at 17:30:42
I too would have liked to see Garbutt play today but that was a tough physical game so maybe with hindsight it justified Hibbert playing. Great to see Kev back but he has a way to go yet to be back to form and Seamus worked hard but still hasn't got his sparkle back but pleased with the win.
Great goal from Ossie and well deserved on his 400th appearance, he worked hard today.
This hamstring problem is becoming a real worry, let's hope Naisy isn't too bad.

Carl Sanderson
39
Posted 22/11/2014 at 18:09:59
Good performance against a bunch of meatheads. Eto'o made the critical difference when he came on. And I like the look of that Osman.
Colin Glassar
40
Posted 22/11/2014 at 18:22:00
I agree Nigel, there will be a few changes against Wolfsburg. I expect Garbutt to start at LB, Hibbo at RB, Atsu, Besic, McGeady and Eto'o all to start as well. I'd play Ross as he needs as much game time as possible.
Mark Robson
41
Posted 22/11/2014 at 18:31:03
Linda, I could not agree more re Barkley. The game passed him by today but for me he does nothing to get into it. Loads of times today there were opportunities to move into space for little triangles but he simply doesn't see it or work hard enough.
Take the cash if someone's daft enough to shell out over 㿞 million. As for Lukaku today, lazy and useless as a target. MotM today Osman by a mile, followed by Mr Consistent McCarthy. Happy with the points though.
Brian Abbott
42
Posted 22/11/2014 at 18:31:28
A few weeks ago I stated on TW that Leon was our most skilful player. One or two posters had a go at me for that. I think today he proved that and his engine didn't look too knackered for the goal. I get the real impression that a lot of posters on here have never kicked a ball in anger in their lives.
Trevor Lynes
43
Posted 22/11/2014 at 18:25:51
I actually said before the game that Hibbo may well play to combat West Ham's physical approach. Garbutt may have struggled as he is a lot better going forward at the moment. Perhaps the lad could develop into a defensive midfielder to rotate with Barry and McCarthy in the same way as Besic.
A lot was made of West Ham having players injured but no mention of our injured players ie; Barry, Gibson, McGeady, Baines and Oviedo. I am not counting Kone as he seems to have vanished.
Mirallas is obviously not fully fit but I see him playing well in Wolfsburg if he is selected. Wolfsburg will attack us and we will need him and McGeady for quick breaks. Maybe even Atsu will give us something in the 2nd half of the season.
I hope Naismith is not too badly injured.
Mark Robson
44
Posted 22/11/2014 at 18:38:24
And as for Clattenberg.... hope Martinez appeals McCarthy's yellow card. Great tackle, no foul, throw-in given = yellow card for McCarthy. I was spitting feathers, how can Clattenberg give a yellow?
Patrick Murphy
45
Posted 22/11/2014 at 18:41:36
Only Luis Suarez (54), Sergio Aguero (41) & Robin van Persie (41) have scored more EPL goals over the last 3 seasons than Romelu Lukaku (37)
Darryl Ritchie
46
Posted 22/11/2014 at 18:43:24
Any word on Naismith's injury?
Mike Oates
47
Posted 22/11/2014 at 18:33:24
You could see how Barry is such a key player to us now. The amount of times the back four gave the ball away, often punting the ball forward as no one available. Barry is their safe outlet. Thought Ossie did well today in a position he would normally not be considered strong enough for, but to see him sprint 80 yds to get the goal was excellent. McCarthy did well considering he's not trained for 2 weeks.
Barkley is an enigma, I'm like Linda (#20), unsure if Barkley will develop as well as all Finch Farm staff believe. He's got to start to affect games in a positive way, clearly he was annoyed when he was pulled off, probably as he realised he wasn't contributing at all. He doesn't justify his place at the moment, he's behind Naismith, Osman, whoever plays in that No 10 position.
Any news on Naismith injury?
Paul Andrews
48
Posted 22/11/2014 at 18:44:21
Patrick,
He's still crap though :-)
Phil Walling
49
Posted 22/11/2014 at 18:17:28
A win is a win is a win! Good honest thundering battle between two teams who will fill the places behind the Euro hunters (seventhish?).
Of course Martinez is becoming more like Moyes. His gaffer demands – and rewards him accordingly – to get 'top half' and, for sure, he ain't going to take many risks that doesn't happen.
Hence he picks Hibbert at left-back over Garbutt. And why shouldn't he? He wants to keep his job and sod 'development'. I'd be the same, I guess.
But please, Roberto, don't give us anymore of that crap about encouraging young players. It's only when there's nobody else you'll pick 'em!
Sam Hoare
50
Posted 22/11/2014 at 18:35:31
Good result today, indifferent performance. Still, would prefer that then the other way round.
My ratings for what its worth:
Howard – 7. Typically up and down. Might have done better for their goal, flapped at some crosses and kicked poorly but then made a crucial block near the end and even claimed a couple of under-pressure crosses at the death.
Coleman – 7. Not at his best but looking sharper. Laid on a great chance for Naismith. Mostly solid defensively.
Jagielka – 8. A good man for blood and guts and was the pick of the defenders for me.
Distin – 6. Did decently against Carroll but gave away some silly passes and missed one or two crucial tackles. Would prefer Stones or Alcaraz even.
Hibbert – 6. Didn't let anyone down. He was beaten by Jenkinson a number of times in the first half but improved as it went on. Perfect man for a rearguard effort though I still feel sorry for poor Luke Garbutt who's gotta be thinking what is he doing here...
McCarthy – 8. All action as even. Was a bit lucky with that challenge. The studs were up though; I think yellow was right. Otherwise, continued where he left off.
Barkley – 5. Just very poor. Lost the ball constantly. Missed tackles. Looks a long way from an Everton star – let alone the best player ever for England!
Osman – 9. MOTM. Always calm on the ball (which often results in him losing it but not today). Passed the ball efficiently and incisively. One of our few genuine playmakers.
Mirallas – 5. Clearly not match-fit yet. Did very little apart from pick up a silly booking. Offered very little help to the full back. We will soon see better from him, I'm sure.
Naismith – 6. dunno what he eats but I want some. Given how much he put into the internationals, his work-rate was phenomenal. Sadly the quality did not quite match today as exemplified by his wild miss from 8 yards out.
Lukaku – 7. Did work harder today though could easily be two marks less if not for the goal. Still loses the ball more often than he keeps it and most annoyingly for me today was criminally offside when he had the chance to be clean through. Goals is his currency though and he paid up today.
Subs:
Eto'o – 8. Like Osman, he just has a touch and quality of vision that sets him apart. Shame he missed the sitter that would have capped his cameo.
Besic- 7. Solid and sensible. We will see him start on Thursday I imagine which will be a test.
Atsu – n/a
Generally I suppose it's good to win when playing below your best but the trouble is that we have been playing below our best for 3 or 4 months now! Still, only 2 points off 4th is not too bad at all and now would be a good time to click into a higher gear.
Mark Frere
51
Posted 22/11/2014 at 18:56:19
Osman did well today but it seemed strange him starting instead of Besic who was the obvious choice to replace Barry.
Perhaps RM (like others have suggested) is thinking ahead to the Wolfsburg game and the fixture congestion afterwards. Hopefully Garbutt, Besic and Browning will get an opportunity in the coming games.
Brent Stephens
52
Posted 22/11/2014 at 19:00:22
Michael #35 a nice summary. "Perhaps someone can analyze has full game contribution in midfield today?"
Michael, if what follows passes as an analysis, I feared when I saw the team sheet with Osman alongside Macca in front of the back four. In fact, although he was passed a few times just outside the box, nothing serious came of it and the rest of the time his defensive work rate was good. He won a few headers and won a few balls in the middle of the field. It was in receiving the ball, his control of it and his passing (including more than a few sublime passes) that stood out, and his understanding with Eto'o was magical.
A full 90 minutes contribution topped off by a run of at least 150 yards (!) for that goal (on a plate from Eto'o but he had to get there and to make that lunge at the ball before the defender).
Ray Said
53
Posted 22/11/2014 at 19:21:49
I don't get the 'poor Luke Garbutt' posts. We were playing a team above us in the table, we needed the points and we got them. There will be plenty of games for the young lads before the end of the season but not ones when we are playing teams above us. That's when the manager should play his strongest hand.
Kev Johnson
54
Posted 22/11/2014 at 19:16:50
Ross gave a dozy and inept performance today, I'm sorry to say.
The thing about him is that you can tell after 10 minutes if he's "on it" or not. Weirdly, if he's off-form, his physical coordination seems to go awry – he suddenly seems like a gawky teenager who hasn't quite got the hang of his new improved body. Whereas, if he's on-form, he's seems immaculately well-balanced and as nimble as you like.
At this point in his development, he needs to be playing all the time. But while he's too good to loan out again, he probably doesn't justify his place in the Everton team at the moment. Tricky.
Colin Glassar
55
Posted 22/11/2014 at 19:32:30
Sorry to disagree, Kev. The only way Ross is going to shrug off this 'slump in form' is by playing himself out of it. If we start dropping him then I can't see how we are helping him to regain his form and confidence. I'd definitely start him against the Germans as the European pace might just suit him right now.
Paul Mackie
56
Posted 22/11/2014 at 19:46:55
Really disappointed with Barkley today, particularly for such a blatant dive in the first half. If a RS player had done that we'd tear them to shreds on here. I hope Martinez has a good strong word with him.
Mark Frere
57
Posted 22/11/2014 at 19:34:40
Ray, it's not going to be very often that Baines and Oviedo are both unavailable. We were the home team today and this was a game we were expected to win and Martinez opted to play a defence minded right-back out of position.
If this isn't the right time to play Garbutt then I don't know when is. If Bobby's not going to use him the he might as well be out on loan gaining competitive experience. The lad is 21-years-old and needs to be playing. I just hope he's pencilled in for the Wolfsburg game... but Baines can't be too far away from being fully fit.
Kev Johnson
58
Posted 22/11/2014 at 19:41:16
Not sure we really disagree, Colin. I said "he needs to play all the time", and precisely for the reason you give, that he needs to play himself out of his little slump (which is partly a result of him being not long back from injury, I know). But we can't carry passengers, and today he was something of a liability.
So what do we do? I don't really know. I just think that if he carries on playing like today, he won't get picked to start, quite rightly.
As you say, the Wolfsburg game might suit him. But for the next Premier League game, I'd say there's a question mark over him.

John Raftery
59
Posted 22/11/2014 at 19:32:54
Barry's value to the team was fully evident today. In his absence we failed to control much of the play out of defence and could easily have conceded two or three in the first half. Hibbo did a sound job on a day when we needed his experience in defence.
The turning point in the second half was undoubtedly the introduction of Eto'o. His guile and sheer class gave West Ham something to worry about. Great runs by both him and Ossie for the goal. They may both be 33 but they can teach players 10 or more years younger a few things about decision making and how to make an impact on the game. That is why they are still playing regularly.
This was a vital win and arguably the best of the season so far against difficult opposition.
Eric Holland
60
Posted 22/11/2014 at 19:44:37
Ray @53,
Spot on, mate – why play a young inexperienced player against a team of thugs?
He will get his chance.
Colin Glassar
61
Posted 22/11/2014 at 19:55:07
It's a toughie, Kev, but the lad has talent, he just needs to regain his sharpness and confidence. I'd take a gamble on him and continue to play him for a few more games.
Dave Abrahams
62
Posted 22/11/2014 at 19:42:15
Osman had a good game capped with his goal but the Man of the Match for me was McCarthy – how much ground he covers and the way he gets other defenders out of trouble by covering up their mistakes is unbelievable.
I can see him leaving the Blues, I'd say he is too good for us. Without him today, I don't think we would have won this game.
Paul Andrews
63
Posted 22/11/2014 at 19:55:52
Ray Said,
Spot on.
Roberto made his team selection.....3 points.
The 86% popularity he gets from Evertonians will be up into the 90% plus soon.
Patrick Murphy
64
Posted 22/11/2014 at 20:05:08
What sort of attitude is that for an Evertonian to have, we have a top player and he is too good for us?

John Raftery
65
Posted 22/11/2014 at 20:04:37
Dave (62),
Agreed, without McCarthy we would have lost this one. If he added a few goals to his repertoire, he would be a 㿞m player.
Colin Glassar
66
Posted 22/11/2014 at 20:06:19
What a strange comment, Dave Abrahams. Why is he or any other player too good for us? If it wasn't for us, he'd be playing in the Championship as no-one else was interested in him.
Mark Frere
67
Posted 22/11/2014 at 20:08:08
I think 11 years of Moyes's mindset has rubbed off on Dave!
Mike Barrett
68
Posted 22/11/2014 at 20:07:19
Dave Abrahams have a word with yourself! " McCarthy's too good for us." What sort of Evertonian are you? Un-fuckin-believable!!!
Jeff Armstrong
69
Posted 22/11/2014 at 20:12:17
Ross Barkley is 20 now, he's got about 8 years left at the top of his game, it is 3 years since he made his debut against QPR and he is still producing the same inconsistent performaces that he gave that day. (We lost, he was not the only one who was not good.)
I do not believe he is ever going to be consistently good. l think this is it, the finished article: fantastic sometimes, injured and coming back trying to find form at other times, the real question is: Do we cash in on the enigma that is Ross Barkley?
Simon Harris
70
Posted 22/11/2014 at 20:11:52
A Moyes-esque display today - grit, determination and backs-to-the-wall counter-attacking football in the 2nd half; against a big strong powerful team.
A thoroughly enjoyable hard fought 3 points.
Oh and McCarthy was just superb.
Dave Abrahams
71
Posted 22/11/2014 at 20:14:59
Patrick and Colin.
There will be plenty of teams interested in him and very soon as well.
Did you both notice in the second half, before Eto'o came on, and we were doing nothing, he broke forward and had a good shot from over 30 yards? I think he was showing his frustration with the forward players.
He was grafting his plums off and some the other players were strolling around and giving the ball away leaving him to start all over again.
Phill Thompson
72
Posted 22/11/2014 at 20:21:12
I can't help thinking Bobby gave Big Sam a helping hand tactic wise by talking about Hibbo playing left back in the week. You can almost hear Sam planning for it:
"If Hibbert is left back, then it's only the right side we have to worry about as an attacking force. Jenkinson, you press up the right as much as you like, don't worry about Hibbert. If he does appear in our half, the CBs will just keep him out left, not allow him to cut in , he hasn't got a left foot to cross with . You'll have a field day Jenkinson, just keep attacking down the right."
It seems a bit naive to give away your plan so early.
Tony Hill
73
Posted 22/11/2014 at 20:22:53
I thought West Ham deserved a point and that makes our victory more satisfying. Osman had the best game I have seen from him for a very long time, he was excellent and maintained his form over the whole game.
Agree that McCarthy was again superb, the best defensive midfielder in the Premier League on this form. Kevin (54) is right about Barkley and he reminds me of the young Rooney in that regard; when his rhythm goes, it goes very badly indeed.
Mike Childs
74
Posted 22/11/2014 at 19:54:14
I'm not sure I was watching the same game as some of you but I recall at least 4 or 5 other players give the ball away more than Romelu today. He scored the all important first, and was equally responsible for the winner as Eto & Ossie. He led the line out of the back like that more than once. Much better receiving and passing the ball with his feet today. Only weakness I saw today was his header work. Even did some pressing defensively.
Anyone else watch the same game as me?
Dave Abrahams
75
Posted 22/11/2014 at 20:31:05
Mark Frere
I was wise to Moyes after just a couple of seasons when he didn't know where, when or how to play Rooney, another player who was too good for us.
Jamie Tulacz
76
Posted 22/11/2014 at 20:38:30
For me the side's looking a bit unbalanced at the moment, due to lack of width (injuries and lack of form causing this) with 3 players whose best position is behind the front man being forced out wide at times (Barkley, Naismith and Eto'o).
On form, Eto'o has to be the first pick at the moment for the role behind Lukaku, he looked class when he came on today (the sitter miss aside) and still has a great touch and footballing brain
Jeff Armstrong
77
Posted 22/11/2014 at 20:39:11
Mike 74, I agree. Not sure what people expect from Lukaku. He did his job today, others did not: Barkley, Naismith, Coleman, Martinez, etc.
Gareth Scott
78
Posted 22/11/2014 at 20:48:01
Phew! Points well worth having. This was one that had tripwire written all over it whilst we're not playing at our best. Can't help thinking that Barkley in the traditional No 10 role he made his last season just doesn't work if you also want Naisy playing in this best in between position.
Would like to see Barkley forget the coaching and just go out and play natural. At the moment he looks like his head can't deal with it all. Mind you mine wouldn't either if I had to listen to all the crap Woy comes out with. A point in Germany in the week will make today worth it though.
Paul Andrews
79
Posted 22/11/2014 at 21:14:41
Phil @ 72
Which team got the 3 points?
Peter Mills
80
Posted 22/11/2014 at 21:17:18
What a pleasure it is to watch Samuel Eto'o play football in an Everton shirt.
Patrick Murphy
81
Posted 22/11/2014 at 21:24:16
So as soon as a player becomes too good for Everton FC and feels that they are working harder than their team-mates they would be justified in seeking out 'better' teams? It's a good job that I don't believe that McCarthy is that sort of person – if that was the mindset of most Everton players, we will never see a CL qualification nor a shiny pot in the coming decades.
Why are the 40,000 even bothering to show up at Goodison Park? There seems very little point to it all.
I do agree that the whole team aren't putting in the necessary work for the whole 90 minutes and the quicker that aspect returns to the team the better, the result could have gone either way today but I'm happy that Everton won the points – a few other teams who probably played 'better' than us today have got nothing to show for their efforts.

Kev Johnson
82
Posted 22/11/2014 at 21:50:51
For someone on this site to put forward the idea that a player could ever be "too good to play for Everton" is shameful. Nothing more to say.
Dave Abrahams
83
Posted 22/11/2014 at 21:57:56
Patrick,
40,000 are most probably turning up because they love Everton, that's the reason I go anyway. We all have different opinions, you don't agree with what I said, no problem.
I hope like you, that James doesn't want to leave Everton but, if Everton continue playing the rest of the season like they have started this one, then other top clubs will seek James out and he will move. I have to say that injuries have been a big part of the reason we haven't performed, up to now, like last year but other factions have also contributed.
I think Martinez has tinkered too much with his team selections and his substitutions have not been as good as last year.
But Patrick we all have our own opinions and, I think we all want Everton to be the best, we just have different ways of showing it.
Ian Smitham
84
Posted 22/11/2014 at 22:06:16
Just wondered, re the McCarthy caution, it seemed not to be for the tackle, so I just wondered if anyone knows why he was cautioned? There was a load of "afters" after the event and I wondered what McCarthey's role was?
I know the ref in question seems to have previous with us, and we have our views of that previous.
Today, I thought he did well, looked a bit nervous at times, but got the big calls right. They were at best niggly, at worst plainly aggressive. He was on the case pretty well all the time.
Anyone else see the winning goal? The defender clearly blocked our player, but was 40 yards from goal and 4 of their players were chasing him down (last man is a relic of the past – it does not exist) but Clattenburg played on, clearly demonstrating the "Advantage" signal, and we scored. He then cautioned the offender.
Ignoring bias, I thought he was excellent today.
Jeff Armstrong
85
Posted 22/11/2014 at 22:18:04
Ian @84,
You thought he was excellent today? Bollocks!!!
He was fucking terrible, booked McCarthy for a fantastic challenge which was given as throw-in until the cockney twats wanted a red, massive arm-wavings for play on, not even on telly!
He is a baldy, wig-wearing, Redshite twat too who at times today lost control; the ONLY thing he got right was the advantage for Ossie's goal. He the fucked up by only giving yardog Collins a yellow instead of a deserved red.
Excellent? My arse!
Ian Smitham
86
Posted 22/11/2014 at 22:38:04
Jeff, I asked the question, why was he booked. Just wondered, in your opinion, why was it a red, 40 yards from goal, and about 4 defenders closing in, was it a DOGSO??

Michael Kenrick
87
Posted 22/11/2014 at 22:39:32
Dave Abrahams,
Patrick was dead right to pull you up for that. I doubt that very few of those ~40,000 would agree with your despicably Moyesian assessment.
McCarthy is proving himself as one of our best players... perhaps the best. But to blithely state that this makes him "too good for us" is not just a poor opinion on your part — it's just shameful.
You go on digging the hole by claiming that, unless we play better, he will be looking to leave. Yet the greater likelihood is that, if we do play better, thus meeting the higher standard you claim he wants from his teammates, he will have been an intrinsic part of it, and will become a more likely target for the richer clubs we are hoping to compete with.
We can only really compete with them if we keep our better players. We kept Baines from the clutches of Moyes and Man Utd. We won't stand a chance of keeping them if we think they're "too good for Everton Football Club".

Jeff Armstrong
88
Posted 22/11/2014 at 22:56:03
Last defender, yes; opposition yardog, yes, red all day long.
Why bring in the ambiguity of close defenders? It was a fucking red card and Twatenberg bottled it cos we scored!
Sean Kelly
89
Posted 22/11/2014 at 22:49:15
People coming on here saying one of OUR players is too good for us is shameful. It clearly shows a total lack of ambition and respect to the club I have loved for over 50 years. It's the desire of every true Everton supporter to have the best players that we can afford at this great club.
FFS, we are not a fucking feeder club. Shame on you for spouting such shite about my beloved club. Now fuck off.
Brent Stephens
90
Posted 22/11/2014 at 23:01:53
Clattenberg allowed the game to restart with a WHU player YARDS into our half! Says it all.
Brent Stephens
91
Posted 22/11/2014 at 23:09:06
That Barkley dive is shameful. Cheating bastard, as we would say of other teams.
Jeff Armstrong
93
Posted 22/11/2014 at 23:04:45
To all having a go at Dave Abrahams, I'd say he just fears that one of our better players will have his head turned if we continue to produce turgid performances like today.
Take your blinkers off for a moment, we are playing shit; Martinez is a one-trick pony (positivity)...
Graham Jones makes the subs and organizes all eleven back for corners! HE is the real problem, Who? Graham Jones and his iPad negativity.
Jeff Armstrong
94
Posted 22/11/2014 at 23:19:09
Barkley's one contribution to the game was a dive. Woy got it right: he is not ready for either the Prem or International football; will he ever be ready?
Michael Penley
97
Posted 22/11/2014 at 23:52:29
I'm not entirely sure why people are happy at all with that performance. Here's Lukaku's clear offside for the first goal: http://postimg.org/image/p8z3ckoxl/
So we shouldn't have won – and add to that the dull all-round performance & Barkley's dive, then I see no cause for celebration. Certainly if it had turned out 1-1 as it should have, you'd all be having a go at the players and the team choice. We just got lucky, that's all.
Jamie Barlow
99
Posted 23/11/2014 at 00:00:40
I see 3 points as a massive cause for celebration, Michael.
Trevor Lynes
100
Posted 22/11/2014 at 23:57:03
We have now gone seven games without defeat which is playing well in my book. Today was a typically physical encounter as that is the way Sam's teams play. I believe that the reason Hibbert played instead of Garbutt was to deal with that sort of encounter.
McCarthy played well but no better than others in the team including Osman who had a fine game. Osman scored the winner and then set Eto'o up for the chance he missed. McCarthy will learn his game by playing with the senior players in the team. He is still not at his full potential IMO and when he adds the odd goal to his game then he will be nearing that standard.
Osman played that role today and added his goal plus he linked defence and attack really well. I am sure that McCarthy will be an integral part of OUR team for years to come.
Michael Penley
101
Posted 23/11/2014 at 00:06:19
What about 1 point Jamie? Because that's what we should have got. Next week we won't be so lucky and everyone will be complaining again, because the problems won't have been fixed. Lukaku has absolutely no excuse for being offside there, and it's not the only time in the game he did it.
Colin Glassar
102
Posted 23/11/2014 at 00:16:09
Yes Michael, let's give West Ham a point, or three, just so you can feel good about yourself. Jesus Christ, some people.
Jamie Barlow
103
Posted 23/11/2014 at 00:06:22
We played a strong team full of confidence with a patched-up team and got 3 points today. Lukaku scored again, Mirallas got minutes on the pitch (I love how narky he has become), McCarthy looks as fit as ever. We got away with playing Hibbo at left back. Ossie played a blinder and Eto'o plays for Everton (still baffles me).
The two things that pissed me off most today is the dive by Ross and that shithouse who held his face when Mirallas pushed him in his chest.
Plenty to be happy about tonight.
Mike Childs
104
Posted 23/11/2014 at 00:18:32
Michae,l last player to touch the ball was WHU player which put Lukaku onside because the last touch was his not one of our players. If I picked the defender's pocket from behind him turn and fire, I'm not offside.
Ben Jones
105
Posted 23/11/2014 at 00:23:39
Michael, what a ridiculous comment.
Earlier in the season, we were unlucky and I think the amount of goals we conceded compared to the amount of chances we gave away is staggering. So what then, no we didn't lose, we got a point, no we got all 3!
Read the top of the article, it says 2-1, which means we have 3 points!!!! If we play shoulda woulda coulda all the time, we would have either won the league or got relegated.
Colin Glassar
107
Posted 23/11/2014 at 00:46:21
Should've been 4-1 if Nessie and Eto'o had been sharper.
James Flynn
108
Posted 23/11/2014 at 00:32:24
Someone quick, a hair shirt and lash for Penley.
Steavey Buckley
109
Posted 23/11/2014 at 00:38:43
Once Barkley is pushed up alongside Lukaku, he is a much a better player with freedom to express himself that allows Lukaku more space to run into. I don't think Barkley is that type of combative player who plays from the back.
Mark Frere
110
Posted 23/11/2014 at 00:47:24
Well said, Ben (105) æ I found it hard to accept how the 1986 season turned out. There was no question we were the best side... if only Lineker had brought his scoring boots against Oxford!
I've learned to live with the fact that the League table never lies.
Michael Penley
111
Posted 23/11/2014 at 00:53:20
Mike, not true. Barkley's ball ended up with Lukaku, and he was offside when the pass was made. It's the same as when the ball deflects off the goalkeeper or the post.
Colin, feel good about myself? If I fooled myself into believing we deserved the win, that might be the case. If I'm honest and say we weren't good enough, we might do better next time. Of course I'm happy with the 3 points, I just think it was a poor performance.
Harold Matthews
113
Posted 23/11/2014 at 00:09:26
Yes Jamie. My feelings exactly. I might think about the performance tomorrow.
Eric Myles
114
Posted 23/11/2014 at 01:07:13
Kunal (#33), the commentators were also saying it was offside, even though the last touch of the ball was a West Ham player as the replays clearly show.
Wankers.
Eric Myles
115
Posted 23/11/2014 at 01:17:03
Michael (#111), a goalie cannot play a player onside, it has to be an outfield player.
Adam Luszniak
116
Posted 23/11/2014 at 01:17:51
Ross getting some stick on here. Not his best game and terrible dive. That said, I just can't see how people can say things like "Ross Barkley is 20 now... and he is still producing the same inconsistent performances". Let's just write the lad off now shall we. He'll never amount to anything, There's no way a 20-year-old could get better. Definitely not worth investing in his development.
Mike Childs
117
Posted 23/11/2014 at 01:28:49
Barkley was shooting not passing so it's more like if our player intercepts a bad backward pass or a clearance. The NBC team of announcers former players as well thought it good.
Mike Childs
118
Posted 23/11/2014 at 01:49:43
Ian, I agree with you on Clattenberg today the best consistent reffed game we've had this year.
Jimmy Mac was rightfully booked a bit reckless as he left his feet and stepped right on Atmar....'s foot.
Tim Greeley
119
Posted 22/11/2014 at 23:13:05
That's what I'm talking about!! My God, it was intense out there for a November match between two clubs who are hardly known as rivals. Way too chippy, thanks to FrankenSam and his thugs, but it was one to watch.
As best I could with my little psychos dragging me all over the house, but I was in front of the computer for the winner and damn near kicked the kitchen table over. I can't really comment much on each player's impact but I was so impressed with Ossie's motor to be there and his technique to quite easily guide it home. Well played, Rom, to get the break started and sublime ball from Samuel Eto'o.
I sincerely hope Besic and Garbutt start at Volfsburg as I don't think we want to risk disenfranchising the next generation. Plus I think Besic is up for this level, let's see him play!
By my reckoning barring a catastrophic turn in goal differential, we are as good as through in Europa League Group so Thursday night is begging for some new blood – especially with a huge one versus annoying-ass Spurs coming right up after.
Tim Greeley
120
Posted 23/11/2014 at 02:06:30
Oh my Gawd... Jamie B brings up the fucking embarrassment of a man who walked up, pushed Kev and, when Kev pushed him back, went down like he got shot in the temple by Barry Pepper in Saving Private Ryan. That was beyond shameful and I hope whoever that quivering pussy of a human being was (Tomkins? Jarvis?) is getting all the shit he/she/it deserves.
Whoa — hey, now I'm watching Wilshere trying to be tough with Fellaini... Hahahaha... what the fuck is it with these douschebags?
Simon Dutton
121
Posted 23/11/2014 at 03:03:35
I do wonder sometimes about what people see when they are at the game.
First off, people are on Barkley's back for playing badly today and the last couple of games. He started the game wide left and then, towards the end of the first half, moved over to wide right, the same as has happened to him the last couple of home games, I am pretty sure this is not his natural position.
Last season, when he played well, it was through the middle, a position that he is not currently being picked in as Naismith is our leading scorer.
As for the McCarthy yellow card, it could not have been for the tackle as everyone seems to be reporting, as the referee gave a throw-in, not a free kick; the card presumably was for the same reason Reed got one, ie, the handbags afterwards.
Michael Penley
122
Posted 23/11/2014 at 03:45:03
Mike - the rules don't require a pass, only a touch, and Rom was offside when Ross played the ball. Your interpretation would mean you could boot it down the pitch to a player standing next to the keeper as long as it bounces off the opposition.
Eric Myles
123
Posted 23/11/2014 at 04:06:46
Michael (#122), the rules also require the player to be interfering with play and when Barkley shot, with his back to Lukaku, Lukaku wasn't interfering with play as the shot was not going anywhere near him.
In your scenario, a player is offside if he's standing next to the goalie and a defender plays a back pass to the goalie?
Sean McCarthy
124
Posted 23/11/2014 at 05:14:09
Jeff (#85). How could it have been a deserved red card?? Yes, it was a foul but did it stop a clear goalscoring opportunity – bearing in mind we, erm, how shall I put this??? ... SCORED!!!
Slag the ref if you want but at least try to limit it to things he gets wrong.
Roman Sidey
125
Posted 23/11/2014 at 06:35:33
Did anyone else wonder if Amalfitano may have done or said something recently to rile up the opposition players? Our lads seemed out to get him as he was the on the end of some very good tackles. When Kev got him, the filth that Tomkins came up with completely negated Ross'S dive earlier in the match.
Naismith was a world beater in the first 20 minutes and then seemed to spray the ball a lot.
Osman had one of his finest matches in a blue shirt and thoroughly deserved to score the winner.
Eto'o... when he signed with us, I, as well as others, copped a lot of stick for saying he was one of our best signings and we could feel honoured that such a player was at Goodison. 12 matches in, and I feel even stronger about that point. The man is a step above any player I've watched for Everton since I started supporting 12 years ago, and he does things with such class that it baffles my mind that anyone ever thought it wasn't a great signing.
Ajay Gopal
126
Posted 23/11/2014 at 07:07:59
Trevor (#43), our count of missing players is much longer than other teams, yet the pundits keep harping about Man Utd, Liverpool and strangely, even West Ham. Our full list of injured/missing players for yesterday's game was:
Barry, Gibson, McGeady, Baines, Oviedo, Stones, Alcaraz, Kone, Pienaar.
That is 9 players out! And Mirallas & Naismith were clearly still not at 100%. Under those circumstances, to win against the brutes of West Ham is very satisfying, however sub-par some of our players' performances were.
John Codling
127
Posted 23/11/2014 at 07:18:33
I hope Roberto Gives Ross a severe bollocking for that dive. That sort of thing is unacceptable at this club.
Michael Penley
128
Posted 23/11/2014 at 08:11:37
Eric - he was involved in active play because the ball went straight to him. Look mate, I've been reffing for almost 15 years. From the replay, it was a clear cut offside, you won't find a ref anywhere who'll tell you it wasn't.
If you want more info this thread is relevant.
Dave Abrahams
129
Posted 23/11/2014 at 08:16:50
Seems I've upset some people on here – that was not my intention and I apologise for that.
Steve Guy
130
Posted 23/11/2014 at 09:00:04
I don't care if Rom's goal was offside, it's about time we got the rub of the green. Only made better that it was an Allardyce team we got it against.
We deserved the win against a team that went for long ball roughhouse in an attempt to put us off our stride. So I was also glad to see us mixing it when we had too; well done McCarthy for one.
Ray Roche
131
Posted 23/11/2014 at 09:14:34
Sean McCarthy @124,
Sean, Collins deserved a red card for either serious foul play or violent conduct. They are in the rules of the game. He made no attempt to play the ball, deciding instead to hack Lukaku down. The fact that we went on and scored was because Clattenberg played an excellent advantage, probably the only really decent thing he did all day.
Clattenberg, today, looked out of his depth. Watching Ed Sheeran is about his limit.
Kev Johnson
132
Posted 23/11/2014 at 09:29:13
Great photo here of Naismith laughing derisively at Tomkins after the so-called Hammer has acted like a big girl's blouse in the Mirallas 'who-you-pushing?' episode:
Wayne Smyth
134
Posted 23/11/2014 at 09:20:38
It's funny reading some of the comments. People slagging off Barkley, telling us our players are too good for us and saying Martinez is a one-trick pony.
Given the team isn't playing well and he's played out of position, do people expect miracles from Barkley? Naismith, who was castigated for years on here, looks a different animal played in his best position. Why is Barkley different? Why should a 20-year-old learning his trade turn in stellar performances played out wide?
I can't believe Jeff (#94) thinks Barkley's only contribution was a dive. Were you taking a dump when he wrong-footed half the Hammers defence and had his shot which was deflected for Lukaku's goal?
If that had been one of our other players, it would've been a simple pass backwards or sideways, but despite his age and the fact he wasn't having a great game, he was prepared to keep going and trying positive stuff all through the match.
As for Martinez, I think he's doing quite well. Given our injury list and the tough start we had, we're only 2 points off a champions league spot and top of our Europa group, unbeaten. I think most of us would've taken that if offered it 3 months ago.
If I'm honest, I'm disappointed that Martinez isn't using Browning, Garbutt and Besic more. Hibbert did okay yesterday, but we looked awkward because he offers very little going forward and got done a few times for pace, where I think the quicker more agile and left-footed Garbutt may have been okay. It's no coincidence most of their dangerous stuff came down our left side.

Andrew Clare
135
Posted 23/11/2014 at 09:51:22
Congratulations to Leon Osman. 400th game and scored the match winner. Well done!
Oh and anyone who states that players are too good for us isn't an Evertonian as far as I am concerned.
Eric Myles
136
Posted 23/11/2014 at 09:45:40
Michael #128, the ball didn't go straight to Lukaku, look at the picture you posted, the position Barkley is in there's no way he could be playing directly to Lukaku, it deflected off a West Ham player, 2 according to one report I read.
The only ref that counts says it wasn't offside, and awarded a goal.
Michael Penley
137
Posted 23/11/2014 at 10:12:10
It makes no difference either way Eric. Ross took the shot when Rom was offside and the ball ended up with Rom. As long as the opposition doesn't control the ball in between – and a deflection doesn't constitute control – it's an infringement of law 11.
There's even an example in the FIFA rulebook (p25) carbon-copy of what took place: http://www.fifa.com/mm/document/afdeveloping/refereeing/law_11_offside_en_47383.pdf
For what it's worth, I'm happy we got the 3 points too and the result is what counts, COYB.
Tony J Williams
138
Posted 23/11/2014 at 10:41:28
Got to admit, that is the first league game I have really enjoyed at Goodison this season.
The "new" Wet Spam disappeared and the old Sam Fat Head team turned up, especially that gobshite Nolan.
Good battle and someone must have wound McCarthy up as he was well up for a battle.
Thoroughly enjoyed that game.
Phil Walling
139
Posted 23/11/2014 at 10:10:33
Too good to play for Everton? I suspect we shall have a long wait for even the most biased 'outsider' to make that assertion. On yesterday's performance, the real question is whether the lad is YET GOOD ENOUGH to play for Everton on anything like a regular basis.
Too many of us are in love with what Ross CAN do rather what he DOES in bog-ordinary games like yesterday's. And the more he turns in stints like that, the less interest there will be in others signing him at anything like the ridiculous sums mentioned.
But be patient – it's early days.
Phil Walling
140
Posted 23/11/2014 at 11:05:45
Roman @125. Purring over several of Eto'o's touches yesterday, the guy next to me said, 'He's the black Golden Vision, I swear!'
Now that's certainly an oxymoron and probably racist but I know what he meant!
Jamie Barlow
141
Posted 23/11/2014 at 11:16:11
Lukaku is blatantly offside for our first but I don't really give a shite. It's about time we got some luck. Even their goal went through two players legs and took a deflection off a third.
Graham Mockford
142
Posted 23/11/2014 at 11:34:02
Just a point to those who said Ossie shouldn't be playing, can't last 90 mins etc. etc.
The last four games he has started have been Villa, Burnley, Lille and West Ham.
Can anybody make the link?
Brian Harrison
143
Posted 23/11/2014 at 11:29:10
I thought Eto'o and Osman showed what a good football brain and an excellent first touch can achieve. An absolute joy to watch when they linked up for what should have been a goal for Eto'o.
I don't think you can learn that touch and awareness that is just in built, and Lukaku can practice with Eto'o but he will never have his touch or control. Lukaku is a good finisher as his record shows so stop trying to turn him into something that he isn't.
Barkley is another that needs to play to his strengths which are picking the ball up and running at the opposition, I don't think all the hype has helped or is justified.
Ian McDowell
144
Posted 23/11/2014 at 11:33:54
Got to say I really enjoyed the game yesterday. After 10 mins, I felt Barkley was going to have one of those days – and please, Ross, cut the diving out.
First half, we had a lot of possession and again the build up seemed slow and we had no real threat coming down the left flank. Naismith could have put us one up before Lukaku struck. At half-time, I felt we needed a second as I could see West Ham nicking one.
Again a slow start to the second half and the equaliser arrived and from then on, for the next 10 mins, I could only see West Ham getting the winner. The team lost its shape and you couldn't tell who was playing where.
Cracking counter attack and a fine ball by Eto'o to pick out Osman who was very good and grabbed the winner.
Delighted to get the win and stick it up that Fat Walrus, Roy Cropper Allardyce and his bunch of thugs.
Excellent performances from McCarthy, Distin, Hibbert and Osman.
Christopher Timmins
146
Posted 23/11/2014 at 11:55:02
Great result given the injuries but I have to say that I was disappointed that Garbutt did not get a run at left back. I thought the balance of the team would have been better with him starting. I would have went with Besic in the centre with McCarthy and Osman wide left, Ross in the hole and Rom up top.
Ben Jones
147
Posted 23/11/2014 at 11:58:39
I'm just wondering with Barkley, and I'm surprised no one's mentioned this yet, but he's not been playing in his favoured Number 10 role. Was he playing there against West Ham or was Naismith playing there?
If he wasn't, that could be it, and maybe why the Naismith injury is a little bit of a blessing for Barkley's progress. He and Lukaku forged a good partnership there last season, and maybe needs to be carried on this time round.
Geoff Evans
149
Posted 23/11/2014 at 12:07:08
The goal stood so it wasn't offside. The next time the Red Shite or anyone else comes to Goodison and gets a dubious decision, don't come here bellyaching.
Paul Andrews
150
Posted 23/11/2014 at 12:21:12
The black Golden Vision?
They called Colin Harvey the white Pele.
Paul Andrews
151
Posted 23/11/2014 at 12:30:53
Luke Garbutt has a lot to learn defensively. Anyone who has seen him play would and should know that. A very good prospect, by the way.
Paul Dark
152
Posted 23/11/2014 at 12:09:05
Good win – not entirely deserved, albeit against a hard, very cynical and at times simulating WHU (a club that deserves a much better and more dignified manager than the appalling, Neanderthal Allardyce).
Yesterday's ratings from me FWIW:
Tim – made a couple of good saves and did well generally. Still wish he'd command the box a bit more; 7
Seamus – getting better. His best game in a few, but still a way to go. 7
Hibbo – played really well. Quiet, efficient and defended really well, as if he's been playing at full back (let alone left full back) for the last 200 games. MotM contender. 8
Distin – didn't get much in the air with Carroll about but scrapped and did OK. A better option than Alcaraz but lacking confidence after early season blips. 7
Jags – Had a quiet and efficient game generally. Can't really blame him for the goal though he did look a bit surprised when the ball hit him, almost as if he was looking elsewhere at the time. Slightly odd... 7-
Ross – out of position and put of sorts. He generally goes down too easily and dives sometimes (bit like Stevie P and Nace), and someone needs to have a word. He'll be back, but not a winger by any means. Still rather see him or Sam (or anyone, even Tim) out on the right than McGeady. 5
Kevin – first game back, he did OK. Needs time. I'd still like to see Kevin on the right (though his best position would be behind Rom) with Stevie P and Bainesy on the left. 6
Macca – could have seen red, but yellow was just about right in the end. Was up for it, won a lot of important ball, not the best distribution and even ventured forward once or twice. If he could learn to pass a bit better and take some time on the ball and perhaps look a up a little more, he could become even better. 7+
Osman – probably MotM. Had a very good game and was in the zone. Excellent run (and left-footed finish) for the goal. His best game for us for years. Still light in the tackle and does spectate at times. I'd be surprised if he plays better this season. 8+
Nace – improved as the game went on and does some rather intricate etchings well in right spaces – should possibly have scored from Seamy's pull-back. Very good player but not an automatic pick. 7–
Rom – still looks bit slow and sluggish but 3 in 5. If he needs injections in his toe before playing (The Guardian), then why not allow him to recover properly? 7-
Sam – different class, quite literally. Should come on with half an hour in almost every game, I'd say. Should've scored, but his assist for Osman was simple but brilliant. 8
Besic – would really like to see more of this player. He doesn't play with the freedom for us that he does for BH – but that is hardly surprising. I'd like to see RM give him a chance to express himself more. Plays the simple balls and seems very keen not to make a mistake (still has the RS black-flip in his mind?). Needs more PL game time. n/a
Collins should have been sent off twice. We need to pass with much more purpose. At present, it sometimes feel as if we are holding the ball in order to hold the ball.
I don't think Roberto has had a great season from the dug-out. Having said that, we're a couple of points off CL, so if (big 'if') we get better in the second half (as he predicts), then this season could yet be better than last!
COYB!
Dave Abrahams
153
Posted 23/11/2014 at 12:36:57
Phil Walling (#139),
I' m a bit confused – are you referring to McCarthy or Barkley?
Phil Walling
154
Posted 23/11/2014 at 12:30:27
You may well be right, Ben. I've always thought that was his ideal position but GREAT midfielders have always been able to adapt.
If he flops there, at least we can tick yet another favourite TW excuse for his failing to gain consistency.
I still think the secret with him is time to develop his decision making. Patience, please.
Andy Crooks
155
Posted 23/11/2014 at 13:05:48
If it's Everton, it's Dogs of War, however, with West Ham it's fat Sam and his brutes. I suspect though, Michael Kenrick, there was a touch of grudging respect when you used that phrase.
West Ham came and got stuck in and Roberto's tippy tappers got stuck in back. Both teams give us a bloody proper game. Well done, Everton.
Peter Morris
156
Posted 23/11/2014 at 13:19:26
A hard fought victory just about deserved. The players got very tetchy and prickly with each other, and I think most of the responsibility for this lay at the feet of inconsistent refereeing and Clattenburg in particular. I'm all for playing advantage, but this guy just lets too much go, and it frustrates the players and the crowd and winds everyone up.
Yes, the advantage he played for the second goal was a good call, but right from the off, he was allowing Carroll and Cole latitude to lead with their elbows, and you could see Jags and Distin pleading with him to do something, only to be ignored.
He should have booked Naismith for pulling their guy back, and Barkley for an outrageous dive, and that got the West Ham players started, so they went after McCarthy for a robust but fair challenge (he got booked, but a throw-in, not a foul was given?!) and then Mirallas threw his toys out of the pram as a result of niggling fouls. Yet next week, another ref would interpret the laws totally differently.
It's no surprise this got to the players and the crowd yesterday, and Clattenburg should stick to watching Ed Sheeran and stay away from important Premier League games.
Roman Sidey
157
Posted 23/11/2014 at 13:52:03
That's quality, Phil re: The black Golden Vision. Not racist by any means but definitely politically incorrect these days, I guess.
The guy oozes class whenever he is on the ball and sees the game so much sooner and faster than everyone else on the pitch.
Paul Tran
158
Posted 23/11/2014 at 14:17:52
Another solid, workmanlike performance against a typical Allardyce yard-dog crew.
We need to be patient with Barkley; no need to keep making excuses for a player out of sorts and I'd echo Phil's comments about his decision-making.
Lots of comments regarding playing 'young' players. I'd rather think about them in terms of being good enough. Hibbert and Osman are two experienced, reliable pros who do their jobs. I'd argue that we're already carrying a 'young' player who will hopefully play his way back into form. I suspect that if Garbutt, Browning et al were played in a losing team, it was be another example of Martinez's 'recklessness'. Like the old regime, he clearly picks players who he can trust. Might not fit into the fantasy world of total football/relegation certainties but it got the points yesterday.
One thing I can't understand on here is that people come on complaining about Martinez changing the team, shifting players into different positions and then apparently he has no 'Plan B'.
Still feels like a stuttering work in progress. Mind you, the team that can't defend only conceded a deflected shot, the team that can't create scored twice and created that sitter that the wonderful Eto'o missed. Three workmanlike points; roll on Thursday.
Colin Malone
159
Posted 23/11/2014 at 14:19:08
I was proud of the players, the way they showed guts against the bullies of West Ham, especially McCarthy. For a young lad, most kids would have dropped off after a fracas, when he was wrongly booked... McCarthy never – he upped his game. Fantastic lad.
Let's get back to the square pegs in round holes – as soon as I saw huff-and-puff Naismith in the Number 10 position, no guile. What an improvement when he went off, and Eto'o came on.
Get Barkley in his rightful position. Did Gascoigne ever play on the right side of midfield? Barkley or Naismith is a no-brainer.

Mike Hughes
160
Posted 23/11/2014 at 15:32:56
Lovely weekend wasn't it?
Everton, Bellew, Groves, Pacquiao, Hamilton and Crystal Palace. Sadly I didn't have a bet (though Groves was 1/100 to win his fight).
Hopefully a Hull win will complete the set and catapult them ahead of the RS and below us on goal difference.
Looking forward to Brenda's post-match interview as well as Stevie G's face-like-a-slapped-arse... (snigger)!

Jeff Armstrong
161
Posted 23/11/2014 at 15:30:32
Colin, good shout about Naismith and Barkley. Naismith is good when he's instinctive; if he gets time on the ball, he is very hit and miss... misplaced passes etc.
He will always put in the effort wherever he plays, so put him wide left and you will get a similar performance as centre or right side. Hustle and bustle, hit and miss, and even a goal...
This allows Barkley to play in his best position, top of a diamond, the Number 10, and hopefully more effective than yesterday's performance.
Phil Walling
162
Posted 23/11/2014 at 16:04:43
A lovely weekend, indeed, Mike, although I've never been into your brand of shadenfreude re RS as it ALWAYS comes back to kick us up the arse.
Far better to take private pleasure in their misfortune whilst we can and 'keep it shut'!
Paul Andrews
163
Posted 23/11/2014 at 16:21:56
Best to shout it from the rooftops, Phil!
Every opportunity you can get to rub their noses in the shit, take it.
Helen Mallon
164
Posted 23/11/2014 at 15:00:43
I believe Ross Barkley has fallen out of love with the game and it's all down to being told how to play and not being able to just play.
Patrick Murphy
165
Posted 23/11/2014 at 16:21:52
I sort of agree with you there, Phil, experience has taught us that they often get the final laugh.
However, the amount of posts last year telling us that they were back to their frightening best and had a young intelligent manager who would move them to a higher level than us means we should enjoy the rare times when we do have something to smile about – no matter how briefly.

Linda Morrison
166
Posted 23/11/2014 at 16:25:42
I agree with you, Helen, re Ross. He is a player who likes to move over the pitch and make those dashing runs forward. Now, for some reason, he can't do that... and, as a result, Lukaku isn't getting the service he requires.
I think a lot is down to trying to fill too many gaps due to the injuries. I'm sure it will come right after Xmas when most of the poorly ones are back.
Tony Abrahams
167
Posted 23/11/2014 at 15:52:37
I like Osman, who surprised me with the energy he showed to score the winner, which wasn't as easy as he made it look, either. But if he hadn't got that goal, I'm not sure anyone would have been giving him MotM.
McCarthy was the only Everton midfielder who was prepared to fight fire with fire and kept us in the game when things got tough. During that spell, I kept looking for Leon and Barkley who never offered us very much fight at all – unlike Naismith whose pure graft in winning two tackles started the move for the winning goal.
Also, I'm glad Distin sorted out his differences with the manager because I thought we might have crumbled without his physical presence yesterday.
Great picture of Naismith Kev, funny that.
Graham Mockford
168
Posted 23/11/2014 at 16:27:41
Paul Dark,
I can almost hear the gritting of teeth through which your "praise" for Ossie is coming.
On the basis you said he should never play for Everton again, does that mean you were wrong?
Colin Glassar
169
Posted 23/11/2014 at 16:28:59
I couldn't disagree with you more Helen. Ross will be fine.
Colin Glassar
170
Posted 23/11/2014 at 16:34:56
Ross is a young lad who needs to listen and learn. If he thinks he knows the game then he's seriously mistaken. But the lad will listen and learn that's why I say he'll be fine.
Sam Hoare
171
Posted 23/11/2014 at 16:48:38
Looking like a great weekend's results so far.
Kieran Riding
172
Posted 23/11/2014 at 16:44:28
Mike (#160), I've made a nice few bob this weekend on some you mention! Lovely stuff.
Palace played like that against us a few weeks ago, so I'm not surprised they turned over Liverpool today. Rickie Lambert is the best free transfer this season though, I reckon! Oh, sorry, I forgot. They actually paid real money for him.
Andrew Ellams
173
Posted 23/11/2014 at 16:46:56
The Barkley dive was a weird one. He never appealed for a foul and just got straight back up and chased the ball.
He either felt a complete arse and pretended it didn't happen or, as I think it was Kev Johnson said on another thread, when he's not on his game his legs seem to belong to somebody else and maybe he tripped over his own feet.
Mike Allison
174
Posted 23/11/2014 at 17:00:50
Andrew I think he was expecting to get hit by Nolan so just took the free kick to lessen the impact, when he realised Nolan had pulled out he tried to get up and carry on.
Colin Glassar
175
Posted 23/11/2014 at 17:04:55
I agree with Mike. He was expecting Nolan to boot him so he went down. When he didn't feel the contact he got up and kept running. Honest lad Ross.
Phil Walling
176
Posted 23/11/2014 at 17:10:01
Helen and Linda; why not make Ross the manager and be done with it? Then he could play where he likes, do what he likes and would have no excuses !
Trouble is, we'd probably lose every game and he wouldn't be the 'greatest' any longer.
No, like every young player, he should aim to do his manager's bidding for the sake of the team. We are Everton not Barkley United. And Ross knows that.
Colin Glassar
177
Posted 23/11/2014 at 17:29:49
Well said Phil. Mark, we are going to have to be at our best to beat this lot on Sunday. They aren't a great team but they are, as you say, jammy sods.
Kev Johnson
178
Posted 23/11/2014 at 16:44:25
Football's not just about running around and "expressing yourself". Well, it is when you're ten years old, but beyond that it's not.
Yeah, I dare say he does like to make "dashing runs" forward, but I'm afraid doing that willy nilly would attract criticism even if he played for his local Sunday League team. Basically, football doesn't work like that.
If someone asked me to say one thing, one single thing about football, I'd say: It's a team game. At times, Ross doesn't seem to fully realise that. He's only young, and young people do tend to think 'It's all about me'. (I was the just same.) He'll learn, I've no doubt whatsoever, and will go on to be a brilliant player.
Getting individuals to work effectively within a collective is precisely the job of a manager, in football as in life. He's in safe hands with Martinez.

Mark Taylor
179
Posted 23/11/2014 at 17:08:47
Good result, mediocre performance and West Ham probably deserved a draw.
I don't know for how long we can hold his attention but it is a pleasure to see a footballer of the extreme quality of Eto'o playing in blue.
Credit to Ossie for his best game of the season but I still would be wary about giving him 90 minutes – he makes a very good impact sub for the last 30.
I think one of the problems we have with Ross is playing him in his best position, central and behind the striker. It seems to me a big problem is we have a surfeit of players best suited to that role- Nais, Ross, Samuel, Mirallas, arguably that is even Ossie's best position. Whereas we are lacking on the flanks (where Ross is sometimes asked to play) and indeed a genuine back up to Rom.
As for the ref's decisions, it's the first time I've seen a player booked for giving away a throw in. Barkley did indeed fall over without a challenge but didn't make a meal of it whereas Tomkins should get a 3-game ban for cheating.
Mark Griffiths
180
Posted 23/11/2014 at 17:56:44
Picture me with a black permed mullet and a Britney microphone... "I will love it if we beat them next week, love it!"
Mike Hughes
182
Posted 23/11/2014 at 18:28:58
Phil #162
"A lovely weekend, indeed, Mike, although I've never been into your brand of shadenfreude re RS as it ALWAYS comes back to kick us up the arse. Far better to take private pleasure in their misfortune whilst we can and 'keep it shut'!"
Er ...... I posted the comment on a site called ToffeeWeb, Phil - not the Liverpool Echo blog or on BBC R5L. Hence, for 'private pleasure', which I thought was obvious (but not obvious enough for you).
Jackie Barry
183
Posted 23/11/2014 at 18:41:50
We are not having our best season but neither are many other teams. Now this is no excuse for some of the football we have seen being played by these professional but it does put things a little in perspective. I have watched some other teams play even more dire stuff than us and it makes me ask the question: Is English football about to experience it's worst ever season?
If we can get over this hangover and bring in some kind of consistency, we still have every hope of making the top 4. There is hope and after seeing some of the other teams in action; it's not just a small amount of hope.
Graham Mockford
184
Posted 23/11/2014 at 18:50:40
Jackie
You ask for some consistency. Last eight games W4 D4 L0 F14 A4
Looks pretty good to me
Jackie Barry
185
Posted 23/11/2014 at 20:58:52
Very true Graham, that is pretty consistent. I suppose I am going by some of the comments people are making. In the end my main point is that, apart from Chelsea and Southampton, nobody is really setting the league on fire right now.
David Ellis
186
Posted 24/11/2014 at 08:00:12
Michael Penley (#122) – yep, that's exactly how Uruguay scored against England in the World Cup. Jags and Cahill are playing Suarez offside. The keeper punts it up. It bounces backwards off Gerrard's head. Suarez is then behind the defence but on-side and one-on-one with the 'keeper and thank you very much.
Ray Roche
187
Posted 24/11/2014 at 09:50:36
Colin Malone @159 and Jeff@161, maybe you missed the Naismith pass to Lukaku that started the move that led to the winning goal?
Phil Walling
188
Posted 24/11/2014 at 10:59:18
MIke @ 182. You are right , Mike, and I apologise. It's just that whenever I venture into their grief, it seems to bite me in the bum. So I try not to mention 'them ' too often.
Good weekend for all that though, nudge-nudge, wink-wink!
Mike Hughes
189
Posted 24/11/2014 at 12:42:14
No worries, Phil. I waited up all night for an apology but better late than never. :)
I'm Singing the Blues this morning and am hoping for a repeat midweek European version.
(By the way, I never buy the rag but some of the comments on The Echo website from the other lot are hilarious. What was that about YNWA?)

Eric Myles
190
Posted 24/11/2014 at 15:50:34
Micheal #137, OK, I agree from your example it's offside even though it's not evident from the rule wording.
Lucky Clattenberg and the linesman haven't seen that guide!
Andrew Ellams
191
Posted 24/11/2014 at 16:06:59
There can't be another set of supporters anywhere in the world arguing about a goal that went the way of their team. Our bad luck has outweighed our good luck for years now so just take the points and enjoy it.
Phil Walling
192
Posted 24/11/2014 at 16:37:54
Eric, I'm sure most unbiased observers would say 'Offside'. BWTF !
Colin Malone
193
Posted 25/11/2014 at 20:26:08
Ray Roche *187.
I've seen Brett Angel scoring for Everton.
---
Add Your Comments
In order to post a comment, you need to be logged in as a registered user of the site.
Or Sign up as a ToffeeWeb Member — it's free, takes just a few minutes and will allow you to post your comments on articles and Talking Points submissions across the site.
© ToffeeWeb