Hull confound Everton to earn a point at Goodison
Everton 1 - 1 Hull City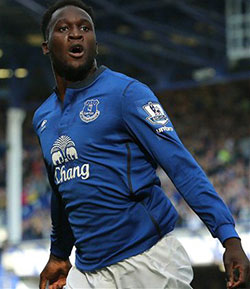 Everton could not add to Romelu Lukaku's 7th goal of the season
Everton's hopes of qualifying for Europe via the league took another significant dent at Goodison Park as Hull City largely snuffed out Roberto Martinez's attacking threats and ground out a 1-1 draw.
The Blues looked on course for three vital points that would have vaulted them back into the top half when Romelu Lukaku rammed home the opener 11 minutes before half time.
Hull came out of the half-time break with the greater intensity, though, and drew level just before the hour mark through substitute Sone Aluko, earning a foothold in the match that they refused to relinquish, leaving the home team to leave the field to a loud chorus of boos from frustrated supporters.
Everton started slowly, with Hull deploying a high pressing game designed to draw mistakes from their hosts' attempts to play out from the back and it took almost a quarter of an hour for Lukaku to register the first shot on target, a right-footed effort that Alan McGregor saved comfortably.
The Hull 'keeper had a similarly routine save to make from Kevin Mirallas's tame free kick after Michael Dawson had tripped him outside the box while Leon Osman almost flicked home from the Belgian's wayward shot a few minutes later.
Mirallas engineered the breakthrough, though, when he collected Lukaku's flick-on, evaded Dawson and the byline and cut the bal lback to his compatriot to score emphatically from about 10 yards out.
After Mirallas had gone close with a clever lobbed attempt early in the second half, the visitors' improvement almost yielded an equaliser when Gareth Barry was caught in possession and David Meyler rolled it into the centre but Diame couldn't provide the finish.
10 minutes later, though, Hull were level when Aluko eased past Sylvain Distin's challenge and fired inside Tim Howard's near post.
Back on level terms, Steve Bruce's men grew in confidence and Nikica Jelavic almost made a scoring return to his old hunting ground but his header narrowly missed. With Hull refusing to allow Everton the space they craved to play through them, the final half hour was mostly an exercise in frustration for the Blues, with the home crowd making their distaste known in no uncertain terms as attack after attack foundered on the Tigers' determined work.
A couple of corners and a late free kick that all came to nothing as neither Leighton Baines nor Ross Barkley could beat the first man from the dead-ball situations under-scored Everton's inability to create chances in their customary fashion added to the displeasure on the terraces.
The result leaves Martinez's side in 11th place, seven points off Manchester United in fourth place and six away from the relegation zone as the Catalan prepares for the trip to Manchester City on Saturday.
Full coverage: ToffeeWeb Match Reports
Reader Comments (119)
Note: the following content is not moderated or vetted by the site owners at the time of submission. Comments are the responsibility of the poster. Disclaimer
Daniel Joseph
1
Posted 03/12/2014 at 22:14:05
Poor
Conor Skelly
2
Posted 03/12/2014 at 22:14:32
So. To overcome Martinez's genius football philosophy, simply Press
Brian Waring
3
Posted 03/12/2014 at 22:18:00
One of the lads just posted this on the live forum
Everton manager Roberto Martinez: "In the first half we did enough to win the game, but you don't win games with one-goal margins. "I'm incredibly proud of the effort of the players. In the second half we were disrupted - Leighton Baines got a knock to the nose and got punished when Hull got the goal and we didn't have the energy to get the winning goal. "With the number of games it's incredibly high - the effort and character was magnificent. They came here with a clear approach - a lot of energy and made it difficult to break them down. Hull were ruthless in taking their chance."
Tom Magill
4
Posted 03/12/2014 at 22:13:55
Another frustrating night watching Everton cock it up against cannon fodder.The players need to get some balls and get stuck into teams,show a bit of fight.Im finding the Martinez experiment isn't working and I'm bored watching us(never had that before).Hope there's a big improvement soon.
Brian Waring
5
Posted 03/12/2014 at 22:18:54
I was dreading Martinez doing the post match interview and was praying someone else would come and do it, maybe because Martinez was fuming too much to do it.

James Morgan
6
Posted 03/12/2014 at 22:21:06
Pathetic. Pedestrian, no hunger, no class, no set pieces of quality. Utter shite. Can't hold a lead. Explain, Roberto.
Stephen Brown
7
Posted 03/12/2014 at 22:21:00
I like Roberto but please no positivity after that . It's getting as embarrassing as the mural!
Crack some heads Bobby!
Brian Burns
8
Posted 03/12/2014 at 22:22:05
Hes a fucking crank

Brian Waring
9
Posted 03/12/2014 at 22:21:23
Martinez "we didn't have the energy to get the winning goal."
Martinez on Hull " a lot of energy"
Hmmmm..........
Neil Pickering
10
Posted 03/12/2014 at 22:18:18
Dont know about anyone else, but I am still waiting for this "phenomenal" "gem" that is Ross Barkley to come to the party. If he is as good as Bobby makes out then he should be grabbing them by the scruff of the neck and dragging us through as Gerrard did with Liverpool in his younger years.
I think the reality is that he is a decent premiership player, but he will never reach the heights that Martinez predicts. Hand on heart I can honestly say I have never seen him have an outstanding game from start to finish for us. He's scored some decent goals yes, but his decision making, and his ability to affect a game are not what they should be for one who is being touted by our manager as the greatest player England we will see in the future.
If either Chelsea or City come knocking in Jan with anything like 15/20 mil I wouldn't hesitate to get rid.
Max Murphy
11
Posted 03/12/2014 at 22:24:54
As I said before the game, Groundhog Day. Draw or narrow win, with a crushing defeat on Saturday.
We'll be playing Wigan next season!
Well done Roberto! Consistency of the lowest order.
Henrik Lyngsie
12
Posted 03/12/2014 at 22:21:37
I am normally very optimistic but the whole second half I thought this was a disaster going to happen. To pass the ball between the two central defenders who both are very poor in passing and distributing is just to easy for the opponents. I counted at least three times where they ended playing it back to Howard. He then hoofed it once towards Osman, once Pienaar and once towards Baines. They all lost the header!!
If the passing game does not work like today, we ought to have a plan B where we move the game to the opponents half.

If we want to pass it around in our own half it should not be jagielka and Distin. We would need Stones and get Beckenbauer out of retirement.
Lee Whitehead
13
Posted 03/12/2014 at 22:25:18
Speechless!!!
Took two players off, Mo and Kev (Pienaar should have started). FFS – They were our two best players.
I keep saying Howard are Distin are finished – look at tonight's goal? Mark my words, these two will cost us dearly.
Brian Waring
14
Posted 03/12/2014 at 22:31:32
I can't believe how slow we are getting forward considering how much pace we have attacking wise.
Neil Roberts
15
Posted 03/12/2014 at 22:33:44
That was utter shite. We have players playing the passing game who can't fuckin' pass. I am so glad there are 4 or 5 teams worse than us other wise I feel we would be in serious crap. STiILL MIGHT BE.
Lee Gray
16
Posted 03/12/2014 at 22:38:06
As soon as a decent European coach watches us we will be bombed out!
Al Reddish
17
Posted 03/12/2014 at 22:40:30
6 points off West Fucking Ham!
Andy Crooks
18
Posted 03/12/2014 at 22:34:43
If those are Roberto's post match comments then I am really starting to doubt. Of course we won't be relegated but he has overseen some truly inept stuff this season. Tonight's show was as utterly abject.
Callum McNab
19
Posted 03/12/2014 at 22:35:54
I remember being luckily enough to be in Big Dunc's company a few times, and he was talking about when him and Durrant was on loan with from Rangers, and Mr Walker was in charge.
After another defeat, he said he whispered to Durrant "We're going to get a mouthful here and rip us to pieces." He said they ended up gobsmacked as Walker walked in and said to the dressing room,
"Keep playing like that boys and we will turn the corner." Déjà vu, come to mind anybody.
Neil Roberts
20
Posted 03/12/2014 at 22:43:07
12 points lost after being ahead in games... nightmare!
Kunal Desai
21
Posted 03/12/2014 at 22:41:54
Martinez: "We didn't have the energy." To me, this bollocks. It all boils down to the preparation of the players during the summer. Instead Martinez was fannying around in Brazil right until the end of the tournament. He should've been back a lot earlier for pre-season and conditioning those players in preparation for the start of the season.
Clearly there are fitness issues with a number of players who can't retain the same 'energy' levels for 90 minutes. That is not acceptable.
Bill Gall
22
Posted 03/12/2014 at 22:49:03
Another player Everton helped to get back on track. Just read that Hulls goalscorer was his first goal since September 2013.
Mike Keating
23
Posted 03/12/2014 at 22:36:22
Absolute shite of the first degree. Distin and Jags were a joke and Howard's distribution even worse – this passing back and around the area is getting so boring and, as Hull demonstrated, very predictable and extremely dangerous. When are we going to alter the bloody script?
Our two 'best' players (if there were any) got subbed!
Not even going to get off my arse for my own seat for the Krasnodaor game after that pile of cack.
Tom Laskaris
24
Posted 03/12/2014 at 22:55:30
Liverpool are shit, we're shitier!!!
Jamie Sweet
25
Posted 03/12/2014 at 23:02:29
Seeing what Aluko did to Distin and Howard is really giving me the shits about what Aguero is going to do to us at the weekend.
Andrew Hawes
26
Posted 03/12/2014 at 22:56:10
Think we need some "real" comments from our manager now... I've been listening to this positive drivel since a terribly poor pre-season. It's worrying that if he is calling players "gems", "phenomenal" etc etc to the press and that he is actually convincing them these performances are actually good enough.
Man City next?? Top four is already disappearing over the horizon...
Peter Laing
27
Posted 03/12/2014 at 23:00:58
Chelsea played Spurs tonight and won 3-0 with possession of 39% vs 61%. Percentage football is what we are witnessing under Martinez, pass, pass, pass with no end product and no penetration. Moyes was quite rightly castigated for playing his favourites and having no Plan B.
Martinez needs to wise up, I genuinely like the guy but the howls of derision around me at the grand old lady summed up the frustration that is beginning to permeate on the terraces.
John Raftery
28
Posted 03/12/2014 at 22:47:24
We build from the back, we're boss in attack... Interesting to hear some people now blaming the passing style and the manager for our problems having gone overboard about both last season. Players are always more important than the manager and what we are seeing currently is too many players suffering a loss of form and fitness partly resulting from the accumulation of games and injuries.
Tonight was our third game in 7 days and it showed. We badly missed McCarthy's energy. We need him and Naismith to get fit and we need to keep Mirallas on the pitch. There was not too much wrong in the first half tonight but that is when we should have killed Hull off. In the end, we were lucky to get a point.
Paul Andrews
29
Posted 03/12/2014 at 23:09:30
Very poor tonight. Slow pedestrian football, two centre halves not comfortable on the ball, one of them has a new trick doing the Cruyff turn in the last 3 games while being the last man.
Midfield turning back on numerous occasions when a more positive ball was on. Lack of mobility, no players moving into space to give an option to the man in possession. Forwards starved of good supply.
The players started slowly with a low tempo. It then becomes very difficult to speed the tempo up.
One or two of our players need leaving out.
Alan Dempsey
30
Posted 03/12/2014 at 23:02:47
From my seat...okay, we play from the back? Sorry Roberto, but we've been rumbled. Teams now leave two players up because they know that we will throw it out to Distin or Jags, who then pass it back to Howard when presses, who will then give it to the other CH who will then give it back to Howard who then launches it straight to their midfield who by then are in our half and guess what? We're playing them onside, for fuck's sake...
Tonight was abysmal. The very worst performance since Martinez got here and the worst home game since we got beat by Bolton about 5 years ago. Barkley was simply awful and how couldn't Martinez see it? He shit out of a tackle after about 15 minutes and that was a pre-curser to what was the worst performance by a supposedly talented player I can ever remember in a Blue shirt and I'm 50. We had Eto'o on the bench and left him there while Ross trod water all night.
And what has happened to Coleman? He was dreadful. Utterly dreadful. When Mirallas was subbed there was actually stunned silence and comments of 'You're kidding?' all around us in the Upper Gwladys. When Besic was subbed, there was people booing.
Their keeper didn't make a save all second half. Off the top of my head we have led in at least 5 games this season and not won (Leicester, Arsenal, Spurs, Hull, and Crystal Palace) drawing 3 and losing 2. That's 13 points which would put us 2nd or 3rd after tonight's results. I'm beginning to think that this is becoming very much a second season syndrome for us and I'm thinking we've been found out by lesser teams who now know how to choke us out of games.
Christopher Kelly
31
Posted 03/12/2014 at 22:59:56
Unfortunately I can see what the next 5-7 years will be like for us (based on our owner and last coach)...Different approaches but the same bullshit.
Roberto will continue to be super positive while our team stagnates in the mid table (7th-13th) season after season. His three year project will turn to five which will turn to seven. The owner will be praising this "genius, best coach in all the land" selling us idiots with each passing week and re-up time for season tickets.
No real investment in the team - selling players, spinning our wheels in the mud. Turning big profits and pocketing "operating expenses" .... Old players will get older and not be replaced (how do we have so many old guys on our team?? How does Bobby not see them getting out hustled or brushed off on such a constant basis??).
In 7 years Bobby will be the highest paid manager in the Prem (like Moyes) and we may have won the Capital One Cup if we're lucky by then. We as fans won't do a fucking thing and just let this unfold in front of our eyes.
This Great Club losing more and more fans each season as new fans are more interested in winners and teams that actually try to win. I'm praying we somehow win the EL because being in the top 4 best teams over 38 games doesn't even seem remotely possible with the lack of passion and desire that we've been watching. I sadly think the EL is our only hope (and secretly Bobby I'm sure knows this as well).
I know it's a bit over the top but that's sadly what has happened in the past and what I think will happen again, just with a positive Spaniard vs a miserable Scot. Of course I hope I'm wrong but I just can't see it. It's been this way for far too long.
John Maxwell
32
Posted 03/12/2014 at 23:06:55
Obviously Distin is past it, Pienaar was a joke when he came on, we are desperately missing Stones and McCarthy and need to buy some new defenders.
Petr Cech anyone?
Jim Bennings
33
Posted 03/12/2014 at 23:08:49
Nothing I want to say about that except we could lose 6-0 on Saturday quite easily, when you consider the amount of times we lose the ball 20 yards from our own goal you can't see the likes of Aguero passing up the opportunities a shite Hull side did tonight, who had they shown more ambition would have buried us.
We are shite and the sooner Martinez realises that we don't have the quality of players to do this "Barcelona tika-taka" and that the ball is moved about waaaaaay too slowly.
That Hull keeper never had a save to make in the second half. Where was the cavalry charge to go and win in the last few minutes? Did we throw men forward? Did we throw the ball into the box to win the game?
No, no, no.
Dreadful dreadful boring mundane shite.
We are playing like a poor Spanish side. The idea was to play a continental way but we can only play like a poor Spanish side not like a top class one. Until Martinez sees this, we are going absolutely backwards.
Mike Corcoran
34
Posted 03/12/2014 at 23:17:13
The pissing about is pissing me off. We are so predictable to play against at the mo. C'mon, Roberto – it's time to mix it up a bit, ffs.
Peter Laing
35
Posted 03/12/2014 at 23:22:45
John, I would take Cech in a heartbeat but we wouldn't be able to afford his wages. I would love Howard to leave and take his jittery mate Distin with him as I'm sick of the pair of them.
Dave Pritchard
36
Posted 03/12/2014 at 23:19:40
One of the poorest displays for a long time. Distin looked knackered on Sunday and no better tonight. Howard poor at the near post. Lots of other below-average performances as well with only real decent performance by Besic. Couldn't believe he was taken off.
Peter Laing
37
Posted 03/12/2014 at 23:26:08
The post match comments from Martinez don't wash with me, the players were tired etc...
Well okay, give the likes of Hibbo and Garbutt another run out as they didn't exactly disgrace themselves against Wolfsburg.
David Hallwood
38
Posted 03/12/2014 at 23:14:30
Just watching the lowlights on MotD, and their goal was 100% down to Howard, so that's two games on the bounce where Howard's cost us. The points he's costing us are beginning to pile up, ship him out to Florida in next month's window and break the bank for a quality keeper.
Jim Bennings
39
Posted 03/12/2014 at 23:28:03
It's clear to see why Manchester United got shut of Tim Howard.
He is not top quality, not even a good keeper. A decent stopper but the amount of bollox goals he lets in is ridiculous.
Chris Leyland
40
Posted 03/12/2014 at 23:31:45
David H, surely Distin must take part of the blame for the goal too? He let the Hull player go past him and then did a lunging half-arsed challenge.
Steve Lindley
41
Posted 03/12/2014 at 23:28:51
After rewatching today's hilites, I'm sad to say that Sylvan Distin is definitely showing he's approaching an expired shelf-life date which will make him more of a 2nd choice come the return of John Stones so maybe we do need to go shopping after Xmas. McGeady was great when he came on and Ross started to shine a little more.
The Harvey, Ball, Kendall-style midfield dynamo we have become so accustomed to is only generating a flicker of power that it's truly capable of. Barry is becoming a little unpredictable in defense too. Seems to lose his concentration (or panics... not sure which) when in the defensive half but excels when going forward, has great vision and passing.
I think Pienaar is about done too. Just not the same player we used to love. Mohamed Becic... well he may evolve over time but I think he will be our achilles heel in a big game and will take a Red (our loose cannon) .Very quiet terraces tonite and booing won't fix the problem.
Christopher Kelly
42
Posted 03/12/2014 at 23:38:07
David, 100% blame?? Distin got skinned to death. Literally left him sprawled out on the floor dusted! I would say the blame is actually 50/50... He made Distin look like the 38 year old he is.
Mark Andersson
43
Posted 03/12/2014 at 23:21:59
Got up late and saw the score: 1-1 with 5 minutes remaining the crowd in a chorus of boos, so I went back to bed knowing we would not get a last-minute goal. Looks like I was right.
Bobby boy is loosing the fans, the players are feeling the heat and can't turn it around.
My glass half-full is leaking with every game. Oh to be a Blue. Time to unsubscribe Foxtel as even when we win I feel we where lucky.
Andy Meighan
44
Posted 03/12/2014 at 23:24:58
In 90 minutes of football at home, I can't remember their keeper having one save to make apart from a routine catch off a Lukaku effort. That is a sad indictment of this manager and his style of football.
That game tonight was screaming out for Eto'o to come on and weave a bit of magic but, oh no, he has to leave his mate Osman on and bring arguably (apart from Lukaku) our two best players off in Besic and Mirallas!
If this clown thinks that McGeady can come on when we're struggling to break even a bad side like Hull down and change the game, he's fucking deluded. I said on Sunday Baines should never have walked back in the side ahead of Garbutt but it's obvious the manager hasn't got the bollocks to leave him out; ditto Barry. Giving a ponderous 33-year-old a 3-year contract was criminal.
I wrote this season off a while back and I've seen nothing since to make me change my mind. A good European side will smack our arses and a difficult draw in the FA Cup and we're out. My god, am I dreading Saturday...
I see on Match of the Day he's come out with the usual shite. Energy levels, desire etc... utter bollocks — just come out for once and say we were fucking awful and apologise to the fans. He won't though, will he, no because we're only the mugs who pay for the privilege of watching it. Phoney.
Sue Brown
45
Posted 03/12/2014 at 23:29:40
Henrik#12 you counted 3 times the ball was passed back to Howard? It was more like every other move from what I saw, pathetic.
The sooner Naismith is back, the better; we are missing his skills and finishing.
Jim Bennings
46
Posted 03/12/2014 at 23:38:41
Chris
Distin is finished but he's not alone. These are changing times at Everton. The old guard of Distin, Jagielka, Barry, Baines, Howard are not going to get any better. They are all going to need replacing before long.
Still though regardless of playing staff we badly need to change this slow drab football.
Gavin McGarvey
47
Posted 03/12/2014 at 23:27:40
I don't agree the game was lost in defense. I think it was lost in midfield. Martinez has struggled to find the right balance there in the last couple of games. This is particularly frustrating as with the return of Mirallas we should have picked up more points in the last couple of matches.
Also it's been so long since we've won anything, you can feel the impatience with Martinez growing. The crowd were booing at the end tonight and you can hardly blame them. I just hope that Martinez can find a way of keeping things ticking over without McCarthy.
Christopher Kelly
48
Posted 03/12/2014 at 23:42:02
I watched the game at a bar that had the other three games on as well. The Chelsea game was in my line of vision so I saw a bit here and there.
The way Chelsea break, and move and finish is in a different stratosphere, a different world than to where we are. We're passing sideways with no movement, no drive, no thrust no nothing.
They on the other hand make smart, diagonal runs, open themselves up to receive the ball and run the defenders ragged. I couldn't believe they made Tottenham (the team that owned us for 70 minutes) look like a Championship side.
Peter Laing
49
Posted 03/12/2014 at 23:43:52
We need a new keeper and a left sided centre half desperately in January. We needed strengthening in this area in the Summer and it went down to the wire without Martinez being able to recruit before the window slammed shut.
Christopher Kelly
50
Posted 03/12/2014 at 23:47:59
Jim Bennings,
All of those old guys are on extended contracts. Leon is getting the next one! Are we on crazy pills or are we signing players in their mid 30's to 1,2 and even 3 year contracts?? Is this really happening? Are people actually getting paid to make those decisions??
Scott Williams
51
Posted 03/12/2014 at 23:40:53
Tired! Is he fucking serious. They are pro athletes. I'd kill for the opportunity those boys have.
Coleman apparently the best right back in the PL at the moment. Not with a performance like that.
Why don't the holding midfielders have a little gander before they pass the Ball forward. And not pass it back
Christopher Kelly
52
Posted 03/12/2014 at 23:53:32
What about last season when we could've made a real push for Champions League? What did we do?? Sat on our hands as usual and missed CL as usual.
Peter Laing – we've been needing these players for the past 5/7 years and every time it's the same song and dance.
Paul Tran
53
Posted 03/12/2014 at 23:32:49
It was great to return to The Old Lady after a few years.....then the game started.
Darren Hind, we've disagreed on a few things. Having experienced a game in the flesh, I can only endorse many of your points.
We were painfully ponderous. No zip, no energy, no desire to press forwards, Besic excepted. No wonder Goodison is a morgue's library without the excitement. Howard, Distin and Jagielka slowly passing the ball like it's a bomb about to explode. Barry and Besic then come and get the ball, look up and guess what - everyone's marked and not moving.
As for Martinez, did he really praise the team's energy? Didn't see any tonight. If they were tired, why not play Hibbert and Garbutt? Why can't he (and many on here) see that Pienaar is shot, finished? Why did he take off the only two positive players we had on the pitch? How come Barkley, McGeady, Pienaar got on the pitch, but not Eto'o?
I know I'm sounding like a broken record, but was behind the line of Aluko's shot; I can't believe Howard let that through his near post. Dreadful though we were, we would have ground out a 1-0 win without his mistake. That's two more points Howard has cost us. Like I keep saying, Cech or Marshall in January, please.
Darren, I take it all back, my friend. The in the flesh experience is painful. I really don't know where we go from here. Shocking.
The daft thing is, it was great to be back. Hope it's better next time........
Jim Bennings
54
Posted 03/12/2014 at 23:49:49
Also can somebody else tell me why our corners are so fucking atrocious?
I think the only decent corner I've seen from an Everton player in 12 months was Garbutt's last Thursday.
We keep hearing about this great left foot of Leighton Baines...
Does he ever actually bring it on the pitch with him?
Jim Bennings
55
Posted 03/12/2014 at 23:57:46
Watching other sides play makes me envious.
Watching Swansea pass and move the ball so fast and fluent, shooting and working the keeper endlessly.
Then you see our boring pointless style... mind-numbing it is.
Phil Walling
56
Posted 03/12/2014 at 23:54:55
Of 14 games played, we've failed to win 10. This after a season when virtually the same team was good enough to finish 5th – our highest for some years.
Have too many of that team 'gone past it' or has the praise that their manager heaps upon them bred an air of complacency – particularly when they go into a first-half lead?
Certainly, Roberto's hyperbole did for Wigan when too many of their players began to believe they were world beaters. Could it do the same for Everton? Not exactly a new question from me!
Patrick Murphy
57
Posted 04/12/2014 at 00:11:54
Phil – I do think that the constant bigging up of his players must have an effect but you would think that positivity would breed confidence but obviously it is having the reverse effect.
The more worrying thing is that in Everton's last ten PL games at Goodison, starting with the Palace reverse last term, we have won only three, and that was following seven straight wins culminating in the Arsenal victory last season.
Peter Laing
58
Posted 04/12/2014 at 00:14:37
Just watched the goal conceded for the first time again since getting home from the game. Shocking on a number of fronts:
Jags surrendering possession again with a poor pass, bad tracking back of Barry and Baines, Distin turned inside out and dumped on his backside and being made to look like a mug, and Howard beaten on a shot that he should have had covered on his angles.
Different game, same predictable players making the same mistakes and more points dropped as we once again squander a lead. Very depressing.
Michael Penley
59
Posted 04/12/2014 at 00:21:12
Fuming. I was wondering when Roberto would start blaming the number of games as he refused to do previously, but looks like it's today. But that's what a big squad is for, and we played virtually the same team that were rubbish against Tottenham.
It's only going to be more excuses from here on. Excuses and positivity, while with Moyes was just excuses. We've got a salesman here instead of a manager.
Christopher Kelly
60
Posted 04/12/2014 at 00:24:07
Obviously Roberto's not learning anything new. Same tactics, same stupid excuses and bigging up of players that deserve to be benched. Not learning a fucking thing.
Patrick Murphy
61
Posted 04/12/2014 at 00:27:34
Dave Prentice wrote after tonight's game in the Echo.
"And tonight Everton tossed away another winning position, two more home points and left the pitch to boos from from a number of disaffected fans.
The fickleness of fans should never surprise. But the lack of sympathy from that sizeable minority was surprising.

It's only six days since the Blues enjoyed impressive back-to-back victories against West Ham and Wolfsburg."
He goes on to cite the demands upon the ageing players and the fact that the Toffees have played four games in eleven days – but honestly what has that got to do with the price of fish? We pay our money to watch our team play football not to sympathise with the unfair demands of modern-day football. I didn't think I could be annoyed anymore tonight but Dave Prentice has managed to do just that.
Harold Matthews
62
Posted 04/12/2014 at 00:21:49
Christopher #'42. 50/50 Howard / Distin? What about the guy who started the Hull move with a bad pass?....Jags.
Christopher Kelly
63
Posted 04/12/2014 at 00:42:42
True, Harold. 1/3 all around?
Jamie Sweet
64
Posted 04/12/2014 at 00:42:46
Could we bring back Andy Hinchcliffe, register Big Dunc as a player, and bring them both on for corners late on in games where we need to score?
Ernie Baywood
65
Posted 04/12/2014 at 00:40:35
First half I thought was the best we've looked in a while as a fast paced passing unit. Struggled early on but found a way to play and looked like we wanted to kill the game off with more goals. Second half they killed our game and instead of overcoming it we panicked and got desperate. It all looked a bit pathetic... you could see they were out of ideas and didn't know what to do.
One comment, I thought Ross played well. Haven't seen him press and harry like that before. He's still one of the keys to us turning this around. Fitness did fail him in the last 20 though... He was out on his feet and needed a sub.
Mark Andersson
66
Posted 04/12/2014 at 00:29:55
Phil (#56), I was one of those people who thought you were being negative for the sake of it when I first joined TW. Now I read your posts in the same light as you write them.
Roberto looked anything but calm tonight.
The crowd booing is justified; it might make the players realize that they need to play to their strengths and tell Roberto to get real.
Even an unlikely win on Saturday will not hide the fact that, at the moment, we are playing shit. Don't forget there are still plenty of points to loose because we don't look like winning many.
Bill Gall
67
Posted 04/12/2014 at 00:28:21
Before emigrating to Canada I supported Everton for over 20 years with my last 6 years as a season ticket holder and going to every away ground during that time, including Wembly.
To hear the booing at the end of the Hull game makes me nervous about the future as, throughout the years, Everton supporters being very knowlegable, have always given a new manager a chance but the number of people booing and I am sure it was over a thousand, I am not surprised that they are becoming disillusioned with the performances and some of the decisions the manager is making.
I cant fathom out what the problem is with Barkley; having shown early promise his game seems to be going backwards and there must be a reason as the number of knowledgeable people in the sport who think highly of him can't all be wrong.
Right at the start of the season, during pre-season, there was an awful lot of critisism over the fitness of the Everton squad with a number of people writing up to say we will be okay once the season gets going. To me, I am sorry to say the fitness levels do not seem to be improving – if anything they seem to be deteriorating.
Some one on the coaching staff must be able to see what thousands of supporters witness and must address the problem, unless the manager is happy with the fitness coaches he has on staff.
Christopher Kelly
68
Posted 04/12/2014 at 01:13:50
When managers big-up players and say everything is "fine" and all sorts of rubbish, when clearly it is not, it makes me think he's very happy to collect a pay check and retain his job and lifestyle. He's not an idiot is he? Not nearly. Roberto is happy to keep his brown shoe collection
Peter Jansson
69
Posted 04/12/2014 at 02:16:19
This was one of the worst performances I have seen in a long while. I think Martinez's strategy was not good enough today... actually, I think it was pretty horrible.
When playing Hull at home, I think we should have a more offensive midfield and that we have two solid wing players on the field at the same time. I think that the only good wing player in the starting squad today was Mirallas. Barkley and Osman are central players. With this setup, we get several problems:
Problem 1. The midfield gets problems because they are not good enough to distribute the ball forward. Barry and Besic are not good enough driving forward. Osman is okay distributing but he is getting a little weak. Is he getting too old? These three together is in my view are not a good mix.
This problem results in:
a. Everton playing the ball backwards instead of forwards.
b. Distin gets the ball and he does not know what to do with it.
c. Distin or Jagielka playing a long ball. Hull's big defenders head the ball away and either winning the ball or disrupting Everton's game.
d. Everton do not play enough straight forward passes to get enough good chances to put a few goals over 90 minutes.
6. Hull eventually winning the midfield.
Hull were playing smart. They realized that this was weakest spot Everton had and played high pressure.
Problem 2: When playing only one good winger we get our wing backs too much in the offense. Baines and Coleman attack too much on the wings because there were too few good wingers. This problem results in:
a. When the opposition gets to counter-attack, they are up against the two central defenders (Jagielka and Distin). b. Members of the midfield, because the wingers have been attacking. c. Thus the counter-attacks of the opposition get more dangerous.
When adding both these problems, the Everton team are likely to not feel very secure as there are problems both on the wings and in the middle, then not being able to dominate the game.
Then there are several other problems on the field.
Problem 3. Everton generally play too many balls backwards. It seems that they are scared of playing straight through passes. It is really frustrating to watch. It seems they rather give the ball to Jagielka and Distin instead of trying to play the ball forward in the middle. Do they prefer a long ball from Distin?
Problem 4: Everton play too few cross balls. The few times there were actually more than one player (Lukaku) in the box they did not cross. Instead they passed the ball back and forth until they lost it in the midfield risking counter-attacks. Bad strategy if you ask me.
Problem 5: Another problem is that several players give away the ball too late. The fastest way to get to the goal is to pass the ball forward. You can pass faster than you can run. When Barkley and Coleman (and other players) dribble dribble and dribble the opposition gets the time to structure the defense. Then we will be banging the wall instead of getting fast counter-attacks.
About the squad I think:
(1) Eto'o should play from start as a central offensive midfielder or as a striker behind Lukaku. He is definitely one of the best players in Everton at the moment and should definitely be on the pitch.
(2) Everton should have had at most one defensive midfielder, maybe zero. Barry or Besic or both should have started on the bench. Osman could have been playing central midfielder or Barkley. Then we would have been stronger in distributing the ball through the midfield.
(3) Mirallas should not have been put on the bench. He was the only good wing player on the pitch and Martinez takes him off? Replacing him with Pienaar?? Then we had zero good wing players until McGeady came in.
(4) Pienaar is definitely not good enough to compete. Adding him is like adding half a player. I am not sure he should be in the squad at all. He has to train harder or something. He is too weak and too slow.
(5) Mirallas and McGeady would have been better from start or maybe Atsu should get a chance? It seems clear to me that Everton needs to spend money on a left or right winger. I am not sure if McGeady or Atsu are good enough. Maybe actually Barkley is a better alternative than both McGeady and Atsu. But I don't think he is a wing player, he tends to seek the center, and that is where he is at his best I think.
The strategy overall was really bad. The loss of points today is Martinez's responsibility alone.
Darryl Ritchie
70
Posted 04/12/2014 at 03:26:22
No confidence;
No energy;
No direction, except backwards.
Tactics that have been figured out by everyone.
Old players getting older every game.
Young players that seem confused most of the time.
No joy! No fun! For players or fans!
I'm not sure what RM can do to turn it around, but he's got to do something. If we play Man City the same as played against Hull, we will be slaughtered.
Peter Barry
71
Posted 04/12/2014 at 03:41:25
Far from being our best team for years, we have the weakest team in years.
Barkley is a failure this season; Coleman ;s off his game; Osman is the same powder puff he has always been; Barry is too old; Distin is too old; Baines is not performing; Howard is an increasing embarrassment; Pienaar is finished and has been since returning from Spurs; and Lukaku can't trap a ball.
Some have hinted at it but maybe there is something wrong in the dressing room? Maybe Roberto has lost it with the players – all the signs are there... its going to be a long hard winter and spring.
Matt Woods
72
Posted 04/12/2014 at 03:29:59
Peter Jannson, keep your drink problem to yourself mate.
Everton are the greatest Club in the world for failing to capitalise when any situation presents its self. We are just so frustrating and its in our DNA.
I think two incidents have derailed our expectations since the euphoria of the Lukaku signing. The first was Ross getting injured on the eve of the season. The lad had been to Brazil, had a taste and I believe would have been so hungry he would have exploded into the season. His ability to turn defenders opens teams up. Sadly we are approaching Xmas and he is not fully match fit.
Our other setback was Stones getting hurt. Our best football is when we play out at speed from the back. Systems require players and these two are vital to Everton's future. Once both are fit, I can see us climb the table.
The biggest problem for me, and this has been a gripe for years, is Howard. He is shite. Any tit can stop shots and dive around. Top keepers have minds like mathematicians – it's all about positional space. He is a fucking clueless wannabe hipster tit who assists in throwing away tight games.
Matt Traynor
73
Posted 04/12/2014 at 04:00:05
Peter #71, I think the cheap alcohol in Indonesia is getting to you... (Ok I'm in a dry country so possibly a bit jealous).
But I'm keen to know, what signs have you seen that Martinez has lost the dressing room? I concur with those who say we just don't have the players to play his system, so am bemused as to why he persists. I can't remember another season (well maybe last season) where so many goals against have been down to individual errors.
Jamie Crowley
74
Posted 04/12/2014 at 04:14:15
That was painful to watch.
We simply have to have CBs who can play the ball out from the back. Distin is a good defender who clearly isn't comfortable on a ball. Jags pretty much the same thing. We miss Stones terribly.
And... does Seamus take on defenders any longer? How many times did he pass the ball backwards the last two games?
I wonder if we shouldn't play, when healthy, Stones and Besic in the back. Both are very comfortable on the ball and could clearly do better playing it out from the back.
I know Jags won't be dropped so it's a non-issue. But if we actually had two playmakers in the center of defense I think the whole "machine" would run much better.
Eric Myles
75
Posted 04/12/2014 at 04:51:50
Saying how bad we were only detracts from the fact that the opposition deliberately didn't allow us to play our preferred game.
Their manager out-thought ours and their players out-fought ours. They came with a delibeate game plan and we had no answer to it, no Plan B.
That's where the problem lies.
Eric Myles
76
Posted 04/12/2014 at 05:02:44
Nick #10 the manager has to big the lad up so we can get more money for him in the summer (or maybe the end of the month??)
Peter Barry
77
Posted 04/12/2014 at 06:16:40
Matt Traynor No 73 you are wrong on two counts - first, alcohol is not cheap here in Indonesia... in fact, in this Muslim country, it is extremely highly taxed. Second, I said MAYBE he has lost the dressing room, as many others have hinted, and that the lackluster lack of energy displays we have been seeing all season could be the symptom of this.
Carl Taylor
79
Posted 04/12/2014 at 06:16:24
Yes, we were utter shite, slow and predictable. However, a couple have slated Coleman on here.
Can we not see that he can't bomb forward without some support/cover. We had no right-sided midfielder/forward! Barkley wanders round believing his hype and Osman plays like he is Gerrard or Lampard and deserves his place based on a great history for the club!
McGeady came on and played right-ish and Coleman got forward more, but lacked confidence given the previous 80 minutes of shite he had seen going on around him at the back.
Finally, A NEW GOALKEEPER PLEASE!! Howard was hailed as a hero in the World Cup, why? Every save he made he should have made. Never seen him pull off a Southall-esq, "How on earth did that not go in?" save, just saves any decent keeper should make.
I fear for us on Saturday.
Ian Tunstead
80
Posted 04/12/2014 at 06:34:12
Jamie 74, you don't seem to appreciate how it works when it comes to football management and finding what works best for the team.
It is very rare and difficult or expensive to find a complete footballer or a complete defender for that matter. We were very very lucky to find John Stones.
The key is to play players to their strengths. But Martinez persists to insist that his methods and pride come before the players and the club.
Let Distin and Jags do what they do best: defend and hoof it to Lukaku if necessary, catch the opposition out and get it into their box at the first possible opportunity. Lukaku has shown he has the attributes and ability to be effective in that style of play.
Andy Walker
81
Posted 04/12/2014 at 07:01:11
You just have to segment the squad to see the major structural problem:
Past their best and in decline:
Howard
Hibbert
Jagielka
Distin
Baines (may get form back, who knows?)
Pienaar
Barry
Osman
Eto'o
Kone
Gibson
Great prospects but not complete players yet:
Barkley
Lukaku
Stones
Garbutt
Besic
Oviedo
Not top EPL players:
McGeady
Atsu
Robles
Alcaraz
Top EPL players that could get in a top 4 squad:
McCarthy
Naismith
Coleman
Mirallas
Baines (possibly if he can get back to form)
Do the same sort of exercise with other teams and you will get a completely different result for the better teams above us. Matinez's is obviously responsible for creating such a poor squad.
Ian Bennett
82
Posted 04/12/2014 at 07:27:14
It is no surprise when we have to score 2 or 3 to win every game. Too many individual errors, exposed by a team that can't defend together. The goals conceded always look cheap, and not well earnt.
James Morgan
83
Posted 04/12/2014 at 07:30:13
The scary thing is we are only two points above Villa, meaning we are the worst of the potential top half teams or the best of the relegation battling teams.
Peter Jansson
84
Posted 04/12/2014 at 07:48:38
#79 Carl – that is exactly what I am saying. Read my post #69. We started with only one wing player, Coleman had no support at all which resulted in him rather being the right wing instead of the right back, resulting in a bad Balance on the right side. This is not Coleman's fault but Martinez fault.
#72 Mark – I have not been drinking at all man as I have 3 small kids. You can at least come with some solid arguments why last night's game what shite instead of accusing me of being a drinker. I think the main problems lie exactly in my explanation in #69.

John Gee
85
Posted 04/12/2014 at 08:35:15
Barkley should get nowhere near the team until he can win the ball or at least not duck out of every 50-50. 3 good runs in a game that results in nothing doesn't make a 㿞m player. He needs to drop into the Under-21s and toughen up.
The tactics aren't working and it's making some good senior players look poor. That's exactly how you lose a changing room.
I can understand how injuries and European games can take an effect but if Roberto can't figure that out or the best way to play to the player's strengths then he needs to ask himself if he's good enough to manage at this level.
Football 101. Pass and move not pass and pass. If in doubt hit it out. Don't pass across tour own 18 yard line. If a striker is Challenging the keeper, the keeper should take all 3 balls. Not EVERY fucking corner needs a flick on at the near post.
Geoff Evans
86
Posted 04/12/2014 at 08:33:08
The honeymoon's well and truly over. The manager's not only been sussed by other managers but also by supporters.
Craig Walker
87
Posted 04/12/2014 at 08:34:11
I'd cash in on Ross. We have too many midfielders who don't get goals or offer anything going forward. It's not good enough to have one good run in a game and then constantly give the ball away.
Brian Harrison
88
Posted 04/12/2014 at 09:29:41
I think the reaction from the fans at the end of the game said everything about how frustrated they are with RMs tactics. I know Lyndon often refers to him as the Catalan, I think from now on I will refer to him as the Charlatan. As the saying goes "you can kid some of the people some of the time, but you cant kid all the people all of the time".
He tells us how incredible or phenomenal each player is so logic would say well if they are all you say then the defeats must be down to you. Which most are, who would have thought that the opening game of the season against Leicester would be the template for the rest of the season in not being able to hold onto a lead.
Now he says we lacked energy in the second half, is that a way of blaming the Europa league as the problem. Because I might remind him that Chelsea have played 7 of their players in all their games this season including all the Champions league games, and it doesnt seem to have effected their overall fitness.
Funny how with 10 minutes left Jagielka stopped passing sideways and started carrying the ball into the oppositions half, so it just demonstrates that there is another way of playing the ball out of defence.
Max Wilson
89
Posted 04/12/2014 at 09:56:46
Someone should be a Distin memory. As for our tactics, they are simply not working. McCarthy is missed badly. City are waiting to catch up with Chelsea at our expense.
Steve Jenkins
90
Posted 04/12/2014 at 09:47:18
Really disappointing.
I think Roberto will get it right but think its going to be a mixed bag of a season.
Subs were just a headshake, Besic another quality display, Kev our most dangerous player going forward.
If the players are tired then use more players in the squad, Osman not a 90 minute player - gave the ball away for the goal.
Distin - I can't remember him getting done like that before.
Attacking said it over & over we really lack pace on the flanks and subtle creativity. We needed another striker to come on as well why no Eto?
Even if Kone is fit we need another striker option to come off the bench in games like this either to replace or support Lukaku. Buy or bring one through the youth.
If players are tired - use the squad and youth players, nobody is going to tell me Garbutt would not have done a good job tonight.
Pienaar - I just don't see what he brings anymore, never the quickest but he's looks to have lost half a yard again.
A lot of people are big Barry fans, for me he's a good player but nowhere near as integral as many seem to believe as per our last two performances.
McCarthy for me is far more integral to us and our shape, we've missed him and his energy and breaking up the play badly.
Peter Roberts
91
Posted 04/12/2014 at 09:45:46
Martinez needs to knjow that his patronising sound bites post match just aren't doing him any favours. Sin Miedo - more like Sin El Tempo.
I don't care whether the players had done a half marathon in training the day before, that second half was pathetic.
Why not mix it up? Its all very well being a posession team, but if the opponents believe they know how to stop us then let them press high and then hit them long. If they get stung then they will think twice about over committing men forward. Maybe Mr Martinez like Mr Rodgers over the park has got a little bit carried away with himself.
Joe Bibb
92
Posted 04/12/2014 at 09:57:39
Distin. Howard, Jags all are getting stick. They are all Moyes boys it is time for Roberto to build his own team.
We need a bit more passion and pace, more aggressive defenders. Roberto will have money to spend in January, I hope he spends it well. I remember people moaning about 㾺 for McCarthy, now they are praising him because Roberto spent well.
It's time to give Roberto 100% support, Moyes got 11 years, Roberto has not really had that support in 11 months.
Trust in Roberto, let him spend more money and buy his own team.
James McPherson
93
Posted 04/12/2014 at 10:21:14
Peter (91) - having a mural created and dedicated to you after 1 season at the helm (doing very well...but no trophy!) kind of sets the tome for complacency don't you think? Martinez and our subsequent fortunes took a wrong turn late May/early June 2014 with Martinez's sojourn to Brazil. Yes, in what's now a global game managers do need to keep themselves up to speed with players, tactics, coaching techniques etc...but he spent too long out there and clearly took his eye of the main priority...EFC. That's even before examining what actually came from that experience...not forgetting of course that he got himself discredited and banned very early doors. Our pre-season was an absolute shambles..and we have failed to get going all season...
You can't erase the mural...but you can pull your finger out and get your act together .He better get weaving soon
Allan Barratt
94
Posted 04/12/2014 at 10:38:54
"Top EPL players that could get in a top 4 squad:
McCarthy
Naismith
Coleman
Mirallas
Baines (possibly if he can get back to form)"
Naismith......really!!!!! He takes 4 touches to control a ball, he runs about a lot and huffs and puffs but a top 4 player!!! I think not!!
James Hughes
95
Posted 04/12/2014 at 10:17:27
Matt #72 Peter made some valid points.
I am still lost for words after that performance and worry what the rest of the season holds for us.
Having watched the game from the comfort of my own home (with a beer in case you're interested Matt) my sympathies are with the Goodison Faithful who paid good money to watch that abject performance.
Andrew Hawes
96
Posted 04/12/2014 at 10:32:30
Brendan Rodgers is the bookies joint favourite to be sacked next?? Yet we are 2 points worse off?? Says it all.
Last season we played with David Moyes's tactics and aggression still fresh in players minds. We have watched and listened to this rubbish now since pre-season when we were piss poor... Phenomenal!! Extraordinary!! Exceptional!! If I hear these fucking words anymore!!
It's plain to see Martinez is the type of manager to put an arm around a player when 80% of our squad needs a kick up the backside.
Absolutely gutting to watch Liverpool, Man Utd and Arsenal having so-called terrible seasons and somehow it's acceptable that we can't even keep pace with them.

Dan McKie
97
Posted 04/12/2014 at 10:43:22
I'm beginning to despise Martinez, his crap philosophy, and his positive comments on what was utter shite. He hasn't got a clue on how to turn things around that aren't going in our favour.
Once again, the substitutions were baffling. Maybe he thought we had too much pace on the pitch with Mirallas and Besic? Same old boring stuff week-in & week-out, but worse that that, we show no passion, no urgency, no signs of any will to win the game. Lukaku by the end looked like the only player who wanted it, but that meant dropping back deeper and deeper to get the ball and try and make something happen.
Martinez won't change a thing though, why should he? This way of playing is the only way, the beautiful way, the Spanish way. For me, he signed for Wigan over 20 years ago when they were in the bottom division, never played at international level, and is about as Spanish as I am. He sends a team out and win, lose or draw it is just a shrug of the shoulders followed by a weak excuse.
He has to go.
Ant Summers
98
Posted 04/12/2014 at 11:10:14
Fans are not getting value for money, thats for sure. Someone needs to start throwing hairdryers around in that dressing room... they are too well looked after.
I am really thinking that we will struggle to hit 50 points this season. If that comes with no cups, or at least a final, he will know what it's like to have a home crowd on his case.
He also has been too protected in his life; let's see what he is like when the shit hits the fan.
I'm 99% in hope of getting anything at Man City, 1% confident. Just what you need on a Saturday night — a rampant Man City. :(
James McPherson
99
Posted 04/12/2014 at 11:12:20
I personally don't care too much as to what goes on with our neighbours across the park... they in many ways are in worse shape than us. However, I am interested to see what happens to their results now there's been some heat under Brenda's chair.
Perhaps that's what Martinez needs – a jolt, a wake-up call, a clear statement of dissatisfaction with the slump (and it is that) in our fortunes. I was there last night... booing off the team is one of the few things a paying fan can do. It does no good... but understandable frustration.
You just hope that it's still ringing in Martinez's ears and this arrogance of looking at things in just one way (his way) gives way to pragmatism and we play a number of different ways to both our strengths and match conditions. In some ways, he is as obstinate as Moyes.
Ernie Baywood
100
Posted 04/12/2014 at 11:40:45
Allan (#94). Agreed. He's not at that level. What I will say for him is that he is the sort of player we could do with right now. Clever runs, loads of energy. Kind of like when Strike-it-lucky got a run and changed our fortunes. Not a great player but the right attributes for our style of football.
I think some of the criticism on here is a bit over the top. We're missing some key players. Stones is the guy who breaks through the opposition press – we know Distin can't do that. McCarthy gives that energy in midfield that we're missing. Kev is our key man but currently can't run out a game. Naismith is our second option up top to change things.
Yes, we would like an unbelievable squad with talent three deep in every position but that's not where we're at right now. The squad has definitely improved though. Improvement is about all you can ask for. Everyone will get a bad dose of injuries at some point. Hopefully this is as bad as it gets for us. COYB
Steve Jenkins
101
Posted 04/12/2014 at 12:06:39
James (#99),
I have to agree with you re "as obstinate as Moyes" in some ways. I say this as fan of his that backs him to get it right long-term but some things as just baffling.
His decision to take off two of the better players in Besic & Kev that bring pace & the most energy, is just completely unfathomable. Then go on to say after the match that we lacked energy.
One other example of his obstinance is (just like Moyes) he seems to have favourites – Osman being one of them. Most are older players who are past their sell-by date that should be moved on or used infrequently as bit-part players.
The lack of trust to some younger players like Garbutt & Browning who look more than ready for the step up – and using players who are not as good but have experience is something that is further frustrating.
That said, I back him to get things right (and I said this at the start of this season) but I think it's going to take another two seasons to build a squad where we want to be.
Tony J Williams
102
Posted 04/12/2014 at 12:15:48
Disappointing is the word I would use. I was fuming at the end of the game, but didn't boo as we aren't that bad yet.
That Mirallas pricky shot, Pienaar's pathetic through pass to Baines at the end and Barkley's awful corner summed this whole season up. Doing the simply things badly.
Their scoring attack came from Jags trying an eye-of-the-needle pass when Besic was in acres of space to the right of him and Distin was already struggling playing two games in a week, so 3 in 7 days was just too much for him. He very rarely dives in or is done for pace but he was raped last night by another player who hasn't scored in over a year!!
Besic was our best player and Ossie was blowing for tugs, so what does Bobby do? McGeady has had three poor games on the spin, why bring him on?
Fucking bored of it all now.
Clive Lewis
103
Posted 04/12/2014 at 13:06:24
Well the warning signs were evident: Martinez relegated Wigan!
Matt Thomas
104
Posted 04/12/2014 at 13:07:53
18 points from a possible 42 says it all really!
Tony J Williams
105
Posted 04/12/2014 at 13:09:45
Clive, we won't get relegated, but if we keep this up we will be nowhere near the European places either
Max Murphy
106
Posted 04/12/2014 at 12:32:49
I believe Martinez cannot turn the situation around. For him to change the way we play, boring negative, sideways/backwards passing, etc., would be admitting failure in his own tactics.
He spouts this nonsense positivity after every game, even when we deliver dire performances. He will never say it as it really is; he will never berate players. He believes this approach strengthens his squad and gives them more confidence.
I think it's doing the opposite. We've been sussed by most Premier League teams, and even poor teams can arrive at Goodison confident that they will get at least a point. I believe, before too long, we're in grave danger of slipping into the relegation zone.
The Everton Board should seriously start looking for a new manager.
Anthony Hughes
107
Posted 04/12/2014 at 13:10:08
Not enough goals or threat from midfield for me this season. Correct me if I'm wrong but I think Jagielka has more goals than McCarthy, Besic, Barry and Barkley put together. For a team chasing top four, that isn't good enough.
Andrew Hawes
108
Posted 04/12/2014 at 13:20:46
Martinez's tactics and decision-making should come under more scrutiny because of one simple fact. He came to this club having been relegated with the very same style and approach.
During David Moyes's reign he always had a prominent assistant who could be seen imparting advice during games, He also seemed to be at every other game watching other sides players and tactics. Is Roberto making a mistake ignoring these practices or is he a little more arrogant than we think??
One thing I know is by Christmas our hopes of a top four could be over because we lack motivation, imagination and in my opinion that extra level of fitness Premier League sides need. That is the responsibility of one man.

Norman Merrill
110
Posted 04/12/2014 at 15:33:05
With the visit to the Etihad looming, and the performance of our last two games, it will take a major miracle for these set of players to produce a performance to prevent a beating that looks certain.
We can only dream? Players need to show some pride, & hopefully we might get a performance worthy of the shirt.
Otherwise it's going to be a long hard winter.
Peter Z Jones
111
Posted 04/12/2014 at 17:24:27
By Everton law, we will win away or play an entertaining draw with Man City. When we are expected to win, we seemingly never do. When we're given zero chance, we play our asses off. Only thing I can hope for at this point.
Sean Kelly
112
Posted 04/12/2014 at 18:12:46
Has anybody calmed down yet after last night's fiasco? If so, can you let me know how you done because I'm as mad as hell still.
Colin Glassar
113
Posted 04/12/2014 at 18:22:15
I'm not angry, Sean, I'm sad. I've watched Everton for too long to get angry anymore.
I'm sad as this is a team with potential but with an attitude problem. It seems to me that they expect other teams to stand back and admire them but, when that doesn't happen, they seem to fold and try and get through the game with minimum effort.
Sad, very sad.
Glen Garrett
114
Posted 04/12/2014 at 18:31:08
I just got home from work. Been bugging me all day long asking myself what the bloody hell is going wrong at Everton Football Club. Personally, I think we can now start forgetting about getting into the top 5. I think come Saturday evening Everton fans will give up hope of any qualification into Europe for next season with regard to the Premier League once Manchester City wipe the floor with them.
However, Everton can still win the Europa League trophy this season. DIG DEEP and they can get to the final and win it. With the team Everton have, they are capable. Playing better in Europe I must say.
We need to start playing every game like it's a cup final. I think it's a mid-table finish this season for them. Who knows what will happen in Europe. The knock out stage is home and away fixtures. Personally, I think that Everton have it in them to go all the way in the Europa League but they have to believe in themselves.
Peter Jansson
115
Posted 04/12/2014 at 17:40:52
Is it not strange that the midfield does not score? It is a result of the defensive pass around Moyes style tactics that Martinez uses.
Everton play too few passes in the middle to make enough chances to make more goals. The reason for that is that the midfield is too defensive minded!
Besic should have credit for trying yesterday. When playing like this all midfielders will struggle scoring. If we had one more offensive midfielder on the field together with Barkley in the middle, Barkley would score more goals.
It is meaningless giving Barkley shit because he does not score. He is suffering (with the rest of the team) because of bad Martinez strategy.
Phillip Nuttall
116
Posted 04/12/2014 at 18:45:48
The injuries to Stones, McCarthey & Naismith are like a gaping hole in our side at the moment. It's virtually a spine of consistency.
I hate to say it but Pienarr and Distin aren't the same players anymore & they're not getting any younger.
I'd like to see all the young/fringe/returning from injury lads play Krasnodar – Robles, Browning, Garbutt, Oviedo, Kone etc.

Gavin Johnson
117
Posted 04/12/2014 at 19:21:25
I didn't comment last night because I was raging and after a night's sleep I'm still pissed off with last night's performance. I've been one of Martinez's biggest supporters and I still think we've got the right man at the helm. The fixture list has been excessive of late and we seem to have someone breaking down with injuries every other week.
That being said, there's things that can be done to counter the above. The talk last week that we won't need defensive recruits in the January window is absolute tosh. Distin has lost a yard of pace and is finished! If he doesn't give Browning a chance now, then when will be the right time to integrate him? Distin will probably still be playing in the dead rubber Kasnodar fixture.
Martinez, like OFM, seems to have his favourites – that's the only conclusion I can come too when there is so little squad rotation from an already stretched squad. Garbutt and Hibbert should have been playing last night.
I'd also have liked to have seen McAleny making some contribution by now. There's no point having an 22-year-old around if he's not deemed good enough to play. Sell him for a nominal fee with a big sell-on fee, like Forshaw.
I agree with many on here that we need another goalkeeper (Cech, Marshall or even Ruddy would do for me) but I think the immediate priority is to replace Distin and Pienaar. Stones should be back by then but we shouldn't put so much pressure on young shoulders.
I've writen this season off now in terms of the league but I still think we can win a cup... if we rotate the squad a little more and make a couple of astute January signings.
Paul Hewitt
118
Posted 04/12/2014 at 20:24:41
Calm down, everyone, it's not even Christmas yet. Plenty of points to play for.
Peter Z Jones
119
Posted 04/12/2014 at 21:54:39
Colin @113. The team does give off this pretentious kind of vibe now, doesn't it? I understand we are a possession-based team. That's all well and good. But the reason the great possession teams break opponents down is because they move the ball around quickly. The opposition chases and tires. Holes open up. They get exploited. We win. Okay great.
But our problem is that our players think kicking it about at a leisurely pace (to put it mildly) is enough to strike fear in our opposition, like you say. When they don't shy away from the challenge because they're under no real pressure, we seem to get flustered, and sit around waiting for the game to be over.
Plus it doesn't help when your goalkeeper is off striking up sponsorship deals and writing memoirs rather than protecting his near post.
John Malone
120
Posted 04/12/2014 at 22:45:31
Firstly, last night was another sickener, where we have wasted a lead it's becoming a bad habit, almost to the point where I don't want us to score first.
Secondly, and I've said it last year, for me the team echoes the manager's character: calm, over technical and far too nice. There is no will to win ugly, no urgency or passion/fire in our play – almost to the point of boredom.
Keeping it on the deck, quality passing and moving, is what we want to see but it needs to be done so much quicker to hurt teams and to entertain the fans and I just don't think we have the players to do it, i.e. Jagielka, Distin, Barry, McCarthy, Lukaku, all good footballers in there own right but for me not nimble or skillful enough to play the slick passing game.
Thirdly, the formation and system is shite and in my eyes one of the main reasons we are so slow in attack. I can't understand why we have to have two holding midfielders. I can see it is to allow the fullbacks to play higher up but when they are not high up it means seven of our players are in our own half and there are not enough options going forward.
The time it takes to get to the opposition's box means there are too many bodies to play through and we haven't enough of the creativity or craft required to do it à la Messi style.
Solution: play a 4-1-2-3, the Christmas Tree or the Diamond – forget the centre halves playing square over and over, they go to the full back, the centre mid or up the pitch.
The goalie is a terrible passer and should only hit the front men not the fullbacks. If one fullback attacks the other drops and the defence push across one, the opposite side winger can attack the back stick and one of the centre mids can drop to cover. The huge centre forwards size and strength should be used to play into and build attacks.
We still haven't replaced Arteta, we need a quality ball playing centre mid to move the ball with speed. Yacini Brahimi looks class I only wish we'd have got him from Grenada before he went to Porto, hopefully we'll get him or someone of his ilk in January or the summer windows.
Will Firstbrook
122
Posted 05/12/2014 at 13:24:18
Agreed with all noting Barkley's inclusion in the starting 11 is creating real problems for us, especially when he is positioned on the right as he never plays out there once the whistle is blown. He offers no support to the right back and really unbalances the team. So the only option is to play him in the attacking centre mid position, however, he is really struggling at the moment.
As has been the case now for some time now, he shows flashes of brilliance and then goes missing for long stretches. You never want to discourage his creativity but when everyone playing behind him has next to zero confidence to adequately deal with the pressure of him giving the ball away in a bad position on the pitch, it presents a real problem for the gaffer.
If he were scoring goals one could justify his continued inclusion – but he's not. Once Naismith is fit, Barkley needs to be relegated to the subs bench. It completely defies logic as he needs the playing time but the harsh reality is he's more of a liability to us than a weapon at this point in time.
---
Add Your Comments
In order to post a comment, you need to be logged in as a registered user of the site.
Or Sign up as a ToffeeWeb Member — it's free, takes just a few minutes and will allow you to post your comments on articles and Talking Points submissions across the site.
© ToffeeWeb