Everton Struggle With the Burden of Expectation
By Lyndon Lloyd

03/12/2014

Comments (31)
jump

Everton 1 - 1 Hull City
Roberto Martinez has witnessed Goodison Park at its most disaffected before. He was in the opposition dugout as his Wigan Athletic team took David Moyes's Everton to the cleaners in an FA Cup quarter final, the nadir of the Scot's last season in charge of the Blues, and saw first-hand how Evertonians react to a performance that is unacceptably below par.
The boos that cascaded from the stands from a good many fans at the final whistle of this 1-1 draw with Hull City was unchartered territory for him as Everton manager, an accumulation of frustrations at his team's home performances this season – not to mention the cession of another lead at Tottenham at the weekend – and a consequence of the expectations he himself has raised since his symbolic reopening of the School of Science.
A goal to the good at half time despite a slow start, the Catalan's side were in the driving seat and heading for what looked like a routine victory over opponents who had lost four straight and dropped into the relegation zone following last night's results. At the end of arguably the most fruitless half of football under his stewardship so far, however, the Blues had dropped another two important points and lost the opportunity to regain ground on the teams they believed they would be challenging for a spot in the top four this season.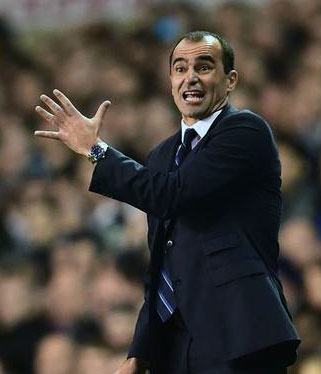 Martinez had made just one change to the team that started at White Hart Lane three days ago, Leon Osman replacing Samuel Eto'o, which meant that many of the players were on the field for the third time in six days. Once again, though, Everton's failings didn't appear to be related to fatigue, at least going forward – a case might be made for tired legs or mind affecting Sylvain Distin given the manner in which Sone Aluko breezed past his lazy tackle on his way to scoring Hull's equaliser. At issue was the players' singular inability to find any way through a stubborn, well-organised Tigers team who carried out manager Steve Bruce's tactics to a tee, strangling the life out of Martinez's much-vaunted passing game and marginalising the effectiveness of his fullbacks.
In the face of Hull's almost relentless pressing from the front and impressive shackling of Ross Barkley, the Blues resorted painfully and in vain to Tim Howard kicking the ball long hoping for something to break up front and the boos from some quarters during a painful 45 minutes and then at the final whistle were enough to make Goodison's collective feelings known.
Given the points the Blues had already dropped prior to today, results from the previous evening demonstrating that some of our peers have started to get their acts together, and a daunting trip to the Etihad looming on Saturday, Evertonians came into this game knowing that nothing short of three points would do. Barkley's apparent return to his preferred central role, coupled with Gareth Barry's continuation in defensive midfield and the on-form Belgian pairing of Kevin Mirallas and Romelu Lukaku in the forward areas merely bolstered that expectation. This was a strong Everton line-up that should have been too much for Hull.
At times in the first half, once they had warmed up a bit and got into their groove a little after a dull first quarter of an hour, they looked like they would be. Lukaku rolled his marker and had the first shot in anger for Everton saved by Alan McGregor and a nice passing interchange between Barkley, Barry and the Belgian striker put Lukaku in but his touch let him down and his attempt to stab the loose ball him with his weaker foot was heading wide until it hit Liam Rosenior's arm.
Mirallas then fired tamely at the 'keeper with a direct free kick after he'd drawn a foul from Michael Dawson on the edge of the box before scuffing an effort from the angle after being picked out by Barry's astute pass, Osman's flick in front of goal not enough to carry it past McGregor on his goal line.
The breakthrough did come 11 minutes before the interval, though, and, somewhat ironically, it came from a more direct route than Everton are known for. Lukaku flicked a long ball forward on for Mirallas who seemed to have run out of room at the byline before he slipped inside Dawson and laid the ball back invitingly for Lukaku near the penalty spot. The striker met the pass with an emphatic shot that flew in and the Toffees were seemingly on their way.
Muhamed Besic, growing in stature as a player with every game, curled a decent effort just wide and Phil Jagielka miscued a difficult headed chance from a corner as Martinez's men went into the break in the ascendancy.
If confirmation of the fact that Everton are a poor team in the second half were needed – statistics revealed this week that the Blues would be second in the table behind Chelsea if matches finished at half time – it would come as the remainder of the contest unfolded. The Blues again started slugglishly and there was an air of complacency about them, as evidenced perhaps in Mirallas's audacious lobbed attempt in the 49th minute which, as impressive as it was, was in hindsight misguided. Given the acres of space in front of him as he collected Lukaku's pass, it was, arguably, the best chance Everton would have after half time but his effort off the outside of his right foot sailed onto the roof of the net.
The warning signs for Everton had come just beforehand, though. First Leighton Baines miscued badly by the touchline but the resulting shot was blocked; then Barry, seemingly heeding nothing from his costly error on Sunday, was caught trying to shepherd the ball out for a goal kick and robbed by David Meyler. Only Coleman getting in ahead of Diame in front of goal preserved the Blues' lead then but it was gone 10 minutes later.
Aluko, who had come on as a substitute for the injured Diame six minutes earlier, collected the ball just outside the Everton box, easily took on and beat Distin before drilling one of those low shots from the angle that Howard never seems to save. 1-1 and the feelings of dread that at least this was now going to take some unspectacular graft started to set in.
It almost got worse immediately when Nikica Jelavic, all familiar hard work but little end product up until that point, dropped a header a foot the wrong side of the post after more good by Aluko against Distin but Everton managed to steady the ship.
What followed, though, was an increasingly desperate exercise in frustration. Unfortunately, the manager would remove two of his best players on the night in the form of Mirallas (for fitness reasons) in favour of Steven Pienaar and Besic (less obviously), pushing the tiring Osman back a little and introducing Aiden McGeady, who briefly offered a little more purpose and pace but quickly fizzled out. Rarely has the Goodison Park pitch felt so small because Hull had successfully closed down all the routes out from the back and thrown a blanket over Martinez's Plan A. The players' Plan B – lump it forward aimlessly – was as uninspired an alternative to their inability to pass their way through the opposition as could be imagined.
With at least two players collapsing around Barkley every time he got the ball, Pienaar giving it away almost every time he was given it, and Seamus Coleman's control deserting him, any attempt to get any rhythm or forward momentum going was lost. It was strange, too, that despite his ineffective display at Spurs, Eto'o was left sitting on the bench, particularly given his impact against West Ham. A handful of dead-ball situations offered a desperate way out if the players could get the ball past the first man but Baines and Barkley both failed in key situations, none more so when the 20-year-old wasted the last chance of the game to sling the ball into the box from an injury-time corner.
Echoing the draw against Swansea and some of the similar games from last season, this was an encapsulation of Martinez's lingering challenge at Everton – how to break down entrenched, well-drilled opposition who are prepared to put men behind the ball and stifle his preferred way of playing. In that sense, with Everton seemingly incapable of mixing it up or picking their way through Hull, Bruce deserves enormous credit for doing his homework and disarming the Catalan's side for much of the game.
Whether Martinez is able to formulate an alternative plan for scenarios such as the one that played out this evening remains to be seen but his aim of achieving Champions League football through the League looks a long way off right now. He still has time this season and the gloom that surrounded his team's fans as they trooped off into the frigid Merseyside night is nothing that an unexpected win at Manchester City wouldn't cure, but Everton need a run of results now – and quickly.

Follow @Everton1an
---
Reader Comments (31)
Note: the following content is not moderated or vetted by the site owners at the time of submission. Comments are the responsibility of the poster. Disclaimer
Christopher Timmins
1
Posted 04/12/2014 at 06:50:26
After throwing away five points from winning positions over the past 4 days, it's out of the question at this stage that we will make the top 4. As I look at the table, Chelsea and Man City are the top two and Man Utd and Arsenal are likely to take spots 3 and 4.
I have no real confidence that by the end of the season that any of Spurs, Liverpool, Swansea, West Ham or Southampton will be overtaken. After Christmas, the FA Cup and the last 32 of the Europa League will be given greater priority.
Distin and Howard have given great service to the club, they owe the club nothing at this stage. However, the time is right for the manager to start to plan for their departure. In fairness he was already starting the process with Stones coming in for Distin.
David Flanagan
2
Posted 04/12/2014 at 07:54:19
Tactics and the lack of tempo are what is killing us... the players are scared to pass the ball forward.
In the last 20 minutes, we did Hull's job for them by wasting our own time. The manager has to take the blame for this and the bizarre substitutions.
Dick Fearon
3
Posted 04/12/2014 at 08:47:24
Lyndon, your report plus those of Michael and Paul hit a lot of nails squarely on the head. My easy chair reaction and that of the Goodison faithful reinforces the views stated in those articles.
Our manager will not change his style which means we are condemned to suffer more frustrating brain-dead ticka tacka between our centre-backs and keeper. If Roberto would give a proper account of our games, it would go a long way toward restoring his respect from our supporters.
My biggest worry is that he really believes what he says. If that is the case, lord help us.
For him to state that we had a 'fantastic' first half hides the truth that our only goal resulted from a rapid attack that did not involve a multitude of short passing.
Lukaku is clearly unsuited to our slow moving close passing style and would surely benefit by having striking partner. If that was 'tried', it would also encourage our small army of ball passers to be more direct.
James Morgan
4
Posted 04/12/2014 at 09:03:15
I'm going to miss the Man City game on Saturday due to work's Xmas do, normally I would be gutted but I'm not actually arsed this time. We will put on another gutless, tepid display and get battered.
It'll be embarrassing to see where we are come by 5pm... And I know we kick off at 5:30pm, but we will leave that game with the same points we went in to it with.
Tony Abrahams
5
Posted 04/12/2014 at 09:21:26
I wouldn't give up on us that easily, James, but I do agree that what we are watching at the minute is very turgid and uninspiring.
Looks like Roberto is definitely the gaffer though, because I couldn't believe any of the players were not prepared to go against orders just a little bit, in those final 10 minutes last night.
Mike Berry
6
Posted 04/12/2014 at 10:32:21
Aside from our inept display, I thought Besic did well. But I thought I was watching an episode of Holtby City. Hull went down everytime an Everton player breathed out.
Milos Milenkovic
7
Posted 04/12/2014 at 10:52:55
I still don't understand why RM didn't brought Eto'o in for the last 20, 15, 10, 5 minutes???
We needed a goal, we had only one striker on the pitch, we were harmless and we had a big player on the bench...
Totally baffling.
Lee Gorre
8
Posted 04/12/2014 at 11:10:32
Another staggeringly ridiculous post match analysis from the manager. "Fantastic" in the first half! Was he at a different game? We were truly awful until the 30th minute, when finally some movement started in the final third and after the goal we played well until half time. That was it. 15 mins of good – not 'fantastic' by any means – play.
And complaining about deserving more because Hull only had one shot on goal... How many shots did we have second half? How many chances did we create? I can't recall anything of any note.
He continually goes on in every post-match analysis about needing the second goal; maybe the penny will drop soon that he needs to set the team up better to get that second goal. Too often we go ahead and then get back to the crab football with no attacking intent.
As for "if Besic had scored, if Mirallas had scored", well if my auntie was my uncle.....
There are serious question marks over Martinez at the moment. As others have said, there is no Plan B, but an obstinate belief in one style of play. Howard dawdling on the ball in the second half was absolutely scandalous, but clearly instructed from the manager.
Mike Allison
9
Posted 04/12/2014 at 11:18:08
Martinez's use of substitutions have been completely baffling all season, Milos. I'd be baffled if he started getting it right. I think he's the only manager who doesn't use all three substitutes. This despite us having the deepest squad we've ever had.
Andrew Ellams
10
Posted 04/12/2014 at 11:32:03
Last season, us and Chelsea had the most goals from substitutes in the league, the manager made a lot of game-changing decisions. This season, he seems to have lost it completely.
I appreciate injuries at key times have cost him in regards to some continuity but he really needs to start thinking outside the box now if he is going to turn the current slide around. He needs some older heads on the bench.
Franny Porter
11
Posted 04/12/2014 at 11:55:02
My observations:
1: Time to drop Howard for Robles, I don't care how this lad has looked to date, he needs a good run and a chance to prove himself.
2: If Naismith is out, then Eto'o needs to start behind Lukaku and help him out.
3: Barkley is not performing anywhere near enough to be starting games.
4: Distin needs to go, past it. Give one of the kids a run if need be.
5: Square pegs in round holes. Playing Osman or Barkley out wide is a waste of a shirt and detracts from our full backs' attacking capabilities.
6: If Roberto continues to use words like "fantastic" after one-all fucking draws against Hull City (Tigers?) then his rapidly disappearing good will is going to run out quicker than he thinks.
7: Two defensive midfielders EVERY game is completely unnecessary, especially when one of them is half-fit/over the hill.
8: Saturday's game will not be pleasant.
Brent Stephens
13
Posted 04/12/2014 at 12:44:48
He does have Plan Bs, in terms of formation. There was a Plan B last night, when he took Besic off. Not because Besic was injured and playing badly (best man on our side, for me) but because he switched to 3 at the back (including Barry), with Osman in front of that 3, and trying to push the FBs up the pitch. But for some reason that didn't work.
And I think it was because it was still Plan A in terms of the pass / possession tactics without pace. We can, and have, played some cracking football at pace; we CAN do it; so let's do it; I applauded the few times last night when we did play that way and lost the ball.
The irony is that we have scored a number of goals this season through swift, accurate balls from our final third up to our front lads – and did it again last night. Mix it more, pass / possession, AND long, high balls over the top to keep their backline guessing and stop them from pressing forward too far... AND swift, accurate balls through the channels. AND, AND.
James Stewart
14
Posted 04/12/2014 at 14:06:33
Problem is, last season we were an unknown quantity. This season, everyone knows exactly how to play against us. Just press high up the pitch and we will give you at least a couple of goals from mistakes as the players we have at the back aren't great on the ball (Stones aside).
Bill Gall
15
Posted 04/12/2014 at 13:46:09
For a start, let's start by giving some praise to the opposition's managers who, before they play Everton, study their strengths and set their team up to stop them. Also, at half-time, if it is not working, change things around.
Mr Martinez is going to have to do some serious thinking about how he wants the team to play as the last two games have shown that by pushing up and not allowing our full backs room to advance practically stop our attacks before they start.
Martinez it seems is set in his way the style of football he wants the team to play and that is okay as long as you can change the system to suit the style. Watching the last number of games Mr Martinez tries to play the style but is unable to change the system even if it means going from 4-3-3 to 4-2-3-1 or what ever other permutation there is.
No team in the Premier League plays the same system so you have to change to play against it and you have to be prepared to change if you struggle and at the moment our manager is not willing to change.
He also has to take a long look at some of the under-performers in the side as it good to say they look really sharp in training but I have read about a lot of great players who hated training and never put their full efforts in to it but once out in a competitive game they were outstanding.
No it is not too late to turn it around but, come January, if there is no sign of improvement, the manager will find out that the reaction at the end of the game last night by the supporters is just the tip of the iceberg.
Harold Matthews
16
Posted 04/12/2014 at 14:19:58
James. Spot on mate.
Tony J Williams
17
Posted 04/12/2014 at 14:32:07
"For a start, let's start by giving some praise to the oppostions' managers who, before they play Everton, study their strengths and set their team up to stop them."
Bill, my unborn daughter could figure out how to stop us. Get your front two to pressurise Jags/Distin. There you go, that's all they need to do.
Jay Harris
19
Posted 04/12/2014 at 15:28:55
It's not just about last night. It's about the latter end of last season when we blew a CL place that was gift wrapped. It's about the most disorganized and disinterested pre-season I have ever know in 55 years of watching Everton.
The team selection and motivation has been an issue since day one of the season. Our midfield (the heartbeat of any side) is woefully light in almost every team selection.
Apart from Barkley there were no injury concerns in the early part of the campaign so that should not be an excuse.
In short I think RM is totally out of his depth. He has a small club mentality and is too laissez-faire for a club the size of Everton.
Steve Carse
20
Posted 04/12/2014 at 16:03:35
Jagielka and Distin together is probably the most discomfitted pairing in the PL when in possession of the ball – and yet RM's game plan begins with playing it from the back! There's a disaster waiting to happen every time either of them are being pressed deep in our own half. Amazingly, Distin seems to get more touches of the ball than any other player in the side.
Every team now presses our back line when we're in possession. But shouldn't that be leaving space for our MF to get into to receive the ball from the defence? Apparently not though.
What's absolutely ridiculous is that, because we are getting pressed so deep in our own half, we are even staying deep when we could be pushing our back line another 30 yards up the pitch. Instead we see Howard when with the ball repeatedly with his back line stood within 20 yards of him, being marked closely, yet still rolling the ball out to one of them. Why doesn't the back line move right up to the half-way line in the first instance, with one of them, or Barry, then dropping back to receive off the keeper?
Milos Milenkovic
21
Posted 04/12/2014 at 16:13:42
Franny, I agree with everything apart from Robles. That guy is not even looking like a sportsman. He was nothing short of a shocking last season and have in mind that I don't like to have a go towards any player.
Besides that I think that Howard is a very good keeper, who saved us a lot this season (Swansea and West Ham in last month) but people are looking for somebody to blame and for some reason he's an easy target.
Jay Harris
22
Posted 04/12/2014 at 16:28:51
Very good point, Steve... something I thought about last night.
I think the lack of pace and confidence in themselves and the keeper is forcing them to sit deeper than they should.
It is also noticeable that both full backs are sitting deeper now too, meaning they have much further to run to get up and support.
Tony Draper
23
Posted 04/12/2014 at 16:27:47
We really were crap last night.
If any single performance delivered what that "Not RM" crew warned us of, well here it was.
Oddly, sat there in the cold, without me mates, I was reminded of two things: Glory nights.........Yep no detail required. Moyes nights.........oh ffs please please please never again.
And before half-time, I was watching a "Moyes rerun".
That was utterly dreadful. I didn't boo our lads. I don't boo our lads. But, I don't disagree with those who did.
That performance was NOT by any way shape or form anything even pointing in the same direction as the "School of Science".
Bill Gall
25
Posted 04/12/2014 at 17:12:39
Funny thing about all this critisism about Jags & Distin makes me wonder how many people crticizing them praised their performance just 7 days ago in Germany.
The problem has been right from the start of the season with a couple of decent games and results that have masked over the the poor results.
At the start of the season the Manager stated that he needed 6-8 new players for this season and he signed one, Besic, the other two, Barry and Lukaku, were already part of the team last season and though they signed a contract they never increased the playing staff from the previous season.
The manager filled the squad with injured players unaware how long it would be before they were able to play in the team and youth players who he praised highly but, so far this season, only two have been given a chance; they never let the club down but were dropped the following game.
The ball, as they say, is in the manager's court and it is up to him to prove that all the hype he has been given is deserved and start to have the courage to turn the club around and stop offering excuses instead of admitting that he made mistakes.
Colin Glassar
26
Posted 04/12/2014 at 18:00:05
We will see over the next couple of weeks just what Roberto is made of. Is he the real deal or just a smooth talking, media savvy guy. I still believe he is the former but he needs to get his big stick out now.
Murdo Laing
27
Posted 04/12/2014 at 20:18:02
It's pretty clear how much we rely upon three different players out of the team last night, but or three very different reasons: James McCarthy's ability to regain possession of the ball and quickly get across the park: Steven Naismith's energy, and intelligent link play with Lukaku, and Eto'o's .... well, timeless grace. I really just feel we look jaded, and have hit a point where players are losing confidence in their ability to put Roberto's ideas into full effect.
Some of them look frustrated, and it needs a result of some sort at Man City to give those lads a boost. We also miss John Stones of course. The most annoying thing of all is the cheap throwing away of points when those immediately above us are actually pretty poor, and even a moderate string of wins would propel Everton back in the mix for 6th place. Methinks this will be a season of unfulfilled promise, but we live in hope.
Ben Dyke
28
Posted 04/12/2014 at 22:01:01
Very disappointed with the performance. Can we honestly say that Barkley is a better player than Bentley or Barmby were at that age? He could become great and I hope he does but a game like this doesn't bode well.
I'm not picking him out to do an Osman on him, as the seniors didn't do much better, but it was a game crying out for some craft, a skillfull dribble, a brilliant pass, a great shot to break them down and they couldn't provide it.
I hope we turn the corner but we aren't firing on all cylinders. Martinez needs to really earn his corn now. Lots of answers last year, lots more questions this year!
Rick Tarleton
29
Posted 05/12/2014 at 14:20:47
I don't get up to Goodison Park that often these days, but I've been to both the Swansea and Hull games.
The possession is there: we go sideways and backwards and rarely forward. Barkley produces cameo moments, but has little impact on the game; I still haven't worked what role Martinez has in mind for him. And the defence looks vulnerable.
Besic's display against Hull was promising, but honestly we look very mid-table. The good teams have players who can turn games, who take games by the scruff of the neck and change them. Our players go sideways and look for the other team to make a big mistake. It's not a great tactic.

Laurie Hartley
30
Posted 05/12/2014 at 21:46:51
Rick,
The thing that is baffling me at the moment is that we do have players who can turn games:
Mirallas
Lukaku
Eto'o
McGeady
Barkley
Coleman
I think last season Barry was the leader on the pitch driving these players on. I don't think he is at the same level this year.
Barry, Osman, and Pienaar are all players I like but perhaps age really is catching up with them.
If I could add one player to the squad in January, it would be De Bruyne of Wolfsburg. He would transform this current team.
We live in hope.
Add Your Comments
In order to post a comment, you need to be logged in as a registered user of the site.
Or Sign up as a ToffeeWeb Member — it's free, takes just a few minutes and will allow you to post your comments on articles and Talking Points submissions across the site.
© ToffeeWeb