Mirallas stretchered off in patchy victory
Everton 3 - 1 Queens Park Rangers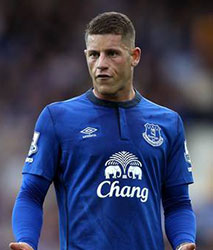 Ross Barkley's thunderbolt set Everton on their way to a vital home win
Everton returned to winning ways in the Premier League but the scoreline masked what was, at times, another tentative performance from Roberto Martinez's team that ended with the unwanted sight of Kevin Mirallas being stretchered off with an ankle injury.
Steven Naismith returned to the side after recovering from a hamstring strain, lining up in an attacking side featuring Ross Barkley, Romelu Lukaku and Mirallas.
A pedestrian opening had the home fans growing increasingly restless until the Blues became more direct with their running. That was typified by Naismith, whose low centre just evaded Lukaku, and then Barkley who drove forward and hammered a shot into the top corner via the merest deflection to make it 1-0 after 33 minutes.
Mirallas flashed a shot just over before he doubled the lead with a free kick shortly before half time after Joey Barton had fouled Naismith, the Belgian's kick taking a heavy deflection to divert it past the goalkeeper.
McGeady then went close with a curling shot that missed the far post b y a foot to close out the half.
Everton started the second period looking determined to add to their advantage and Mirallas had a penalty claim waved away when he went down in the box under the attentions of Richard Dunne.
A few minutes later, though, after Mirallas had taken advantage of an awful clearance by Rob Green, the QPR 'keeper turned Steven Naismith's header onto Onuoha and into the net early after good work by McGeady to clip a neat cross the back post.
The Blues eased up at 3-0, though, and the visitors had their best spell of the game. Jordan Mutch side-footed over with a clear sight of goal and Junior Hoillett volleyed narrowly over but Bobby Zamora tapped in to set up an unnecessarily nervy finish with 10 minutes to go.
It was Everton who nearly finished the scoring, though, after Mirallas had been chopped down by Mutch's poor tackle and had to be taken off with what appeared to ligament damage. Samuel Eto'o, a 77th-minute replacement for Lukaku, rolled a late shot off the post and Arouna Kone couldn't get on the end of Barkley's inviting centre in the last action of the game.
An important win takes Everton back into the top half of the table, on goal difference above Liverpool, and closer to the pack of clubs chasing European qualification.
Everton: Howard, Coleman, Jagielka, Distin, Baines, Besic, Barkley, Mirallas (Kone (90'+1'), Naismith, McGeady (Pienaar 73'), Lukaku (Eto'o 77')
Unused subs: Joel, Stones, Garbutt, Alcaraz
Quotes sourced from ToffeeWeb Match Reports
Reader Comments (144)
Note: the following content is not moderated or vetted by the site owners at the time of submission. Comments are the responsibility of the poster. Disclaimer
Tom Loughrey
1
Posted 15/12/2014 at 19:07:53
We've only won 3 of 12 Premier League ties against this lot. Let's make it 4 of 13 tonight boys. And comprehensive too. COYB!
Brian Waring
2
Posted 15/12/2014 at 19:11:44
Barkley in midfield doesn't work for me, he is prone to giving the ball away too much.
Harold Matthews
3
Posted 15/12/2014 at 19:10:32
I hope he has a good plan. The centre backs look wide open.
Richard Lyons
4
Posted 15/12/2014 at 19:18:36
Hmm - interesting one... would have preferred Osman to McGeady – but that's a positive line-up.
Michael Winstanley
5
Posted 15/12/2014 at 19:30:24
Besic and Barkley in the middle, this could be brilliant... should be entertaining.
Peter Z Jones
6
Posted 15/12/2014 at 19:30:13
I like the lineup. Barkley and Naismith used centrally where they belong. Good to see Stones make the bench so soon. No excuses!
Conor McCourt
7
Posted 15/12/2014 at 19:44:08
A very positive team though I would have liked Alcaraz for Distin as there is not much protection in the middle of the park so Sylvan may get exposed.
Trevor Lynes
8
Posted 15/12/2014 at 19:48:48
Is Osman injured? I reckon he must be on the bench if he is fit. He is a fine impact sub if Barkley is not firing.
Tom Loughrey
10
Posted 15/12/2014 at 21:20:57
Besic has been top notch tonight. Though his style means he is always likely to pick up cards, when he times the challenges as well as he has done so far tonight, it's a joy to behold.
Dave Duggan
11
Posted 15/12/2014 at 21:34:12
Everyone feels better after a win but this is the worst 3-0 I have ever watched in my life. We have been crap! Absolutely no entertainment in the match bar one bit of magic from Barkley.
Substitutions rubbish again. Why do we need to see Pienaar and eto'o in a game that's won? Where is the reward for garbutt for his man of the match performance mid week? Poor all round. We need to get back to form soon because any half decent team will take points off us at the moment.
Si Mar
12
Posted 15/12/2014 at 21:52:00
What is that booing all about when we're 3-1 up, just because the ball went backwards!!! Fucking embarrassing.
Jon Withey
13
Posted 15/12/2014 at 21:55:41
Besic and Barkley bossed that - great to see.
Naismith wins a lot more than Lukaku sadly.
What's happened to Baines ? He was shocking on a few occasions.
McGeady's cross was also excellent.
Phill Thompson
14
Posted 15/12/2014 at 21:54:18
Yep you know what you're getting with Besic; he covers as much ground as Jimmy Mac, gets as many yellows as Barry. He had a great game tonight, never missed a tackle, even when he missed the ball, and only 22 – he will get better.
Stephen Brown
15
Posted 15/12/2014 at 21:58:56
Positives:- Besic, Jags, Barkley, Kone.
Negatives:- made of glass Mirallas , Romelu and we need a dominant keeper.
Good 3 points though. 6 more needed in next two games.
Rahul Sreekumar
16
Posted 15/12/2014 at 22:00:53
Do we even practice throw-ins? Bah!

Steve Brown
17
Posted 15/12/2014 at 22:00:43
Agree Jon, thought Besic and Barkley made a good combination in central midfield.
Rahul Sreekumar
18
Posted 15/12/2014 at 22:02:12
Much needed win though..... very happy. Good to see Naismith injecting some urgency in the attack. And for a small man, he wins quite a few headers...
Tony Hill
19
Posted 15/12/2014 at 22:00:17
A very strange performance. Obviously pleasing result but again we lost momentum and ended up doing ourselves no favours. Besic was very good indeed, Mirallas looks badly injured which is a big blow.
The two full backs, especially Baines, continue to be dreadful.
We can only be happy with the outcome but I am glad we were playing a side as weak as QPR.
Terry Downes
20
Posted 15/12/2014 at 22:04:21
Besic was outstanding tonight — looks like he loves a tackle.
Kevin Rowlands
21
Posted 15/12/2014 at 21:59:46
The result was the most important thing tonight and 3 much needed points, but very uncomfortable viewing at times I have to say, we just seem to be lacking in confidence and you could clearly tell the crowd was on edge.
I thought Besic and Barkley were easily our best players and an honorable mention for Naismith, but Lukaku is really starting to worry me now, he was absolutely awful, did he actually win one single header? I honestly don't think he did, Kone looked much more of a threat when he came on. 㿈 million? Mourinho mugged us.
Dave Lynch
22
Posted 15/12/2014 at 22:02:21
I'll put my head above the parapet first shall I.
Well happy with the result but let's be honest QPR where much the better side in the 2nd half.
Some of the bad traits where on display again, giving the ball away in dangerous positions and trying to overpass in tight areas.
We afforded them a lot of space on and around the edge of the box and I'm glad we weren't playing a decent side in all honesty.
Brian Hennessy
23
Posted 15/12/2014 at 21:56:45
Good much needed three points.
Positives – Barkley was excellent and proved tonight he can play the DM role.
Naismith too was outstanding and showed how much we missed him.
Distin solid at the back and his distribution was very good.
Negatives – Mirallas injury looks serious, hope it isn't his Achilles. Besic had 2 or 3 really reckless tackles and if he doesn't learn he will see red pretty often.
Howard had one save to make and not for the first time this year pushed the ball straight to an opponent.
Kone showed more good touches in 2 minutes than Lukaku did for 90, although I still think Rom is one of the best finishers in the PL.
Delighted with the win.
Tom Loughrey
24
Posted 15/12/2014 at 22:06:27
Tony (19), totally agree about the 2 full backs. Baines was poor again, I see Mirallas was on corners tonight. But Coleman has been unrecognisable of late. Seems like he doesn't want to beat defenders anymore, almost like he's afraid of tweaking an injury.
Mike Childs
25
Posted 15/12/2014 at 21:56:38
Besic just got a big honorable mention from Robbie Earl on NBC. I agree, his best game and Coleman's best game also.
Max Murphy
26
Posted 15/12/2014 at 22:03:27
A few decent individual performances from Barkley, Naismith & Besic, but overall a shocking display. Dreadful passing accuracy and our persistent losing possession was abysmal.
Lukaku should have been taken off at half-time – did he ever win a header tonight? Howard gifts the opposition with yet another goal.
I can't blame the crowd for booing with our negative play and persistent backpassing. This game was against QPR!!! On this evidence, there is no cause for optimism.
Tony Draper
27
Posted 15/12/2014 at 22:11:41
Probably Besic's best game for us so far, at 22 he's learning the pace and "rules" of the PL pretty quickly. We've needed some steel in our spine for a few years now. Generally Barry has managed to provide that, and McCarthy also.
Without those two we can look toothless, so I'm much encouraged by that aspect tonight.
Once again we look far better with Naismith in the side.
Three points, job done,.
Mark Boulle
28
Posted 15/12/2014 at 22:08:08
Tony # 19 and Kevin #21 - spot on. Strange is the best word for a 3-1 win where we hardly had the ball in the second half. I was yelling in frustration at the television far more than I was on the edge of my seat for sure!
I've reluctantly accepted that the ball will go round the square at the back quite often, as though we were a hockey team. It is pretty mind-numbing, but is as much to do with how poor Jags' and Distin's first touches are as with any insistence on short passing. If they were better on the ball, we wouldn't need to play it back to Howard as much as we do. Stones needed back asap. The passes from Distin and Jags are so often behind their man and momentum-stopping it drives me mad.
Agreed with above comments that Besic was excellent - McCarthy not missed nearly as much with Mo in that form. Barkley showed me enough to believe that he can eventually blossom in that role. However, whilst they both gamely offered for the ball from the defence frequently, most of the time they weren't really in space with time to take a touch and turn, too often it was just offering with a man breathing down their necks, so that all they could do was knock it back where it came from.
Really concerned by the full backs. Coleman overlapped about 3 times all game and Baines not once I don't think. Totally baffled by what has happened to them. Can anybody explain?!
McGeady, one decent cross aside, was as infuriatingly bad as usual. Lukaku barely looked bothered, I'd be surprised if he touched the ball more than 15 times in the match - truly pathetic effort from him. His attempts to win headers are so lame.
Mirallas sounds like he'll be out for a while again, which is a desperate blow but hardly surprising, since we never, ever can have all our players fit and available. RM being disingenuous in post-match interview by suggesting he felt no anxiety from the crowd at 3-1- you could hear and feel it from the sofa at home!
We need to maintain our Europa form somehow and pray for a good FA Cup run, because I just can't see how our premier league performances will pick up enough to carry us much above mid-table this season.
Paul Andrews
29
Posted 15/12/2014 at 22:17:05
A welcome 3 points. Onwards and upwards.
The injured players on the way back. Hopefully we will go on a run now.
I thought it was a clever comment from Roberto re QPR. It took away any complacency from the players
Ian Riley
30
Posted 15/12/2014 at 22:16:43
Job done!
Besic man of the match, just what we need at the moment,
How the bloody hell is that challenge on Mirallas not a red card?
Chris Gould
31
Posted 15/12/2014 at 22:17:08
Besic was fantastic. Barkley/Besic or Barkley/McCarthy from now on. Ross will grow into the role and gets on the ball more from deep. The role suits him and enables him to have a greater impact.
Terry White
32
Posted 15/12/2014 at 22:22:38
Can't see why there is criticism of Howard for the goal. Jags gives the guy a free shot from 12 yards. What was Howard expected to do? At that distance you can get a hand to the shot on the stretch but you can get no power on the rebound or control where the ball is going. Plus Baines stood still while Zamora moved past him.
A bad defensive goal to let the cross come in in the first place but don't blame Howard for every goal we concede..
Liam Reilly
33
Posted 15/12/2014 at 22:25:30
Jesus, with some of the comments on here ya'd swear we lost this game.
3-1; top half; moving in the right direction. These are difficult games and winning ugly is fine by me. We need to go on a run now.
Dominic Tonge
34
Posted 15/12/2014 at 22:31:02
Any news on Kev's injury yet?
Jay Harris
35
Posted 15/12/2014 at 22:27:29
This was one of the poorest sides we have seen at GP in recent years. They gifted us the points which is why they are where they are. However, real positive contributions from Barkley, Besic and Naismith who surely must keep their places now.
I must be getting boring but I must criticize RM again over team selection leaving us light in MF and top heavy up front. It was like playing with 10 men as Lukaku was effectively taken out of the game by having McGeady, Mirallas and Nais all taking up all the space not leaving any room for movement and meaning we couldnt link up play in MF.
We were lucky Barkley and Besic had such good games and tireless running and even so against a better side we would have had problems. For the future I would play Besic, Barry, McCarthy and Barkley in MF and then play Naismith with either Eto'o, Kone or Lukaku.
James Martin
36
Posted 15/12/2014 at 22:27:58
Who would have thought that when you play one defensive mid and one attacking mid and they both have pace you end up with a balanced midfield that works well both ways. Barkley and Besic were fantastic in the deep roles, getting on the ball and playing it FORWARD quickly, I don't know why this is such an alien concept but we seem to struggle with it. The attacking players actually looked interested knowing they wouldn't have to wait half an hour for Barry to pas forward. Plus, our midfield were pressing the ball up the pitch on the halfway line not dropping off to the edge of our box and dangling legs at shots.
If Barry comes straight back into the team I will give up with Roberto. He is showing the same worrying trait as Moyes had though. He'd play multiple games of Neville and Fellaini in the middle and we'd be atrocious. They'd both get injured so he'd be forced to play Arteta and Osman together. We'd then absolutely steamroller someone with passing football and who would be back in the midfield next week? Neville and Fellaini. Martinez has been forced into this midfield partnership and it has worked just like the Osman McCarthy axis did at West Ham. Crazy what happens when you put a natural attacking mid with a holding mid. You know however that as soon as they are both fit it will be back to one paced Barry and McCarthy (covering for Barry) in the middle with Barkley out on the wing.
Playing players in their proper positions consistently and you get good performances. Why is this so hard? Naismith, again really good in the number 10 role - meaning he'll be out on the wing next game as well.
James Byrne
37
Posted 15/12/2014 at 22:32:31
Besic, Barkley & Naismith were fantastic tonight; the officials again had an awful night.
The only main down side is that we gift shite teams like QPR time and space and we got punsihed by allowing them a goal. Howard should do better on the one occasion he had to do something, instead he passes the ball to Bobby Z and they score!
Kunal Desai
38
Posted 15/12/2014 at 22:30:37
Pleased with the result but yet again we just seem to invite pressure at 3-0. Why can't the lads go out an express themselves instead of having to sit deep many times and inviting pressure. Make no mistake better opposition would have beaten us tonight.
I still think the performances are really worrying. Actually thought the last couple of minutes the movement up front between Kone and Eto'o was intriguing, bit of energy and hunger they provided.
Danny Broderick
39
Posted 15/12/2014 at 22:25:58
Every time I have watched us this season, I have felt sorry for Lukaku. The 2 wingers wanted to do it all themselves. I only counted 2 crosses all night. One from McGeady for the 3rd goal, one slide pass across goal from Barkley to Koné at the end. Why doesn't Baines cross it any more? That one in particular is really bothering me, he had the most assists in Europe a year ago. Coleman is the same, he never crosses it, he wants to do it all himself.
Even Eto'o didn't get any chances made for him tonight - that one where he hit the post he did it all himself.
It's driving me crackers. We go side to side and then, when we are in a position to whip a cross in, whoever it is cuts inside and passes it backwards or slows it down again. That's what happened when Mirallas got injured.
We'll never finish teams off if we can't get in behind them and create some real chances in the box. I'm praying we can get an unselfish right winger with a bit of pace in January. Because QPR are crap, and we struggled to carve them open. Thank God we had a couple of great individual strikes to set us on our way tonight, because it would have been a long night trying to carve them open...
Conor Skelly
40
Posted 15/12/2014 at 22:21:09
Some points from tonight.
Barkley should play deeper in more games. He gets on the ball more. His confidence goes up as a result. He's all about confidence. Would live to see him with Mccarthy.
Besic was good tonight but I'll reserve judgment until he does it in a bigger match.
Coleman seems like he's losing some explosiveness.
Kone should have came on after an hour Lukaku was poor but he needs to not start in every game.
Main positive Ross Barkley - He is the real deal no question.
Wayne Smyth
42
Posted 15/12/2014 at 22:31:50
I think it was a decent performance when you consider the age and lack of experience in the side in key areas. Besic, Barkley, Lukaku in particular are at the beginning of their careers and will all get better.
I thought Besic and Barkley were both fantastic. I said before several times I thought Barkley would do better in a deep role and it showed that he got much more time on the ball, and space to run into without a 14 stone defender up his arse every time he received the ball. Importantly he's shown the ability of an all-round midfielder with good tackling and work-rate to complement his range of passing and direct running.
It's clear the squad has no confidence and players like Pienaar are well off match sharpness. I was pleased again with Kone in his very brief cameo. He looks to be an intelligent player with his decisions and movement. So, as ineffective as Lukaku was, it will come good for him with experience.
One thing to be said for Coleman and Baines is that with the two youngsters in centre mid they both may have been reluctant to bomb forward as much as with Barry or the more established McCarthy in there.
Bill Gall
44
Posted 15/12/2014 at 22:36:08
Once again it appears we are only a 45 min football team.
It is hard to be critical of a team winning 3-1 but to simply relax at home, even though you are ahead, you are playing into trouble.
Colin Glassar
47
Posted 15/12/2014 at 22:47:43
I think we are a bit short on confidence Bill. I don't think we relaxed but more like panicked a few times. The back passing between Jags and Distin is hair raising to say the least but there are green shoots there.
Faisal Bhayat
48
Posted 15/12/2014 at 22:49:52
Game of two halves really but most importantly 3 points!
Let's push on and continue with a win at Southampton! COYB!! Up the Blues!!
Kevin Rowlands
49
Posted 15/12/2014 at 22:47:00
One thing I don't think I've seen mentioned is we were actually extremely lucky with all three goals.
The first two were never going in if they hadn't been deflected and the third one was an own goal if you look at the replays properly...
Anyway, three points that were much needed and I actually think playing away this weekend is probably a plus because the crowd at Goodison tonight was really on edge.
And that fucking Mutch should have seen straight red, dirty twat.
Frank McGregor
50
Posted 15/12/2014 at 22:56:04
Terry White, I agree with you a hundred per cent, the fault with the goal should be laid at the defence — on more than one occasion, they passed the ball laterally and backwards and eventually giving the ball away.
I really wish they would drop this approach to the game it is totally non-productive with no end product.
Peter Lynch
51
Posted 15/12/2014 at 22:50:21
Let me pre-empt this and say I'm thrilled with the result but the words 'papering' and 'cracks' spring to mind. QPR had seventeen (17) attempts on target. What is it with Everton and ending terrible strikers' lean spells. Soldado, Aluko and now Zamora? Against a half decent side we would have been annihilated.
Besic, Barkley and Naismith's return the only bright spots. If Southampton play as they did against United we'll get hammered.
Sorry, but that's the brutal truth.
Anthony Jones
52
Posted 15/12/2014 at 22:59:32
James Martin: Well said. Lack of balance and favouratism we had eleven years of. Let's not go back there.
Frank Crewe
53
Posted 15/12/2014 at 22:38:29
@Danny Broderick
Couldn't agree more. A 㿈 million quid striker who gets no support at all. For those who appear to think Lukaku there to "win headers" he isn't. He's there to score goals but he gets no service worth talking about. We have wingers who almost never cross or give him a ball he can run onto.
Why didn't Kone come on sooner? Presumably if Mirallas hadn't been injured he wouldn't have come on at all! The man is gagging to play but all he gets a miserable two minutes at the end. Yet Pienaar gets wheeled out once again looking totally knackered and completely ineffective as did McGeady for the entire time he was on the pitch. He's definitely RM's blue eyed boy because I can't see any other reason why he keeps getting picked.
On the plus side Besic looked really good. Had a good game and was my MotM. Broke up attacks, got his foot in, even defended well.
It was good to see Naismith back. Full of energy and scoring. we really need him as he's one of the few leaders we actually have.
Barkley played well but we have a lot of DM's so if he is going to play there where does that leave Besic, Barry, and McCarthy? Whoever doesn't get picked to play alongside him is going to be pretty cheesed off.
Overall an average, not to mention, nervy performance. Still far too much dicking around at the back that caused us to lose the ball in dangerous positions. A better side would have cashed in big time.
Phil Rodgers
54
Posted 15/12/2014 at 22:58:32
I think we were decent in spells but are still miles away from last season. The big pluses are Besic and Barkley who for me were both excellent in the tackle, and Naismith who is now one of our most crucial players without doubt.
I still don't think we get the ball to Lukaku quick enough and he seems to have very limited opportunities to shoot.
Dave Abrahams
55
Posted 15/12/2014 at 22:47:19
A good result but performance is poisoning the crowd. It is just frustrating large sections of the crowd and will get the supporters going.
It really was a pleasure to go to the game last season; it isn't now and I am getting more and more fed-up with this style of football, it will never do for me.
Peter Z Jones
56
Posted 15/12/2014 at 23:00:31
Well done, Roberto. He finally did the simple thing and fielded a team with no players playing out of position... and we won. Funny that.
Mirallas pulled a Jack Wilshere and got injured hot dogging and being selfish when a simple pass to Barkley in wide open space would have helped the team potentially score a goal and keep him fit. Instead, he goes on trying to dribble 19 players in a row to nowhere in particular. It's messed up that he got hurt because he's such a talented player, but he brought that one on himself.
Some have chosen to criticize Baines, but honestly he's only been poor when Mirallas has played in front of him. He never uses the overlap and passes him the ball so I'm not surprised he's been below average the past 4 games.
Unfortunately, going forward, with Atsu pulling a hammy also, we don't have much choice but to field a player out wide that is probably best used centrally. I really hope we bring in a winger with some genuine pace in January to help us out. Nevertheless, we really needed that win and I'm glad we got it. Time to rack up some points!
Colin Glassar
57
Posted 15/12/2014 at 23:05:31
Here's my take on the game. Howard had nothing to do all game and the only save he made he passed it to Zamora. Baines, Jags and Seamus all showed signs of getting back to their best. Distin, sadly, is becoming the weak link.
Besic and Barkley were immense in MF. I'd love to see them play with Macca and Nessie in a diamond.
McGeady and Mirallas were average and Lukaku still gets no service so was basically invisible. My ratings are:
Howard - 5
Seamus - 5
Jags - 6
Distin - 4
Bainsey - 6
McGeady - 4
Besic - 7
Barkley - 8
Mirallas - 6
Nessie - 7
Lukaku - 5
Chris Sillett
58
Posted 15/12/2014 at 23:05:24
A much needed three points, the game won't live long in the memory but if you had given me 3-1 before the match I would of snatched your hand off! Besic and Barkley were the stand out performers and good to see Naismith back, he offers so much to the team.
My biggest concern though is the atmosphere at Goodison lately, it's been quite toxic at times... against Hull there was zero atmosphere and every mis-placed pass was greeted with moans and abuse and tonight I don't think I've ever witnessed the home fans booing when their team is 3-0 up?
I agree that it can be quite boring when the game is wrapped up early on and you want more goals but seriously, booing and moaning at 3-0 is pretty ridiculous and the people that booed need to look at themselves!
Hopefully everybody will be in a more jolly mood on Boxing Day v Stoke!!
Bill Gall
59
Posted 15/12/2014 at 23:05:56
Kevin we may have gotten deflections but this happens if you shoot at goal instead if trying to walk it in.
Colin, like I mentioned before the game started, I do not understand all this passing at the back as it leaves 10 of the opposition players with only 6 Everton players to take care of.
The passing game is great if it achieves an advantage but passing the ball around the back 5 just causes mistakes.
Colin Glassar
60
Posted 15/12/2014 at 23:14:18
Just seen your post Peter Z and you are spot on about Mirallas. Despite his obvious talent he is one selfish, greedy sod who too often seems to be playing for himself (putting himself in the window?).
He never looks up to find a team mate but prefers to go on mazy runs usually ending up losing the ball. He's a poor mans Duncan McKenzie IMO.
Gutted that he's injured but maybe now Bainaar might start to flourish again.
Graham Mockford
61
Posted 15/12/2014 at 23:07:00
Just got back after the game. Overall it was an easy three points against the worst side I've seen at GP this year.
We still seem strangely subdued at times. After we went 3-0 up we visibly took our foot of the gas when we could have easily gone on to score five or six.
Naismith brought some needed energy to proceedings, Besic was solid throughout and Barkley was fantastic at times especially in the first half.
What was noticeable to me and I was watching with interest is how less adventurous our full backs have become. I can only assume that they are under instruction to play tighter but it seems strange that one of our strongest attacking options seems muted. Very rarely did either Baines or Coleman get on the overlap and I can't remember either of them putting in a cross of note. It could of course be they are both out of form but it looks deliberate to me.
Frank Crewe
62
Posted 15/12/2014 at 23:22:10
@Colin Glassar
Bainaar? You're joking right? Pienaar is finished. It puts years on me just watching him huffing and puffing. We need younger and fitter legs than his. He's been a good servant but he's past it.
You are right about Mirallas though. His own showboating brought that tackle on himself. Always cutting in and looking for the shot. The only window he's putting himself in right now is the one in the physio's room.
Kevin Rowlands
63
Posted 15/12/2014 at 23:26:38
Very good news, Greg O'Keefe just tweeted that Mirallas left Goodison on crutches BUT was very upbeat and doesn't think he's badly injured, thank fuck.
Derek Williams
64
Posted 15/12/2014 at 23:33:37
Haven't had chance to read all the comments and someone may have said this already but Besic was superb. He's going to get booked a lot but him and Macca are going to be a formidable pairing.
Dave Williams
65
Posted 15/12/2014 at 23:14:21
Peter #56 - spot on! Both wingers but especially Kev run across the pitch rather than make the ball do the work by passing it and the full backs are thus denied space in which to run or work in which case they stay back to cover for when the wingers inevitably lose the ball. Last season, Pienaar played well with Baines and Kev was on the right so when he ran across the pitch it opened up the right flank for Seamus.
To my mind our midfield is too weak when we play two wide players and once James is fit we should play him in a centre midfield trio with Besic and Ross, both of whom were tremendous tonight – probably the best 90 minutes I have seen from Ross.
The front three has to begin with Naismith - what a smashing player he has become – then choose any two from Lukaku, Mirallas,Eto'o and Kone (who I thought looked very sharp again tonight).
The biggest problem is giving the ball away and this happens because we are being pressed by opponents and hurrying our passes which results in either poor control, passes going out of play or going straight to the opposition. Our movement off the ball needs to improve, we must stop running across the pitch – this is schoolboy stuff, and we need John Stones back in the team or if not considered fit enough yet then put Barry in there on Saturday.
All that said I thought we were decent in parts and a 3-1 win can only help confidence.
Oh, and if the crowd could try to cheer the team on, like we do away from home, that might remove some of the anxiety from the players and put a spring and swagger back in them.
Colin Glassar
66
Posted 15/12/2014 at 23:32:49
Frank, I still think a fully fit Pienaar down the left is the best option we have till Delofeu returns. Baines has no outlet when Mirallas and/or mcgeady play in front of him. Pienaar, on the other hand, knows when to go inside or stay wide to let Baines do his stuff. He's missed almost a year through injury but I still think Bainaar has a season or two left in the tank.
Doug Harris
67
Posted 15/12/2014 at 23:24:41
Peter Z Jones, I don't see how Mirallas brought that on himself. That Mutch went right through him from behind with both legs and he should have been red-carded.
Also Barton was very lucky not to have at least a yellow for his arm in Naismith's face. Overall made up with 3 points even though we didn't play well.
Kevin Tully
68
Posted 15/12/2014 at 23:23:40
Manchester Utd have just put in exactly the same performances for the past six games as we did tonight.
Some may say "What the feck has that got to do with us?"
Those are the same cocks who said Barkley & Besic were shite.
Some very clueless posters when it comes to PL football. That doesn't mean we have played well this season, just that some cannot see beyond a single result or performance from a good young crop of players. There is massive potential in this side, but we won't see it immediately.
Just because the press wants to hype a young player up, you don't have to buy into it you know!
I see Barkley, Besic and McCarthy as the foundation for a great side, I don't expect anyone to agree with that though – they've had 3 games to prove they are good enough.
Tony Abrahams
69
Posted 15/12/2014 at 23:11:25
Should be happy when Everton go three up, but it actually kills the game. Wolfsburg, Villa, Lille and now tonight. I know the game is usually won, when you go three up, but why can't we keep going for goals? Are we already thinking about the next game, or is it just a sub-conscious thing, but we really do switch off.
I keep repeating myself saying we are in the entertainment business, but if we continue to play like this then a large part of the crowd will simply be driven away.
I can see a good squad, a very good team, I can also see that something is holding us back. Maybe Roberto, will be proved right, but I want watching Everton to be a bit more exciting than what is on offer just now.
Dave Williams
70
Posted 15/12/2014 at 23:38:15
Colin - how sure are you about Delofeu? How good would it be to get him back here!
John Malone
71
Posted 15/12/2014 at 23:13:00
The crowd are not helping the team and need to realise moaning and groaning only heaps pressure and tension onto the pitch!
Granted the play is slow and frustrating at times but the crowd have got to understand and identify the fact teams are coming solely to stifle us and the crowd are playing into their hand's.
My frustration lies in the fact Martinez will not change it up in order to keep teams guessing and be able to win playing more than one way.
In my opinion, it's the crowd's job to cheer and back the team continually and not complain unless the team is not trying and giving it their all, especially when sitting behind the goal. The Glwadys Street has gone from being a bear pit to an arm pit where people come the game to moan and whinge not support and sing, even when we take a three-goal lead still no songs!
I'll be moving seat next year to the main stand where I can watch the game properly and not have listen to people shout "Get it forward!!! Press, press!!! Godddddd c'monnnn!!!" every two minutes.
Michael Penley
72
Posted 15/12/2014 at 23:40:37
Performance-wise it was a dismal display. Looked like we were having a lazy kick-around on the training pitch.
If there's one thing I hope Roberto takes from the game it's that we need to "have a go". Three goals, three deflections – says it all. We overplay it far too often in the final third.
You can't always get into the perfect position and passing round endlessly until you do isn't always the answer. Take that shot, put in that cross and who knows you might get lucky - that's how our opponents score against us and it's how we won today. We would have lost if we didn't take those chances.
Conor McCourt
74
Posted 15/12/2014 at 23:19:06
While no doubt Barkley was great on the ball tonight and offered us more invention from deep I still wouldn't play him in that position against Southampton.
On numerous occasions Besic was left to cover the entire midfield while Barkley was waiting for the ball to come to him. QPR didn't have the ability to really hurt us but Southampton with Tadic, Davis and/or Ward-Prouse do.
Hopefully Roberto will be brave and drop Barry and then I think he will move Barkley back into the hole.
Those who seem to despise McGeady must realise that even when playing bad he still helps the team as he drags the full back out to the by-line which creates space for Lukaku and Naismith and makes it harder for teams like Qpr to defend as a block.
I agree he's no Dellboy but he is important to the team and I would actually like to see him start more over the Christmas period as if we play Naismith or Barkley there they run into each others space and its easier for opponents to defend if on both wings we are cutting inside all the time.
A much needed 3 points
Phil Walling
75
Posted 15/12/2014 at 23:38:49
Disjointed performance against a very poor side. Besic shone as did Ross. Hope they get the chance to establish themselves in DM although expect multiple rotation for next game.
The result was all that mattered (always does !) and we got it.
Kevin Tully
76
Posted 15/12/2014 at 23:48:06
One more thing - our entire first choice midfield of Barkley, McCarthy, Barry & Besic cost around 㾿m. About ٤m less than one Lallana.
Mark Andersson
77
Posted 15/12/2014 at 23:31:18
Well my recorded match stopped after the 3rd goal; judging by the posts above it seems it was a blessing. As for what I did see, my over all view was I was not impressed. The non-existent atmosphere at Goodison contributes to the players playing a nervey game.
As with many other posts, I have to agree: Besic and Ross looked good. Overall we have a long way to go before this current side and set up click into gear. I can't see us higher than 7th at best in this form. The RS lost 3-0 but still played better than us going forward.
No Phil Whaling post for me to ponder on. Come on, Phil – give me some food for thought.
Brian Hennessy
78
Posted 16/12/2014 at 00:05:29
Shame we didn't keep a clean sheet, Osman at fault again...
Jon Withey
79
Posted 15/12/2014 at 23:57:41
Although I'm a bit happier with the performance than some here, I don't understand why we seem to take more risky passes at the back than we do when we attack. You don't gain much by pulling off a risky pass / run in your own half!
I also think Baines could have done more to prevent the goal – Barton skinned him.
On a big positive – I still can't believe we have four decent strikers, when was the last time that happened?
Jim Knightley
80
Posted 16/12/2014 at 00:16:14
We got the result, but were poor again. Barkley does not have the discipline to play deep, especially in our system. Was everyone watching the same game as me? He runs with it in dangerous areas, and loses it too often. We lost the ball too often in general today with runs in dodgy areas. The crowd is edgy too, and it is not helping the confidence.
Lukaku is getting no service, and it is getting to him. Our wide midfielders play with their head down, Naismith is a warrior but not a creator, and Barkley also has a lot to learn in that respect. We have one of the best young strikers in Europe, but inexplicably do not play to his strengths.
Fingers crossed that Mirallas is okay, as he is our most integral attacking player.
Besic was superb tonight I thought, and I would like to see him alongside McCarthy.
It has been a good day for Everton – we got a good Europa League draw and a much needed win. We must do better though, and if we want to do something this season we need to find form soon. There is no reason we can't go to an out-of-form Southampton and win, and move within 2 points of them. I don't think we will, but we can, and we need to start putting some wins together.
Eric Holland
81
Posted 16/12/2014 at 00:12:29
Howard parries a shot right in front of the striker again. He is going to cost us a lot of points this season. Time to ship him off to Mr Beckham's soccer side show.
Eric Holland
82
Posted 16/12/2014 at 00:26:41
I see the Sky pundits are purring over Barkley's performance tonight. Even the Redshite Jamie C...
Andy Crooks
83
Posted 16/12/2014 at 00:28:09
Kevin Tully and Jim Knightley, good posts. We are underperforming but it was a very important win. Had we lost last night it would have been crisis time.
Steavey Buckley
84
Posted 16/12/2014 at 00:35:56
The final ball was the reason why Everton failed to rack up a cricket score against QPR. And those nervy pass backs? When in doubt, blues defenders should aim towards the opposing corner flags, less chance of the ball coming straight back.
Brent Stephens
85
Posted 16/12/2014 at 00:40:49
Very satisfied with 3 good goals and 3 welcome points. But generally our performance tonight was less than exciting, less than convincing in terms of potential to rise above 6th, 7th, 8th.
Lukaku's worst game for us. He didn't get great service, he's maybe being played out of position; but woeful control, doesn't win any headers, and how often caught offside or in an offside position so ruling out a pass to him.
Besic, Barkley more impressive than most.
Again, so dodgy at the back when in possession! And so slow getting it forward.

Colin Glassar
86
Posted 16/12/2014 at 00:48:11
Am I happy with the performance? Not really... but there were some positive signs tonight that some of our key players are regaining their form.
Am I happy with the 3 points? Hell yes. I just hope we can now go on that run I think we're capable of and get back up to where we belong in the league.
Brent Stephens
87
Posted 16/12/2014 at 01:01:12
Our recent performances suggest to me that we're going to be no better than 6th - 8th. I should have mentioned Nais as having a good game as well. But for all the few individual good performances and the overall result, we're still stuck in Plan A - possession, pass, slow build-up. I just don't see where that is going to change to outwit the other teams who have sussed us (as fat Sam has said).
And why no Kone much earlier tonight?
Mike Price
88
Posted 16/12/2014 at 01:07:12
Lukaku just isn't aggressive and the amount of times he jumps under the ball for headers, makes me wonder if there's something wrong with his eyes. We are not playing to his strengths though, and if we aren't going to develop that style of play we might as well move him on.
He's a great finisher and if he could develop a nasty streak and become aggressive he would be far more effective... just can't see it in him though.
Scott Williams
89
Posted 16/12/2014 at 01:30:02
Besic was MotM for me. We just need to calm him down a bit.
Patrick Murphy
90
Posted 16/12/2014 at 01:29:16
If I had transported myself from circa 2009 to the present day I could be forgiven if I thought my time machine had made a serious error as I couldn't have possibly have landed in the right location, this was not the bear-pit of Goodison Park, this couldn't possibly be the correct area of Liverpool 4 under the floodlights as the location I remember was full of passionate supporters who would will their team on to victory no matter who the opponents were or what status they held in the league.
Something has radically altered. Is it that the manager is lacking big club experience? Is it that the manager ultimately led his previous club to relegation? Is it that despite a record breaking League campaign it led to nothing better than EL qualification? Is it that Everton succumbed to Arsenal in both the League and the FA Cup? Is it that Everton are only level on points with their neighbours despite their neighbours having a terrible start to the current campaign? Is it because deep down many Blues supporters have given up hope that their club / team can no longer compete in the current economic climate?

I don't know why but Everton and the fans are not the club and supporters that I have always supported and will always support. There is a serious problem somewhere and it has to be addressed, I can feel the problem but I have no answer as to what the cause is.
Despite what I have just written the number of people attending Goodison Park is probably at an all-time Premier League era high, but it doesn't feel that way, it doesn't sound that way. Why is that the case?
Colin Malone
91
Posted 16/12/2014 at 01:25:03
I am also bored with the slow build up, but the plus of it, is we keep possession. It was not nice to hear the crowd boo when we passed the ball back. Every long ball was coming straight back, we have not won a 50-50 ball in the air for weeks.
Don't blame Lukaku because he is not that type of centre forward, he maybe needs to play with someone who can win ball for him to feed off, maybe Kone. Let's give them both a try. Barkley class, even though he is not playing in his favoured position, which suited Lukaku. It's only Martinez second season, so let's get behind the team.
Conor McCourt
92
Posted 16/12/2014 at 01:44:40
Brett is that the same fat Sam whose team we comfortably beat the other week. Lets see how big his mouth is again come January when we will hammer them again. Excuse the very poor pun.
I seen that interview also when that clown spoke of how to stop us. Pity it didn't work for him and for all those that hate watching us I'd rather be watching a Roberto team play at its worst than watch an Allardyce one play at their best.
I like the way he is taking all the media acclaim at the minute despite great investment and most notably Teddy Sheringhams involvement which was forced over the smug prick's head.
Harold Matthews
93
Posted 16/12/2014 at 01:47:50
A welcome 3 points but nothing to get excited about. QPR were rubbish and we weren't much better.
Colin Metcalfe
94
Posted 16/12/2014 at 02:31:18
3 important points tonight but the performance was average at best , should of been a cricket score against a very poor side however our play in the final third is just so slow it's easy to defend against!
One thing I have to say and that's " FFS DROP HOWARD NOW " he is making far too many mistakes I watched the goal again afterwards and it was a half hit shot that he should of easily held and against a decent side it might of costs us! Lots of people on here not prepared to give Robles the benefit of the doubt but maybe it's just a question of confidence and he needs a decent run in the side? I seem to remember De Gea making his fair share of mistakes when he made his debut season but look at him now, one of the best keepers in the Prem.
On a positive note I am loving Besic my type of player although it's as if he should be playing in a different era, most of those tackles would be legal say 20 years ago but as we all know the slide tackle is pretty much a foul these days!
Michael Penley
95
Posted 16/12/2014 at 03:15:44
Should we opt for Kone instead of Lukaku against Saints? Based on their 90 minute performances against Krasnodar and QPR Kone was the better performer. He was able to retain possession, he looked lively and dangerous. He was also involved in some of our best chances towards the end of the QPR game.
John Audsley
96
Posted 16/12/2014 at 03:55:24
Well it was a patchy game with a great goal from Ross and a bad injury to the one player who has killer pace.
That was the good bit, after a really bad diabetic hypo and what looks like a fit im in A&E having loads of tests
Not how I planned to finish off the night
Hell.....
Julian Wait
97
Posted 16/12/2014 at 04:07:05
Watching the game on a recording of NBC Sports coverage here in the US. Almost over, 3-0, and I know the rest ... but Chris Waddle is driving me crazy. He's all about QPR being unlucky and the better team. Really? Nothing to do with his mate Glenn being there then ..
Jay Harris
98
Posted 16/12/2014 at 04:58:52
Julian, I totally agree. Him and Martin Tyler went on the whole game about QPR being the better side and Everton being really lucky with 3 deflected goals.
The bit that really pissed me off was when they were comparing our win to Man Utd and said the only difference was United worked their goals well whereas ours were down to lucky deflections.

Darren Hind
99
Posted 16/12/2014 at 04:22:40
John 71. Stay where you are, Mate. If you think "The Jury" is anymore sympathetic to the souless, gutless. zombie paced, excuse for football than the Glwadys Street faithful, you will be in for a nasty shock if you change seats next season. They are sick of it, heartily sick of it.
The boos and discontent (which came from all four stands btw) wasn't just about last night's game. It was the culmination of weeks and weeks of the utter garbage being served up by Martinez. The agony of seeing us regularly go from promising positions to knocking nervy passes all the way back to a goalie who panics and launches it anyway is becoming too great to bear.
It was our night last night, the luck was with us, all three of our goals went in off Rangers shirts, we should have been strutting our stuff... but you could STILL smell the fear. QPR had arrived having score only two away goals of late, they were without the guy who scored them, yet our manager was talking about them as if they were world beaters... no wonder our players are shitting themselves. Our manager is now bigging up opponents before every game. How can a guy who is so negative before games, become so OTT positive after them?
The last thing we need, is to become a club who regularly changes its manager, but Kenwright will have been very uncomfortable in his seat lately when the faithful have voiced their displeasure. Those blaming the crowd, don't seem to realise this is meant to be entertainment.
Martinez has been told in no uncertain terms that this cowardly approach to the game is unacceptable. He'll do well to listen.
Jermaine Jennings
100
Posted 16/12/2014 at 05:17:36
A win is win and I was glad we won even though not playing well against a poor QPR side who based on our play last season we would have beaten then about 6-0.
This season though, we are completely different. No penetration in our play, no forward passes and at times it was boring and hard to watch, when we receive the ball there are no runners, no players making angles to receive the balls in good positions between the lines to start an attack and a complete obsession with passing side ways and backwards. This was summed up by Mirallas receiving the ball near QPR box, he should have crossed it and instead passed it back to Besic who was under pressure immediately and it resulted in a QPR corner, ridiculous.
Lukaku had no service last night, it was embarrassing to watch a team not supply a centre forward with one good pass for him to run on to as this is his game, Naismith played one ball into his path in the first half and after that nothing. We can moan all we want about him not holding the ball up, but what is the point if no there are no runners running past him, he gets no service because the central pair come so deep to collect the ball, teams then press so high up pitch and we are screwed. Feed him and he will score.
Aiden McGeady needs to be replaced and quickly, Kone needs to start with oviedo and stones against Southampton. At the beginning of the game though we did see a variation in formation with Besic dropping back to make 3 at the back and Coleman playing more inside right but this quickly disappeared.
Ian Jones
101
Posted 16/12/2014 at 05:32:48
The performance perhaps wasn't great but scored 3, the game was won and we have 3 points. Some commentators/pundits often think that winning when nut playing so well is a sign of a good team.
John Audsley. Hope you are recovering and that things are ok. As you say not a good way to finish the night. My Mother suffered a stroke after watching Everton Man Utd semi final in 2009. Am sure it was a coincidence but seems watching Everton is not always good for your health...
Mark Palmer
102
Posted 16/12/2014 at 06:46:59
Don't think I've ever been so bored watching a victory. Our quality was awful - QPR showed more moments of skill. That is, until Kone and Eto'o appeared. I really enjoyed the last 5 minutes!
Besic was great too. Please Roberto, give Kone a start and let Lukaku help McGeady warm the bench over Xmas.
Paul Andrews
104
Posted 16/12/2014 at 07:03:33
Peter Lynch 51
QPR had 4 shots on target not 17.
Kevin Tully,
I for one agree with your point re the Barkley, Besic, McCarthy axis and have mentioned the 3 of them playing in a 4-3-3 for a few months now.
Three very good young players whom we should build the team around.
Norman Merrill
105
Posted 16/12/2014 at 07:34:29
Great display by Besic, showing why Roberto, made the move for him, after starring in World Cup. Can't wait to see him alongside McCarthy.
John Audsley
106
Posted 16/12/2014 at 07:38:30
Thanks Ian I appreciate your comments. Back home and in bed. It was diabetes related seizure in the end and just got to rest up. Hope your mum is well.
Barkley and Besic were excellent last night and ive high hopes for them alongside Macca in midfield.
Special word for Naismith. The guy never stops working and is an incredible improvement on 2 years ago
Abhishek Saha
107
Posted 16/12/2014 at 07:45:55
Great to see Barkley, Mirallas, Naismith and Lukaku, all four playing together. This is the best attack we have.
Russ Quinlan
108
Posted 16/12/2014 at 07:54:06
I'm afraid the first 30 minutes were awful, no pace and even after we were comfortably in front nobody wanted to inject any pace. All that passback football really is boring, never mind about keeping possession, sometime we hardly did that when QPR pressed us.
And what the hell are some of those free kicks about, we had one about 30 yards out and instead of putting it into the box it was played short and then ended up back with Howard !! Unless we get a free kick within range of the opposition goal, we always take it short and then pass it back... WTF is that all about!?! Frustrating to say the least!
Paul Andrews
109
Posted 16/12/2014 at 07:54:41
Norman,
An absolute steal at the transfer fee we paid for him.
Roberto's trip to the World Cup paid off in spades re the scouting of Besic.
Dan Small
110
Posted 16/12/2014 at 07:50:36
Everton snatch lucky results and the team gets praised to high heaven. They beat a tricky team who came to spoil and sit deep and they are booed. Don't get it, me. I'm made up.
3 -1 is a great result, especially after a run of actual poor results against confidence-knocked sides like Hull and Spurs.
Everybody is entitled to their opinion, after all, it's a club not a cult. My opinion, however, is that booing for trying to keep the ball instead of booting it 40 yards to their keeper, or groaning as soon as the top goalscorer tries to do the right thing but struggles, is moronic.
Jim Bennings
111
Posted 16/12/2014 at 07:59:29
A good win but if we are to win another match before the year ends it will need an immense improvement on that showing last night..
QPR will probably rue the fact they were so bad because had they turned up in that first 30 minutes they'd have give themselves a great chance.
We look the the position we are at present, a top 10 team at best with no real hopes of threatening the top 5.
Only Besic and Barkley in flashes reached anywhere near the highest standards required.
Concerned big style this season over the lack of involvement of Seamus Coleman, seems to have regressed this season rather than built on his great year.
Baines too continues to look quite ordinary, summed up by his total "shit out" job with that 50-50 with Joey Barton, until Besic showed him how it's done.
A good win with for me but reality is against better sides the problems are still very much there.
James Hughes
112
Posted 16/12/2014 at 07:58:26
Patrick #90 I totally understand your sentiment we should be behind the team and making Goodison an uncomfortable trip for away teams.
But we shouldn't just do it with blind faith, what we are seeing is just plain bad at present. We may be a team in transition and we may go on to great things, lets all hope so.
How many times did we win a free kick in an attacking position and instead of men in the box, we pass it backwards. Are you saying we should applaud that???

James Morgan
113
Posted 16/12/2014 at 07:56:55
Despite not being a great performance, the balance of the side was right. Two wingers, Naismith off Lukaku, and one defensive and one attack minded midfielder in the centre.
Besic was class, always has time on the ball and knows how to win the ball. Barkley showed maturity and his unique driving forward is a joy to watch, from what should be his long term position.
Lukaku needs to get involved more though he didn't get any great service, he needs through balls down the channels rather than balls to his feet with his back to goal.
I don't think Mirallas will be out too long, hopefully just a bit bruised at the moment, it was a red card challenge on him to say the least, anyway.
McCarthy and Barry are to come back, though shouldn't walk straight in the side, plus Kone and Oviedo and Stones coming back to fitness looks more positive for the busy festive period.
Up the blues.
Christopher Wallace
114
Posted 16/12/2014 at 08:47:37
Stephen Brown: "Mirallas made of glass".
Mutch went in with the scissor tackle, and the full weight of his body landed on Kevs ankle, in an unnatural position. Very few players would've got up from that.
I was thinking before it happened that Mirallas should've been taken off for protection, as QPR were always going to resort to those tactics, and Mirallas is probably the player we can least afford to get injured at present.
Phil Walling
115
Posted 16/12/2014 at 09:05:36
Mirallas is a very talented, sometimes selfish player who is, indeed, 'made of glass'. I think that in all the time he has played for us he has never completed 90 mins!
But, as Christopher says above, few would have walked away unscathed from that Mutch tackle. He is key to an Everton revival, so let's hope he is not seriously harmed.
Just watched the game again and even though I knew the outcome, I was shouting at the screen over the use of the needless 'time wasting' by the back four. Also, only a Roberto team could take a free kick deep in opposition territory and see it end up in the goalie's lap. Ours!
Mark Andersson
116
Posted 16/12/2014 at 09:08:45
Darren Hind, good point you made about entertainment. Blue Bill made his millions by producing and backing good quality theatre productions. If people in the West End paid good money for a night's entertainment and were served shite and booed at the end, the show would be cancelled.
Fuck the old saying "3 points is all that counts". Everton are playing shite, win, draw or lose.
Blue Bill needs to have a word with his manager and give him a kick up the arse. We are not Wigan, our fans know their stuff and this shite we are playing will not have the crowd cheering, but jeerring.
I now starting to believe that PW has been right all along.
Brent Stephens
117
Posted 16/12/2014 at 09:45:14
Conor #92 – the very same fat Sam! He didn't have the team to stymie us, but I think he's right and knows how to do it - as others do also.
Peter Lynch
118
Posted 16/12/2014 at 09:59:16
Paul Andrews, 104 you are of course right. I meant to say 17 attempts at goal. My point being what would a good side convert?
Dear Santa, my Christmas wishlist: a new keeper and a fully fit again Stones & McCarthy.
Michael Polley
119
Posted 16/12/2014 at 10:20:04
I thought the 1st half was good, but in the 2nd we sat back and conceded too much possession to QPR. We seemed to get more nervous as the game went on, and the crowd could feel it.
Great performances from Barkley, Besic – what a tackler, but he needs to calm down a wee bit or he'll see red in future games. You cannot fault his energy & commitment though.
Mirallas was our best player, and I was gutted he was stretchered off. Let's hope it looks worse than it is. The poor guy is only just back from a hamstring. We will miss him over the busy festive period, so let's hope it is not a long layoff.
Jamie Barlow
121
Posted 16/12/2014 at 10:05:48
Totally agree Russ. Those free kicks (about 3 of them) in their half that ended up back with our defence are a joke. If its orders from Martinez to rebuild from the back, he wants fucking. Put he ball in the box where there's at least a chance to score.
What annoys me is that when we speed it up, we cause trouble. Boring boring shite again I'm afraid.
Plus points. An aggresive Besic, Barkley putting in tackles and having a good overall game and the welcome return of Naismith. The first name that should be on the teamsheet.
Amit Vithlani
122
Posted 16/12/2014 at 10:09:50
James @ 36. Playing Barks and Besic in CM meant our full backs were more subdued. Baines and Coleman tucked in (as Graham Mockford observed) and we relied on thrusts through the middle.
There is always a trade off and I don't think playing a split CM is the answer to all our ills. We need a CF who can hold the ball before we dare unleash the full backs with only 1 player holding. Baines is our top as sister and I would vote for a formation that gets the best out of him any day.
Amit Vithlani
123
Posted 16/12/2014 at 10:45:10
Martinez post match comments about the crowd were interesting. The bloke needs a reality check. Pre match our position was arse clenchingly precarious. Of course the fans were edgy. In times like this you send the team out with blood and thunder to get the crowd going.
What is of deep concern is that there is zero foundation to this team. It is a group of talented individuals more or less thrown together and asked to come up with the goods.
We need to see partnerships forged across the pitch. I feel for Lukaku. The boy has not been paired consistently with someone who will dovetail with him. Meanwhile, after a great start, the tinkering and pissing about has drained the confidence out of our full backs.
So the manager needs to understand that anxiety and edginess is inevitable given the lack of foundation. We need to get back to playing with intensity and tempo at home. The players are capable and fit enough by now. No Europa games to distract for a few weeks. Stop fucking about with team selection and pick players in their best position over the coming weeks.
Meanwhile, hire better physios and a better goal keeping coach. Howard has talent and whilst error prone this is the worst I have seen him. Robles is a joke. Was he really ever a keeper?
Christopher Wallace
124
Posted 16/12/2014 at 11:54:10
Amit
What's wrong with the physios?
I don't think Roberto said anything bad about the crowd. And to be honest, the support at Goodison has been rubbish for years. The away fans put the home ones to shame.
Amit Vithlani
125
Posted 16/12/2014 at 12:10:47
Christopher,
Martinez said post match the fans need to enjoy the games a bit more. To be more vocal. But pre match the apprehension was inevitable given our precarious position. If he wanted to the crowd to be less apprehensive, the team should have come out with passion and intensity.
This season we have lost Mirallas, Naismith, Atsu, McCarthy, Barry, Baines and Coleman to hamstring or muscle injuries. All in the first 3 months of the season. Something is up with the physical preparation. I don't buy the crap around our pre-season. These days pre-season is all about making money from friendlies, trying out formations and introducing new players. Players keep themselves fit. What seems to be wrong is the physical preparation for matches. Consistent muscle injuries point to a problem in that area.
Christopher Wallace
126
Posted 16/12/2014 at 12:28:45
The physios are there to treat the injuries. The players have been warming up since they were 8 years old - it's up to them to ensure they are properly stretched and warmed up before games.
In particular, Mirallas and Barkley returned well ahead of schedule from their injuries. Barry and Baines also. Atsu and Coleman are quite explosive, and can be susceptible to these types of injuries (see Aguero, Owen, etc).
United probably have the best physios that money could buy, but their injury list this year is twice as long as ours.
The crowd are more vocal in criticism of the team than in support – as I said, it has been like this for years. I generally only go to away games now as a result, which is a shame.
Peter Roberts
127
Posted 16/12/2014 at 12:04:14
I think its very interesting to see the denial from some fans when it comes to Lukaku. If Kone had turned in performances like Rom has he would be getting ripped and advised to get back to Wigan as he was never good enough etc.
For starters – accept that Romelu is not a footballer; yes, he can finish... Does this mean that we should have spent 㿈M on him? Of course not. Because we paid it doesn't mean he was worth it. Micky Quinn could finish.
Every time he has a poor game, it's always the fault of Martinez's style, or the players around him... He played against Algeria in the World Cup and failed to register a touch in the opposition penalty area, he sulked and ranted when taken of for Origi who showed far more willing. This is what we are seeing now.
Top and bottom is that aligned with limited footballing ability, he has a questionable attitude and work ethic. He is built like a tank yet can't impose his physicality on defences – he looks soft. Compare him to Kone who bashed the Krasnodar defenders about with authority.
He may turn out to be an effective forward for us but for me he was never the type of striker we needed, Wilfried Bony fit that picture – far more able at bringing others into play and he does score goals. With Rom, you just get the latter when it is on a plate for him.
No doubt I will see a reply that he is only 21 – as if he is only in his second season of professional football and that on his 22nd birthday he will wake up and be able to control a football and be able to jump higher than a 5ft-10in defender... It's highly unlikely to happen; for me, I hope he nets 15+ goals and a team offer us 㿀m for him.
Amit Vithlani
129
Posted 16/12/2014 at 12:39:07
If I have a bunch of multi-million pound assets on whose physical health my livelihood depends, I will make sure I take all steps to ensure proper physical preparation and minimize muscle injuries. Now whether that is the physios, assistant manager or coach whose job it is, something is not right.
So many muscle injuries in the opening 3 months is not normal. I do not know or care about Man Utd's injury list but what I do know is that, with a small squad, we surely must prioritise minimizing non-impact injuries.
Christopher Wallace
130
Posted 16/12/2014 at 12:42:52
To clarify, I believe supporting a football team should be more than just reacting to events on the pitch.
Creating an atmosphere and having a good sing-song are a massive part of match day experience for me. Watch Dortmund fans this week, despite the fact that they are in relegation zone.
So many other clubs fans do it. Our away support is also very good. Goodison is depressing. Martinez gets slated for being cheerful and optimistic. WTF?
Amit Vithlani
131
Posted 16/12/2014 at 12:50:21
Dortmund are the second most successful team in the home of the World Champions. Yes, they are not in a good run but there is nothing there that a good CF to replace Lewandowski will not fix.
Have you been to the Weser Stadion to watch Werder? They were the Everton of the Bundesliga in the 80s. This season they were playing poorly at home which got the fans antsy and a promising young coach was fired. He too was trying to implement a new philosophy.
Tony J Williams
132
Posted 16/12/2014 at 12:53:17
What have the physios got to do with the hammy injuries?
As stated, it's their job to treat injuries, it's the players job to warm up/down and stretch properly before and after the game.
On to the game, easily Lukaku's worst game for us, probably those stupid white pumps he was wearing. Didn't look interested.
Why are some posters saying that Besic needs to calm down? Quite the opposite, get into the opposing players' faces and wind them up like the niggly bastard Cahill used to do. It puts them off their game.
Also Howard makes a good save on the stretch, it's up to the defenders to pick up their man in case it does come back out. What else is Howard supposed to do? He has saved the shot well, unfortunately due to the speed of the shot he can't put it behind or grab it.
3-0 up and strolling, it wasn't pretty and I even heard someone call us shite because we passed it back, we were 3-0 up at the time. Run the clock down, conserve your energy. That game was over by half-time so why would we go balls out chasing more goals?
Their goal came from shite refereeing/linesman as well. Our player was fouled and no call then the prick of a lino puts his flag up for offside. They then go straight up the other end and score.
They were shite and were never going to get close to us. We won ugly but, more importantly, we won. 3 more points, not too much of a work out, so looking onto the next game.
Colin, care to explain why Distin is rated as a 4? He never lost a header all game and very rarely lost possession.
Dave Abrahams
133
Posted 16/12/2014 at 12:48:58
Patrick Murphy 90)
First of all, I respect your input on here,but I'm sure you know the reasons the way the crowd are reacting.
For the first 25 minutes Everton were doing next to nothing and the crowd were restless, then Barkley made a terrific pass with outside of his left foot 40 yards upfield to Naismith who in turn put a great pass across the face of the goal which Lukaku just missed. The whole crowd rose to this quick movement over 60 yards.
This is what the crowd want. They know the team is capable of doing it, they are not being allowed to. Whose fault is this? Like most in the crowd, I love Everton but I do not like the way they are playing.
Amit Vithlani
134
Posted 16/12/2014 at 13:08:19
Whether it's the physios, assistant manager or coach, someone is not preparing the players properly. If it is being left to the players, then maybe it's time they were supervised. In this day and age of sports science, muscle injuries can be minimized with proper preparation. We have had far too many already.
Kevin Gillen
135
Posted 16/12/2014 at 12:47:15
I don't hold with all the negativity above. I take the positives: three points against an improving QPR and excellent performances from Besic, Barkley and Naismith.
Yes, we had a bit of luck with all three goals but the first goal was really positive play and despite a little bit of nervousness I felt we for once put the result beyond doubt.
Not everyone can put in world-beating performances and in some games things just don't happen for you. That was Lukaku tonight. Against Wolfsburg he was unplayable.
What is really encouraging is that we coped without our three most experienced midfielders tonight and that Kone looks ready to score goals. If we stop leaking goals then surely Eto'o, Kone, Naismith, Lukaku and Mirallas can fire us up the table. (Remember Stracqualursi and Beckford?)
Also, in the long term, giving those youngsters a run out in the Krasnodar game is going to have a huge positive effect. Garbutt, Browning, Ledson, Jones and Dowell must be chomping at the bit to get another taste of first team football. Bring on Southampton.
Mark Frere
136
Posted 16/12/2014 at 13:18:13
One of the most disappointing aspects of last night's performance was when we went 3-0 in front, we completely went to pieces. I wouldn't have minded the sideways, backward passes and slow build-up play at that point, but we were just plain sloppy, constantly giving them the ball back. We completely took our foot off the gas and it's not hard to see why we've dropped so many points from winning positions this season.

Raymond Fox
137
Posted 16/12/2014 at 13:11:19
The result was the main priority. We would all like the team to be playing wonderful flowing football and running rings around the opposition, but let's get things in perspective. We have 10 teams below us, not shockingly bad is it, and there's half a season to come yet, plus we've a perfectly winnable tie in the Europa League to progress further.
We've not been able to field a settled side all season what with injuries and the need to fit the Europa League in; it does affect performances – it's bound to.
One problem I do see in all our games though, is that the opposition try to mark us tightly while we don't do like wise; also, our forward players are not trying to find space enough to make someone to pass to.
I am concerned about Lukaku, at present he's not looking like a 㿈M player to me, he is going to have to improve a good bit to fit that tag! Another concern is where is the money coming from in the near future to replace a number of ageing players? Selling Barkley or Coleman?
Øystein Heggelund
138
Posted 16/12/2014 at 13:14:02
Watching Pienaar in the last two matches makes me kind of sad, actually. He's so far off the pace that he could well pass for a decent League Two player. Let's pray it's merely down to his lack of match fitness, but the signs last season were worrying as well, and I for one believe he's well past it and should be offloaded in January if possible.
But who'd want him with his current performances? Lacks pace, lacks strength, takes ages on the ball, can't make a simple 10-yard pass. Okay, I'm being a little harsh here, it's just so frustrating to witness.
Jonathan Benn
139
Posted 16/12/2014 at 14:49:33
Christ there are some moaning arses on here.
We won. End of. Be happy.
We have played a lot better and got nothing. I will take an ugly(ish) win over a gallant defeat any day.
COYB!
Tom R Owen
141
Posted 16/12/2014 at 15:41:53
Watching last night's game my observations were:
Mirallas is beginning to believe his own hype about being a Champions League quality player and now the star of the team. Reality check – you are not on either point.
McGeady is wasteful and not a first-team player.
It was the first game back for Naismith who we have missed therefore I believe Rom will improve with more support.
We did not have Barry or McCarthy and thought Barkley was outstanding and Besic was Man of the Match.
The back line was comfortable but I really miss the speed of Stones.
Howard has for me been poor for a long time and needs a replacement.
Great to be able to call on Eto'o and Kone – both looked good in their cameo performances.
Pienaar – no way should he be even on the bench. Off the pace and happy to wander... get rid in January!
Graham Pearce
142
Posted 16/12/2014 at 16:56:12
Granted there was a couple of unnecessary backpasses but come on all blues supporters it's time to stop this build up of criticism. The team is out of form so therefore going to be lower on confidence, if we jump all over the boys on the pitch every time there's an error, we are going to lower their confidence even more and they're even less likely to be positive next time.
When asked about the atmosphere Martinez cleverly dismissed it; I think he knows the fans are frustrated but he deserves support whilst he gets to grip with combining the Premier and Europa Leagues, his team was set up to be attacking and there was no square pegs in round holes last night, which many have criticized him for in previous games.
Bainesy and Coleman are out of form but form is temporary and class is permanent and they will come good again. Seamus needs a good run of games, that's all. We put ourselves on a moral pedestal above the red half but many on here have gone off it, let's prove that we're the best supporters in the land and lift our team and see if we can be the spur that increases the tempo in our play. When you aren't winning, 3pts is 3pts so let's move on upwards together.
Mike Powell
143
Posted 16/12/2014 at 18:19:07
Yes, I'm happy we won, but how slow and ponderous were we? Pass, pass, pass... so what if we had 68% of the ball? It's so boring.
I used to love going the game but it's getting harder to get motivated to go now. I just know what to expect – slow sideways passing... I'm getting pissed off with it.
I'm trying my best not to have a go at Martinez but I'm staring to dislike him.
Andy Crooks
144
Posted 16/12/2014 at 19:48:52
Gavin # 99 I have found your comments towards Roberto and his vision negative and downbeat. Frankly, I have thought you have talked some nonsense. You know what, though, I read that post and find it hard to disagree with a word of it. I am becoming alarmed at what is happening game after game. An intransigent coach who is spouting inane nonsense.
Yes, I believe he will turn it round because last season was a revelation and I hope that we can get back to that form. However, there is a stubbornness about him that reminds me of our last coach. I am a glass half full bloke so I would like someone to come on here and give a pep talk about how all will be well.
Mark Andersson
145
Posted 16/12/2014 at 22:22:43
Andy 144. You don't need a positive pep talk, the truth is stirring us all in the face, hens why there is so much negative post after a win.
The facts is the majority of fans are not happy with the style of football being served up.
I for one after thinking last year that Martinez was a football God, now think of him as a fool.
Brilliant that he exudes so much positivity, however he needs to have a reality check from time to time.
I just can't see things improving much short term, you can bet your bottom $$$ that there will be no real reinforcements come the end of January.
Unless he stumbles onto a winning formula or is forced to do something different to what we have been witnessing, there will be plenty more moaning and groaning from the fans.
Conor McCourt
146
Posted 16/12/2014 at 23:20:35
Andy after Southampton we play 1 of the top 8 from last year until the end of Janueary. We will have only to play 2 of them away this season (Arsenal + Chelsea). We are close to having a fully fit squad for the 1st time this season and our chances of recurring injuries will be reduced in the next 2 months without the Europe League.
We would have had about 8 more points had Distin played like last year and about 6 more points had our keeper performed better. In addition we have had to play with no more than 1 winger due to Kevs injury and Atsu clearly not as good as expected. Should Roberto decide that he wants to tackle these problem areas he can do so in January.
I am really confident we will finish in the top 7 and despite all the negativity we are only 5 points of Arsenal who are the clear favourites for that elusive fourth place. Many fans would kill to be Evertonians.
Neil Wood
147
Posted 16/12/2014 at 23:43:30
Add to Conor's post the addition of Delboy in January would boost things massively. They need to pull out all the stops to sign this lad they really do....
I genuinely believe that if we do get him, he will catapult us into the top 4.
Andy Crooks
148
Posted 17/12/2014 at 00:41:16
Connor, sorry this Kindle puts an extra N in your name, just the pep talk required. Glass filling up again, thanks.Neil, I agree. This lad, coming back with something to prove could be special.
Steve Jenkins
149
Posted 17/12/2014 at 01:53:34
Add to Conor's post the addition of Delboy in January would boost things massively. They need to pull out all the stops to sign this lad they really do....
I genuinely believe that if we do get him, he will catapult us into the top 4.
I haven't managed to read the 146 posts before this - a mixture some positive and negative from wednesday.
Barkley - pure class, some keep doubting his ability - form, yes, the lads quality... if you can't see it.... then.. you don't know football.
Besic - kids a real talent right?
3 points without playing well, 10th (a good run will see us ......) Europa league last 16th without breaking sweat, above Liverpool without spending ridiculous money - who says we have worries?
I'll admit though - not happy with our performances - lacking intensity.
We miss James Mc protecting the back 4.
Kone and Eto - I want so much for Lukaku to be a success... but when you see the a ball control and pace of Eto and Kone you're wondering of the damage they can do to opposition.
I'm hoping Lukaku can find his aggressive (I'm taking u down) form soon.
Paul Ward
150
Posted 17/12/2014 at 08:24:56
Darren Hind 99 You are spot on in your assessment. The problem with some of our listers is they are offended by criticism of their favourite players or the manager. Well hard luck, the truth is a lot of these players and the manager have a lot to answer for. Blaming the crowd for their poor effort is a joke. The crowd reflect what is happening on the field not the other way around. I hope I am wrong but Martinez seems oblivious of the fans reaction to this negative mindless football and appears bent on his idealistic Barcelona plan with our inferior players.
Peter Roberts
151
Posted 17/12/2014 at 12:09:57
Paul Ward - what you are saying is spot on and is what is going on with the Lukaku apologists - the way that Moyes had his apologists. Short term appreciation for something should not mean long term tolerance.
So many fans thought that a player like Lukaku was beyond the dreams of plucky old Everton and his eventual realisation that none of the European super powers wanted him meant he had to come to Everton. Fans behaved as though he had rejected an offer from Real Madrid in order to help us out with his "guaranteed goals".
Compare Lukaku to Kone - fans didn't want Kone from the very start, but really wanted Lukaku. One has excuse after excuse made for them, the other was slated before he even got a chance.
Jim Knightley
152
Posted 17/12/2014 at 13:11:44
Yeah..there is no difference between Lukaku and Kone.
Hang on... one is 21, one ten his senior. And the 21 year old has a 1 in 2 Premier League scoring record.
The treatment Kone gets is unacceptable, have fans not heard of patience? The same goes for a clearly brilliantly gifted Lukaku, who gets his price rammed down his throat when he does badly, despite piss poor service and a set up clearly not suited to his strengths.
Barkley is 21 (and over-rated). Besic is only 22, and Stones is only 20. Lukaku is 21. These players will not consistently play top class football, will get effected mentally more than older players, and will make mistakes. To moan, and criticise, helps no-one, and forgets a string of the very best players in the world who stuttered in their early 20s, and many of whom put out inferior displays at lower levels than some of our players. Martinez's style is a problem at the moment, but it is partly a problem because of form and confidence, which will not be helped by such an irritable Goodison crowd. We get a barometer of it on here, in the mindlessness of those who predict a relegation battle.
Martinez needs time, although he is frustrating most of us at the moment. I find it hard to justify some of the football, and some of the decisions. The shifting of Barkley/Naismith and Eto wide is particularly irksome, and fucks up the shape of the entire team. I also can't help but think his style is wrong for this group of players? He favours a passing concentrated approach, but how many of our players are comfortable with that style? That side ultimately relies on a deep-lying ball player, and at least one other creative presence. We will typically line up with Lukaku in front of Mirallas (a runner - our best attacking midfielder, but a player who has his head down more than he has it up), Barkley or Naismith (Barkley is selfish, runs with the ball far too much and is not creative, and Naismith is a great worker, has a great spirit, but is not a gifted creative player) and McGeady (who likes to get one on one, use a trick, and then shoot or cross. He is one dimensional). The best two midfielders suited to playing the system are Osman and Pienaar. Pienaar is unfit, and less than the player he was. Osman can still do it, but is not top class by any stretch of the imagination, and is also on the decline. He is a squad player now.
This is where the irritation lies for many of us I think. We are playing a system which does not suit us so much. Really, our team is set up for strength and power, and that is why we are very effective when teams come onto us, and when we can break into space aka Arsenal and Wolfsburg.
So, I think criticism directed at Martinez is far, but do I think it should be directed at the moment? No. I think he needs and deserves longer, because last season we were great. This season we have been interrupted by injury, and by the demands of Europa League football which this squad is not use to now. Getting on his back, and on the players, will not improve the team. The Borussia fans are being fan more patient than we are, and have seen a much steeper decline, albeit one created in part by the financial might of Bavaria and an extended injury crisis (Although the injuries we have suffered this term have also been comparable). I think we need to get behind the team, and remember that the youth of many of them. This is a team still in transition. It is not a team to be excused, and all of the young players have performed poorly at points this season, as have the old. But we do need patience. We have been spending far less than our rivals for a very long time, and the integration of a younger set up will take longer yet. Of course, Martinez has not helped, and I cannot for the life of me understand the decision to give Barry a 3 year contract. But, that said, Barry was integral last season, and we would have paid some money to find someone of his experience, whilst the purchase of Besic suggests a long term plan which sees him as a partner to McCarthy, and an Everton centre with a long term plan.
Going forward, I hope that our crowd learns a little patience, and that Martinez learns a little malleability. I think we have a massive problem area on the left hand side of midfield, and I would like to see all our funds concentrated on addressing that side with a creative presence. But I think we do need to remember that players drop out of form, especially when they are younger. We have been unacceptably bad so far, but there is still time left this season, and a win on Saturday against a misfiring Southampton will take us within 2 points of them, ahead of a very winnable home game against Stoke. Last season we fucked up at this time of the year, when pressure started to tell. This season we need to rescue dreadful league form. A couple of wins will bring some good feeling back, and remind us of all of how talented some of these players are. And there is no doubt that Coleman, Baines, Jags, Stones, McCarthy, Mirallas, Barkley, Besic, Lukaku, Naismith and Eto are very talented players. This is a more talented group than we have had for a long time on paper, and we need to prove that now.
Conor McCourt
153
Posted 17/12/2014 at 14:28:22
Great post Jim. I would agree with a lot of what you have said.
Your assessment of our individuals is spot on especially the merits of Lukaku.
I do think however you like most fans are being a little unfair on Martinez with regards to the balance of the team. Roberto has throughout his career played with two out and out wide men at Swansea, Wigan and up until this season for us.
I agree he has tried to accommodate Barkley in that role as a short term solution which has proved unsuccessful but I feel his hand has been forced. We lost Dellboy from last year (when he always played 2 wingers) and I believe he was convinced Atsu would develop likewise. For the majority of the season Mirallas and Pienaar have been unfit so McGeady has been the only consistent option available to Roberto with Atsu not proving good enough.
I believe Roberto envisaged getting Dellboy and starting him and Kev wide with the options of the bench from McGeady, who could produce a match winning piece of magic, or Pienaar, with his ability to control possession and his link up telepathy with Baines.
I am also unconcerned about the style as I love possession football and once we get Stones in the team instead of Distin that will have a positive impact with someone so comfortable on the ball and able to break lines and drive into the midfield. This idea that teams have figured us out is silly as if we are on our A-game it is difficult to stop us due to our technical superiority over most even if they set up to frustrate us.
This season we have lost to Spurs, City and Utd away and Chelsea at home which shows we haven't been good enough against the better opposition with the exception being against Palace which was more about us being poor than anything to do with them tactically outsmarting us. Our ability to compete better with the top teams will improve should we have better luck with injuries in the second half of the season and we will play most of them at home also.
Brian Furey
154
Posted 17/12/2014 at 16:57:43
Wow two great posts together. Jim, I found myself agreeing with nearly everything you said there. I, for one, think Lukaku can be lazy and lacks a lot of attributes like first touch. But you gotta pay big bucks nowadays to get a 15+ goal scorer. He is that whereas Eto'o and Naisy are not. I'd say he will make us money in 3 years time.
As for Roberto Martinez, I too have less trust in him this year but he has already made us perform much better in Europe than we have done since the 80s.
---
Add Your Comments
In order to post a comment, you need to be logged in as a registered user of the site.
Or Sign up as a ToffeeWeb Member — it's free, takes just a few minutes and will allow you to post your comments on articles and Talking Points submissions across the site.
© ToffeeWeb