Southampton vs Everton
Match Preview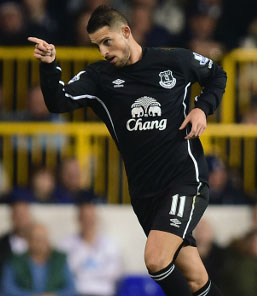 Kevin Mirallas escaped serious injury against QPR but won't play this weekend
Having chalked up their fifth win of the League season and stepped back into the top half of the table, Everton head south to Southampton looking to build some momentum heading into the Festive programme. Between now and New Year's Day the Blues have 12 points to play for which, in the unlikely event they claim them all, would put them on 33 points with 20 matches played.
That's five points less than at the same stage last season but, seeing as they're currently 10 points off last year's pace, it would represent a decent gain and would likely put Everton back in Champions League contention. Three of the four fixtures are away from home, though, so it's a massively tall order for a team that has won consecutive Premier League games on only one occasion thus far.
One step at a time, though, and that puts the focus on the clash with faltering Southampton at the St Mary's. Tipped to go down after losing Mauricio Pochettino to Tottenham and selling so many apparently key players over the summer, the Saints under new boss Ronald Koeman got off to an incredible start. As strong as they looked, with Graziano Pelle's goals, Victor Wanyama's power in midfield, Dusan Tadic's creativity, and a solid defence, it was always likely to be unsustainable and they have now lost five straight in all competitions.
Injuries and suspensions are starting to take their toll and, having fallen out of the top four, Koeman faces his first test as a Premier League manager to stem the bleeding with important members of his side out. Jack Cork is ruled out for two months, Tadic, Pelle and Steven Davis are major doubts through injury for this weekend, while Morgan Schneiderlin, Florin Gardos and Wanyama are all suspended for the Blues' visit.
Those absentees can only help Martinez's cause but he will be focusing on his own team where James McCarthy has been given a 50-50 chance of being passed fit along with Darron Gibson. The manager told the media today that both players are back training with the first team but whether he elects to risk either of them remains to be seen, particularly when Gareth Barry's return from a one-game ban and Muhamed Besic's form will provide him with the leeway to give both players another week to gain more fitness.
Martinez also had positive news regarding Kevin Mirallas and Leon Osman, confirming suggestions earlier in the week that the Belgian hadn't sustained any significant damage to his ankle against QPR and quashing a report that Osman might need surgery on a foot injury. Neither will be fit to face Southampton but Mirallas, at least, looks likely to be ready again for the visit of Stoke on Boxing Day.
As Everton's most creative attacking force, Mirallas will be sorely missed but Martinez has a ready-made option in moving Ross Barkley into a more attacking role with Steven Naismith and Romelu Lukaku. It would mean less width, particularly on the left flank but it might open up more space going forward for Leighton Baines who has been uncharacteristically subdued in recent matches.
Seamus Coleman has been in a similar boat on the other side of the field but, as the only true winger available for selection, Aiden McGeady is likely to continue there this weekend. Samuel Eto'o and Arouna Kone offer more permutations to Maritnez's starting XI but starting either forward would surely require dropping one of Barkley and Naismith, both of whom played starring roles in the win over QPR.
At the back, meanwhile, John Stones is waiting in the wings to make his highly-anticipated return to the team after two and a half months out with an ankle injury. Maritnez suggested to the media that he is in no rush to throw him back in until he is completely ready but it would not be surprising to see the 20 year-old in the starting XI when the teams are announced at 2pm on Saturday.
While the Blues don't often fare well on their long trips to the south coast, Southampton's sinking morale and selection problems mean that this fixture is not the daunting prospect it was a few weeks ago. And Everton won't have to go too far to improving on their last appearance at the St Mary's, a sorry 2-0 reverse in late April where two own goals finally killed off their top-four hopes for good.
Away from the pressures to perform at Goodison and against a team who plays more open football, the Blues can hopefully use the relief of Monday's victory to play more like themselves and come away with three important points.
Kick off: 3pm
Referee: Jon Moss
Quotes sourced from ToffeeWeb Match Reports
Reader Comments (136)
Note: the following content is not moderated or vetted by the site owners at the time of submission. Comments are the responsibility of the poster. Disclaimer
Doug Harris
1
Posted 18/12/2014 at 19:51:06
If we can get a result here to follow on the QPR win, I'm very optimistic that we may just have reasons to be cheerful over Christmas and New Year.
COYB
Sam Hoare
2
Posted 18/12/2014 at 19:52:40
Southampton are missing almost their entire first team and will probably have quite a few academy players in the bench and in the pitch. We couldn't hope for a better time to play them especially with their core of Schneiderlin and Wanyama suspended.
As such I'd go for the jugular and play Ross in the deeper midfield role again. That way we have a deeper lying midfield threat and can play Naismith where he is best. On the wings is where we struggle but would stick with wide players rather than forwards out of position. If Stones is fit get him back in.
Howard
Coleman Jagielka Stones Baines
Besic Barkley
McGeady Naismith Oviedo
Lukaku
With Kone, Eto'o and Garbutt to come on. That team should boss it.
Gavin McGarvey
3
Posted 18/12/2014 at 20:10:46
That team would do for me. Can't remember seeing Oviedo playing in front of Baines too often, so would be a little surprised to see him playing there. Is Pienaar fit enough to start? Might be tempted to go with him instead, although Oviedo offers tackling in what is traditionally a tough away fixture.
Regardless will be thinking of my Saints mate who hates us due to us snatching away their last chance of glory back in the 80's in that Semi-final:) Hopefully we can have him crying into his beer again.
Paul Hewitt
4
Posted 18/12/2014 at 20:22:18
Surely with all them Southampton players out, we can't lose.
Kieran Riding
5
Posted 18/12/2014 at 20:35:28
No own goals this year, please, Blues!
Awful performance at St Mary's last season, but I'm dead confident this year.
Mike Childs
6
Posted 18/12/2014 at 20:45:33
Just praying Jimmy Mac is healthy this week.
David Hallwood
7
Posted 18/12/2014 at 20:56:57
Agree with Sam's team (#2) with the exception of Garbutt for Baines, because the latter has been looking out of sorts of late.
Sandra Bowen
8
Posted 18/12/2014 at 21:15:12
Perfect time to try 3 at the back in my opinion if Mirallas is definitely out.
Howard,
Baines and Coleman wing backs, Barry and Stones either side of Jagielka.
Besic, McCarthy (if he's fit) and Barkley in midfield.
Naismith in behind Eto'o/Lukaku.

A team full of energy and legs, releases the shackles off the more defensive Baines and Coleman that we've seen recently and better players with the ball at the back.
Keeps McGeady out the side too which always makes me happier.
Whatever side he picks, we really should win this one, they are really down to the bare bones and their 3/4 best players are out.
Colin Glassar
9
Posted 18/12/2014 at 21:43:25
We really need to win this and gain some momentum. We have to start overtaking the likes of Southampton, Newcastle and WHU before we start dealing with the bigger fish.
Mark Frere
10
Posted 18/12/2014 at 21:42:01
Couldn't agree more, Sandra; I posted something similar to what you're saying on another thread. Its worth trying 3-5-2 in the absense of Mirallas. This formation will make us less predictable and release Baines and Coleman to do what they do best, and that is attack.
Assuming McCarthy makes it, this is the team I'd go with:
Howard
Stones Jagielka Barry
Coleman McCarthy Barkley Besic Baines
Kone Lukaku
Plenty of good options from the bench, take your pick: Kone Garbutt Oviedo Naismith Pienaar
Gavin Johnson
11
Posted 18/12/2014 at 22:09:07
I'd stick with Besic & Barkley behind Naisy (they were the highlights of an otherwise patchy performance) rest McCarthy, and God forbid don't play a half fit Darron Gibson, Roberto. We should have learn't by now not to bring players back too soon.
As for filling the void in Miralles's absence I'd be bold and play Garbutt in front of Bainsy.
Kunal Desai
12
Posted 18/12/2014 at 22:07:48
If there is one team you really want to play to end a current barren run then it's Everton.
We have a habit of gifting 3 points to the opposition when they've taken a massive kicking in the scrotum over recent weeks. I sincerely hope Everton aren't already in any festive mood in handing out early Xmas presents. Take the game with high intensity to a weakened Southampton team from the start and we 'should' be okay.
Jay Harris
13
Posted 18/12/2014 at 21:57:33
I personally don't like 3 at the back because it leaves space behind the wingbacks which ends up dragging our ventre halves out.
I would pick the following team and formation
Howard
Coleman Jags Distin Baines
Besic
McCarthy Barry
Naismith Barkley
Lukaku
With McCarthy and Naismith linking up with Coleman and Barry and Barkley linking up with Bainesy.
Depending on the game give Stones and Garbutt a run out later on.
Lukaku to get a hat-trick (wishful thinking).
Paul Dark
15
Posted 18/12/2014 at 22:21:27
The utterly embarrassing McGeady should not play at any cost. Apart from being talentless, overrated and of negative value to the side, he takes the wonderful Coleman out of the game. I note that he's now started to tackle back a bit to win fans over; after all, he's no good in his principal role of attacking winger. I have rarely seen a player in top flight football being given so many chances after so many sub-mediocre performances. No team in the PL would touch this player.
While I appreciate that Stevie P. has lost a fair amount of his mojo, we need to give him a chance to rediscover his form.
Would love Mo to play again; I'm really surprised at some of the posts on TW (on other threads) criticising him heavily. I think he's growing into a terrific player and offers more than Barry in most, almost all areas.
I'm pleased that Kone is back and running, as it were and provides RM with an interesting option.
I didn't realise that Soton have so many injuries and suspensions. Three points would be amazing in our current indifferent form.
COYB!
Mike Childs
16
Posted 18/12/2014 at 22:29:58
Spot on both Kunai and Jay (12&13) especially the three at the back. Man Utd has been playing the three at the back and while Carrick and Barry would be an even trade off, De Gea vs Howard is the biggest difference not in our favor.
Conor McCourt
17
Posted 18/12/2014 at 22:36:09
I just want to pick up on 2 points from this thread.
1- So far it has only been confirmed that Southampton are definitely without 3 first team players and for the first month Ward Prowse was preferred to Wanyama who was only a sub. Schneiderlin and Tadic being the other two.
2- I'm getting a bit fed up with this McGeady hatred on here. Granted he hasn't performed to his best but he is being scapegoated on here. I seen on SSN that he is second on chances created for us in the Prem this season yet he hasn't played all that much. In addition although he is frustrating he does have the ability to produce something when others look as if they have given up. I think we performed much better when he is in the team as when he was dropped we looked very unbalanced especially with Pienaar and Atsu both being injured and out of form and Barkley wanted to cut inside when he was tried there. He stops defenders from working as a block by taking them to the by-line which no other player in our squad does. He is no Dellboy but he's not that bad either.
Colin Glassar
18
Posted 18/12/2014 at 23:05:16
Conor, like you I'm starting to warm towards McGeady. He seems to be improving, albeit slightly, with each game. He seems to be the type of player who needs to be playing constantly to hit his stride so he's definitely not an impact substitute.
I also like the amount of work he starting to put in i.e. back tracking and helping out in defence. I think he might become a fans favourite like Nessie after getting his fair share of stick.
Bill Gall
19
Posted 18/12/2014 at 23:00:58
The players who are only rated a 50-50 chance of playing should not be risked and save them for the home game against Stoke that should be more physical.
Surely we have enough players in the squad to play a weakened team like Southampton without risking more injuries to players by bringing them back to quick.
Patrick Murphy
20
Posted 18/12/2014 at 23:11:53
Wingers tend to suffer the most criticism because by nature they are very inconsistent... but, as long as the winger attempts to get to the by-line and put in a cross, there is always an opportunity for a goal.
What I don't like seeing is when a winger goes past his man and then turns back into trouble; keep it simple with an end product and a winger can be a valuable asset. Whether that winger is McGeady or someone else, the manager should tell him to keep it simple and always look to deliver a cross.
Gavin Johnson
23
Posted 19/12/2014 at 00:01:33
When all's said and done, McGeady is crap! But he cost peanuts so I don't think we can expect too much really. He's going to have to do until January at least. Although from what Roberto was saying on ESPN today I wouldn't be surprised if we don't see any new faces in the next window.
Harold Matthews
24
Posted 18/12/2014 at 23:57:51
McGeady is not the world's best but he's quick and one of the few who can cross a ball. He also helps to track back against pacey wingers. Paul Dark's hatred of him is obsessive and boring. He cost us nothing and while he wears the royal blue shirt, I will give him my support. I've seen others play far worse this season. Many times.
Mark Andersson
25
Posted 19/12/2014 at 00:17:04
I have to agree with Connor. Naisy got some terrible stick on here and now is unplayable to most. As already stated, I'm always weary of facing a team out of form, because the Gods of footie like to throw a spanner in the works for us blues.
Let's hope we win and win with a good performance. I would enjoy the weekend so much more reading positive posts, my own included. Never new Phil Whaling was older than me. To all the fans travelling down south I look forward to hearing you on the TV here in the land down under with my new wireless headphones.
Tim Greeley
26
Posted 19/12/2014 at 02:13:32
Wireless headphones!?!? Genius. Even better if they're earbuds that no-one can even tell you are wearing. Except while you blatantly ignore your family and scream "kick it fucking forward" every three minutes.
I really hadnt been thinking a win but if them lucky Saints are really missing their core, then maybe it's ON!!
Darren Hind
27
Posted 19/12/2014 at 04:06:08
Our most Important game of the season so far.
A positive display should see us home and could change the whole mood of the place.
Ciaran Duff
28
Posted 19/12/2014 at 05:26:17
Agree with Connor on both counts.
Some of the BS written on here about McGeady is embarrassing. He may be inconsistent but as many above have pointed out he has an ability to get in behind defences, put in crosses and cause problems.
Soton will be a tough game and the bookies still have them as favourites:-
â–¶ Home win:2.45
â–¶ Draw:3.50
â–¶ Away win:3.00
Head says draw, heart says win.
Ajay Gopal
29
Posted 19/12/2014 at 06:07:11
I would play Stones and Kone tomorrow and give Lukaku a break to come on as an impact substitute – I think that is when he is at his best, when the defenders are tired, give him 30 minutes and he will do a lot of damage.
So, my team:
Howard
Coleman Jagielka Stones Baines
Besic Barkley Barry
McGeady Kone Naismith
Subs: Robles, Lukaku, Oviedo, Eto'o, Pienaar, Hibbert, Garbutt
Richard Lyons
30
Posted 19/12/2014 at 06:24:41
Now is the time for the Saints to be beaten - Koeman's honeymoon is over.
I hope the in-form players are chosen - that definitely means Besic, Naismith, Garbutt and Stones if he's fit.
If we lose, I fear mid-table mediocrity awaits us... But I think we'll win.
Ian Bennett
31
Posted 19/12/2014 at 07:33:16
I can't say I am a McGeady fan either, which leaves it slim pickings with Mirallas out. Barry will be back in the side, but I hope it means Ross is not sacrificed to the wings.
Howard
Coleman
Baines
Distin (or Stones if fully fit)
Jagielka
Besic - is a bit of a risk away from home, and assumes McCarthy is still out.
Barry
Garbutt - would like to see some natural pace on the left.
Barkley
Naismith - just no-one else to play on the right.
Lukaku
Sam Hoare
32
Posted 19/12/2014 at 08:36:32
Garbutt has hardly played in the Premiership so I am not sure starting him away from home and out of position on the left wing is ideal. Good attacking wing backs do not necessarily make good wingers. Not everyone can be Gareth Bale.
Mcgeady, like alot of wingers has been very mercurial. He gives the ball away too easily too often but he works hard and has actually provided goals and assists, something that looks very far away for Steven Pienaar right now. I think we need more/better wingers or wide players but with Mirallas out and Oviedo recovering I reckon Mcgeady is about the best we have and nowhere near as bad as some (Paul Dark!) make out.
Jim Bennings
33
Posted 19/12/2014 at 08:41:46
Tomorrow is a game that we need to be looking at winning.
We have failed to beat any (apart from West Ham) of the team's we would expect to be our rivals from league placing this season so far.
Mirallas is a major loss, it just takes out a potential matchwinner from our team so this just means that Ross Barkley will have that burden and pressure if making things happen to ensure we carry a bug attacking threat, Lukaku feeds off the energy of a Barkley or Mirallas playing well, if nothing is happening from midfield then all you get from Lukaku is a half arsed looking performance.
McGeady for me the jury remains massively out, he out, yes he put ina decent cross for Naismith on Monday (as a winger some would say that he should be taken for granted at getting at least one fine cross in per game) up until that cross on Monday though he had me going ballistic at why he does not attempt to run more at the full back and the few occasions he did he made a pig's ear of it.
A very inconsistent player who has only scored one goal since he signed for us, not a great return at all.
Sadly though we haven't got an abundance of proven quality options to work the flanks..
Pienaar looks way off it and frankly looked a bit weighty and leaden footed the other night.
Atsu is injured and wouldn't have played anyway.
I know people's have mentioned Oviedo but he doesn't look 100 percent yet, looked off the pace against Krasnodar.
As for Baines in midfield?
A fella who never trusts himself to shoot with that left foot and in recent weeks has rarely beaten the first man with a cross?
Not for me, too easily stifled if we go down that road of playing left backs in midfield.
I also wouldn't bring Barry straight back either, what message is that sending out to Besic?
Barry hasn't exactly played that well in recent months either, for me having him there this season had slowed down our play way too much.
Besic adds bite.
Its a game we can certainly win but it's also a game especially with the way we have played this season we can also certainly lose..
Neil Wood
34
Posted 19/12/2014 at 09:16:07
Connor 17 and Colin 18.... Agreed. A McGeady with confidence and backing has the ability to create two or three chances a game. Yes, he has been poor at times but he is improving and a good run of games will give him the confidence to express himself more and with more of that "arrogance" that Roberto talks about.
Much like Barkley, I feel McGeady is a player that thrives on being backed and told he is good. Yeah he will lose the ball at times, try too much and frustrate us. But if he's creating genuine opportunities each game then I for one will get behind him.
This weeks team:
Howard
Jagielka Stones
Coleman Baines
Barkley Besic
McGeady Naismith Pienaar
Kone
Subs: Robles, Garbutt, Barry, McCarthy, Eto'o, Lukaku
Tony J Williams
35
Posted 19/12/2014 at 09:36:53
As stated on another thread, our record at their ground for the last 2 decades has been pretty poor
R Martinez 2013-14 Sat Apr 26 2014 Prem A Soton L 0-2
D Moyes 2012-13 Mon Jan 21 2013 Prem A Soton D 0-0
D Moyes 2004-05 Sun Feb 6 2005 Prem A Soton D 2-2 (Beattie J, Bent M)
D Moyes 2003-04 Sat Feb 21 2004 Prem A Soton D 3-3 (Rooney W 2, Ferguson D)
D Moyes 2002-03 Wed Sep 11 2002 Prem A Soton L 0-1
D Moyes 2001-02 Sat Apr 20 2002 Prem A Soton W 1-0 (Watson S)
W Smith 2000-01 Sat Mar 17 2001 Prem A Soton L 0-1
W Smith 1999-00 Sat Jan 22 2000 Prem A Soton L 0-2
W Smith 1998-99 Sun May 16 1999 Prem A Soton L 0-2
H Kendall 1997-98 Sat Mar 7 1998 Prem A Soton L 1-2 (Tiler C)
J Royle 1996-97 Wed Mar 5 1997 Prem A Soton D 2-2 (Ferguson D, Speed G)
J Royle 1995-96 Sat Feb 3 1996 Prem A Soton D 2-2 (Stuart G, Horne B)
M Walker 1994-95 Sat Oct 8 1994 Prem A Soton L 0-2
H Kendall 1993-94 Sat Aug 14 1993 Prem A Soton W 2-0 (Beagrie P, Ebbrell J)
H Kendall 1992-93 Sat Apr 17 1993 Prem A Soton D 0-0
James Hughes
36
Posted 19/12/2014 at 10:08:03
This is one game where I will say points over performance is priority. As you see above our record there is not good.
Please Roberto if we get a free kick in their half attack their goal, don't pass it back backwards try forwards.
COYB
Paul Hughes
37
Posted 19/12/2014 at 10:21:37
Southampton will be without 8 or 9 of their first team squad. They have drafted in 7 U21 players for Saturday. My boss is a Southampton fan, who is driving down from Leeds for the game. He's just told me, with the team they are able to field, he wishes he wasn't going. We really should be winning this one.
So - a 0-0 draw with 70% Evertom possession!

Adam Luszniak
38
Posted 19/12/2014 at 10:22:50
A win at Southampton will require a much improved performance compared to our display against QPR. One of the keys to this, in my opinion, is dealing with teams pressing us high up the pitch. It's a tactic which has pretty well stifled the free flowing attacking football which we produced last year.
I think getting Stones back at centre back would go a long way to improving our ball retention, and hopefully increase the speed of transition from defence to midfield. I also think that Mcarthy and Barry is still our best midfield combination, despite the excellent display put on my Barkley and Besic the other night. Southampton are a different prospect to QPR and won't allow our CMs as much space as was afforded our young stand ins. Barkley has to play number 10 for me, he's wasted out wide. Obviously this would be at the expense of Naismith, but I think this a better compromise as Naismith can still be effective moving in from the wide areas. This would be my team.
Howard
Coleman Stones Jagielka Baines
McCarthy Barry
Naismith Barkley Pienaar/Oviedo
Lukaku
Max Wilson
39
Posted 19/12/2014 at 10:53:24
Based upon recent form and talent , I'd be happy to see the following team:
Howard
Baines, Stones, Jagielka, Garbutt
Besic, Coleman, McCarthy, Barry,
Luke, Eto'o
Bench: Robles (sadly), Browning, Pienaar, Long
This is a talent choice.

Jim Bennings
40
Posted 19/12/2014 at 11:10:35
Max,
Is your team above including the subs all based on talent?
Just curious because if it was on form of recent months I don't think names like Barry or even Coleman would qualify as certain choices.
I love Seamus but this season he hasn't been the same , bot just going forward but defensively too he's been indifferent.
Barry of course adds the value of experience but again for me, he has held us back at times this season, too immobile and sluggish in possesion
Tony J Williams
41
Posted 19/12/2014 at 11:37:12
Why is Baines at right back, Max?
Nick Page
42
Posted 19/12/2014 at 12:26:30
Not sure about all the McGeady bashing. He set up the fucking third goal on Monday. Getting on people's backs all the time isn't exactly going to help is it? FFS
James Morgan
43
Posted 19/12/2014 at 13:09:21
That's an odd setup Max, and only 4 subs? We aren't that short of players are we?
Tony J Williams
44
Posted 19/12/2014 at 13:19:58
Also Max, I wouldn't say that Barry is in any kind of form the last three games too.
Peter Cummings
45
Posted 19/12/2014 at 12:57:10
No Prem game now can be called a 'banker' so anyone who believes tomorrows visit to St Mary's is a cert because of their heavily depleted squad should think again.
Too often in the past we have come up against teams in so called 'crisis' situations and come up empty, so unless we show a more attacking intent against sides in these situations, nothing is certain. especially with Everton, who continue to anger and annoy the faithful by methods which are now fully sussed out by the opposition
.
Lee Preston
46
Posted 19/12/2014 at 13:28:14
Tony, it's based on talent and form and Bainesy's form at right back has been incredible, perfectly justifying his inclusion there.
Much the same as Coleman's impeccable form at centre mid, and we all know Barry and Besic to be top quality wingers!
Interesting also, that this team is based on form, yet one of our most in form players Steven Naismith doesn't even make the 4 man subs bench!
I think somebody is on a wind up with that post.ha
Tom Bowers
47
Posted 19/12/2014 at 13:28:27
A true test of RM's ability and the team's character for this game given the Saint's current problems.
The Blues however are unpredictable and will miss Mirallas on the break. Lukaku has been in and out but can always snatch a goal but a big game from Nessie and Ross can win this.
Nothing can be taken for granted as the Saint's replacements will be out to impress so Everton beware
Dave Pritchard
48
Posted 19/12/2014 at 13:38:37
A fornicating third goal against QPR was it Nick?
Max Murphy
49
Posted 19/12/2014 at 13:46:29
"...and they have now lost five straight in all competitions." I hate statements like that. Same as last week, when it was stated that Zamora hadn't scored in the Premiership .... and what happens?
In true Everton fashion, Southampton's losing streak will come to an end on Saturday.
Denis Richardson
50
Posted 19/12/2014 at 13:51:13
No Tadic, Pelle, Schneiderlin or Wanyama - arguably their best midfield and forward players missing. Not to mention a few others. Add to that they're on a bad run and it really is a great time for a quick smash n grab.
One of two things will happen;
a) We'll go there and do a job and come away with a hard fought win (their defence is still pretty much intact and is usually solid), or,
b) We will carry on our year end tradition of being the league's father xmas and give a struggling Southampton team a helping hand by gifting them 3 points (see Sunderland last year!).
Team almost picks itself and given his performance from deep, I'd keep Ross next to Besic in the middle. Both players derserve to start after being the best on the pitch against QPR. I'd leave McCarthy out and save him for Stoke.
This match a few weeks ago looked a realy tough one but given the players that are out, I'll be disappointed if we didn't get 3 points to give us a real boost before the boxing day game at home to Stoke (hopefully another 3 points!).
Next 7 days is a great opportunity to make it 3 league wins on the trot.
Steve Brown
51
Posted 19/12/2014 at 14:02:08
Add Soldado, Aluko, Falcao to that list. Anyone has a terrible run to break, they always do it against us.
Clive Rogers
52
Posted 19/12/2014 at 13:51:47
I think the only change will be Barry coming in for Miralles. Possibly McCartney for Besic if fit. Stones won't be rushed and Oviedo looked very rusty in the europa game. RM will pick Barry as he's given him 3 years on a top wage and it's too soon to be leaving him out.
Ben Jones
53
Posted 19/12/2014 at 14:15:35
I think you're spot on Clive.
Howard
Coleman Jags Distin Baines
Besic Barry
McGeady Barkley Naismith
Lukaku
Naismith started on the left on Monday and regularly swapped positions with Mirallas. Think the same will happen with Barkley.
Gavin Johnson
54
Posted 19/12/2014 at 13:31:44
I'll be very disappointed if we don't get anything tomorrow. Normally I wouldn't begrudge a team like Saints to have their 5 minutes in the sun, but there's something about Koeman that really riles me. There's the obvious reason with him almost single handedly kicking us out of the USA WC qualifiers (scoring and denying us a clear goal scoring chance) but he also seems to exude that Dutch arrogance in spades and will spit his dummy out when things don't go his way (the defeat to Sheff United the other night). Don't get me wrong, I know he's a good manager and I'm sure they'd be calls for him to be our new manager if Roberto left, but I just don't like the guy.
Anyway after that rant over, as I said earlier in the thread I really hope we see the lad Garbutt playing further up the field in super Kev's absence. We don't need to rush McCarthy back (we've seen what can happen when we have fielded too many players just back from injury - RS last season the worst case in point). I'd make an exception for Stones, we've really missed him with Distin becoming far too error prone and age finally catching up with him.
Finally, in the case of McGeady. He was a player I longed for us to sign when he was at Celtic, getting plaudits from the likes of Messi. I now think I was hoodwinked like 99% of other people who don't get to see him play week-in, week-out.
There's many a player who can look a world-beater with selected moments, (just look at Biliyaledinov on YouTube) and McGeady certainly has his moments of brilliance. It's just the rest of the time when he gives the ball away with an idle pass, or try's to get past a player too many times before losing the ball, when the simple pass would do.
I want all our players to do well and I've posted a few posts on here defending McGeady because he cost us a nominal fee and it does work for him sometimes. I'm thinking, the Leicester goal, the incisive pass to Naismith to score against Chelsea. Or laying on the third goal the other night. So in in the scheme of things for me, he's a squad player, nothing more and nothing less. I don't think he deserves to be lynched but I don't think we should delude ourselves that he will get any better with the encouraging signs, because he will have a stinker the following game as sure as night follows the day.
Mike Corcoran
55
Posted 19/12/2014 at 14:17:10
I want to see 3 5 2. Or 3 4 1 2. If only to see if it helps them move the ball around quicker. Might be talkin out me hoop though.
Howard
Stones jags barry
Coleman macca Barkley mo Baines
Kone/eto'o Lukaku
Flattens out to 442 when under pressure from either wing. Barkley to play through from deeper, and our wing backs unimpeded by the likes of Geads in their spaces
Matthew Williams
56
Posted 19/12/2014 at 14:34:31
I'll take a point now! Every Blue on earth knows the Saints will stop the rot against us, we're the only team that can make QPR look like Barca... at Home!
And our fans still like the Spaniard? We're going nowhere fast here... Wake the fuck up,Blues!!!
Steavey Buckley
57
Posted 19/12/2014 at 13:39:12
The team will be: Howard, Coleman, Alcaraz/Distin, Jags Baines, Naismith, Barkley, Besic, Barry, Barkley and Lukaku.
Barkley and Naismith to support Lukaku upfront and also support Besic and Barry in midfield when needed.
Subs from Eto'o, Stones, Kone, Robles, Oviedo, Garbutt, McGeady Alcaraz/Distin and Pienaar.
Injured: Mirallas, McCarthy,Osman and Gibson.
Andrew Ellams
58
Posted 19/12/2014 at 15:45:29
If changes anything other than Miralles I will not be a happy bunny. Put Oviedo on the left and McGeady on the right. Aiden may not be a superstar but the team look much more balanced than trying to shoehorn two from Eto'o, Naismith and Barkley in behind Lukaku
Jay Harris
59
Posted 19/12/2014 at 15:35:20
Its the intangibles we have to be wary of like a sending off or conceding silly goals like last season.
No matter who is playing they will be fast out of the blocks and press high up the pitch something we seem to struggle with.
I know its one of my pet subjects but I would like MF to be beefed up and not go gung-ho with forwards.
Keep a clean sheet and get one or two on the break.
Tony J Williams
60
Posted 19/12/2014 at 15:50:45
Max, I was worrying last week with the QPR not winning away line too.
Denis, I will go with option b please, Everton the Charity is now open.
Brent Stephens
61
Posted 19/12/2014 at 15:58:42
Stevie #57 - why does Ross get two positions in your team? He aint a quantum particle!
Brian Waring
62
Posted 19/12/2014 at 16:04:12
Knowing Martinez of late, if McCarthy is fit it will be him and Barry in the middle with Besic benched,and Barkley will be pushed out onto the wing.
Denis Richardson
63
Posted 19/12/2014 at 16:10:39
Brian, I really hope you're wrong there. It would be such a backward step after the performance against QPR to take Besic out of the team. Also rushing McCarthy back with the xmas schedule coming up wold not be a good idea...
Re Ross, Martinez may prefer playing him further forward against the saints as being the away team we'll likely have much less of the ball and he may look to be a bit more defensive.
Personally I'd play the same team v QPR with McGeady or Oviedo in for Mirralas. Neither Barkely nor Naismith is suited to playing out wide so I'd leave Barkley a bit deeper. Let Lukaku and Naismith run themselves into the ground and them bring on Kone and Eto for a like for like swap after about 65 minutes.
Pienaar should be on the bench at best.
John Keating
64
Posted 19/12/2014 at 16:39:00
Whatever team he picks if we manage to go 1 up please please please go for it !
We really need to go for goals as the Martinez passing across the back for minutes on end does not loan us for hanging on to a one nil win.
Mike Childs
65
Posted 19/12/2014 at 16:16:31
Howard, Coleman, Jag's, Barry, Garbutt, Besic, Barkley, Naisy, Eto, McGeady, Kone in RM's typical 4-2-3-1. That's what I do.
Baines needs rest. Lukaku needs to know their is competition for his spot. Time to buckle down and get tough Roberto.
I would love to see both Stones and Jimmy Mac in the lineup but another week off will benefit the club in the long run I feel.
Brian Waring
66
Posted 19/12/2014 at 16:42:24
Denis, I agree, I would start with Besic, also, start with Barkley alongside him again.
If Southampton have as many players out as is being reported I wouldn't risk McCarthy.
The problem with Martinez this season is you just don't know what to expect,as I mention, if McCarthy is fit, I fully expect to see him in the middle with Barry, Barkley out wide left, and Naismith behind Lukaku.
Brian Harrison
67
Posted 19/12/2014 at 17:04:21
I see we have got one of the worst refs in the premiership taking charge of our game tomorrow, so look out for some strange decisions from Mr Moss. As for team selection, I don't think that is as important as style of play, I see even Howard Kendall said in todays Liverpool Echo that he could understand why the fans were frustrated against QPR.
Tony McNulty
68
Posted 19/12/2014 at 17:35:52
We always seem to have one player at any one time who fills the role of "official arse" of the team. Everyone gives him a kick. At the moment it seems to be McGeady. OK he is a bit hit and miss, but creative players (even Messi) sometimes try things which don't work. We have certainly seen much worse in an Everton shirt.
Remember that the "official arse" last season was Naismith, and look what has just happened to him. McGeady's new contract is probably being prepared at this very moment.
Ray Roche
69
Posted 19/12/2014 at 18:04:21
Brian, when you said we had one of the worst refs tomorrow I was spoilt for choice trying to think who you meant. I mean, there's SO much choice...
Colin Glassar
70
Posted 19/12/2014 at 18:17:50
A bit off topic, but I've noticed that no one has flagged the fact that the Qatari sports minister (who, apparently, sits on top of a 𧴜bn - yes, 100 Billion - budget) is in the UK looking for a club to invest in.
It was initially reported they wanted to buy Spurs but Joe Lewis (spuds owner) is asking for ٟbn. Surely Big Bill could put in a word for us? I mean, paying for Billy's shares, a new stadium and a few top players wouldn't cost 𧷤m never mind a billion.
Rob Halligan
71
Posted 19/12/2014 at 18:29:53
Let's go for the kill in this one: Howard, Coleman, Stones/Distin, Jags, Baines. Besic, Barkley, Oviedo/Pienaar, Naismith, Lukaku, Eto'o.
Play lukaku out wide right and Eto'o in the middle. Naismith just behind Eto'o. Ross coming from deep where he is best and Besic as the holding midfielder. Pienaar or Oviedo in front of Baines.
Colin Gee
72
Posted 19/12/2014 at 18:44:15
Brian #67 Ray #69 One of the worst refs?
You mean there's actually some good ones out there?
Steven Jones
73
Posted 19/12/2014 at 18:06:53
Agree with Nick Page ... I love McGeady .... what brilliant skill on Monday night and some outstanding tackling back,
The drag back step-over and ball roll to steel a yard with the penalty box and then at full tilt hang that ball up for Nais was worth any entrance fee.
The guy is a magician and I can see certain parts of his game getting sharper ...
I am hoping for Stevie P and McGeady will give us width tomorrow ... I would also stick with Mo and Ross in midfield central.
Kone and Eto'o off the bench early in second half and would bring on Oviedo for Stevie P for the last 30 mins as well.
3-1 to the Blues again ....
Colin Glassar
74
Posted 19/12/2014 at 18:49:40
Well Lawro has got us down to lose. That means we will probably win. I always dread it when he (very rarely) backs us to win.
Conor McCourt
75
Posted 19/12/2014 at 18:18:31
Dennis 50- where have you learnt that Pelle is definitely out?? From what Koeman says he and Davis are 50-50.
I am really worried about complacency as all week Southampton have been making excuses about their injury list. If both those are passed fit then they will play with:-
Forster,
Bertrand Fonte Yoshida Clyne
Mane Alderweild Davis Ward-Prowse Long
Pelle
Yes, their bench will be weak but, had all been fit Schneiderlin would replace Yoshida with Alderweild moved into centre half and Tadic would replace Long. The rest would be bench players though Wanyama may be preferred to either Davis or Ward-Prowse.
We'd better not be complacent as if Mirallas and McCarthy are out we may have 2 first team certainties from both sides out. However if Pelle and Davis don't make it then that gives us a real chance as they will be replaced with much poorer alternatives.
Peter Bell
76
Posted 19/12/2014 at 18:55:41
Steven @73,
The third goal on Monday brought back memories of Thomas and Latchford....
Phil Walling
77
Posted 19/12/2014 at 18:55:22
Tony @ 68, I'm not one who singles out McGeady for criticism but mentioning him in the same sentence as Messi is going a bit far.
Building on your point, it must be a real torment for Barca fans to have to put up with all their player's mistakes in spite of the hundreds of goals he's scored ! Not.
Paul Dark
78
Posted 19/12/2014 at 19:05:08
Rob, 71: Nice-looking side. I like the thought of Lukaku on the wing with Eto'o in the centre. it might work quite well, especially on the break with a team like Soton away.
Tomorrow's game will be difficult. Losing will cement our mid-table position. I can't work out just how weakened Southampton are.
John Keating
79
Posted 19/12/2014 at 19:25:06
Paul,
Remember last season Martinez played Lukaku on the wing against Arsenal at home and it completely buggered them. Last season he made some excellent tactical switches both before and more importantly during games. Also, his substitutions were made at any time during the game whenever he saw a change would improve things.
Unfortunately none of this is happening this season. Everything is extremely predictable. I'd love it if he would go back to his decision-making of last season.
Raymond Fox
80
Posted 19/12/2014 at 19:20:28
Well injuries or not, Southamptons are fav @6/4 while we are 2/1!
They will be busting a gut to end their losing run and so will their supporters, so I'm not expecting it to be a pushover.
Far from it I'd be inclined to take a draw if offered now.
Obviously hoping to be proved wrong, but theres no easy away games.
Robert Duncombe
81
Posted 19/12/2014 at 19:57:24
When was the last time we beat Southampton away? It must be ages. Several years ago we were 3-1 up with about five minutes to go only for them to get two late goals. I currently live just outside of Southampton and friends of mine who support them are worried about tomorrow. Let's hope we do more than last year's performance!
Terence Tipler
82
Posted 19/12/2014 at 19:57:51
Colin 74. I heard somewhere, they have stated they only want a London club.
Keith Meakin
83
Posted 19/12/2014 at 20:05:39
Time to be positive, we really should and will beat a below par / depleted Southampton.
Another win against Stoke who have got some crap festive fixture times.
A tricky away fixture at Newcastle, at least a draw. Then Hull City away, (got my tickets today). Oh yes, Huddlestone & Dawson out. COYB 10pts please.
Steven Jones
84
Posted 19/12/2014 at 20:20:51
Peter@76,
Dave Thomas was a Rolls Royce of a winger. I had the pleasure of playing against him in a pre-season warm up game at Lilleshall when he went on to play for Wolves... gentleman to boot.
Tom Bowers
85
Posted 19/12/2014 at 20:44:00
Have to say tomorrow's result will determine the league season for the Blues. Hovering around tenth even if they are above RS means nothing. Struggling to win games against teams they are expected to beat has been too much the norm this season.
Everton have many talented players but far too often they don't all turn up on the same page which has been costly against some crap teams in the first half of the season.
Yes, they have had injuries but so do many other clubs and teams need squad players to fill in adequately when called upon.
Soton seem to be feeling the pinch now and this is a real opportunity for nothing less than 3 away points.
Paul Dark
86
Posted 19/12/2014 at 20:50:11
John
Yes, if there's one thing I regret about RM it's that he has his favourite stratagems and players and, this season, has lost his verve and nerve. I'm still a fan, but I would like him to pick players a little more on merit and be a little more adventurous and unpredictable at times.
A good Christmas points tally would lift everyone, starting at St Mary's tomorrow.
COYB!
Robert Duncombe
87
Posted 19/12/2014 at 21:34:45
Alright then, I'll answer my own question. We last beat the Saints away back in 1993. Twenty one years is a long enough wait for a south coast away win surely!?!
Tom Bowers
88
Posted 19/12/2014 at 22:43:21
Anyone old enough to remember and be present at the big win at The Dell 6-2 when Jimmy Gabriel played for them?
Mike Childs
89
Posted 19/12/2014 at 22:37:18
COYB! That's all that matters. It's a whole new season nothing in the past matters. I hate John "red card" Moss because he constantly slows the game down with unnecessary free kicks.
Only ref worth his paycheck is Martin Atkinson who never saw a tackle he didn't like in or out of the box and is unbiased as they come.
Tony McNulty
90
Posted 19/12/2014 at 22:40:53
Phil (77). Going a bit far? Messi and McGeady in the same sentence? I think I've been to the dark side of the moon and back. Nice rhetorical device though. Although didn't Messi single McGeady out for particular praise a while back?
Taking a slightly different slant, I have often wondered how well English fans would tolerate the way Messi walks around the park as if he's going on a Sunday afternoon stroll. OFM would soon have him running up and down though.
Tom Bowers
91
Posted 19/12/2014 at 22:50:23
Wanyama is definitely out and that suits me as he is a powerhouse for them and the reason I believe they fell away last season when he got injured.

Andrew Hawes
92
Posted 19/12/2014 at 22:58:51
With reference to McGeady, he is Naismith of two seasons ago... You can tell he has potential and that little "something".
He just needs to find his confidence and how the Premier League works!!
Phil Gardner
93
Posted 19/12/2014 at 23:23:10
Three points here means that the league season is kicking in and I'd be happy especially with our Europa League record and injury record.
Saying that, I'd be far happy if Mirallas were available. Saying that, the premier league, with it's shite officials is the one league that you really shouldn't showboat in and invite dickheads like Mutch to boot you up in the air. Wailing about our hard luck/injuries etc won't wash.....batter this lot at the weekend and I reckon we're up and running.
And please, Kev....stop arseing about when we are 3-0 up mate and try and make sure we finish up 5-0 winners. If a cave dweller like Mutch can catch you, you're doing summit wrong kid!
Mike Childs
94
Posted 19/12/2014 at 23:27:17
They'd love him Tony #90 because he scores and assists. When does Aguero, RVP & Costa sometimes, never mind the great Cr7 play defense anymore than Messi does.
I do agree the typical EPL fans enjoys a good tackle as much as goal, that's why this Yank prefers the EPL and Everton more than any other team or league.
Eddie Dunn
95
Posted 19/12/2014 at 23:33:13
Gavin 54, spot on mate. Koeman cost England all those years ago, and he as got that Dutch arrogance about him.
I hope we got out and wack them on the break, and cheer up all of the Pompey fans, who must all be on valium by now, by tonking the scum.
James Flynn
96
Posted 19/12/2014 at 23:46:06
Speaking of Besic, this from an article on Sabotage Times:
"In this day and age of diving, cheating, conning and general shithousery, something else extraordinary took place at Goodison Park on Monday night.
A young, baby faced Bosnian by the name of Muhamed Besic put in a performance to transport back in time those who pine for the days when the art of tackling was admired. And the beautiful game was a contact sport.
When it comes to Saturday afternoon, or Sunday evening, or Monday night, once in situ, football supporters are generally a simple minded folk. And few things can get us off our seats quicker than an expertly executed, crunching tackle.
Sadly, the skill of tackling has been a dying art form for many a year. So to witness a 22 year-old give a near perfect example of how to fairly, yet very firmly, dispose of opposing players with a bracing challenge, was a welcome and overdue turn up for the books.
It certainly had the otherwise reticent Monday night Goodison Park crowd baying for more."

Rob Halligan
97
Posted 19/12/2014 at 23:53:28
20 April 2002, Steve Watson scored the winner the last time we won at Southampton, Robert #81 & 87.
Patrick Murphy
98
Posted 19/12/2014 at 23:56:07
Robert (97)
Everton won at St. Mary's in April 2002 when Steve Watson scored the only goal of the match – but that's still only two victories so we are overdue a win there hopefully.

Rob Halligan
99
Posted 19/12/2014 at 23:59:54
It was also our first visit to St Marys. Was a 5-30pm kick off as well.
Mike Childs
100
Posted 20/12/2014 at 00:08:41
Thanks for sharing James #96. Besic is all that is good about the game.
In a 4-3-3 Barkley, Jimmy Mac and Besic would be a midfield to drool over.
Minik Hansen
101
Posted 20/12/2014 at 01:45:16
Don't take it for granted, give it all! COYB.
Anto Byrne
102
Posted 20/12/2014 at 04:14:34
Let's give the new whipping boy the same amount of time it took for Naisy to come good. The lad has ability and, from what I've seen so far, it looks like the tide is turning.
Laurie Hartley
103
Posted 20/12/2014 at 05:58:02
I like McGeady. He is growing in confidence and I believe, given a run in the team, will tear some defence apart very shortly.
I am surprised nobody has Eto'o in to start the game. I would and suspect Koeman would if he could, based on his comments in the papers recently.
Howard,
Coleman, Stones, Jagielka, Baines
Besic, Barry, Barkley,
McGeady, Eto'o, Lukaku.
Bench: Naismith, McCarthy, Pienaar, Distin, Oviedo.
We must score first.
Up the Blues!!
David Greenwood
104
Posted 20/12/2014 at 07:43:19
I think this has 3-1 win for us. Saints' bubble is bursting a little and it's up to us to steam in and burst it wide open. I think Barry will be straight back into the team, probably replacing Mirallas, which will mean a bit of a tactical rejig.
Lukaku, Naisy and Barkley scorers for me today.
Onwards and upwards from here, COYB
Duncan McDine
105
Posted 20/12/2014 at 07:46:56
Let's hope we don't score any own goals... last time I was there, they started singing "We don't need to score, we don't need to score, who needs Rodriguez, we've got your back four".... sickening at the time, but a pretty decent effort as footy songs go!
Eddie Dunn
106
Posted 20/12/2014 at 08:41:17
Robert (#87), victory on the South coast. We won at Portsmouth in 2006 – I was in the home end smiling in silence.
Robert Duncombe
107
Posted 20/12/2014 at 08:47:35
Thanks Rob, Patrick and Eddie.
John Moore
108
Posted 20/12/2014 at 09:06:34
McCarthy Barkley and Besic will do for me
Sam Hoare
109
Posted 20/12/2014 at 09:10:34
A great time to play them but still a very tough match. Long is always a nuisance and will press our CB's into some disastrous passing/dallying i'm sure. Fingers crossed that Pelle and Davis is out as that will disrupt their team even more.
A great chance to take 3 points from St. Marys but we will have to play well for 90 mins and that's not something we have done often if at all in the league this season.
Excited to see Kone get some more minutes as he looks like he may finally be able to make a positive impact and would be so pleased for him if he did.
I put my team at the start of the thread and would still go for them.
Neil Wood
110
Posted 20/12/2014 at 09:32:46
Sam I am with you on Kone. Only a fleeting glance at him on Monday but he looked good and keen. I was sat next to the bench on Monday night and Roberto literally had to drag Pienaar and sadly, Eto off the bench.
When he have them the call they genuinely looked like they couldn't be arsed taking their coats off.
That grates on me cos if it was me I would be up and keen as they come especially given a 50K a week salary!
Kone was different, he only got a few minutes but was up and stripped as soon as he was asked ...
Max Wilson
111
Posted 20/12/2014 at 09:32:25
He's at it again. Lawro that is. (Shit Shirts). He's always predicting we'll come out of things dissapointingly. It must be wishful thinking. This time he says we'll go down 2-1. This guy always makes me seeth. COYB.
Neil Wood
112
Posted 20/12/2014 at 09:45:10
Agreed Max. He clearly has a dislike for us and he's on a par with that nob end Andy Townsend!
1-3 result today.

David Evans
114
Posted 20/12/2014 at 10:27:17
I think it'll be unchanged side apart from Pienaar coming in for the injured Mirallas
Howard
Baines, Distin, Jagielka, Coleman
Besic, Barkley
Pienaar, Naismith, Mcgeady
Lukaku
Subs: Robles, Stones, Hibbert, Oviedo, Barry, Eto'o, Kone
Duncan McDine
115
Posted 20/12/2014 at 11:06:04
Max, old 'haystack head' obviously hates us, but unfortunately he's probably been quite close with his predictions for our results this season.... hopefully not today, but if I was neutral I'd probably have it down as a draw. Havent looked at the bookies odds, but imagine there's very little in it.... we have better recent form (without being great) but they have home advantage.
Mark Griffiths
116
Posted 20/12/2014 at 11:15:13
I always thought Lawrenson was pretty fair to be honest and one of the better pundits. 1-1 today.
Mike Hughes
117
Posted 20/12/2014 at 11:10:34
I wouldn't be arsed what Lawrensen says at all. Knob.
I remember him on R5L on the morning of the rs v Chelsea game last season. He predicted that the rs would "smash" Chelsea 3-0. It was the morning of the coronation in Stanley Park if anyone can recollect the nauseating media love-in.
I can't remember how that game turned out but seem to recall Chelsea 'slipping' a couple past their keeper (snigger).
Anyway, 2-3 to the Mighty Blues today.
1 from Naismith, a 35 yard thinderbolt from Phil 'goal machine' Jagielka then an injury time scorcher from Tony Hibbert.
Eric Holland
118
Posted 20/12/2014 at 13:35:33
I wonder what the bookies would give you for that Mike??
Colin Glassar
119
Posted 20/12/2014 at 13:37:22
Southampton will have up to six first teamers missing today.
Ian McDowell
120
Posted 20/12/2014 at 13:57:26
Really need to start putting a run of wins together. We desperately need some momentum. If you can get 3 or 4 back to back wins it makes a huge differance. Performances have been a concern recently. Thought we was fairly poor v QPR, Swansea, Hull and West Ham at home recently.
Ian Glassey
121
Posted 20/12/2014 at 13:54:07
The only problem playing teams who have not won for age's is, they start there come back against us.
It is the same with players who have not scored in about 10 games.
But I expect no less than 3pts today, it would be nice to play well as well.
Ian McDowell
122
Posted 20/12/2014 at 14:00:18
To be honest I always thought Lawro's predictions fair. You can see that by looking at his league table. I see us down to win far more than get beat.
Conor McCourt
123
Posted 20/12/2014 at 14:00:12
Going to be tough game as both Pelle and Davis fit so 2 changes off their best team, so much for their injury crisis
Conor McCourt
124
Posted 20/12/2014 at 14:05:16
No width in our team- don't like Eto'o, Naismith and Barkley in the same team as they all want to occupy the same space, hope im wrong.
Ian McDowell
125
Posted 20/12/2014 at 14:07:20
4 Howard
23 Coleman
06 Jagielka
15 Distin
03 Baines
17 Besic
18 Barry
14 Naismith
05 Eto'o
20 Barkley
10 Lukaku
Jim Lloyd
126
Posted 20/12/2014 at 14:05:02
Type or paste your comment here. PLEASE capitalise initial letters of proper names and use proper grammar. No txt-speak; all-lowercase posts are likely to be deleted
Brian Waring
127
Posted 20/12/2014 at 14:18:47
Never understand why Martinez tries to squeeze Naismith, Eto'o and Barkley into the starting 11, it just doesn't work.
Henrik Lyngsie
128
Posted 20/12/2014 at 14:19:16
I hope we will play Etoo at the left. I think he and Baines could form a strong partnership.
Robert Workman
131
Posted 20/12/2014 at 14:25:52
Lawrensen has 14 points so far, predicting Everton results (1 for correct result, 2 for correct score). I only have 8!
Matt Garen
132
Posted 20/12/2014 at 14:24:53
1-2 Lukaku and Naismith.
Jay Harris
133
Posted 20/12/2014 at 14:27:38
Totally agree with you Brian especially in an away game like this.
I would sooner have pushed Bainesy up and give Garbutt a run.
Too many forwards means lack of space to run into and less link up play from the back through MF.
Eto and Nais are never MF players or wingers.
Brian Waring
134
Posted 20/12/2014 at 14:31:43
What worries me Jay is Barkley being pushed out wide left again, the few times he did play there he stunk.
Phil Walling
136
Posted 20/12/2014 at 14:35:58
Looks like a dog's breakfast of a side to me but Martinez is paid big money to know what he is doing. Be interesting to see if Ross is as effective playing further forward.
Jim Lloyd
137
Posted 20/12/2014 at 14:14:04
Oops. Sorry all.
Brent (61) With ref to where do I sit. I'm right in line with our penalty area (Gwladys St) in the Upper Bullens. 8 or 9 rows back, 221. and the whinger sits right behind me.
Colin (70) maybe another thread. It sounds interesting.
About todays game. Although he's only just come back but if he starts, I think that it'll help Baines get forward more. I think they have a great understanding and it's one area going forward that has stuttered this season. Between both of their injuries, we've hardly hardly seen.
I think we still have a problem coming down the right. I think Seamus has been a shadow of himself so far. I think have become more defnsive against us and that's a bit of a problem but I also think that he's finding it difficult to make a partnership with Macca going forward. Hopefully they'll click sooner rather than later but Seamus looks so frutrated at times and I think his game is suffering as a consequence. I'd like to see Eto'o going out wide right and Macca drop to the bench. He has such a brilliant football brain, I think he'd bring both Seamus and Romolu into the game very effectively.
I hope we see Mo and Ross carry on where they left of in the week, both were superb.
Whoever plays today. I think it will be a hard game and we'll do well to get a draw. If we get a win at that place, we will have done a tremendous job. Incredibly even!
I hope that we can find a way of bringing Lukaku into the game more and play to his strengths, as his confidence looks shot to pieces.
Brian Hennessy
138
Posted 20/12/2014 at 14:35:26
I hope I am wrong but this front 4 looks all out of shape.
Can't see where the width will come from, agree with above posts that Eto'o Naismith and Barkley will all naturally try to fill the one position.
Although part of me also thinks if these three can't bring the best out of Lukaku I don't know what will, there should be no need for Rom to play anywhere today except on the shoulder of the last defender.
I don't expect to see Baines or Coleman involved too much in our forward play again today though with that line up.
Fingers crossed....
Sam Hoare
139
Posted 20/12/2014 at 14:48:57
If this goes wrong I will be pissed. We have seen umpteen times this season that playing the likes of Barkley and eto'o out wide does not work. Surely Martinez should be able to learn from past mistakes.
If he has changed the system or worked on it and it comes off then fair enough but if we see another display of everyone drifting into the middle getting congested and struggling to create any chances or fluidity then there really is no excuse.
Brian Waring
140
Posted 20/12/2014 at 14:52:10
The other thing is Southampton's full backs are quick and are always looking to get forward
Al Reddish
141
Posted 20/12/2014 at 14:51:57
The only benefit I can see here is if we keep it tight until 70 mins or so, he can bring on McGeady and Pienaar to open up the width and exploit a tired Southampton?
Paul Dark
142
Posted 20/12/2014 at 14:56:35
Foul on Lulu
Tony Doran
143
Posted 20/12/2014 at 15:52:12
To top heavy. Barry off and drop Ross back. Well I was just about to give full instructions on how to win this game but as RM probably won't be reading this bollox to it. Thank God for the human built in defensive gene that tells us we don't give a toss about footie when things are going tits- up.
---
Add Your Comments
In order to post a comment, you need to be logged in as a registered user of the site.
Or Sign up as a ToffeeWeb Member — it's free, takes just a few minutes and will allow you to post your comments on articles and Talking Points submissions across the site.
© ToffeeWeb