Naismith earns battling Blues a point
Everton 1 - 1 Manchester City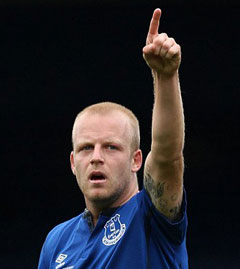 Naismith's seventh of the season secured a vital draw
A Steven Naismith header salvaged a point for Everton just four minutes after Fernandinho's goal looked to have put title-chasing City on their way to victory.
The Scot rose to head home Leighton Baines's free kick with 12 minutes left to ensure that the Blues' four-match losing run ended against the Champions.
Roberto Martinez made three changes to the side that started against West Ham in the FA Cup on Tuesday, restoring Leighton Baines to left back, starting John Stones in place of the injured Sylvain Distin and deploying Aiden McGeady instead of Kevin Mirallas.
It was City who controlled the opening exchanges but Everton's determined harrying and chasing signalled a greater passion from the players as they rose both to the occasion of the visit of the Champions and the need to arrest their own poor run of Premier League form.
Nevertheless, the quality in Manuel Pellegrini's side was evident and Jesus Navas, David Silva and Stevan Jovetic in particular all had chances to open the scoring in the first half but missed the target.
The Citizens were threatening to turn the screw as the first half entered its closing stages when Everton carved out the best chance of the first 45 minutes, Lukaku driving past Mangala and forcing a good save from Joe Hart and Seamus Coleman seeing his shot off the rebound hit the crossbar.
And it was Lukaku who came close to breaking the deadlock early in the second half but with a save evocative of the one that denied the Belgian in the reverse fixture last month, Hart tipped his goalbound shot wide.
Everton would have a decent penalty shout ignored by referee Martin Atkinson and a goal disallowed for a foul by Naismith on Hart before City took the lead.
The referee waved play on despite an apparent handball by Pablo Zabaleta at one end which allowed the visitors to counter and carve out a chance for Silva in the Blues' penalty area. His deflected shot was headed on by Fernandinho and Coleman couldn't stop it going over the line.
Martinez's men responded, though, and when Zabaleta fouled Jagielka and gave Baines a chance to whip in a free kick from the left, Naismith steered the fullback's pinpoint delivery into the far corner of Hart's goal. In the process, Baines broke Graeme Le Saux's record for Premier League assists by a defender with 45.
The hard-fought draw was just reward for a much-improved defensive performance from Everton who have now ground out two successive 1-1 draws to arrest their worrying run of defeats.
More important will be the belief that will come from going toe-to-toe with the Champions and taking a point that they can use as a platform to start moving back up the table.
Full coverage: ToffeeWeb Match Reports
Reader Comments (111)
Note: the following content is not moderated or vetted by the site owners at the time of submission. Comments are the responsibility of the poster. Disclaimer
Paul Columb
1
Posted 10/01/2015 at 18:05:35
What an improvement. More direct play, Rom running the channels, defense killing inbounds, Robles decent. Good shift by all today and proud of the performance. Pity Mirallas wasn't fully fit as McGeady was a weak link.
Minik Hansen
2
Posted 10/01/2015 at 18:07:40
Lots of people were right, same with my feeling, we're getting back to it after the Cup game, now is just holding on to it and fight for it. There must be room for improvement at the back surely, Stones is back though which is great(!).
Richard Lyons
3
Posted 10/01/2015 at 18:12:01
The Barkley/Mirallas/Lukaku combo, when they are allowed to play to their strengths, will strike fear into any defence.
Bring on West Ham!
Jerome Shields
4
Posted 10/01/2015 at 18:19:25
The pressure has finally got things moving. Good result today; hopefully Martinez has learned and we can go forward.
John Keating
5
Posted 10/01/2015 at 18:06:11
Agreed, a small stepping stone and a point I think most of us would have taken before the game.
We still have major issues with giving the ball away under no pressure and had City's finishing been better in the first half we would have been screaming for Martinez's head tonight!
I was really pleased that Naismith scored as he – amongst others – was getting well slagged before kick off. I know it sounds daft but I think we might've got a point, not because of Martinez, but despite him. Without a shadow of a doubt we have changed our play, more pressing, more forward play, less tippy tappy shite across the back and more clearing the ball rather than looking for the suicidal pass.
I watched Martinez on the line today and there were times he was getting really frustrated and angry with players, at one point Baines just lobbed it up the line, Martinez went ape and Baines totally ignored him.
Maybe the players have decided to mix and match. Whatever, I hope they continue.
David Harrison
6
Posted 10/01/2015 at 18:33:44
Delighted we got something and that we can be described as "battling blues" again. We are going to need to battle as we are now just 3 points off the bottom 3!!
Jim Bennings
7
Posted 10/01/2015 at 18:32:06
Much much better.
Let's hope that the penny has finally dropped now though that what you need to show week in week out is the word that has moat been mentioned this past month.
PASSION.
It was there in bucket loads today and a result, ok it's still no win but at the minute it feels a bit like one, if only for the way they fought back after going 0-1 down and the fact we showed hunger and a willingness to compete.
Its only a stepping stone though and we are edging nearer to the bottom three, this performance today has to be matched in EVERY game we have remaining now, nothing less is acceptable.
Clive Lewis
8
Posted 10/01/2015 at 18:38:06
Positive play, however depressed again after reading comments about Martinez berating Baines for going long. We want to see the fast wide ball, its more exciting and immediately puts the opposition under pressure. Forget what Roberto is saying. Well done Baines.
Tony Twist
9
Posted 10/01/2015 at 18:42:55
Great to see some fire and determination on the pitch and well done getting back into the match after going one down. Let's hope it is the turning point in our home form and Goodison becomes a fortress again and a place to fear for visiting teams as that will be half the battle in the coming months. No player rotation now please Martinez, even for the cup match, we are walking a tightrope and need consistent performances which should be helped with consistent team selection. Four wins on the bounce please, after the, nice to have, FA cup win at the hammers.
Brent Stephens
10
Posted 10/01/2015 at 18:48:41
That was Tuesday again. Passion; more quick, direct balls out from the back; giving Lukaku a chance to run at their defence, which he again did well; Besic (after giving the ball away a few times early doors) again comes out with his reputation on the up; Stones assured at the back and coming out; Barry somewhat improved.
Oh, Ross, even if you don't get a tackle in, at least jockey and cut off a line through for the man in possession.
All in all, some impetus from the last two games. Very satisfied in the current context with a point against the champions and top of table. Well done Roberto.

Brent Stephens
11
Posted 10/01/2015 at 18:58:59
...and how could I forget the usual gutsy effort from Nais.
Len Gowing
12
Posted 10/01/2015 at 19:01:52
There was an intent from the outset today, however City didn't allow us to play it from the back. Did we have a single short goal kick all game ? - not that I recall and that was solely due to two City strikers sitting on the edge of our box any time Robles had a goal kick. I think we forced to kick it long which actually played more into our hands than the previous.
I also thought (though haven't seen much comment) that Barry was great today, it looked like he was on a mission after previous criticism.
If we continue to exert the same effort for the next couple of games they might just surprise us all
Phil Walling
13
Posted 10/01/2015 at 19:00:33
For all the criticism of Jagielka's demeanour, I heard today that he and other back four members 'had been in the manager's ear for a fortnight' about the need to change defensive tactics.
If that's the case, it looks like they've won the argument because we looked much more solid against really top class opposition this afternoon.
We may yet have much to thank the skipper for.
Jay Wood
14
Posted 10/01/2015 at 18:26:13
Keep up that level of performance and wins will follow and we will climb the table.
It displayed many of the attributes folks had been calling for that these players are capable of:
* a better balanced selection with round pegs in round holes
* players comfortable in their roles and maintaining shape and position
* less fannying around our own penalty area and more playing in the opposition half
* better pressing of the opposition all over the pitch
* far quicker tempo and more direct forward movement
* energy, fight and commitment from the 1st to final minute. This alone will get the fans on your side and turn Goodison into the bear pit it was today
Yes, there were still some nervy and sloppy moments, but the good moments far, far outweighed the dodgy ones today.
Personally, I thought only McGeady was out-and-out poor. Stones, Besic, Barkley and Lukaku are going to be a great spine for Everton
Stones is Bobby Moore-Franz Beckenbaur like.
Besic is getting better with every game. A good range of passing, positional play, speed ... and nastiness! He's a winner...
Barkley looked more comfortable in central midfield. I don't get the criticism by some of him today. His role and style of play means inevitably not everything he attempts will come off, but he looked more like the Ross we know today. And there are very few players who can do what he does. The 3 touches before he was fouled for the free kick in the 2nd half were sublime.
Similarly, I don't get the criticism of Romelu today. Look at how good he is running at back pedalling defenders, rather than play with his back to goal. He steamrolls and bullies them.
I hope in the next couple of games these young men can Go West and do Der 'Ammers and The Baggies.
Phil Walling
15
Posted 10/01/2015 at 19:23:50
Fuck me, everybody's winning - we are still in the brown stuff !
Tony Cornmell
16
Posted 10/01/2015 at 19:18:35
I've got to say Stones is a big improvement in defence but I'm going to upset a lot of you – Barkley makes us unbalanced he's no game changer, still learning and playing him anywhere at the moment is not helping team. This is a team game and, although the lad is a prospect, he is no superstar yet. Let him be a sub till he learns position and tracking back if required. Like Mirallas, if you ain't working for the team all round, then sit on the bench; we can't carry passengers.
Apart from injuries, we have been unbalanced to accommodate Barkley – nothing against lad but Martinez needs to think of team not as first team as a academy. ,P>Also, my comment on Mirallas I think is valid; McGeady worked hard off the ball tracking back which is rare for Mirallas. Admittedly McGeady's touch lets him down at times but he's the only wide winger/worker we have.
On a positive isn't it great to see how good Besic is developing into. Lukaku looking better because of a more forward ball, the lad's confidence is much better without defenders passing sideways. All-in-all, more positives than negatives.
Brian Harrison
17
Posted 10/01/2015 at 19:22:38
No question today was a better performance than we have had for months. I thought Besic and Naismith were our two best players. I was very disappointed with yet another poor performance from Barkley, now all players can have bad games but when you lose the ball you have to show more desire than Barkley does to win it back. I think he is massively over-hyped; everybody keeps saying he has great potential – well, at some point he has to start delivering.
Despite getting a fighting draw today we are only 1 point above West Brom and only 2 points ahead of Burnley and Sunderland and if Palace hold on to their lead only 2 points ahead of them. So no room for complacency from us and 3 points against West Brom is a must.
Paul Hughes
18
Posted 10/01/2015 at 19:57:29
I have to agree with Brian at post 17. If only Barkley could show half the desire, energy and commitment of Naismith and Besic, he'd be brilliant. On far too many occasions today, he gave up far too easily and/or the game seemed to pass him by.
Perhaps there's some mileage in resting these young guys occasionally and bring them on as impact sub or even a short break from the action altogether. Overall though, that was a much better performance today. Sometimes seeing the ball head towards Row Z from the penalty area has it's merits.
Mark Frere
19
Posted 10/01/2015 at 20:08:21
John(5) & Phil(13)
Some very interesting points you make re the defensive tactics and playing more direct. Is it a case of Martinez showing flexibility and changing our style to suit the players? Or have the players simply chosen to ignore Martinez and do things their own way? If it's the latter then that doesn't bode well for the future; the manager and the players all need to be pulling in the same direction if we are going to be successful, long term.
Eugene Kearney
20
Posted 10/01/2015 at 20:27:44
Was away all day - a lot of driving.....deliberately kept the radio off and prayed for a win.
In the door and on to TW -
At least we didn't lose - and improvement is underway.....
Ant Summers
21
Posted 10/01/2015 at 20:26:34
Mark, today, there was a pivotal point, Robles in the first few mins, pass, pass, pass, pass, Stones (I think it was Stones) who give him a pass back, he then tried to pass it out, gave it straight to a City player... We were lucky to get away with it. I think Robles, said to himself, "I'm not bothering with that again..."
Yes, I think they took it upon themselves in today's conditions to not mess about after that, regardless of what the bench were saying.
Bob Heyward
22
Posted 10/01/2015 at 20:36:01
Looks like Martinez has handed over to the players, and thank God that the senior pros have stepped up to start the process of change.
That said, a team without a manager, 3-points off the drop, and some are saying "Let's not be complacent." Bizarre.
Franny Porter
23
Posted 10/01/2015 at 20:38:38
Thought that was a superb performance today against possibly the richest team in the world.
Besic looks a cracking prospect, Stones is coolness personified and Rom again put in a great shift.
The one negative for me is Barkley, he just doesn't do enough for me and seems to be scared to put his foot in. If we can bring a winger in this month I'd bench Barklay in a heartbeat.
Joe Clitherow
24
Posted 10/01/2015 at 20:08:49
Jay 14 Presumably you watched the game on a stream and if so, then yes, I guess Barkley would have looked OKish on the ball today. The problem I have though is when he doesn't have the ball. He doesn't close down, doesn't chase back and doesn't tackle. As I posted before, if he has any aspirations to be a game changing player it is these aspects of his game that need a lot of work and frustratingly for me they are all coachable (is that a word?) to go along with his outstanding natural talent and physical attributes. Losing the ball trying something special is actually fine IMO but not busting a gut to get it straight back is criminal for me. Can you imagine Bally or Reidy not doing that? He reminds me a little bit of the kid who is brighter than the other kids and coasts his schoolwork on ability alone until he takes his A levels and then does badly because he hasn't put the work in.
Compare that with the less talented Besic who I thought was terrific today.
Darren Hind
25
Posted 10/01/2015 at 20:45:11
I think Besic has a lot to learn, fantastic attitude and a good acquisition, but Man City were in a few times today through him giving the ball away in dangerous areas.
Okay, we don't need to call the open top bus company just yet, but the desire was there for all to see.
Before the game the alehouse was awash with talk of heart-to-hearts between players and the manager... we defended much more as a unit today.
Fair play to Martinez if he has taken the players' views on board.
Ant Summers
26
Posted 10/01/2015 at 20:49:48
Your spot on Joe, like today, he got caught in possesion a few times, trying something, but I reckon he is told, try it, don't worry Barry and Besic is there to cover any cockups. I have felt for a while that is what RM wants, however it does not look good to us watching in the stands.
Jim Bennings
27
Posted 10/01/2015 at 21:02:31
It's a solid point today, but the next two league games against West Brom and Palace are going to be huge in the context of the season.
We don't play West Brom until the Monday night, so the chances are we could have been dragged further down into the mire.
I'm just sorry we didn't play against the likes of Hull and Stoke over the festive period like we did today because we may have had a better outcome in those matches.
The result against City is good because of who it's against of course, but it's still only 1 win in 11 matches and the big question now is "Will we play to that standard against lesser lights West Brom and Palace away?"
Both WBA and Palace have the new manager effect, as we witnessed today, so we have to match both of them with hunger and PASSION.
Dave Abrahams
28
Posted 10/01/2015 at 21:09:48
Phil Walling (15),Phil everyone wasn't playing Manchester City, you said on a different thread you were happy with the performance today, why not stay happy and leave at that, worry about what will happen next if we do not continue the obvious Improvement.
Marcus Reynolds
29
Posted 10/01/2015 at 21:17:44
Finally I can look forward to MOTD.ITS BEEN A WHILE.
Ian Burns
30
Posted 10/01/2015 at 21:24:10
Besic and Stones followed by Nais and Rom for me today. Me thinks the players have forced the change in tactics to a more direct style at the appropriate time and RM is none too pleased hence his rant at Baines when he went long with a pass down the line.
I am not one who would normally back player power but this is one time when I pray they stick to their guns and ride out the stormy couple of weeks and more ahead of us.

Jay Wood
32
Posted 10/01/2015 at 21:31:11
Joe @ 24
I've acknowledged your point before - watching the game on TV as an exiled overseas Blue. Just recently I asked match going fans, due to this fore-shortened periphery of the game, what was going on OFF the ball which of course you can't see sat on your sofa at home.
Even with my limited view I too have been annoyed at Ross's seemingly lack of effort when the ball gets turned over, but today I don't think that wasn't his remit. He rather than Naismith played the more advanced central midfield roll behind Romelu, with Stevie playing wider (and doing it very well). Barry (yes, Barry ... he also had a good game today) and Besic were excellent in the deeper central midfield role, giving Ross freer licence further forward.
So today I excuse him more. His primary role, with his ability, should be more as an offensive threat rather than a defensive one.
That doesn't excuse him from not contributing at all to his defensive duties. He is a natural instinctive footballer, but also as I've posted before, I don't think he is very tactically aware or a 'heads up' player who always sees the complete picture of the options available to him.
Hopefully that will come, as will better game management of when to try the more risky plays in the right areas of the pitch at the right time.
People tend to dwell too much on isolated poor plays - like that silly quick fire exchange between Ross and Besic which ended with Mo inexplicably passing the ball straight into touch!
I prefer to look at the positive stuff and Besic was, as you say, terrific today. He has a good range of passing, silver quick, unlike Ross has good positional awareness and loves a tackle. Oh! And is a mean little bastard as well! A real winner. He is going to get better and better. He also stayed on his feet better today, rather than flying in with ill-timed challenges.
Maintain that level of performance and commitment and wins will follow, I've no doubt.
Joe Clitherow
33
Posted 10/01/2015 at 21:50:00
Ant 26 I reckon that's his instruction too. I've been in the room when Martinez has explained that that type of risk taking is what he encourages Ross and others to do. I don't really have a problem with it, in fact I would support it.
The major problem I do have, though, is that there is nothing in that instruction that precludes trying to get the ball back yourself FIRST instead of leaving to the other guys AS WELL! It may be obvious to you and me but it may have to be explicitly explained to some of the guys?
It's that kind of attention to detail that should come from the coaching staff.
Sean Kelly
34
Posted 10/01/2015 at 22:02:00
Sunday World newspaper over here say Man Utd have agreed with Everton 㿅M for Seamus Coleman.
Joe Clitherow
35
Posted 10/01/2015 at 21:57:43
Agreed Jay. Barry's best game for ages. Maybe he had a point to prove against City, but he's set the bar now, no excuses for not keeping it there.
Defence in depth was good today as well, which is a point I've made before. Always a covering player which is the key.
OK City still got through and made chances but that's what you expect for 𧺬m.
Still want to see their goal on Sky SNF now though
Tony Abrahams
36
Posted 10/01/2015 at 22:01:39
Phil 13, I hope your right, because we looked a lot more solid as a unit today.
Darren 25, agree with your first paragraph 100%!!
Most pleasing thing about Mo Besic today was after his poor distribution in the first half, he never went missing.Seen it happen too many times in football, but this kid looks like something we haven't had much of at Everton in recent years. We finally look like we might have a real winner in our team, again?

Colin Metcalfe
37
Posted 10/01/2015 at 21:46:31
It was definitely an improved performance and there is no shame in dropping 2 pts to the current Premier League Champions. I personally thought we would get tonked today but credit where it's due, the boys dug in and came up with a result.
There is clearly a very good starting eleven that we have in the squad (even if RM doesn't know it) and it's clear the manner in which RM wants Everton to play but we don't have Iniesta, Xavi, Messi etc – it's like telling a painter and decorator to paint the Sistine Chapel!!
If we can only move the ball forward that bit quicker and, if it means surrendering possession every now and then, so be it.
As for the defence, if you're getting closed down or if you are in any doubt, please Row Z or upfield; farting around at the back has cost us this season!
I would like to see this starting eleven ...
Robles*
Coleman
Jagielka*
Stones
Garbutt
Besic
McCarthy
Oviedo
Mirallas
Barkley*
Lukaku*
* Robles – doesn't exactly inspire confidence and a new keeper must be a priority in this window!
* Jagielka – I agree with most comments that he is not a natural captain and has been out of sorts since the World Cup.
* Barkley – clearly a talented lad and credit must be given to RM for bringing him on; however, again he has been out of sorts and is frustrating to watch lately. I would love to see him take the game to opposition, maybe it's a question of confidence?
* Lukaku certainly played better in the last two games but not worth his price tag, for a professional footballer his first touch is horrendous. (My first touch is better!) However, as he is a young lad he should improve.
Baines is an exceptional LB but he has not played well this season and he constantly slows the game down when we break and so I would like to see more of Garbutt!
Just my 2 cents worth and here's hoping for an improved 2nd half of the season.
Ian Burns
38
Posted 10/01/2015 at 22:27:57
Sean where are you - nothing on the newspaper sites that I can see - I pray that's only newspaper talk!
Tom Bowers
39
Posted 10/01/2015 at 22:27:09
You know it's always going to be difficult to win against the billionaire clubs, and even more so when you are in a slump, so today's fighting performance in getting something must be praised.
When things are going well for these rich clubs they get the decisions that the lower clubs don't. The Fabregas tackle on Perez early in the Barcodes game should have gotten a yellow card but didn't even get called as a foul and yet an innocuous challenge by Naismith has a goal disallowed because the keeper drops the ball.
Still, justice was done in the end, despite City's dominant possession.
Alan Bodell
40
Posted 10/01/2015 at 22:18:14
Our boys can sleep well tonight knowing they gave it their all, unlike in the recent past, but although Atkinson didn't exactly have a howler it seemed that the majority of the 50/50's went to them.
Their scorer should have been carded well earlier but great to see us doing good again. Seamus scared them to death and tonight! I will sleep lovely tonight.
Steve Harris
41
Posted 10/01/2015 at 22:28:35
"Barry had his best game for ages!" Fucking hell, from my seat he was absolutely shocking again, gave the ball away time and time again and his lack of pace and backwards, square passing, along with his many clumsy, needless fouls he gives away, makes him a liability although seemingly undroppable in the eyes of the Blessed Roberto.
Sean Kelly
42
Posted 10/01/2015 at 23:16:55
Ian my son came in earlier and said it on true Red Devils Facebook site. He's a Manc fan. I'm still looking for his da couldnt be me I've blue blood.
Sean Kelly
43
Posted 10/01/2015 at 23:21:32
The only thing Ian is I wouldn't wipe my arse with that rag it's worse than the sun
Patrick Murphy
44
Posted 10/01/2015 at 23:28:12
There was a rumour at the Stoke match that a deal had been agreed for Coleman and that OT was the destination - it was from a very high profile person who has access to many of the top people at the club - I of course dismissed it out of hand but given Seamus's body language in the last few months and even today, it would be disappointing but no great surprise.

Seamus McCrudden
45
Posted 10/01/2015 at 23:40:14
Even the Mancs are saying it's bullshit.
Jon Miners
46
Posted 10/01/2015 at 23:39:46
Rom is looking much more like the real thing. Martinez said in the New Year we would see improvement! Let's hope it continues. Well done today boys.
Lewis Barclay
47
Posted 10/01/2015 at 23:53:33
What a load of old toss. We've been absolute gash for the last 3-4 months. Today though, after the result, I felt like Bobby was really the right guy to drive us forward. His interview with the BBC was honsest and classy.
If we get 16 mil for Coleman, brilliant.. I don't care .. as long as we spend it properly. We need to sell players and believe that out manager can invest the money properly to move us upwards and onwards.
If we don't believe in him then its best not to watch because only the results will get him sacked.
Brian Wilkinson
48
Posted 11/01/2015 at 00:22:28
Big praise to Naismith, without doubt our most consistant player this season, gobsmacked some were saying drop Naismith, as long as hes on the field the guy will bust a gut for Everton.
Overall a much better performance, lets hope we continue against West Ham, time to get behind the team, sink or swim together, this team is much better than recent performances, if we do our job and get the Goodison roar back then its down to the players to step up and be counted.
Conor McCourt
49
Posted 11/01/2015 at 00:04:18
Joe I agree with you that Barry over the last two games has looked a lot better if still not reaching last years standards. I also thought McGeady worked hard and would echo what you say about Barkley not putting in the same effort as others. Also great to see Coleman and Lukaku back to their best.
Just 2 points I wanted to make;
1 what a difference Stones made to the defence. We all know he is a great talent but to come in and play like in his 1st start back from injury is great credit to the lad and shows what a miss he has been.
2 I know most on here have suggested Besic had a great game but I cant agree with that. Certainly he's technically excellent, has a great presence, is quick and never shirks a tackle but I just feel he is still too raw to command a start when McCarthy returns.
In fact every time I watch a game without McCarthy it only reinforces my view that he is our most important player. Besic I feel is still adapting to the pace of the league and I feel he often gets caught out positionally. I feel Barry is very pro-active in sensing danger, Besic reactive while McCarthy is adept at both.
I think Besic will be a great player for us for years to come and I'm not knocking the kid but while Barry maintains his last 2 performances I would keep last years axis if all are fit.
Andy Crooks
50
Posted 11/01/2015 at 00:41:23
Sean," Sunday World" ?
Andrew Keatley
51
Posted 11/01/2015 at 00:43:49
If the Coleman to Man Utd rumour has legs then I hope Roberto has someone lined up to come in. We are short at right back, and I would hate to see John Stones having to fill in there. Stones is a centre half, and one of the best coming through anywhere.
If Coleman is going then we could do worse than pick up Sam Byram from Leeds. He would cost a few quid, but has a very good all-round game.
Paul Ward
52
Posted 11/01/2015 at 01:28:22
Tony 16 & Brian 17 you make valid points on Barkley. To improve our performances, apart from the defence and tactics it is essential to work hard and fight for every ball. Barkley does not. As much as I want to see the young prospects in the first team I feel Barkley has had more chances than most to prove himself. For me he is lazy and does not tackle or chase back after losing the ball (which is very often). He seems totally undisciplined and maybe it is undoubted talent but he is more a prima donna than a team player.
Tony Byrne
53
Posted 11/01/2015 at 01:15:18
Having entered Goodison today I was of full of trepidation,I found myself leaving at the full time whistle disappointed that we didn't sneak a win.
I feel after the Hull game a lot of words have been said at board level with RM present. He must surely have been given an ultimatum that if his "philosophy" continues then he will be shown the door? It is no coincidence that tactics have changed against the Hammers & City which have seen a slight improvement.
As a manager, if you cannot take on board ideas from the team then it ends in tears, "your way or the highway" does not work in any workplace.
Less tippy tappy at the back with the goalie hitting balls down field into areas that we can actually begin attacks from, it ain't perfect but when your low on confidence it eases pressure on your defence.
It was good to see Stones back today as he brings calm to our fragile defence, Robles is not the answer but with more games he will gain confidence, for me he didn't have too much to do today but the more you play......
Anyway we can take a lot of positives from today, Besic looks a decent buy at 3 million, though his forward passing can be much better, I can't knock the lad's effort ( did you see him throw the water bottle after city scored after consulting RM on the line,he also had words with Stones!) this lad cares.
Rom looks like he's got his mojo back & I can see him scoring at WH on Tuesday.
Barkley needs a rocket,getting dispossessed in midfield against any opposition spells disaster usually resulting in a goal,I love the lad but I think he needs time out for 1-2 games, or drop Barry & go 4-4-2 with Ross in centre mid.
Stevie Naismith isn't the best player in our squad but you know what, others could learn from this lad as he doesn't hide, one instance today he lost the ball then chased down the defender, resulting in a corner. He also gives the opposition verbal abuse throughout the game, something our captain lacks big time.
It is so unlike Everton but we need to get into the face of the officials when dodgy decisions go against us.
5 Points off the bottom of the table gives more motivation than ever to improve.
Is RM still the man to move us forward?
The Stella has kicked in now so I will sign off!
Steve Jenkins
54
Posted 11/01/2015 at 03:23:55
Martinez can't win - he's been criticised for being to obstinate (by myself included) for many things, now he's being criticised by doing what the fans want...
Consulting with the players to get the best out of them and the team shouldn't be derided - but applauded.
It what a good manager should do, talking with and getting feedback from the players and its worked.
I think you'll find the very best managers trust and consult with their players, they value their opinion and in turn the players feel valued.
I'd be far, far more concerned had Martinez stubbornly stuck to his guns and did not look to take the players thoughts on board, as you often hear about managers that get the boot.
He's a young manager and this experience is a huge learning process, time will tell, but I would imagine this experience and hopefully knowing how to deal with it, will only improve him as a manager .
I'd be far more concerned had he just stubbornly continued as it was.
The performance was a very encouraging and goes to show what pressing and harrying a team with intensity, and not standing off them does.
Also, when in possession, I like to play pretty football, but there are no two ways about it, (its been proven) it needs to be
a) at a quicker tempo going forward
b) you need all of the right players to do it (which we currently don't possess)
c) in the premier league and the way the teams play - you have to mix it up a bit and be direct at times
The Players - I saw a clip of Rom's goal at Anfield for West Brom a couple of weeks back and thought, where is that player?
Rom looks like a completely different player, there can be no doubt about it now, if he starts then you have to get the ball to him quicker and more direct (not with his back to goal) so he's running onto and at defenders.
Stones - agreed, makes a huge difference, as would McCarthy even further, sitting in front of him.
Barry - I don't normally bother commenting as he is Mr undroppable, to his credit, like every other players he ran his heart out, but I have to agree mainly with Steve @41 points.
I would say at 33 (it pays to think about resting players), I would consider resting him for West Ham, as its too many games in quick succession for a midfielder of that age and he's barely had a rest all season, which is probably why Barry often looks so ponderous and lacklustre.
Robles - was solid tbf.
Naismith - always gives it everything, but there are games where he can be largely ineffective and anonymous, often it against the best sides and more away from home than at home but prior to his goal I though he had a quiet and ineffective game.
When he's on form he's top notch for us and hopefully his goal will bring him on another run.
Barkley - I thought had a lot of driving runs from midfield - needs to work on his work rate and winning the ball back.
When defences tire, I'd like to see Kone come on, he has pace to stretch and lovely touch and can finish, disappointed he hasn't had any time from the bench (the last two games).
Harold Matthews
55
Posted 11/01/2015 at 03:26:43
Barkley not quite doing it at the moment. Can't understand why. 6'-2" and stays outside the box for corners and freekicks. Doesn't make sense.
Nice to see Stones back in action. Caught ball watching and turned inside out by Silva for their goal. Like many of his team-mates he does turn his back on shots but he should have a good career. So cool and comfortable on the ball.
We got away with murder in the first half but continued to work hard. Even McGeady made three or four vital interceptions, one with his head and provided the assist for Coleman to hit the bar. Baines put in a double shift against Silva and Navas, Naismith and Besic worked their socks off and Coleman was looking like his old self. Unfortunately, this means he is still reluctant to cross the ball.
Lukaku enjoyed the early service but his lack of ball control continues to be a problem. Even so, he showed plenty of pace and determination and will upset many defences before the season has finished.
All in all, a spirited, energetic performance with plenty to work on. Still way off what will be required but a big step in the right direction. We're still not getting tight to people which allows them to cross or shoot. Until this is sorted we will be vunerable.
Jim Bennings
57
Posted 11/01/2015 at 08:06:53
Harold
It's a good point!
I don't think I've seen Barkley head the ball since he scored at home to Swansea last season in a 3-2 victory.
He simply doesn't do jumping for headers our Ross.
The more and more I watch Barkley though I just think he's got such a long way to go before he's anywhere near the player that we keep hearing he is meant to be.
I think for a start he needs another good two or three season's here to establish himself at Everton before he gets too far ahead of himself believing the media hype of 50 million moves to City or whoever is the "in club " at that minute.
He needs more fire in his belly and to start toughening up with and without the ball at times too.
Michael Polley
58
Posted 11/01/2015 at 09:38:00
Saw highlights on MOTD. Great point, but more importantly we played with passion and balls.
We're such a different team when we play quicker direct football, and have players slotted into their ideal positions. We pose a greater threat.
The more direct approach suits Lukaku. I thought he was great, and could of scored twice.
Overall I'm a bit more upbeat.Let's keep the momentum going,
but please RM don't start messing with the tactics now,and the players positions.
Hopefully you've now listened and understand what the players prefer, and what the fans of our glorious club want - fast direct football.
Next game - West Ham - COYB
Laurie Hartley
59
Posted 11/01/2015 at 09:15:45
Well that was so much better, I thought they all put a good shift in with the exception of Barkley who I thought was disappointing.
I have to say I spotted 2 flashes of brilliance from him but did he actually put a serious tackle in all game? - I didn't see one.
Besic did make a few mistakes but he must start in the next two games. He is a street fighter - just what we need at the moment. Same goes for Barry - fears no one.
Naismith keeps on making me eat my words - another one who pulls out of nothing. Could have had his head punched of by Hart but put his body on the line for the shirt. He is a nark also which I like - sucks the opposition in. Every team needs one.
McGeady gets some stick on here but there is a footballer in there without a doubt. He is always trying something, tracks back, and puts his foot in. Keep playing him in my opinion.
Stones is growing in stature every game - he might only be 20 but he is already a leader. And he can head the ball and knows where the back post is.
Most importantly that is two games in a row we have come from behind to get something out of the game. The crowd was up for it too.
Things are looking up.
Kev Wood
60
Posted 11/01/2015 at 09:42:34
All too often Barkley looks ponderous when he gets the ball. In my mind it's almost as though he is thinking 'Right, I've got it. Now what am I going to do to make my mark'? He's at a stage of 'conscious competence' where he needs to add an element of instinctive responses to his arsenal of supreme self-confidence, strength and skill. I think he'll get there with this.
In addition, despite his size and strength he sometimes seems reluctant to get his leg into 50/50 balls. Could that be a legacy of his early triple leg break?
Enough cod psychology from me. I've got to take something for my voice so that it is ready for the Boleyn Ground on Tuesday.
Jim Bennings
62
Posted 11/01/2015 at 10:17:13
Laurie
McGeady worked very hard but I'm not sure he's a player that's good enough to excel in the Premier League.
To me, I've watched him for a tear now and he doesn't even look as good as McFadden was, at least McFadden weighed in with some goals of various importance and quality to be fair.
McGeady more often than not forgets to take the ball with him when running at fullback's.
Depending if we stay up or not, he will not and should not be a regular next season if we have any kind of aspirations of regaining a challenge for a top 5 or 6 place.
He's not the quality that's required to fight at the top end of the table.
Lets focus on staying in this league this season by showing the same hunger and passion on a weekly basis, because I am not being sceptical but before I feel confident again, I need to see us doing it against team's like West Brom and Palace before any corner has been turned, if we drop our level again then we are right in the shit.
If you look at the league table, as good a result it was against City yesterday, we are actually closer to the team's below us due to wins for Burnley, and Palace.
It cannot be lost on the players now that minimum rerequirements every week are hard work and passion, I don't want anymore matches where we make lesser teams look great simply because they are showing more fight..(Hull away a prime example)
Now is the time to show the real character of Everton Football Club.
Jim Bennings
63
Posted 11/01/2015 at 10:33:12
# a year not a tear...mind you he's made me friggin cry at times McGeady too!!
Mike Keating
64
Posted 11/01/2015 at 09:24:06
Agree with Steve at 41
Barry got stuck in but he is too slow and his passing was woeful even when he was under no pressure
The sooner McCarthy comes back to pair Besic the better – although Besic can give the ball away, he has time to improve while Barry will just get older.
James Marshall
65
Posted 11/01/2015 at 10:58:34
McGeady is a show pony. He has ability but it's useless ability, pointless. He looks like one of those blokes off Record Breakers who could do keepy uppy for 12hrs non stop but can't actually play football.
Phil Walling
66
Posted 11/01/2015 at 10:41:42
I think that we must learn to be well satisfied with the odd point from games against the millionairos always providing we can get a decent return from the teams below and around us. Starting with WBA.
That's how we got to being a seventhish club - and that seems a long way off these days. Certainly the guys around me yesterday were trotting out the old Moyesism of 'Let's get to 40 points and see what happens !'
Only three times in the 38 games era has 40 not been enough to avoid the drop and from where we stand at present that could be a challenge. But most of us think we'll make it because we are Everton and we don't do relegation. With or without Martinez.
Sean Kelly
67
Posted 11/01/2015 at 10:42:45
Yesterday's performance was definitely an improvement over recent games against Hull and Stoke but we need consistency now. There's no point in raising our game against Man City just to fall back again. We have two crucial games against West Brom and Crystal Palace coming up and six points is a must.
The only fly in the ointment yesterday was Barkley. He should look at Naismith and learn about passion and commitment. If he does learn those two attributes, he will be some player. Someone needs to get in his head and see where he is.
I'm glad of the point but we are only three off the relegation spots and that's a worry for me. If players can turn it on like a tap for City, they equally can turn it off again for lesser. I said some months ago that come the derby game we will know for sure if we need changes. I still stick with that.
I hope we can keep upping our performances as well will need it as teams like West Brom and Crystal Palace will have the new manager effect. I suspect there may be a few more clubs changing managers soon looking for that same effect namely Aston Villa and Hull City.
Remember, folks – there is no such thing as "too big to be relegated". Both Manchester teams were relegated in the past.
John Voigt
68
Posted 11/01/2015 at 12:48:29
Stones is our best central defender. He needs to stay healthy. I wonder right now if the answer to our central defender issues could be helped by playing the pairing of Stones and Barry with McCarthey and Besic playing defensive midfield.
I also like to see Baines play as a winger. He's not an asset on defense and can better be used further forward.
Garrett needs to play more (and why isn't he signed past the end of the season?).
Paul Cullinane
69
Posted 11/01/2015 at 13:05:41
We need to keep up the intensity. RM has got the dressing room, that much is obvious. I think Barry should have the armband, Jags is struggling with the responsibility and the effect is showing in the team performances.
Ross and Mo are kids and IMO respond to positivity, it's here that I find that Jags is too occupied with his own game and therefore doesn't have the tools to be crafty. Barry would relish the job and, let's face it, could hardly make a worse hand of it.
Phil Walling
70
Posted 11/01/2015 at 13:31:23
To play Garbutt more, John, would put him in the window and make even more clubs aware of his undoubted talents. Also, if he were to decide to stay, being a first teamer would improve his own bargaining position.
I'm afraid he's a victim of his own talent and precociousness!
Harold Matthews
71
Posted 11/01/2015 at 13:02:02
Yes John. I'd also like see Garbutt with Baines instead of Barkley occasionally. With so many fixtures on the horizon I suspect most of the squad will feature at one time or another.
Agreed. Stones is now our main centre back but we need to remember that he is a young lad still learning his trade. Also, because he is right-sided, Jags has to play out of position till we find a suitable replacement for Distin. Whether Barry ends up there is anyone's guess.
Mark Andersson
72
Posted 11/01/2015 at 14:20:21
Oh Phil I love your take on Garbutt, it's both positive and negative in the same context.
Anyway after reading all the posts, I still think Martinez is the wrong man to see us through from the shite position he has put us in.
I am glad others have taken their rose-coloured glasses off as far as Ross Barkley is concerned. He was just as ineffective as McGeady, who sadly has become the new whipping boy. At least he puts a shift in.
Our captain was a fucking nightmare to watch, and yet McGeady is singled out to be the worst player in the history of football. Well I just hope he rooms with Naismith and long-term proves a lot of you wrong.
Make no mistake, we're still a long way from getting out of the shit the manager and players have put us in.
James Marshall
73
Posted 11/01/2015 at 14:30:34
Everyone is calling for changes, why? Hasn't the constant tinkering been part of the problem lately? We're improving judging by the last two games so the last thing we need is changes.
John Voigt
74
Posted 11/01/2015 at 15:55:14
Everton play better when Stones is on the field. He's mobile, good in the air, stronger than many think and makes good decisions. He's by far the most comfortable bringing the ball out of the back. When Stones carries the ball forward we look dangerous. He's a very good passer for a central defender.
If Everton are looking for a central defender the player coming in needs to be someone who would be a good partner for Stones.
Nigel Gregson
75
Posted 11/01/2015 at 16:32:01
James: right on! We don't need to much by way of rotation. Just minor tweaks. Too much tinkering hasn't worked, in fact, it probably started the issues during Europa League campaign.
Paul Dark
76
Posted 11/01/2015 at 16:49:39
We might've won that game if Bryan or Kev had started in place of the monumentally appalling McGeady. He is the worst player I have ever seen in a blue shirt: talentless despite the protestations of many. He can run and just about cross a ball. He does nothing else. It must be very undermining to see him picked for the first team, and I reckon it reduces Martinez's stock among certain senior, more intelligent players.
McGeady should never play for us again; he is shocking.
Paul Dark
77
Posted 11/01/2015 at 16:53:11
ps: If he improves inordinately, I'm willing to reconsider, but his form so far is consistently unacceptable, and he has been given enough of a chance, in my view.
Sid Logan
78
Posted 11/01/2015 at 18:38:32
Paul, I couldn't in the interest of justice let your posts go unanswered.
The expletives me and my mates have hurled at McGeady this season can't be repeated here. I had huge expectations for him when he arrived. He hasn't lived up to them and has made some colossal cock-ups at vital moments.
However on Saturday he worked really hard for the team and at times with great speed he helped us keep pressure on City. Of course he again will be remembered from the game by the cross he slammed behind at a crucial moment.
But the point is he does have a talent and he did work his socks off on Saturday. If he's the worst player you've seen in a blue shirt you've obviously not been watching the team as long as I have!
Laurie Hartley
79
Posted 11/01/2015 at 19:52:48
Perhaps it is wishful thinking on my part about McGeady but I gave Naismith a hiding last year and like I said he keeps, making me eat my words.
I know it's a bit "all our yesterday's" but Do any of you remember what Derek Temple was like when he came back from national service. He was terrible but Harry Catterick persisted with him and he went on to be a top player for us.
As Sid said - he can't be faulted for his work rate and commitment.
Paul Dark
81
Posted 11/01/2015 at 22:46:27
Sid, Laurie - points taken. It might be an idea to start,
inter alia
Mirallas or Oviedo while he finds his feet. I think he gave the ball away over 20 times while he was on the pitch yesterday.
For a manager who is obsessed with possession, McGeady would appear to be retribution from laughing gods.
Conor McCourt
82
Posted 11/01/2015 at 23:23:03
Paul you win the prize for this weeks most ridiculous post. McGeady has according to SSN created the 2nd most amount of chances created so he can't be as bad as you make out.
Also, if you look at our results, many of our victories have come with Aiden either starting, as he gives us natural width, or coming on, as he often makes an impact. Our mini resurgence could be put down to him as once he came on against West Ham we began to get at them and our goal came from him going through Winston Reid to get the ball with another West Ham player and on to Oviedo who produced the cross.
I agree with you that in an Everton shirt has been the worst period of his career but in tight games at home especially he is a player who can produce that bit of quality from the bench when defences are packed. He will always divide opinion as for Ireland some see him as the best player in the team while others see him as an infuriating enigma.
There are worse players in our squad for starters let alone our history.
Paul Dark
83
Posted 11/01/2015 at 23:59:07
Conor: I respect your opinion but don't agree with it at all. I see no reason to say anything more personal than that (this is a football forum, after all).
Isn't football a funny game? I would never have thought that anyone (let alone quite a few on this board) could in any way defend the performances of Aidan McGeady.
Joe Clitherow
84
Posted 12/01/2015 at 00:09:00
Worst player? Mike Milligan? Kevin Langley? (ex-Wigan, but got a League Winner's medal!)
Tony Hill
85
Posted 12/01/2015 at 00:20:04
Rod Belfitt. Bernie Wright. Didn't play for us much but when they did they were spectacularly terrible. Langley was very slow but I think he scored some goals in 86-87 including one against United. Rod and Bernie every time.
Tony Draper
86
Posted 12/01/2015 at 00:14:22
What is definately required for a handful of games now is.....no more changes, either personnel or tactics.
After all this really is the same squad as last year, plus well received additions. So stronger, fresher.
Roberto is taking a lot of flak ATM, and not without some justification. However, the defence has been repeatedly hit with injuries both brief and longer term. Personally, I don't see that as RM "fiddling about".
Tactically, well farting around with the ball is not "retaining possession", it's FARTING AROUND !
And HOOFING the skin off the ball is NOT playing searching balls into dangerous areas.
During the 80's we managed to be stylish, ruthless, and pragmatic. We managed it with the same side (barring injuries, mostly thanks to the massively underrated Richardson & Harper) virtually every week.
Howard was a stubborn bugger, and his sides played some of the most dire shite I will ever witness. Sweet baby Judas, it was torturous to watch an Everton side playing like that.
The key issue is this, HK LEARNED and was able to correct.
I'm NOT guaranteeing that RM will, but FFS his current side is a bloody sight less shit that HK's was at it's worst.
(BTW RM, that's NOT an invitation to limbo below the bar)
Also, I'm not one of those sad buggers that believes in "magic underpants! and that kind of sad fuck malarkey. Just 'cos somthing happened once doesn't mean it will happen again.
So rest easy RM, you have no need to go phoning HK to borrow his "Lucky Grundies".
Conor McCourt
87
Posted 12/01/2015 at 01:02:48
Paul, you are most certainly entitled to your opinion and in hindsight I should have chosen my words better but it just seems to me that you are continually scapegoating the player and this was a little over the top as many of your posts seem to slate him but no way the worst in history.
I have never actually been his biggest fan as I feel, like you, he gives the ball away too cheaply and his goal return has never been good enough. But I don't feel our current predicament can be blamed on Aiden and he didn't play in some of our worst performances. Okay so in his last start before yesterday he was woeful but wingers are inconsistent by nature as even Mirallas has shown recently.
I also feel he works his socks off even though he is low in confidence and hasn't downed tools like some others have recently. At least when he plays we have round pegs in round holes which the majority of our fans have been crying out for.
Paul Ward
88
Posted 12/01/2015 at 02:53:48
Paul Dark, You are most certainly entitled to your opinion but don't you have McGeedy already picked out as the worst man on the pitch before the game starts?
Gavin Johnson
89
Posted 12/01/2015 at 03:35:17
Paul, If you think McGeady is the worst Everton player ever to wear the shirt, how would rate players like Mark Pembridge, Idan Tal and Preki, some truly awful players who also played down the wings over the years. You honestly can't say McGeady is as bad as that bunch.
Gavin Johnson
90
Posted 12/01/2015 at 03:47:18
I forgot John Oster, who was meant to be the new Trevor Steven. Talk about lightweight!
Peter Bell
91
Posted 12/01/2015 at 05:53:43
McGeady the worse player to ever wear an Everton shirt? Do me a favour. People on this forum were rolling out that same crap not long ago about Naismith.
Where shall we start.... Nulty, Hottiger, Claus Thomsen, Rehn, Linderoth...
Peter Bell
93
Posted 12/01/2015 at 06:09:16
Warren Aspinall, Mitch Ward, Dick Barton.
Mark Andersson
94
Posted 12/01/2015 at 08:10:15
Having watched the game for a 2nd time I just want to point out that although Besic had a good game he made some bad balls to McGeady which in turn made the lad look worse.
He works hard, like Naismith, so give him some support and get off his back.
Abhishek Saha
95
Posted 12/01/2015 at 08:17:37
Honestly, I would say only two changes required to the XI that started against Man City for West Ham.
McGeady for Mirallas on the right flank. Oviedo for Besic. Oviedo on the left flank and move Barkley down a bit in central midfield; at least he continues to play down the middle where he plays his best:
Robles
Coleman, Jagielka, Stones, Baines
Barry, Barkley (Central Midfield)
Oviedo, Mirallas (Flanks)
Naismith, Lukaku (Centre Forwards)
Agreed you don't have Barkley in a full-time attacking midfielder role but we have Naismith in that area. Barkley making his runs down middle while playing as the holding midfielder will be an added attacking threat. Barry assumes more responsibility of guarding the back four.
Keep the faith!

Laurie Hartley
96
Posted 12/01/2015 at 08:15:45
Well it seems McGeady certainly divides opinion amongst Evertonians and Irishmen alike.
I see Harold took Lyndon to task over his assessment of McGeady's performance against City on another thread. I think it is the longest post I have seen Harold make.
I'm going to stick my neck out here and say that if he starts in either or both of the next two games he will turn the game for us. Just a gut feeling.
Mike Gwyer
97
Posted 12/01/2015 at 09:06:49
Laurie Hartley.
A good call but the boy needs his mojo back, like right now!!!! Harold has always put his neck out for McGeady and hopefully they will both be rewarded when we play teams like WBA and Palace, both teams play with a heavy emphasis on defending, so this would mean more ball time for McGeady, who will hopefully put good ball into the front two.
Though for me, McGeady needs a slot when we play away from Goodison, the boy is currently taking abuse by the truck load from the GP crowd which must be affecting his confidence. Hopefully he gets the nod against the Hammers and then let's see what he can do, my view is that we will need more width on the park as trying to going through the middle for 90 minutes will not work at West Ham. They will have two monster boys marking Barkley's every step.
Mark Andersson
98
Posted 12/01/2015 at 10:34:45
What a shame that some people need a whipping boy. McGeady, like Naismith, will come good then who will you pick on?
Give the lad a break, he puts a shift in so deserves some support.
Nick Page
99
Posted 12/01/2015 at 11:07:38
Preki....arf. I just fell off my chair. Forgot about him.
Delighted they showed a bit of "spirit" but I will reserve judgment until after the WBA/Pulis game. These are the ones that will determine our season, not the up-for-it draws against the big teams.
COYB
Paul Dark
100
Posted 12/01/2015 at 11:16:47
Of the players mentioned, only Claus Thomsen plumbs the depths McGeady has. As I said in my original post, he runs, yes (I wouldn't say works his socks off) and he can cross just about (he should take some corners if he has to be on the pitch), but he has been hapless in an Everton shirt. In our current predicament, he is an enormous luxury that we simply cannot afford.
Roberto really does need to get the balance of the team right. I sometimes get the impression, he picks players on who they are rather than where they are going to play. Poor Eto'o has been a victim of this policy, among many others.
Personally, I am beginning to lose faith in Martinez. I admire his adherence to his principle(s), and I don't doubt that his heart is in the right place (unlike Moyes), but we need a top coach at GP as well as someone who can man-manage the side psychologically.
I sense Martinez is going to fall short in the consistent long-term. I hope I'm wrong.
Sam Hoare
101
Posted 12/01/2015 at 11:33:48
Paul Dark, what has McGeady done to you?! I am fascinated. The depths of your disdain for him make it seem so personal!!
He's far from a world beater, but cost nothing and usually puts a good shift in which is more than I can say for some players that have darkened Goodison over the last decade.
He loses the ball too much but tracks back well and is still right up there in terms of chances created for us this season. I think we need better but to put him on a par with Claus Thomsen seems more than harsh than me.
Sid Logan
102
Posted 12/01/2015 at 11:29:58
Peter# 92 Thanks for reminding me I can never remember his name - Claus Thomsen was the worst Everton player of all time. Don't think he ever pulled off a pass! His purchase, as I remember, indirectly led to Joe Royle's sacking.
Back to McGeady. So many wingers I've seen over the years are guilty of dribbling until they lose it. If I was RM, I would say to McGeady (and probably to any other winger/wide man): you're allowed to beat one man and then you get the ball in, either low or high, I'll let you judge, but if you insist on trying to beat a second or third man you're dropped. Simplistic? Maybe – but that I'd exactly what I'd make them do until they got the message!
Gavin Johnson
103
Posted 12/01/2015 at 11:53:48
Paul, I thought you'd have been in favour of Martinez's recent square pegs policy of playing the likes of Eto'o out on the wing if it means your nemesis McGeady sits out a game.
Tony Abrahams
104
Posted 12/01/2015 at 12:10:04
Sid, read Southall's book. Thompson was reportedly given a contract worth ten grand a week, when arguably one of the greatest players we have ever had, wasn't even on half of that. Royle doubled Southall's wage when he realised Paul Gerard, wasn't good enough. He had to because after trying to offload Big Nev to anyone, Wolves had agreed to sign him, so Royle had to match their offer.
"No wonder there is very little loyalty in football"!

Dave Abrahams
105
Posted 12/01/2015 at 12:29:41
Sid(103) Claus Thomsen, When Joe Royle signed him he said he had his eye on him for the last two years, whatever did he see in him?
They played Liverpool at Anfield with Thomsen and Gareth Farrelly (another beaut) as the midfield duo and after the match Roy Evans the Liverpool said we bossed the midfield. Any team in the world would have bossed the midfield with those two against them... mind you, we still drew the game.
Paul Dark
106
Posted 12/01/2015 at 13:42:23
Sam, 102: my gripe with him is as a footballer. I don't know him personally!
Gavin, 104: I'd make an exception for McGeady, but we have Atsu. I'd play him every time over McGeady - not even close.
I'm shocked by the support on here for McGeady.
Sid Logan
107
Posted 12/01/2015 at 13:31:34
Dave (#106). Yes you've jogged my memory. As I remember, Joe Royle then wanted to sign Flo who eventually went to Chelsea and did quite well. The Board were so horrified with the way Thomsen had performed that no longer trusted Joe particularly when he was recommending another Scandinavian. It was therefore goodbye Joe.
Paul (#101). I've got some sympathy with your strong views because we all expected more. I think we thought Martinez had bought a very exciting player who would turn defences in side out. And of course there's nothing worse than expecting so much from a player who doesn't deliver - Andy van der Meyer (if I've got the spelling correct) comes to mind.
I honestly believe if Martinez orders McGeady to keep it simple we may yet see the best of him. I've seen managers do this with wide men at other clubs. Just tell him that his job is to get the decent balls in to the box and not to try to do meandering runs which lead to nothing. Telling him to keep it simple may just start him on the road to contributing to the team.
Sam Hoare
108
Posted 12/01/2015 at 14:03:31
Part of the trouble with McGeady is that I don't think Martinez wants him to get balls into the box. We have the second lowest number of crosses in the Prem and that is I suspect because Martinez wants his wingers to beat a man and draw out another and then... surprise, surprise... pass it. I could be wrong but it feels like Martinez is not a fan of just getting the ball into the box but would rather a winger feed it back and inside to maintain possession and look for these holes that are meant to appear and be exploited.
That's why so many of us on here have been tearing our hair out wanting to see some more direct football with wingers/wingbacks getting balls in early and the likes of Lukaku and Barkley steaming into the box to get on the end of it.
I suspect that this passing it around does not suit McGeady who probably suits a more direct style but, like Lukaku, is being asked to adapt his game.
Paul Dark
109
Posted 12/01/2015 at 14:36:35
Sam, 109: but it doesn't really account for the fact that he can't pass the ball to a team-mate or control it.
Paul Smith
110
Posted 12/01/2015 at 14:53:39
Can I just say, Sam (#109), that I have never seen Barkley steaming into the box and this to me is one of our biggest problems – we don't get anybody past the striker aside from Naismith.
Brent Stephens
111
Posted 12/01/2015 at 15:01:40
Paul, maybe because it's too congested in the middle - they just usher him sideways across the edge of the box.
Sid Logan
112
Posted 12/01/2015 at 14:54:42
Sam, you could well be right. I don't believe Martinez is a fan of getting the ball in to the box and it follows, of course, that getting to the by-line in putting a ball back in (probably one of the most dangerous balls in the game) is also off limits.
Quite depressing really. The bottom line is that Martinez is well and truly locked in this possession football approach that I'm not even sure Barcelona will be exclusively playing in the not too distant future. Far better managers than Martinez know the value of this ball from the by-line. In the same way they know the value of corners and set pieces and no nonsense defending when required.
Is Martinez' time at the club to become simply an opportunity for him to try to realise his dream of playing football the way he believes it should and must be played. If so, that is the sort of dream that gets you relegated!
His job should be playing a system that get the very best out of the players he has in order to win games. I suspect he can't wait to return to his romantic, naive and ultimately scary way of playing. I hope and believe we will survive this dangerous period we find ourselves in but if we do it will be down to the players and their realisation that we had to change rather than anything Martinez decided.
As you can see I'm pretty disillusioned with Martinez and his dream!
Paul Smith
113
Posted 12/01/2015 at 15:32:56
Brent I don't believe he has that in his make-up and soon I feel he has to decide what type of player he wants to be. If he wants to be a No 10, he needs to score and create more goals. If he wants to be a central midfielder, he needs to improve his tackling and his effort without the ball.
I still believe the lad has massive potential but at the moment that is all it is.
Peter Barry
114
Posted 12/01/2015 at 15:37:35
With football being a fast moving game with different fluid situations developing constantly it seems to me that rigid doctrinaire approach to the game with no Plan B would seem to be highly inappropriate. Or am I wrong.
Paul Dark
115
Posted 12/01/2015 at 21:05:29
Peter: you most certainly aren't. Even Allardyce has criticised Martinez's doctrinaire (good word for RM) approach, albeit in a veiled way: http://www.bbc.co.uk/sport/0/football/30783353
Laurie Hartley
116
Posted 13/01/2015 at 07:30:50
So Paul who controlled the ball and passed it to Coleman to smash it against the bar against City? ;)
Have a look from about 55 seconds into the video clip.
That is the sort of close control he is capable of.
---
Add Your Comments
In order to post a comment, you need to be logged in as a registered user of the site.
Or Sign up as a ToffeeWeb Member — it's free, takes just a few minutes and will allow you to post your comments on articles and Talking Points submissions across the site.
© ToffeeWeb