Naismith header rescues a point
By Michael Kenrick
10/01/2015

Comments (157)
jump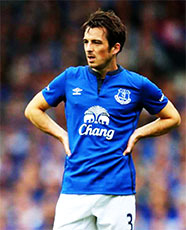 Baines surpasses a record by Graham Le Saux for providing the most assists as a defender in the Premier League, with his 49th in the form of a lovely delivery that Naismith glanced past Hart.
Everton 1 - 1 Manchester City
Aiden McGeady was the only change from the team that produced a dramatic finish against West Ham on Tuesday. Sylvain Distin James McCarthy, Leon Osman, Steven Pienaar, Tony Hibbert, Darron Gibson and Tim Howard are all out injured.
The visitors kicked off but kept Everton played it around a little before City got much of a look-in until an awful clearance by Robles straight to a City player and the Royal Blues looked decidedly nervy in their play under the windy conditions.
Naismith was fouled by Zabaleta and Lukaku lined up the set-piece 30 yards out that he powered lamely into the top of the City wall. Jagielka then made an awful mistake to let Navas take a free shot that he put wide.
The Blues showed better intent with Besic firing in from wide right and in the follow-up they won another free-kick, this time Baines putting his attempt into the top of the City wall.
McGeady picked up the ball in deep midfield but gave the ball away cheaply, then Besic was easily dispossessed and it set up a chance for Jovetic to shoot wide. McGeady won Everton's first corner that Barkley fired in to the first defender, and no real chance in the follow-up. Some good holding play again ended when McGeady got the ball.
A promising move again ended with McGeady picking out a sky blue shirt with his cross after good work down the right from Besic and Coleman. A little contact on Navas saw City get a dangerous free-kick that Nasri drove into the Everton wall and it led to frantic defending that Everton somehow escaped unscathed.
Naismith did very well to win a corner after giving the ball away in attack but Baines's delivery was again straight to the first defender's head and, in a trice, City were threatening, winning a corner themselves after play switched rapidly to the Everton end where they had to defend a couple more corners, with all men back so no counter when McGeady did win the ball wide left.
City tried to walk the ball in though the area, Barry getting his foot on it, and Navas was next to fire wide. Everton were struggling to get out of their own half, even when they had the ball, as it just wouldn't run for Barkley. McGeady got in another cross but it gave Lukaku no chance.
Barkley and Besic, on the half-way line contrived to play "after you" until Besic played the ball needlessly straight out of play! Just shocking stuff. But Lukaku did get a sight of Hart after a good forward pass to feet by Coleman... but his shot was not good enough to beat Hart who blocked it, then Coleman curled his follow-up shot onto the bar of Hart's goal.
Given space to play, with little of the close attention and pressing from lesser opponents, the home side had struggled to really play anything like fluid joined-up football, with far too many nervous mistakes and giveaways but they survived to the break.
Everton got another chance for a free-kick on goal after the break and this time Barkley beat the the wall but could not curl it enough into the far corner. City were soon on attack, and almost walking it in through the Everton defence, testing the Blues' defence, in which Besic did very well to carry the ball out and play it better to give something for Lukaku to chase. It ended up with Mangala fouling Lukaku just outside the City area, and getting a yellow card, possibly for his protest.
Barkley's kick did not find a blue head and when the ball was reworked around, a poor overhit cross from McGeady ended the brief forward move. A ridiculous decision saw Barry penalized when Jovetic ran into him and Stones headed the CIty free-kick away at the far post, then Barkley played the ball nicely to Lukaku who ran in and fired from a difficult angle, Hart just getting enough on it to keep it out.
From the corner Zabaleta climbed all over Jagielka but no penalty, and at the other end, McGeady gave away another dangerous free-kick that Nasri curled in, Robles punching it away.
As the pace and passion ramped up around the hour mark, Barkley was easily dispossessed and it ended up with Stones defending well and tackling Silva well but the ref said it was from behind and booked him, much to the annoyance of the crowd, who were becoming more vocal.
Stones did very well against Jovetic but gave up a corner that was defended well by a disciplined Everton who got the ball forward but nowhere near enough to City's goal as Aguero replaced Jovetic. Everton looked to attack but needed Barkley to take the initiative but all he would do is play short first-time passes and possession was squandered.
Fernandinho fouled Baines and got carded, Baines curling in a great ball that Hart grasped at and dropped but Naismith was adjudged to have nudged him from behind, and as Jagielka poked the loose ball into the net, Atkinson blew for the foul.
City broke in questionable terms, and Fernandinho scored when, in an offside position, he got his head to a deflected shot that seemed to be curling past the goal, his header evading Coleman on the line, a scrappy goal that came after Zabelata may have touched the ball on the ground as he and Lukaku challenged for the ball at the other end.
The perennially hopeless McGeady was finally hauled off, Mirallas replacing him. Baines put in a superb ball form Naismith to glance in past a despairing Hart and Everton were suddenly all square again, with the crowd now really for it.
An excellent break was completely ruined by Lukaku putting himself shamefully offside, but Everton pushed forward again and Besic needed to control himself when called for contact that was hardly a foul, while Everton nemesis Lampard took to the field.
Mirallas did brilliantly to beat his man and make space but his shot was scuffed when he had time to advance and do a lot better. Everton won a late corner with Goodison looking for a god delivery from Baines but it was hopelessly drifted over everyone and City were on the edge of the Everton area in no time, more defending required.
But Everton were tiring and could not get the ball while City knew they had the tools to go for it as time ticked away, Robles getting down well to save one shot. It was helter-skelter as the ball seem impossible for Lukaku to control — there's something fundamentally wrong with his ball skills.
The game ended without City getting the goal they wanted and it finished all-square, with plaudits no doubt for the Blues ending their horrendous losing streak. The performance was not a classic by any means, with far too many mistakes all over the park but the effort was expended to obtain the point and, with better marksmanship from Lukaku, it could have been more.
Everton:
Robles; Coleman, Jagielka, Stones [Y:63']; Baines, Besic, Barry; McGeady (78' Mirallas), Naismith, Barkley; Lukaku.
Subs not Used:
Griffiths, Alcaraz, Garbutt, Oviedo, Eto'o, Kone.
Manchester City: Hart, Zabaleta, Demichelis, Mangala [Y:50'], Clichy, Fernando, Fernandinho [Y:69'] (82' Lampard), Navas, Silva, Nasri (92' Kolarov), Jovetic (67' Agüero).
Subs not Used: Caballero, Sagna, Kompany, Sinclair.
Referee: Martin Atkinson
Attendance: 39,499
---
Reader Comments (157)
Note: the following content is not moderated or vetted by the site owners at the time of submission. Comments are the responsibility of the poster. Disclaimer
Ian McDowell
1
Posted 10/01/2015 at 13:45:23
I think that's possibly the best possible line up we could put out.
Howard and McCarthy both out injured and the only possible change I could see would be Oviedo on the left ahead of Baines with either Barkley or Naismith dropping out.
Karl Jones
2
Posted 10/01/2015 at 14:07:04
McGeady is just not good enough for a game like this. He lacks strength and workrate, and gives the ball away far too cheaply. I'm really disappointed he's been picked today.
Harold Matthews
3
Posted 10/01/2015 at 14:04:26
Defensive looking team, Ian...
Denis Richardson
4
Posted 10/01/2015 at 14:18:38
I see of course Barry starts and Roberto decides to drop our best attacking player to the bench. Naismith and Barkley to wander into the middle and McGeady to try to beat Zabaleta on the left presumably.
Can't say I'm overwhelmed by our team. I'd have Mirallas and Oviedo in the starting line up in place of Barry and Naismtih. Time to get myself comfortable behind the sofa.
BBC saying that a bit of the roof at GP is flapping around in the wind and is causing safety concerns... where's that GP safety certificate BK?
Jay Wood
5
Posted 10/01/2015 at 14:41:49
Mirallas is a big game player – always plays well against the top sides. He has also carried our biggest attacking threat in this meagre run ... and he gets benched for McGeady...?
The only justification is if he is carrying a slight knock and can't last the 90.
Go and boss Demichelis and Mangala Rom!
Hope springs eternal ...
Paul Dark
6
Posted 10/01/2015 at 14:53:50
McGeady plays, we lose. I'm almost pleased that flu has benched me from the game today now.
Roberto, you idiot!
Max Wilson
7
Posted 10/01/2015 at 14:53:08
I agree 101% with Karl. At this level it only takes one or two average players to lose you most of your games. Heres the squad – Alcaraz is even chosen, OMG.
Everton:
01 Robles
23 Coleman
06 Jagielka
26 Stones
03 Baines
17 Besic
18 Barry
07 McGeady
14 Naismith
20 Barkley
10 Lukaku
Substitutes
05 Eto'o
08 Oviedo
09 Koné
11 Mirallas
29 Garbutt
30 Alcaraz
45 Griffiths
Iain Love
8
Posted 10/01/2015 at 14:59:48
I'd drop Naismith for Mirallas.
Roman Sidey
9
Posted 10/01/2015 at 15:32:59
31st minute, Baines takes a well won corner, failes to beat the first man for what must be a record breaking time and 8 seconds later City have a corner of their own. How many times is this overrated shithouse going to fail with the dead ball before he's finally relieved of his duties?
Henrik Lyngsie
10
Posted 10/01/2015 at 15:47:25
I asked McGeady before the match to prove me wrong when I stated he is nowhere near good enough for the starting line up. Some first- half observations: He had a decent pass to Coleman when he hit the bar. McGeady had three decent crosses; however, none of them hit a blue. He lost the ball 6 times. 6 times as unprovoked errors as they would be called in tennis.
He seems to work hard defensively but also seems to struggle on where to position himself when defending. He created nothing on the right but I also think that Coleman in his current form does not offer much support.
So, in conclusion, on the first half, McGeady does put a shift in, works hard defensively. Does not create anything and looses the ball far too easily for a player who is supposed to be technically gifted.
I guess he still needs to convince me that he is good enough. I still hope he proves me wrong.
Terry McLavey
11
Posted 10/01/2015 at 15:49:20
A bit brighter from what we've been subjected to in recent weeks. It's still a bit of a comedy of errors, but comedies are meant to be funny... this isn't!
What has happened to Jags ffs! Barkley and Besic playing tippy tap to each other until one decides to include a third player who didn't exist! Concentrate boys!!
But all not lost at the moment, we're matching them in most areas, and I've widened the distance in my fingers when watching Robles so a bit of improvement there!
Jay Wood
12
Posted 10/01/2015 at 15:47:50
Whoaaaaa Roman? Baines, overrated shithouse? That is so wrong on every level.
For the first time in weeks I'm enjoying this. We're playing the defending champions, currently the best team in the league, still some hairy moments, but some good stuff too from our boys.
In the main when we get the ball it's going forward much more rapidly than of late (and not just big lumps forward) and more importantly in their half rather than on the edge of our area. We're pressing them well too.
Some players who have been poor for too long this season showing glimpses of their truer ability.
Encouraging.
Roman Sidey
13
Posted 10/01/2015 at 16:07:10
Jay, as far as dead ball play goes, and that is what I was referring to as shithouse with Baines, when was the last time he did anything? Corners? Shit. Free kicks? Just as bad.
Someone else needs to take the corners and it's been this way for a long time.
Andy Meighan
14
Posted 10/01/2015 at 16:19:23
Paul 6 flu has benched me as well but im gutted was really lookin forward to this game still got a feeling we could snatch this oops kiss of death
Jay Wood
15
Posted 10/01/2015 at 16:35:17
Real shithouse delivery that, eh..?
Vineet Sood
16
Posted 10/01/2015 at 16:37:19
...So much for Baines's shithouse deliveries, Roman!

Roman Sidey
17
Posted 10/01/2015 at 16:37:57
I knew when I was typing the words would come back to bite me. Haha. Still, I wasn't wrong as it was a very long time since he's done that.
Glen Garrett
18
Posted 10/01/2015 at 16:49:07
Things are looking up now... we just need to win a game now.
Michael Polley
19
Posted 10/01/2015 at 16:53:41
Good point. Onwards and upwards. COYB
Tony Twist
20
Posted 10/01/2015 at 16:54:07
Just not good enough. After the results against Hull, Stoke and Newcastle, wins are what we need – draws don't cut it. Accepting a draw because we are playing Man City at home, it just shows how far we have fallen. This is Goodison, not a place for us to be thankful of getting a draw.
Tony Draper
21
Posted 10/01/2015 at 16:55:52
Cracking performance, shame it only brought a draw.
Lukaku and Besic were bloody good, Coleman much more like himself.
Barry still gifted the ball too many times, but that was an encouraging effort all around.
John Malone
22
Posted 10/01/2015 at 16:58:17
Walking back to the car so pleased with point and the effort and the change of tactics.
Look what happens when you put crosses into the box.
Season changer COYB!
Mike Childs
23
Posted 10/01/2015 at 16:56:38
Best reffed game in ages. If Barry continues to play once Jimmy Mac is healthy then RM oviously gave him a must start if healthy and should be fired for that move alone.
Great Spirit throughout great to see.
Nigel Rickman
24
Posted 10/01/2015 at 16:57:21
Refreshing after the dross after the last few months, after the West Ham game the signs were there, a different approach and more belief.
If we can just get a positive result on Tuesday then I think the season might just be taking off again.
Get a couple of players in and you never know we might just get a cup or two.
Mark Andersson
25
Posted 10/01/2015 at 16:51:29
More of the same next game, I mean the passion and work rate. Sorry Ross was ineffectual, Besic growing in each game, we need more players with his and Naisy spirit.
Our captain was woeful but thankfully seemed to get back to his usual self in the last 15...
Now let's hope this is a turning point. The crowd where brilliant, hats off to you all.
Derek Knox
26
Posted 10/01/2015 at 16:58:41
Much better display all round, I just hope that we have turned the corner in terms of lack of spirit and start to accumulate points from here on in.
With a decent referee, we could have had all three points today.
Terry McLavey
27
Posted 10/01/2015 at 17:00:05
Good performance, I feel better about going to the Hammers on Tuesday.
Augero needs to take his shirt back to Man City's sewing room, they've missed a T off it!
Gary Drain
28
Posted 10/01/2015 at 17:01:03
Arrrrrrgh!! Tony Twist, what is wrong with you!! A point against the form team in the league is a good point!. Take the positives, the best we've played in ages, we showed fight and passion, defended well for a change. What did you expect today? In our predicament, the result is a good one, the performance and attitude, even better.
Denis Richardson
29
Posted 10/01/2015 at 17:00:17
Good point, better performance and avoided a fifth defeat in a row. Despite the draw we're however now only 3 points above the drop zone so let's not start patting backs just yet.
Today was a bonus point, the main game is West Brom. Hopefully the draw today gives the team a bit more confidence although I still don't like the fact we had little width on the left and not sure what Mirallas was doing starting on the bench.
We need McCarthy back but I can see Martinez benching Besic and still keeping Barry in the team. (Does the guy have a clause in his contract saying he has to start every game?)
Defence played a lot better although Jagielka still looks very dodgy at the back.
Jay Wood
30
Posted 10/01/2015 at 16:51:07
GREAT game! That's more like it!
Football is a very simple game, if you get the basics right.
A more balanced line-up, players holding their positions and shape, quicker tempo, better pressing when the opposition have the ball, play in their half rather than fanny about on the edge of our area.
Look at what a player we have in Lukaku when we play to his strengths – get him running at back pedalling defenders rather than ask him to play with his back to goal.
Give the fans something to cheer and Goodison is a bear pit, as it was today.
Oh! And Roman, your post@ 9 was explicit. You called LB "an overrated shithouse."
When was the last time he did anything with corners and free kicks you ask? TODAY! That now makes 10 assists from LB this season alone ... and with today's contribution he is now the ALL TIME RECORD HOLDER for PL assists by a defender.
If any one is a shithouse, it certainly isn't Leighton.
Roman Sidey
31
Posted 10/01/2015 at 17:03:25
Very different team with Stones on the field.
Eddie Dunn
32
Posted 10/01/2015 at 17:02:23
What a gutsy performance, all the lads tried their best and good old Nais with a textbook header.
Let's hope that the confidence continues to return to the team and we can push on from here.
John Malone
33
Posted 10/01/2015 at 17:04:46
Tony Twist are you twisted? We have just taken a point off the Champions with a multi-million pound team on the back of a four game league losing streak!!!!
What planet are you on!!
Andy Walker
34
Posted 10/01/2015 at 17:07:07
That was much more like it, well done lads. That level of intensity and commitment will keep us up.
The players have taken the lead and told our feckless manager how we need to play.

Wesley Mitchell
35
Posted 10/01/2015 at 17:06:34
Great effort, the rut has been temporarily halted. I would like to see us play with more width though as the right side seemed to be working much better today. However, the left is dead as Baines doesn't trust whoever is in front of him. McGeady wasn't too bad today but his end product is still in Russia.
Craig Mills
36
Posted 10/01/2015 at 17:08:28
Two in a row now where we have come back from a losing position, this shows the team is starting to get some fight back in it, West Brom next week is when we start picking up 3 points again and hopefully it won't be long before we start looking up the league and not down!!!
John Malone
37
Posted 10/01/2015 at 17:08:32
Naismith MotM – tireless again, never stopped talking, great attitude!
Ant Summers
38
Posted 10/01/2015 at 17:06:16
Still some individual errors, McGeady stood out as a poor inclusion to start. That said, on the whole, we fully deserved a point against a very good side, who we did not allow to settle. I'm just hoping we can push on from this. Let's hope he puts out a side that can come through on Tuesday. More important is this WBA game, 3 points in any shape or form is a must.
Ajay Gopal
40
Posted 10/01/2015 at 17:04:49
Good performance. They got their goal on a refereeing mistake (blatant handball leading up to the goal). As I remember, Robles has just 1 routine save to make the whole game, whereas Hart produced 2-3 really good saves and was beaten by Coleman's shot. So, how some people can come here and say that it was a bad performance is beyond me.
I think the difference was Stones, and Besic getting better and better match by match. Coleman and Baines were good today, and Naismith was tireless as usual. Lukaku carried on from where he left off against West Ham and was unlucky not to score.
The big differences was how hard the team worked when they lost the ball, and used the direct approach much more when they had the ball. If the team continues playing this way, we will be fine (mid-table).
Roy Steel
41
Posted 10/01/2015 at 17:14:05
Much much better... plenty of grit and determination and not settling for second best. NSNO
Tony Twist
42
Posted 10/01/2015 at 17:10:38
Sorry, but I am a realist. We are in trouble in the league and the only way we are going to get out of it is winning our home matches. Good performances are great but, as I say, after losses to Newcastle, Hull and especially Stoke, 3 points are essential and the sooner we start getting the wins, the better.
Jay Harris
43
Posted 10/01/2015 at 17:10:25
Much better effort and team spirit.
That talk with the walking dead obviously did us some good.
Very impressed with Stones and Besic today. Good to see Coleman and Baines bombing up the wings again.
Disappointing result but pleasing performance.
West Ham and West Brom to continue the recovery now as long as RM doesn't revert to type.
Would like to see a top class goalie brought in ASAP and Aaron Lennon if possible.
Jamie Crowley
44
Posted 10/01/2015 at 17:12:01
I'll say what I said in the forum.
If you are negative after that game you are not right in the head!
Excellent effort, determination, pace...
Great came and dare I say we are back.
Steven Telford
45
Posted 10/01/2015 at 17:09:27
I only caught the second half, but from what I saw it hell of a game, much more positive performance from us, they looked really up for it.
I always feel a lump in my throat when Lampard comes on, a real boogie man for us.
Barkley looked electric, Baines giving great deliveries, Besic well up for it, Lukaku showed some class, and Stones a rock.
Jamie Crowley
46
Posted 10/01/2015 at 17:16:34
Besic MotM. Immense. Just a beast. He HAS to play when McCarthy returns.
Joe Clitherow
47
Posted 10/01/2015 at 17:14:41
Harsh on McGeady I think. Offered much more solidity than Barkley in my opinion, especially first half. Barkley will only ever be half a player until he learns the value of working off the ball. Annoyingly this discipline would be quite easy to coach into him.
Ant Summers
48
Posted 10/01/2015 at 17:14:55
Tony fair enough to look at past results/performances, but the WHU and today's game there was more bite, with that same effort we should be on the up, granted if we lose at hope against WBA, you will be fully correct in your comments.
Colin Glassar
49
Posted 10/01/2015 at 17:14:55
That's what we all wanted and needed. Should've probably won but once again the ref, by all accounts, robbed us. This is it lads. The ship is starting to turn.
Plato Stavrinos
50
Posted 10/01/2015 at 17:17:39
Stones is Boss.
Jamie Crowley
51
Posted 10/01/2015 at 17:21:00
Actually hands down MotM – the fans.
Urging their struggling team on; I heard them in Florida.
Brilliant!!
Joe Clitherow
52
Posted 10/01/2015 at 17:18:27
Disgusting comment about Baines too
Roman Sidey
53
Posted 10/01/2015 at 17:13:25
Jay, get off your high horse. If you think one assist from a free kick in god knows how long absolves Baines of his poor form this season then you are reactionary at best. Stats don't lie, but they also don't paint the entire picture.
Veselin Petrov
54
Posted 10/01/2015 at 17:20:55
The spirit is definitely back now! I was so relieved to watch the changed mentality of our team that even did not feel too much down when they scored.
The quick equalizer was just the thing we all needed. Never mind the table, it is time for Roberto to prove most of us wrong and inspire the team for a run of performances and results.
Why not Tuesday for a starter?!
Anto Byrne
55
Posted 10/01/2015 at 17:11:30
I must say the keeper did well and has improved with each game, funny how actually playing gets you match fit and confident. Barkley down the middle improving.
I can't understand why it took 76 minutes to remove McGeady. He has pace and can defend but unfortunately tries to do too much as a winger and is totally ineffective. Besic was immense and would like to see him with McCarthy. Lukaku looks a different player when they play a more direct game, it was a great save from Hart to stop him.
My only other beef is with free kicks as we managed to hit the wall. Was Bryan Oviedo injured as he brings so much energy when he plays. Oh well... bring on the Hammers and let's get a result.
Karl Jones
56
Posted 10/01/2015 at 17:23:13
We showed fight today but – with Burnley, Leicester and WBA all winning – we need to start winning matches. 1 point from the last 15 is relegation form... no matter who the opposition is.
Mike Powell
57
Posted 10/01/2015 at 17:17:30
That is much better; we deserved to win. Their goal was offside. Lukaku was brilliant today – see how easy it is? Play to his strengths and he is unplayable. Looks like Martinez listened to the players and we played more direct. Let's hope we stick to it and no more tippy tappy shit. COYB
Jay Wood
58
Posted 10/01/2015 at 17:15:11
Tony @ 42 ... some people are never happy ... of course we need wins! Who is denying that?
And we played well enough to get a win today.
It wasn't a matter of we, the fans, or the players or management "accepting a draw because we are playing City at home." We were clearly looking for a winner right to the death.
But ... guess what? The opposition are not traffic cones! They too are playing to win, or not lose. We can't win every game.
I'm not accepting the draw as good result or a surrender monkey you imply people are when you say "... accepting a draw because we are playing City at home, it just shows how far we have fallen. This is Goodison, not a place for us to be thankful of getting a draw."
I'm accepting the performance as acceptable after 2 months of drudgery.
Continue playing with that intensity and commitment, and wins will DEFINITELY follow.
Ant Summers
59
Posted 10/01/2015 at 17:23:47
Barkley got caught too many times in possession, that side of his game today was poor and could have cost us.
As for McGeady, too many times his first touch was poor, which turned over possession. Again that could have cost us. But that's something that can and should be sorted out by RM.
Brian Waring
60
Posted 10/01/2015 at 17:24:32
I would like to think that the performance today was the players showing everyone that Martinez hasn't lost the dressing room.
Joe Clitherow
61
Posted 10/01/2015 at 17:29:35
Jamie 51 – the hailstones in the face hurt too!
Jay Harris
62
Posted 10/01/2015 at 17:25:02
Roman
I am with the other Jay on Baines.
Although he hasn't been up to his usual standards this season he has usually been head and shoulders above the rest and IMO has been carrying a knock which is why he has avoided taking free kicks and is hesitant to take corners.
Today is not the day to start nitpicking at the players – especially Barkley and Barry – it is a day to start the recovery process of getting us back where we belong and not down where we don't belong.
Phil Walling
63
Posted 10/01/2015 at 17:18:26
The only people who will say that was a BAD performance didn't see it. We fought for every ball and the football was much more 'joined up'.
Having said that, Roberto is missing a big trick by totally dismissing the value of set pieces where our delivery is getting past a joke. Just hoping to set up a passing phase from a rebound is prehistoric by any standards.
But, all in all, a good effort against a top team.
Les Fitzpatrick
65
Posted 10/01/2015 at 17:24:09
That's more like it Blues.
Keep it going now.

Mike Hughes
66
Posted 10/01/2015 at 17:26:50
Colin #49
I hope you're right and the ship is starting to turn. More character shown today. And change was implemented with a defensive display.
I said before this game that RM needs 4 points from this and next week's game. We need to beat WBA (won't be easy) to turn this around and build momentum, something we need to do quickly rather than getting sucked into the dog fight.
That bottom half of the table is closing up and we're right in it. Well done today, though.

Tahir Abdullah
67
Posted 10/01/2015 at 17:30:43
Much better! Defensively imo, the best we've looked all season. Stones, Besic and Lukaku were above average, while McGeady and Barkley were very poor.
Better days ahead? COYB
Anto Byrne
68
Posted 10/01/2015 at 17:26:01
Joe Royle was in the main stand and looked very stern indeed. Was taking his position as the team came out. Looks very much like RM has been put on notice and the ticky tacky stuff has been put back in its box for the time being.
Mike Price
69
Posted 10/01/2015 at 17:21:09
That's more like Everton, and see how the crowd responds and creates the bear pit that no one likes. Glad to see the manager show some flexibility, and that at least brings some hope to the situation.
Got to win against West Brom though or we're back to square one and in dire trouble.
Phil Walling
70
Posted 10/01/2015 at 17:32:27
Brian @ 60. It may be the other way round, At the end, I heard a guy say that 'it looked like the dressing room has won over Bobbio!'
Brian Waring
71
Posted 10/01/2015 at 17:30:30
Interesting stats, we had 38% possession, City 62%, City, 18 shots with only 2 on target, we had 10 shots with 4 on target.

Kevin Dale
72
Posted 10/01/2015 at 17:30:12
I have to eat humble pie, if the players can do that against Man City why not against other teams? Perhaps it's not what the manager is doing but the players aptitude to what he is asking them to do? Who knows, but that was much better, let's hope that the start of a better run.
Roman Sidey
73
Posted 10/01/2015 at 17:31:08
Well, Jay, we seem to agree on most things. I was nitpicking during the match. Probably should have done it in the forum, but I'm not a huge fan of that place. Head and shoulders I do not agree with; I think if Baines isn't hesitant to take corners because of a knock then someone else should be taking them. However, let's focus on the fact that we both are encouraged by the performance we saw from the team.
Nobody had a perfect match – I think I grimaced at least once for every player at some point – but also nobody could come off thinking they didn't put in a very good display.
McGeady isn't the perfect player but he is actually pretty intelligent with the ball, just lacks the finesse to pull it all off, which is similar to Naismith, who struggles to pass with much conviction. His heart is the size of Ayers Rock, though.
Vineet Sood
74
Posted 10/01/2015 at 17:33:48
I think the biggest positive is that Rom is starting to now look a 㿈M striker.....
Kieran Riding
75
Posted 10/01/2015 at 17:38:36
Said this many times before. I'd make Stones the captain now. The lad is a superstar. We are twice the side with him in the line up.
Jay Wood
76
Posted 10/01/2015 at 17:28:10
@ Roman 53
Get off my high horse?
Keep digging that hole for yourself Roman. Take a look at what others think about your Baines' comment. These are your words:
"31st minute, Baines takes a well won corner, failes to beat the first man for what must be a record breaking time and 8 seconds later City have a corner of their own. How many times is this overrated shithouse going to fail with the dead ball before he's finally relieved of his duties?"
You pick out a single incident in a decent 1st half, disparage possibly the best player on our books ... and YOU want to justify that and call ME reactionary...?
Yeah, right ...
Don't try and defend and justify your grossly false opinion. I will defend the very fine person LB is from moronic comments like your's calling him an "overrated shithouse."
No surprise you wish to devalue the stats that fail to support your perverse condemnation of Leighton.
Ant Summers
77
Posted 10/01/2015 at 17:36:26
The WBA game should be treated like a cup final. This 1 game could make or break our season. Everyone going must forget about whats gone on before, no negativity, just brutal support from the 1st min to the last. Dont moan, just support.
Barry Stevens
78
Posted 10/01/2015 at 17:22:23
Very harsh on Lukaku, Mr Kenrick. Thought he had a very good game today, with his ball control much improved.
Besic again showed how much potential he has to become a vital clog in this team. Has to be him and Jimmy Mac in the middle of the park when both fit. Coleman looked more like his old self as well.
Only downer today I'd say was McGeady. I've defended him on here in the past, but now enough is enough. Doesn't beat a man and crossing is gash. Plus how many times today on our throw ins did he turn his back and just look to have no interest in receiving the ball.
Overall, I'm very happy with the performance, and any talk of Roberto having lost the dressing room put to bed by the players' efforts.
I really hope the rumours re Lennon are true. He could be just what we need on the right side.
Tommy Coleman
79
Posted 10/01/2015 at 17:36:21
The spark is back, confidence will be next followed by results.
Besic and Stones were excellent.
Jamie Crowley
80
Posted 10/01/2015 at 17:40:40
It hailed? Uck. We don't get much hail in Florida quite thankfully.
Jim Knightley
81
Posted 10/01/2015 at 17:37:29
We were much improved today, and it bodes well for the games coming up. We performed well and deserved at least a draw - There are signs of Lukaku hitting form, and Besic is doing very well. It is fantastic to have Stones back, and hopefully McCarthy will return soon as well.
Martinez has pissed me off of late, like us at all, but some of the negativity on here is pathetic.
As has been referenced, despite a lack of form, Baines has 12 assists in all competitions this season – it is a startlingly statistic, which hasn't appeared from nowhere. Aside from Fabregas, I do not think anyone in the Premier League has managed to match that. He has been less consistent with his delivery of late... but guess what, that happens in Football. It happens to Hazard, to Ronaldo, and it will happen to Baines. It's amazing how fans bemoan player loyalty, but will jump on a player when his standard drops a little.
If we continue to play with a little more directness, and sort out the left hand side of midfield, we will have a good second half of the season. We have some very talented players, who have let themselves down a little this season, and have suffered because of poor tactics. But we are still in two cups, and need to concentrate on finishing as high as possible before the end of the season.
Paul Smith
82
Posted 10/01/2015 at 17:37:52
Well done today much better all round. Gotta beat the Midlanders next week to really capitalise. The bottom is getting tight.
Andy Meighan
83
Posted 10/01/2015 at 17:36:39
Lets not forget we come from behind today against one of two teams who are going to win the league so that's a positive for starters.
Roman, I think you've got a valid point about Baines he's been a great player for us but looking at the bigger picture his deliveries have in the main this season been poor. That said, he's done it today so that's what matters. I think most of us would have taken that before the game given our recent run. Let's just hope we can kick on.
Gavin Johnson
84
Posted 10/01/2015 at 17:37:32
I never expected anything from today's game so I was over the moon about the performance. We look like we're finally mixing it up a bit and playing to Lukaku's strength's, who again looks like the player we paid 㿈M for.
There was none of the narrow one dimensional football today. Coleman looked back to his best. And we looked solid defensively with Stones back in the side. That defensive performance should make it clear to everyone that Distin/Alcaraz should never play in the blue shirt again, and another quality CB should be brought into to compliment Stones/Jags.
But well done lads, we might have finally turned the corner.
Roman Sidey
85
Posted 10/01/2015 at 17:40:19
False opinion? Nice one, Jay. I think if you'd read many threads over the last few months or even seasons you'd find my stance on Baines is not reactionary at all. His dead ball has been sporadic at best for three seasons now, and his corners have gone to utter shite.
I'm stoked with the performance from the whole team, and in the outfield, Baines has played himself back into a bit of form of late, but my comments were directed at his dead ball value to the team, which, despite today's assist, has not been anywhere near his old standards.
Also, don't try to convince me that stats win all arguments, because I just won't listen.
Jamie Crowley
86
Posted 10/01/2015 at 17:44:11
I realize this is WAY too premature, cart in front of horse, but....
A few more performances like that are we allowed to start to dream again of that beautiful back door to CL football called the Europa League?
Like I said, way too premature. But...
Terry McLavey
87
Posted 10/01/2015 at 17:49:50
Dare I say it? Besic our future Peter Reid/ Alan Ball? He has a will to win and great composure under pressure, maybe a goal some day?
Paul Tran
88
Posted 10/01/2015 at 17:43:24
Brian, I think that performance showed that on some level, Martinez and the players are in a better place. Perhaps they've had the balls to speak up and he's had the balls to listen and understand?
In terms of organisation and attitude, this good performance has to be the standard for the rest of the season. Keep those levels and the rest will follow.
Victor Jones
89
Posted 10/01/2015 at 17:31:44
I would have taken the draw before the kick off. Makes one wonder how this team managed nil points over the Christmas period against on paper lesser opposition. The trick now is to follow this result up with wins against WBA, Crystal Palace and also the RS. Has Martinez got the right stuff in his locker to conjure up wins in these games. Heres hoping he does the right thing...
And as mentioned numerous times.... Everton really do need to step up their set-piece game. They are woeful at corners.
I can't slate the performance today. Some players need to step up. But a draw is okay. Now at least 7 points in our next 3 games. Maybe even 9 and a win also over West Ham. Now that would be positive and phenomenal.
ps: It's saying everything about this season when we are praying and hoping that we can beat WBA and Crystal Palace. How our dreams and expectations have dipped.... FOREVER EVERTON.
Adam Luszniak
90
Posted 10/01/2015 at 17:51:14
Better performance in many areas, although as some have already pointed out, Barkley not up to his normal standards. I'd like to see a bit more energy off the ball from him sometimes.
Jay Wood
91
Posted 10/01/2015 at 17:47:07
@ Roman 85 this is my last word to you on this, because I want to enjoy the pleasure generated by an excellent performance rather than further dwell on your negativity.
Again, your original post was NOT specifically about his free kicks. You EXPLICITLY called Leighton "an overrated shithouse." THAT's what I called you on.
I would respect you more if you owned up and say you called it wrong. You haven't. You have deflected and denied, which reveals more about you than your opinion about Baines.
In closing, nice attempt at obfuscation on your part in trying to say I claimed that stats win all arguments. I didn't. But then, you have clearly shown yourself a poor reader (and writer...), so why should I be surprised you are a poor listener too...?
Michael Kenrick
92
Posted 10/01/2015 at 17:47:58
It's nice to see plenty are viewing this as a big improvement; in some ways it was better than the dire stuff we've seen recently, but we are still playing far far below our potential and that remains a massive concern for me.
I thought we were very poor in the first half and could easily have been behind at the break. The mistakes being made all over the pitch were horrendous and we could easily have gone in two or three but for some shockingly poor marksmanship by the usually lethal City goalscorers.
That no doubt put in me in a poor mood for the second half, and while we did play better, the jammy/offside goal really pissed me off, and I did not expect the brilliant equalizer. Better... but still fundamentally poor in too many places on the pitch.
Watching Barkley now just makes me weep... What the fuck has he been told to do on the field? He seems to fear the ball and won't carry it forward unless there are no players anywhere near him. And that bullshit "no me, no you" session with Besic, was utterly abysmal nonsense.
Lukaku did a little better with balls to his feet... but oh, what feet!!! At times it looks like he has concrete in his boots, he simply cannot command the ball. He should have done far far better with the chances he got as well. I know it was a bit better than it's been... but I'm with Tony Twist — still not good enough, I'm afraid. Two points lost — and I don't give a shit who we were playing.
Harold Matthews
93
Posted 10/01/2015 at 17:34:37
Decent hard-fought draw, Took Barkley 70 minutes to wake up and Mirallas looked better on the bench.
No complaints about the other lads. They all put in a shift against a strong team in very difficult conditions.
Colin Glassar
94
Posted 10/01/2015 at 17:59:53
Jay, you and I have often clashed on here but I'm right behind you on this one. The three points were much needed but a battling performance was just as important. Sounds like we got one today.
Adam, maybe Barkley thought "I don't want to play for these Mancs so I'm going to keep me 'ead down and be invisible today".
Richard Lyons
95
Posted 10/01/2015 at 17:45:13
Great stuff – this has done wonders for my morale – so I can imagine what it has done for the players' confidence levels. At last some spirit from the team, and big Rom gets the kind of service he needs – just a real shame he didn't get a goal in trademark terrorise-the-defender style.
Barkley, Mirallas and Lukaku together make a world class combination for the counter-attacking football style, reminds me of Holland circa 2008.
I think it's West Ham who will be afraid...
Roman Sidey
96
Posted 10/01/2015 at 17:57:37
Jay, I said this at comment 17:
"I knew when I was typing the words would come back to bite me. Haha. Still, I wasn't wrong as it was a very long time since he's done that."
If you need explicit words then here: I was frustrated at Baines's dead ball contributions and reacted in a manner that showed that frustration. Then, when he assisted a goal – a lovely header from Naismith it was – I admitted my words had come back to bite me. I do think Baines is a good player and has value to the team, but I also think he is not as good at taking corners and free kicks as he used to be. Despite this, I am very happy with the performance from the WHOLE team today, and a point against the Champions is no disgrace from an Everton side low on confidence and in poor form.
Sorry that I write with more implication than description for your tastes, Jay. I'll try to be more obvious with my intent in the future. Enjoy the arvo and here's hoping we get more of the same against the Irons and Baggies in the next week.
John Malone
97
Posted 10/01/2015 at 17:51:48
Please no dreaming of CL or cup's or anything let's just beat West Ham then West Brom and go from there.
I also think playing more direct with a 3-5-2 system with Lukaku and Kone up top together would bear some fruits.
Amit Vithlani
98
Posted 10/01/2015 at 17:58:14
Baines is our top assister and over the years has something like 50-odd PL assists. Remarkable considering his corner taking has been so gash of late. However, an over-rated shitehouse he ain't.
We are fortunate to have him, Oviedo and Garbutt who all have very good qualities.
Today's set-up saw us not have as much possession as Man City but we tried to work the flanks and Coleman and Baines both looked dangerous.
What is encouraging as well were the energy levels in the closing stages. We remain fragile at the back so, whilst delighted with result, it will still be a nerve-racking set of games coming up to see if we can finally break the winless streak.
Colin Glassar
99
Posted 10/01/2015 at 18:08:42
I'd still love to see my dream love triangle down the left. Garbutt LB, Baines LM and Oviedo LW. That would give us balance and threat and would free up Seamus and Kev to bomb down the RW.
Please Roberto, please me.
Colin Glassar
100
Posted 10/01/2015 at 18:12:45
I've had a go at Baines recently but only cos his free kicks and corners have gone down the drain.
Sam Hoare
101
Posted 10/01/2015 at 18:04:39
Much better but simultaneously the least we should see from an Everton team. Spirit and guts. Exemplified by Stones and Besic, surely two great options to be our next captain. If only local lad Barkley could show as much intensity and endeavour.
Really hope Martinez can bring in one or two more players to boost the team. As I've said recently on many threads, Besic should be the example. There are players out there that are affordable, athletic, strong technically and filled with fire and brimstone. One or two more of those and performances like today and we might salvage something from this season.
Derek Knox
102
Posted 10/01/2015 at 18:17:47
Colin@99
I agree with you with that left sided trio, but somehow can't see Roberto ever being so cavalier in employing it. We seem to have a wealth of left sided players, but without Seamus, we really struggle on the right!
Tony Hill
103
Posted 10/01/2015 at 18:12:23
The main thing is that there was proper spirit in the team. I have criticised Naismith for his lack of pace and poor recent form but his attitude today was magnificent. I actually thought Mo in the first half had a ragged time of it, but again his attitude is brilliant and he improved.
Other big pluses were the full backs, Baines had a strong defensive game as well as the assist and Coleman looked interested for the first time in ages. Also Rom of course.
Ross was poor until the last quarter and needs to clear his head but it looks to me like a matter of recovering confidence and playing his natural game, rather than any discontent on his part.
With the spirit back, we will be okay I am sure of it.
Mike Gwyer
104
Posted 10/01/2015 at 18:08:38
It really does make you giggle. We complain like a bunch of bitches about how shite we are when defending or attacking dead ball kicks into the 18 yard box. I mean, all Evertonians know to a man that RM doesn't give a fuck what happens when we take a corner or a free kick into the opposition box. FFS, we are normally absolutely shite when we are attacking a corner kick.
Pellegrini states the following during his post match chat:
"We knew before the game the most dangerous part of Everton was at set-pieces. They had a free-kick and scored."
What do we know hey......
Mike Childs
105
Posted 10/01/2015 at 18:22:57
One reason we can boot it forward and play now is we have a GK with a leg inside his boot not a rubberband. Makes a world of difference when the ball is back in play in 2 seconds instead of 5 plus seconds. Direct at one of our players instead of a rainbow the opposition has all day to get under.
Tony Hill
106
Posted 10/01/2015 at 18:25:16
Also has anyone had a clear view of our disallowed goal and theirs? Were the decisions correct ? I couldn't see from the top balcony.
Colin Glassar
107
Posted 10/01/2015 at 18:32:16
Mike, I still remember that howler at OT. Instead of kicking it into the stands he booted it upfield and utd scored. Also when he threw it to Barry at WBA and they came back and scored. I'd honestly give Joel a decent run in the side to see what he's made of.
Derek, offensively and defensively that could be a great trio.
Mike Childs
108
Posted 10/01/2015 at 18:43:18
Both good calls Tony. Nais bundled into Hart and they lucked out with a deflection off Stones to make him the assist or for theirs.
Mike Childs
109
Posted 10/01/2015 at 18:46:28
Colin the howler at United are the stuff nightmares are made from.
Mike Childs
110
Posted 10/01/2015 at 18:48:44
Anthony Taylor another bad penalty call award to CP who level it with Spurs.
Tony Hill
111
Posted 10/01/2015 at 18:57:55
Thanks Mike.
Victor Jones
112
Posted 10/01/2015 at 18:18:43
Re. Colin.
I also would like to see Garbutt, Baines and Oviedo all start a game together. Garbutt at LB, Baines LMF and Oviedo LW. With McGeady booted into Row Z – never to be seen again. And Barry also dropped with Ross moved to centre-midfield... and yes, he as not been playing well.... but I'd give him a run of games playing in front of Besic and a fit McCarthy. To accommodate all this, I'd also drop Naismith. And use him as an impact sub. And yes, I am very grateful to Naismith for popping up with his goal today.
And of course the right side has to be balanced with (imo) Coleman and a fit Mirallas. Drop Jags... yes, I said "Drop Jags"..... play 3-4-3:
Robles Coleman Stones Garbutt Besic McCarthy Barkley BainesMirallas Lukaku Oveido
Three of the middle four would be dropping back to help the defence. And Barkley would be given a free role in the middle of the park... but with instructions to not be too loose.
Anyhow I digress... football is about opinions and I've seen plenty on this forum. I've always liked Oviedo since I saw him play for Costa Rica. Always thought he deserved a run of games for Everton (barring injury). Good point today . So onwards and upwards....
Colin Glassar
113
Posted 10/01/2015 at 19:04:02
Anthony Taylor must be the worst ref in the western hemisphere. Lee Mason isn't far behind.
Mike Childs
114
Posted 10/01/2015 at 19:06:57
How quick you forget Andre Marriner
Mike Childs
115
Posted 10/01/2015 at 19:10:30
Not a good day in all as it looks like Crystal Palace 2-1 Tottenham Hotspur...
Dave Abrahams
116
Posted 10/01/2015 at 18:39:30
I was proud of the team and the supporters today, City were the better team and so they should be with the money they've got. We gave them a good game, got a point... could, with a bit of luck and a better referee, have got three, but that for me gives a lot of hope for the rest of the season.
Most of the players gave their all and after a good shift like that I'm not going to have a go at one or two who didn't.
Paul Andrews
117
Posted 10/01/2015 at 19:15:04
Mike Child's.
It is a good day, Spurs getting beat. Look up not down.
Mike Childs
118
Posted 10/01/2015 at 19:22:58
Dave we couldn't have had a better referee.
Jay Harris
119
Posted 10/01/2015 at 19:13:46
Tony in the build up to their goal Zabaletta clearly handled the ball to get control and some Everton players stopped.
Then the ball was played upfield and they scored with what looked like an offside goal initially but Coleman was on the line so it was a correct call for the goal although bad decision not to see the hand ball.
On our disallowed goal I disagree with Mike imo that would have been allowed to stand for one of the so called big 4. Naismith jumped with Hart who fumbled the ball and was never in full control of the ball.
Patrick Murphy
120
Posted 10/01/2015 at 19:28:03
Does that old rule of the goalkeeper being ahead of the player in an offside position still count - I thought he was offside but can understand why it was given. Naismith was offside when the ball was crossed into him and the goal was rightly chalked off.

Mike Childs
121
Posted 10/01/2015 at 19:26:59
I understand what you're saying, Jay, and yes an incompetent referee would have allowed Naisy to get away with it but that is not Atkinson.
Look at Mangala against Jags in the box, it was a penalty just waiting to happen but Jags behaves like a sissy and goes down the minute he felt him. If he had stood tall like a man Mangala would have taken him to the floor.
Tony Hill
122
Posted 10/01/2015 at 19:38:21
Isn't it the second last opponent that counts? As I say, I didn't see it clearly I'm afraid and I also missed the handball.
Nigel Gregson
123
Posted 10/01/2015 at 19:33:23
Mike Childs - very astute call that. Robles has looked far more comfortable with a good run. He's not half as bad as people made him out to be and he is even better than TH in some aspects such that kicking and fast distribution.
Mike Childs
125
Posted 10/01/2015 at 19:41:37
I agree with Jay the handball got missed. Also as Patrick pointed out the actual call on the disallowed was Naisy offside but the replay showed him jump into Hart dislodging the ball. The announcer thought that Atkinson would have called that if the offside call wasn't.
Dave Abrahams
126
Posted 10/01/2015 at 19:34:16
Mike the referee wasn't as bad as some we have had recently, nevertheless in the first half Fernandinho made four or five poor fouls and in the first minute of the second half made another, he, the referee, gave the fouls but never once spoke to the player, should have been booked for persistent fouling.
Stones is then booked for a less than robust foul against Silva, add to this a foul in the penalty area against Jagielka is not given when repeatedly same sort of fouls are given to City. No Mike we are not getting fair treatment from most of the referee's.
Mike Childs
127
Posted 10/01/2015 at 19:45:50
I'm learning Nigel I'm learning thanks for noticing.
Bill Gall
128
Posted 10/01/2015 at 19:38:44
Finally some one has got through to Martinez and I guess reluctantly Evertom are starting to play a bit more directly. Yes it was a good performance bur not I hope what he may describe as a phenomal performance .The players seemed to put more effort in their own peformances and seemed to improve the longer the game went on.
The positive's that I hope Martinez will take notice of is even though we had lees possession than city we still managed to score and had more goal attempts than the last few games. Also I hope he takes notice of how many problems we created trying to pass it around the goal area where City's forewards were waiting like a pack of hungry wolves.
Tony Hill
129
Posted 10/01/2015 at 20:00:18
According to Bobby, Coleman and Besic (there have to be two defenders between the opponent and the goal line if he is himself behind the keeper) played their man onside even though he was behind Robles. He is also happy with the decision about our disallowed goal.
Mike Childs
130
Posted 10/01/2015 at 20:11:51
Well Dave I did miss the first 28 minutes but really you can't expect to get every call. I thought it was the best game by ref I ve seen in a while.
Jay Harris
131
Posted 10/01/2015 at 20:11:25
Mike
I can understand why it was given against Nais but IMO he was level and therefore not offside and although he did jump against Hart I still maintain that if it was top 4 they would have allowed the goal.
Good shout about Jags though, I had forgotten about that.
Gavin McGarvey
132
Posted 10/01/2015 at 20:04:05
Well, we were terrible against the Saints and Hull, and we were a little better against West Ham, and a little better still against City.
So let's hope this is turn the corner time rather than a dead man's bounce. Personally I think things are looking up and we're starting to turn things round. We're still not playing that well, but at least we're showing some fight, and that is so important given our position in the league.
Those people calling for wins are right in some ways. The truth is we're not playing well enough in either defence or attack to win at the minute. We do seem to be getting better, and the tactics are improving.
The big positives for me are Stones and Lukaku. Stones is a real leader, and will stand up and be counted. Lukaku is starting to look a real threat. I can't help a lot of the criticism of him is a bit like buying a ferrari but only using it to pop out to the local shops to buy fags now and again, and then moaning about its fuel economy. He's a good player he just needs quick through balls and decent crosses, plus he'll finish off loose balls in the area. Oh and good to see a decent dead ball from Baines, the commentator said he had the most assists in premier league history, so well done him.
Mike Childs
133
Posted 10/01/2015 at 20:21:08
I'm certainly not doubting you Jay as you say against the money boys except with Atkinson imo he's the most unbiased of the lot.
Bob Martin
134
Posted 10/01/2015 at 20:22:17
Great from the lads today I really enjoyed the game although it sounds like most on here where behind the sofa or in a different country somewhere warmer!! All I can say is the top balcony was very cold, very windy, but was the best place on gods earth this afternoon!! Just a pity we didn't get the win that the lads deserved.
Let's beat The Hammers now and get to Wembley!!
Peter Morris
135
Posted 10/01/2015 at 20:30:57
Much, much better all round today chaps. Not perfect by any stretch, but a work ethic and passion not seen for some considerable time. Particularly pleased with the way Rom is going about things at last.. good man.
But Bobby, what have I told you about selecting McGeady? Stop it immediately. The window is open. Get shut.
Jay Harris
136
Posted 10/01/2015 at 20:40:18
Mike
I wouldnt argue that one with you. I used to think Howard Webb and Phil Dowd were the most unbiased but recent history has changed my opinion.
The only issue I have with Atkinson is he is so quick to card players.
Mike Childs
137
Posted 10/01/2015 at 20:52:16
Yes he is but usually it's either a blatant foul or a consistent amount ticky fouls built up.
Dowd is the worst because he thinks he can do no wrong and is the reason people come to the games. Reffing at the World Cup in 2010 gave him a massive head.
Brent Stephens
138
Posted 10/01/2015 at 20:59:10
Paul #82 " The bottom is getting tight."
Not to say "squeaky".
John Daley
141
Posted 10/01/2015 at 21:47:51
Also, John Stones is clearly a class act, but there's no way he should be having to coax the club captain, a full England international and a colleague 11 years his senior through 45 mins of football like he had to do with 'Jags' in that first half. Skipper my shithole. He was all over the shop.
Malcolm Dorr
142
Posted 10/01/2015 at 21:43:50
I came away from GP today feeling better about our performance. The team were more positive and the crowd were definitely more vocal than they have been some time. Mind you we haven"t have much to cheer about have we ? Some debateble decisions from the officials again - Surely their goal was off side ?? Not sure why McGeady started instead of Kevin - Is he not 100% fit ? More of the same please against WBA a week on Monday.
Tony Abrahams
143
Posted 10/01/2015 at 21:17:10
Mike 137, either a blatant foul or a consistent amount of ticky tacky built up? Maybe your right, you can't get them all!
I honestly felt like getting up and leaving when Stones got booked. Bad fouls, leg breakers, cynical fouls and diving all should be eradicated from football, but why should a good strong tackle like that be given a yellow card?
Silva, best player on the pitch, finds space where there is none, great left foot, fantastic vision. How can you play against such talent? By getting fucking close and letting him know your there, surely. If you don't he will destroy you, and if you do you get a booking? I always thought a good strong tackle was a great leveller, but the game just doesn't allow it anymore. It's probably why you always feel more frustrated after playing the top teams, because you never feel like you get the rub of the green.
We deserved the draw, but it's now six games without a win. Hope it changes this Tuesday, where once again, Everton will have fantastic away support!

James Flynn
144
Posted 10/01/2015 at 21:52:03
Whichever players fought (are fighting?) behind the scenes with Roberto to stop the tika-tika, good on you. And if you had to have a word with upper-management about it, good on you twice.
We still look disheveled, but at least we're attacking.
Peter Laing
145
Posted 10/01/2015 at 22:00:59
James McCarthy has been sorely missed in the engine room since his injury but it has allowed Besic to get much needed game time and the chance to impress. The lad is looking stronger, hungrier and more assured every game. At 22 he will still make mistakes as in the case of Stones, McCarthy and Barkley but he is now showing real promise. Besic is looking a real bargain at ٢ million and another 20-30 games under his belt and a bit more in the way of muscle being added to his frame and I am predicting that we will have a beast of a player on our hands !
Andy Crooks
146
Posted 10/01/2015 at 21:56:58
It was better, no doubt, maybe the beginning of something but, our expectations have been drastically lowered if anyone thinks that was a performance worthy of our squad. We should be much better than that.
Dave Abrahams
147
Posted 10/01/2015 at 22:25:29
Malcolm Dorr(142) I'm presuming you never saw Kevin on Tuesday, you would have known why he didn't start today if you had.
Kevin is a very good player, when he feels like playing.
Gerard Carey
148
Posted 10/01/2015 at 22:09:28
Did it suit us today that City play attacking football anyway? The test will come when teams park the bus. It's then we have difficulty breaking teams down.
Bob Martin
149
Posted 10/01/2015 at 22:57:49
I thought we where great today and there is a real sign of better things ahead. Well done to all the squad.
For the first time this season, I feel as though I have seen a really good game.
Tony Dove
150
Posted 10/01/2015 at 22:53:50
Nothing to add. Just nice to read a sensible batch of views for once. We were not great but hopefully we are on the mend and can continue without any managerial upheaval.

Paul Smith
151
Posted 10/01/2015 at 23:14:11
Brent #182 if we don't beat WBA then definitely *squeaky*

Harvey Miller
152
Posted 11/01/2015 at 01:08:14
We couldn't kill them and they know it. But it sure left a message. I was proud of our showing tonight, I thought everybody did their job as expected.
Still, Big Joe in , little Bob out!
Bob Parrington
153
Posted 11/01/2015 at 02:05:47
Did this performance demonstrate that the group of players we have is just not suited to the pissy passy style of play RM has wanted them to play. My own view is that, if you want to be truly successful with that style of play you need a massive cheque book to buy the players suited to it, which of course we don't have. Today's methods seemed far more suited to the players we have and they seemed to enjoy it. Good passionate performance IMO.
Mark Andersson
154
Posted 11/01/2015 at 04:01:23
As always some great views. We had to start somewhere to get our season going, because let's face it, the term getting it back on track, is a none event.
Martinez will keep his job, we will be lucky to bring in anyone of great value this month.
The board will be hoping we can steady the sinking ship, win a cup (fat chance) have a good run in to the end of the season, then sell us the dream for next season.
I still think Bobby has a long way to go to win back the fans' trust. Yes there will always be his loyal dreamers who buy into his dream. However that old saying at the end of the season that the table doesn't lie, will be his true bench mark as a. manager.
There is a long way to go I just hope that we can start winning some points so we can enjoy being Evertonians again.
Michael Penley
155
Posted 11/01/2015 at 06:44:20
If Lukaku wants to run on to more direct balls like he's said, the best thing he could do is get in front of Naismith when we're about to hoof it out of defence. I can't count the number of times each game Naisy flicks on a header to a lone defender, and it's something we (namely, Romelu) should be taking advantage of.
Eddie Dunn
157
Posted 11/01/2015 at 17:15:54
Michael 155, yes absolutely, it is amazing how mant headers Naismith wins, especially as he is only 5ft 8.
Perhaps big Dunc is trying to demonstrate this skill to Romalu.
Add Your Comments
In order to post a comment, you need to be logged in as a registered user of the site.
Or Sign up as a ToffeeWeb Member — it's free, takes just a few minutes and will allow you to post your comments on articles and Talking Points submissions across the site.
© ToffeeWeb