West Ham United vs Everton
FA Cup 3rd Round Replay Preview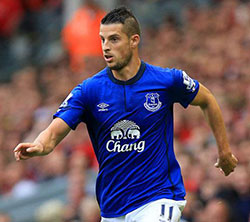 Kevin Mirallas continues to feel pain in his ankle and might not be risked
Having rescued this FA Cup Third Round tie at the death a week ago, Everton get the chance to complete the job and, potentially, turn their season around in the replay in East London.
Romelu Lukaku, the Blues' goalscoring hero in stoppage time in the first meeting, will play in tribute to his friend and former teammate Junior Malanda, angling to score what would be a fifth goal in as many games against the Hammers and fire Roberto Martinez's side into the fourth round.
The Belgian's strike that cancelled out James Collins's header felt at the time like it could be a pivotal moment in a season that had veered well off course and its galvanising effect was clearly evident in Everton's more determined and resilient display against Manchester City during Saturday's 1-1 draw in the Premier League.
Martinez will now be looking to drive his charges further down the road of recovery by negotiating what will unquestionably be a difficult match against a virtually full-strength West Ham. If he can, he will find out his next opponents in the competition at the final whistle — Bristol City and Doncaster play their replay simultaneously at Ashton Gate.
Sam Allardyce, who used his press conference yesterday to make the claim that he his more flexible in his approach to the game than the Toffees' boss, will be without just two of his first-team players in the form of Diafra Sakho, who has a back injury, and Cheikhou Kouyate, who is international duty preparing for the Africa Cup of Nations.
Everton, on the other hand, will be missing eight players from their senior squad — the list includes Christian Atsu (AFCoN), Silvain Distin (groin injury), Steven Pienaar (knee injury) and Darron Gibson (knee injury) — of which James McCarthy will be the most sorely missed as he continues his recovery from what is now a long-standing hamstring problem. Thankfully, Muhamed Besic has been an able deputy, matching the Irish international's tenacity, workrate and ground covered as he continues to mature and he will almost certainly partner Gareth Barry again in defensive midfield.
Also continuing to deputise with increasing confidence and assuredness is Joel Robles in goal who is in line to make his fifth successive start in place of the injured Tim Howard. Though he is yet to keep a clean sheet, the Spaniard has been showing signs that he is settling into his role after a startlingly poor performance against Krasnodar six weeks ago.
Given that the next fixture isn't until next Monday, Martinez is likely to stick close to the team that started against Man City, with the only real question mark likely to be around who starts out of Aiden McGeady and Kevin Mirallas. The Belgian admitted this week that he is still feeling pain in the ankle that was injured by Jordan Mutch in the game against QPR four weeks ago and may start on the bench again.
Given how they responded in the first match last week and against Man City on Saturday, the do-or-die nature of the replay could suit Everton as there will be no hiding in the relative safety of a draw and no-one will want the drama of a penalty shootout. Should it come to that, though, Martinez is confident that Robles can be the hero.
It's going to need another stubborn defensive display like that which frustrated Manuel Pellegrini at the weekend but, if Everton are to prove they are getting back to the lofty standards they set last season, they should win this as they did on Lukaku's debut in September 2013. A repeat of that thrilling match would do just fine...
Kick off: 7.45pm
Referee: Neil Swarbrick
Quotes sourced from ToffeeWeb Match Reports
Reader Comments (125)
Note: the following content is not moderated or vetted by the site owners at the time of submission. Comments are the responsibility of the poster. Disclaimer
John Zapa
1
Posted 13/01/2015 at 06:06:07
Best to play a team of youngsters and focus on league survival. It's only 3 points to 18th...
Lyndon Lloyd
2
Posted 13/01/2015 at 06:19:48
Ummm... no, John. That is low-bar, defeatist thinking.
We're not going to be in a relegation battle this season and the FA Cup is a legitimate shot at silverware and getting back into Europe.
We need our strongest team out there going all out for the win.
Nick Gartland
3
Posted 13/01/2015 at 06:38:24
Got a ticket for tonight and down in London already. Any advice on going, e.g. pubs, best tube station to use etc?
Kunal Desai
4
Posted 13/01/2015 at 06:50:32
Part of the reason we have got ourselves into this position is due to Martinez tinkering and changing personnel too often. Keep pretty much the same side, keep the momentum going and confidence gained in both the last two games. Dropping players simply shoots players confidence.
Kieran Fitzgerald
5
Posted 13/01/2015 at 06:49:37
Lyndon, while I would agree that being positive about this game would help with the momentum gathered from the last two games, I wouldn't say that we are fully clear of a potential relegation battle yet.
Leicester, Burnley and Palace have all shown more resolve and confidence than we have over the course of the league campaign to date. They may not have the quality of our squad but they are confident.
A couple of bad results could see us sucked into a relegation battle if we are not careful. However, I do think that we may be turning a corner and I think that John has jumped the gun a little. This game tonight could not have come at a better time. I think that if we go all out to win, the confidence and focus the win, and having the next round of the cup to look forward to, could give us a massive lift.
Tony Draper
6
Posted 13/01/2015 at 06:54:13
Completely agree Lyndon.
We have "showed more than willing" in our last two games, so send out the same side, win the tie and benefit from the victory/momentum.
I do feel for Big Rom, gotta be tough to lose your best mate so young.
Duncan McDine
7
Posted 13/01/2015 at 07:19:40
We aren't playing for another six days so there is no reason for resting anyone. The FA Cup is still a big deal, and winning it would more than make up for a bad season...
We will not be in a relegation fight.... every team has a run of bad results and hopefully we have now seen the back of ours.
Mike Green
8
Posted 13/01/2015 at 07:36:56
Thoughts tonight for Lukaku, and Mirallas who apparently was close to Junior Malanda too. Incredibly sad news for them both.
Tonight will be interesting to see whether the last two games signs of recovery can be built on and we are indeed turning the corner. All eyes on Upton Park.
James Hughes
9
Posted 13/01/2015 at 07:48:57
Strong team out tonight please, it's been 20 years since we last won this. So long ago, I am beginning to think I imagined it.
Jon Withey
10
Posted 13/01/2015 at 07:52:07
If the next game is Monday, then the best team should be picked again and focus on defence first. If we can keep a clean sheet then we have the personnel to nick a goal.
Although seemingly Martinez doesn't see it that way.
We are in a relegation battle until we are 10 points clear of the drop – there is no point pretending otherwise. Our results have been dreadful and a return to that form would see us relegated – that is just fact.
Mark Andersson
11
Posted 13/01/2015 at 07:57:32
Good write up. I have to agree with John 10. We can easily get sucked into a relegation battle. The game against Man City was spirited but we also rode our luck too.
Silverware will mean nothing if we go down. Every game now is a must win. Hope are travelling fans are in full voice and have something to cheer about on the way home.
Sam Hoare
12
Posted 13/01/2015 at 08:07:02
We are looking better. Especially with Stones back and Besic bringing some fight to the table. The only issues being that Barry needs a rest and has done for a while and either Naismith or Barkley are having to play out wide which does not suit either of them.
Our injury list is depressing in itself. I hope this Summer that Martinez can do what he should have done last Summer and replace the likes of Distin, Gibson, Pienaar and Alcaraz with younger versions who will be on the pitch more often than in the Physio room.
Darryl Ritchie
14
Posted 13/01/2015 at 08:03:15
This is a pivotal match! A potential momentum builder! We need to win, and win with style. This is the game where we find out what to expect for the remainder of the season.
Win, and it's onwards and upwards. Lose, and it's back to square one, and a dog fight to stay up.
The next draw is a lot easier, so maybe it will be a little extra incentive for the lads to show what they're capable of.
Jay Wood
15
Posted 13/01/2015 at 08:26:55
John @ 1
Bollox to that defeatist thinking John, as Lyndon said.
Our next game is in six days. Pick our strongest team and get a confidence boosting win AND progress to the next round to maintain some interest beyond the worrying league situation and the EL.
But I don't agree with Lyndon's rather blithe and blasé claim we won't be in a relegation fight. Kieran @ 5 spells it out well: we ARE in the relegation mix as things currently stand and there is absolutely no wriggle room for complacency on that front.
Jim Bennings
16
Posted 13/01/2015 at 08:40:33
John
I'm sorry to sound rude here but piss off mate!
Going out of any cup competition can only be BAD for team confidence.
How about the team of 95? It didn't hurt that relegation haunted team going on a Cup run and errrrmmm... winning it.
Bad attitude to throw a cup match, especially given that it could prove a huge catalyst in our season, it's a huge setback if we go out tonight make no mistake.
This has been a season of so little cheer that the last thing we need is elimination tonight. Faliure to get a victory tonight then it's 1 win in the last 12 matches.
Get out there, do the supporters who have travelled down there proud, and bloody WIN.
Ajay Gopal
17
Posted 13/01/2015 at 09:05:08
I agree, basically keep the same side, maybe swap Oviedo for McGeady.
Robles
Coleman Stones Jagielka Baines
Besic Barry
Naismith Barkley Oviedo
Lukaku
Subs: Another GK, Browning, Alcaraz, Garbutt, McGeady, Kone, Eto'o
Keep Mirallas, McCarthy and Gibson working on their fitness.
Let us hope we don't suffer any injuries and nick this one 2-1.
Joe Clitherow
18
Posted 13/01/2015 at 09:23:11
Martinez has already thrown one cup competition this season with a disgusting capitulation and a morale affecting 3-0 loss. I don't want to see another. The fact that he seemed not in the least bit bothered after that set a bad tone and I think showed he was out of touch. I hate losing a throw-in.
Eddie Dunn
19
Posted 13/01/2015 at 09:24:13
John, you must be nuts. The team needs less tinkering. I even resented the silly experiment against Krasnodar, all it did was undermine the confidence of the youngsters, and didn't do Robles any good either.
Things are looking better, and having Stones back is good, but I fear another defencive injury could derail our recovery. Martinez failed to strengthen the squad sufficiently in the summer, and now we are cruelly exposed, carrying too much deadwood.
Older players take longer to heal and we have a whole ward full of them. We could do with a defender in the window, as well as a keeper. Let's hope for an injury-free win tonight.
Gerard Carey
20
Posted 13/01/2015 at 08:58:50
Go all out for the win tonight. Six days before the next game so play our strongest team. Play Mirallas instead of McGeady. Barkley needs to put in a shift too and live up to the hype about him.
Tony Doran
21
Posted 13/01/2015 at 09:32:02
Treat this like a final. Long rest until next game.
Harold Matthews
22
Posted 13/01/2015 at 09:00:33
With Carroll playing, we'll definitely have to avoid corners and allowing them time and room to cross. Downing ran the show up at our place but the lads who kept Nasri quiet against Man City should be good enough to stifle him.
This time round we'll need to stay wide and up the tempo. Baines, Barkley, Oviedo and Garbutt will have to be shuffled. So too Eto'o and Kone, if they are available. Going too narrow with a bunch of No 10s played into their hands and we don't want a repeat.
Whether Lukaku is mentally ready for this one is anyone's guess. We'll just have to wait and see.
Jim Bennings
23
Posted 13/01/2015 at 09:44:57
Yeah let's not forget that Swansea debacle in September.
We hardly concentrated on the league after that humiliating loss did we? I think the following match we lost at home to Crystal Palace.
Winning matches breeds confidence, and at the moment we have forgotten what it's like to win. We haven't kept a clean sheet for I don't know how long? I can't even remember.
Experimenting should be confined to pre-season and pre-season only, anything else is totally cheating the fans who pay hard earned money to go and watch the team.
West Ham are playing their strongest team...We need to match and then better them.
Tony Abrahams
24
Posted 13/01/2015 at 09:39:24
Jim Bennings, THANK YOU!
Am I the only Evertonian who would take seventeenth to win a cup?
Phil Walling
25
Posted 13/01/2015 at 10:05:07
'Tinker ye not', would be my advice, too. But we can expect to see Eto'o, Alcaraz and Oviedo in the starting line-up, I feel.
Max Wilson
26
Posted 13/01/2015 at 10:08:27
I am sure we all agree that this is a tough one tonight and we are the underdogs. Against Swansea, while they only drew, most of the Hammers played well and Carroll was back and scored with a "wondergoal". Defensively they are good, so if they get ahead, expect an Italian style lock out.
A slow build up from the back will just aid them in stopping us go forward. It sounds like Kev is still not fit which wouldn't be good news. Anyone saying play virtually Saturday's team would be in agreement with Max Maxie, but I'm sorry to say, I
Andrew Ellams
27
Posted 13/01/2015 at 10:15:23
Harold is right, if Carroll had played last week we would probably be out tonight. I do have a feeling though that Lukaku might just be inspired tonight and the West Ham centre-halves could be in for a rough night.
Max Wilson
28
Posted 13/01/2015 at 10:18:42
Oh shit, hit the bar, where was I?
Yes, if possible I'd like to see Oviedo in for McGeady. I think we need all our talent tonight and they need to step on it, if Lukaku can do 30.9 mph, he needs it just outside and then into their box. We don't want to see him having to look for the ball out on the wing like last time out, he needs to be receiving it where it can hurt. If we win this it would be good for everyone's morale, so COYB.
John Zapa
29
Posted 13/01/2015 at 10:03:36
I don't believe the effort/reward of the FA Cup is worth risking league survival. Everyone loves a cup run, but is it worth it this season?
Lyndon, you may choose to believe the club is not facing a relegation battle, but my interpretation of the league table tells me otherwise. A couple poor results in the next 2 league games would do unthinkable damage to the chances of staying up, I think all the ammo should be saved for West Brom and Crystal Palace.
Adam Luszniak
30
Posted 13/01/2015 at 10:32:33
I think people are probably right that this is not the game to tinker, but at some point I'd love to see how the following setup works:
Robles
Browning Stones Jagielka
Coleman Barkley Baines Oviedo
Mirallas Naismith Lukaku
Front three interchanging to bamboozle the enemy when in attack, and Coleman and Oviedo overlapping like crazy.
Peter Murray
31
Posted 13/01/2015 at 10:28:51
We can expect more of an aerial bombardment this time. Team and tactics might have to be adjusted to cope. We will need to battle all over the pitch but please no more unnecessary free-kicks in dangerous areas, particularly against this team.
Great to see 3000+ Evertonians will be there. That could make a big difference... A 2-1 win possibly after extra time.
Sam Morrison
32
Posted 13/01/2015 at 10:35:43
I agree with Lyndon on the cup approach but I don't think we all need to jump on John's back.
On the tactical thing, I actually agree with Big Sam. I've spent the last few weeks not knowing what to think about Martinez – obviously wanting him to succeed, but bewildered by the lack of fight in the team amongst other things.
Allardyce is an under-rated manager who often gets judged on his manner rather than his playing style/results. I think we're all agreed a little tactical flexibility – even if it's just short term – wouldn't go amiss.
Jay Wood
33
Posted 13/01/2015 at 10:35:17
First John, you are entitled to your opinion, though as you see you don't garner much support for your position here.
IMO we need a WIN! ASAP! And a win tonight can be a confidence booster for the difficult league games to come.
I also agree with you wholeheartedly. For Lyndon to ignore the reality of our league position and blithely say we will not be in a relegation battle is a denial that we are already in the relegation mix.
That's why a win tonight can be as equally important as victories over WBA and CP in our next 2 league games. If we are sucked further into the mixer all bets are off, regardless of the quality of our squad against others down there, because our kind of slump in form gathers its own momentum and fear takes over.
John Daley
34
Posted 13/01/2015 at 10:43:30
For me, the thing this team has been fatally shorn of for the last couple of months is confidence. Up until the West Ham game the slightest setback (such as a goal conceded via a slip) was enough for all resilience to crumble.
A good cup run would be just the thing to get not only the players looking forward again, but also the fans. It certainly didn't serve as a distraction the last time we won it, when the so called 'Dogs of War' were simultaneously digging the club out of the mess Mike the meff Walkered us into.
Andrew Ellams
35
Posted 13/01/2015 at 10:56:04
We need momentum and our next three league games are tough: two teams with new managers and the derby. Winning is a habit and we seem to have lost it and need to find it again ASAP.
Denis Richardson
36
Posted 13/01/2015 at 10:58:38
We don't have another game until Monday so, other than injury, there is no good reason not to play the strongest side.
Just because we're close to the drop zone doesn't mean we should throw away the FA Cup – at the end of the day, if we play like we did against Man City, we won't go down and will finish somewhere midtable.
36 points will be enough to stay up, league-wise we're now just trying to finish as high as possible to get more cash given every place is worth around an extra ٟM. Sad to say such a thing in January but there is no chance of us finishing top 8. The 4 defeats on the trot effectively put an end to that.
We can still focus on the twp cups we are still in.
Kevin Tully
37
Posted 13/01/2015 at 10:57:58
Martinez has a lot to answer for this season, but surely most of his 'tinkering' has been down to injuries and suspensions to key personnel?
If fit, we would have seen a settled back four, with Stones & Jagielka in central defence. We would have stuck with McCarthy and Barry as holding midfielders, and the 'tinkering' would have been up front I feel, with changes to suit the opposition and European games.
Also, you've got to have competition for places in the first team. I agree a settled side is the way to go until we are out of the shit, but our central defensive injuries have cost us dearly this season.
Brent Stephens
38
Posted 13/01/2015 at 11:14:38
Jim #16 I wouldn't disgaree about putting out a strong team but you say "Going out of any cup competition can only be BAD for team confidence. How about the team of 95? It didn't hurt that relegation haunted team going on a Cup run and errrrmmm... winning it."
What about changing that from "the team of 95" to... errrmmm "the team of 2012-13"?
Tony Marsh
39
Posted 13/01/2015 at 11:27:58
We have turned the corner defo. Apart from Chelsea and Man City, we would've blown away any other team in the League on Saturday's display.
West Ham are crap and we shouldn't be going in to Moyes Mode bigging up our opponents. Get at them from the whistle and we will blow them away easily... I'm feeling much better than I did a week ago.
Andy Meighan
40
Posted 13/01/2015 at 11:23:35
Lyndon, I wish I had your confidence about us not being in a relegation battle but the league table doesn't lie. 3pts off the bottom three doesn't make good reading in my eyes.
A win tonight could completely turn our season around but we've forgotten how to win. A defeat and confidence will be shot again.
I hope he doesn't start messing with the line-up and leaves it pretty much the way it was on Saturday... but you never know with the Spaniard.
Dave Burke
41
Posted 13/01/2015 at 11:30:03
Martinez has to play a full-strength side this evening. One win in 12 isn't good enough and winning football matches inevitably breeds confidence.
Give Barry a rest and shift Barkley more central alongside Besic with Naisy the hole. If we defend well, we win this game tonight.
West Ham will put balls into the box which is something we have to do more of. If Lukaku finds himself in and around the six-yard box he will increase his goal ratio ten fold.
A 1-0 will suffice, COYB.
Neil Wood
42
Posted 13/01/2015 at 10:42:59
Jon (1 & 28). Whilst I see and understand your point, the facts are that we have 6 days before we next kick a ball. Simple really, you go all out to win this and field your best side. The boost of a good away win (which it would be as West Ham are a good, well organised side) will do wonders for our confidence going into the next two games.
6 points from the next two league games, which I genuinely believe we will get, and things start to look a little brighter. Add in the addition of Marshall, Del Boy and a central defender and we will start to look a lot more solid again.
Jim @16 I concur with your comments
Joe @18.... I will take your hatred at losing a throw-in and raise you... I hate losing the toss!
Oh... I would be tempted at Defoe as well ... I know he's 32 but, as a genuine out-and-out finisher, there's not many better. A snip at ١ million.
Phil Walling
43
Posted 13/01/2015 at 11:40:24
Setting 36 points as a safety total is not borne out by the stats of the 19 seasons of a 38 match programme as only in 8 of those seasons has 36 been enough for safety.
Cutting it close, don't you think? 40 is much more a sensible aspiration and 43 would always see us safe – barring freak results, that is.
Eric Holland
44
Posted 13/01/2015 at 12:22:14
Phil, do you think 40 points will get us seventhish??
Mike Corcoran
45
Posted 13/01/2015 at 12:19:51
I would like to see:
Coleman Stones Jagielka Garbutt/Oviedo
Barkley Besic Baines
Mirallas
Eto'o Lukaku.
Dave Lynch
46
Posted 13/01/2015 at 12:28:57
My 12-year-old son said this morning (in 12-year-old speak).
"He should just play his bestest fitest team and we will win."
Tony Waring
47
Posted 13/01/2015 at 12:28:24
Tonight is our "Oxford Utd" moment!
James Marshall
48
Posted 13/01/2015 at 12:34:44
Play the same team we played against Man City. Stop fucking about with the lineup when you don't need to. It doesn't work.
We won't get relegated, people have been overreacting massively lately. There are plenty of teams shitter than us in the division and we'll easily finish in the top 10, no sweat.
All this talk of relegation is bollocks. Yes we're only 3 points off the bottom three, but it simply won't happen. Not a chance in hell.
Phil Walling
49
Posted 13/01/2015 at 12:36:43
Eric, it looks like those days have long gone – and so has my money – for this season at least ! Given our resources, seventhish is about par, so last season Martinez excelled.
The secret, however, is playing to your handicap every year!
Peter Barry
50
Posted 13/01/2015 at 12:42:35
Is tonight's game another 'pivotal' one?
If so, that will be 'phenomenal'.
Mark Andersson
51
Posted 13/01/2015 at 12:29:28
Anyone know how I can stream the match live, my Foxtel sports package dose not have the FA Cup.
Ste Traverse
52
Posted 13/01/2015 at 12:43:17
Given our excellent record at Upton Park over many years, I fancy us to win tonight.
West Ham are punching above their weight this season. We have a much better squad than them. With the right team selection and tactics I'm confident we should beat them.
Ian Jones
53
Posted 13/01/2015 at 12:42:35
Hi Adam @ 30
Like the set up of your team. I appreciate that you mentioned that at some point you would like to see the team set up that way, but assume you would see a role for McCarthy and Besic somewhere
Just shows how hard it is to accommodate all the players when fit.
Who would be a manager
:)
Max Murphy
54
Posted 13/01/2015 at 13:12:38
Four straight league defeats followed by a draw (how quickly we forget) – all of a sudden, tonight's game is "pivotal". A victory at West Ham followed by a home win against West Brom (that's because we have 6 days without a game - what a joke!), and we're back on track??? Misplaced optimism I'm afraid.
We will get a roasting at West Ham - did you see Big Sam's face after the draw? Smiling like a Cheshire Cat. More revenue and into the 4th round following the replay. Tony Pulis will be too smart for Martinez, and a victory for the Baggies is guaranteed.
Despite the disappointment following these two defeats, there is a chink of light at the end of this tunnel of horrors we've endured this season: Roberto Martinez has to get the sack.
Anto Meehan
55
Posted 13/01/2015 at 13:37:32
Lukaku will be inspired tonight!
Dermot O'Brien
56
Posted 13/01/2015 at 14:00:56
That's the spirit, Max!
Dave Southword
57
Posted 13/01/2015 at 13:58:40
Max, it sounds like you want us to lose, just so you can post that you were right. Guaranteed to lose at WBA? Back that up – bet all your savings on WBA and post the betting slip on here. Or just try to cheer up – any of the three results is possible.
James Flynn
58
Posted 13/01/2015 at 14:06:18
Slow down Max. They're not even on the bus yet.

David Hallwood
59
Posted 13/01/2015 at 14:09:40
Spot on, John Daley(#34) we don't look a bad side we just look devoid of confidence. I'd like to see Barkley and Besic as the two CAMs and Naismith behind Lukaku.
I've never heard of the ref... anyone know what's he like?
Neil Wood
60
Posted 13/01/2015 at 14:16:22
Or better still, Max... Put your money where your mouth is.... Your derby ticket...?
Sean Kelly
61
Posted 13/01/2015 at 14:17:48
Dave Lynch, sack Martinez and put your 12-year-old son in charge. He makes more sense than the spoofer Martinez.
Steven Jones
62
Posted 13/01/2015 at 14:18:07
Max, not big or clever.
We could lose tonight and have a howler against the Baggies.
We could still lose two or three more and then be in the relegation mire, then going out to Young Boys after 2-2 at their place and 1-0 down in the 98th minute at Goodison ...
And Naismith (The New Inchy) intercepts a back pass rounds the goalkeeper, slots home and we are through ....we go undefeated the rest of the year and win the Europa League and into the Champions League ....
Then win the Premier league the next season ...
All results possible ....
Howard and Alex all went through the mire and potential sacking and came out winning Championships against the tide ... they had a football philosophy and vision that surpassed the others ...
Ever the optimist, me ...
Jamie Crowley
63
Posted 13/01/2015 at 13:33:14
I completely agree with Lyndon at #2.
Go all out for a win. Winning breeds winning. Our season needs this change of momentum we seem to be on the cusp of.
Tom Bowers
64
Posted 13/01/2015 at 14:29:18
It would be nice to win every game but just winning one right now would be great, even if it's a cup tie. However, the Premier League is more important and ensuring players are 110% fit is also important.
With McCarthy maybe still missing and Mirallas, it will be a tough ask for them to beat the Hammers, especially with that aerial threat of Carroll and Co. The back four without a dominant aerial player is very suspect at the moment and you can be sure the Hammers will be slinging lots of high crosses in.
It is up to the midfielders to cut down this supply and also the corners if possible. A big ask I know but now is the time to stand up and be counted.
Raymond Fox
65
Posted 13/01/2015 at 13:54:06
Max you too are using selective memory, 2 of the 4 loses involved games where we should have been playing against 10 men ie against Stoke and Newcastle + a very dodgy penalty given to Stoke!
Nobody wants to talk about the injustice of the incidents; if what should have happened, did, we could be sitting pretty in the League now.
I'm more with John on tonight's game; don't forget we have to play the Europa games as well, more games = more injuries.
Some keep bringing up Martinez getting Wigan relegated; yes he did, but it was the same season they won the FA Cup! There was a very good chance that they would have stayed up but for being involved in every round of the cup.
The probability is that we won't get relegated, but it's far from a certainty; what we don't want is another draw and a couple of long term injuries to our key players.
I said I'd lay 100-1 that we wouldn't be relegated 2 or 3 weeks ago but I'm not that positive now. The Premier League should be our 1st, 2nd and last priority; going far in the other 2 comps. is a risk, lets hope it doesn't end in tears!
Bill Gall
66
Posted 13/01/2015 at 14:22:24
You should play to win every game; with the amount of injuries we have got, naming our strongest team is hard to predict. Martinez will name the team he thinks will win so don't expect him to keep the same team as against Man City – unless he is starting to see the benefits that a team that is not chopped and changed is more confident and improves with results to show.
Denis Richardson
67
Posted 13/01/2015 at 14:28:36
Phil - looking at the table now, 17th spot has managed just 19 points after 21 games, that puts them on target to get about 34 points by the end of the season. Last year, Norwich finished 17th with just 33 points.
It could well be that 35 or even 34 is enough for safety this year so my 36 was already adding an extra point or two as a buffer. Bottom sides have been shittier in recent seasons so the bar for safety has been lower than the proverbial '40 points' for a few years... In fact, only once in the last 5 years would 40 points have been needed to avoid the drop. In 2010, 31 points would have been enough!
Anything is possible but I would be amazed if 36 points wasn't enough to stay up – obviously we want to get more than that. It was just to show that we would have to continue our shite Xmas form for the next few months to be in trouble.
Nevertheless, the West Brom game is HUGE!
Peter Fearon
68
Posted 13/01/2015 at 14:30:13
I know that Besic has growing support on here but, for me, he just isn't getting it done. He is a tenacious tackler and he is certainly brave but he gives away too many free kicks, gives up possession too often, shoots wildly from distance and he rarely has creative ideas. I would love to see him play an important role but right now I don't see it.
Clive Rogers
69
Posted 13/01/2015 at 11:12:10
If Oviedo is going in the summer, we should be encouraging Garbutt to stay by giving him a run, especially as he did well last time out. The RS are reportedly sniffing!!!
Rob Young
70
Posted 13/01/2015 at 14:43:23
@ Raymond
If "the Premier League should be our 1st, 2nd and last priority", what exactly are we playing the game for? Just survival in this division?
Unless we win the league, our only other aim should be to survive?
Rather not qualify for Europe either, as we don't need the distraction and should only focus on the Premier League.
So, basically you want us to play for places 6-17th every season? Great.
We have not been relegated in the 61 seasons in the top division, can we please try to see if there's some fun to be had in one of the cup competitions and maybe take a little bit of a risk sometimes?
I remember it well and thought it was great fun when we did win the FA Cup. Didn't you?
Denis Richardson
71
Posted 13/01/2015 at 14:48:41
Clive, we should be encouraging Garbutt by giving him a new contract...
He's a decent LB who's home grown, a lot of Premier League clubs will be sniffing around so as to get a decent young home grown talent in their squad. I'm surprised there isn't a peep on the OS re a new contract for him.
Norman Merrill
72
Posted 13/01/2015 at 15:12:33
Hopefully there are no last-minute injury doubts; we need our best eleven available out. It's a competition we could really do with winning, to keep the interest going...
And then climb the table in the process. Here's hoping.
Raymond Fox
73
Posted 13/01/2015 at 15:04:29
Rob, I thought I made it clear: we are 3 pts above the relegation places – not sitting pretty in mid table. So, in the circumstances, do you want to risk our survival in the Premier League for glory in the cup? It's a gamble.
I'm not saying we will be relegated but, if we overstretch ourselves and/or get long-term injuries, we certainly increase the chances that it could happen! Simple.
Ian Tunstead
74
Posted 13/01/2015 at 14:44:21
If we played our strongest team every game, we would comfortably finish in the top 5. Granted we have had injuries but so does everyone else. This squad of players even with an injury cruisis should still be challenging for European places. The predicament we are in is down purely to mismanagement.
The league is priority but we should be aiming to play our strongest team every game. But the last thing I would want to see us do is win the FA Cup at the expense of our Premier League status. I would rather be patient and suffer midtable mediocrity, until the Premier League implodes when all the billionaires do one out the game and the teams in debt go bankrupt, rather than have one moment of ecstasy and then face an eternity in the abyss of the lower leagues.
Jay Wood
75
Posted 13/01/2015 at 15:16:10
@ Raymond 65
Hmmm... accusing others of selective memory, eh Raymond?
Let's not recall the nailed-on penalty for Swansea when Alcaraz dived and handled the ball like Big Nev or Gordon West in their prime. A drab 0-0 home draw could easily have been yet another defeat ...
Or the clear foul by Barry in the first 3 minutes at Hull which should have been a penalty and possible booking for Barry. As he collected a yellow card in that game on 65 minutes, he could have been sent off for a second yellow before Alcaraz actually was in that game.
But, using (and paraphrasing) your own words: "Nobody wants to talk about the injustice of the incidents, if what should have happened, did happen, we could be sitting EVEN MORE PRECARIOUSLY in the League now."
All 'what ifs' and hypotheticals of course... but I thought, if you can play the game, so can I.
Richard Reeves
76
Posted 13/01/2015 at 15:06:35
Clive (#69) and Denis (#71), I agree.
Doesn't his contract run out at the end of the season? The last thing we need is another GoslingGate.
Although I don't agree with the "Baines shithouse" comment the other day from another poster, I do agree with the basic point that Garbutt should be getting game time and would be my first choice at left back for a few reasons:
1) His dead-ball delivery is better;
2) He looks just as good going forward with the ball;
3) Positionally, he holds the line well and is as good at defending;
4) He needs an incentive to sign a new contract and game time would certainly help.
I just hope someone can convince him that he will get more games or that he will be first choice very soon... otherwise, I wouldn't be surprised to see him wearing red next season.
Andrew Ellams
77
Posted 13/01/2015 at 15:33:00
Denis, we should be locking Garbutt in a room until he signs a new contract. This lad is quality and will only get better and become the best all round full back we have.
Lee Gray
79
Posted 13/01/2015 at 16:05:10
Play your best team, win... and same again.
Winning breeds winning.
Dave Pritchard
80
Posted 13/01/2015 at 16:02:45
I want us to go for the win. The idea that losing this game will help our league form is flawed.
Tony Draper
81
Posted 13/01/2015 at 16:11:02
Lee @ 79
Economy of words, and spot on.
Ian Burns
82
Posted 13/01/2015 at 15:52:59
I am finding it increasingly difficult to fathom why are not tying Garbutt and Oviedo to long-term deals having watched RM (in whom I have lost all confidence) go all out to secure Barry; Howard and even Eto'o to long contracts!
Raymond Fox
83
Posted 13/01/2015 at 16:09:48
Jay, I take it your of the anti Martinez supporters.
What's with this Hmmm business!
Fair points you have brought up, but Max mentioned the 4 straight defeats, I'm merely saying that within those 4 defeats were the Stoke and Newcastle games.
If I'm going to bend the facts, I'm going to bend them Everton's way!
Andrew Ellams
84
Posted 13/01/2015 at 16:22:41
Agreed Ian, they are what 22 & 24? Oviedo can play in more than one position and to be honest is probably better further forwards. The average age needs to be reduced by next season.
James Marshall
85
Posted 13/01/2015 at 16:22:59
People who think being knocked out of the cup will help us in the league, are I'm afraid deluded. We need to win games, all our games. Always.
Looking forward to another freezing away day in stinking East London tonight - I don't think I've ever been there when it's been anything but freezing. I just hope I don't see any blues getting laid out tonight like last time I was there. Shithole the Boleyn.
Ray Roche
87
Posted 13/01/2015 at 16:27:58
I agree with the comments (above) re Garbutt and Oviedo and their contracts due to expire at the end of the season. If Martinez allows this to happen, especially after giving long contracts to Barry, Eto'o, Hibbert, Howard, the fat steward who's always farting in the St End, the tea lady and the Chang Elephant, then he should be taken out and shot against the Park End stand. Gosling Gate (nice one Richard) was one thing, this would be nothing short of criminal. Garbutt should be in the team, not checking his sat nav for a route to Mordor or some other shit hole.
Raymond, Jay, OK, mention the Hull and Swansea games where we might have...should have... had a red card, but in addition to the Stoke and Newcastle games don't forget the very dodgy penalty against City or the two red cards they deserved. It's supposed to equal itself out over a season... don't think so. Mourhino is still bleating about a throw in or something they should have had in October and guess what? Referees will be falling over themselves to make it up to Jose for the rest of the season.
Tony Draper
88
Posted 13/01/2015 at 16:38:39
Where in EPL rules does it state that in order to win the FA Cup that a club is guaranteed to be relegated ?
Perhaps many of the negative thinkers haven't experienced just what happens to a club that wins the cup.
Because if they had then this weak-kneed, lily-livered claptrap that they seem to spout would disappear.
Winning games of every flavour turns a squad into a force to be reckoned with.
Peter Mills
89
Posted 13/01/2015 at 16:49:37
We have 3 games over the next 18 days. Is it really too much to expect the manager to pick what he considers to be his best team, and ask them to try really, really hard to win them all?
Jay Wood
90
Posted 13/01/2015 at 16:34:35
@ Raymond 83
See, that's where you're wrong, Raymond. But your presumptuous doesn't surprise me.
I have not called for Roberto's head. I have stated on here more than once, I want him to succeed. Because if HE is successful, then by default, so is Everton.
So ... I am not anti-Martinez. But I am DEFINITELY pro-Everton. And I am not alone on TW at being concerned at events and our poor performances this season that sees us very much in the relegation mix.
Similarly, you are not alone on here in bending the facts NOT in favour of Everton, as you claim, but as a barely concealed defence of your pro-Martinez stance.
Now clearly there are people on here radically pro or contra Martinez. I don't consider myself one of them. But IMO the more extreme pro camp have to increasingly jump through hoops to justify their blind support for Roberto, whilst the more radical contra clique have plenty of bullets to fire, based on hard facts and statistics.
Let me throw in another uncomfortable 'what if'... Lukaku's goal in the 2-1 home win over the Hammers in the league was offside. Added to the early miscarriages of justice for our opponents I mentioned that you wish to ignore, that should be minus 3 points in your game of hypotheticals, putting us on 19 points with Hull and QPR who currently occupy 2 of the three relegation spots.
Doesn't make happy reading, does it?

Raymond Fox
91
Posted 13/01/2015 at 16:44:25
James, time will tell how it works out.
Hope you enjoy the night and we can get a win, hope it's not another draw though!
Max Wilson
92
Posted 13/01/2015 at 16:49:52
Thanks James (85 not out); your views are surely shared by every Everton supporter. I hope so. Before a recent game we had folk saying they'd be glad if we lost so RM could be sacked. Of course he wouldn't have been because that ain't the way things are done. In any case, who better do these people think we'd get, looking around? I wish they'd be more supportive.
Mike Powell
93
Posted 13/01/2015 at 16:55:26
I can't believe some are saying lose this game and concentrate on the league — that's got to be a joke. Every time you win, it breeds confidence, I hope we go and smash West Ham and go on and win the cup.
I'm still shaking my head about it... lose the game? Bollocks — Come on, you Blue Boys!
Joe Clitherow
94
Posted 13/01/2015 at 16:57:45
Can't be another draw Raymond, not really anyway, has to be a winner at the end of tonight.
Not that I think we have any chance of prevailing or seeing out past 90 mins. Despite our last two games which have provided late equalizers, I get very nervous if we are not out of sight by 70 mins. We seem to have the double whammy of poor fitness and lack of nous to close out games under Roberto.
An early goal suits us to the ground, because we actually look decent playing a counterattack game with Barkley and Lukaku.
Fingers crossed
Phil Walling
95
Posted 13/01/2015 at 16:52:56
Denis @67. Let's hope the calculation won't have to be adjusted after the next few fixtures.
It's frightening to think how our club's stock has fallen so far so quickly. Scatting around for points in the lower reaches. Oh, for a comfortable seventhish – we didn't know when we were well off!
However, a good win tonight followed by further Cup progress would lighten the gloom no end... Or so they say at Wigan!
Raymond Fox
96
Posted 13/01/2015 at 17:12:00
Forgive my ignorance, Joe.
So a draw means 15 mins each way and then penalties? I hate them penalty shoot-outs.
Andrew Ellams
97
Posted 13/01/2015 at 17:19:10
Peter Mills — 4 games in 18 days when we win tonight. I saw quite a few blues in and around Euston just now so hopefully they will all be in good voice tonight.
Joe Clitherow
98
Posted 13/01/2015 at 17:23:49
Yes, Raymond.
Dominic Pitt
99
Posted 13/01/2015 at 17:21:58
West Ham have forgotten how to win also.
I'm worried about corners both ends of pitch. Apart from that, we can hurt them as much as they can hurt us.
Chris Gould
100
Posted 13/01/2015 at 17:11:22
I was sat in the Upper Gwladys street end on Saturday and, from my perch, I saw players petrified of receiving passes in and around their 18-yard box. Mistakes by Jagielka, Besic and Stones could and should have led to goals against.
This is our fundamental problem. The players do not want to receive the ball there and it leads to goals being conceded. I personally believe that some of the players are now refusing to play these kind of kamikaze passes and we are intermittently playing better for it. Unfortunately this is not how Martinez wants them to play.
Everyone on here can see that we are making mistakes when playing out from the back and passing it sideways. Our players aren't going to suddenly get better at it. If Martinez gets his way then we will quickly go back to losing; if some of the players continue to ignore his tactics, then we have a chance of moving up the table.
On a plus note, every time Besic made a mistake, he didn't let his head go down. He just got on with it and covered every blade of grass. He never stopped running and has incredible self-belief. If he continues in the team, then his work ethic will hopefully rub off on everyone else.
Charles McCann
101
Posted 13/01/2015 at 17:25:36
Mike @ 45. Really like your team selection there. I think I would go for Garbutt since Oviedo is still on way back from the long lay off. Lots of space down the wings for Coleman and garbutt to exploit. A victory for us tonight is important to maintain the increasing confidence levels.
Peter Mills
102
Posted 13/01/2015 at 17:33:37
Good point, Andrew #97!
Well done to everyone who has travelled tonight. Up the Blues.
Mark Tanton
103
Posted 13/01/2015 at 17:37:56
I really like Upton Park, and like all blues only really have fond memories of the place. Last time I was there was two really close visits together, winning 1-2 after going an early goal down (Osman and Yakubu) in the League Cup and then winning there 0-2 I think in the League the week after. Probably my favourite away venue I think.
Andrew Ellams
104
Posted 13/01/2015 at 17:39:26
Looking at the pic on Facebook of shirts hanging in the dressing room, we just might be seeing Distin tonight. Surely not ahead of Stones, I hope
Raymond Fox
105
Posted 13/01/2015 at 17:28:21
Jay, I make no secret of the fact that I am pro-Martinez as well as pro-Everton.
Ray (#87) has come up with more examples of how we have been hard done by, I dare say there's more on both sides of the fence.
The reasons for our slump in the League is not as straight forward as 'pin it all on the manager' although he will ultimately carry the can.
Anyway, we are way off-thread, mate, let's call it a day.
Gavin Ramejkis
106
Posted 13/01/2015 at 17:50:15
I can't see why we'd want to play daft and roll over in this game, not an easy match for the winner but could have been a lot harder, never turn down the chance for a run at Wembley and silverware.
We would also be looking at a massive confidence boost on the back of a really shit run, we haven't quite turned the corner yet with more poor mistakes which luckily haven't been punished as much as our Christmas games did.

Colin Glassar
107
Posted 13/01/2015 at 18:00:51
Cut out the mistakes and we will win tonight.
Brian Hennessy
108
Posted 13/01/2015 at 18:05:15
This whole Garbutt thing has my head done in.
He looks very impressive every time I have seen him play, yet even when Baines is injured or needs a rest he seldom gets a chance.
I agree with all those above that if this kid not handled the right way and leaves after his contract runs down it will be a real disgrace.
Jay Wood
109
Posted 13/01/2015 at 18:01:35
@ Raymond 105
You started the game of hypotheticals.
I am not indulging in a game of 'tit-for-tat' examples to attack the manager.
I am exposing the folly of your position of CONTINUALLY justifying and excusing losses as unjust due to calls going against us when the performances over the 90 minutes did not merit victories, or even draws for Everton.
Your penultimate sentence is typical of those who will defend Roberto and resolutely absolve him of all blame. It is not the default position of any fair minded observer of Everton to 'pin it all on the manager,' but he must DEFINITELY carry the can as he ultimately determines transfer policy, contract renewals, training regimes, tactics and team selection. And there is plenty of evidence that, to varying degrees, he has failed badly on all counts this season.
And of course your final sentence is interesting on 2 levels:
1) it is YOU who the raised (again!) the hypotheticals in THIS thread finding justification for defeats. Once opened, a thread takes on its own life and there can be many strands to it. So ...
2) please don't hid behind the 'we are way off thread' excuse and 'let's call it a day.' I read that as short hand for 'I lack any coherent counter argument to the salient points you make, so ... I'll run and hide.'
Now, time to prepare for the game. I hope we win it within the 90 minutes ... how could you not know the rules of the competition that one way or another there will be a result tonight..?
Mike Corcoran
110
Posted 13/01/2015 at 18:24:25
List of links at http://shadygiz.blogspot.co.uk
Eddie Dunn
112
Posted 13/01/2015 at 18:16:40
Andrew, I agree on Garbut- he has international written all over him. I love Baines but he has slowed our play by stopping on halfway, and checking back offloading inside to defender or Barry.
A bit of pressure on Baines will do him good, so we really have to keep him.
Brent Stephens
113
Posted 13/01/2015 at 18:25:30
Tony #88 "Where in EPL rules does it state that in order to win the FA Cup a club is guaranteed to be relegated? Perhaps many of the negative thinkers haven't experienced just what happens to a club that wins the cup.
Because if they had then this weak knee'd, lily livered claptrap that they seem to spout would disappear."
Tony, you might want to ask Wigan fans about what might (might, not must) happen to a club that wins the cup, before calling people for weak knee'd, lily livered claptrap.
John Daley
114
Posted 13/01/2015 at 18:35:58
Brent,
If winning the cup has such a hazardous effect on a clubs chances of staying in the top tier, then why has relegation only ever gone hand in hand with hoisting that famous old trophy the once?
Brent Stephens
115
Posted 13/01/2015 at 18:42:11
John, I was being ironic, in that Wigan experienced just that - cup win and relegation, when Tony is asking "just what happens to a club that wins the cup"!
Having said that, I think we are only talking about a situation when a club is in a relegation battle and still in the cup, which isn't the case for all cup winners. I honestly don't know how many clubs have been in that situation, and of those how many went down (Man Utd at one point?).
Ray Roche
116
Posted 13/01/2015 at 18:52:07
Joel, Baines, Jagielka (c), Stones, Coleman, Barry, Besic, Barkley, Naismith, McGeady, Lukaku
subs.Griffiths, Oviedo, Kone, Mirallas, Garbutt, Alcaraz, McAleny
According to the Official Site
Joe Clitherow
117
Posted 13/01/2015 at 18:48:22
Well just seen the team and he is going for it thankfully. Looks like same starting 11 as Saturday.
Come on!!
Brent Stephens
118
Posted 13/01/2015 at 18:52:53
Same team, same passion please (and that wasn't a drunken attempt to say passing).
Mike Corcoran
119
Posted 13/01/2015 at 18:56:50
Glad to see Reid not playing for them
Anthony Flack
120
Posted 13/01/2015 at 18:56:42
Maybe time for McGeady to move from "put in a good shift" to "won us the match".... hope so.
We need to be careful not to give away too many corners and free kicks - as they will lob it into Carroll and Tomkins who might have a field day...
Similar opportunity for Joel to dominate and be a hero..
Come on you blues
Anthony Flack
121
Posted 13/01/2015 at 18:56:42
Maybe time for McGeady to move from "put in a good shift" to "won us the match".... hope so.
We need to be careful not to give away too many corners and free kicks - as they will lob it into Carroll and Tomkins who might have a field day...
Similar opportunity for Joel to dominate and be a hero..
Come on you blues
Mark Frere
122
Posted 13/01/2015 at 18:56:05
I would much rather have Oviedo starting in place of Mcgeady. We are gonna lose both Oviedo and Garbutt if their not given the opportunities they deserve.
Jay Harris
123
Posted 13/01/2015 at 18:58:30
Looks like Eto IS on his way as McAleny is drafted into the squad with no Eto.
Would have liked to have seen Oviedo in place of McGeady but as long as we win who cares.
COYB.
Clive Rogers
124
Posted 13/01/2015 at 19:00:43
It was reported on a blue facebook site that Garbut has been made an offer but turned it down.
Clive Rogers
125
Posted 13/01/2015 at 19:09:06
John #114,
Correct, a good cup run has often lifted league form and lifted teams out of relegation places.
Clive Rogers
126
Posted 13/01/2015 at 19:18:05
Peter #68,
I know what you mean, but he is young and learning very fast and has given fewer fouls away recently and could become a top defensive mid IMO. As you say, his weakness at present is in the last third of the pitch.
Raymond Fox
127
Posted 13/01/2015 at 18:48:06
Jay 109, I can keep going all night if you wish, who said I was 'giving up'
You've not won any argument because what were discussing is opinion, its subjective.
I'm stating my opinion, your stating yours.
If you disagree, tough, oh and don't start getting personal, its usually a sign of a weak position.
Conor McCourt
128
Posted 13/01/2015 at 19:01:45
Can I just make the point that most tw posters main grievance with Roberto is not playing players in their correct positions, even those like me who are fully behind the boss would admit that he has made mistakes especially when he tried to accommodate Naismith, Eto'o and Barkley with no natural wingers.
But there is this continual clamour for either Oviedo. Garbutt or Baines to fill the left winger role. I find this completely hypocritical. Yes all 3 players are excellent with their left foot, they would give natural balance and all attack minded defenders so I can see the argument.
However Coleman in my opinion is our best attacking defender and when he was tried both under Moyes and Martinez as a right winger he wasn't good enough in that position to play the role. It is one thing coming from deep but when you are continually faced with an opponent whose sole purpose is to stop you its much more difficult and you need either trickery or raw pace to make an impact. Neither of the 3 lefties possess those attributes.
I think Dellboy is a priority this window as if we don't sort this problem area with Atsu not good enough and Pienaar unfit and past it anyway , we will continue to have to rely on McGeady and Mirallas otherwise we will continue to put square pegs in round holes like with Naismith tonight.
I am really concerned with the Garbutt situation also and I believe the board may have to make a tough call and cash in on Baines, not just to strengthen other areas but also as I feel Garbutt wont commit while he has Baines in front of him let alone strong competition from Garbutt.
Jay Wood
129
Posted 13/01/2015 at 20:32:27
Raymond, I don't begrudge any one having an opinion.
I hope you don't begrudge me exposing flabby opinion built on false premises.
Your original post I responded to has the base (false) premise that it is only Everton that has suffered poor referring decisions.
I dismantled that premise which you acknowledged in your post 83 - 'fair points you make' adding that you bent the 'facts' in favour of Everton. So - sorry! I did win that wee discussion, even though you wish to deny it.
And please, show me where I get personal. That is a deceit on your part.
---
Add Your Comments
In order to post a comment, you need to be logged in as a registered user of the site.
Or Sign up as a ToffeeWeb Member — it's free, takes just a few minutes and will allow you to post your comments on articles and Talking Points submissions across the site.
© ToffeeWeb