Barry: We can go all the way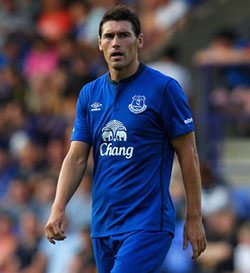 Gareth Barry says that he thinks Everton have shown they are capable of winning the Europa League this season as the team prepares for tomorrow's second leg against Young Boys.
The Blues have a comfortable 4-1 lead from the away leg in Bern last week to add to impressive group-stage wins over Wolfsburg and Lille and the veteran midfielder says that a goal set out at the start of the season remains possible despite the team's poor domestic form.
"I think we've already showed we're more than capable of going all the way," Barry said in the club's pre-match press conference at Finch Farm today. "We've proved that we can comptete against the best in Europe and win games.
"Even with the top English teams we know on our day we can beat anybody so there's no reason why we can't go all the way.
Asked why there has been such a discrepancy between the Blues' Premier League form and their impressive run in Europe, the 33 year-old suggested that the players have been able to play with a bit more freedom in the Europa League.
"It's tough to put your finger on anything. If you look at our performances, it does seems that with the European campaigns we've been able to get away from the problems of the Premier League.
"We've been playing with no pressure on us and we've been able to perform, whereas in the League we haven't been able to get a consistent run of games to get our confidence level up to be where we were in the previous campaign.
"Everyone knows it's about winning games and getting results There's still plenty of games left. We want to finish as high up the Premier League as possible.
"Realistically, the best hope we've got of [playing in Europe] next season is to go on and win this competition. That was always the target from the outset.
"If you win it you obviously get into the Champions League so it's a massive target for us. At the same time we still want to go back into the League and finish really strong there."
No room for complacency
For his part, manager Roberto Martinez indicated that he will be keeping the players focused on the job at hand and not allowing the size of Everton's aggregate lead affect the mental approach to tomorrow evening's game.
"Complacency is a huge problem and we don't approach the game any differently to last Thursday," Martinez said. "[Young Boys] are full of attacking football. At the weekend they were 3-0 up after 60 minutes [against Basel] and were really good in everything they did. I expect exactly the same level of performance and we're going to be exactly the same.
"[W]e're very much focused on the game tomorrow. We've really enhjoyed ourselves in Europe. It's a unique opportunity to get into the last 16 of the competition.
"There's been a lot of talk about the great scoreline that we had in Bern last week but it's another game to play, it's another 90 minutes. Young Boys were outstanding at the weekend against Basel and we really look forward to enjoying our football in front of our fans at Goodison and enjoying another European night. We don't look any further forward than that."
Asked if that meant playing as a strong a team as possible, the Catalan laughed.
"There's no such thing as not going strong into any game. I think we're really strong in terms of numbers. We're still hoping to get a number of players back .
"It's been disappointing to lose Bryan Oviedo and Aiden McGeady of late and we're going to assess Leon Osman and Steven Pienaar. Christian Atsu is going to miss out with a virus.
"We've got really demanding week and it's going to be important for everyone to be ready in the squad."
Goalkeeper Tim Howard has come under scrutiny for his performances since returning from a calf injury but Martinez appeared to rule out any chance of drafting Joel Robles back into the starting XI to gain more experience as he was against Krasnodar in December.
"Tim is has come back from injury and he needs to play to get back his match fitness," the manager continued. "Tim is a very experienced footballer and In moments like tomorrow we need that experience.
"In the same manner, Joel Robles has shown that he is ready to help the team whenever he is needed so it's really nice to have that competition in the squad."
Reader Comments (24)
Note: the following content is not moderated or vetted by the site owners at the time of submission. Comments are the responsibility of the poster. Disclaimer
Declan Brown
1
Posted 25/02/2015 at 21:07:50
Meanwhile back in the real world my 7 year old peugeot 407 goes in for the MOT tomorrow night at 6.15pm. I've more chance of it passing the MOT first time around (it's great for comedy value sometimes) than Everton have of winning the Europa League. But at least my 407 makes me laugh in the dire moments!
I'd love it if we did, really really really love it if we did, but how can a team that has won 2 games in 20 games in the Premier League in the abysmal fashion we have been witnessing even consider winning the Europa League, we're in trouble once we get a half decent draw in the next round.
Getting to the final would be a dream come true, I just look at our form and performances, I just can't see how we can do it, mind you if we win it, i'll be even more happier than I was at the Peugeot passing the MOT last year (at the second attempt LOL).
Our players, like our manager, talk too much and then don't deliver on the pitch. This season has been so hard to watch. If we're dumped out in the next round i'd say Senor Bob is really going to start to feel the heat. Those who are booing the players after most home games now, do they honestly believe we can win the Europa League, I mean just look at the Leicester and West Brom games and they were home games!
Don't know guys, this seems to be ideas of grandeur. The players would need to really step up from 1st gear to 5th gear to get close.
How about a sweepstake about when Barry gets yellow carded, I'm going for the 22nd minute.
PS It's a new manager for me ASAP.
Declan Brown
2
Posted 25/02/2015 at 21:21:03
Sorry guys that should have read 2 out of the last 20 games (not Premier League games)
Neil Pickering
3
Posted 25/02/2015 at 21:22:18
The only chance we have is if we keep drawing the European clubs. if we came up against The Shite or Tottenham then they would expose us. For some reason the European teams don't seem to have got onto how to play against us. Anyways, this European campaign is what is keeping bobby the clown in a job, so I'm not sure I like it.
Tony Abrahams
6
Posted 25/02/2015 at 21:28:13
But we have won 4 out of 6, if you exclude the dead rubber against Krasandor, in this competition.
Played in Russia, Germany, Switzerland and France. Scoring seven with two against.

If we win tomorrow,we will have one victory less in this cup, than we will have had in the Premier League all season, so this tells me where are priorities have been this year.

That said, to win any cup you need a bit of luck in the draw, so let's hope we get another decent tie on Friday.

Win that and get a few points in the league, and maybe things will start to look up... But if we don't...?

Patrick Murphy
7
Posted 25/02/2015 at 21:37:50
The only thing that this current bunch are capable of is going out tomorrow night and leaving us with a relegation battle to fight. I have rarely been as unimpressed by an Everton squad for many a long year. In the past it has been because they were not good enough and I can accept that as I suspect can most of us. But this squad picks and chooses when to play, how to play at what tempo to play and are a long way off the hard-working teams that we have had in the past.
I tend to agree with Gary Neville about the standard in the Premier League being extremely low in his co-commentary on the events at the Emirates, which makes it even more galling that this current bunch cannot seem to perform at anything above mediocre and worse still it has taken them over half-a-season to realise that they have fallen well short of what we expect of them.
Dan Howard
8
Posted 25/02/2015 at 21:45:40
An odd claim to make right after failing to beat Leicester at home.
Colin Glassar
9
Posted 25/02/2015 at 21:43:31
Declan, Pellegrini and Wenger are in more danger of getting sacked before Martinez. Good post otherwise.
Oliver Molloy
10
Posted 25/02/2015 at 21:48:51
Martinez could be the first manager to win the the FA cup,and get relegated one season and the next !.
I know, it's not even funny...
Ross Edwards
11
Posted 25/02/2015 at 21:52:06
They can talk the talk that's for sure. If positive bullshit was an Olympic sport, Everton Football Club would win every discipline.
On the pitch, ha.
John Keating
12
Posted 25/02/2015 at 21:54:59
He could well achieve that Oliver
I notice there's not as many posters saying that there's no way we'll be relegated as there was a couple of weeks ago
Tony Cheek
13
Posted 25/02/2015 at 22:01:58
How can any Everton player think we will anything with Howard in goal. Its just not possible!
Oliver Molloy
14
Posted 25/02/2015 at 22:01:49
John, I have been saying for weeks that we won't be relegated, but am now wondering where we will be in the league come the end of March.

Mark Frere
16
Posted 25/02/2015 at 22:30:15
I fail to see what is wrong with Barry's comments.
"We've proved that we can comptete against the best in Europe and win games."
The bookies favourites to win the Europa League are Wolfsburg - a team that sit comfortably second in the Bundesliga and beat Bayern Munich 5-1 the other night. It's safe to say we've beaten one of the best sides twice already, and on the whole, we've been very impressive in Europe. Barry's entitled to say we have a chance of winning it.Just because our domestic form has been atrocious, it doesn't mean our Europa League form has to follow suit.

Patrick Murphy
18
Posted 25/02/2015 at 22:40:47
Mark - Of course you are correct there is nothing intrinsically wrong with Barry's comments but when this team / squad has only managed to beat QPR at home in the PL since the Wolfsburg game and has failed to beat many of the teams below us during the same period it hardly fills the long-suffering supporter with joy or confidence that the same group of players can somehow rise to the occasion in the latter stages of the EL competition.
I hope they do go on to win it and would celebrate as wildly as anybody else if they did, but being a long time watcher of all things Everton the probability of it happening is pretty low and the players should be doing all they can to keep the club in the Premier League and treat the Europa League as a welcome break from the hard graft of the domestic league and not the holy grail which they seem to believe that it is.
As somebody alluded to earlier we don't want to suffer the same fate as Roberto's previous club by prioritising the wrong tournament because Everton FC would find it extremely difficult to bounce back to the top flight whereas if we remain in the PL for next season another European adventure can be attained in the future far more easily than promotion from the lower division.
If we were ten to fifteen points better off it would be fine to prioritise the European League but at the moment it should be all hands to the PL pump and a total focus on winning as many points as possible as soon as possible.
Clive Mitchell
20
Posted 26/02/2015 at 02:05:48
Declan - 'Our players, like our manager, talk too much and then don't deliver on the pitch.' Nutshell.
Mike Childs
21
Posted 26/02/2015 at 11:15:03
Strange world indeed to think that Dortmund could win the CL and us the EL and both get relegated domestically.
Eric Myles
22
Posted 26/02/2015 at 12:31:40
What Neil #3 said, if we were playing Hull , Burnley or Leicester in Europa we'd be knocked out
Tony J Williams
24
Posted 26/02/2015 at 12:45:58
We won't win it..... there I've said it.
Liam Reilly
25
Posted 26/02/2015 at 15:49:53
Europe sets a different challenge to the Premier League because teams need to win their home ties to stand a chance of progressing. This translates to a more open game with Everton playing on the counter as opposed to trying to break down a 9 man wall as was the case against Leicester.
Need a professional performance to just close out the tie tonight and hopefully get seeded so the first leg is away in the last 16.
James Marshall
26
Posted 26/02/2015 at 16:52:47
"We've proved that we can compete against the best in Europe and win games"
The best in Europe? Did I miss some games? Wolfsburg, Lille, Krasnodar and Young Boys.....oh yeah, the cream of Europe right there.
He's lost it.
Breandan Clarke
27
Posted 26/02/2015 at 21:58:14
Jesus James you can only beat what's in front of you
Eric Myles
28
Posted 27/02/2015 at 00:53:35
What Neil (#3) said: if we were playing Hull, Burnley or Leicester in the Europa League, we'd be knocked out.
Scott Jones
29
Posted 27/02/2015 at 18:12:43
Wolfsburg are now the the Bookies favourite. We beat them twice! Nothing at all with wrong with Barry's comments.
Whatever comments come out of the club, players/staff just can't win can they.
Alan Bodell
30
Posted 03/03/2015 at 20:47:41
Gareth Barry ' We Can Go All The Way', title says it all in that unless we get things sorted we WILL go all the way down to the Championship and GB needs a long, long look in his mirror.
When is his contract up ?
---
Add Your Comments
In order to post a comment, you need to be logged in as a registered user of the site.
Or Sign up as a ToffeeWeb Member — it's free, takes just a few minutes and will allow you to post your comments on articles and Talking Points submissions across the site.
© ToffeeWeb