Arsenal vs Everton
Match Preview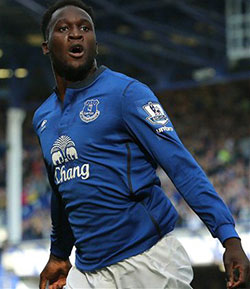 Romelu Lukaku is expected to be fit after fears he had injured a hamstring on Thursday against Young Boys.
Everton make the trip to North London this Sunday for a second meeting with Arsenal that is pregnant with significance on a number of levels.
A year ago today, Romelu Lukaku returned from injury to score the only goal as the Blues beat West Ham United at Goodison Park, a result that marked the beginning of a seven-match unbeaten run that took them to the brink of Champions League qualification.
Arguably the jewel in that remarkable sequence — Everton won more Premier League games between 1st March and 12th April last year than they have managed in the entire 2014-15 season so far — was a stunning 3-0 dismantling of the Gunners that briefly hinted at a possible usurping by Roberto Martinez's side of Arsenal's top-four status.
With 84 minutes on the clock and Everton 2-0 up and cruising when the two clubs last met last August, the notion that the Toffees were now legitimate peers of their old adversary from North London seemed all the more real. The late collapse that followed in that match however — the second in the space of seven days — would temper such premature thoughts and have grave consequences for Everton's season.
Martinez has credited those successive 2-2 draws and the 6-3 reverse at home to Chelsea as being the root of his team's problems this term — a crippling blow to morale from which they have struggled to fight back all season. Whether that is a legitimate argument or not, Everton come into this weekend's clash a staggering 20 points behind Arsenal and a mere four six points above the bottom three, having slipped to 14th place after Saturday's results.
While Martinez has battled to piece together just four League wins since late September, Arsene Wenger has overseen four victories in his last five Premier League fixtures. And yet, he comes into this match under a dark cloud following Arsenal's 3-1 home defeat to Monaco in the Champions League on Wednesday that has put them on the verge of elimination from the tournament.
Everton, by contrast, have found life in Continential competition and followed up their 4-1 hammering of Young Boys in Bern with another comprehensive victory on home soil last Thursday. It was a result and performance that once more offers the potential of a springboard for the Blues' Premier League form but whether it's enough to inspire them to a first win on Arsenal's turf in 19 years remains to be seen.
As important as the result from Thursday was the news that Romelu Lukaku will be fit to play this weekend despite coming off against Young Boyes somewhat fatigued and feeling his hamstring just three minutes into the second half. The Belgian has scored five goals in his last three games and missed just as many gilt-edged chances to have doubled that tally and, as usual, will be the key to Everton's hopes at The Emirates.
His Belgian teammate, Kevin Mirallas, also found the net on Thursday, marking his first start since 7th February with a goal that capped a fine 3-1 win and the hope is that he will get the nod to start again given how well he has performed against Wenger's men in the last two games against them. Steven Naismith fits the same description and he will likely round out the forward three, with Aaron Lennon perhaps the man to make way given that Martinez will likely field James McCarthy, Gareth Barry and Darron Gibson as central midfielders and sacrifice width on one side of the pitch.
At the back, John Stones (eligible again following suspension in the Europea League) and Leighton Baines (rested against Young Boys) will almost certainly come back into the starting XI if the latter is fit and Tim Howard should get the nod in goal.
Wenger, meanwhile, will be without some key figures in midfield with Jack Wilshere ruled out due to a minor ankle operation, both Aaron Ramsey and Mathieu Flamini doubtful with hamstring problems and ex-Blue Mikel Arteta out injured. In the likes of Santi Cazorla, Theo Walcott, Alex-Oxlade Chamberlain and Tomas Rosicky, however, the Gunners have plenty of other options, of course, with pace and flair in abundance that will test Everton's defensive resolve to the fullest.
In contrast to the seeming futility of this seasons visit to Stamford Bridge and the Etihad or the psychological minefields that Anfield and Old Trafford have tended to be for Everton, games against Arsenal always seem to offer a bit of hope despite our atrocious record on their home soil.
Maybe it's because we have fared better since they moved to the Emirates and came so close to beating them with Steven Pienaar's wondergoal a few years ago. Or maybe it's because of how well we have performed against the Gunners in recent meetings, even if we haven't always got the results we deserved.
In Lukaku and Mirallas, we have the weapons to do damage against a side that lacks pace at the back and should be a lot more open in defence than many of our other opponents this season. Certainly, Monaco were able to ruthlessly exploit their defensive deficiences in midweek and an early counter-attack goal for Everton like that scored by Dimitar Berbatov would certainly set on edge the Arsenal fans looking for a big redemptive reaction from their team and provide the conditions for the Blues to sow more fear and uncertainty into an otherwise dangerous opponent.
Kick off: 2.05pm
Referee: Andre Marriner
Last Time: Arsenal 1 - 1 Everton, 8 December 2013
Quotes sourced from ToffeeWeb Match Reports
Reader Comments (52)
Note: the following content is not moderated or vetted by the site owners at the time of submission. Comments are the responsibility of the poster. Disclaimer
Roger Helm
2
Posted 01/03/2015 at 00:05:58
We can be hopeful because
1. All runs come to an end sometime
2. It's a funny old game
Mark Andersson
4
Posted 01/03/2015 at 00:01:29
I don't think we will get anything from today's game at Arsenal. Only reason I say that is it usually backfires and we get the opposite. Certainly hope so. As there is a good chance we will get dragged into relegation and no one wants to be posting next season on matches played in the Championship.
Tony Byrne
5
Posted 01/03/2015 at 00:12:37
The probability of Howard in goal usually ends our chances of keeping a clean wherever we play,however, our poor record against the arse has got to end & tomorrow could be our best chance of ending the hoodoo (don't hold your breath!)
If Lukaku gets a chance he must score as this is the type of game that you can't miss two/three chances, if we score 1st the atmosphere of the home crowd will go in our favour.
God knows the team that RM will put out but for me personally, Garbutt has to start at LB, I can see the midfield of Jimmy Mac, Barry & Gibson who deserves a starting place IMO as he has shown he can pick a forward pass.
I could be wide of the mark here but I reckon Barkley could start behind Lukaku in place of Naismith? He has been great Nais but I think he needs a blow, put him on the bench. This game could suit Barkley as it's away from home so a bit less pressure on his shoulders.
Prediction.....1-1
Michael Polley
6
Posted 01/03/2015 at 00:37:15
I'll take a draw, but it would be nice to take all 3 points. We need to pull away from the drop zone.
Kevin Rowlands
7
Posted 01/03/2015 at 00:44:56
I really hope we can get something from these next 2 games, it's really difficult to enjoy the Europa when you look at the league table, anyway watched the Arse in the week and they were so poor and their defense is a joke, 3 points would be great but I'll take a draw.
David Hallwood
8
Posted 01/03/2015 at 00:59:23
The bookies have us 11/2 to win. now that might be worth a flutter. Why? well even through blue tinted glasses, despite our awful, awful (bit of Martinez coming in there) season, I cannot think of a game where we've been battered, the sort of game you just want the final whistle to blow to put you, and the players out of our collective misery.
IMHO anything can happen in this weird season, and if we're on our game-why not because Arsenal didn't look that impressive last weekend and less so vs Monaco. I'd like to see the 4-3-3 employed vs Young Boys as it looks more solid and the players look a lot more comfortable. Obviously I like to see gaff-a-game Howard dropped, and Garbutt given a run, but it ain't gonna happen.
But Terrible Tim will have to give the performance of his life against some of the best attacking players in the EPL; who know he may even catch a few balls-now that would be a novelty.
Peter Barry
9
Posted 01/03/2015 at 01:52:43
There is an article in today's Mail where Roberto talks about his 'match tactics' and how he has absolutely no intention whatsoever of changing them. So get ready for the Championship because that is where this guys stubborn arrogance and conceit are leading us.
David Hallwood
10
Posted 01/03/2015 at 02:20:06
Interesting, Peter (#9), and all will be revealed with the team selection. But if it is the case it would mean that Gibson is dropped because Barry/McCarthy holding mids, and a three of (probably) Nais, Mirallas, Lennon.
Other than that it would mean Gibson playing left or right of a three, or Barkley being there and Gibson dropping to the bench. If that's the case, my patience will run out with the man, because to tip-tap across the back four with Arsenal's attackers just waiting for a mistake will be suicide.
Darryl Ritchie
11
Posted 01/03/2015 at 02:15:41
Jeez, I have absolutely no idea what's going to happen. They stunk the place out vs Monaco, while we were flying vs Young Boys. Our forwards are in the best form of the season, while their defence is suddenly suspect.
As we all too aware, our performance in Europe has absolutely no crossover to the league, but maybe, just maybe, this is the match where all the pieces fall into place, and we finally play up to our potential. A look at the table says we aren't going to get much from the game, but hope springs eternal.
If we can effectively defend when they come at us...and they will come at us in waves, they just might be vulnerable to the counter.
I just wish we knew which Everton is going to show up.
Tim Greeley
12
Posted 01/03/2015 at 02:10:26
The Ghost of DelBoy's Past will haunt Arsenal into Hell. They stand less than no chance against us. My daughter's leftover birthday cake stands more of a chance against me than Arsenal does against Everton, and I am shoveling this tasty fucker in by the hand full. Can't wait for breakfast cake tomorrow!!
I actually think that even Roberto has to have seen that – at least right now – Gibson is making a difference, and will start him. He will also start Barry, Baines and Howard for better/worse. Good shout above too, Ross over Nessi in this one. Ross holds a special place in his hate-filled heart for Arsenal. Always runs them ragged. Start Mirallas too.
This season is jut screaming out for an out of nowhere win on the road against a "top" club. Just like the Euro results where we all say "how the fuck did we just beat them, while we draw at home to Leicester City"? Anything less than a WIN and we remain in 14th place. 14th, I did not stutter. But I do shutter. Pass the butter..... cream birthday cake.
Mike Corcoran
13
Posted 01/03/2015 at 02:56:59
Guaranteed there will be no busses parked either end, so get ready for a good game with at least 4 goals...
Frank Crewe
14
Posted 01/03/2015 at 03:01:41
We are 6 points off the bottom three not 4.
My prediction. Knowing the stubborness of RM he'll revert to 4-2-3-1 with the Barry/MacCarthy axis and the Bearded Butterfingers in goal. Barkley will get half an hour before RM realises he's crap and gets the hook in favour of Lennon or Mirallas bcause he won't start both of them. Barry will get sent off for two bookable fouls and we will lose by two clear goals 2-0, or 3-1.
Phil Sammon
15
Posted 01/03/2015 at 04:16:28
Wow, Frank, you sound like a barrel of laughs.
Mark Andersson
16
Posted 01/03/2015 at 04:50:33
Frank made me laugh Phil, because I agree... haha. Just can't see us turning this never ending corner. So our (I'm sure he's a nice man) manager has been quoted as saying he dislikes the parasites of football for not allowing his philosophy brand of football to be played. Poor fella really don't know how to change tactics if someone dares to park the bus. Boo hoo, these kind of quotes are embarrassing.
No excuse today then as the Arsenal manager is considered as like-minded as our special nice man.
John Keating
17
Posted 01/03/2015 at 05:03:08
Same tactics as Chelsea and hope we don't arse it up last minute! If we fall behind then make whatever subs we can attacking wise and just go for it!!! It doesn't matter if we get beat 1-0 or 5-0
We have to get something out of every game from here in. An absolute disgrace we are having to talk like this...
Laurie Hartley
18
Posted 01/03/2015 at 06:44:14
After our performance in this fixture last season I believed that at last, I was going to see another great Everton team. Going into this fixture I feel like one of those people who fall in love on the internet and loose their life savings as a result. (Hmmm... maybe not quite that bad but you get my drift).
I have just finished watching the Europa League highlights. There are some very good teams left in that competition so that didn't cheer me up much either.
This game, like the other remaining 11, is about our Premier League survival - I hope Roberto gets his selection and tactics right. I think our only option is to go at them as John @ 17 says. 4-4-2
Goalkeeper
Coleman, Stones, Jagielka, Baines
McCarthy, Barry, Gibson, Besic
Mirallas
Lukaku
That team should give Arsenal, who are suspect at the back, a game. If they play to their potential they could even win it.
Are we nearly there yet?
Harold Matthews
19
Posted 01/03/2015 at 06:27:32
A difficult task but their quick-snap shooting might suit Howard who dreads having time to think.
Hope Lukaku listened to Shearer on Match of the Day as he advised Falcao to keep making forward runs instead of dropping deeper to receive the ball with his back to goal. A tiring task but we all know it's the way he should be used.
Can't forecast the result. Not with this Everton team. On our day we can beat anyone but those days haven't been very frequent of late.
Peter Barry
20
Posted 01/03/2015 at 07:37:36
Has our "good form in the second half of the season" started yet?
Joe Foster
21
Posted 01/03/2015 at 07:55:57
We are starting to drop like a stone now. RM is a second rate manager and if we get relegated he will not be the man to bring us back.
James Byrne
22
Posted 01/03/2015 at 08:35:13
The Arse were awful midweek and played some of the worse football they have ever played IMO. Monaco run riot and totally bossed their midfield.
Unfortunately we are Everton and the Arse are one of our historic voodoo teams.
If there is a win or a result coming our way, I think Gibson should start; he's looked great in the past two games and deserves to play. However with Bobby's shite tactics and Timmy's goalkeeping antics, we could be 3 down by half-time!
Jim Bennings
23
Posted 01/03/2015 at 08:28:44
Ok Roberto, we know you probably won't do it but today is your chance to be bold and play players on performance rather than just name or past performances.
If your bold and willing to reward performances then you pick Gibson and Garbutt.
If your too scared to upset the big names and want to just play favourites then you pick the underperforming Baines and you go with same trio of defensive midfielders that, as decent as they are holding the play up, creativity is not their strengths (I'm talking about McCarthy, Besic and Besic incase people are confused)
Before Christmas we won 2-0 at Wolfsburg, the two most important players that night were Garbutt and Hibbert, the following game he drops those two for Coleman and Baines in a disappointing defeat at Tottenham.
Today is again a chance to try something different, can the man not see that the same tried and tested formula has been a huge failure all season in the Premier League?
Don't get me wrong, as much as I have been a fan of Baines over the year's, he is not the same roving left back of two or three years ago, too often he slows the play down when in advanced positions by opting for a sideways pass, whereas Garbutt looks to cut out the middle man, he looks to simply charge forward and cross the ball, cutting out that extra three or four passes sideways and back that you see with Baines.
Again I like McCarthy and Besic but let's be honest, what have they offered going forward all season?
Has either Besic or McCarthy played a forward pass like the one Gibson sent through on Thursday?
Playing one of Besic or McCarthy next to Barry has completely stagnated any hope of creativity this season.
I know they are both wholehearted lads but you need more and we have failed to create enough against teams this season in the Premier League.
A chance has arose for Martinez to try something different today.
It may not work, but at least give it a try.
I don't know about anyone else but I'm tired of the same old hard luck stories in these games never creating anything or giving ourselves a chance.

Len Hawkins
24
Posted 01/03/2015 at 09:08:51
The Monaco match was on when I was in the pub the other night and when Walcott came on he was unplayable. He ripped holes with his speed and I can see Barry being sent off the second time Walcott rips the arse out of him.
Denis Richardson
25
Posted 01/03/2015 at 09:13:55
I wouldn't read too much into the Monaco form. If anything they'll be desperate to get a decent result to get the crowd back onside. Also a CL place is a must for arsenal.
This will be a tough game where we'll be without the ball for long periods having to defend and counter when we can.
If fit Gibson should play but after so long out we may have to bring him back slowly. Martinez would be mad not to start Mirallas given he's our most creative played.
Today will be tough and I'd take any positive result but expect us to lose 2-0.
I would gladly take a defeat today if it meant 3 points on weds.
Peter Mills
26
Posted 01/03/2015 at 09:20:22
Peter (#200, Roberto Mañana has now decided that a team "is defined by what it does in the final third of the season".....
Neil Wood
27
Posted 01/03/2015 at 09:22:58
Howard
Coleman Stones Jagielka Garbutt
McCarthy Gibson
Lennon Barkley Mirallas

Lukaku
Phil Sammon
28
Posted 01/03/2015 at 09:27:29
Laurie #18
McCarthy, Barry, Gibson and Besic in midfield?! You don't 'go at' a team by playing FOUR holding midfielders.
A more sane team selection would be:
Robles
Coleman
Stones
Jagielka
Baines
Lennon
Besic
McCarthy
Mirallas
Naismith
Lukaku
Howard and Barry will clearly start though and to be fair, the latter has actually improved the last 3 games.
Gibson deserves to play a part too after that performance earlier in the week.
Craig Mills
29
Posted 01/03/2015 at 09:19:00
Another week of optimism with the triumph over Young Boys will probably be followed up with another weekend of nothing but disappointment. I can honestly say I dread the Premier League games at the moment, all I see is us slowly but surely slipping towards the trap door of relegation.
Sorry guys, I hope I'm wrong but it's 3-0 to the Arse from me.
Eddie Dunn
30
Posted 01/03/2015 at 09:36:15
Jim. I completely agree with you. Baines has under-performed for ages now, and like Taliban Tim, he gets picked regardless. I know some will say that he has been quality but we need to pick the team on form and merit.
Garbutt would be my choice and I would play Gibson along with Barry, with either Macca or Besic, but not both. This is the most European game we could have in our league, and I would start with Naismith for 50 mins, and then unleash Barkley who would be able to stretch a tiring defence.
We are due a result there, so fingers crossed.
Adam Luszniak
31
Posted 01/03/2015 at 09:51:24
I would plat the following, the only uncertainty I have would be
actually
playing Robles, who's confidence I imagine Martinez has destroyed by dropping him as soon as Howard was fit again.
Robles
Coleman Jags Stones Garbutt
Mcarthy Gibson Barry
Lennon Lukaku Mirallas
Defensive solidity provided by three CMs, but with Gibson providing the sort of passing range we will need to hit them on the break. The front 3 has pace to burn, again Ideal for counter attacks.
Jon Withey
32
Posted 01/03/2015 at 10:07:39
19 years? Our current league form? 0 points from this one I'm afraid.
A small possibility of a battling draw, Ã  la Manchester City.
Even optimistically I don't see us climbing more than 3 places before the end of the season now.
I'm also very glad they put Sherwood in charge of Villa!
Douglas McClenaghan
33
Posted 01/03/2015 at 10:08:48
Dreading this. Robles should play but RM may have dented his confidence again. I am so sick of Flapper Howard.
James Marshall
35
Posted 01/03/2015 at 10:19:53
I think we'll do OK today, due in no small part to the fact Arsenal play a European style which as well know, suits us. That and being away from the pressure of Goodison - these 19yr stats are there to be broken, so why not now?
Really looking forward to it myself :)
Mike Hayes
36
Posted 01/03/2015 at 10:14:02
We lose this and Kenwright had better boot Martinez out asap. No way do Everton deserve to be taken down by a second-rate manager who's obsessed with winning silverware at the cost of Premier League status – prime example being Wigan.
Not since the days of Mike Walker has it been so grim. Go now and take the dead wood with you. We don't need to be in a dogfight when this season after last we should be pushing for Champions League – not Championship football.
Laurie Hartley
37
Posted 01/03/2015 at 09:41:41
Phil, I think that midfield can win the ball and get it forward quickly to Mirallas and Lukaku with Baines and Coleman providing support on the flanks. A bit Ramseyesque.
I have to agree that my footballing sanity is a bit suspect - I noticed it started going downhill a bit in November ;)
Just hope we get some sort of a result.
Andrew Clare
38
Posted 01/03/2015 at 10:17:25
We have become a poor team in the EPL. 6 points away from relegation places with WBA and Palace above us. Low standards accepted by the board for many years now.
I'm very disenchanted with whole scenario. We will definitely lose today. Everton don't do surprises.
I can't wait for the season to be over and hopefully a new manager in the summer. It's just not good enough. Only 30 years ago we were as big if not bigger than Arsenal. Now look at the difference. Makes you wanna cry!
Brent Stephens
39
Posted 01/03/2015 at 10:49:10
Roberto's future can't be judged on the basis of the outcome from this game. Arsenal at Arsenal – there can be no expectations / demands at any time of a point. For today, a point and I'll be very happy.
Closing down in midfield (so McCarthy and Barry are important, as will be Nais), safety first defending (so Baines over Garbutt), rapid movement of the ball into the final third with balls through the channels (so Gibson) or from wide and behind the defence (Seamus, Mirallas), and Rom facing goal (and onside!!!).
Take the game to them, run your knackers off, with final 20 minutes of Barks, Kone possibly, Osman possibly.
Gareth Fieldstead
40
Posted 01/03/2015 at 10:46:54
Adam (31) that team! Perfect for Arsenal, 3 players with pace and three holding players for the inevitable onslaught. No idea on a result, both sides desperate for a result. They are obviously a very good team but they are not Chelsea. Defend like we did for 88 minutes and show a bit more attacking intent and who knows?
Colin Glassar
41
Posted 01/03/2015 at 10:50:38
We all have our own preferred team selections but you just know this is going to be the team for today.
Howard
Coleman, Stones Jagielka Baines
Lennon McCarthy Barry Barkley
Naismith
Lukaku.

Phil Walling
42
Posted 01/03/2015 at 10:45:46
Positively no change of manager in sight as long as we are above bottom three and taking Europe by storm !
Logic says we will go down to Arsenal but there has to be a shock result at least once in a season and I feel it could be an Everton win today.
The reason for this is that for once I've kept my 20 quid in my pocket and the lads will punish me for it. You see !
Colin Glassar
43
Posted 01/03/2015 at 11:10:58
Love your enthusiasm Phil and do I detect a hint of support for Roberto there?
Michael Winstanley
45
Posted 01/03/2015 at 11:18:55
Lukaku first goal scorer Phil.
Interesting to hear Warnock on 5live on Friday evening saying how premier league teams have sussed out how to play us and the teams on the continent hadn't wised up yet.
And yet Roberto remains convinced his style of play when played correctly can cope with any tactics against it. So it's over to the players to produce the perfect performance, no mistakes from Howard and Lukaku to be deadly in front of goal.
The table makes for a grim read.
Phil Rodgers
46
Posted 01/03/2015 at 11:24:35
14th now and its likely that we will be there after the game. Jeez..
Phil Walling
47
Posted 01/03/2015 at 11:26:20
Colin. NO. Merely my interpretation of BK's mindset !
Paul Kelly
48
Posted 01/03/2015 at 11:29:47
"Pregnant with significance"....quality Mr Lloyd.
Optimistic about this game for some unknown reason. Must still be the booze in my system from last night. 3-1 to us. I must be mad.
Colin Glassar
49
Posted 01/03/2015 at 11:39:05
You had me worried for a sec there Phil.
Phil R, it ain't over till it's over. But it's almost over.
Tony McNulty
50
Posted 01/03/2015 at 11:45:56
Punishing Phil Walling? I'm sure none of your fans on here would want that Phil.
On paper and on form we should lose today. Why am I holding out for a 1-0 win here, followed by a victory against Stoke? Mindless optimism? Think on this: we could almost be safe by Wednesday.
Helen Mallon
52
Posted 01/03/2015 at 12:12:22
Andrew Clare we might have been as big as Arsenal 30 years ago but they are in London the capital where all the money in the world is... And we are in a run down area of Liverpool. We missed the boat with Kings Dock – we would have been as big now but for that.
Sam Hoare
54
Posted 01/03/2015 at 12:21:17
Heading to the Emirates now. Sadly cannot see beyond us losing. We are far too predictable in the league and I can see Sanchez hounding our back 4 into a silly error. Very much hope I'm wrong!
Andy Meighan
57
Posted 01/03/2015 at 12:37:06
Eddie (#30) we were due a result at Anfield... and Stamford Bridge... and we didn't get them, so I can see nothing changing today; he'll put baines back in if fit, probably drop Gibson to accommodate one of Barry McCarthy and Besic.
Like Jim said earlier, good players in their own right but you'd never see them hitting a pass like Gibson did on Thursday – what the so-called experts may term a killer ball. No, I'm expecting the backlash off Arsenal who were poor the other night and I fear we could get tonked today.
Oh and here's a gem I only found out last night. We've never won when we've been live on BT Sport. I'll get me coat...
Neil Quinn
58
Posted 01/03/2015 at 12:46:57
Eddie #30, while I agree that Baines hasn't hit the heights of last season, I don't think he's played particularly badly. I think the main problem has been the lack of a proper left sided partner. I'd like to see Garbutt at left back with Baines in front of him on the left of midfield.
I know Moyes tried Baines in this position in front of Lescott & it didn't work. However Baines had not long arrived & was still finding his feet. He's much more accomplished now & didn't perform too badly the other week in midfield.
It would give us better balance & be preferable to playing somebody such as Barkley, out of position on the wide left.
Anthony Hughes
60
Posted 01/03/2015 at 13:11:55
Besic, Barry and McCarthy all in today, looks like damage limitation.
Bill Gall
61
Posted 01/03/2015 at 13:37:33
The other lot making a mockery of playing Thursday slows you down at the weekend.
---
Add Your Comments
In order to post a comment, you need to be logged in as a registered user of the site.
Or Sign up as a ToffeeWeb Member — it's free, takes just a few minutes and will allow you to post your comments on articles and Talking Points submissions across the site.
© ToffeeWeb