The Fine Balance
By Phil Roberts
17/11/2015

0 Comments [Jump to last]
So do you go all gung-ho and tell everyone that 4th is possible or do you take a serious look at the statistics and tell the most likely outcome? From his appearance in the US last weekend it is obvious that Roberto Martinez has gone with the former even though the reality is that we have very little chance of fulfilling his (and our) desires. But why tell the troops we have nothing to play for?
After the first 12 fixtures this season we have improved by 2 points compared to those fixtures last year. Thanks to the Sunderland game we have also scored 6 more goals and conceded 2 fewer. To some extent, Roberto Martinez is right. The next 12 games will define our season. Last year we took 11 points from these fixtures. So take a reasonable 25 points from them and all of a sudden we are 16 points better off. But to get to 70 points, the target for 4th place, from the remaining 24 fixtures will require 53 points from a possible 78. That level of performance over the whole 38 games would produce 84 points and we would be champions. So there is the challenge – we need to have the level of results that would make us champions in order to get to 4th place.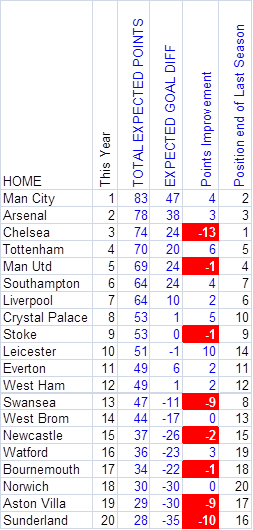 Check our progress on the weekend of the 4th round of the cup at the end of January. 23 games gone and we need to have 39 points. Anything less and we can start to forget 4th and less than 35 and we are probably not in Europe unless we win a cup.
But will 4th be 70 points? Chelsea has so far dropped 13 points against last year's fixtures and United 1 point. Spurs are 6 points. So assume Chelsea continues to fail then at the moment Spurs and United are already on 70 and 69 points respectively. Add to the mix Southampton and Liverpool who have improved this year to be on a projected 64 points and the top 7 are likely to need around 65 points.
We are currently in what can be described as the "mid-table group" – Palace, Stoke, Leicester (the most improved team with 10 more points than last year), West Ham, West Brom and Swansea, who are 9 points worse than last year so could be in the relegation group by the end of the season.
At the bottom none of the promoted clubs are significantly outperforming those they have replaced, Newcastle are 2 points worse but the real losers are Villa (down 9) and Sunderland (down 10) compared to last year.
These projections are based on comparisons with the equivalent fixture last year not the first 11 games of last year. So as Frank Crewe pointed out we have the same record as this time last year but obviously they were harder fixtures in comparison to this season.
---
---
© ToffeeWeb