Deflated Blues cannot raise their game
By Michael Kenrick
17/10/2015

0 Comment [Jump to last]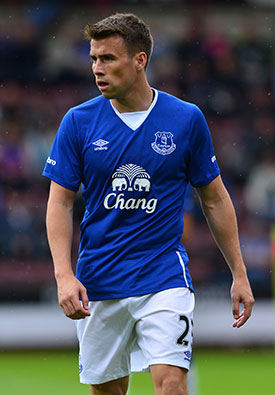 Seamus Coleman returned to the line-up after recovering from a hamstring strain and playing for Ireland last Sunday.
Everton 0 - 3 Manchester United
Everton resume their Premier League programme by hosting Manchester United at Goodison Park for a rare 3pm Saturday kick-off – not since 2004 have the two clubs played each other in the traditional time slot. The game will be overshadowed by the sad news of Howard Kendall's passing, with tributes pouring in from all quarters for the great man.
Roberto Martinez was able to select both Seamus Coleman and John Stones, after both have been sidelined with injuries. Supporting Lukaku, it's something of a surprise to see Naismith and Lennon flanking Ross Barkley, with Deulofeu and Mirallas both left on the bench.
Man Utd kicked off and had most of the early play, although Lennon showed some spirit and then Galloway tried to get Naismith running in. Herrera won a soft free-kick on the right corner of the Everton area off Galloway but the danger was dealt with by Jagielka.
Everton were understandably a little subdued as United played the ball around with little effect. Barry secured a turnover but McCarthy ran it out of play. Naismith almost played in Lukaku but De Gea snatched it off his toes.
Everton tried to settle with some passing acorss the back and a ball lofted up to Lukaku who did well to hold off Jones but there was no-one there for the layoff. At the other end, Rooney had a shot well wide.
Jagielka again picked out Lukaku and his chest-back to Naismith was perfect, but he was floored and the free-kick in a good position was smacked into the wall by Lukaku, Barkley taking the corner and Everton maintaining some pressure until Smalling was fouled.
A tremendous shot from Herrera needed to be tipped over by Howard but from the corner, Schniederlin smacked it home after Everton failed to clear effectively. Everton had not taken any real grip on the game and had paid the price for a far to tentative and sloppy first 20 minutes.
Everton, confidence shot by the goal, then gave up another with consummate ease, allowing a cross from the Everton right when Herrera met a perfect cross with no-one to prevent him heading an easy finish past Howard.
Everton were relying again on the lofted ball to Lukaku and it almost worked with Naismith coming in but Smalling was there to defend and Everton struggled to make much impact, having largely abandoned constructive forward passing moves on the ground.
Coleman got in a good cross that Lukaku seemed to get to ahead of De Gea but the ball dropped harmlessly and was cleared as De Gea collapsed in a heap. With a nice two-goal cushion, United sat back into a sold defensive structure whenever they lost possession that the Blues had no idea how to penetrate.
Galloway did well to overpower Mata but Smalling got ahead of Naismith on the cross. De Gea wafted at Barkley's corner but Naismith was called for a push. Everton forced a good spell of pressure but could not come close to having a decent shot on goal, Jagielka's effort looking more like a cross to the far post.
Crazy defending as Everton tried to play Rooney offside and Martial somehow failed to profit as Howard and Stones scrambled back.
Off a corner at the other end, Barkley finally got a shot on target but the angle was narrow and De Gea batted it away. It was a dreadful half from Everton, lacking any real inspiration, playing with really heavy hearts on such a sad day when the memory of Kendall's heroic exploits should have been all the inspiration they needed.
Martinez decided to replace Naismith but brought on Kone instead of Mirallas or Deulofeu. An early free-kick looked promising but Lukaku was quite determined enough to get in front of Smalling at the far post.
Kone worked a lovely one-two with Lukaku but messed up his shot that Coleman then crossed and it seemed to set up nicely for Barkley at the far post but a defender intervened. Everton, however. were playing with much better tempo, and won a couple of good free-kick, the second of which saw some determined buildup that ended with Lukaku's fierce drive stopped on the line by De Gea's outstretched leg.
A fantastic free-kick in from Barkley needed only a glance as Ge Gea blocked it away and no-one could get a clean shot on the follow-up. But a horrible give-away in the middle by Jagielka and United were away, Rooney shooting easily past the falling starman impression in the Everton goal. Game over.
To their credit, the boys kept playing despite the demoralizing scoreline, Barkley having a good slighlty deflected shot, and Jagielka making amends after Rooney was away to the races. Lukaku getting a card for uncharacteristic petulance.
With the horses well off down the Lane, Martinez thought it was the right time to finally play one of his potential game-changers in Gerard Deulofeu, with barely 17 minutes remaining. Stones had to defend superbly as United threatened a fourth. Martial almost walked it in along the byeline, Howard's feet to the rescue.
Another glorious free-kick opportunity for Barkley, lashed in and dipping viciously but only hitting the stanchion. The game petered out with no more damage to a sad and thoroughly deflated Goodison Park, not by any means a fitting way to remember the great Everton Legend.
Everton: Howard, Coleman [Y:22'], Jagielka, Stones, Galloway, McCarthy, Barry, Lennon(73' Deulofeu), Naismith (46' Kone), Barkley, Lukaku [Y:70'].
Subs not Used: Robles, Browning, Funes Mori, Osman, Mirallas.
Manchester United: De Gea, Dar50'mian, Smalling, Jones, Rojo [Y:52'], Schweinsteiger [Y:](74' Carrick), Schneiderlin, Mata (46' Lingard), Herrera (81' Fellaini), Rooney, Martial.
Subs not Used: Johnstone, Blind, Pereira, Memphis.
Referee: Jonathan Moss
Attendance: 39,553
---
---
© ToffeeWeb