Howard beaten by simple headers
By Michael Kenrick
24/10/2015

0 Comment [Jump to last]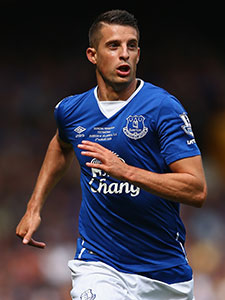 Mirallas hadn't started a League game since the opening day against Watford and had to be content with a place on the bench
Arsenal 2 - 0 Everton
Roberto Martinez predictably stuck with his two defensive midfielders against in-form Arsenal for the late afternoon televised kick-off game, with Cleverley on the bench. Gerard Deulofeu gets a start, however, with Mirallas and Naismith also on the bench.
Everton kicked off in increasingly wet conditions and had good possession; Deulofeu put in his first cross, straight to an Arsenal defender. He soon had another chance, taking the ball to the bye-line: goal-kick. But early passing by both sides was poor, with plenty of turnovers. Coquelin overhit his first cross and Everton showed much better pace, building through middle.
Everton were looking already far better than last week in the early exchanges, but needed to take more care in possession, Jags putting Galloway in trouble and gifting Arsenal their first corner that Giroud got his head on, but wide (off a defender. McCarthy was deemed to be overly aggressive when he won the ball back as Arsenal advanced down their left
The turnovers continued, and another corner to Arsenal, off a block, Cazorla's delivery headed over by Gabriel this time. Arsenal were ominously mounting more of the attacks, Galloway tacking superbly but another forward play from defense ending at Arsenal feet, and they were attacking again, Bellerin's greta cross cleared by Stones for another corner, the pressure relieved only through a foul by Ozil.
Lukaku did well on the long ball but Coleman was easily outpaced by Sanchez and a long switch ball had Stones and Jags in knots, Howard's legs saving a certain goal in the chaotic afters. A rare spell of Everton possession in the Arsenal half stalled hopelessly in midfield, then Deulofeu could not get past Monreal.
The pendulum was swinging increasingly Arsenal's way despite gifted balls, such as to Barkley, being wasted by backward passing as the Blues looked increasingly awestruck with The Gunners increasingly slick passing and movement. And it needed an excellent challenge from Jagielka to stop Koscielny, at the expense of yet another corner that Gabriel again headed wide.
Barry's long ball to Lukaku was delayed and left the big man isolated. Coquelin slid in too hard on Galloway and was booked. From a throw-in, Galloway surrounded by four Arsenal players but it led to a slightly better attack, Galloway wining the first Everton corner and an awkward chance came too quickly for Stones who could not direct it goalwards.
Everton's old problem though, shown again with pointless passing at the back, Barry looking up and floating a ball straight to a red shirt. Lennon blocked Alexis and gave away a free-kick that Koscielny almost got his head to. Alexis then fired a snapshot well beyond the Everton goal
Barkley and Lukaku were too often facing the Everton goal and playing the ball backward, but eventually it got to Deulofeu who tried to dribble in through the middle but found his path blocked. AT the other end, Ozil dodged inside and floated in a nice cross for Howard to come for and pluck out of the air but Giroud was better placed to glance the ball over him for the dreaded opening goal.
Seconds later, it was 2-0, almost identical in reflection from the other side and a free-kick, this cross even closer for Howard but it went in off Koscielny's head. Two flaps from Howard: two goals down... sad.
Everton responded a little, Galloway and then Deulofeu getting into the Arsenal area but no end result, Everton hardly even having a shot at goal in the first half until a good quick break by Deulofeu and an excellent pass to Barkley who drove on and shot, picking up a nice deflection off Gabriel's leg to beat Cech.
Deulofeu looked to be getting free and making space but felt the restraint of an outstretched Arsenal arm and collapsed a little too easily in a heap, but nothing from referee Lee Mason, who ended the half.
Arsenal resumed and Alexis almost threatened coming around the blind side. Everton looked to break with Deulofeu down the left this time but the ball hit him on the back of the legs. Galloway did well to defend but Jagielka, following through, got his foot kicked and it opened up his knee joint, down and screaming for attention. Funes Mori eventually replaced him.
An excellent play by Deulofeu was utterly spoilt by Barkley and Arsenal were off to the races, Howard saving with his feet for a corner. Everton repeatedly won turnovers but repeatedly failed to retain possession as the game built for the crucial fourth goal, Howard stopping a smart shot from Giroud for another corner.Giroud was then inches from converting off a great cross.
Past the hour and still no sign of Mirallas with Deulofeu still running at Arsenal with no end product, Barkley getting stymied. Lennon had been poor but remained on the field; Ozil got off a shot that Howard held. Barry picked up his customary booking; still no Mirallas to turn the game. Barkley had a snapshot at Petr Cech. At the other end Giroud smacked the crossbar. and at least 10 minutes late, Lennon finally got the hook for Mirallas.
Lukaku put in a meaty cross that seemed set for Barkley but it was intercepted. Cech came out confidently to catch the corner, with Lukaku limping a little. Everton were having their best spell of possession ending with a great McCarthy cross to the far post where Galloway misjudged his header with Lukaku in front of him.
Deulofeu was finally awarded free-kick that ended up with a corner. It led eventually to Barry's cross perfect for Lukaku, his header bouncing off the top of the bar. Arsenal suddenly upped the tempo noticeably, Mirallas not yet able to get into the game.
More determined effort from Everton but they could not dig out from the corner where Coleman and Deulofeu were blocked off, and the Arsenal were soon forcing separate measures in the Everton rearguard, Flamini firing wide. Flamini then had a free header, straight at Howard. Straight up the other end, and Lukaku getting in a ball that saw Deulofeu take an extra touch that prevented him from beating Cech with a wonderful chance.
It was an excellent end-to-end finish to the game, Everton finally playing as they should have been all game long. Kone replaced Coleman with barely a minute left. Ozil lashed a shot that skinned the foot of Howard's left post.
Everton had a fantastic chance for a breaking goal but Lukaku was not strong enough at the end of the move. At the other end, Barry upended Walcott with a dangerous challenge and saw his second yellow to end the game. Everton were better in the second half, but all too little, too late to change the all-too-predictable script.
Arsenal: Cech, Bellerin, Gabriel, Koscielny, Monreal, Coquelin [Y:25'], Cazorla, Oxlade-Chamberlain (80' Flamini), Özil, Sanchez (89' Gibbs), Giroud [Y:69'].
Subs not Used: Macey, Debuchy, Chambers, Campbell, Walcott.
Everton: Howard; Coleman, (89' Kone), Jagielka (52' Funes Mori), Stones, Galloway; Barry [Y:67', YR:90+4'], McCarthy; Lennon (69' Mirallas), Barkley, Deulofeu; Lukaku.
Subs not Used: Robles, Cleverley, Osman, Naismith.
Referee: Lee Mason
Attendance: 59,985
---
---
© ToffeeWeb