Brilliant Lukaku brace takes Everton to Wembley
By Michael Kenrick
12/03/2016

0 Comment [Jump to last]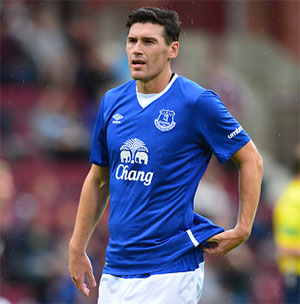 Gareth Barry Was involved in both incidents that ended with Diego Costa getting yellow carded before he too saw red after a second yellow.
Everton 2 - 0 Chelsea
Everton – in the shape of sharp-shooting Romelu Lukaku – drove a massive stake into the poor season Chelsea are having with a tremendous pair of goals to win this FA Cup Quarter-Final tie, and secure a visit to Wembley.
Ramiro Funes Mori was selected ahead of John Stones as a key part of the impregnable Everton defence that has been the object of intense scrutiny from opposition sides, pundits and fans alike. Tom Cleverley also returned with the ever-lively Aaron Lennon making his seventh successive start in a run that has seen him score four excellent goals.
Leighton Baines started despite claims from Martinez that his game is suffering from a chronic ankle problem. Mo Besic had to kick his heels on the bench alongside John Stones, where the enigmatic genius of Gerard Deulofeu remained unused again in this season's campaign to put Everton's name on the famous old trophy.
Chelsea, wearing white yet anything but pure, kicked off but Everton went forward, Baines firing in on Courtois. Everton then broke well down the right as Barry picked out Lukaku but it came to nought. Matic and Kenedy then combined to fashion a chance that was lashed well over the Gwladys Street goal.
Michael Oliver did well to play advantage as Lukaku was fouled, and then brought play back but the Blues did little with the free-kick, although there had been good forward impetus when they did get possession, until they reverted to "pass the parcel" back to Robles. Azpilicueta then fouled Baines but another free-kick was wasted, Barry then catching Diego Costa, who reacted later by clattering Barry and playacting pathetically before jumping up in aggression... A very sensible yellow card from Oliver.
Funes Mori was next to inhibit the hugely unpopular striker as Everton looked to play hard-ball. Lukaku fired a cross a little too hard at Lennon who could not control his shot. Barry was then called for a foul but Chelsea failed to use the chance and Everton were attacking with some intent down the right Coleman going in strong on Pedro. Great to see the Blues showing some much needed feistiness to spice up the contest!
Kenedy then went in on Coleman and that riled the crowd again as the game kept getting broken up by stoppages that helped neither side. Chelsea started to string their play together with more cohesion, Costa collapsing in the Everton area under gentle pressure from Jagielka. Everton attacked through the middle, but were lacking ideas against a well-formed Chelsea defence that kept them well away from the Chelsea area despite some sustained pressure.
Again and again, the Blues player was forced to turn back, as Kenedy got a good talking to for his third infraction; should have been another card. From the free-kick, Cleverley made himself a chance to turn and shoot but well off target. Everton almost got behind Chelsea's solid defence down the right and earned a corner that was delivered well by Baines but headed away. Coleman then crossed a little too deep for Lukaku at the far post.
Kenedy stole the ball easily off Lennon and ran at Jagielka who was solid in defence. Coleman almost got done, passing the parcel rather than clearing it upfield, as the Blues expected to get more space to play their passing game, but the pressing was relentless. Pedro almost made something, running in ahead of Robles but playing it behind.
Lennon looked to run down the right but again, the ball was lost, and then Lennon called offside. Chelsea continued to probe dangerously but the Everton defence was doing its job effectively enough; however, the visitors were looking the brighter as they turned the screw a little, with Everton largely pinned back, Barkley almost invisible.
Jagielka was then card after fouling Fabregas. Willian set himself behind the set-piece and fired in a tremendous shot that Robles did well to divert over the bar. The Chelsea corner was punched away convincingly by Robles.
Everton finally attacked, Baines running forward and cutting back to Cleverley who did not hit it hard enough. A somewhat fractious a disjointed half came to an end with few real chance to write home about as both sides had pretty evenly cancelled each-other out.
No changes for the second half, as Everton kicked off but Chelsea were strong in their midfield possession. When the Blues did get the ball, again it was more "pass the parcel" back to Robles and they were lucky to get a free-kick, maddeningly played backwards... but somehow they got a corner and Funes Mori met it perfectly but headed just over whn he perhaps should have scored.
The game finally livened up a little as Robles could only flap at a cross, but the Blues played it out of defence and Barkley almost set Lukaku free but fro an excellent sliding tackle. A free kick a little far out was curled in by Baines to Funes Mori, maddeningly declared offside.
Lennon did well to win a corner that Baines put in too low but it ran through everyone and harmlessly away. Costa got sandwiched between Baines and Barry, landing heavily on Baines. Costa broke through on a good ball from Fabregas and ran in well, rounded Robles but fired right along the byeline with the goal gaping.
Everton were in danger of being too cautious as the need to defend was perhaps being overly indulged at the expense of attacking initiative, and it was drawing Chelsea to be more and more attacking... perhaps a cunning tactic to create space behind... but it felt increasingly risky. Fabregas was booked for catching Barry.
Coleman and Lukaku combined to win another corner that Baines curled deep but Courtois did his job well. Chelsea attacked but Everton broke with better pace, McCarthy unable to pick out Lukaku and Costa was running at Jagielka. Everton kept attacking as the tension reached new levels, but could not get a sight of goal. But from an Everton corner., it seemed to fall perfectly but could not be converted at short range.
Then Coleman created another chance, but Lennon's cut back was loose and Baines running in for a rocket was denied by Barry, Barkley lashing one from a wide angle high over the bar. With time now ticking away, Martinez was content to watch rather than intervene, the players showing more inventiveness but still failing to produce the right final ball.
Again, Lennon got forward and played the inviting low cross, and again, no-one wanted the responsibility of firing at the Chelsea goal. Lukaku failed to take the ball around Courtois, as they felt the urgency for more pressure, while Oscar replaced Willian with 17 minutes left. Chelsea attacked and Coleman was forced to put it behind for a corner, headed away strongly by Barkley in defence. Lennon again got forward well but this time overhit his cross when better as required.
Finally a change looked to be coming from Martinez, and it was to be Gerard Deulofeu finally being given a very limited chance to get in the game and show his magic. But before it could happen, Barkley picked out Lukaku, pushing him wide left with a very intelligent ball and, almost from the touchline, Lukaku produced a slalom a skier would have been proud of, dancing through four bemused defenders to fire low past Courtois, a truly outstanding effort after tremendous close control. Goodison went wild in recognition of an excellent moment.
From a Chelsea throw-in minutes later, Barkley again laid the ball perfectly through to Lukaku who was not offside and again the Big Man advanced and fired low in the other direction, with the other foot, to give Everton a fantastic 2-0 lead.
With Goodison rampant, Diego Costa reacted to a challenge from Barry and saw a second yellow... Barry niggled him with a bad tackle, at which point Costa got straight up and ran at Barry. First he stuck his head into Barry, then he seemed to be about to bite Barry's neck, with Barry being booked for the original foul. This surreal moment was quickly followed by the same fate befalling Gareth Barry after he needlessly clipped Fabregas. John Terry came on for Chelsea, while Stones then replaced Lennon to see out the game. With Besic then replacing Barkley, whose two brilliant plays had changed this game.
In added time, to a tremendous ovation, Lukaku walked off milking the crescendo, Oumar Niasse coming on for the final minute or two.
A tremendous performance and result in the end – the perfect antedote to last weekend's dreadful denouement. Everton are on their way to Wembley for an FA Cup semi-final.
Everton: Robles; Coleman, Funes Mori, Jagielka [Y:43'], Baines; McCarthy, Barry [Y:84' YR:86'] Lennon (88' Stones), Cleverley, Barkley (90+2' Besic); Lukaku (90+4' Niasse).
Subs not Used: Howard, Osman, Deulofeu, Kone.
Chelsea: Courtois; Azpilicueta, Cahill, Ivanovic, Kenedy (85' Terry); Mikel, Matic (82' Remy); Willian (73' Oscar), Fabregas [Y:62'], Pedro; Diego Costa [Y:11' YR:84'].
Subs not Used: Begovic, Baba Rahman, Loftus-Cheek, Traore.
Referee: Michael Oliver

---
---
© ToffeeWeb