Mirallas comes in with a brace
by

44 Comments [Jump to last]
| 11/07/2015
Swindon Town 0 - 4 Everton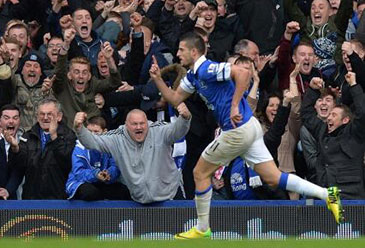 Mirallas finished his chances in some style
Pre-season started today in style for Everton with a warm-up match at the home of Swindon Town that saw Kevin Mirallas come on to score twice early in the second half.
His compatriot Romelu Lukaku grabbed the third and he fed the impressive Conor McAleny at the end for the fourth.
Martinez gave as many players as he could 45-minute run-outs, with wholesale changes at half-time. But Oviedo, Baines, Gibson and McGeady missed out with various injuries, while Garbutt and Stones are on leave after their efforts at U21 level for England.
There was a nice remembrance of Andy King, who died last month, before the game kicked off with Everton fielding a fairly strong line-up. But Coleman was sloppy and Swindon almost lobbed Howard who had to parry for a corner, defended away.
Barkley drove forward and played a good ball to Pienaar and Kone looked to play in a cross but Belford collected. There was some good running and passing but plenty of rustiness as the Blues put in some decent effort.
Deulofeu, wearing 19, did well to pull a nice ball back for Coleman but his first-time shot was well wide. McCarthy played a super ball for Deulofeu to run on to but the Spaniard's first touch was too heavy.
Some great close passing finally got the ball forward to Naismith but Belford parried his shot for a corner and Kone was adjudged to have fouled. Pienaar was next to have a pop but his shot almost cleared the stand! At the other end, Browning did well tot block a shot over for another Swindon corner.
Deulofeu had a great shot on goal that Belford saved well, with Everton looking bright and running forward at Swindon when they had the ball. However, Kone and Naismith were not really linking up very well, with Kone playing too many poor balls.
The referee called time with only 43˝ minutes played and it was a case of wholesale changes with only Browning and Galloway coming back out for the second half, which started in fine style with great work from Conor McAleny to set up Kevin Mirallas for the first goal.
The second goal soon followed, with another smart piece of work from McAleny, playing in Lukaku, who's excellent control and awareness saw he ball crossed to the feet of Mirallas who side-stepped Belford and tapped in at the post.
Besic overlapped nicely down the left and set up McAleny for a shot that went wide. Then Besic pulled up with what turned out to be an ankle injury and he was off down the tunnel after barely 20 minutes, to be replaced by a very young-looking JonJoe Kenny, wearing 43 and playing right back.
Everton kept up some good pressure through the second half, with Cleverley and McAleny catching the eye, while Swindon were limited to wild shots from distance despite putting up some determined resistance and getting forward when they got the ball.
Osman tried to play Lukaku in late on but his nice forward pass was just a little too strong. But a very nicely worked sequence involving Kenny, and McAleny with a superb cutback, to set up Lukaku to drive home Everton's third and most impressive goal.
There was more to come, Lukaku with space being closed down rapidly, passed unselfishly to Conor McAleny who picked his spot low at the far post to underscore a very strong contribution to an excellent first game of pre-season.
Swindon Town: Belford (62' Vasily), Williams, Rossi-Broneo (64' Storey), Sendles-White (65' Marshall), Robert (67' ), Ormonde-Ottoneill (58' Brophy), Byrne, Smith, Obika (71' Cooke), Kasim (58' Nicholson), Traore.
Everton: Howard (46' Robles); Coleman (46' Hibbert), Jagielka (46' Cleverley), Galloway, Browning; McCarthy (46' Barry), Deulofeu (46' McAleny), Barkley (46' Besic (67' Kenny)), Pienaar (46' Osman); Naismith (46' Mirallas); Kone (46' Lukaku).
---
Reader Comments (44)
Note: the following content is not moderated or vetted by the site owners at the time of submission. Comments are the responsibility of the poster. Disclaimer
Jim Bennings
1
Posted 11/07/2015 at 15:11:08
Haha had to laugh when already 5 minutes in to the new season I'm reading of sloppy defending.
John Malone
2
Posted 11/07/2015 at 15:15:27
Why Jim?
Chris Gould
4
Posted 11/07/2015 at 15:35:24
In fairness, we are playing two young inexperienced lads at the back. Can't expect them to gel instantly.
Nice to hear Pienaar is fit enough to start.
Minik Hansen
6
Posted 11/07/2015 at 15:50:41
Well, two complete squads in each half means not a complete team playing today. Though we can get a glimpse of certain areas.
Jim Bennings
7
Posted 11/07/2015 at 15:55:16
Kone looks totally finished to me, there's no way he's s Premier League level striker anymore, even Naismith looks jaded, like he finished the last 4 months of last season.
Pete Owen
8
Posted 11/07/2015 at 15:57:46
Finished? Jaded? it's the very first playing session of the summer! Give the lads a chance!
Sean Haragdon
11
Posted 11/07/2015 at 16:46:25
Very impressed the young lads: McAleny (not new but on today's showing he deserves a run out this season), Browning, Galloway and Kenny all look comfortable on the ball and hungry.
Kone was absolutely shocking though!! Can't pass, can't shoot. Not good enough!!
Jim Bennings
12
Posted 11/07/2015 at 16:50:35
I'm not being negative, just realistic after last season, unless you have forgotten all about last season?
Decent workout for the players today, just goes to show again though that despite the detractors Mirallas is still by far the most obvious goal threat coming from midfield, if he was to leave it would for me be an even bigger loss to the side than McCarthy going.
Jay Harris
14
Posted 11/07/2015 at 16:55:22
Thought Galloway and McAleny both showed well and Kevin Mirallas underlined how important his goals contribution is to the Blues.
Shame about Besic who I thought also looked good.
Let's see how we do in Singapore against stiffer opposition. That will be more indicative of the season to come.
Anyhow, 4-0 gets us off to a decent start.
Ross Edwards
15
Posted 11/07/2015 at 16:58:34
Good start to pre-season. Obviously it's an average League One side we've played so we shouldn't read anything into it. The Stoke and Arsenal games in Singapore will give us a better indication.
Gerry Quinn
17
Posted 11/07/2015 at 17:07:20
Good result compared to most pre-season ones...
Chris James
18
Posted 11/07/2015 at 17:08:20
Hang on, is that grudging praise from Jim 'Tony Marsh' Bennings?
Good to see he can still inject a negative tone in an appraisal of a 4-0 pre-season win in which we played some really nice creative football up front, saw young players offer real promise and never look troubled at the back.
Have you seen Inside Out Jim? You may want to let Sadness and Anger off your controls for a little while...
Mike Childs
19
Posted 11/07/2015 at 17:14:05
Thanks, Michael, for a great report. Thanks, Jim Bennings, for your objective assessment of the situation. After last season, every minute of preseason is important.
We have to hope Kev stays healthy this season being that he has eyes on a big contract or a move away he should be all out this season.
Nice to hear the big guy started sharp. How was his touch and holdup play?
Paul Ellam
20
Posted 11/07/2015 at 17:28:12
What a great start to the pre-season! I'm off to the bookies to put a tenner on us for the title!
Nice to see McAleny doing well, I really want him to succeed.
Richard Lyons
21
Posted 11/07/2015 at 17:29:54
Was there a man of the match? Sounds to me like McAleny did well: what chance him getting a starting place in the team ahead of Kone? And where was Garbutt?
Trevor Peers
22
Posted 11/07/2015 at 17:25:54
Only a friendly, but the team had the right attitude in the second half, there was some creativity which was pleasing.
Chris Wilson
23
Posted 11/07/2015 at 17:29:01
Ugh! Twenty minutes into the preseason and we might already have our first hammy victim?
Well, fingers crossed that McAleny can put in a full preseason, and be given a proper first team opportunity. Always like seeing Everton lads coming through the ranks, but especially Connor - that kid has really gone through hell with his injuries. Hard to believe that he is only 21.
Aidy Dews
24
Posted 11/07/2015 at 17:04:41
Well I only saw last 25 mins after messing about with OS with signing in and stuff but we looked really comfortable at times.
I said in the thread about Martinez wanting a couple of players that I thought Cleverley may of been brought in to play behind Lukaku but he never even got tried there, he played deep alongside Barry and looked neat and tidy so hopefully we are in the market for a quality playmaker to play at No.10.
From the little I did see I thought Browning looked ok, seems to look a lot more confident on the ball and looks to of filled out a bit more and have the physique to handle the prem. A good loan move for the season to get games would do him wonders I think.
Not a bad work out by the looks of things. Time to go to Singapore, get some good work in and do well in the games, pick up no injuries if possible then come back, get some more business done and get the new players bedded in and kick in on.
Chris De Costa
25
Posted 11/07/2015 at 17:25:07
We are aware what a shambles last preseason was and we all know how that affected our season and it proved just how important a good preseason is, for confidence, fitness etc. But let's keep it real here, it's one game, there are bound to be a few wobbles here and there but the fact is, we conceded no goals and scored 4 with virtually two different teams in each half. It would be nice if people could focus on the positives for a change.
New season with new optimism. It's 11th July not 8th August, still plenty of time until the season starts and even more time for new signings, it would be nice to get them in early, but it would be nicer if certain people could at look at the positives for a change. We all know it's hard being an Evertonian but some of the negativity after 5 mins of one game is just ridiculous.
Jim Jennings
26
Posted 11/07/2015 at 17:32:14
Jim B,
It's "realistic" to you to write off a player after 45 mins of a pre season game?
Sue Brown
27
Posted 11/07/2015 at 17:28:30
At least a great result to kick things off. Unimpressive first half but some good positive play after the break. McAleny deserved his goal and was my MotM, although I thought Galloway looked good and Browning continues to impress.
Hope Besic's pulling up there isn't the start of the dreaded hamstring curse again. And Kone... well he's certainly no better. I wonder what the excuse will be this season.
Steven Higgott
28
Posted 11/07/2015 at 17:24:35
Clean sheet... that's something to to be happy about and something to build on after last season. 4 goals as well... can't get any better! Youngsters coming through the ranks with quality.
Martinez has to be happy with today's performance, even if it was only Swindon. Harder challengers to come; we must make sure we keep Mirallas and McCarthy, but Kone is out of his depth at Everton and we need to sign another striker. I would be worried if Lukaku got injured.
A left winger and a CB... then I think I would be happy with the squid we have.
John Malone
29
Posted 11/07/2015 at 17:46:49
Jim 'realistic' is last season has gone, finished, finito!
Today was the first pre season game in prepartion for the new season and after five minutes and a sloppy pass you were all over it like a rash!
Do me a favour mate!
Dean Peamum
30
Posted 11/07/2015 at 17:57:20
Phew! When I saw the heading "Mirallas comes in with a brace" I thought he had turned up at the ground with a serious neck injury. Glad he's ok and was able to play the second half and that we didn't get a penalty.
Steve Pugh
32
Posted 11/07/2015 at 18:14:47
As some people said when pre season was going tits up last year...
what happened last season doesn't matter, it's what's happening now that's important.

John Keating
33
Posted 11/07/2015 at 18:33:49
Great to see the youngsters given the opportunity to shine. Unless we give these lads a chance, we will never know if they will break in to the first team or not. Any doubt then ship them out to a Championship side for a season to harden them up.
These kids could save us a fortune. Could they be any worse than some of the players we've brought in either on loan or for a fee on big wages?
Not sure where young Chris Long is but he's another wee player deserving of a chance.
Plato Stavrinos
34
Posted 11/07/2015 at 18:37:28
Already more victories than last pre season...COYB
Ant Dwyer
35
Posted 11/07/2015 at 19:11:15
Nice to get off to a winner... and even nicer to see attackers on the scoreboard and defenders keeping clean sheets.
Although this game doesn't bear any significance, I think it does go to show that Mirallas must stay. He's a menace and he's a goal threat, we don't have many players we can boast that about and to buy some does not come cheap. I've stated all summer he should be kept and should start games, week-in and week-out. Hopefully he's got his head on the game and Roberto sees this and plays him.
Nice to see the young lads given an early opportunity to stake a claim too. Well done, boys.
Dean Adams
36
Posted 11/07/2015 at 19:41:06
Please play that second-half team more often. McAleny looked quality and the forward play was solid. Cleverley looks decent, his passing is so much better than most of our normal stuff in midfield. The youngsters at the back looked good too.
Dave Abrahams
37
Posted 11/07/2015 at 19:52:10
John (43), forty two players used today in both matches and Chris Long didn't play in either game, maybe he is injured.
Steven Jones
39
Posted 11/07/2015 at 19:18:20
I went to the match today (in the Swindon Family Enclosure; loads of Blues in there) and was close to Gerard Deulofeu in the first half. Early on, I kept taking second glances at him as he has filled out a lot – no longer the thin whipper-snapper. Looks as though he has been on the weights.
He was trying to impress and took a few shots. He is better when he moves around and finds space. His touch wasn't there. He looked out of puff after a couple of early runs and then got a second wind.
He tried to play Kone in a couple of times when he could have been more selfish. For me it also looked as though he had the first week of training in his legs but there is no doubt he has a chance of doing something special this season.
I was also very very impressed with the attitude of Kevin Mirallas -- not only tracking back but also his focus, bon homie with team mates, concentration all the way through, tackling and competing. I would guess RM has had a special word with him and maybe a new contract and love being shown to him behind the scenes... I would not believe he would leave in this window from what I saw today.
Other big impressions: Galloway - my MotM. Also Tyias Browning is a massive beast. Barkley also appeared to be lean and big. Stevie P looked oh so lively. The link up play he gives was very impressive.
Kone -- well... he tried hard, lost the ball a few times etc and looked out of sorts -- but also looked as though he could come good after a good pre-season. We just do not know how much volume of training are in the legs this week -- plus his Ramadan thing. (I'm trying to be generous.)
Besic -- also looked bigger and stronger and some amazing bursts of physicality. Shocked to see him pull up -- I hope it was a twinge and precautionary. It was worrying for a few minutes on the side, but when he was ready to go down the tunnel his face and the coaches seemed a little bit better... fingers crossed.
McCarthy looked leaden legged and average -- still shaped very well etc.
Coleman -- looked to be back to his attitude: if in trouble, move away from the pressing playe; again, at this stage, attitude etc very good. He looked to link up with Deulofeu and they talked a lot together before and during.
Tom Cleverley is obviously a class act and I watched his movement, balance and left-foot, right-foot combinations; short, long, dribble -- he is a really good addition and looks forward and turns a lot more than McCarthy.
Tim Howard looks at it and sharp from what I saw.
Jagielka was in a rhythm as per the end of last season rather then the World Cup hangover.
Rom looked at it and fit -- one great Maradona turn and always looking to make runs. He was genuinely pleased with his goal.
Overall impression: we are serious this Pre-season and at it from the start. Big Dunc is having an influence and his presence is there for all to see -- passion for EFC and he went on to complain to the ref for 2 mins short on first half.
I was pleased for Leon Osman and Tony Hibbert who are coming to the ends of their careers but still contributing really well.
All-in-all, one of the best pre-season showings at this first-week in stage. Stoke and Arsenal will have focused the minds of everyone and I think there is a lot of competition. RM should give at least one of the young ones a go.
I am dreaming of Kev, Rom and Ger giving some defences a kicking this season!
Jack Cross
40
Posted 11/07/2015 at 20:02:11
I didn't get to see the game but, going by what I've read, Conor McAleny had a really good game. Well done, Conor.
Dean Adams
41
Posted 11/07/2015 at 20:17:03
At nearly 23, Conor McAleny now looks like a player. His date of birth, 12 August 1992, means that he will be that bit older than the majority of the golden guys coming through, but we look like we have some real quality coming out of our academy at last.
Raymond Fox
42
Posted 11/07/2015 at 20:22:54
I've only seen McAleny a couple of times last season and I was impressed with his speed and positional play then; he looks to have that little bit extra you need to make it.
The problem for managers in the Premier Leaguie is:- When do you start young players in a game? Roberto will get slaughtered on here if he sticks him in and we lose a match or two.
I'd go with him but can Martinez afford to gamble in the early season?
Dave Pritchard
43
Posted 11/07/2015 at 20:44:38
Don't big McAleny up too much. I do hope he can develop into a first team player but one very good performance against Swindon does not mean he will make it in the Premier League. Let's wait and see how he does against more serious opposition in the next few games. He should definitely be given the opportunity in pre-season though.
Steven Pugh
45
Posted 11/07/2015 at 22:01:32
Went to the game today. Great to see so many Blues making up half the attendance. Lots of young kids in Blue. Well done to Swindon for charging ٟ for juniors.
As for the game, I think Steve Jones (#39) wrote exactly what I would have. Can the doom and gloom merchants give it a rest. Support the team or at least wait till you have something decent to complain about.


Mark Evans
46
Posted 11/07/2015 at 23:36:13
Good start to the friendlies, keep the 2nd half 11 for the next game!
What really impressed me today was the level of support from the Everton fans. First friendly away against League One opponents and we easily sell out our section. I live in Swindon so travel was easy for me but I assume most of those fans either travelled down today from Liverpool or stayed over. Shows once again the commitment of Everton's supporters to their team. Great to see families in there too.

Craig Fletcher
49
Posted 12/07/2015 at 02:36:11
Steven (39) thanks for the report mate, good effort.
Steve Brown
50
Posted 12/07/2015 at 03:53:30
Yes Steven @39, really good review. I watched the live stream but your analysis of the players is excellent. Still think we need a CB, CAM, LM and forward to match the spending of our rivals, but the players looked fresh, focussed and up for it. Onwards to Singapore, I'll be there with my boy!
Phil Sammon
51
Posted 12/07/2015 at 04:41:39
I'd like to echo all the plaudits for McAleny and Mirallas. Hopefully Martinez recognises that they are both valuable players in their own right and uses both accordingly this season.
Cleverley impressed me too. He likes to pass forward and respects the balance between retaining the ball and dwelling in possession. I really think he could be a key player.
Lukaku -- A nicely taken goal and two assists... but I was still a little disappointed. He looked so isolated up there at times which I blame on the manager... but he doesn't help himself with that woeful first touch. He's such a talented player, surely he can improve such a basic skill. And surely we can find a way to play more to his strengths. Maybe I'm being too harsh.
McCarthy was a little slack with his passing. I love the guy but he needs to cut that out of his game.
I sincerely hope that Gareth Barry playing in central defence is not something Roberto Martinez sees as a viable option this year. He's not a defender and he doesn't have the nous or pace to play the position. I'm praying that was just a 'needs must' situation until we bring in another CB.
Can't complain with a 4-0 win though. Just thought I'd highlight a few things I hope we can improve.
Stuart Mitchell
53
Posted 13/07/2015 at 07:55:39
I would gladly take 㿀M for McCarthy and slot Cleverly into his position. Frees up funds for that Number 10, CB etc.
I always felt he was overrated and if Spurs are willing to stump up that money...
Peter Gorman
54
Posted 13/07/2015 at 09:23:59
John, Dave re: Chris Long
A mate of mine who is a Burnley fan says they are getting Long on loan for the season. Maybe he is already there?
James Lauwervine
55
Posted 13/07/2015 at 10:01:03
Some general comments:
We were so much better in the second half; suddenly the gulf in class was evident, whereas in the first it wasn't far off looking even. I liked Deulofeu's little wave to the fans at the start, though he looked very rusty in his play. Galloway impressed me, bursting forward every chance he got.
Living where I do, this is the only chance I'll probably ever get to watch the blueboys on a Saturday afternoon and be home by 5:15. Nice touch that juniors were a pound (though I'd be pissed off if I'd paid the 㾻 for advance junior tickets). A tenner for parking at the ground is criminal.
Finally, Swindon's ground is awful. Makes Goodison look state of the art.
Paul Cherrington
56
Posted 14/07/2015 at 11:20:34
I was really pleased to see McAleny was given a chance and played well. I like him and think he is the type of creative player we were missing last season. Here's hoping he gets a good run in the team this season and does well.
Add Your Comments
In order to post a comment, you need to be logged in as a registered user of the site.
Or Sign up as a ToffeeWeb Member — it's free, takes just a few minutes and will allow you to post your comments on articles and Talking Points submissions across the site.
© ToffeeWeb