Southampton vs Everton
by

116 Comments [Jump to last]
| 14/08/2015
Match Preview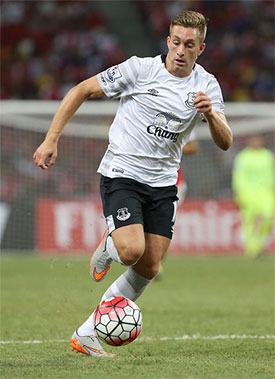 Gerard Deulofeu will be hoping to play his first part in the new season after recovering from a hamstring injury
(Lionel Ng/Getty Images)
There may have been stark contrasts between Roberto Martinez's first and second seasons in the Goodison hot-seat but if there were some common themes as well, one of them was surely Everton's performance at Southampton. Two of his team's worst displays under the Catalan have come at the St Mary's Stadium – the first, in May last year, finally banished any faint hopes of pipping Arsenal to fourth place as two own goals handed the Saints a 2-0 victory; the second last December saw the Blues humbled in a horrible 3-0 defeat in which Martinez, mystifyingly, left all of his substitutes on the bench for the entire 90 minutes.
If that adds some extra motivation to an Everton side already facing criticism from some quarters for a disappointing opening-day draw against Watford last Saturday, then so much the better for this televised lunchtime kick-off. Because Martinez's men are embarking on a sequence of five successive Premier League fixtures against teams that finished in the top eight with a squad that remains disconcertingly light in key positions.
There's no doubt that any improvement on the last two trips down there would be warmly received. You can get some nice odds on a high-scoring draw for this one in the weekend's football tips.
The loss to injury of Leighton Baines practically on the eve of the new season hasn't helped and his latest surgery on a troublesome ankle problem has further weakened a back line that came into the campaign short of two centre-halves following the departures of Antolin Alcaraz and Sylvain Distin and, in view of Tony Hibbert's own fitness troubles, lacks experienced cover at the opposite full-back slot.
Bryan Oviedo would be the natural deputy for Baines at left back but his lack of match sharpness meant that Brendan Galloway was preferred against the Hornets and it remains to be seen whether the Costa Rican will be deemed strong enough to start so soon after recovering from a foot fracture.
Though they conceded two fairly soft goals last weekend and will obviously miss Baines' presence, it is further forward whether the greater concerns lie, particularly when it comes to scoring the goals that can win matches. The Blues were familiarly pedestrian for the first half last weekend and really only came to life when Arouna Kone was introduced to supplement Romelu Lukaku and allow the Belgian some more freedom and support up front.
Together with the break-up of the defensive midfield partnership of Gareth Barry and James McCarthy when the former dropped back to left back, it gave Everton a more dynamic look but few expect the manager to be quite as bold away from home, particularly against a team like Southampton. The smart money will be on another lone-striker formation, from the start at least, with Martinez putting his hopes on his side being able to fashion goals in the same system in which they couldn't against Watford.
Much will depend on whether Kevin Mirallas or Gerard Deulofeu will be fit enough to start on the right flank. The former's ankle has settled down over the week following Valon Behrami's awful challenge and Martinez appeared quite positive on his chances of being involved this weekend, while Deulofeu resuming full training following a hamstring injury means he is in the frame. Hopefully one – preferably both but that would be unlikely even if they were 100% – will make the starting XI to line up in a forward three with Lukaku and Ross Barkley. If not, one of Steven Naismith or Leon Osman would be the likely beneficiaries and, assuming the manager plays it conservatively, Tom Cleverley would fill the remaining midfield slot.
If there is scope for coming to the St Mary's with a more attacking outlook than Martinez otherwise might it lies in the fact that Ronald Koeman's outfit are weaker defensively than they were last season thanks to the loss of the loss over the summer of holding midfielder Morgan Schneiderlin and defender Nathaniel Clyne. In addition to that, Koeman will be without two of his new signings in the form of Jordie Clasie, an £8.4m acquisition from Feyenoord who has an ankle injury, and defender Steven Caulker, in on loan from Queens Partk Rangers, who has a sinus infection. Add in Fraser Forster, Florin Gardos, and Ryan Bertrand and the Dutchman, who will likely be in the home dugout sporting a cast following surgery on his Achilles, will be hobbled to a degree both figuratively and literally.
Nevertheless, the Saints looked impressive at Newcastle last weekend, with both Graziano Pelle and Shane Long bagging headed goals in a 2-2 draw, and with the likes of the tricky Dusan Tadic and the dangerous Sadio Mane in their side, they pose plenty of dangers to that uncertain Everton defence.
It's fair to say that while the travelling Blue army will make the trip to the south coast in good heart and full of hope, they probably won't realistically be expecting much more than a draw from this one but there is always the "x" factor about Everton that when everything clicks, they can be very potent side themselves. Given that it's still early days and we will be facing a team that will need to be patched up at the back, the unexpected – not to mention the banishment of our BT Sport hoodoo – is not beyond the realms of possibility.
Kick-off: 12.45pm
Referee: Michael Oliver
Predicted line-up: Howard; Coleman, Stones, Jagielka, Galloway; Barry, McCarthy, Cleverley, Mirallas, Barkley; Lukaku

Full coverage: ToffeeWeb Match Report
---
Reader Comments (116)
Note: the following content is not moderated or vetted by the site owners at the time of submission. Comments are the responsibility of the poster. Disclaimer
Colin Glassar
1
Posted 14/08/2015 at 07:38:32
We never seem to win early kick offs, or Sunday games. Come to think of it, we rarely win late afternoon games and as for MNF.........
Kieran Fitzgerald
2
Posted 14/08/2015 at 07:42:12
If Southampton are weaker at the back than usual, then look to at least play both Mirallas and Deulefeu from the start. Either that or play two upfront. Go all out to try and score first and then keep them on the back foot.
Kelvin Thomas
3
Posted 14/08/2015 at 07:43:42
A win and no injuries please!
Stephen Brown
4
Posted 14/08/2015 at 07:44:15
I would like to see RM give this team a run of games.
Howard
Coleman Jageilka Stones Oviedo
McCarthy
Deulofeu Barkley Cleverley Mirallas
Lukaku
Let's start having a go at teams and start making it exciting again.
John Malone
5
Posted 14/08/2015 at 07:45:21
3-5-2 All the way!
Howard
Galloway, Jagielka, Stones
Oviedo, Cleverley, McCarthy, Coleman
Barkley
Kone, Lukaku
Kieran Fitzgerald
6
Posted 14/08/2015 at 07:50:30
John, your outfield players go all the way up to eleven. Think your maths are even worse than mine!
Joking aside, I think you have it right. 3-5-2 is the way to go and play two up front from the start.
Gary Carter
7
Posted 14/08/2015 at 08:00:38
Because 3-5-2 has been so successful in the Premier League!
It's simple: play our best players in their right position, play a style and system that they are comfortable with and that's proven to work in the Premier League, and get the ball forward to our 㿈M striker in a way that plays to his strengths not his weaknesses... sadly, none of which Martinez will do!!
Howard
Coleman Jagielka Stones Oviedo
Deulofeu McCarthy Cleverley Mirallas
Barkley
Lukaku
Andy Meighan
8
Posted 14/08/2015 at 08:17:54
If he's learnt anything from last week's game, he's got to start with Kone and Lukaku up top. I'm no lover of the pair of them but we looked more threatening when they were both on the field.
Meanwhile... back in the real world, it'll be the usual 4-5-1, as we all know, where Lukaku has to come so deep to get the ball, he may as well be selling hotdogs outside. It'll only change if we are one or two down late on in the game.
As you said yourself, they've got a makeshift defence, so they can easily be got at... although they are quite dangerous at the other end. They are a very good home side and have dished up a few hidings there so our defence will need to be on its toes.
I'm still on holiday and don't know if the game is on Sky or BT. I do know we've never won on BT so I'm going for a draw. I'd settle for that because it's not a happy hunting ground for us. I'd urge the Spaniard to be positive but, to coin a phrase, I won't hold my breath.
Ajay Gopal
9
Posted 14/08/2015 at 08:31:26
Martinez may go 4-4-2:
Lukaku Kone
Barkley Barry McCarthy Cleverley
Galloway Jagielka Stones Coleman
Howard
or push the 'undroppable' Barry into the LB slot (the role that he played for the last 30 minutes last week) and play an attacking 4-3-3:
Mirallas Lukaku Deulofeu
Barkley McCarthy Cleverley
Barry Jagielka Stones Coleman
Howard
I personally liked Lukaku and Kone playing together up front. I think they complemented each other well and Lukaku appreciated the space that Kone created for him. I think Martinez will go 4-4-2.
Ian McDowell
10
Posted 14/08/2015 at 08:40:33
We are 3/1 to win in some bookmakers, a sign of how far we have fallen in the last 12 months. I'm having a tenner on Pelle to score a header at anytime as we defend crosses like they are cruise missiles coming in. Still we have the quality in the squad to go and get a result just need the application.
Adam Luszniak
11
Posted 14/08/2015 at 08:48:05
Attack is the best form of defence. Kone's hold up play was infinitely superior to Lukaku's, dare I say it I'd be tempted to start with him up top? At least he can actually play with his back to goal.
Maybe he can't do it for the full 90 but he's there to provide competition for the main man, and given he scored last week when Lukaku didn't, I'd say Kone has earned his start. Martinez won't play 3-5-2 away at Southampton. I'd expect the usual 4-5-1. I had high hopes that Cleverley was brought in to replace Barry not play alongside! I thought Cleverley was one of our brightest players last week, the only midfielder to actually get past the striker and in to the box. Drop Barry and bring in Osman on the left?
Howard,
Coleman Stones Jagielka Oviedo
McCarthy Cleverley
Mirallas Barkley Osman
Kone
I know Osman is not a natural winger but he did a reasonable job out wide last season, he is disciplined enough to stay out there and bring Oviedo in to the game on the overlap. His short passing is also good and we're going to need someone with tricky feet who can do a half decent imitation of Pienaar.
Subs would be Lukaku for Kone for when he runs out of puff / reverts to being toilet again. Deulufeu for Osman if we need to chase the game.

Leo Garcia
12
Posted 14/08/2015 at 09:06:31
Ajay,
Pushing the "undroppable" Barry back in the wake of Baines' injury might be a revelation, but RM would never go for it.
As much as I'd love:
Howard
Coleman Stones Jagielka Barry
Barkley McCarthy Cleverley
Deulofeu Lukaku Mirallas
We're likely to see the ol':
Howard
Coleman Stones Jagielka Galloway
McCarthy Barry
Barkley Cleverley Mirallas (if fit)
Lukaku
Phil Sammon
13
Posted 14/08/2015 at 09:07:14
Why even discuss it?
It will be:
Howard; Coleman, Stones, Jagielka, Galloway; Barry, McCarthy, Cleverley, Mirallas, Barkley; Lukaku
Tepid, turgid shite until they score. Then we might see some life.
Denis Richardson
14
Posted 14/08/2015 at 09:08:14
Have been saying for a while that our main problem is not scoring goals but keeping it tight at the back.
We just seem incapable of keeping a clean sheet and every time we play any team with pace we sit deep, get nervous and invite them to attack. S'ton pass the ball quickly and crisply and have some pacey players looking to get into space. If we start with McCarthy/Barry then I can already read the script.
Only slight hope is that they will have to make the running and we can hit on the counter -- assuming we actually pass the ball forward quickly.
Chris Gould
15
Posted 14/08/2015 at 09:26:30
I agree with Phil, no point in discussing something that is set in stone. 4-2-3-1 with McCarthy and Barry as CDM's. You can play about with the other positions but it doesn't make much difference. The slow tempo will be the same.
Personally, I don't have a problem with the formation, but it's very frustrating to see Cleverley pushed out wide when he could give so much energy and life to Barry's position.
Christy Ring
16
Posted 14/08/2015 at 09:31:47
Stop playing players out of position, and put Cleverley beside McCarthy:
Howard
Coleman Stones Jagielka Galloway
Barkley McCarthy Cleverley
Deulofeu Lukaku Mirallas

William Cartwright
17
Posted 14/08/2015 at 09:37:47
Last season I think Roberto left his underperforming team on the pitch for one of two reasons:
a) He was using the 90 minutes to assess how his players character would react to 90 minutes of adversity and humiliation; or
b) he was so shocked by the lack of committment throughout the team he was genuinely as confused as the supporters and when in doubt do nothing...?
Also, at that time, the Premier League was definitely second priority after the Europa League.
This is not an anti-Roberto rant, just the opposite. He does seem to have a 'long term plan' and there will continue to be many twists and turns. If he choses to give Oviedo playing time then this will be a big plus for me as he seems a player with real drive. Barry at left back would be interesting but for me most of all I want to see McAleny playing a role.
I can't understand how after 3 assists, 2 goals and lively throughout 135 minutes of pre-season play he looks like he is being overlooked? Would love to see a positive result so come on you Blues!
Jim Bennings
18
Posted 14/08/2015 at 09:50:27
Let's face facts: if it's not another hammering, all it will be is another below-par performance with more questions than answers.
I don't even bother expecting anything from Everton under this manager anymore. I mean how long is it since we beat a top half team away from home? Was it the win at Old Trafford in 2013?
You know it will be the same pathetic formation that yields hardly any decent attempts on goal and no men getting forward in support of the isolated striker. That will continue until we go a goal down late in the first half or early in the second then soft ollies will bring Naismith or Kone on and we will get caught late on with a goal on the break and lose 2-0.
You can almost read the script, it's just so hard to be anything like positive about Everton at the moment, from performances on the pitch right through to the total ineptitude off it regarding bringing players in or dealing with other topics.

Mike Hayes
19
Posted 14/08/2015 at 09:53:15
Face facts, if Martinez had the pick of the world's elite 11 with subs, he'd still screw up. He hasn't a Plan A. Clueless and way out of his depth; the quicker the club realise this and get rid the better.
Colin Grierson
20
Posted 14/08/2015 at 09:55:01
I'm with you there Will. McAleny deserves his chance sooner rather than later.
Phil Sammon
21
Posted 14/08/2015 at 09:56:37
Good God!
Are people really advocating Barry at left-back?! I have no idea who plays right wing for Southampton but he's going straight into my fantasy football team.
If his lack of pace is shown up in a holding midfield role then it's going to be an absolute horror show at full-back.
Jim Bennings
22
Posted 14/08/2015 at 10:07:25
Playing Barry at left back would be like trying to win a Grand Prix on a milk float.
Be sensible guy's, this is the 100 mph football of the Premier League not some sort of beach kickabout.
Clive Rogers
23
Posted 14/08/2015 at 10:22:34
Barry is now too slow for any position let alone fullback.
Steve Harris
24
Posted 14/08/2015 at 10:35:58
That's right Jim, not expecting anything other than another pathetic 'Groundhog Day' performance, which is why I can't even be bothered to go down there this year after witnessing probably the worst two away performances in all my years of following the Blues on our last two visits.
I think it really sums up how low we've sunk that each week you just know that it's gonna be another slow, lethargic, turgid display which gives you no incentive or enthusiasm to get excited about. What really amazes me about Martinez is surely, after witnessing and being responsible for complete and utter shite week after week, he must realise that he's got to drastically change his all approach because his way is painfully not working and if he at least looked like he was trying a new approach and something different, it would give me some optimism to hang on to.
Also completely agree with Phil about the ludicrous calls to play Barry at left back! It's bad enough to have to witness him slumbering round in midfield every week, never mind him being totally exposed to a speedy wide man, or even a not too speedy one!
If it's just a case of doing anything to get rid of him from our midfield, then why don't we just consider doing the seemingly unthinkable, and just drop him altogether??
Jim Bennings
27
Posted 14/08/2015 at 10:49:01
That's it, Steve.
Southampton under Ronald Koeman are everything I wish we were. They play fast vibrant attacking football, always with something at the end of it and most importantly they have more than one way of playing.
It also is miraculous, despite all the talent they keep losing, that they manage to compete to a high standard; they and Swansea are commendable footballing models.
I would love to see something different from Everton tomorrow, I truly would... but I know full well that I won't get anything other than that usual frustrating tippy-tappy nonsense played in triangles around the corner flag at snails pace with zero end product.
As we say, it's hard to be positive.
Andrew Clare
30
Posted 14/08/2015 at 11:22:00
I hate to say it but I will be most surprised if we get anything from this match. Absolutely nothing from our performances so far, I'm including the pre-season matches, gives me any confidence.
Southampton fans will be expecting a comfortable win. We will do well to survive this season. A very badly run club.
Jim Bennings
31
Posted 14/08/2015 at 11:33:07
The biggest worry also is how close we are to a full blown injury crisis, just imagine if Jagielka or Coleman got a lengthy injury??
Martinez just seems all very casual about our lack of defensive and striking options, again we are one or two injuries up front away from crisis point, it may never happen but given our track record it probably will.
There is still no sign of this elusive creative midfielder either.
It may have been too early back in June to start panicking about our lack of movements in the transfer market but it's getting to the stage now where your looking at four or five signings in a few week's, and that hoping we don't sell on Stones too!!
Is this target now realistic?
Steve Harris
34
Posted 14/08/2015 at 11:46:43
Hit the nail on the head again, Jim.
I'm not naive enough to expect us to be challenging for the league title at the start of the season. All I want, and I don't think it's asking too much, is that when I get in the car to set off for the game, I at least feel that, irrespective of who we're playing, we give it a good go and play with some passion and enthusiasm and at the end, to have made the opposition know they've been in a game. Instead, its almost a dread of what I'm going to be witnessing again and unfortunately no amount of me being slagged off by Martinez's supporters will change that.
I was sarcastically condemned for having the nerve to criticize our preseason displays, with them arguing that preseason friendlies doesn't matter, it's only when the season starts that we should form an opinion. I asked them to give me just one thing that he was going to change to give me a glimmer of hope that he could turn it around this season but the silence was deafening.
I always maintain that if he proves me wrong and does turn it on its head, I will happily enjoy eating a huge slice of humble pie and give him all the praise he'll deserve, but sadly I just can't see it happening.
The surprising thing about last week's performance was that people were surprised by it! I certainly wasn't!
We've just drawn Barnsley away in the League Cup; can anybody, hand on heart, be completely confident that we're going to come away with a convincing victory?
Colin Grierson
35
Posted 14/08/2015 at 11:51:45
Wouldn't it be great if the players decided to just play football the way they grew up playing it. A bit of swagger and full of attacking intent. That's why I like to see youngsters get a go cos they haven't had it coached out of them yet.

I'm fed up of systems and passing lines ffs!
I'm fed up of 'We can't play that formation at their place'
I'm fed up of seeing a simple game made difficult by charlatans who busily weave the emperor's New clothes.

Keep it simple. Move the ball quickly and get into space. Look to go forward (at pace) at every opportunity. When we lose possession, everyone defends and looks to win possession asap.
Don't lose the ball in the first two thirds and show us why we pay fucking gazillions of our hard earned dough by doing something special on the final third!

Now Bobby, it's that simple so fuck your system and philosophy. Let them do what they're supposed to be good at.

Anyone who has a bad game gets dropped, I don't care who they think they are or how much we paid for them or how much fuckin potential they have.

Rant over! Come on you Blue Boys!!!
Colin Malone
36
Posted 14/08/2015 at 11:57:33
Again I will say. I want to see McCarthy take more responsibility by not being scared to receive a pass and pass it forward, instead of seeing the ball as a hot potato. He has the potential to be a world class midfielder.
Luke Welch
37
Posted 14/08/2015 at 12:00:23
I think if we turn up and role over, then serious questions must be asked about Martinez's reign. Something must be done to stop the rot, before his crab football completely sets through out the academy's. I was a big fan at first, he seemed like a breath of fresh air after Moyes. But everything about Everton at the moment sticks of regression.
John Jones
38
Posted 14/08/2015 at 12:01:15
3-5-2
Robles
Browning Stones Jags
Colemen Oviedo
Besic McCarthy Barkley
Lukaku Kone.
It gives balance and pace at the back.
And options off the bench.
John Jones
39
Posted 14/08/2015 at 12:02:23
Luke Welsh #28
Nail head Completely
Steve Harris
41
Posted 14/08/2015 at 12:13:26
Great points Colin, absolutely agree, sounds simple enough to me!
Tony J Williams
42
Posted 14/08/2015 at 12:25:05
After watching the turgid shite last Saturday, it was absolutely clear that all our players are dopes. Not one of them think about moving into space, they just set their position and stay there. The man with the ball sees the other 9 either behind him or closely marked because he can't be arsed to move away from his marker.
You then get the 5-yard pass that is belted back to the passer. No thoughts of turning the man, just twat it back to whence it came. Shite of the highest order.
I was almost glad that the dopes serving the ale at half-time were so slow, as it meant I had less time to go and watch the crap ion the pitch.
Here's a little tip for the catering staff... roughly around 30 mins into the game, people will probably start milling down for a bevy and, come around 5 mins to go, a lot will be filing down. Now, I'm no rocket scientist, but even I know that a few thousand fans will want a bevy so it may be a good idea to get a few on the go before the rush instead of having your staff standing there scratching their bollocks waiting for the one lad on the one pump to serve several hundred impatient fans... just a thought like!
Tony J Williams
43
Posted 14/08/2015 at 12:25:36
Oh and I predict a 2-0 defeat
Denis Richardson
44
Posted 14/08/2015 at 12:29:40
This maybe an away game at Southampton but I believe the pressure is already massively on Martinez.
If we come away with nothing tomorrow, then with City, Spurs away and Chelsea to follow next, the natives are going to get very restless. It could all go Pete Tong very quicky, chuck in Stones leaving as well (if you were him would you stay if the wheels start falling off?)
I just hope we don't get a bunch of panic buys in 2 weeks' time. Stranger things have happened - we could blast out of the blocks and stuff'em 3-0 - Kone hattrick!
Mark Tanton
45
Posted 14/08/2015 at 12:33:38
It will be interesting to see what tempo we start at. It doesn't seem like Martinez can motivate the team. A slow start, and a Southampton goal might be the beginning of the end for him.
Ged Simpson
46
Posted 14/08/2015 at 12:44:37
3-1 to us
Kim Vivian
49
Posted 14/08/2015 at 13:08:53
In our dreams, Ged... in our dreams.
I will be watching this at work, have left the diary clear from 12:30 - 2:30. Can't wait. It won't happen but please lads just get up and at 'em from the off. They won't be expecting that you can be damn sure!
Howard, Coleman, Stones, Jagielka, Oviedo, Besic, Barkley, McCarthy, Cleverley, Mirallas, Lukaku.
Deulofeu and Kone on at 60 mins.... Ross to score again.
Harold Matthews
50
Posted 14/08/2015 at 13:30:13
Tony J. A brilliant description of the way we play. Why we go forward so slowly.
Cleverley and Kone tried one or two variations but their team-mates stuck to the same old script. Martinez told Carragher that our formation and tactics were designed to make us different, thereby enabling us to confuse the oppsition. Unfortunately, the only confused people are the fans and the team.
Not sure about the Saints game. We certainlt can't give away corners and freekicks with Ward-Prowse on the ball. The lad can put it on a sixpence. He can also put it onto Pelle's head.
James Stewart
51
Posted 14/08/2015 at 13:38:22
Would like to see Browning get a game. Best player in pre season and looks more psychical to me than any of our other defenders.
Can't see us getting anything here.
Phil Walling
52
Posted 14/08/2015 at 13:48:45
It's always difficult to determine whether bad performances are down to the players or the manager who is supposed to determine the tactics they employ. Their skill set should be taken for granted for they are playing at the highest level of club football and the so-called 'individual errors' are difficult to excuse.... although this manager frequently asks us to concentrate on their 'good bits' like high possession stats.
Clearly any manager has a duty to ensure players are fit and totally aware of the style and tactics to employ. On the latter, I suspect some players are more willing and able to absorb and act on instructions than others. Perhaps basic intelligence, will, desire and motivation are the key factors but I guess that's where the 'right fit' aspect comes in and will determine an outcome of success or failure. Do they all listen to their manager, anyway?
Colin @27 has the dream of players 'playing the game in the way they grew up playing it' and whilst I sympathise with that idea to some degree, it's highly unlikely to happen at this level. 'My way or the highway' seems to be the mantra adopted by all Premier managers and I think 'free spirit' went out with the romantics like Joe Mercer and Kevin Keegan.
Having said that, I suspect that for about half a dozen games towards the end of last season, that 'free spirit 'approach did prevail and after a string of abysmal performances and something of a crowd revolt, IT APPEARED that the players took charge of affairs... and to great effect!
During this period, I remember Baines being asked if that is what happened. He sidestepped the question by saying 'the manager will always want us to play in his preferred style.'
In the last couple of games, it was clear he had done so... and with the inevitable result! But this is a new season so we can only hope both players and manager have struck a new accord and all will right with Everton's world!
Steve Davies
53
Posted 14/08/2015 at 13:51:53
Colin Number 27 was bang on. Football is a simple game and most of us don't refer to philosophies like Bobby Boy. I predict the same line up as Saturday, using his favourites regardless of form. RM is a tactical minnow and we will do absolutely nothing with him in charge regardless of the players on the match. He simply does not have the ability to get the best out of them and get the tactics right. Let him take his one dimensional tactics elsewhere.
I think there is very little genuine support for the man and as many of you have said I am expecting "Groundhog Day" but COYB......
Paul Cherrington
54
Posted 14/08/2015 at 13:53:19
Stephen @ 4 -- I would go with that team too as would give the defence protection still but make us more attacking & creative.
The only change I would be tempted with is Browning to start as mentioned above; I think he looks ready and at least looks up for a battle.
Nick Page
55
Posted 14/08/2015 at 13:56:41
I see we've appointed Oscar Brau, he of ex-Wigan sports therapist fame. Lol
Craig Mills
56
Posted 14/08/2015 at 14:06:27
I have an uneasy feeling we will see Gareth Barry at left back tomorrow, with too many fitness issues over Oviedo and this fixture maybe be too much too soon for Galloway.
This would also allow McCarthy & Cleverly to take the central role.
Could be interesting, but I'm not looking forward to it.........
Steve Davies
57
Posted 14/08/2015 at 14:11:02
Another Martinez accolyte! Another job for the boys......I used to work in Wigan (Wrightington). Gizza job Roberto, gizza job!!!!
Shane Corcoran
58
Posted 14/08/2015 at 14:14:10
Any chance he'll stick Barry at left back, move Barkley back one and put Cleverley behind Lukaku?
Max Murphy
59
Posted 14/08/2015 at 14:21:58
And now to be positive.... I have to agree with Phil (#11) and Jim (#16). I used to look forward to the game and now I just wait for the inevitable crock of shite to be served up. Martinez is not only destroying our once great club, but he's turning our supporters suicidal.
Denis Richardson
60
Posted 14/08/2015 at 14:23:59
Barry at LB against the likes of Tadic and Mane.....I want to get a good night's sleep tonight lads. Keep it friendly at least!
Nick Page
61
Posted 14/08/2015 at 14:24:56
Anyone of progressive mind would be listening to the best coaches, not just in football but sports anywhere. Colin #27 makes an excellent point - let them play. This is exactly what Trevor Bayliss has encouraged the England Cricket team to do...and its worked pretty well quite quickly. And its not even a quick fix. Its common sense.. The Australians have such a good mind-set when it comes to coaching, and it can't be by accident.
Richard Lyons
62
Posted 14/08/2015 at 14:27:03
Interesting stat from the BBC match preview:
Romelu Lukaku has only managed four goals in his last 23 Premier League appearances.
I fear we will be in serious trouble by the time we play Sunderland on 1st November - I predict we will have amassed a total of 3 or 4 points from 10 games - and been knocked out of the League Cup.
Dave Abrahams
63
Posted 14/08/2015 at 14:28:31
Phil Walling, at the start of Martinez's reign at Everton, after three or four games, Graeme Jones, his assistant, said to a member of the coaching staff,"Robby will not change his style of play no matter what" the other coach replied back, "Do you think this crowd is daft, do you really think they will stand for this type of play if it doesn't improve".
Luckily Everton improved hugely and most of us were happy with Martinez's first season, but since then things have gone downhill and so quite a lot of us are waiting for style to change and to see what happens in this transfer window. It is now up to Roberto, September is going to be very interesting.
James Marshall
64
Posted 14/08/2015 at 14:37:23
Harold: Martinez told Carragher that our formation and tactics were designed to make us different, thereby enabling us to confuse the opposition.
Really? He said that? Like with his own mouth? Staggeringly brilliant!
Paul Cherrington
66
Posted 14/08/2015 at 14:42:37
I think in any walk of life, the manager needs to have a firm leadership style where his instructions are short, clear and leave no room for confusion. I suspect that Martinez, while being firm in sticking to his beliefs, waffles on and overloads the players with too much info. Hence why most of them look like they have no clue what they should be doing on the pitch.
Compare to Moyes who used to yell just one- or two-word simple phrases at them if they needed telling. Even the most dim player could grasp what to do if being told 'go tight' or 'press him', for example.
Ross Edwards
67
Posted 14/08/2015 at 14:50:12
1-1 I reckon. That's if he actually does what a lot of you are saying.
If he goes completely mad and puts Barry at Left Back I can see a massacre. He'd get destroyed.
Denis Richardson
68
Posted 14/08/2015 at 14:53:08
For anyone who wants to see the MNF bit with Martinez....
http://www.footballorgin.net/2015/08/premier-league-2015-2016-skysports.html
'until they change the rules and laws of the game, I will never change'.
Jay Harris
69
Posted 14/08/2015 at 15:04:41
Martinez defies all football logic and basic practices.
We do not close the opposition down instead we give them loads of space.
We do not practice defending free kicks or corners.
He has MF players dropping to the edge of our penalty area looking to pass to ? another MF player 5 yards to the side of him.
There is very little movement off the ball further forward.
Because we play and pass so deep we don't get many players in the opposition box and the opposition defenders can reorganise time and again because our build up is so laboured.
WE don't have goalscoring capability in MF.
Worst of all Moyes used to make a difference by getting the players superfit and creating a siege mentality unfortunately with every passing game this seems to be eroded.
However I have a feeling (call it madness) that the players may take things into their own hands and get something from this game.
James Marshall
70
Posted 14/08/2015 at 15:09:53
I managed to watch 6 minutes of him waffling on and not really appearing to be able to explain his system, before I got utterly bored. Imagine how it must be for the players listening to him going on about tactics.
Christ, the whole thing with putting Barry in the fullback position in an attempt to 'find other lines' to break down 2 banks of 4 made me want to slam his face into the giant TV screen thing.
Talk about over-complicating the game and confusing players. What a tool.
Steavey Buckley
71
Posted 14/08/2015 at 15:12:57
Everton's basic problems now stem from playing McCarthy and Barry together in midfield, who then create a 6 man defence with only 4 players forward. This is the main reason why Everton don't get forward quick enough, but find themselves playing far too deeply in their own half. Everton fans notice this a lot, unfortunately, Martinez does not.
Colin Grierson
74
Posted 14/08/2015 at 15:39:21
Phil #43, I don't advocate a Keeganesque all out attack approach at all.
I know how simple football is. I've played it all my life at a decent standard. Touch and composure are the first things I look for in a player regardless of position. All of the best teams in the Prem and throughout Europe for that matter play in a similar style. RM tries to be different!?!?
The definition of idiocy is to expect a different outcome when doing the same thing over and over again. Martinez thinks his approach will work even though the evidence is categorical that it doesn't.
Barkley could be a great player but I fear for a player of his ilk playing for a 'scholar of the game, such as Martinez. I couldn't give a shite if RM watches every game of footy there is, on however many screens he has set up at his mansion, it doesn't mean this studious approach will bear fruit in his 'philosophy'. His philosophy is just as likely to ruin players.
I've watched every episode of Thomas the Tank engine with my lad but that's not to say I'll be dropping into Network Rail and offering my services as an expert.
I'm sick of hearing from So-called experts (including RM) about how different footy in the PL is. It's bollocks! It's all down to fitness. Today's players are both skilled footballers and athletes. The speed of the game is what sets the PL apart from the other European leagues. So get the players fit!
Like I said in my earlier post, if a player has a bad game then drop him to the bench and then have him show in training that he can turn it around. If he can't sell him. This loyalty thing works both ways.
I'm certain that Lukaku doesn't spend hardly any time working on his first touch during training. If I was in charge that is ALL he would be working on until he got it right more often than not. It amazes me how bad his first touch is. It amazes me that it is not spoken about more by the pundits.

Christy Ring
75
Posted 14/08/2015 at 15:41:15
The problem with Martinez :
1) He's' too stubborn to change. The passing sideways and backwards, style, tempo, team selection and leaving Lukaku isolated are a continuation of the dismal football of last season.
2) The lack of transfer funds by Bill Kenwright and the board are '"Abysmal ".
Joe Foster
76
Posted 14/08/2015 at 15:50:08
Denis @57 it's the arrogance in that statement from RM that speaks volumes about the type of character he is .
Jay Harris
77
Posted 14/08/2015 at 15:51:12
Totally agree Colin.
Speed, Skill and fitness make a difference.
The rest is simple.
Clive Rogers
78
Posted 14/08/2015 at 15:56:54
Steavey #60
That's it exactly. Barry has to go.
Darryl Ritchie
79
Posted 14/08/2015 at 16:03:18
My typical experience of one of our matches;
Anticipation
Frustration
Disappointment, win, lose or draw.
I think we will be fortunate to come away with a draw.
Phil Walling
80
Posted 14/08/2015 at 16:46:00
I never thought I would live to hear Evertonians suggesting we should be looking to Swansea to see how a top grade club should operate.
Swansea, bloody Swansea, I ask you?
But then I read Steve's piece about how they've gone about it and I did some follow-up research via the net. 'We could do that,' I thought. 'Build a new ground as well!' Of course it would take up the rest of this decade to develop a new infrastructure and get rid of all the BVI loans -- and the league position might suffer as a result. But heck, it would be worth it.
Then, I realised their fabulous Chairman and Board had once appointed a certain Spaniard as manager...... and thought they can't be that bright, after all!
Frank Key
82
Posted 14/08/2015 at 16:56:19
Fans should still be inebriated by early season optimism, yet Bobby managed to sober the fans up within 20 minutes of the new season starting. It is as if last season never ended.
I have been reading the site for a good few years and never read such widespread condemnation of a manager- fully justified given the shite continually being served up.
I believe Saturday was the beginning of the end for Bobby, and another listless display on the South coast tomorrow will edge him closer towards the trap door which could open as early as October.
Robin Cannon
83
Posted 14/08/2015 at 16:58:09
Can we get battered, fire RM, and hire Bielsa...?
Patrick Murphy
84
Posted 14/08/2015 at 16:58:30
Phil - Perhaps the Everton FC plan is to to follow the Swansea model but unfortunately in reverse, have loads of success for over a century playing in an iconic stadium, then a fallow period under a pragmatic manager, followed by the appointment of Roberto who will alter the style which will enable the club to slide down through the leagues. I'm being very tongue in cheek obviously, but there is also a grain of worrying truth in there as well.

Dave Pritchard
85
Posted 14/08/2015 at 17:02:20
Interested to read the general negativity about the idea of Barry at left-back. I agree that the pace issue would be a worry but he has played there for Villa, admittedly many moons ago. He does read the game well and this goes some way to alleviating the lack of pace.
What it would mean is that McCarthy and Cleverly could be the central midfield duo. I think Cleverly should be given more responsibility and thought he came into the game well last week. If not Barry at left-back I would keep Galloway. We can't do any worse than the last 2 seasons at St Mary's can we? Hope the players are more confident than I am.
Tony Waring
86
Posted 14/08/2015 at 17:18:07
Phil at 71. Well Swansea at present are playing much more attractive football than Everton. Yes they had Martinez as manager and a certain Brendan Rodgers. How did they manage to improve on and off the pitch........unless of course it was Laudrup who worked the real magic. Now there's a guy I wouldn't mind seeing in charge at Goodison
Mike Powell
87
Posted 14/08/2015 at 17:29:42
If we get slaughtered at Southampton we should start a Martinez Out campaign. I am hoping that we turn up and get at them play with pace and passion, but wouldn't hold my breath.

I hate it when we lose but can take it if we have a go and stop pissing about tying to keep hold off the ball as long as we can. It's a simple game – get the ball in the box and score a goal. Simples.
Nick Page
88
Posted 14/08/2015 at 17:47:13
Danny Higginbotham sums us up perfectly. Yes, it's that bad!
hTTp://www.independent.co.uk/sport/football/transfers/Roberto-Martinezs-season-as-predictable-as-his-tactics-unless-he-unleashes-romelu-lukaku-writes-danny-higginbotham-10456146.html
Robin Cannon
89
Posted 14/08/2015 at 18:08:06
@Dave (75) - I feel like the issue more is that it's ridiculous that the only way we can think to get Barry out of midfield is to move him to left back. It's not that he'd be terrible there, but we have specialist left backs available. If we need to get him out of midfield then put him on the bench.
Jackie Barry
90
Posted 14/08/2015 at 18:14:43
If only the majority of fans could redirect the distaste they show towards Martinez at the Everton board, we might get somewhere then. Sadly though after all these years it really does look as if we are incapable of pinpointing exactly who is to blame. Lol.
Colin Metcalfe
91
Posted 14/08/2015 at 18:15:53
Have to disagree with Barry at left back , he is too slow and turns like the titanic not to mention his record tally of yellow cards - just think if your the winger against Barry .... turn inside get into the box and you can guarantee Barry would slide in and give away a penalty !
Paul Jeronovich
92
Posted 14/08/2015 at 18:27:32
Lukaku Mirallas
Deulofeu
Oviedo Barkley McCarthy Coleman
Galloway Stones Jagielka
Howard
Tons of pace if we pass the ball a bit faster. Fantasy stuff !!

Mark Riding
93
Posted 14/08/2015 at 18:40:50
https://m.youtube.com/watch?v=U6xtPV8LfPY
Jay Harris
94
Posted 14/08/2015 at 18:41:28
I wish people would stop using Gareth Barry as a scapegoat for RM's misdemeanoursa.
He was far from the worst player against Watford and for me outshone McCarthy.
At least he has some long range passing in his locker.
Our problem is not individual players it is the managers insane obsession with his "textbook" tactics.
Steve Jenkins
95
Posted 14/08/2015 at 18:45:17
We need support for Lukaku, otherwise we'll just see the ball bouncing off him when we play it up to him and lose and give back possession all afternoon.
I've always wondered how many goals Barkley would score, if he had someone up front that can control the ball and lay it back to him, like Kone on Saturday, or, hold it up, let Barkley run into the box from midfield and play Barkley in.
Home... Away from home.. Lukaku up front on his own just does not work; I'd go with two upfront.
Eddie Dunn
97
Posted 14/08/2015 at 19:40:27
I watched the manager's latest interview and was sadly down-hearted. He is like one of those "Dementors" from "Harry Potter". He sucks all of the hope out of me.
I, like many others on here, fear the worst from this fixture. We shall miss Alcaraz at the back! Martinez surely won't be positive and start with 2 up, instead we will see changes once we go behind.
Our defence will be opened-up and we will concede goals... I just hope Martinez switches things round quickly when things go wrong, unlike in previous visits to the Scummers.
Danny Halsall
98
Posted 14/08/2015 at 20:14:15
Would be happy with a draw if I am honest, only because it's an absolute banker that we will concede. Also, I fear that Saido Mane will find to much space in front of the back four, added to the fact that Shane Long always scores against us. Hopefully I will be pleasantly surprised.
Neil Gribbin
99
Posted 14/08/2015 at 20:26:32
The worst of it all?
I can't be arsed, second game into the season.
Joe Foster
100
Posted 14/08/2015 at 20:43:45
It's all a sad state of affairs.
Steve Durham
101
Posted 14/08/2015 at 20:44:27
Much like what has been said before. Don't think we'll change any players. Don't think we'll adopt more adventurous tactics. Don't think we'll win. Don't think there's one Evertonian who would be surprised at this. Don't think I'll bother.
Hope I'm wrong 'cos still just put a tenner on us at 3/1.
John Malone
102
Posted 14/08/2015 at 20:49:35
Kieran 6, have another look smart arse!
Phil Rodgers
103
Posted 14/08/2015 at 20:50:32
Jesus, that run of fixtures
John Crook
104
Posted 14/08/2015 at 21:07:37
Play Barkley deeper like he finished last week.
David Cooper
105
Posted 14/08/2015 at 21:18:10
If I had any money to bet with, I would certainly be laying money that we see Barry at left back tomorrow. Gives more height in the penalty area, good left peg and as long as he does not cross the halfway line will do a good defensive job. Will need some help if Southampton play anyone who can run. Will allow RM to play Barkley, Cleveley, McCarthy +1 across the midfield. Have absolutely no idea how tomorrow will pan out. But always hopeful! Watching at 7.30am if is a crap result is really going make it a long weekend!

Colin Metcalfe
106
Posted 14/08/2015 at 21:53:47
Just watched Villa get beat and I thought we had problems they look dreadful, a reincarnation of Newcastle not one shot on goal in 90 mins at home.
I see the pundits have us going down by at least 2 goals tomorrow which given our recent performances (preseason and last week) it's not hard to see why; however, as it's early days, I've still got a bit of optimism... I think we can get something out of this game: 2-2 for me!!
Tony Abrahams
107
Posted 14/08/2015 at 22:02:32
I stopped reading at post 4. Steven, that team would do for me mate, especially if Lukaku started having a proper go.
Chris Jones
108
Posted 14/08/2015 at 22:26:16
I live in NZ which means that, for once, I can watch the game live at a reasonable-ish time (11.45 pm k.o). For the first time in ages I'm wondering whether I should sacrifice my beauty sleep - and God knows I need it - to watch. That's what it's come to. Bloody hell.
I probably will though.
And wonder why I did.
But you never know - COYB!
Michael Winstanley
109
Posted 14/08/2015 at 22:54:37
Away win 2-0.
Not pretty, so there will be plenty to moan about.
Antony Matthews
110
Posted 14/08/2015 at 23:07:39
The boys are wearing the 3rd kit tomorrow. Hope it's a lucky one.
Tom Bowers
111
Posted 14/08/2015 at 23:54:09
Everton need all the luck they can get no matter what shirts they are wearing tomorrow.
It's going to need a big turnaround from recent weeks in order to get 3 points.
Soton have the aerial threat and Everton are very suspect in central defence so you know Soton will bombard them with crosses along with the corners etc.
Everton have to come out attacking and get to them early but any semblance of the first half of last Saturday will prove fatal.
Most fans have little confidence in the Everton setup these days and rightly so with the team showing so little confidence or initiative that we all know every game will be tough to win.
Don Alexander
112
Posted 14/08/2015 at 00:05:33
Well said at "62". Bob on.....sadly no pun intended.
The Mirror piece sums up what most of us have been in denial of for years as well.
The following are pre-match quotes by Koeman and Martinez re the Southampton match;
Koeman; "We know the qualities of Everton. We know the way they play........"
Martinez; "The last two visits to Southampton have been really tough games for different reasons. Things that could go wrong did go wrong - two years ago we had two own goals very early and if you look at our history it's 22 years and we've only had two wins. Historically it is a very tough place for us - it becomes an extra challenge and we want to embrace that."
So tomorrow's defeat will be nowt to do with his appalling tactics folks, it's written in the stars! Presumably if only he'd been the manager for the past 22 years we'd now have a hope of getting a result, but after such a lengthy time what's Martinez to do?
This is how to shut me up Martinez; play a team with a plan that's unknown to the opposing manager; stop talking shite, period; get every player fit enough to physically and mentally compete for the entire match against anyone at all, regardless of the score.
That, amigo, is the definition of "professional" football manager. You should try it.
Mark Wilson
113
Posted 14/08/2015 at 00:11:27
Gary Carter #7 spot on with that team. The width means that their defence had to be careful about bombing upfield and it at least gives us some speed from the back. Yes it's risky. Yes the midfield two will face a tough game but can't see Southampton over running us there. But it will never happen. Roberto now leaves me cold every time he speaks. It's such rubbish, I can't believe I didn't see this two years ago. Did he always talk such utter, utter, shite ?
One reason for this seasons ties of the Kenwright Out group on social media is Roberto. Ok there are lots of other reasons as well but it's the appalling lack of faith in a discredited mgr that is in part fuelling the discontent.
I'm hoping the protests inside the ground do not unsettle the team on the pitch. It's why I hate this form of protest at the match as I can't stand watching it add to the negative atmosphere but fans are just so fed up that you sense a real change from the Blue Union protests of the last few years.
We should and can win tomorrow but it will feel,like a miracle if we to and somehow wanting a miracle away at Douthampton sums up why so many are utterley at the end of their patience with the Board.
Tim Greeley
114
Posted 15/08/2015 at 02:03:22
2-2 for me too, only to maintain some type of strange, infuriating symmetry with last season. Also I hadn't realized Southampton were as hurting as they are with injuries. Almost as bad as us.
But actually the early start on the road with such a far trip... never EVER ends well. I'd say we're fooked. Maybe DelBoy can save our ass. Or Kone!

Phil Sammon
115
Posted 15/08/2015 at 03:17:38
I got slaughtered for saying this last season...but I sort of feel the same again. Martinez will not change, he has said that many times. We will not improve under him. A victory here and there will only prolong the dire tedium that is currently ruining every Evertonian's life. I'm not rooting for us to lose...but how else do we get rid of this manager? I'd happily root for 'change', but the manager has already dismissed that notion. There is no alternative. We have to sack the man...and for that to happen we have to lose a few games.
If you look at adjectives Martinez uses to describe us, it's quite clear that the man is actually out of his mind.
'Different'
'Flexible'
'Unpredictable'
This is how he sees us. Literally the opposite of every other person watching the game.
The man buys wingers but refuses to play with width. He has two of the best attacking full backs in Europe and yet we don't get a single cross in. We have a 㿈M striker who has scored more goals at his age than Messi, Ronaldo...his main weakness is his hold up play...and we force him to play with his back to goal. We have players who are undroppable, regardless of form. We have players like McAleny who are unselectable, regardless of form. We have no passion. We are always less fit than the opposition. The manager is a laughing stock who cannot explain himself in plain English.
Is that enough to sack him? Apparently not.
Looks like we'll have to lose some games then.
Harold Matthews
116
Posted 15/08/2015 at 05:22:38
James. #55 Very dry. The stuff coming from his own mouth was difficult to comprehend but my translation was pretty near the mark. The bit about being different was the dead truth. Okay, "Confuse" is not quite right but it was shorter than "make things more difficult.
I actually admire the quest to be different. Such a hard thing to achieve.
Tony Abrahams
117
Posted 15/08/2015 at 05:59:50
Harold, if our manager could say it, like you write it, ( Short and to the point), he would be doing everyone a favour. Especially himself!
I'm up way too early, because my 15 year old, has woke me up, getting himself ready to go the match. I wish it was that easy getting him out of bed for school!
It's sad that the fans, are going to start getting more aggressive with their protests, especially if it's coming at a time when Bill Kenwright is not a well man. What else can they do though, vote with their feet?
There is plenty of clubs in this country, that enjoy great support, but there is none so loyal, as the travelling blue army, they deserve better, hopefully starting today!
James Marshall
118
Posted 15/08/2015 at 06:35:12
When RM joined the club I quite enjoyed his waffling, then it started to make me laugh, and now it's come full circle and I want to knock his teeth down his throat so I don't have to listen to him anymore.
He's done a wonderful job in that respect.
Perhaps, and this is only a wild-arsed theory, but perhaps we have to go down a bit to come back up? If you see what I mean - like Man Utd in the sense (barring his fluke first season) that they had SAF and stability/success and we had OFM and stability/no success. Since SAF left (barring OFM's failure with them) they've been on a downward curve, which is slowly becoming an upward one - so, perhaps we have to be patient and expect there to be a downward curve before an upward one?
Or am I pissin in the wind? Maybe, just maybe, we the supporters need to be a little more patient and expect results to fluctuate for a couple of seasons before things get back up to the level we've been used to?
Or maybe Martinez is a snake-oil salesman sailing a rudderless ship towards the Bermunda triangle of mediocrity?
I hope it's the former.
I also think we'll get turned over today. I'll be watching in a bar in Thailand so either way it'll be a good night out for me!
Tony Abrahams
119
Posted 15/08/2015 at 06:53:59
James I've been to Thailand, a wonderful place, full of happy smiling people! It's rubbing off on you though, if you think the supporters of Everton, don't deserve more than the level we have been used to!?
James Marshall
120
Posted 15/08/2015 at 07:30:22
Tony, of course we all want better. I'm just suggesting patience in light of a long term manager being followed by a new manager.
There's bound to be a downturn, I'm just surprised it didn't happen in his first season.
Of course he could just be a shit manager which is equally as likely!
Tony Abrahams
121
Posted 15/08/2015 at 07:47:45
That's more like it James, I was beginning to think you was in too good a place ( if that's possible) using United as a comparison!
No encouragement needed, but I hope your smiling like the locals, later on tonight!
Tony Draper
122
Posted 15/08/2015 at 09:05:25
Like most Blues, I find our style bloody frustrating but I also believe that we aren't helping Lukaku at all with this style. Today I read an article by Danny Higginbotham, it sums up my thoughts completely.
Here it is:
Link
Derek Knox
123
Posted 15/08/2015 at 09:07:19
Let's hope we get the ball rolling today, in which, is not an easy game. Koeman has my respect as a manager, and has certainly turned things round at St Mary's, despite losing so many first teamers last season.
It looks like the bookies are tipping Saints to turn us over at a canter. This should be the inspiration to buck the form book, and show them what we are made of.
I am confident that we have the players to win this one, it's just whether Robbie selects the correct formulation and tactics.
Colin Glassar
124
Posted 15/08/2015 at 10:20:19
I must admit that I hardly ever watch BT sports, due to the moronic divs like Owen and Robbie Savage, but their football coverage is far superior to sky sports with their obsession with cricket, rugby, tennis, golf and other shite "sports".
2-2 draw today. I predicted a W1 D3 L0 last week (first four games till new players come in) and I'm sticking to that.
Michael Ward
125
Posted 15/08/2015 at 11:51:28
Team news is out. Kone starts, I wonder if he will play up top or on the wing. Mirallas makes way in the only change, with Del and Besic on the bench.
Harold Matthews
126
Posted 15/08/2015 at 11:55:58
Tony D. #111. Thanks Tony. What a link. Scared me to death. I thought we were in trouble but Danny Higginbotham makes it sound worse. Unfortunately, unlike me, he knows what he's talking about. No matter who we sign, with the present tactics we're a sitting duck for any team in any division.
Andy Meighan
127
Posted 15/08/2015 at 11:57:27
Be happy with a draw because this is one graveyard and a half for us but like nearly everyone on here knows it'll be the usual 4-5-1 shite the usual tippy tappy shite the usual shite result here and last but not least the usual lying shite out of that excuse of a manager we've got. I do hope I'm wrong but somehow I just can't see it
Howard Don
128
Posted 15/08/2015 at 12:13:59
Tony, you got there ahead of me with the Danny Higginbottom link. He sums it up perfectly, we are so easy to play against and you don't need tone a great coach to suss us out. The other factor he didn't mention is we are just so mind numbing to boring to watch.
Got my first season ticket in 62-63 season and this is the most boring football I've seen in all the years of ups and downs since then. Zero intensity on the pitch translates to zero atmosphere in the ground -- soul destroying.
Jon Cox
129
Posted 15/08/2015 at 12:24:50
All Martinez has to do is set the team up for a counter attacking game in which we had so much success against Man Utd last season.
Can you spot the one word that shoots this statement down in flames?
Simon Smith
130
Posted 15/08/2015 at 12:42:21
Fair play to Steve McManaman and Owen Hargreaves, both stating John Stones should stay at Everton!
Add Your Comments
In order to post a comment, you need to be logged in as a registered user of the site.
Or Sign up as a ToffeeWeb Member — it's free, takes just a few minutes and will allow you to post your comments on articles and Talking Points submissions across the site.
© ToffeeWeb