Goodison move a "big dream" for Rodriguez
by

15 Comments [Jump to last]
| 08/09/2015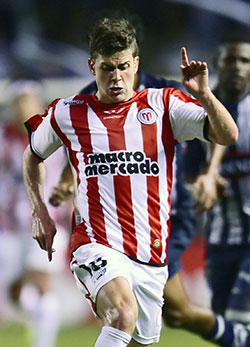 New striking acquisition, Leandro Rodriguez, says that while his move from relative obscurity in Uruguay to the Premier League is a big responsibility, he is confident of being able to make the grade.
The 22-year-old was a late signing in the summer transfer window, arriving in a £500,000 deal from River Plate Montevideo, whom Blues boss Roberto Martinez expects to be able to contribute at senior level this season.
Rodriguez made his debut for the Under-21s last night and headed home the opening goal in a 3-0 win after just 10 minutes, a terrific start for a player who told evertonf.com just how keen he was to get going when he spoke to the club's official website a few days ago.
"It's a big dream to come to a large club like Everton," he said. "It's also a very big responsibility but I am very confident in my abilities.
"I watched players like Romelu Lukaku in Uruguay, so I am very happy to be able to play with players like that. I don't think there's any doubt that I'll enjoy playing with these players — I'm somebody that likes to get involved with my teammates."
Rodriguez cites fellow Uruguayan star Diego Forlan among the players he most looks up to and he describes himself as a "technical player".
"I think the coach and I enjoy the same type of football and I'm going to give my best efforts for the club," he continued. "Also, the people in the club will give me confidence to play.
"I'm somebody who can work well with other players and I look forward to being able to show myself and my game to the Everton supporters."
---
Reader Comments (15)
Note: the following content is not moderated or vetted by the site owners at the time of submission. Comments are the responsibility of the poster. Disclaimer
Ciaran Duff
1
Posted 08/09/2015 at 07:42:59
Good luck to him.
I think most people have him down as a "punt" by RM. If he comes good then great, if not then so be it.
Jakob Herd
3
Posted 08/09/2015 at 08:11:58
An inexpensive punt... Would love to be surprised and who knows Coleman for £60k from Sligo Rovers, doubt anyone saw that coming.
Phil Sammon
4
Posted 08/09/2015 at 08:35:55
I'm excited to see him play.
But you do have to wonder what he can do to get into the first team. McAleny was fabulous pre-season and, as yet, hasn't had a sniff.
I've pledged my support to RM this season... but his double standards and preferential treatment towards certain players is something that is always going to do my head in.
Steve Jenkins
5
Posted 08/09/2015 at 08:59:07
Good start, he'll need this season to settle, if he's good enough he'll be brought through next season I'd imagine.
Henen should go on loan now back from injury and if good enough, we could see ourselves with 2 new strikers next season.
I just don't think deep down Roberto fancies McAleny, he's there for cover this season and will move on next season.
Tony Draper
6
Posted 08/09/2015 at 09:18:40
I hope that the lad and RM are right about his future.
Scoring in the first 10 minutes of an Under-21 fixture gets him up and running, even if it doesn't guarantee anything more it at least means he can relax and be himself. Good.
Similar to Phil @3, I'm fully behind Roberto again this season. I'm hoping that RM took his eye off the ball (flattered by media opportunities and the World Cup jollies) and learned a hard lesson last season, a bloody hard one.
He was tremendously popular for many positive reasons in his first season, yet there were still some subjects marked "must do better". This season, he needs to get back to the good stuff and make progress on the "must do better" issues. (This written by someone who's end of term reports always contained "must do better" in most areas!)
Just hope that Leandro and Roberto can step up for us.
Aidan Trimble
7
Posted 08/09/2015 at 09:21:19
Phil, not sure you can call team selection 'double standards'. RM picks the players he's absolutely convinced (rightly or wrongly) will do the best job on the pitch. 'Favouritism' doesn't really apply for the same reason.
Mark Tanton
9
Posted 08/09/2015 at 11:11:01
I hope he does well. I think he might. Who knows, he might be our next £40m transfer fight!
Kase Chow
10
Posted 08/09/2015 at 11:53:53
Let's hope he can make a positive impact.
David Torpey
11
Posted 08/09/2015 at 11:58:00
Cheeky super sub towards end of season - let's hope he's a beast.
Jim Bennings
12
Posted 08/09/2015 at 13:25:11
Let's put it this way, if he gets five or six league goals this season for the price we paid for him then it's a welcome bonus.
Nobody expects him to come in and be top scorer and he probably won't even start more than a handful, unless there's a calamitous injury crisis.
Just make your contribution lad, work hard, that's all we ask.
James Marshall
13
Posted 08/09/2015 at 16:06:40
Didn't he also say somewhere that he looked forward to winning lots of things at Everton? He might win lots of friends if he keeps saying the right things, but.....
James Marshall
14
Posted 08/09/2015 at 16:08:47
Oh and Jim Bennings, I ask a lot more of players than simply working hard.
If I wanted hard working players, I'd have a team full of Steven Naismiths. A terribly likeable young man who tries hard, but is sorely limited as a footballer. I would hope Rodriguez has a modicum of talent to go with any work-rate he might possess, but hard work alone is going to win us bugger all!
Joe McMahon
15
Posted 08/09/2015 at 18:58:52
Yes we can all hope for another Coleman, but be prepared: it could also be another Scott Spencer or Francisco Junior.
Andy Whittingham
16
Posted 11/09/2015 at 09:48:16
From what I've seen and read about Rodriguez, I think he's got everything needed to succeed in the Premier League - it's all about how well he adapts to a vastly different environment. I can see him in the first team sooner rather than later.
Unfortunately, I think this signing also sends a message out to Conor McAleny (a year older), that EFC probably isn't the club he's gonna 'make it' at.
Andrew Ellams
17
Posted 11/09/2015 at 10:19:08
I know my knowledge of this guy goes no further than our old friend YouTube, but I did see a hint of Javier Hernandez in some of the goals on there.
Add Your Comments
In order to post a comment, you need to be logged in as a registered user of the site.
Or Sign up as a ToffeeWeb Member — it's free, takes just a few minutes and will allow you to post your comments on articles and Talking Points submissions across the site.
© ToffeeWeb