Everton vs Manchester United
by

30 Comments [Jump to last]
| 16/10/2015
Match Preview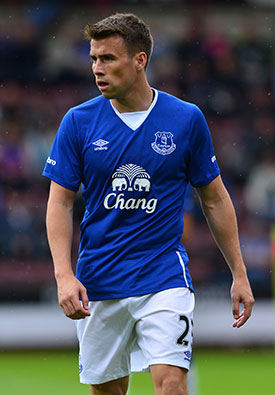 Seamus Coleman should return to the line-up after recovering from a hamstring strain and playing for Ireland last Sunday.
With the penultimate international break of the year out the way and, seemingly, all of the Toffees' various travelling stars back unscathed from their exertions, Everton resume their Premier League programme by hosting Manchester United at Goodison Park for a rare 3pm Saturday kick-off – not since 2004 have the two clubs played each other in the traditional time slot.
The game is the second-to-last in what was, on paper, a daunting start to the season which pitted Roberto Martinez's side against all of last season's top eight within the first 10 fixtures, albeit one that they have navigated fairly well thus far with a return of thirteen points from the first eight matches played. A disappointing home defeat to resurgent Manchester City and a failure to press home their superiority against Swansea and Liverpool have been tempered by surprisingly comprehensive wins over Southampton and Chelsea and the thrilling comeback against West Bromwich Albion.
Now, thanks to that decent return, Everton go into this date with United knowing they can draw level with Louis van Gaal's team in the table with another victory to add to their improving recent record against what used to be a perennial Premier League nemesis. If you fancy a flutter on the Blues doing it, you can check the latest bookmaker sign up offers.
Prior to Martinez's assumption of the Goodison hotseat and the departure of Sir Alex Ferguson, the Blues' record against United since 1992 was a miserable one but, starting with that memorable win at Old Trafford in December 2013, Everton have begun to make amends for years of apparent fear and inferiority by winning four of the last six meetings... as many as they managed over the preceding 21 years.
Last April's 3-0 demolition of the still-embryonic Van Gaal project was the latest in a series of impressive Everton displays against United and, were it not for the almost superhuman intervention of David de Gea in the reverse fixture in Manchester in September last year, they might have earned a deserved draw.
Having spent eye-popping sums of money since taking over from David Moyes, Van Gaal appears to have restored United to the role of title contenders and they went into their last game against Arsenal sitting on top of the Premier League for the first time since they last lifted the title in May 2013. If that sent a rather ominous signal to the rest of the Premier League that the expenditure on the likes of Anthony Martial, Morgan Schneiderlin, Bastian Schweinsteiger and Memphis Depay had put the most successful club of the Premier League era back on course for more silverware, the the Gunners' demolition of them in the first half at the Emirates will have provided a reality check that the Red Devils remain fallible.
It's those vulnerabilities that Martinez will hope to exploit in the manner he did so brilliantly six months ago when goals by James McCarthy, John Stones and Kevin Mirallas delivered a handsome home win. United couldn't live with Everton that day and the Catalan will be looking for a similarly impactful performance this time around, although he will know that Van Gaal's side will be both stronger and more wary.
Martinez should be boosted by the return of at least one regular starter in the form of Seamus Coleman, who played for the first time in a month when he completed 90 minutes for the Republic of Ireland last Sunday in their 2-1 Euro2016 qualifying defeat in Poland. The fullback had missed the previous four games with a hamstring injury but he looks set to resume his place in the Everton starting XI at the expense of his more-than-able deputy, Tyias Browning.
John Stones, too, could be fit to resume his excellent partnership with Phil Jagielka after recovering from a knee injury that has sidelined him for the last two matches. The centre-half trained over the international break and seems to have responded well, although Martinez said that he will assess his match fitness before making a final decision between him and Ramiro Funes Mori. If needed, the Argentine might have to shake off some jetlag after returning from his country's friendly in Paraguay on Tuesday.
Elsewhere in the side, with Kevin Mirallas eligible again following a three-match suspension, Martinez has options when it comes to formulating an attacking strategy to target the same weaknesses that were exposed by Arsene Wenger a fortnight ago. As was the case in April – he came off the bench to score that third goal against United – the Belgian is an unlikely starter but he could be a useful weapon as a substitute. Assuming he doesn't start, it means the manager will likely have to decide between Arouna Kone and Steven Naismith as to who plays off Romelu Lukaku and which of Gerard Deulofeu and Aaron Lennon should fulfill the wide role on the right. Naismith and Deulofeu got the nod against Liverpool but neither were able to make much of an impact.
Regardless of who is selected, another fast, energetic start is likely to be key for the Blues and if they can get United on the ropes early on, it should work in their favour. Perhaps not surprisingly, United are slightly better favoured by oddsmakers – there's a Ł30 bwin new customer bonus – despite being the away team so it will be up to Everton to establish their own rhythm and play their own game. Keeping Martial, the mercurial Depay and the fit-again Wayne Rooney quiet will be important for the back four but it's the task of nullifying the creative talents of Juan Mata likely to be shared by McCarthy and Gareth Barry that will be key.
In a campaign that is shaping up to be as promising for Everton as Season 2013-14, these are the kinds of games that will be barometers for judging whether the Blues have what it takes to challenge for the top six and, perhaps, beyond. If the failure to express themselves and find a win in the derby placed a question mark over whether they have what it takes, then a win over improving Manchester United would re-establish those Europe-chasing credentials.
Kick off: 3pm
Referee: Jonathan Moss
Predicted Everton line-up: Howard; Coleman, Stones, Jagielka, Galloway; Barry, McCarthy; Lennon, Barkley, Kone; Lukaku
Full coverage: ToffeeWeb Match Reports
---
Reader Comments (30)
Note: the following content is not moderated or vetted by the site owners at the time of submission. Comments are the responsibility of the poster. Disclaimer
Jay Harris
1
Posted 16/10/2015 at 19:31:22
Excellent summing up of where we are at Lyndon and right to identify the need for a strong start which has been our weakness this season.
If we get at them early as Arsenal did it will knock the stuffing out of them.
Lev Vellene
2
Posted 16/10/2015 at 19:35:30
What's great for me now is that seeing Galloway in that predicted line-up just makes me go 'Yes!' instead of wishfully hoping Baines would be fit again soon... Even Kone has finally proved he's got good potential when starting, although he's not all the way there yet! I also feel that Deulofeu for the near future will be better coming off the bench against defenders having tired themselves against another kind of player for the first part of the match. Hopefully he'll be able to start games successfully soon.
David Greenwood
3
Posted 16/10/2015 at 19:46:03
Excellent preview as always Lyndon.
Very confident about tomorrow. They are just a name now, nothing to fear man for man. Let's get right in about them and get the three points.
Frank Sheppard
5
Posted 16/10/2015 at 19:58:19
We have had a good run of results against these unpleasant Mancs for quite some time time. I hope it doesn't end tomorrow.

3 points would cement a pretty good return so far in a tricky start. Would be DELIGHTED with a tough uneventful 1-0... Please !
Barry McNally
6
Posted 16/10/2015 at 20:49:34
Mirallas has to start, he'll be like a caged animal!
Alastair Donaldson
7
Posted 16/10/2015 at 20:50:01
No reason to hold back... they can score alright, but the defence is average, except De Gea. A lot of weight on Lukaku's shoulders (no pun intended)..the sort of game he needs to build on his his recent better showings.
2-0
Paul Kelly
8
Posted 16/10/2015 at 21:04:20
4-1 us. Heard it here first.
Phil Sammon
9
Posted 16/10/2015 at 21:06:18
'Mirallas has to start, he'll be like a caged animal!'
A forlorn figure pacing back and forth without any intent or purpose?
Sam Fitzsimmons
10
Posted 16/10/2015 at 21:20:08
58 years of age and I'm thinking like a 13 year old - 1 more sleep and we fly over for the game tomorrow. Think I'll have another 40% vol night cap!
Nick Entwistle
11
Posted 16/10/2015 at 21:22:43
When was the last time this fixture was 3pm on a Saturday?
Ian Bennett
12
Posted 16/10/2015 at 21:26:05
I'd put Del ahead of Lennon. They look shakey at left back, so his pace and creativity is needed.
Naismith is a big game player, and does score against them. He comes in for Kone for my starting XI.
Malcolm Bell
13
Posted 16/10/2015 at 21:30:57
Won't you come home, Wayne Rooney, won't you come home?
We've moaned 11 years long
You do the shooting Rooney, we'll get the ale
Act like there's nothing wrong

David Hallwood
14
Posted 16/10/2015 at 22:55:53
Nice one Malcolm(#12) but erm....no thanks, 2 years ago yes, but now-he's gone. Good summery Lyndon on a fixture 10 years ago was 3 easy points for the Mancs, prior to that it was a case of " Oh fuck just blow the whistle". I remember a midweek game(I think) and they won 2-0, but it could've been double figures, thankfully those days are gone.
IMHO opinion I'd like to see us start with a front 4 of Del, Ross, Miralles, behind Lukaku, and swarm all over them. Defensively they're not too good, certainly a long way from the Vidic, Ferdinand, Bruce & Pallister years.
A win for us, and it shows how far we've come, or even how far the Mancs have gone backwards, that I'll be gutted if we don't gat all 3 points.
William Colman
15
Posted 16/10/2015 at 23:00:10
Howard;
Coleman Stones Jagielka Galloway;
McCarthy Barry;
Mirallas Naismith Barkley;
Lukaku
That would do for starters! COYB
Matt Ostnes
16
Posted 16/10/2015 at 23:13:24
Just a minor correction: the match which Funes Mori started on Tuesday was from the South American Qualifiers to the World Cup in Russia 2018, not a friendly.
Up the Toffes
Mark Andersson
17
Posted 17/10/2015 at 01:27:19
Good article, Lyndon. Should be a good game if Roberto doesn't bottle it like he did the Liverpool game. Man Utd pose a greater threat than the shite did.
It would be a good PR to have Rooney come home. Ross would learn a lot from him, and watching the Rooney video he seems a decent guy, who could be successful manager one day.
Kieran Kinsella
18
Posted 17/10/2015 at 03:47:58
I heard that Cleverley and Pienaar are fit in which case we have an unusual selection headache for the subs bench.
Assuming we start with Howard, Coleman, Stones, Jagielka, Galloway, Barry, McCarthy, Barkley, Lukaku and two from Lennon, Deulofeu, Kone and Naismith, we have the following competing for bench spots: Robles, Browning, Funes Mori, Oviedo, Osman, Gibson, Pienaar, Mirallas, Cleverley, Rodriguez, and which ever two don't start out of Lennon, Deulofeu, Kone and Naismith. With Baines, Besic and Hibbert injured, and Garbutt on loan, surely this is the strongest squad we've had?
Obviously the team was better in the 80s in terms of starters but back then our subs were the lines of Warren Aspinall and Stuart Rimmer. There was a massive drop in quality from starters like Sheedy and Reid to subs like Langley and Wilson. Now we can go three or four left backs deep without seeing much of a drop in standard. I guess this is the power of the Premier League but it's amazing how things have changed.
Jim Lloyd
19
Posted 17/10/2015 at 08:28:53
It's a measure of our progress that we can take on the likes of City, Chelsea and United and be on equal terms with them, take on Liverpool and them thankful to escape without getting beat.
Kieran has just pointed out the strength in depth we have now and it is amazing. I think it might be a bit early yet for Tom Cleverley and Steven Pienaar, as I don't know if they've had a run out with the under 21's yet; but who knows, Roberto might think they're ready.
We've got plenty of options and that is a massive improvement on most of last year.
I don't think we've had a slow start, I think we've done quite well, considering the teams we've played and we've not been outplayed by any of the top contenders so far, though City were better than us on the day.
And, as Nick (10) says, it's starting at a proper time as well!
George McKane
20
Posted 17/10/2015 at 08:39:47
Oh To Be A Blue, Wonderful Day, Saturday 3:00pm KO... This Is What Life is About. Full Day Of Footy and a Recovery Day Tomorrow.
It's All Too Much Everywhere it's what you make.
Up The Blues and Cosmic Grooves all The Way.
Ged Simpson
21
Posted 17/10/2015 at 08:47:54
What it's all about, George!
Jim Bennings
22
Posted 17/10/2015 at 08:51:08
Although United are a good team, they are not a great one anymore and they are beatable, so far this season we've seen Palace and Southampton win at Chelsea, then West Ham "phenomenally" win away at Arsenal, Liverpool and City so it's been a season when we can't say Manchester United at home is unwinnable.
I do think however it's vitally important we get off to a better start than against Liverpool and I think we really need to be a bit bolder in getting more men forward to support Lukaku, he was way too isolated against Liverpool especially when we were pushing for that second half winner.
When all's said and done its been a decent start not a great one and failure to win one of these two against United or Arsenal and it's just 3 wins in 10 and our progress starts to look kind of slow.
George McKane
23
Posted 17/10/2015 at 08:55:32
Morning Ged - - hope you are fit and well - - just feeling good with Saturday 3.00 KO - - love them - - would like to invite you to TDH and a match in the future - - on me - - be great to see you - - call me or email - -we can make arrangements.
Keep Floating on Blue Astral Plane 7 - - its good up here.
Ged Simpson
24
Posted 17/10/2015 at 09:34:45
Will do, George.
Mike Childs
25
Posted 17/10/2015 at 09:49:28
Hopefully RM will take the shackles off Jimmy Mac who obviously had his best game of last year against Man Utd. I fear though that his job will be to man mark Mata.
I'd open with Kone and Lennon as I see Man Utd as a finesse outfit so Naisy get stuck into attitude not as required from the get go and Deulofeu needs to be reminded to work hard.
Dave Abrahams
26
Posted 17/10/2015 at 10:03:19
Your team will do me Lyndon'to start the game.
It's important that Martinez shows far less caution than he used for the Liverpool game, that will not do at all, too frightened to try and win the game, and terrified of losing it.
Not too much adventure, but for God's sake have more attacking play.
Colin Glassar
27
Posted 17/10/2015 at 10:44:40
Howard
Coleman
Stones
Jagielka
Galloway
McCarthy
Barry
Lennon
Barkley
Naismith
Rom
Subs: Robles, Funes Mori, Browning, Cleverley, Mirallas, Deulofeu, Kone.
2-1 to Everton.
Peter Weaver
29
Posted 17/10/2015 at 11:13:22
Colin, I don't know whether that is your predicted line-up or the one you would would choose for this game. But either way, it should be good enough to give the Mancs one hell of a game – particularly now Roberto is able to call on 'an excellent bench'.
I don't know about you but I have reached a stage in my Everton watching when I demand to be entertained by my team rather than seeing three points as all important. I could never watch the likes of WBA, Villa and Sunderland on a regular basis and there were times in Moyes's days when my season ticket was passed to friends and neighbours !
I know that makes me 'a poor Evertonian' but that's just the way I've become after so many seasons of crap under the likes of Walker and Smith and the aforementioned.
As far as today is concerned, a win is very attainable but I shan't be calling for the manager's head if we go down 3-4 !
Tommy Webber
30
Posted 17/10/2015 at 11:17:58
I'm getting a positive vibe here from my fellow Evertonians and I have to admit it's catching. I think both Deulofeu and Lennon would give the Mancs a few questions to answer and Ross on his day can also tare up the pitch!
My only concern is with Howard, let's hope he's on top of his game today...COYB!
Nicholas Ryan
31
Posted 17/10/2015 at 11:28:03
Nick Entwistle 10 ........... 2004 was the last time this match played at 3:00 pm on a Saturday!

Harold Matthews
32
Posted 17/10/2015 at 12:24:27
These games after the international break are difficult to call. Jags and Rom should be okay but McCarthy had two tremendously tough battles straight after the derby and now he faces another. We know he's made of strong stuff but even he has his limits. Let's hope he manages to cope against a fresh as paint Rooney.
The same goes for Coleman and Stones. We've fared very well without them but it's still good to have them back. Whether or not they can last ninety minutes is another matter all together but we do have a strong bench these days.
Personally, I think they'll all be fine but Barry will have to watch for Mata eliminating Galloway by cutting inside with the ball on his magic left foot. Of course, the same goes for McCarthy and Depay on the other side.
We can't afford to give the ball away to a team that won't give it back so Martinez might go with Kone who links things up and gets the best out of Lukaku. That said, the ex-Wigan lad only got twelve minutes in the derby because we set up not to lose and we may go that way again.
United may not be as dangerous as City or Arsenal but they're a whole lot better than the other red bunch across the park and we'll probably need to score more than one goal if their best side turns up. Not impossible, even against De Gea. Our boys up front are pretty hot at the moment and I'll be disappointed if they fail to hit the net.
Add Your Comments
In order to post a comment, you need to be logged in as a registered user of the site.
Or Sign up as a ToffeeWeb Member — it's free, takes just a few minutes and will allow you to post your comments on articles and Talking Points submissions across the site.
© ToffeeWeb