Cleverley wins it at the death for Everton
26/12/2015

226 Comments [Jump to last]
Newcastle United 0 - 1 Everton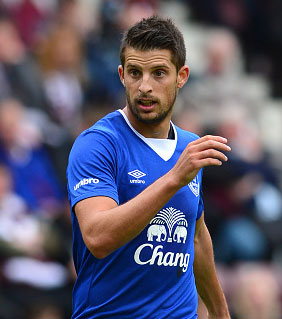 Kevin Mirallas earned a recall to the starting XI with his goal against Leicester
Tom Cleverley handed Everton a priceless Christmas present with the winner in the third minute of injury time, looping a header into the empty net following a corner to earn three deserved points.
The Blues were the better side on the day but the dominance they had enjoyed in the first half had largely been cancelled out by Newcastle after half time and it looked as though Roberto Martinez's men would have to be content with yet another frustrating draw.
There were chances at either end as the two goalkeepers kept their respective sides in it before Cleverley struck. Romelu Lukaku's scoring run was ended at seven matches but the Belgian looked odds-on to win in time added on, only for Chancel Mbemba's last-ditch tackle to deny him.
From the resulting corner by substitute Gerard Deulofeu, however, Cleverley despatched Rob Elliot's punch back into the empty net to send the travelling Evertonians and their team into delirium.
Roberto Martinez had made two changes, with Aaron Lennon and Kevin Mirallas coming in for Deulofeu and Arouna Kone who have both looked jaded in recent games and the Blues started well, hoping to prey on the uncertainty that Newcastle have shown this season.
Mirallas was denied well by Elliot at the near post after some nice control by the Belgian early on and his shot from 18 yards a few minutes later was saved comfortably by the 'keeper as the visitors continued to completely dominate the contest.
The hosts, meanwhile didn't really threaten until midway through the first half when Daryl Janmaat's cross just eluded Aleksander Mitrovic in the six-yard box.
At the other end, Lukaku was almost in on a ball over the top but appeared to be pulled down by Coloccini with referee Lee Mason waving play on and Elliot beat away the striker's right-foot shot on the next attack to keep things goalless at the break.
Everton initially began the second period in the same manner that had the first and looked to create an opening immediately when Coleman cross hard and low but, again, couldn't pick out a teammate in the middle.
10 minutes later, Janmaat did well to block from Cleverley at the end of a nice move from the Blues involving Lukaku, Mirallas and Lennon before Lukaku was denied once more by Elliott after the Belgian had rolled Mbemba in impressive style. And Lennon himself was then foiled by the 'keeper's one-handed save as the Blues began to assert themselves once more.
That would be the winger's last significant contribution before he was withdrawn in favour of Muhamed Besic in a double change that also saw Deulofeu come on Barkley but it was anyone's game heading into the last 20 minutes as limbs visibly tired on the heavy pitch and the game opened up.
Ayoze Perez flashed a shot wide and Aleksander Mitrovic planted a free header wide with the Magpies' best chance of the game before Howard made a great save to push Wijnaldum's header away.
At the other end, Ramiro Funes Mori's downward header was batted away off his goal line by Elliot and Coleman flashed a left-footer wide as the Blues pushed for a later winner, one which didn't look like it was going to materialise until Cleverley intervened with virtually the last touch of the match.
What could be a vital win lifts Everton back into the top half of the table into ninth – Stoke's win over Manchester United in the day's early game had dropped the Blues to 11th before kick off – and will hopefully provide the psychological boost to kickstart a run of wins to finally push Martinez's side up the table.
Kick off: 5.30pm
Referee: Lee Mason
Everton: Howard, Coleman, Stones, Funes Mori, Baines, Barry, Cleverley, Lennon (Besic 69'), Barkley (Deulofeu 69'), Mirallas (Osman 85'), Lukaku
Subs not used: Robles, Galloway, Gibson, Kone
Full coverage: ToffeeWeb Match Report
---
Reader Comments (226)
Note: the following content is not moderated or vetted by the site owners at the time of submission. Comments are the responsibility of the poster. Disclaimer
Matt McAllister
1
Posted 26/12/2015 at 16:37:34
Interesting that Deulofeu isn't starting

Is he injured?
Jim Bennings
2
Posted 26/12/2015 at 16:41:33
He's needed a break Matt!
He's become sulky and too easily frustrated in recent games and offered nothing over the 60 minute mark.
Its a chance for Lennon and Mirallas to push for a first team berth now, and we can hardly complain with the changes as we've hardly been winning games this last month.
Jim Bennings
3
Posted 26/12/2015 at 16:45:02
Deulofeu could be perfect for the last 25/30 minutes today especially if Newcastle are pressing in the second half.
Paul Hewitt
4
Posted 26/12/2015 at 17:02:01
Happy with the changes today. Should freshen things up. Cant believe Howard still in goal though.
Tony Hill
5
Posted 26/12/2015 at 17:03:37
I've no quibble with that selection and we have to bear in mind, of course, that we play again in less than 48 hours.
Brian Williams
6
Posted 26/12/2015 at 17:12:01
If Gerry's not injured then it's more than likely a change with a view to bringing him on later on when opposition legs are weary and his speed and trickery could be even more telling.

Martinez must think that the named team is good enough to beat Newcastle (I certainly do) to leave Gerry fresh to run rings round Stoke's Neanderthals in a couple of days. Having said that Stoke looked anything but Neanderthals beating Man Utd today.
Patrick Carty
7
Posted 26/12/2015 at 17:14:39
Happy enough with the team selection for a change, now lets get the three points.
Gordon Roberts
9
Posted 26/12/2015 at 17:25:14
Interesting that we have interest from the US to purchase the club and Roberto has stuck with Howard for all league games despite some poor displays
Bill Gall
10
Posted 26/12/2015 at 17:28:49
Well lets see what happens as a lot of supporters believe that Everton, as good as they are capable of playing, were to predictable with there threat coming from down the right hand side. Now that Everton are going with wingers down both sides, we be able to stretch their defense. Hopefully our defenders will step up with no stupid mistakes.
Need 3 pts.
Steve Davies
11
Posted 26/12/2015 at 17:46:01
Paul at 4. I can believe that Howard is playing. But like you disagree with it. RM will never drop him....
Sean Byrne
12
Posted 26/12/2015 at 18:16:21
Lee Mason is having an absolute shocker..newcastle should be down to 10 men and that was a definite penalty.
Patrick Carty
13
Posted 26/12/2015 at 18:21:30
Why do we never get decisions by the referee? We are in total control of this game and should be leading at the break.I am a bit worried on crosses coming into our box.
I would not change the team at the moment, but if its still the same after the next 20 minutes bring on Del.
Gordon Roberts
14
Posted 26/12/2015 at 18:23:10
A typical Everton display - plenty of possession, no goals and looking suspect at the back. Roberto will now be planning his second half substitution strategy!
Bill Gall
15
Posted 26/12/2015 at 18:25:38
Regardless of a terrible display by the ref Everton should not have to rely on the ref to not be ahead in this game. Unless Mirallas is under instructions to wander all over the pitch, he should be playing more on the left hand side, as no one seems to now were he is.
Chris Wilson
16
Posted 26/12/2015 at 18:26:31
Didn't really hear about any potential American takeover last season, Gordon Roberts; and Roberto put Tim back in the starting lineup immediately after his injury. I supposed conspiracy theories can always be found if folks are looking.
Peter Cummings
17
Posted 26/12/2015 at 18:31:00
Total domination yet not a shot on target Lennon putting in some great crosses but no takers,agree Mason giving us nothing except obvious fouls outside the area but bottling it inside Mirallas doing ok but needs to get out wider, for crossings,is it going to be another second half eff up???
Roman Sidey
18
Posted 26/12/2015 at 18:31:57
Cleverly is a definite weak link today.
Anto Byrne
19
Posted 26/12/2015 at 18:34:57
Here we have Lukaku a left footed striker playing on the right so on his weaker foot. Seems a bit odd. Same old story lots of possession trying to break down a packed defence and then looking decidedly nervous when they counter attack. Come on lets use our pace on the break and give them the ball.
Stewart Lowe
20
Posted 26/12/2015 at 18:35:48
I am watching this live and this is typical Everton, 75% possession for the first 30 minutes and no goals. This is a very weak and nervous looking Newcastle here. They don't have a defence like a West Brom or Leicester, its looking leaky yet we still cant get through it. Now we are in to the second half we might ease off like we usually do and allow them to attack us. My prediction 0-0 and more Martinez woes.
Jonathan Steinmetz
21
Posted 26/12/2015 at 18:55:30
Steve Davies (10) Tim Howard is the least of problems with this side. The defence gives up way too many free runners and free headers inside the 18. Bang on Tim all you want but changing keepers isn't going to improve the defensive marking.
Stewart Lowe
22
Posted 26/12/2015 at 19:02:12
This is bad. We make average / poor teams like Newcastle look good against us because we cant handle teams that counter attack us. Its not looking good. My 0-0 is looking a cert, but don't be surprised if Newcastle take this.
Jonathan Steinmetz
23
Posted 26/12/2015 at 19:04:33
As usual ... free header after free header. Mitrovic should have scored... Howard saves the day on another - yep Tim Howard is the problem here, clearly.
Christy Ring
24
Posted 26/12/2015 at 19:13:18
Loads of possession, and the Maggie's there for the taking, but as usual no end product. Martinez game plan and tactics are one dimensional. No plan B as usual.
Stewart Lowe
25
Posted 26/12/2015 at 19:16:59
Anyone remember Everton last season when we went about 11 games and couldn't buy a win? Well this is game number 5
Christy Ring
27
Posted 26/12/2015 at 19:20:16
How is bringing on Osman for Mirallas, going to help us score. Totally clueless.
Stewart Lowe
28
Posted 26/12/2015 at 19:20:56
I was only joking :)
Jonathan Steinmetz
29
Posted 26/12/2015 at 19:21:04
Stewart Lowe (19) I feel like this is an much better side than last season's. 3 spectacular saves by Elliot and half dozen more blocks kept this from being a thrashing.
Bill Gall
32
Posted 26/12/2015 at 19:25:49
As they say we will take the 3 pts any way we can get it. Another less than good performance that will be described as a phenomenal performance under poor heavy conditions that showed the tremendous character that we have in or team .
And then people who watched it will describe the game they watched.
Christy Ring
34
Posted 26/12/2015 at 19:26:44
OK, I'll settle for that.!!
Tony Hill
35
Posted 26/12/2015 at 19:30:33
I was ready to weigh in with an Armageddon analysis and how we were all doomed. That goal seemed to be floated in on fate. Let us hope so. Oh joy. Fucking fantastic - I've had a few Christmas ales but that makes me feel wonderful.
Ray Roche
36
Posted 26/12/2015 at 19:30:34
Thoroughly deserved. Much better team, first half it was men against boys, although Skunks came back a bit in the second half. But. WTF was Osman on for Mirallas all about? Osman still has something to offer but not in a game like that. Still, 3 points is 3 points.
Get In!!
Lev Vellene
37
Posted 26/12/2015 at 19:31:09
Thank you, Roman. That probably made it happen for us!!!
Ian Riley
38
Posted 26/12/2015 at 19:31:10
Merry Christmas all!
Gordon Roberts
39
Posted 26/12/2015 at 19:31:44
i hope Besic keeps his place for the next match, with possibly Macarthy alongside This win could kick start our season at a crucial time. Stay positive.
Darryl Ritchie
40
Posted 26/12/2015 at 19:32:37
No problem. Just the way RM drew it up. The 3 points were never in doubt ....really.
Tony Hill
41
Posted 26/12/2015 at 19:35:15
Lawrenson : " Newcastle think they've been mugged". Daft prick. God I'm happy.
Dean Rolstone
42
Posted 26/12/2015 at 19:36:08
Can't believe the ending to the game, delighted. We deserved the win and against 12 men too. The ref was hopeless, how he only booked 2 of their players is unreal the amount of fouls they committed not to mention the definite pen he didn't give and the 2nd yellow to their full back.
Thought we looked more likely to score with Lennon on, Gerry had a poor cameo and didn't look likely to create anything. I still don't see why there is a clamour for Mirallas to play, he showed nothing today that Kone hasn't done.
But I'm overall happy with the performance and in the end the result, let's kick on now and keep the positive results coming.
Mike Allison
43
Posted 26/12/2015 at 19:38:30
Tony, 30, agreed. What a bellend. If he looked at the stats on his own website he'd realise 3 or 4-0 (maybe 1) would've been much fairer.
We've got to start putting teams away.
John Hughes
44
Posted 26/12/2015 at 19:39:37
To be honest I thought Tim Howard earned his money today.
Anto Byrne
45
Posted 26/12/2015 at 19:40:27
Phew! Good old lady luck was on our side today. Perhaps the goal will give Cleverley some confidence. Good move taking Barkley off and as much maligned as Kone is he does provide the perfect foil for Lukaku who was very good today and a tad unlucky.

How is it we never get a penalty when its a nailed on decision? Overall a very frustrating game to watch when you are a one eyed blue.
Ray Roche
46
Posted 26/12/2015 at 19:44:04
Yes John, he kept us in it.
Tony Hill
47
Posted 26/12/2015 at 19:45:47
Also really encouraging to see the obvious team spirit at the end.
Mike Hughes
48
Posted 26/12/2015 at 19:47:08
There was never any doubt in my mind we'd win that (ahem).
Better than last Christmas / New Year already.
Progress at last - though still much work to be done.
Time for a drink or two.
(As an aside, Boxing Day has to be one of the best days of the year. The footy, the horse racing and drinking all the pressies. Why don't we have one every month?)

Jay Harris
49
Posted 26/12/2015 at 19:50:23
All I can say is Harold Mathews is Prophet,
Gordon Roberts
50
Posted 26/12/2015 at 19:50:52
Any news on Barkley? Was he injured?
Mark Frere
51
Posted 26/12/2015 at 19:51:12
Get in there! We definitely deserved the win on balance of play. We really need to be more ruthless though when dominating in games.
Thought Cleverley, Lukaku, Lennon, Barry and both our Full-backs had good games; Mirallas drifted in and out of the game but he still always looked a threat - that solo run at the end of the game was fantastic. He should be starting more games IMO.
The Central defence continues to be a big worry, both Stones and Mori were continually out-jumped on headers by the Newcastle forwards. We really need a dominant Centre-Back - when Jags comes back, he will be an improvement to our current 2 Centre-Backs... but he still isn't really a dominant header of the ball. I think we really over-paid for Mori, he was probably worth £6 million as a decent back-up defender... but no way £9.5 million.
Howard deserves some praise for a couple of outstanding saves to keep us in the game... but that doesn't still change the fact he needs replacing ASAP.
Roll on, Stoke. COYB!
Colin Hughes
52
Posted 26/12/2015 at 19:54:52
Just hope that hasn't taken too much out of us for Stoke on Monday afternoon as they have had a few hours longer rest and had a stroll in the park against United. Need to get that first back to back league victories for the first time this season now.p.s anybody think Barry has been outstanding so far this season after everyone thinking he was past it last season?
Jamie Crowley
53
Posted 26/12/2015 at 19:55:05
Roman @15-
Eat that humble pie sir!!!
I actually agreed with you in the interest of full disclosure!
YES!!!!!
Paul Jeronovich
55
Posted 26/12/2015 at 20:00:20
GET IN
Tony Hill
57
Posted 26/12/2015 at 20:07:21
Yes, I thought Howard looked generally more confident today in his handling and his save from Wijnaldum was top notch. That sort of last minute win can do wonders for confidence, just as Bournemouth did the opposite.
Tim Greeley
58
Posted 26/12/2015 at 20:07:22
I juat friggin love Everton so that was awesome. Warts and all!!
David Hallwood
59
Posted 26/12/2015 at 20:10:00
Just come back from the pub.............ecstatic but if ever a game summed up Everton's season this was it. Fannying about in the final third wanting to score the perfect goal; totally infuriating. Ross has forgotten how to run at defenders and seems to be playing within himself in a more 'mature' role.
It's so frustrating because if we had been a clinical as Leicester were last week against us, we would've won by 4-5 goals. Still not complaining, 3 pts AND a clean sheet.
Les Martin
60
Posted 26/12/2015 at 20:10:07
It would have been an absolute travesty if we would not have got anything out the this game. A neutral would say Newcastle "survived" and I bet when the dust settles,there fans say we were the best footballing side they have entertained so far.

I think the last minute gasper by Tom has let the genie out of the bottle. They know they are a good side and if you keep at it you get your just desserts.

Stoke have absolutely no chance on Monday, put your last pair of undies on a tonking!
Steven Twine
61
Posted 26/12/2015 at 20:11:17
Galloway for baines,lennon for del boy other then that same team for me. Barry and clevery awsome for me
Eugene Ruane
62
Posted 26/12/2015 at 20:24:13
This avvy was just a great match-watching boozer session - Brown Cow, Gateacre, 2pm - 8pm (almost a shift!).
Ok they won, but all the lads were out and the bevvy, slagging and laughs were plentiful.
Then as we (blues) start to feel a little deflated, that goal by Cleverly - we explode, dance, bang tables, hug...
GET FUCKIN' IN!!!!!
Wonderful!
Up the Toffees and a happy merry and a merry new happy (or something).
Brent Stephens
63
Posted 26/12/2015 at 20:24:28
Great game of football. end to end. We played very well adn had numerous shots blocked. A deserved win. Rom gets better every game. Well done Roberto.
Jay Harris
64
Posted 26/12/2015 at 20:28:39
Thought Barkley and Mirallas were providing our biggest threat with Lukaku looking disinterested and isolated although he could and should have had a hat trick.
Why oh Why bring Ossie on for the last 10 minutes. I am totally puzzled.
And can we please stop the Howard bashing. Yes we need a new keeper but please get behind the man in the meantime and stop blaming him for everything.
Harold Matthews
65
Posted 26/12/2015 at 20:32:07
Cheers Jay #44. No. not a prophet. Just thought they had nothing up front.
Alan Bodell
66
Posted 26/12/2015 at 20:32:49
We played lovely stuff today and at long last got a rub, they all played well today, Seamus was absolutely outstanding with that engine of his.
I like this rotating around the busy times and Besic in against Stoke to match their aggression but to do it cleverly and not get the red mist.
Oh, what a happy man I am tonight.
Martin O'Sullivan
67
Posted 26/12/2015 at 20:34:09
happy with the win so don't want to moan too much, but the formation is killing us... Maybe it's just me but I never feel confident playing this way, so quickly exposed and in 2 passes they are in our box, it's like every time we play it is a total gamble if our formation will be the more dominant or it fails and we are dominated... We could at least mix it up a little...Oh well, a win is a win and 3 more points but still not happy with how we play!!!

Mark Frere
68
Posted 26/12/2015 at 20:35:59
I'm sorry ,Jay, what game were you watching? 'Lukaku disinterested'?!?!
He worked his socks off and gave their defenders a torrid time throughout the whole game. Was a constant threat and probably deserved MOTM.
Mark Frere
69
Posted 26/12/2015 at 20:36:09
I'm sorry ,Jay, what game were you watching? 'Lukaku disinterested'?!?!
He worked his socks off and gave their defenders a torrid time throughout the whole game. Was a constant threat and probably deserved MOTM.
Graham Mockford
70
Posted 26/12/2015 at 20:39:59
Howard makes a match winning save
Osman comes on a sub
We score from a corner
The rules of ToffeeWeb have been turned upside down
John Malone
71
Posted 26/12/2015 at 20:51:47
Martin 58, my sentiments exactly mate, Martinez system for me is terrible we play with both fullbacks so high up the pitch the minute we lose the ball its heart's in mouths time!
We play the same system away as we do at home, as you said it's predictable and very open to the counter I'd prefer it a lot more if one fullback stayed as the opposite attacked!
If I'm being honest I think his tactics are shite and the only team who can do it and win trophies are Barca because they have the best players in the world!
Andrew Laird
72
Posted 26/12/2015 at 20:54:42
Was that win in spite of Roberto? Quite possibly. The personnel in wide positions changes every game yet the shape stays the same regardless of who we play, Roberto obviously does not see a problem with the tactics in giving so many chances away from any balls in the air or the alarming susceptibility to a counter attack. Long shots are seemingly banned so we can recycle the ball backwards to get another 0.03% possession.
Newcastle, Aston Villa and Sunderland are awful, there is no escaping that fact and they are the only teams we have beaten in our last league games. The familiarity of how our game pans out against any premier league opposition every week would suggest that we need subs on earlier after watching us be the better team for 45 minutes with little or no reward.
Paul Ellam
73
Posted 26/12/2015 at 20:55:56
We deserved the 3 points today. Bit scrappy how we got them in the end but after so many games where we should have won by 3 or 4 clear goals I will take that!
Very frustrating when we create so many chances and still struggle to win games, we must be more clinical to get anywhere near top 4.
Congrats on the result today though lads and great to see the team spirit on show when we did score the winner.

Tony Hill
74
Posted 26/12/2015 at 20:58:21
I've just watched the goal again. It was a really superb header. I understand some of the more reserved comments but at the moment I couldn't care less. Let's revel in the victory. We're still in the game, 6 points off fourth.
Yes, I'm a fickle so and so but a win like that is the purest hit.
Keith Monaghan
75
Posted 26/12/2015 at 21:01:09
Colin Hughes @ 47 - YES, Barry has been outstanding all season - and for me our best midfielder since he's been here.
Ross def not worth a place -would play Macca or Besic for him until he starts putting in a full shift and becoming a team player.
Delighted with the 3 pts - Mason lived up to my pre-match expectations - in spite of the low standard of the rest he shouldn't be on the premier league list.
Dave Pritchard
76
Posted 26/12/2015 at 21:03:08
Rom was good.
Well done Harold with his earlier 1 - 0 prediction. Didn't think we did 1-0s
How good was that last gasp goal? Not in quality just in getting the result. When did we last get a last minute winner? Someone out there will know.
Thought team selection was spot on and Lennon did well but the subs were a mystery. Besic and Ossie? Why?
Andrew Laird
77
Posted 26/12/2015 at 21:03:14
Submitted too early!
3 points is very welcome and we seemed to get a bit of luck for a change but we need to be far brighter at the back and Martinez' track record in that department is quite frankly abysmal. How exactly are we going to improve results when fundamentals are ignored? Why was the one man behind Ozil for assists on the bench against the second worst defence in the league? The Mitrovic header, let alone the wijnaldum one straight at Howard, were the 2 best chances of the game and it is a bloody good job that Newcastle are bobbins.
I love Everton and am happy with 3 points, I really hope this is what we needed to turn periods of superiority into unassailable leads but with our distinct lack of defensive nous I am dreading another wasted season. Prove me wrong Roberto.
Brian Foley
78
Posted 26/12/2015 at 21:03:59
Mark (60), well said. Jay (55), we are all entitled to our opinion but seriously your sentiments on Lukaku are so off beam. Were you watching a delayed highlighted foreign internet connection? It makes my blood boil. I have just watched the game in a Cardiff pub with my mates, no sound, jukebox on and about 15 St Joes players playing pass the glass around, pounds going in per pass corners, free kicks etc., but even through all this mania I was transfixed and frustrated at the proceedings to such an extent I could not celebrate at the end and had to leave.

WHY? Because I GET IT. I SUFFERED IT and in my own way I AM SICK WITH IT. It will never change. Jay your comment confuses and angers me. Although Newcastle were EMBARRASINGLY BAD Lukaku had a terrific game – even without sound or because of it the guy looked up for it which is more than can be said of any of theirs across 90 minutes.

Only 59% of the game according to the BBC website. Shite stat that cannot be right. Well done boys for pasting them RIGHT to the end. Bloody well washed out, seriously.
Mark Taylor
79
Posted 26/12/2015 at 21:08:08
Strange how people can see very different things from the same match.
We were worth our win, the better team throughout, although they were dangerous from crosses and on the break (but then who isn't against us?).
Much more good things offensively than defensively- as usual. We pass the ball well, Barry as fulcrum, ably supported by Cleverly. The full backs were much more threatening than of late. Lukaku is becoming the striker I didn't believe he would be; I think he has been putting in work to improve his technique so he now looks less clumsy receiving the ball. Lennon looked halfway decent, which is a big improvement on my current expectations and Mirallas, while intermittent, was a lot more purposeful and effective than Kone. Barkley likewise intermittent but I still see great potential in him, he seems like he can always find time when he's on the ball and while not everything comes off, he would worry me if he was an opponent.
Defensively, it was as usual, except that Howard actually managed to catch a few crosses- mainly because they were almost all ineffective and Newcastle obviously missed the lessons learned by everyone else, that a whipped in cross to the six yard box will likely yield big benefits. Funes Mori is short of the finished article but improving and Stones continues to exude class while also refusing to put his foot through the ball even when in tight corners when that is the best option.
Can't complain about the result or the performance overall. We do lack a killer instinct but we do have a core of very good players, best in some time. We'd be better still if we shipped out the 8 or so time wasters we still have on the books and put the money to better use on 3-4 players more worthy of the shirt.
Mark Taylor
80
Posted 26/12/2015 at 21:08:22
Strange how people can see very different things from the same match.
We were worth our win, the better team throughout, although they were dangerous from crosses and on the break (but then who isn't against us?).
Much more good things offensively than defensively- as usual. We pass the ball well, Barry as fulcrum, ably supported by Cleverly. The full backs were much more threatening than of late. Lukaku is becoming the striker I didn't believe he would be; I think he has been putting in work to improve his technique so he now looks less clumsy receiving the ball. Lennon looked halfway decent, which is a big improvement on my current expectations and Mirallas, while intermittent, was a lot more purposeful and effective than Kone. Barkley likewise intermittent but I still see great potential in him, he seems like he can always find time when he's on the ball and while not everything comes off, he would worry me if he was an opponent.
Defensively, it was as usual, except that Howard actually managed to catch a few crosses- mainly because they were almost all ineffective and Newcastle obviously missed the lessons learned by everyone else, that a whipped in cross to the six yard box will likely yield big benefits. Funes Mori is short of the finished article but improving and Stones continues to exude class while also refusing to put his foot through the ball even when in tight corners when that is the best option.
Can't complain about the result or the performance overall. We do lack a killer instinct but we do have a core of very good players, best in some time. We'd be better still if we shipped out the 8 or so time wasters we still have on the books and put the money to better use on 3-4 players more worthy of the shirt.
Ernie Baywood
81
Posted 26/12/2015 at 21:08:41
Obviously enjoyed that win.
They something wrong that I can't quite put my finger on. 2-0 up and we're poor 1-0 up we're below average, 0-0 good, and losing we're lethal.
Fundamentally we play the same football in each situation. The football is always good. You can rarely pick an individual as having a poor game.
We dominated that game. The first 20 minutes was as good as you'd see without a shot on target.
I'll enjoy the win but it can't paper over the rather strange cracks that are there. We need to have our heads screwed on regardless of the scoreline.
Mark Taylor
82
Posted 26/12/2015 at 21:13:54
Apologies for the double post- xmas booze must be making me trigger happy...
Eugene Ruane
83
Posted 26/12/2015 at 21:14:40
Jay (55) - 'Lukaku looking disinterested'
If that's your honest opinion, all I can say is I have no idea how you judge a performance.
It may have not been his best ever game for Everton, but I can say with absolute confidence he could have not put in more effort.
The lad ran his blood to water - MOM deffo.
Brent Stephens
84
Posted 26/12/2015 at 21:20:44
Lukaku superb! How the f.. anybody could say he wasn't interested! Ball control superb. Layoff superb. Running superb. Worth every bit of his £28M this season.
Dave Pritchard
85
Posted 26/12/2015 at 21:27:26
Agree that Barry has had a very good season. He was outstanding against Leicester and good again today apart from the daft challenge for the yellow card. Credit to him, am excellent example to the younger players (ie nearly all of the rest of the squad).
Dave Abrahams
86
Posted 26/12/2015 at 21:35:47
I'm happy with the result, especially winning with the last attack of the game. The same problems are still there, lack of movement giving the ball away with sloppy passing,lack of shots from outside the area, I could go on but happy that we won and, oh, Howard made a superb save to keep us in the game, well done Timmy.
Paul Tran
87
Posted 26/12/2015 at 21:37:27
Well, the fact hat we won and kept a clean sheet clearly means Martinez has to go. I mean, we played well, created chances, their keeper made a string of saves, etc.
Before you all come flying in, accusing me of exaggerating things, I don't think a 1-0 win at Newcastle means we're going to win the league. We played the usual good stuff, didn't get punished at the back for a change and got a break up front for a change. That's it.
Funny, isn't it. When we play well and don't win, we can't do 'winning football'. When we play excellent football against Palace and they get a goal from a corner, it's Martinez out and Palace are a throwback to the great Moyes days. When we go to Newcastle, play well and get an injury time winner, we're lucky.
I enjoyed the game today. There's a lot wrong with the team at the moment that deserves plenty of criticism. There's some good stuff happening as well and wouldn't it be good if some people on here just noticed and accepted it?
Christopher Dover
88
Posted 26/12/2015 at 21:39:23
Who says he cannot change tactics, master stroke to score with the last touch as it stops the opposition from scoring after us :).
Andy Walker
89
Posted 26/12/2015 at 21:39:42
Kin brilliant, off the settee. Thought Cleverley hada great game before the winner, which was the icing on the cake.
Also thought Barkley had his best game for ages, Lennon his best game since joining and Mirallas also looked excellent. So why the fuck the manager took the 3 off to replace them with the ineffective Osman, Besic and Delboy was beyond me. It just served to even up the match until the last second.
It was a very similar performance to the last few matches, Newcastle actually had the best chance but this time the opposition missed and we eventually scored.
As ever we looked great going forward and weak at the back. Nothing new, we just got the break today so let's enjoy it.
Jay Harris
90
Posted 26/12/2015 at 21:40:45
I guess it must be just me but I thought Lukaku did not put himself about today as much as usual and was lethargic with his shooting and made little effort to head the ball from crosses.
My view is if he had put 10 or 15 % more effort in he would have had a hat trick.
I will put me tin hat on.
John Hughes
91
Posted 26/12/2015 at 21:42:16
Of course the crosses were ineffective Howard got to them and caught them, he did his job today.
Tony Hill
92
Posted 26/12/2015 at 21:44:57
The best thing about Lukaku today, aside from another high quality performance in my view, was his reaction to the goal. One of genuine delight. That says a lot.
Lee Gray
93
Posted 26/12/2015 at 21:46:06
Roman 17 .....schoolboy error,thought we deserved everything we got today.
John Daley
94
Posted 26/12/2015 at 21:49:27
"Ross def not worth a place -would play Macca or Besic for him until he starts putting in a full shift and becoming a team player."
Take away the goals and assists Barkley has contributed so far this season and where would this side currently be?
The criticisms used to be cribbed from: he's wasteful in possession, doesn't create or score enough, runs down blind alleys and never tackles. His distribution has since improved, he's chipped in with a decent number of goals and assists, retained possession much better and even been attempting a few clumsy arse challenges of late. He's been a much improved player this season compared to last, even if the 'spectacular' solo moments have seemingly been replaced by a less eye catching consistency.
What evidence is there to back up the claim that he's 'not a team player' because his actual teammates certainly don't seem to share those feelings?
Sam Fitzsimmons
95
Posted 26/12/2015 at 21:56:14
In a very competitive season, three points away from home which keeps us looking up at a European place and we're still playing some decent football....that was a great result. On top of that we kept a clean sheet and Martinez made good tactical substitutions to change the game. We also got the chance to see some players returning from injury and fringe players like Lennon and Mirrallis got a chance to share the burden of expectation from the fans. Besic did well, didn't really didn't put a foot wrong. Mirrallis got more game time and there's a fair few on here believe he deserves a run of games. Howard had a good game, he seemed a bit more active in his six yard box and he made a crucial point blank save. As a team we pressed the ball with a bit more urgency and purpose. It was also great to see how much it meant to the team at the final whistle. We groundout a result today and I would take results like that until the end of the season.
Grant Rorrison
96
Posted 26/12/2015 at 22:07:24
I must have watched a different game to some people as I thought Lennon was one of our best performers and should have stayed on the pitch tonight. I am big fan of Mirallas and he produces moments very few players can but he was largely anonymous tonight and probably should have went instead.
Thought Lukaku was unlucky not to have a hat trick tonight and would have done but for their goal-keeper producing some excellent saves and some dogged and sometimes cynical defending by Newcastle.
I'll take the three points though. No more than we deserve, not just tonight, but for all the excellent attacking performances we have had this season that have been undone by a lack of ruthlessness or some bizarre and soft goals conceded at the other end.
Graham Mockford
97
Posted 26/12/2015 at 22:10:06
Eugene #73
Jay Harris is a serial Lukaku critic.
His best ever was 'Lukaku is the worst header of a ball he has ever seen in an Everton centre forward'
I guess that says it all.
Peter Cummings
98
Posted 26/12/2015 at 22:11:26
Posted at half time total domination, no shots on goal, second half 50/50 no shots on goal, but still dictating play,finally we got the fully deserved win with a header,not a shot, Yet some are saying we were 'lucky'
We played on a rain soaked heavy pitch against a team which weren't short on fouling every time we got near the area and a ref who turned a blind eye to obvious yellows, one pen, and at least one double yellow against us,so finally justice was done MOM for me, Coleman, with Howard second with two crucial saves when it mattered.
Derek Knox
99
Posted 26/12/2015 at 22:13:15
Happy Xmas and Boxing Day to everyone on the site!
Unfortunately didn't manage to see the whole match, (dodgy internet connection, at relative's, in remote part of North Wales) but I did manage to see domination again, and was beginning to resign myself, to an undeserved 0-0 draw, when Cleverly registered his first goal (of many I hope) to seal the win!
Let us hope that this is the springboard we needed, to go on to better, and greener pastures in the Prem League Standings.
At least Bobby made a few changes, but not quite the ones, I would have, but there again, he is the Manager. I wouldn't mind betting that LVG would, at this moment in time, swap places with Bobby.
I am disappointed with our last four games, and moreso, the results, but at least we have some degree of hope for the future.
Wish everyone a Happy New Year, and thanks Lyndon and Michael for giving us this wonderful fan site, (got to be the best, there is).
COYB
Dennis Ng
100
Posted 26/12/2015 at 22:14:21
I thought the performance was average.
Lots of possession at first but not direct enough to threaten them. We got off the hook when they missed a few good fairly open chances. Like the commentators said many times, easy on the eyes, not much results, so this result is very good. 1-0 is a bit lucky, not undeserved but it could have gone either way had any earlier chances been taken.
Still scratching my head on taking off Mirallas and Barkley, but I agree Barkley had a quiet day. No complaints of the players really. Barcodes played better 2nd half and their GK had a good game until the last play. Barcodes has had some moments in the league (beating some big names) so not as pushover as Villa Sunderlan. Hopefully we can keep more clean sheets like this.
And congrats to Cleverley for his first Everton goal. May more come our way!
Trevor Lynes
101
Posted 26/12/2015 at 22:15:08
Barkley had been booked and continued to have a go at the ref so his substitution was a good move.
Brent Stephens
102
Posted 26/12/2015 at 22:27:15
Peter #87 "no shots on goal". Watch it again, pal.
Tony Abrahams
103
Posted 26/12/2015 at 22:29:08
Also thought Lukaku, played very well. He's improving all the time for me, thanks to his agent ironically. He's the one who told him he was playing like a girl!!
Tony Abrahams
104
Posted 26/12/2015 at 22:29:15
Also thought Lukaku, played very well. He's improving all the time for me, thanks to his agent ironically. He's the one who told him he was playing like a girl!!
Colin Glassar
105
Posted 26/12/2015 at 22:35:08
Just got home after a long round trip to see that game. I thought we were brilliant FULL STOP!!
I can imagine, without reading any of the above comments, that opinions will be divided but the consensus amongst the away supporters is that we've got a bloody good team and we are on the right track despite some recent disappointments. The first half display was breathtaking at times.
Mike Keating
106
Posted 26/12/2015 at 22:38:03
Spot on, Eugene. I think he was let down by the players around him. If we keep this guy, I will be very surprised as players nowadays could not give a shit beyond their next move.
Just reading Howie's Autobiography Different League, different attitude and a gulf between players then and now.
Tony Hill
107
Posted 26/12/2015 at 22:51:55
Credit to you, Colin, for making that journey. Did we have a full turn out?
Steavey Buckley
108
Posted 26/12/2015 at 22:59:04
The pitch at Newcastle favoured the home side, because the heavy pitch slowed Everton down but helped the Newcastle defence to recover in time in last ditch tackles and blocks.
I do believe if Everton played Lennon and Deulofeu on both wings (or even play Baines on the left side with Brendan Galloway at full-back), Everton would be more decisive and threatening up front.
As it was, Mirallas flitted in and out of the game at Newcastle because his attacking instinct is to go inside and have a shot and bypass the wings, which provides less support for Rom or someone else around the penalty area.
Roman Sidey
109
Posted 26/12/2015 at 23:53:54
Lee, Jamie and Lev; yep. Humble pie in this scenario tastes pretty good. To be fair I said that about 25 mins into the match and wasn't wrong at that point.
Mike Andrews
110
Posted 27/12/2015 at 00:12:58
(Apologies to fans of My Fair Lady, if such a thing exists)
All three points at St James' Park,
Just one goal when all seemed dark,
Ahhh thank you Tom Cleverley.
Andy Crooks
112
Posted 27/12/2015 at 00:14:34
At last we got a bit of luck after a really good show. Lukaku is the biggest asset we have at the club. In my view, he will be a world class striker; I thought he was superb today.
Terry White
113
Posted 27/12/2015 at 00:22:02
Dave (#67), last gasp winners, there are probably more, by Lukaku at West Ham last season, Billy (last kick of the season) and Osman, both against Portsmouth.
Kase Chow
114
Posted 27/12/2015 at 00:32:44
Andy #97 totally agree
Where would we be without Lukaku?
Mark Andersson
115
Posted 27/12/2015 at 00:58:26
Great to see the reaction of the player's at the end.
Barry was my MotM as usual polar views to the game I watched. Big Rom put a good performance in, I like Cleverly as he moves the ball quicker and forward better than McCarthy. Against teams like Newcastle he is a safer bet, on the other hand McCarthy should be used when playing better opposition.
Not in a million games would McCarthy have been in the right place or attempted to score the goal Cleverley scored. Can't say overall we have improved as Necastle spurned a chance to get the first goal.
Stoke will be a tougher test, but let's just hope we take heart and belief after today's game.
Paul McGinty
116
Posted 27/12/2015 at 01:05:32
USA expat visiting family so of course my son and 87-year-old mom trekked up to Geordieland.
Obviously we dominated possession and chances. Their one big chance they missed late on; we finally got the slice of luck we deserve. Big Rom deserved a goal – standout performance.
In a hostile environment on a crisp pitch we played our game and for the most part defended well. Apart from Rom, Barry was immense and ran him close for standout performer.
I thought Mirallas and Lennon were fine – the latter linking up with Coleman nicely while Kevin was always a goal threat.
When we switched to 4-3-3 later on, I didn't think we were as effective but whatever – a win's a win.
I thought Rom's first touch on a really fast surface was a joy – completely different than 12 months ago. He bullied their back four.
Stoke will be far different because Shawcross etc are a tougher promotion than the four they faced today. I hope Roberto starts the same 11 as today but, with Kone not getting a game today, I am thinking he will be rotated in.
Ian Riley
117
Posted 27/12/2015 at 01:13:47
How lucky we are to have lukaku in our side. A top striker whom will only get better. Chelsea look a bit silly getting rid of him now and our concern should be how long we can keep him? He plays the lone striker and in recent months has worked his heart out to hold and score. Yes he can do better, score more goals and run faster but so could all strikers.
Today we showed, we are prepared to work to the last minute to win. Something we have lacked in recent times. These run of games are about results not performances. Keeping the energy levels and concentration going are key to more wins. Expect lukaku to get at least two goals on Monday.
Mark Harris
118
Posted 27/12/2015 at 01:43:13
Look at the way the boys celebrated today. Showed they're in it together and well up for it Europe.
Pete Lloyd
119
Posted 27/12/2015 at 02:08:35
Thought it interesting that Geri, at the third attempt to take a corner off Bainesy, actually put it in the danger area and we scored a GOAL!!!!!!!
Paul Ward
120
Posted 27/12/2015 at 02:54:21
Colin 92, I think you are very easy pleased if think they were brilliant. To me Martinez has them playing like they were in a training ground game. Keeping possession, a couple of fancy tricks but making sure they don't get caught with the ball and don't shoot until you are 2 yard out. Also the recent disappointments you mentioned were created by the team.
Peter Fearon
121
Posted 27/12/2015 at 03:11:36
We played some great football, forced some good saves, kept pressing and won in dramatic fashion with the last attack of the match. NO WONDER SOME OF YOU ARE UPSET.
Steve Brown
122
Posted 27/12/2015 at 04:01:07
It's a game of opinions! Thought Barry, Ross and Rom were excellent yesterday - Barry has been our man of the season for me.
Amit Vithlani
124
Posted 27/12/2015 at 04:43:11
Pleased with the win and hope its the start of a few more. I am a Martinez critic but I have to concede he made some brave changes and had we he would have faced criticism for not picking the right the players.
A 6th win out of 18, a 33pc win ratio, is on a par with much of last season and means we are very much maintaining mid table form. To break out into the upper echelons I hope he finds the right formula for tomorrow's game so we can string two wins on the spin. Stoke looked comfortable and Arnautovic and Bojan will undoubtedly test our back line. Hope we take our chances when they arise.
Laurie Hartley
125
Posted 27/12/2015 at 05:04:12
What a difference I feel today from this time last year - I thought we were in serious trouble at that time - actually we were.
I thought that was a terrific performance yesterday. We always looked threatening going forward and were genuinely unlucky not to go in 2 goals up. Yes we played a lot of possession football but it was mostly in their half. We wouldn't let them out.
When we did loose the ball we pressed and we kept going even when they got back into the game and as a result were rewarded with "a last minute equaliser" - how sweet it is.
I thought Lukaku looked like a £28M striker and Barkley is working harder off the ball. I have to say I thought Lennon and Barry did a great job for us yesterday.
What a professional Barry is! Talk about leading by example - he bossed that game.
Stoke tomorrow is a tough assignment - but I am encouraged most of all by one thing - this team is together. I think we will get a result. It will be interesting to see how Ross Barkley compares with Shaquiri - over to you young Ross.
Charles Brewer
126
Posted 27/12/2015 at 06:13:07
That was an odd match to watch. By the end of the first half, we should have been 2-3 up, but a 0-0 draw would probably have been a fair final score. It's one of the vices of football that goals are very hard to score so "unfair" results aren't that uncommon.
In my opinion, something has happened in training which has transformed Lukaku from being as effective as a concrete bollard with the awareness of a grape to being the most effective and dangerous forward in the league (Vardy included). In earlier matches, the team was getting the ball in front of him, facing goal, which was always his most effective configuration. Yesterday, he was controlling the ball with his back to goal, battering through teams of defenders, shrugging off clod-like players climbing all over him, and was everything you could ask for from a centre forward – apart from scoring, which was at least partly due to a goalkeeper having an excellent match. And as remarked upon above, he has been playing with a mile-wide grin all season. Surely that can't just be joy at the downfall of Mourinho?
Someone, somewhere has worked with Lukaku to get his game on course. What we now need is for the same transformation on Barkley; we know he has the talent, we know he's as blue as Rooney, we now need a careful, thoughtful mentor to recognise his strengths, to nurture them, and to show him how to torture and demoralise teams that try to channel him into blind alleys with four players around him.
I thought all yesterday's subs were timely and sensible, the pitch was wearing out the midfield players and there was much to be gained by bringing new energy, it didn't particularly work, but leaving tiring players on can have much worse effects than that.
Having recently had draws that felt like losses, it was nice to have a win which felt like finding a tenner under the sofa.

Andy McNabb
127
Posted 27/12/2015 at 06:54:43
Slept through the game so about to watch some highlights. But after reading these comments, which game will I see???
Barkley was rubbish / He bossed the game and shouldn't have been subbed
Rom was MOM / He didn't put a shift in
Howard has to be replaced / He made a game winning save and caught everything
We should have won by a country mile / 0-0 was a fair result
We were outstanding at times / Usual Everton - pass, pass, pass with no end result
Stones oozed class / Our centre backs were out jumped for everything
Mirallas spent the match wandering around / Mirallas was our most direct threat
Sheesh - you guys are confusing. If 10 Evertonians witnessed the same crime and had to pick out the criminal in a line-up, would they choose 10 different people?
I am now intrigued to watch this match!
Merry Christmas and a Happy New Year to you all!
Phil Sammon
128
Posted 27/12/2015 at 07:36:23
Andy
I reckon 9/10 of those Evertonians would pick Howard in your criminal line-up.
Brian Foley
129
Posted 27/12/2015 at 08:37:58
Andy (#119) you won't get anything like the true picture off MotD like it was live and you know the result but let me tell you no Everton player put in a bad shift; however, Newcastle were ghastly and at home too.
Our passing game is lovely to watch but I agree with any sentiment leading to the need to kill teams off deffo.
Zack Yusof
130
Posted 27/12/2015 at 09:34:03
Posted this on another thread so thought I'd repost as this belongs here.
Great performance and result from the team who, to a man in my opinion, worked their socks off to give us all a very welcome belated Xmas present. Coming on here after the match brought this Evertonian (38 years spent supporting the club now and counting) crashing back down to earth, angry even. Some of the so-called supporters on here need a serious head check. Been a regular Toffewebber for years but am harbouring serious thoughts about giving this site a miss altogether due some of the utter shite written on the boards after matches. Good performance or bad, win, lose or draw, some of the sad sacks on here seem content to push their negative agenda slagging off the team and manager. Can't believe that after a performance like yesterday's, some are going on about our supposedly "average performance", " tippy tappy football", " not direct enough", " Lukaku / Barkley / Howard / Martinez / insert favourite whipping boy shit as usual. Really sad to see as I thought us Evertonians were classier than that. Have I missed something or is it now trendy to slag off the team and manager even when we play out of our skins away from home and win? Their goalie was the man of the match and some are still complaining about lack of shots on goal. Fucking sad really.
John Hughes
132
Posted 27/12/2015 at 09:55:51
Well said Zack there are a number who will NOT give credit to their favourite whipping boy even when they have a reasonable game.
Robbie Shields
133
Posted 27/12/2015 at 09:59:20
I saw that Zack...... Mainly because I agree with your post so much I logged in to post that I agreed with it, only to find it had dissappeared!!!!
As some other astute posters have already identified, we had 20 shots!!!!! 7 on Target!!!! Their goalie mad at least 5 top class saves. Yet some posters have said that we didn't have ANY shots!!!! WTF!!!!!! Really?????? Some also seem hell bent on focussing on high possession as being evidence of us being rubbish and innefective' again WTF???
We absolutely dominated Newcastle, away from home, had 20 actual shots, plus many other chances that didn't result in a shot due to last dash defending from really dangerous byline crosses.
Seriously!!!!!!! Some posters on here need to take a good hard look at the match again, and then themselves. This could well turn out to be our Oxford moment, ironically with a league game against Stoke coming up and then possibly another Cup match, a final at that!!!!! Now wouldn't that be a nice repeat of history.
We need to start believing in this fantastic young side.
Ray Roche
134
Posted 27/12/2015 at 10:01:44
Charles#118
"By the end of the first half, we should have been 2-3 up but a 0-0 draw would probably have been a fair final score."
You obviously didn't watch the match, then. They only had one effort on target and that was in the second half. Everton were in a different league to Newcastle, especially in the first half, and if we'd have been 0-3 up at half time it might have been a more accurate scoreline reflecting how we had dominated the game. Their keeper was different class.
As a whole, that was a very good performance and anything less than 3 points would have been a travesty. MOTD was, as usual, no reflection on the game. I can't believe some of the comments on here. I wonder if drink has played a part in the assessment of some fans ...
Zack Yusof
135
Posted 27/12/2015 at 10:07:32
Thanks John and Robbie. You guys have expressed exactly how I feel a lot more eloquently and without the swearing! I know football is a game of opinions and all that but surely credit has to be given when it's due.
Ben Jones
136
Posted 27/12/2015 at 10:07:59
I think the good thing about playing Stoke is they don't cross that much, we seem to defend alright when they try to play through us, we just can't defend any balls to the box!
I fancy us winning that, rotate the team slightly again, and we'll beat them!
Phil Sammon
137
Posted 27/12/2015 at 10:08:00
Ray 125
I think Charles meant we could have been '2 or 3' up.
Ray Roche
138
Posted 27/12/2015 at 10:11:31
OK, Phil, I can see what you mean, depends how you read it. But 0-0 final score? Really?
John Malone
139
Posted 27/12/2015 at 10:19:06
Andy McNabb 119, was you asleep because you've just got back from a covert mission in Syria?
Phil Sammon
140
Posted 27/12/2015 at 10:22:35
Ray
I think that's what he meant anyway.
As for 0-0...it was 30 seconds from that scoreline.
Their keeper made a number of decent saves with his feet and a smart stop from Lennon's drilled effort...but I don't think he saved anything that you wouldn't expect him to.
I've re-watched the game and we did make chances. The problem is 1) We didn't take them, and, most importantly... 2) Martinez genuinely believing this is lesson learned.
By all means take the positives... I'm doing the same myself. But 'lessons learned'??? The flow of that game is the same that has seen us win one in the last six. That is not a lesson learned.
Zack Yusof
141
Posted 27/12/2015 at 10:31:07
We kept a clean sheet and won. Away from home. Isn't that a lesson learned?
Peter Gorman
142
Posted 27/12/2015 at 10:40:17
.....only if it is a lesson learned Zack. Don't hold your breath, we'll be revisiting this discussion soon methinks.
Zack Yusof
143
Posted 27/12/2015 at 10:42:11
Yup I think so. Well we'll soon find out soon enough on Monday. COYB!!!
Peter Gorman
144
Posted 27/12/2015 at 10:45:19
Love your enthusiasm. COYB indeed!
Ian Jones
145
Posted 27/12/2015 at 10:55:09
I wonder if the difference in opinions in how we played as a team and how each individual performed yesterday is determined by how they saw the game. Live on TV, live at the game or just the highlights.
Completely different perspectives. I don't go to many games at Goodison so rely on TV.
Last season I sat in the Park End and saw Lukaku point to where he wanted the ball. Baines looked up played a decent ball down the line. Lukaku didnt run for it. On highlights on TV commentator says aimless ball from Baines!

Les Netherwood
146
Posted 27/12/2015 at 11:01:22
It seemed as though we would never score after playing so well. Howard looked OK for a change but Barkley seems to have gone right off. He should be on the bench, give Naismith a chance.

At least Mirallas started but needs a few games under his belt. At last Kone was not involved. A welcome three points.
Paul Thompson
147
Posted 27/12/2015 at 11:12:08
On Rom's improvement, check out the piece from The Guardian:
http://www.theguardian.com/sport/2015/dec/25/romelu-lukaku-Everton-newcastle-boxing-day
Link
He clearly saw the problem and worked incredibly hard to improve is technique. The guy is a real pro and now a delight to watch.
I thought Lennon had a decent game and his hard work gave Seamus more freedom to attack. Also good to see Besic get some game time. Thought he did wel when he came on.
Norman Jones
148
Posted 27/12/2015 at 11:29:16
Given our season so far, I suspect most of us would settle for a seventh or eight place finish. I know there are the dreamers who still cling to the belief that we are only a shrewd manager away from being a top four side but, to my mind, there is a soft centre to the team that will only be slightly alleviated by the return of Jagielka.
Granted we triumphed yesterday as the manager elevated our last second scorer to the level of greatness but welcome though the points were , we were only playing poor old Newcastle. So lets keep the lid on this Roberto-led acclamation.
The truth is that with 20 games to go we need to average nearly 2 points a game to reach the final placing Moyes made our norm - and most of us weren't always enamoured of him. Personally, I don't rate our chances of achieving that level of consistency and not necessarily merely because of the shortcomings of 'our present manager'.
Eugene Ruane
149
Posted 27/12/2015 at 11:30:51
This is not a criticism of the performance, thought we played well for much of the game, but this thing of shots 'on target' means nothing to me.
I mean Mirallas had a shot 'on target' that I could have saved.
Surely 'dead good shots on target' or 'fuck me that was close' should be how we judge.
They had a chance to win the game with a header that wasn't on target, but I bet our arses went a lot more when that whistled past the post than their's did with Mirallas shot.
Paul Andrews
150
Posted 27/12/2015 at 11:32:31
Paul 136, We debated recently the possibility of a young player working on his touch, and improving it. Some doubted the chance for a player the age of Lukaku to achieve that. The evidence of his improvement in recent games is obvious to see.
He has worked on his touch and reaped the rewards.
David Hallwood
151
Posted 27/12/2015 at 11:40:15
3pts, clean sheet, what's not to like?? well this wouldn't be TW if it was only gushing praise. Firstly until the goal the game was like groundhog day-total control and nearly undone by yet another undefended cross, if that would've been a Giround or a Kane that would've been buried.
The next two games will be a test, and we can't afford anymore lapses in concentration a la Bournemouth. Even allowing for take each game as it comes, to quote Keegan, I'd luv it, I'd luv it, if we tonked the Spuds. If there's one team I detest is the King's Own Delusionals. Talk to any Spurs fan or go on any of their fansite, and they have this sense of entitlement, because they're a massive club?.The clamour from the London media for Spurs to take its rightful place among the elite , really pisses me off.
One day everything will click into place and we will give a team a good tonking-please let it be Spurs.

Christopher Wallace
152
Posted 27/12/2015 at 11:42:21
Out of the continent and it's the first game I've missed in years.
I'm unfamiliar with Zack, and his posting history, but I'm more inclined to believe his assessment of the game.
Tony Rutherford
153
Posted 27/12/2015 at 11:44:15
Zack, understand the frustration and a win with a clean sheet away from home is of course a great result especially when they have been on a bit of a roll!
Having said that I can't understand why we can't have the best of both worlds.
I agree going forward we are attractive and create a sackful of chances but why can't we also have that defensive discipline as well.
Our team in the 80s had an abundance of both and that's why we were successful!
I know the spine of the team is young and will get even better, but my worry is if we aren't up there due to our defensive frailties, how many of these players will still be with us!
I love the blues but just don't want to look back at the end of the season and think it was a season of missed opportunities.
One big opportunity is to tighten up defensively!
Jamie Barlow
154
Posted 27/12/2015 at 11:45:31
Zach, you should give the Live Forum a go. You'd love it.
Jay Wood
155
Posted 27/12/2015 at 12:00:06
WHAT. A. RE. LIEF!
We all needed that. A WIN! The club, the team, the players, the managers, but perhaps most of all the fans.
Is there anything sweeter in football than a virtually last kick of the game victory?
The Beeb's match report (and my favourite footy ap, Stats Zone) shows the 'default' position of players over the 90 minutes, which highlights just how advanced and encamped we were in the Barcodes half. An absurd 77% possession ratio in our favour at some point in the 1st half.
Normally I don't care to dwell on the ref's performance, but Lee Mason was far too lenient on Newcastle, particularly in the 1st half when time and again promising breakaways by Everton were cynically halted in their tracks. It's extremely hard to break through defensive lines at this level, but whenever Everton did so in the first half, the resulting fouls were not even subtle and stopped us from doing real damage further forward.
Janmaat should definitely have walked for his second bookable offence after his foul on Ross. The same player pulled the same trick earlier in the season at Swansea and saw red in the 1st half for 2 bookable offences, similar to those he committed yesterday.
That said, it looked to be another Groundhog Day until Cleverley's clever header. That was extremely cool and controlled in the heat of battle. Well done to the lad!
As for the subs, I was disappointed Lennon went off. He was very good and effective yesterday.
I don't understand the continued criticism of Ross, either. Some say he doesn't offer enough, and yet ... he is in the league's top 10 for both goalscorers and assists.
I really like how he is evolving and is a completely different player to the lost soul he looked last year. He is becoming increasingly difficult to shift off the ball in possession, has a change of gear that carries him away from harrying players, can play it short and long and has an eye and the ability to pull off the killer pass on occasions. Yes, he still is inclined to miss a simple pass now and again, but I'll take that given all the other attributes he brings to the team.
I very much doubt this is an 'Oxford moment' as some are describing it, but it may be a 'Cahill at Sunderland' moment. A few years back under Moyes, we were on a similar winless run and on Boxing Day at Sunderland, in a dire game, Tim popped up with a last minute winner and we went on a decent run.
Let's hope Monday, home to Stoke, gives us - finally! - two consecutive league wins for the first time this season.
Brin Williams
156
Posted 27/12/2015 at 12:03:48
Lukaku did not get a goal but he had effort and concentration written all over his face for the full 90+ minutes - 10/10.
Oh, and I thought our scorer was very 'cleverly' positioned to score that winner and was probably the only one facing the goal as the opposition were rushing out. Great finish - great result.
Steven Jones
157
Posted 27/12/2015 at 12:18:05
Great passion, great result ... just look at Arsenal yesterday.
Concerned about recovery time given we were away and an evening kick off, whilst Stoke were at home and are just down the road from Goodison.
I hope that Geri and Ross, given something of a breather, along with Kone can give some energy levels tomorrow.
Hopefully we get the possession right and run Stoke ragged. All of our games recently have been hard on the fitness and played in the last 20mins like an FA Cup game.
If Ross, whgich is his greatest quality right now, can get on the ball and prod and pry and make Stok go backwards and cahse the ball then we can use Baine and Geri wide and Kone making his runs and we can come out on top.
Stoke have played so skilfully in their new 4-3-3 against both Manchester clubs and if they try a high press then they can be run into the ground.
Could go either way ... but something special is close at hand ... even if we get beat 4-0 like the Arse (still potential champions this year) - we should not stop believing in these players and what the manager is trying to develop. It will take a while longer but things are progressing nicely!
Darren Hind
158
Posted 27/12/2015 at 12:27:05
I'm made up. We were a bit fortunate that the man of the match, decided to punch instead of catch, but we deserved that change in luck.
We were the better team by some distance last night and if Mason wasnt such a cheating fucker we'd have won by some distance.
I always believe that if you criticise the manager after a loss, you should be prepared to credit him with a victory . . and this was a big victory.
Fair play to Martinez, he was brave enough to shuffle the pack and he got his reward. Tomorrow will be a stern test but more of the same will do me
Simon Jones
159
Posted 27/12/2015 at 12:27:35
Loved it! Well done lads, got me ticket for Stoke and hoping for a great game, as they are having a good run too.
Jim Potter
160
Posted 27/12/2015 at 12:32:17
Zach - I used to love this site - now it's way too negative for me, so I only dip my toe in occasionally.
A lot of the same people rehashing the same old piss and bile, ad nauseam.
I reckon it must get the Organisers (of the site) at least a bit down. Does it guys?
I feel like Kung Canute trying to order back the tide. (So, maybe that makes me insane and the doom mongerers right after all).
FFS - cheer up lads - absorb some festive cheer! Your version of Ho Ho Ho leads into Ho Ho Howard is shit ... Barkley is shit .... Martinez is .... etc,.
Jay Wood
161
Posted 27/12/2015 at 12:34:07
Paul @ 136. Thanks for that link.
An impressive 2015 goal haul by our Rom, 29 to date this calendar year breaking Inchie's record of 1984. By comparison, Kane 27, Aguero 25 and Diego Costa a pitiful 11, playing for the reigning champions!
In a recent interview he spoke of coming more to terms with the physical man-handling at this level, thanks to sessions with ... Big Dunc! The gist of it was ... get yer retaliation in first!
I love the way he is beginning to bully, turn and stampede over defenders now.
He is destined for the very top.
Kunal Desai
162
Posted 27/12/2015 at 12:34:17
I didn't see anything wrong with Lukaku's performance. With a bit more compusure he may well have had a goal or two placing his chances rather than thrashing it towards goal but surface conditions probably meant it he had no choice than to get his shots away. Certainly for the chance that led to the corner in which Cleverley scored from he took an extra touch instead of firing past the keeper.
With all the chances and goalscoring positions he gets into i'll be surprised if he doesnt get over 30 goals this season.
First time this season we have won a match scoring less than 3 to win it. Same scoreline again please against stoke tomorrow will do.
Trevor Lynes
163
Posted 27/12/2015 at 12:36:53
If Lukaku was valued now it would be in the 50 to 60 million range. He has developed into an almost unplayable striker with strength and pace to burn. This kid is very young and his actual potential is limitless. As I have said many times Barkley needs to add goals to his game if he is to reach is potential.
Without Lukaku and to a lesser extent Mirallas we are pretty punchless. We do play fine football but do not score often enough to really become top contenders in a very open division. I fully agree with Murphy who said that he enjoys watching us and that we can play top quality football but we fail to kill off games that we dominate. Players like Lennon, Deulofeu, Kone, Barkley and both of our midfielders do not score and that puts immense pressure on Lukaku. All of these players must chip in with goals more often as stopping Lukaku seems to be all that is required by opponents.
We should have at least 30 points by now and that is not a lame statement. The division this season is so open and we are missing our best opportunity in years if these players I have mentioned carry on leaving goal scoring to Rom. Our defence is not water tight and we badly need a fully fit Jagielka back to steady the ship.
The players mentioned above should all make New Year resolutions to assist Lukaku in the scoring column.
Brian Harrison
164
Posted 27/12/2015 at 12:43:16
While its nice to play attractive football, winning is the most important thing. I know some posters are saying about the negativity by some of the posters. I think its more frustration than anything else, instead of the usual suspects occupying the top 4 places looks like apart from City and Arsenal the other 2 places are up for grabs. Which makes our dropped points against teams we dominated even more irksome this season. The chances of us getting a top 4 place will only come along every 4/5 years, this year could be are best chance. The added benefit would be that if we could get a top 4 spot we can keep hold of our better players. I am sure if this team can get top 4 and we keep all our players then a top 4 place maybe a more regular occurrence.
Paul Tran
165
Posted 27/12/2015 at 12:43:53
Martinez never changes a team - he did.
We never keep a clean sheet - we did.
We played tippy tappy shite - er, created lots of chances, their keeper MOM, more praise from the BT folk.
We're not fit - yet another late goal.
We never score from corners - we did.
Much more work to do, more of the same tomorrow, please!
Tony Twist
166
Posted 27/12/2015 at 12:44:58
Excellent result, well done one and all, that includes Martinez.
Darren Hind
167
Posted 27/12/2015 at 12:50:04
Paul.
Another late goal ? Those of us who backed Cue Card knew not to throw our 1-0 to Everton tickets away . .it was all happening late yesterday.
Mike Powell
168
Posted 27/12/2015 at 12:55:22
Great win we deserved it, can't believe some people on here slagging Lukaku off – I thought he was superb again.

I thought Barry and Cleverley played well and so did Besic when he came on. Deulofeu was poor but you can't say that on here because he can do no wrong. Barkley and Rom were superb – what a way to win it.

The ref was woeful: we had a clear pen and they kicked Barkley all over the place.
Ray Roche
169
Posted 27/12/2015 at 12:59:37
For all the lads who contribute on here but are now claiming that the negativity is driving them away, you are the lads who SHOULD be getting your finger out and proposing the alternative, positive argument. That's what debate's are all about. What do you do in match days? Find a pub full of like minded sheep, all bleating the same positive vibes, all bending over for Roberto, the New Messiah? Come on. Say your piece.
Illegitimi non carborundum and all that. You've earned the right to free speech, surely.
Kevin Tully
170
Posted 27/12/2015 at 13:15:42
Brian # 149. Interesting you say a chance of top 4 only comes around every 4/5 years. I think the given order of the P.L. has changed for good after this season. With new T.V. riches, every club can afford top level players.
The difference between a £30m player who has just signed for Chelsea, and a £10m player who has just signed for West Ham, or Everton, can sometimes just be the fact that the bigger clubs have to pay a massive premium. Look at the transfer fees Liverpool have shelled out lately! Ridiculous amounts of money for average players.
Just having good players in these smaller teams can upset the whole balance in the Premier League, as we've witnessed all season. Just by being able to hold the moneybags teams to a few more draws can blow the whole League wide open.
As you & others point out, it makes it all the more frustrating that we can't put a run together, but these 'freak' results are going to continue for a while yet. The bookies must be laughing all the way to the bank.
Terence Leong
171
Posted 27/12/2015 at 13:30:02
3 points are all it matter now. Glad that Cleverley opened his account for us.
That lad has got goals in him; we need to get more players opening their goalscoring accounts, and for others eg Barkley to start scoring again.
Goals from different players across the team will make us less dependent on the form of Rom, and make it more difficult for teams to defend against us.
Andy Crooks
172
Posted 27/12/2015 at 13:31:59
Jim # 146, take look again at Darren's post at 144. There has been plenty of praise given to Roberto.I really see this as a realistic site, not negative.
Colin Glassar
173
Posted 27/12/2015 at 13:46:01
Continually going over the same old ground (see Paul Tran's brilliant post #150) is quite tedious RR as whatever we say about Martinez, and the team, some will always come back with a "oh yeah, but they were shite" or "we were lucky" or even a "we didn't deserve that" etc, etc, etc.....
So what do you do Ray? Sit around with a bunch of Martinez haters with fingers crossed hoping that our result/performance will fulfill your prophecies of doom? Quo quid pro my friend.
Zack Yusof
174
Posted 27/12/2015 at 13:57:18
Jim, we are Evertonians, we moan and complain. That's what we do and over the years we've had plenty of reason to do so. That fine and most times I enjoy the debate which is why I come on here rather than Blue Kipper or the official site. I believe that Evertonians are some of the most clued up fans around but sometimes the negativity is just way over the top and counter productive.

For the record, I actually like the progress that we've made over the last few years with the young players we've got and the joined up football we are trying to play. Rather that then the hoofball we used to play under previous managers. It doesn't always work out but I'm glad and proud that we trying to evolve in the right way. Why not try and play like Barca. It's something to aspire to. Long may that continue I say.
Derek Wadeson
175
Posted 27/12/2015 at 14:05:26
Interesting that their keeper chose to come off his line for a corner and punch and we scored. If Tim Howard did that what could we say after all the name calling he receives for staying on his line.
Up until that point Elliot was man of the match. It's a good job with these fickle lines that our keeper has got such a thick skin and arrogance to go with it.
He may not be perfect but that save at 0 - 0 proved he ain't bad either,
DJ Owen
176
Posted 27/12/2015 at 14:21:12
I don't believe that winning in the last minute against a poor Newcastle side destined to scrap against relegation is proof in itself that "lessons have been learnt". Mitrovic had the game's best chance, and although Eliott made, what, 5 decent saves, Howard probably made the best.
On form, tomorrow is a much bigger test, against a formidably well-drilled side, on an excellent run of form, a team that just are not conceding away from home (other than, strangely, at Sunderland), that won 1-0 at Goodison last Christmas, with the best young keeper in the land, a team that loves crosses and set piece delivery etc. etc.
They've had only 1 game away from the Britannia in 5 weeks (@ West Ham) so should be well rested. They will even have had a few extra hours to recover from Boxing Day than our boys.
This is the sort of test that our players need to stand up, be counted, be strong at set pieces, both for and against. We will need to take whatever good chances we get - a conversion ratio of shots to on-target similar to yesterday's will likely not be good enough.
Win tomorrow, and yes, Martinez may say that lessons have been learnt.
Paul Tran
177
Posted 27/12/2015 at 14:30:37
Darren, well done for backing Cue Card, I had two beaten a head plus the shock of Don Cossack losing. Cleverley's goal certainly cheered up my sporting day.
We do score a lot of late goals for an 'unfit' team. We do create a lot of chances for a 'directionless' team.
I think this is a pretty balanced site, but there are plenty here who seem to say the same things regardless of what happens on the park.
Peter Gorman
179
Posted 27/12/2015 at 14:41:11
Colin, Paul et al; I am not sure it is fair to ride a high horse around your ivory towers up the moral high ground on this one.
I have no doubt you don't want to read the 'same old negative stuff' game after game but I am sure people aren't doing it because they get a big bang out of it; they are responding to what they see.
Similarly, I wouldn't be surprised if they, reading the same old 'IRWT< COYB, humble pie, exciting future, this could be our 'Oxford' after each game, also find that it gets on their nerves.
So why not debate it, perhaps with reason one can win another over to the argument. Or perhaps we could all, like Jim Potter, just 'dip our toe in occasionally' (though I suspect he really only occasionally dips his toe in because he so seldom gets a chance to say 'I told you so').
It is probably tedious of me to point out that I am sure everybody on TW loves their club but I find it tedious that people seem to overlook this.
My take on the win; happy - but one swallow does not a summer make. My memory extends beyond the last 90 mins of the ball getting kicked so I will reserve judgement before I accept a lesson has been learned. Just as I waiting to see the pattern before Newcastle that there were plenty of lessons to learn.
Dave Abrahams
180
Posted 27/12/2015 at 14:52:45
Peter (160) lot of sense there mate, basically lets just wait and see, very wise.
Darren Hind
181
Posted 27/12/2015 at 14:54:11
Colin
I wonder if you realise how utterly ridiculous you sound by constantly referring to "Martinez haters" ?
Do you really believe Evertonians "Hate" Martinez ?
Pull yourself together lad
Joe Foster
182
Posted 27/12/2015 at 15:18:05
Their high horses are more like dancing ponies.
Chris Gould
183
Posted 27/12/2015 at 15:23:14
If they aren't 'Martinez haters' then they are certainly 'Martinez extreme dislikers'.
I think many fans of this site find the constant criticism of RM to be drab, boring and not at all constructive. After a result like yesterday's, it simply sounds ridiculous.
Jay Harris
184
Posted 27/12/2015 at 15:23:17
Colin
I think you had a few glasses too many this xmas.
Why cant we enjoy a rare victory without turning it into another Martinez debate.
We all have opinions on the manager.
Some are extremely negative based on his record and some are full of hope based on the football the team plays at times and quite a few are still uncertain.
I am sure it would make EVERY Evertonian happy to see us win games with a "School of science" approach but quite a few do not have faith in this guy and it is not negative to debate that.
I have opinions on Lukaku that are at odds with perhaps the majority but I do not think it is negative to debate those concerns.
Hoping for another 3 points against Stoke tomorrow and perhaps more positivity will emanate.
Danny O'Neill
185
Posted 27/12/2015 at 15:23:26
I'm a self-confessed optimist Ray and always try to see the positives! Last night was a good match-winning performance; the stats don't lie, we just got the breakthrough we deserved later on than was comfortable. Unlike Norwich, it wasn't poor finishing that a cost us and unlike Palace, it wasn't bad luck. Their keeper absolutely kept them in the game; fortunately for us but unfortunately for the poor lad, it was his mistake that ironically presented the opportunity.
In response to the subsequent discussion on here regarding the approve/disapprove of the manager, I support Everton, not individual managers. That often means my inherent positive vibes are interpreted as being a so called apologist ......and I've had that labeled at me during both Moyes' and Martinez's tenure. I can live with that; as someone rightfully highlights above, debate is a good thing and what a dull world football would be if results went as predicted and we all had the same opinion (to which each and everyone is entitled).
What was there not to enjoy about last night? We dominate away from home in a style befitting of our great club and score at the most perfect time to snatch the points. Cue individual outbreak of emotion in a West London pub filling up with Arsenal fans ahead of their mauling by Southampton!!!
Love you Everton, just love you!!!
Ray Roche
186
Posted 27/12/2015 at 15:27:37
Colin Glassar #157
Colin, " Sit around with a bunch of Martinez haters with fingers crossed hoping that our result/performance will fulfill your prophecies of doom?"
I expected a better response than THAT , Colin. Where I sit in Gwladys St. there are some real beauts who give Osman, for instance, loads of stick even if he's not playing. Whereas our little section tend to rise above the "whipping boy" Colosseum. Mostly.
I am no more a Martinez "hater" than I was a Moyes "hater". They manage/managed the club I've followed for 60 years, therefore, I want them to do well. I have said before that I would love it if Martinez were to live up to the expectations that his first season led us to believe would become the future but he has failed due to his defensive frailties and naivety. Yesterday we played some wonderful stuff and should have won handsomely but had to rely on a last second goal. But I enjoyed the game and the performance. If Roberto can take his head out of his arse and see what the fans can see happening at the back, if he can use his substitutions better, and quicker, if he can cut out the sheer volume of phenomenal crap he might be worth keeping.
Incidentally, Paul Tran's "brilliant post" #150 (your words) only underline what a lot of fans have been saying. All the points he makes just emphasise how unusual they are...
Ray Roche
187
Posted 27/12/2015 at 15:40:14
Danny, nice post. In fact I could have written much of it myself, see my post #167.
Like you, I suspect, I have for most of my life enjoyed a glass half full attitude, in fact I've been happy if my glass has some evidence that at some time in it's life it has actually held a fluid of some sort or another.* A bit like the tide mark around your bath . Even after all the hoofs in the bollocks that are the Everton way I can still go to a game with expectations of a win. But sometimes when reality kicks in or the drugs wear off and a Martinez 89th minute substitution, a full back for a forward when we're chasing three points, just nudges you over the side.....
* a nice Cahors perhaps..
Danny O'Neill
188
Posted 27/12/2015 at 15:46:49
Ray, I'm more of an Italian fan so try a Vino Nobile di Montepulciano.....I think you'll approve!
Here's to tommorow; glad Stoke got that performance out of their system yesterday!
Ray Roche
189
Posted 27/12/2015 at 15:48:45
Thanks for the tip, Danny, we can each raise our respective glass when we stuff Stoke tomorrow... Cheers.
Colin Glassar
190
Posted 27/12/2015 at 15:51:37
Sorry if I was a bit OTT Ray, I just think we've played some amazing football in recent weeks but our defensive play has let us down time and again.
I know you, like I, only want what's best for the club despite whoever is in charge. I was at Goodison to see the Leicester game and tbh I was so gutted after the result I didn't even feel like eating for a couple of days after and even I was thinking that maybe Martinez had plateaued and it might be the best for all concerned if he moved on. That's why I agreed with Paul's post. He did change things around, even if our defence remains shaky, we did look fit and hungry and we did mix it up and we did keep going until the very end.
What more can you ask for? Last Christmas our football was dire and many, justifiably, we're screaming for his head but recently, results apart, we are playing some of the best football we've seen an Everton team play since the halcyon days of the 80s and that's not just my opinion but the opinion of many people in the game.
With minutes to go my biggest concern yesterday was what would another draw do to the players morale? Well that was answered by Cleverley's goal and the sheer joy and togetherness they showed. So surely, some of us have a right to be made up with the outcome?
P.S. on the drive back up north one of the guys was reading the post game comments on social media and one guy wrote, "Wtf are they celebrating? It looks like they've won the champions league and not beaten a shitty Newcastle team". That sums up for me what Martinez is up against. Damned if we do and damned if we don't.
Paul Tran
191
Posted 27/12/2015 at 15:53:52
Peter and frankly, everyone, can I make it clear that I have no problem with debate or criticism of Martinez? I give him plenty myself. I also don't talk in terms of Martinez - haters, or accuse people of wanting us to lose.
I am prepared to give him and the team some credit when it is due. I listed five points. Five things we did yesterday. Five things we should be doing more often. But we did them. And they seemed to go unnoticed by some on here. That was my point. That's it. No ivory tower, no fear of debate, no personal abuse at fellow Blues, either.

Ray Roche
192
Posted 27/12/2015 at 16:05:05
Paul, "Five things we should be doing more often."
That salient point makes many of the rest of the comments on here redundant. As long as we don't end up like Koppites shouting "Five things" as opposed to "Five Times" !
Colin, not OTT at all, just a debate. We HAVE played some great football lately, we just need to be defensively sound. Had we been so for the whole season up to now I have no doubt that we'd be where Leicester are. No, not in the Eat Midlands, top.

William Cartwright
193
Posted 27/12/2015 at 16:24:30
Great game, great result and let's have more of the same from now util the end of the season. What Ref Mason was thinking about during the match was anybody's guess. Was he worried that Rom would spoil his goal scoring run with a penalty instead of scoring from opem play?
Got me thinking as to why a few seasons ago Moyes led a mini enquiry to the ref's association to address why we went a full (or nearly a full) season without a penalty. We are going down the same road again! Last night's twist and tug on Rom was obvious to all in the ground including the officials. For the penalty not to be awarded was an absolute bloody disgrace. It was compounded further when the constant flood of desperate tackles by the Toons were just embarrassing. The referre failed miserably in his responsibilities last night.
Why is it Everton always seem to be playing against the officials as well as the opposition? Or am I so blue- blinkered I am talking rubbish. Is it just me?
Paul Tran
194
Posted 27/12/2015 at 16:25:31
Cheers Ray. I don't think it helps the debate when people talk in terms of being pro/anti the manager. He does good stuff, he does poor stuff, he extends the boundaries of the English language. We all want the team to do well, we all call the game as we see it, we all have our views on manager and players.
Having a view that is critical of other views does not mean you want to stifle debate!
By the way, if you're into red wine, Laithwaite's have got a great box of strong Aussie reds, which we're working our way through over the break. Other brands are available. Enjoy!
Ray Roche
195
Posted 27/12/2015 at 16:34:17
Paul, debate is good. There are some great points made on this site, many from the likes of Harold who really does know his stuff.
Red wine, have you tried the Naked wines club. We've had some pretty epic stuff from there.
Don Alexander
196
Posted 27/12/2015 at 16:41:36
Like 'most everyone else I thought we deserved a win and I'm pleased we got it. I guess I'm also close to the front of the queue re the so-called "Martinez haters" but I don't hate him, I just despair of him and what his bone-headed failures to even try to remedy our clearly obvious weaknesses might cost us. As a manager with aspirations of CL football, allegedly, he and everyone else needs to realise that even the great winners of the European Cup not only had good teams with usually one or two world-class players in midfield and/or attack, but they also had consistently reliable solid defence.......hence they won things. If he was new to management I'd cut him some slack, but he's been at it for years and just never seems to learn.
Chris Leyland
197
Posted 27/12/2015 at 16:58:18
For all the debate and argument about 'the number of chances we are creating', and whether we are playing 'some amazing football' or not, here is a statement that is without debate true:
Everton simply do not win enough League games.
Since beating Chelsea on September 12th, we have managed to win 3 league games. These are all against the teams currently in the bottom 3. We have failed to beat anyone else. So, in 105 days, we have not beaten anyone outside of the bottom 3.
Simpl y not good enough as far as I am concerned and the buck stops with the manager for creating a side with bags of talent and potential but seemingly incapable of winning consistently.
Mike Hughes
198
Posted 27/12/2015 at 17:06:11
+++ BREAKING NEWS +++
We're being watched ...... and we're not magnanimous it seems:
http://www.themag.co.uk/2015/12/what-Everton-fans-had-to-say-after-the-newcastle-match/
http://www.themag.co.uk/2015/12/newcastle-0-Everton-1-instant-fanwriter-reaction/
The common ground is that nobody seems to think much of Lee Mason.
I particularly liked:
Steve McCaren's plan of letting the opposition have the ball for the entire game and hoping to Lucifer that they couldn't hit a cow's arse with a banjo nearly came to fruition
Joe Foster
199
Posted 27/12/2015 at 17:09:15
And that's really the crux of the matter Chris, like him or not the results speak for themselves.
Paul Tran
200
Posted 27/12/2015 at 17:13:37
You're right there, Chris. I'd suspect the potential owners will agree as well, and they'll be a lot less laissez-faire than the present regime!
Ed Fitzgerald
201
Posted 27/12/2015 at 17:21:06
Football is as they say; a game of opinions so therefore IMHO
We play far more attractive football under Martinez than at anytime during Moyes tenure or for that matter since Howard Kendall's reign the first time around
We have a better squad than any time since the Mid 1980s
I am pleased that we have two centre halves that don't hoof the ball at last!
Had McCarthy not been injured we would have beaten Bournemouth, Norwich and Palace - he does provide the much needed devil in the team
I think we look more suspect defensively with Baines in the team than with Galloway in as he covers the centre halves more effectively
As for those who have an issue with Martinez and his press conferences and TV sound bites I wonder how many British managers would fare with the Spanish Language. So what he is an optimist is there something wrong with that? tactically he is no more naive than Moyes was dogmatic and dour.
Most of his transfers dealings have been successful £28 M in for Fellaini, £28M out for Lukaku that looks fairly shrewd business to me?
Happy new year to Blues everywhere, who knows we might win something and be taken over this year and have pot loads of money to spend.
Joe Foster
202
Posted 27/12/2015 at 17:31:19
Football is not a game of opinions. It's a result driven game I am afraid.
Ged Simpson
203
Posted 27/12/2015 at 17:48:31
Ray said about glass half full/empty types. You are right and so it will always be. The live forum is particularly full of folk who get v frustrated and express it straight away. I cannot get to many games now but I seem to recall goodison being just like that..even back in the 1960's
Ed Fitzgerald
204
Posted 27/12/2015 at 17:51:24
Joe

Thank for your searing insight I feel fully enlightened. I have a question for you what is the best ever Everton side you have ever seen? Or for that matter the best football side you have ever seen? - I think people will have different opinions regardless of results, cups, trophies gained etc
Steven Jones
205
Posted 27/12/2015 at 17:52:40
Guys,
The context was an ageing squad and a below par financial clout compared to top 8.
RM has made decisions, calculated risks in order of priorities and part of that is giving younger defenders the chance rather then a bought 28 year old from mid table endeavour land.
Please see the reality of the situation. It is too glib and too easy for those that do not appreciated the building process that we are going through under RM to claim a lack of wins and points is evidence of whatever their negative agenda is.
We are a WIP team showing some good signs and some weaknesses.
I would appreciate more insightful comments on that journey ... and the signs are there ...
Michael Polley
206
Posted 27/12/2015 at 17:54:54
Was at the game and the entire Everton end went Ballistic when we scored in the 93rd.A great Xmas present. We were worthy of the 3 pts, but once again we need to be more clinical, Lukaku needs more support up front, and Barkley needs to start playing, once again he was disappointing.
Gutted that the big man didn't get 8/8,but it wasn't want of trying, their Goalie and a last ditch tackle got in the way of that. Happy with the last gasp win, it was a much needed 3 pts. Hopefully we can kick on from here. COYB
Steven Jones
207
Posted 27/12/2015 at 17:56:48
BTW - great bench last night
Nick Waters
208
Posted 27/12/2015 at 18:37:01
Ed, @181, great post with points that sum up my position.
Chris you are not correct in your observation as you have left out the West Brom result but even so we can all select a timeframe in order to bolster our own point of view. If the ratio you point out was true and was the same for the whole season, then fair enough, but you are being too selective in your facts.
Kevin Dale
209
Posted 27/12/2015 at 19:06:23
Bloody hell, some confusing post on here? We did all watch the same game didn't we? We won, we out played them, and we scored one more goal than them, which in my book equals a good result away from home.

Yes we still have faults, and the main one being our full backs not attacking the ball and dominating the goal area, but overall for me we are a better team than last year and hopefully with lady luck playing her part we should start to show some good form going forward. I will admit though its very frustrating at times!!
Tony Abrahams
210
Posted 27/12/2015 at 19:15:39
Paul Mcginty 108, just read your post now, fucking brilliant mate. I only read your first sentence and had to stop. it made me proud of my team and especially the people that support us, I hope you all have a great holiday, and especially your mother, FANtastic!!!
Keith Glazzard
211
Posted 27/12/2015 at 19:18:17
One quibble - 'looping header'. Cleverley's header was perfect, directed with power exactly where it needed to be, totally deserving of a goal. A 'looping header' doesn't hit the back of the net from 15 yds.
Lennon had a good game and I'm glad to see Besic back. I thought swapping him for Ross at that stage was an interesting move, certainly no harm done and upsetting for their defence I would have thought.
Three points, well deserved, two coming from a 'perfect' header.
Les Netherwood
212
Posted 27/12/2015 at 19:27:54
A fantastic result in the end when it looked for ages like another draw. We should have been at least three up at half time, but seemed unable to get past their goalie. It was good to see Mirallas on at the start with Kone on the bench, and at least Howard had a decent game.

I was surprised to see Deulofeu on the bench but thought Lennon put in a good shift. Let's have more of this you Blues.
Neil Wood
213
Posted 27/12/2015 at 19:48:03
Been busy working over the festive periods so not had much chance to look on here.
Yes, football discussions give a massive difference of opinion at times and yes it is good generally to see and sold in everyone's point of view. But.... And it's a big but..... The negativity on here is overwhelming.
Let's put things in perspective.... The last few games (Norwich, Bournmouth, Palace) should all of been wins. And yes we didn't capitalise how we should of done and we lost points which some would argue could of placed us in the top 3 or 4 over the Christmas period.
But... This side is young, learning at an impressive rate and extremely talented. It seems that things are slowly turning the right way and we are heading back to where we should be.
We have the potential to be genuine title contenders over the next few years with a couple of additions and a little more depth.
Now we could get a take over and someone invest heavily in us and we spend 200 millions on players ..... Or we could achieve it slowly, as a CLUB and as a unit that plays for each other and achieves things together. I know which I would prefer.
Something is happening at Everton and despite the median best efforts people are starting to see it.
So let's get behind them, let's push them every game and watch and enjoy their development.
Because the next two or three years are going to be the most exciting we have had for decades.
COYB
Alan McCulloch
214
Posted 27/12/2015 at 19:56:47
I am with you Neil 191. Way too much negativity. Lets just get behind this squad and the manager. Their spirit is good and so let us make sure they know we appreciate them.

Tony Hill
215
Posted 27/12/2015 at 20:24:58
RM was lucky still to be in the job after last season's debacle and he was saved only by some belated re-grouping after a string of appalling performances and results this time 12 months ago. The team has done reasonably well so far this season, no more than that as the lack of wins, our shabby defence record and our position in the table show.
We are indeed playing some very attractive football in spells - usually in the first half - but that has been often accompanied by sloppiness and an alarming falling away at important stages in games. Last night was great fun and a fine win and it may be a spark for us. But is it not negative or defeatist to exercise caution.
It is a strange feature of modern life to suppose that those who point out deficiencies are somehow moaners and lacking in faith. How is it more supportive to ignore or minimise such problems? Then you don't get the thing fixed, do you?
I agree that we have a very exciting young core of players but I am not at all convinced that Martinez is the man to bring them to fruition. I am not going to be told to be less negative because I hold and express that reservation, sometimes forcefully.
Christine Foster
216
Posted 27/12/2015 at 20:45:31
I think I was more relieved when we won yesterday, so frustrating at times as we needed to step up a gear and tempo wise which was absent for most of the second half. The lack of directness at times is overpowering. But I have to say a few things that got me really worried yesterday, When Lennon went off Colemans cover disappeared, no longer SHOULD he have been bombing up the wing because EVERY time he left a hole at the back that dragged Stones out of position and left us wide open for the cross they almost scored from. (he was jogging back, legs gone) Where was the common sense to realise he no longer had the cover he had before? He carbon copied the short thrown in backwards at least twice yesterday and put us directly in trouble.. down the line anyone??
Someone should have told him to stop going forward into THEIR penalty box if he had no cover. It drags the back line all over the place and leaves us really exposed on the counter.
I hope someone coaching is watching this again and analysing whats happening, there is a time and place for talking and Christ someone needs to tell him..
Des Farren
217
Posted 27/12/2015 at 20:50:41
Not convinced that Martinez is man to bring them to fruition. Ok Tony but he is the man who appreciated their talents enough to sign them.
Who else to bring them forward?
Tony Hill
218
Posted 27/12/2015 at 21:03:26
I agree, Des, that Martinez has made some good signings and I am especially hopeful that Besic will step up. He has also made some poor acquisitions but an eye for a player does not in any event make a good manager.
I would go for Eddie Howe at Bournemouth if we have to choose. He has a consistent record of playing attractive football on a modest budget and his sides are resilient - he has done solidly this season despite losing his main striker. He is also a Blue.
I hope that we do not have to make such a choice but, as I say, I reserve the right to keep it very much in mind given what has happened over the last 15 months or so.
Max Murphy
219
Posted 27/12/2015 at 21:17:37
It's good getting 3 points – that makes six from a possible 15. All of a sudden, RM cannot be criticised and Howard had a good game??
Howard punched a ball that came right at him, and it could've gone anywhere. He did nothing for the rest of the game. Do we now forgive him for his abysmal performances over the last couple of years?
After 4 dreadful games, we win one. Does everyone really think this will continue? Let's be realistic – we got lucky and Martinez got lucky. Under this manager, normal service will soon be resumed.
Paul Tran
220
Posted 27/12/2015 at 21:32:17
I was reading today that the team that has conceded the most goals from set pieces is not Everton, but Bournemouth. I would like to think we can aim higher than Howe, especially if we get monied owners.
Tony Hill
221
Posted 27/12/2015 at 21:42:59
Paul, I wasn't comparing the teams, given their histories and resources. I think you underestimate Howe but a debate about this would be idle.
Colin Glassar
222
Posted 27/12/2015 at 21:47:04
Paul, on another thread (and I apologise to the OP for using his stats) but, apparently, Everton have conceded the fewest goals in a calendar year (2015) for over 100 years!!!
As for replacing Martinez with Howe well let's give Eddie until the end of the season to see if we really want to go with another relegated manager. In previous seasons the likes of Pulis, Big Sam, Monk and even OFM (currently unemployed) have been touted to save us from the Spanish curse but right now, if Martinez got the boot the manager I'd like to see is Watford manager, Sanchez Flores. Successful with a top club in Spain and now very successful with a small club in England.
Les Netherwood
223
Posted 27/12/2015 at 22:57:32
A really good result at last when another draw looked certain. I thought Lukaku had a fantastic game without Kone getting in his way, and a start for Mirallas at last.
Howard had a decent game for once, but Barkley is a shadow of the player he can be (and was substituted eventually). Perhaps we can now go from here, get some decent results and moveup the table. There was some very good football played tonight and not so much of the tippy-tappy slow build up. Let's go Blues and aim for the top four... we can do it!!
Chris Leyland
224
Posted 27/12/2015 at 23:05:10
Nick (#188) - apologies I did miss out the West Brom game but my original point still stands; Everton do not win enough league games. To illustrate this point:
We have won 6 out of 18 this season.
We won 12 out 38 last season.
So, that is 18 wins in 56 league games. A win rate of 32%.
The win ratio this season is actually a slight improvement on last season's one but but anyone's standards, last season's and this season's win rates combined are an abysmal under-achievement by anyone's standards.
Laurie Hartley
225
Posted 27/12/2015 at 23:07:39
A few random thoughts having read with interest everyone's post on this thread:
I have seen Barkley pressing the ball and making tackles in the last couple of games.
Lukaku was back for two corners yesterday.
Maybe Our Present Manager does take notice of what the fans have to say.
If Ray Roche has been following Everton for 60 years I will take his points of view seriously even if I sometimes disagree with him. He must have watched a lot of football in that time.
Similarly, I really rate John Stones but if Harold Mathews thinks he needs to improve in the air I will watch that aspect of his performances more closely.
You don't have to be a football manager to know about football - see Christine Fosters post at 194.
Aaron Lennon is a good footballer and fits the Everton mould.
Roberto Martinez just may be a mad genius - judgement pending.
ToffeeWeb is a democracy with a capital D.
Happy New Year to Evertonians around the globe.
Tony Abrahams
226
Posted 27/12/2015 at 23:14:15
Christine 194, a really good post, regarding protection. I watched it on TV and had a completely different view when they missed their sitter.
I actually thought that it was a total lack of experience that led to their chance. Like a kid who is sulking because he can't get his own way, it felt like we exposed ourselves because we was frustrated we were not out of sight by the time this happened.
Trevor Francis blamed Stones, but it started the moment Deulofeu wasted great possession deep inside The Newcastle half, and forced three inexperienced players out of position in the process. We got lucky that they missed, but we will get a lot luckier if we learn from it. Who is going to tell them though is anyone's guess!!!
John Daley
227
Posted 27/12/2015 at 23:19:22
"....apparently, Everton have conceded the fewest goals in a calendar year (2015) for over 100 years"
Have they bollocks

Tony Hill
228
Posted 27/12/2015 at 23:28:01
Yes, I'm afraid you're getting confused there, Colin, with the fewest number of away defeats? That is true as between the start of this season and the new year and applies from 1908.
Colin Glassar
229
Posted 27/12/2015 at 23:41:02
You are right Tony, I misquoted Tony Abrahams on another thread. The fewest away defeats in a calendar year according to TA.
Neil Wood
230
Posted 28/12/2015 at 00:08:36
Prediction for tomorrow ... 2-0. Lukaku brace.
I think Del should/will start tomorrow as I think he will scare the life out of the Stoke players.
All this talk of new managers.... Let's give the one we have chance first shall we !
Paul Hewitt
231
Posted 28/12/2015 at 00:17:49
Stoke will be a harder game than Spurs. Hughes is doing a fantastic job at Stoke. And whenever Martinez leaves he would get my vote.
Keith Monaghan
232
Posted 27/12/2015 at 00:29:28
I think we've played some great stuff at times this season. Our expensive failing in recent weeks is that we've tended to fade in the 2nd half. In particular, Deulofeu & Barkley have given the ball away badly and shown little appetite for the defensive side of the game.
The top teams tend to attack as a team (which I believe we do) and defend as a team – which we definitely haven't done in recent weeks, putting extra pressure on the back four, particularly if one of our full-backs is in the opponents' half when the error is made.
I don't think we're far away from being a very good side, but the margins between 3/4th and 7/8th are slim – a trophy win would be a great boost for all of us and the manager/players. COYB
Await team selection for Stoke game with added interest: I would start with Lennon & Mirallas again, defensive help for Seamus & pace/goal threat from Kev. For God's sake, let's keep him and use his talents.
David Hallwood
233
Posted 28/12/2015 at 00:51:30
Don't underestimate Stoke. IMHO they've got a great front 3, an even better back 4 and one of the best GKs in the EPL and consequently look a better balanced side than us that have beaten both Manc sides A tough, tough game and I'll be delighted with the points.
Paul Tran
234
Posted 28/12/2015 at 09:57:32
Tony, I think Howe is a good up and coming manager. I'd love to see him keep Bournemouth up for two or three seasons and then I'd be more interested.
I'd welcome a debate about the next manager because I think it's as big an issue as whether Martinez stays or goes.
Tony Hill
235
Posted 28/12/2015 at 10:24:44
I think that's a fair point, Paul. I would still look to go for him as a candidate but Colin's suggestion of Sanchez Flores is also very interesting.
Otherwise, I've always had a very high regard for Hoddle and I named him recently as a possibility. He's been out though for a while now and may well have personal eccentricities which exclude him. I think he did a strong job with England and would be excellent for someone like Barkley.
The other two names I'd throw in are Di Matteo and Karanka. The former has a good record in my opinion and has been unfortunate. Karanka is a mate of RM I think but I like the look of what he's doing at Middlesborough.
I should say, finally, that like everyone I shall be delighted if RM succeeds. He's a very decent man who may be set to prove sceptics like me entirely wrong. I hope he starts to do so today.
Norman Jones
236
Posted 28/12/2015 at 11:03:02
Paul @ 223, you seem to sit on anyone who criticises Roberto but seek to open a debate about his possible replacement. Strange.
I do think such a discussion would be purely academic as I feel Martinez is fated to complete his present contract as long as we can finish 'top halfish'.
Of course, new owners may have different ideas and if it is to be the Americans they may wish to introduce 'a technical director' who will have his own man lined up.
But I will play your game and vote for Quique Flores who had a good cv long before he linked up with Watford. For me, Eddie Howe is a good manager for Bournemouth - full stop.
Paul Tran
237
Posted 28/12/2015 at 11:26:24
Norman, I give Martinez plenty of criticism and called for his dismissal at the end of last season. I 'jump' on people when he does what they want, or what he 'can't do' and still gets criticised - after winning a game.
I didn't open the debate on Martinez's successor. That one started last season, when people wanted Martinez sacked and replaced by Pulis/Sherwood, so we could be saved from certain relegation.
I'm a bit wary of mangers who have had one good season (like Martinez!), but your suggestion is the most interesting one of that group.
By the way it's not a game, it's the future direction of the club. The thought of Moyes returning, or the likes of Pulis, scares me senseless.

Add Your Comments
In order to post a comment, you need to be logged in as a registered user of the site.
Or Sign up as a ToffeeWeb Member — it's free, takes just a few minutes and will allow you to post your comments on articles and Talking Points submissions across the site.
© ToffeeWeb